According to a recent forecast by EMR, the global auto insurance market is estimated to be worth $1,170.9 billion by 2026, making it one of the leading players in the digital insurance business landscape against all odds. So, having a vehicle insurance app can make you a significant player in the long run.
With a secure & intuitive car insurance app, you can expand your customer base & stay ahead of the competition. The top game-changers in the auto insurance industry are Progressive, GEICO, and Allstate. According to insurance industry experts & customer ratings, State Farm is recognized as one of the most popular car insurance mobile apps in United States.
Interested in car insurance app development like State Farm? You are at the right place!
In this blog, we will explore everything related to car insurance app development, from features, to tech stacks to costs.
What is the State Farm Insurance App?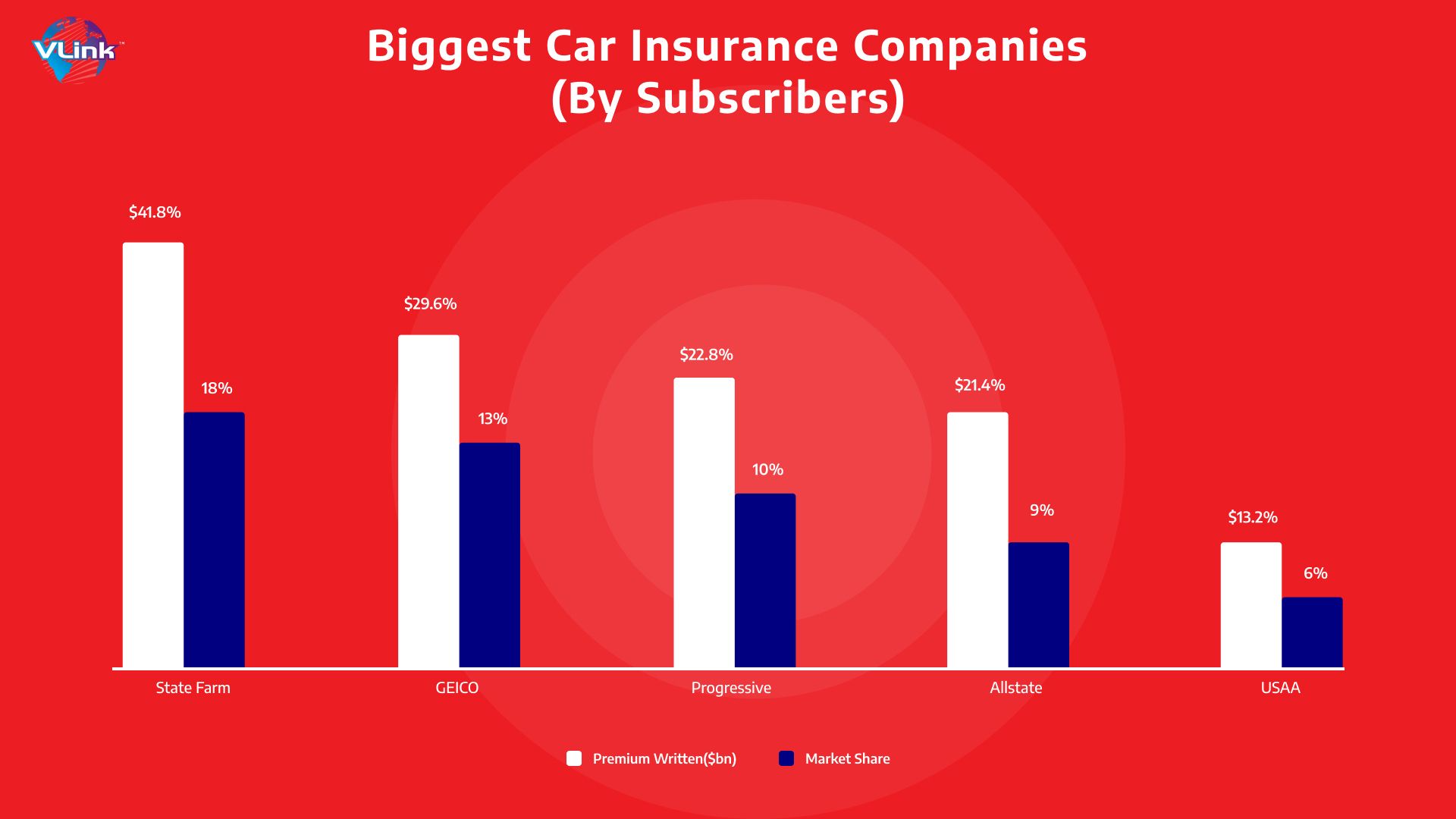 According to National Association of Insurance Commissioners (NAIC), State Farm is the largest auto insurance company in the U.S. This company offers a range of insurance products, including auto, home, life, and health insurance.
The award-winning State Farm mobile app makes it easier to manage your insurance app and helps young drivers easily handle bank accounts, get roadside assistance, and more. With the highest rating on Android & iOS platforms, this has become one of the leading players in the insurance industry.
What Benefits of State Farm App?
Always keeps a digital ID card on hand

Pays your bills

Checks on claims

Provides 24/7 customer support via text, chat, or call

Allows changes to policies
Why Do You Need a Car Insurance App Like State Farm?
A car insurance app can help your business stay competitive by providing the best possible customer experience.
With the rising need for digital insurance businesses, the artificial intelligence market for insurance companies is growing exponentially. The size of AI in the Auto-insurance market was valued at $221.94 million in 2020 and is expected to reach $582.41 million by 2028.
Many car insurance companies use AI for claims assessment, chatbots and policy costs.
As you can see, the car insurance tech market is rapidly growing. How will this app positively affect both the insurance company and your customers?
Benefits For Customers
Easy access to insurance services

Checking their policy eligibility on-the-go

Filling out forms and making payments on-the-move

Automated reminders for policy renewals

Quick notifications about modification in terms, benefits, and discounts

Easy access to location-sensitive help
Benefits For Insurance Companies
Seamless communication via chatbots

Process automation & simplification of routine workflows

Real-time data collection and processing

Personalized offerings for customers

Instant feedback from customers

Enhanced productivity and sales efficiency

Faster deal closures
Incredible Statistics About the Insurance App
Global InsurTech market revenue

is projected to be worth $10.14 bn by 2025, from $5.48 bn in 2019.

According to

a McKinsey report

, by digitizing your insurance business, you can minimize the claims costs by as much as 30% and more than double your profits.

Chatbots will power

95%

of interactions between customers and insurers in 2025.

The

global car insurance market

is predicted to reach $1620.2 bn by 2028.

In some regions, the average annual auto insurance rate now increases by $6,200.

The auto insurance market size in the United States exceeds an average of 2.3% annually.
Things You Need to Consider for Building a Car Insurance App Like State Farm
Several mistakes startups and entrepreneurs make during auto-insurance app development. These challenges are
Not considering relevant regulatory laws;

Not having the proper knowledge of Tech Stacks

Not using the relevant features

Not knowing the market budget

Not ensuring a seamless cross-platform design experience for customers.
Let's help you to deal with all challenges to create a successful car insurance app like State Farm.
#1 - Security & Legal Compliances
Financial services like insurance process a lot of sensitive data of customers. That's why security is one of the most crucial factors when creating your vehicle insurance app.
Here are some other laws & regulations you need to focus on for car insurance app development:
Financial Services Regulatory Authority

PCI-DSS

GDPR (General Data Protection Regulation)

Prudential Regulatory Authority



Regulatory laws guiding your business's operation depend on your country. To optimize your compliance and ensure maximum safety, you must hire vehicle insurance app developers with an in-depth knowledge of compliance laws and the best regulation standards.

#2 - Features of Car Insurance App Development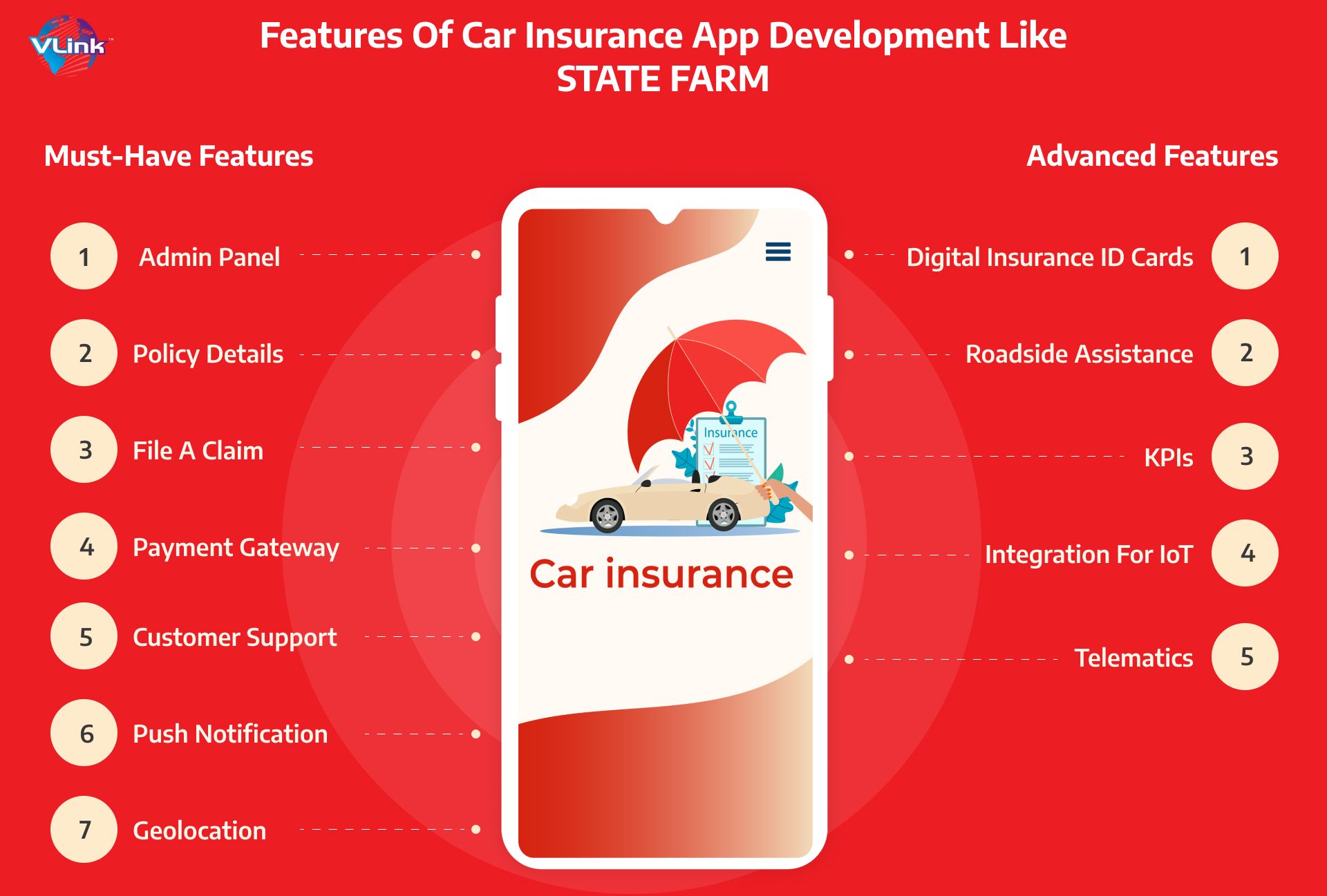 Here are key and advanced features for your vehicle insurance app development:
Must-Have Features of Auto Insurance App
Admin Panel
This feature displays the insured person's basic information. Make sure it's user-friendly & simple, along with clear CTA buttons.
Take the State Farm Insurance app as an example.
State Farm is a car insurance mobile app. Its profile page shows details related to vehicle IDs, roadside assistance, & payment gateways. Pretty simplistic.
Policy Review
Another must-have feature to consider in your insurance app. It helps users to check all policy details, such as policy number, type, effect and expiration date.
Claim File
Integrating a claim-filing feature is essential for car insurance app development. Gone are the days when you had to wait for lodging claims. Now, submitting proof should be as simple as clicking a picture.
Payment Gateway
Payment gateway integration is a must-have feature for all insurance mobile app development types, especially auto insurance apps. It allows customers to make payments through the app, making transactions secure & convenient.
Make sure your gateway accepts payments from Visa, Master Card, etc. To create a user-friendly insurance app, offering automated billing for EMIs or a single-click payment process is vital.
Customer Support
With growing competition in the vehicle insurance segment, adding a customer support feature to your mobile app is a great idea. The feature enables users to ask queries from insurance companies and get relevant solutions in real-time, resulting in better business relationships between customers & companies.
In addition, you can integrate a chatbot as a must-have feature into your car insurance app.
Push Notification
One of the most common features of an insurance app is push notifications. It helps both users (as a reminder to renew insurance policies) and insurance companies (market their services more effectively).
Here are some tips you need to build a push notification strategy for your car insurance app:
Personalization

Timing and frequency,

clear messaging,

Incentives &

Promotions
Geolocation
Location integration is a basic feature for vehicle insurance apps to ensure seamless user experience.
It helps insurance companies to track vehicles and assess risks, resulting in more personalized insurance policies. However, you need to securely implement a geolocation feature in your app with user privacy in mind.
Incorporating location into your car insurance mobile app can significantly improve user experience and provide valuable data for insurance companies to improve their services.
Documentation
Documentation is another important feature that must be included in any auto insurance app. It allows users to upload documents' images such as driver's licenses, vehicle registration and insurance certificates.
This feature makes the registration process easier and more convenient for users, saving time and effort for users.

Advanced Features for Car Insurance App Like State Farm
Digital Insurance ID Cards
The days of searching your wallet for an insurance ID card are over. You can access everything directly from your mobile device, thanks to digital ID cards.
Here's what you can offer:
Access your ID cards anytime and anywhere, whether online or offline

View, or email your ID cards from your car insurance app
Roadside Assistance
No one likes being helpless in the middle of nowhere or even in the middle of somewhere. That's where the roadside assistance feature comes in! It's the fastest and easiest way to find the right path.
APIs Integration
API (Application Programming Interface) is an open-source library that facilitates app creation and minimizes development costs.
When it comes to building a car insurance mobile app, you may need such APIs as:
Recognition of license plates

Theft alarm

Ignition/speed control

Vehicle status
Of course, these are a few of the most common options. And your insurance developers should give you more precise advice on what to select to create a car insurance app for your automobile business.
Telematics
According to the Grand View Research, Inc. report, the worldwide insurance telematics market size is projected to be worth $ 6.2bn by 2025. It provides accurate data about driver behavior and vehicle operations, which provides visibility and real-time data for claim processes.
Integration with IoT Devices
As a car insurer, you can integrate an IoT device into your insurance app to track vehicle data and customers' driver styles.
You can gather and analyze vehicle data to provide valuable insights. Depending on the data, you can assess risks and reward your low-risk customers.
These features attract people to the vehicle insurance mobile app. However, they're not driving factors. These features are backed by a few app tech stacks.
Tech Stack of Car Insurance Mobile Apps Like State Farm
The available options for mobile Tech Stack depend on the platform and the development approach you select. Let's have a look at their technology stacks for all platforms:
Android Tech Stack
If you want to build a native car insurance app for Android, here are the core technologies to use:
Android Tech Stack
Programming languages

Java or Kotlin

App development tools

Android Studio

UI frameworks

Android UI, Jetpack Compose
iOS Tech Stack
Here are the preferable technologies to develop a car insurance app for iOS:
iOS Tech Stack
Programming languages

Swift

App development tools

Xcode, AppCode

UI frameworks

SwiftUI, UIKit
Cross-Platform Tech Stack
Cross-platform apps target both Android and iOS platforms within a single codebase.
If you decide to follow this approach, the possible technology stacks are:
React Native

Xamarin

Flutter (Dart)
As per basic development technologies, you must integrate multiple 3rd party libraries and APIs into the auto insurance app.
Monetization Models for Car Insurance App
To earn money from an app like State Farm, you can follow several monetization models:
Interest Income
The main method to earn money from a car insurance mobile app is the interest on the claimed value during a specific time.
Service Fees
You can also make money by charging insurers and insured people a service fee for using the platform's functionalities and features.
Commission
Last but not least, another monetization model is to ask for a commission fee from the car insurance startup and established entrepreneurs as per the sale of insurance policies.
What is the Cost of a Car Insurance App Development Like State Farm?
The car insurance app development like State Farm typically ranges between $45,000 and $60,000. However, the Cost can rise more if you select to integrate additional features and functionalities into the app.
If you focus on all the features mentioned above or factors for native app development, the development of auto insurance prices would range somewhere between $47,600 and $59,500.


As a dedicated Fintech app development company, we provide secure & reliable car insurance mobile app development services. Our high-quality apps and optimized development cost can accelerate your insurance business's success.
We guarantee scalability with expertise in the app's UI/UX design, development, testing and deployment. Our highly skilled developers have years of experience in custom car insurance app development services.
At VLink, we offer assistance in enabling AI/ML-based features such as chatbots, voice assistants and speech-to-text elements. Our dedicated development team aims to drive higher app adoption rates and deliver reliable customer support.
From features to tech stacks to costs, you have now understood everything related to car insurance app development, like State Farm.
If you are looking for a car insurance app development company to build a car insurance app like State Farm, VLink is here to help! Our skilled finance developers can bring your dream insurance app into reality.
As a leading mobile app development company in US, we're ready to become your tech partner that will help to deliver a top-notch car insurance app for your audience.
Contact us today to start building your successful auto insurance app.

FAQs
Frequently Asked Questions
What are the most high-rated car insurance apps?
There are several types of highest-rated car insurance mobile apps. A few are State Farm, Geico, Allstate, USAA, Progressive and many more.
How to build a car insurance app?
If you want to develop a secure & user-friendly car insurance app, follow several crucial phases such as planning, designing, development, testing and deployment.
What are the top insurance technology trends?
There are several [innovative insurance technology](https://www.vlinkinfo.com/blog/9-innovative-insurance-technology-trends/) trends such as blockchain, AI, Machine Learning, Chatbots, Telematics, Voice Assistance, Virtual Assistance and many more.