Undoubtedly, online chatting, social networking, and video calling apps are gaining hype in the market. But the mobile app industry has witnessed a drastic growth in dating app downloads. Even the dating app market size from 2022 to 2032 is shown in the below figure.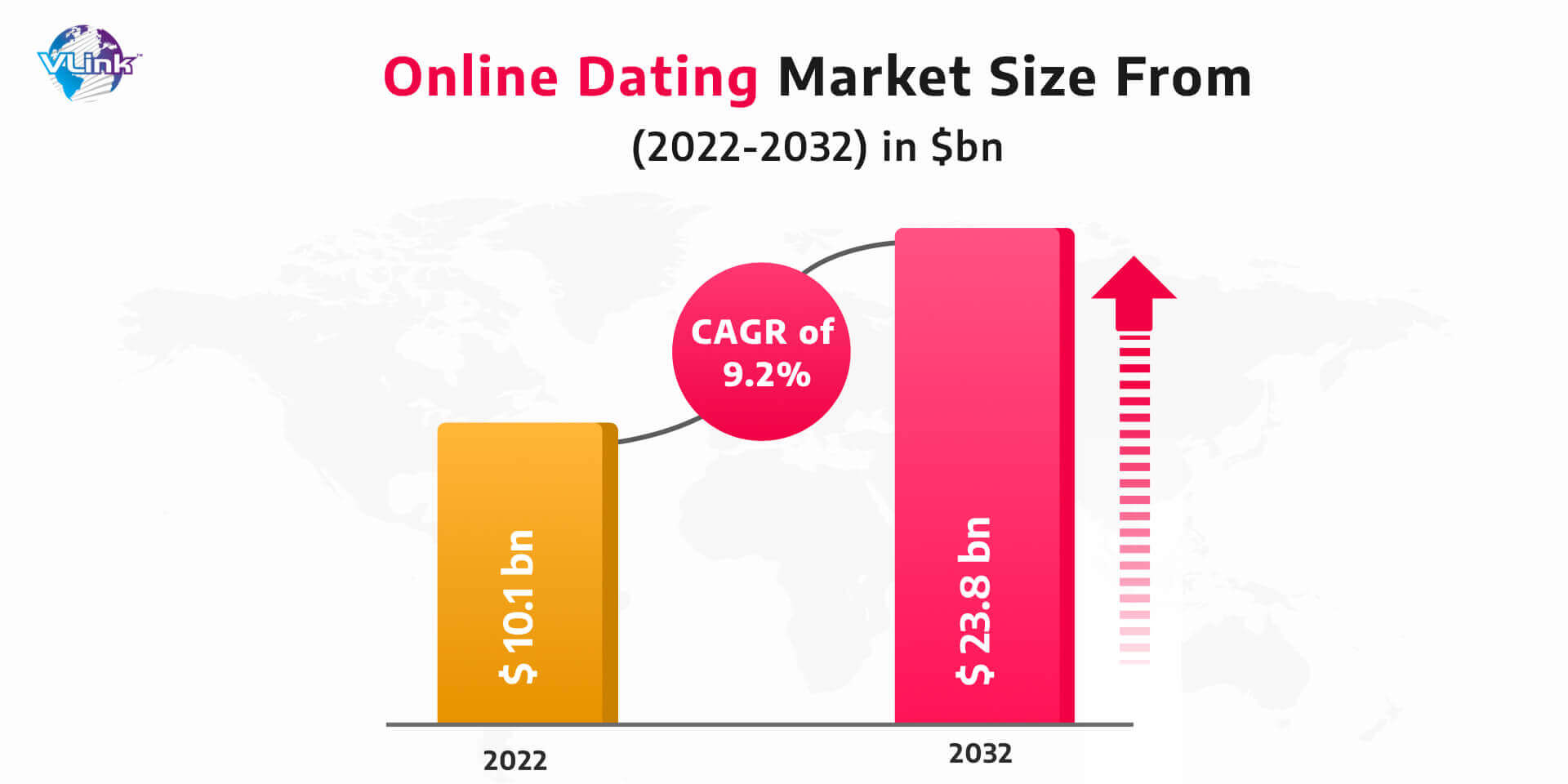 People are increasingly enthusiastic about finding, engaging with, and conversing with others who meet their preferences. Bumble, Hinge, and more markets filled with several dating apps. Tinder is the best online dating mobile app for iOS and Android, with a market share in the US, shown in the below figure.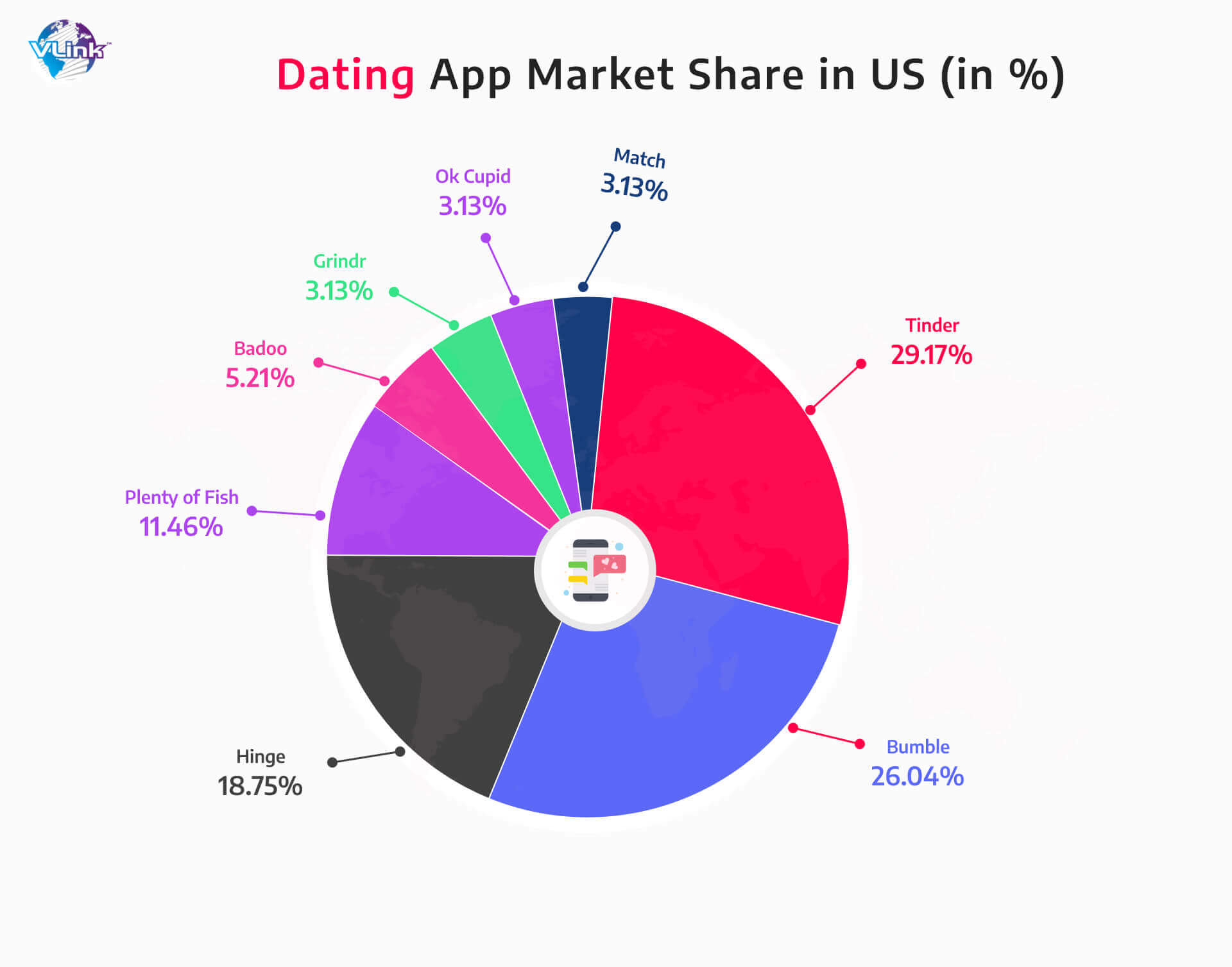 So, if you plan to start your startup in the mobile app industry, investing in Tinder, like dating app development, is the best. But the question that pops up in our mind is - How much does it cost to build a dating app like Tinder?
Dating app development costs depend on different factors such as features, tech stack, team size, and company location. To give an approximate idea, an essential social dating app cost may range between $25,000 to $ 1,25,000. On the other hand, building an app with a feature set like Tinder would range from $80,000 to $150,000.
So, if you're interested in making apps like Bumble or Tinder and looking for their costs & features, you are at the right place. In this blog, we will explore factors that impact the cost of building a dating app like Tinder.
What Sets Tinder Apart from other Dating Apps?
Bumble, Happn, Hinge, and many more! The market is flooded with a plethora of dating apps. But Tinder is gaining the most popularity with one billion swipes/day. Even in July 2023, 9 million users downloaded Tinder apps in the US, as shown below in the figure:
Its success has many reasons, but the prime one is its feature set.
Let's take a look at its unique features.
"Swipe" is one of the most profitable feature

Tinder also offers integration with Instagram, simplifying discovering someone's Instagram profile.

It facilitates conversations between matches and enables the arrangement of dates.

Tinder provides distinct subscription plans, such as Tinder Gold, Tinder Plus, and Tinder Platinum, catering to users willing to pay extra for supplementary features.

With Geolocation, the app effectively identifies ideal matches for users based on their proximity.
Factors That Affect Tinder-Like Dating App Development Cost
Here is a formula to get the exact dating app development cost:
Total Number of Hours Taken to Complete App Development Process
X
Hourly Rate of Developers
Here are a few factors that impact dating apps like Tinder's development cost: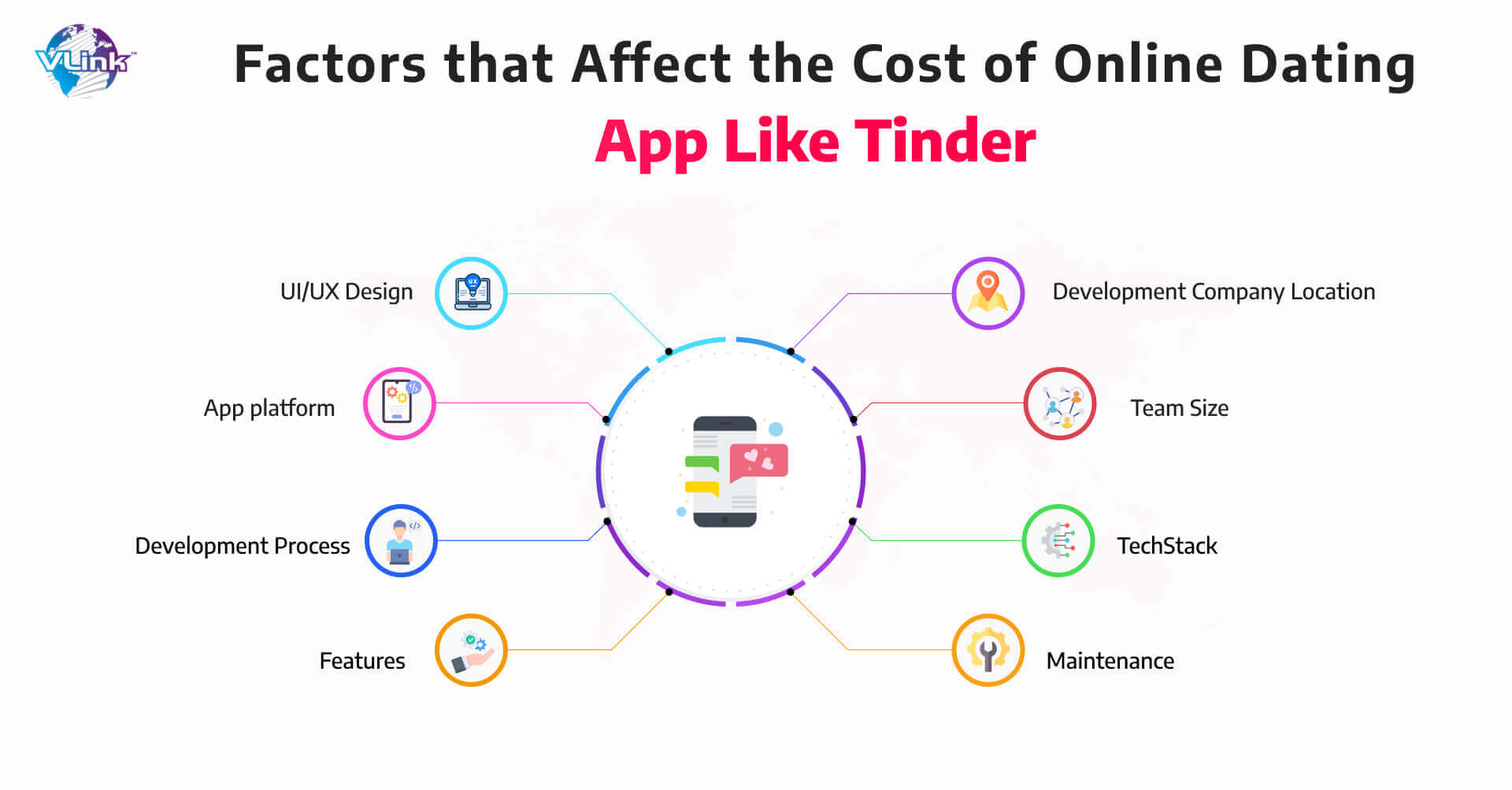 A user-centric UI design can accentuate the brand's core identity while delivering a smooth encounter for its user community, paving the path for potential app triumph.
The journey to achieving a seamless UI/UX design typically involves numerous testing protocols. It leads to possible fluctuations in app development expenses based on the testing methodologies employed and the resultant adjustments needed.
Crafting a visually appealing dating application will likely entail higher costs than an app featuring a lackluster interface. When embarking on creating an app akin to Tinder, opting for an enticing user interface design that contributes to elevated sign-up rates and prolonged user engagement is prudent.

The foundational framework for developing a dating app affects the overall expenses involved. The expenditure for crafting an Android-oriented app tends to surpass that of an iOS app. This inclination towards the former platform is reinforced by its substantial user demographic.
Given that devising apps for Android and iOS can escalate the forthcoming developmental outlay, it is commonly recommended to commence with a singular platform and subsequently expand to encompass both platforms as the app advances.
Distinct app development firms adhere to varied development methodologies. The duration required for comprehensive code composition, coupled with the hourly remuneration of developers, exerts additional influence on the overall expenditure of the app's creation.
Defining the app's expenses can be facilitated by organizing the coding hours and delving into the backend metrics.
The feature list is the ultimate factor affecting the overall cost of dating apps like Tinder. A simple Tinder-like app with basic features may range from $35,000 to $80,000.
With advanced features & functionalities, the gross price of the app will ultimately increase. You can use custom dating mobile app development solutions to stay ahead of the competition.
Required features to build a dating app like Tinder are shown in the figure below: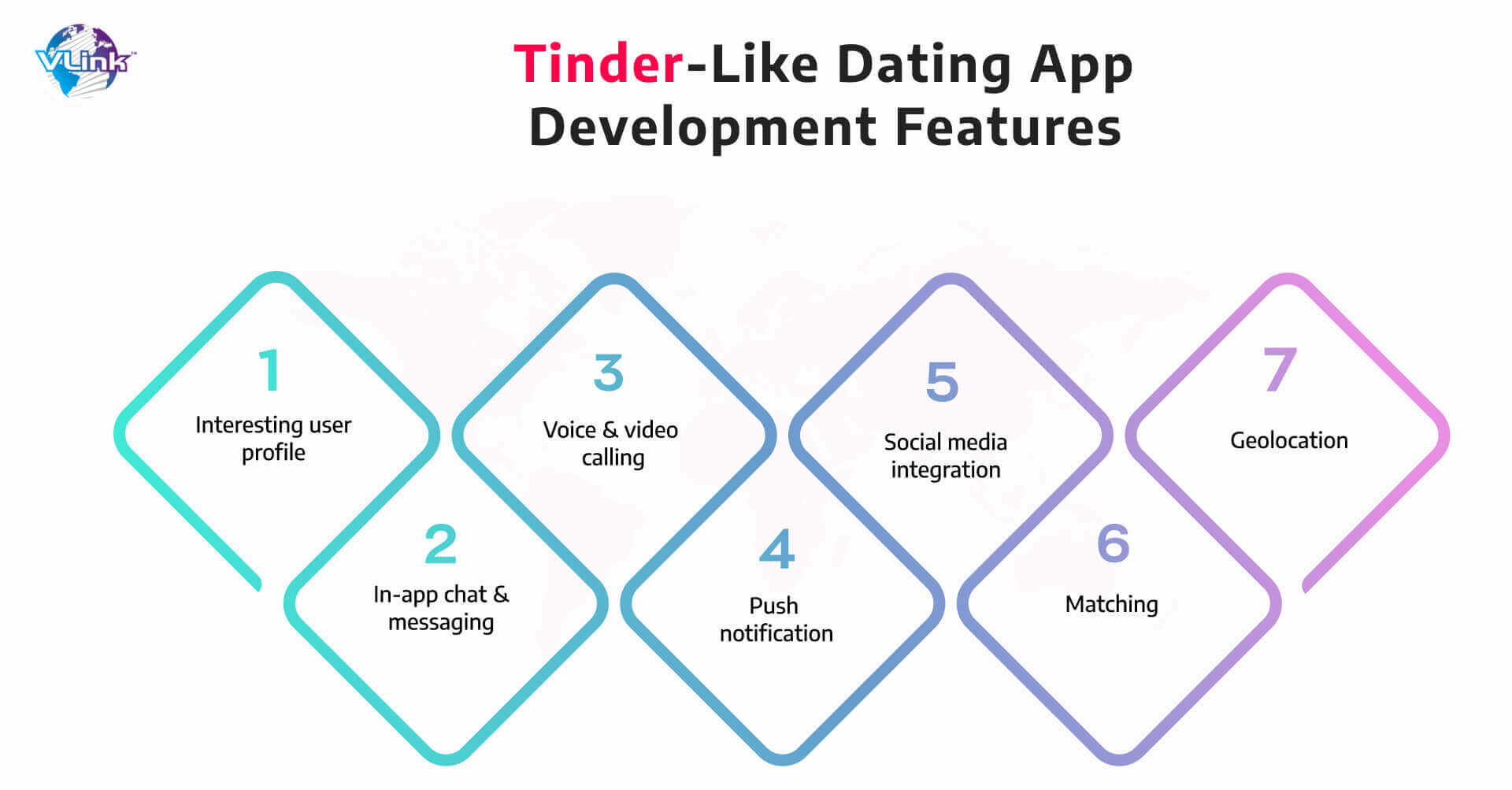 Development Company Location
The development company's location is one of the most critical factors that impacts the Tinder app cost.
For example;
If you choose a company in Asia to create an app like Tinder, the hourly rate of developers will be lesser than ones in the US or UK.
Apart from this, the currency exchange rate also impacts dating app costs.
Here is a rough estimate of the hourly app development costs in different locations:
Eastern Europe - $30-$40

Asia - $20-$40

Latin America - $40-$60

Africa - $20-$40
Team Size
Another notable factor that impacts dating app development, like Tinder's cost, is team size. For a low budget, you can go with the freelance option. But, if you don't have an issue with budget, hiring a full-fledged team is a great choice.
Hiring a dedicated team, including project managers, developers, designers, and quality analysts, is entirely worth it if you want to build a strong product and thrive in the market.
A standard team for the development of a dating app like Tinder consists of:
1 Project Manager
2 Backend Developers
2 iOS/Android Developers
1 Designer
1-2 Quality Analysts
TechStack
TechStack for Tinder app developers can also affect the overall cost of the app. A robust app can handle a more extensive user base.
A seamless communication mode needs spending more bucks than a simple app with a standard interface.
Here is the Tech-Stack Used to Create a Tinder-Like App:
Programming Languages - PHP, JavaScript

Framework - React Native, Laravel

Cloud Services - AWS

Databases - MySQL

Payment Gateways - Stripe, PayPal

Different Tools - Google Maps, Twillo, Google Analytics
Hire mobile app developers who has experience in tech stacks mentioned above to build a custom dating app client as per requirements.
Maintenance
The cost of building a dating app like Tinder depends on app maintenance.
Dating software maintenance & support services cost depends on market demand, such as the latest platform updates and changing requirements.
How Can VLink Help Build a Tinder-Like Dating App on an Affordable Budget?
Hopefully, you have now understood the Tinder-like dating app market potential and its development costs. It is time to find a reliable social media app development company like VLink to build a dating app like Tinder.
We have a dedicated team of experts who can make your dating app stand out by using the most advanced Tech stack and integrating modern connectivity features.
Contact our mobile app development experts and create a feature-rich Tinder clone app that can make a difference.

FAQs
Frequently Asked Questions
What is the time frame to develop a dating app like Tinder?
Developing a dating app similar to Tinder can take approximately 4 to 9 months, considering factors like complexity, features, team size, and development platform.
This timeline includes planning, design, development, testing, and deployment phases. Customization and additional features may extend the development duration.
How to develop a Tinder-like dating app?
To create a Tinder-like dating app, follow these steps:
Market Research: Identify your target audience and competition.
Conceptualize: Define features like user profiles, swiping, messaging, and Geolocation.
Design: Create an appealing UI/UX.
Development: Use programming languages like Swift (iOS) and Kotlin (Android), integrating backend, database, and real-time messaging.
Testing: Rigorous testing for bugs and user experience.
Deployment: Launch on app stores and continuously iterate based on user feedback.
How to earn revenue from dating apps like Tinder?
Generate revenue for a Tinder-like dating app through subscription plans (premium features, boosts), in-app purchases (virtual gifts), ads, and partnerships with local businesses for promotions.