Modern Data Warehouse & AI: What this tech-combo holds for future?
Data warehouses have traditionally been critical to business intelligence as centralized repositories that store and analyze corporate data from different sources. They have assisted businesses at all stages of the data maturity curve in wrangling and making sense of vast amounts of data.
201 Views

4 minute
Table of Contents
1. Introduction
2. Data warehousing current state
3. Understanding the role of AI in data warehousing
4. Need for data warehouse integration with AI
5. Data warehouse & AI trends
6. How VLink can help you upgrade data warehouse with AI?
However, artificial intelligence (AI) has altered the game. Beyond meeting traditional data management requirements, the contemporary data warehouse has grown into an AI catalyst.
Let us share some stats about artificial intelligence market in the world of data:
According to 44% of CEOs, the most essential advantage of artificial intelligence is the provision of data that can be utilized to make data-driven choices. (Source: Chatbots Magazine)

AI is a strategic goal for 83% of firms today, according to Forbes.

95% of corporate executives who said they are adept at using big data to address business challenges or develop insights also utilize AI technology (Source: Forbes).

59% of CEOs are confident that artificial intelligence technologies would improve big data in their organizations. (Source: PwC)

Businesses can automate 69% of their data processing time. This process comprises data storage, manipulation, preparation, and distribution. (Source: McKinsey)
The relevance of AI and machine learning (ML) in data warehousing cannot be emphasized. These technologies are profoundly changing the data warehousing environment, providing companies with unprecedented potential to drive innovation, streamline operations, and gain a competitive edge in today's data-driven business world.
This blog entails the combination of both the technologies – AI & modern data warehouse. From today's viewpoint to future trends, let's start with what this tech-combo brings to the table for enterprises.
Data warehousing: Current state
Many commercial apps' transactional processes are in good shape today. Transactions driven by human or business-to-business contacts do not need large processing resources.
Most businesses still have a long way to go in terms of data maturity before they can fully adopt AI. They confront several options and obstacles in developing a modernized information architecture that prepares data for AI.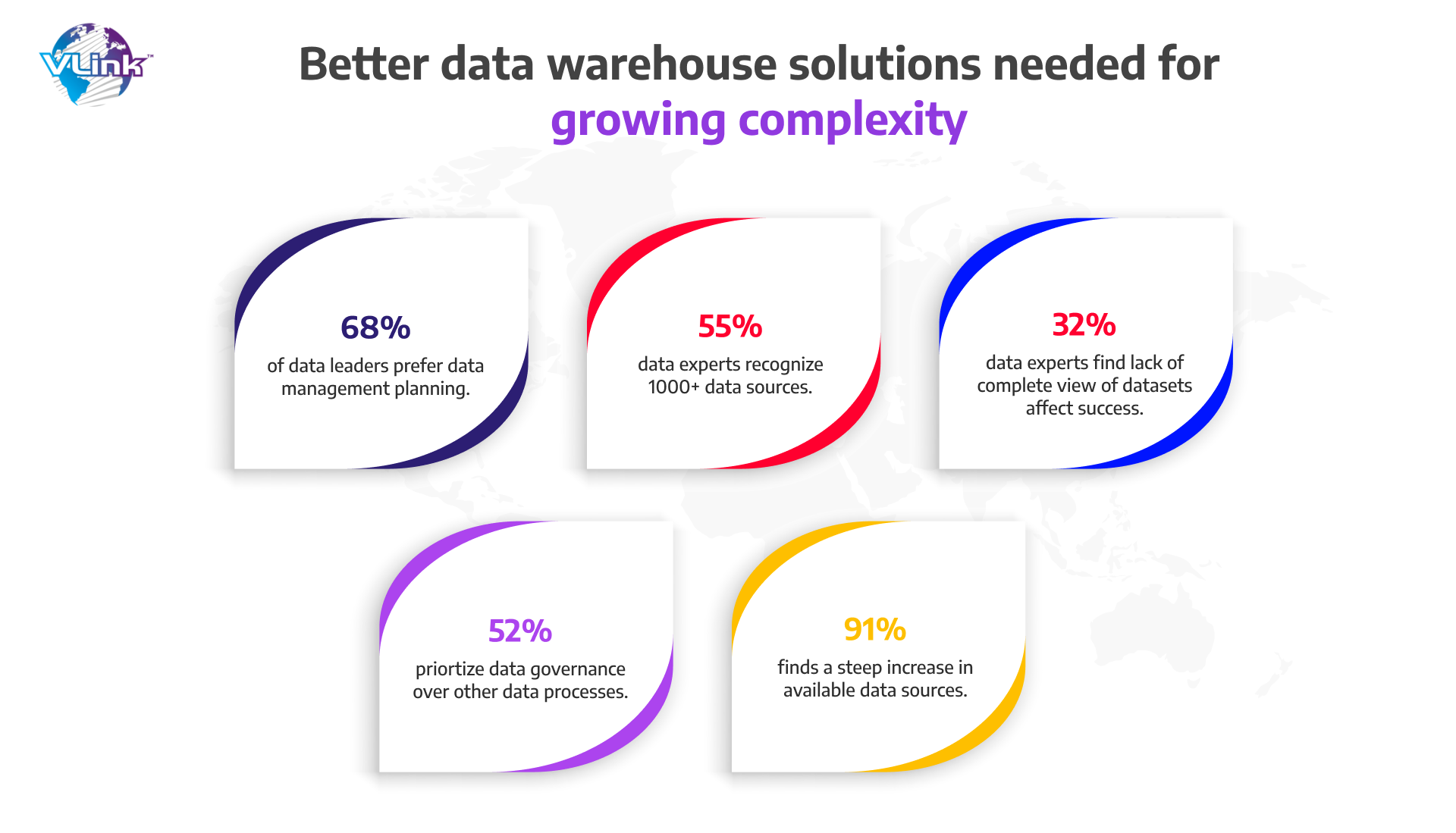 Here are some challenges that current data warehousing solutions face, and needed to be optimized:
Complexity of data: In today's data-driven world, firms must deal with massive quantities of data from a variety of sources, including social media,

Internet of Things (IoT) development

, and consumer interactions. As a result, data warehousing has become increasingly sophisticated and difficult to maintain.

Manual data processing: Manual data processing is labor-intensive and time-consuming in traditional data warehousing. Data analysts might spend hours combing through data, which can cause delays and increase the likelihood of human mistakes.
Inconsistent insights analysis: Because traditional data warehousing depends on predetermined queries and reports, it is difficult to identify hidden patterns and insights buried in the data.
Language barriers: Data warehousing frequently encounters language obstacles, as data is created in a variety of languages, making it difficult to handle and analyze non-English data.
Data warehouse architecture needs upgrades to reach data maturity goals is provided through an integrated, end-to-end platform for high performance data analytics and AI. This combination enables vital data to be safely stored behind a private firewall while still being available to cloud-based apps for the generation of new insights and machine learning models.
Understanding the role of AI in data warehousing
The current data warehouse is powered by machine learning technology, which is a major component of AI data analytics and contains algorithms that can generate predictions about data and insights on their own without being restricted by specific limits and instructions.
Machine learning combined with your real-time data warehouse results in a powerful, streamlined data architecture. Let see how it can direct the data warehouse transformation using smart algorithms:
Recognizing a modern transactional workload system
There might be any amount of data that exceeds the capacity of your organization's current data systems. Even if you gather data from several sources, you should practice fast absorbing huge quantities.
Data from a message queue, such as Kafka, or data from Hadoop or S3 are some good examples of how AI is helping businesses to modernize the workload systems.
Utilizing SQL intelligently
A real-time AI-integrated data warehouse allows you to ingest data, including transactional data, and quickly retrieve it using SQL. This technique for data exploration is powerful, efficient, and ubiquitous. It also provides access to a wide selection of technical and business analysts that are conversant with SQL.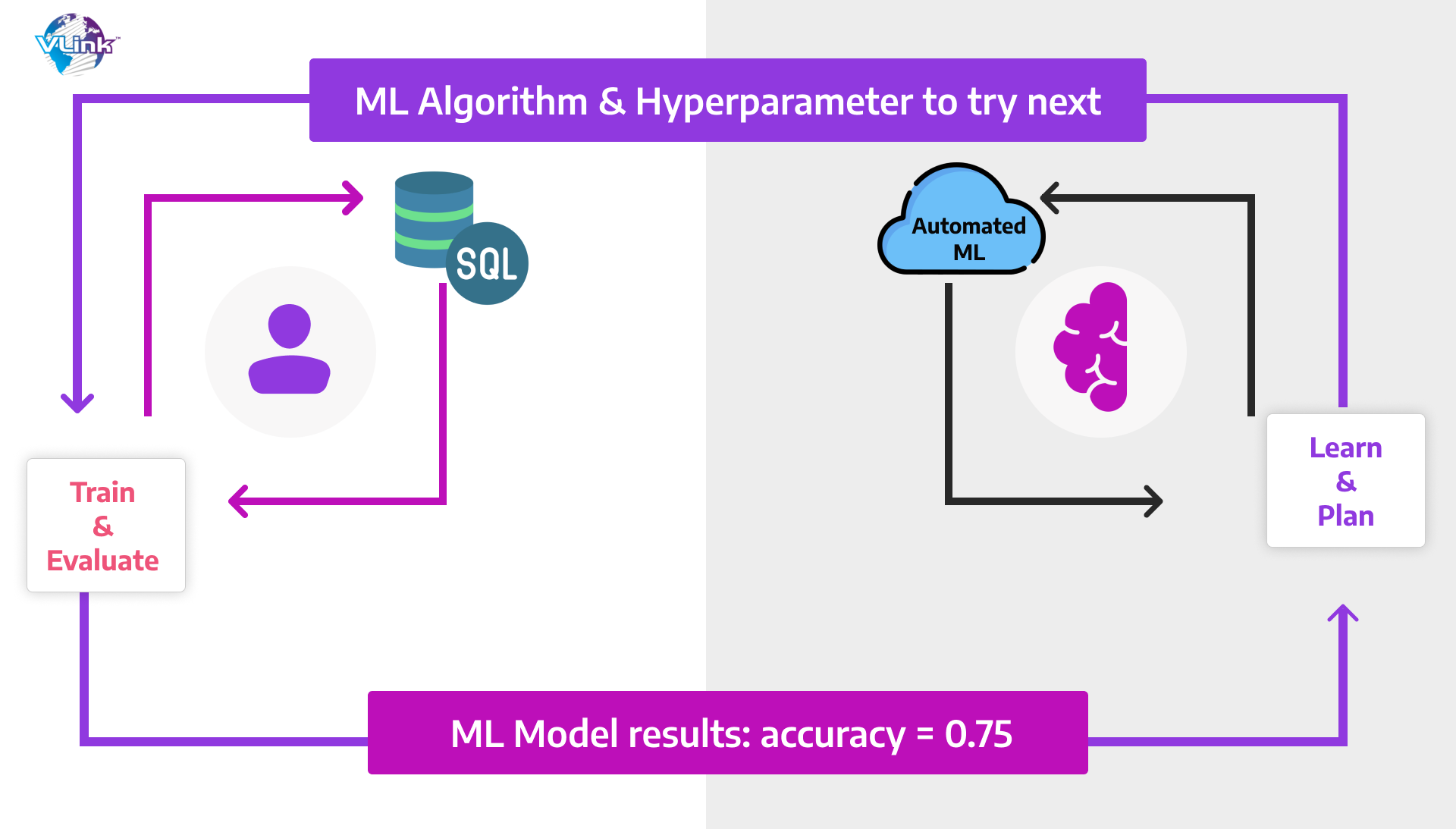 Machine learning capabilities are available in certain real-time data warehouses and can be used in SQL K-means clustering to directly compare vectors. ML integration can help to direct connectors in advanced frameworks like Apache Spark for bidirectional, high throughput, and parallel processing.
Organizations can substantially simplify data infrastructures and enable broad access to real-time information for faster important decisions by combining these features into the real-time data warehouse.
Need for data warehouse integration with AI
Data systems need upgrades with real-time AI-integrated data warehouse solutions, that can collect current transactional, event, and streaming data. These technologies can meet this need by ingesting and persisting data in real time while offering low latency analytic queries to high numbers of concurrent users.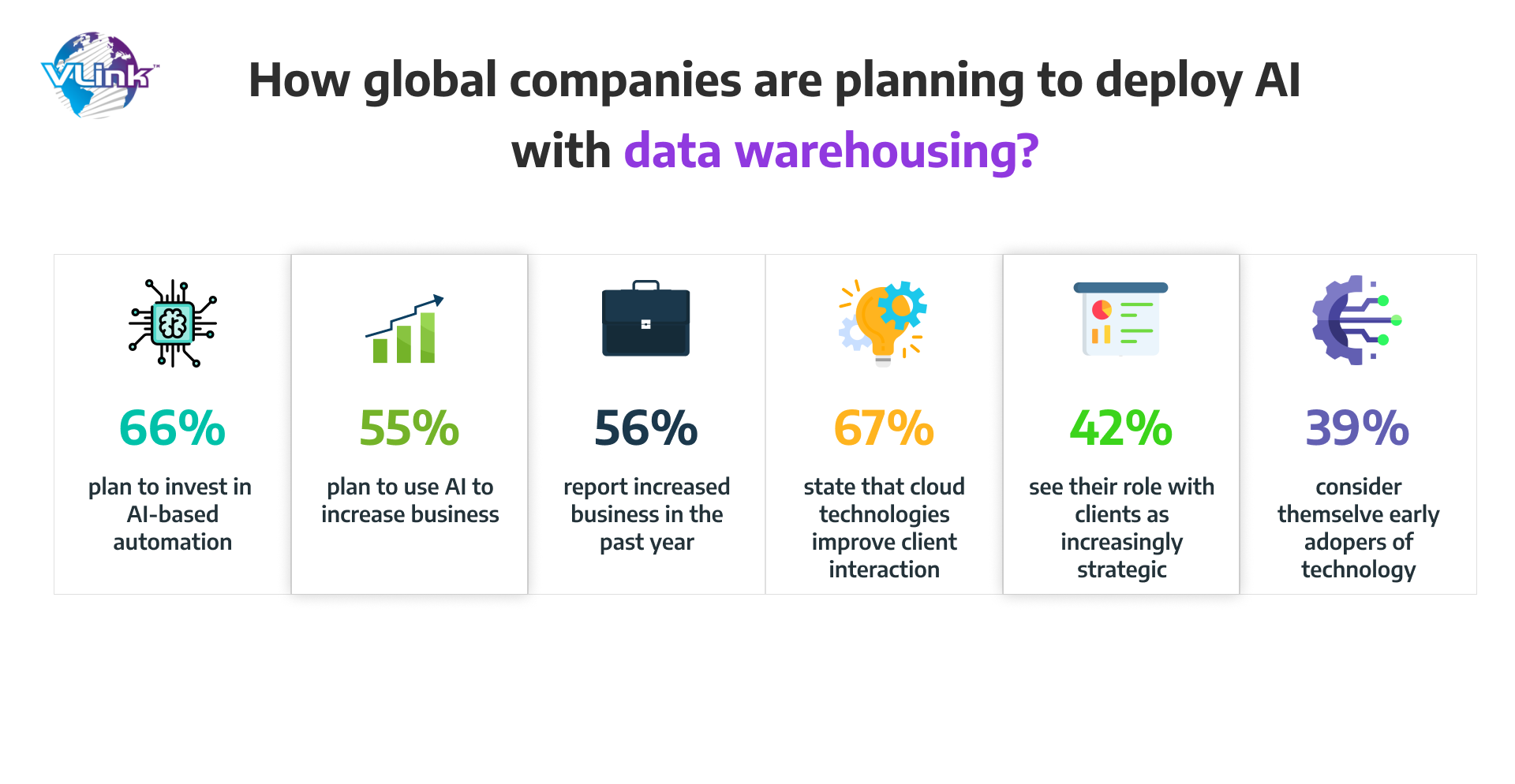 Artificial intelligence's potential uses are always growing as it advances at a rapid pace. AI is expected to play a key role in data warehousing in the future.
1- Smart data curation with AI
With the proliferation of large data, manual curation has become a time-consuming and labor-intensive activity. Data curation technologies driven by AI automate data cleansing and categorization, allowing organizations to draw mission-critical insights.
Furthermore, AI will categorize data automatically using machine learning algorithms based on criteria such as keywords, metadata, or content type, maintaining consistency and saving time. It's safe to say that data curation with AI has a bright future, and it will surely lead the way for more accurate and intelligent data-driven decision-making.
2- Automated schema designing
AI-powered schema design tools will assess data sources and recommend the optimum schema design for the data, resulting in more efficient and accurate data warehousing. This technology will be extremely beneficial to enterprises that deal with huge and sophisticated data sets, such as financial institutions, healthcare organizations, and e-commerce firms.
3- Intelligent Data Exploration
Intelligent Data Discovery (IDD) will have a great impact on business intelligence as data warehousing grows more complicated. IDD systems provide real-time data analysis, delivering rapid insights that can help organizations make educated decisions by automatically identifying patterns, trends, and linkages in massive datasets.
4- Identify & optimize data operations
Data-driven actionable choices can be the difference between a leading and underperforming firm. Identifying the correct indicators to drive a cost-cutting campaign or find a new sales zone, on the other hand, necessitates data processing competence.
AI-driven algorithms will examine data warehouse actions on a regular basis to properly improve processes linked to generating, deploying, and improving predictive models.
Data warehouse & AI trends
AI is already changing the way we think about traditional data-handling methods. Companies will benefit from increased data processing accuracy and speed by embracing AI-powered trends. This will increase production and efficiency.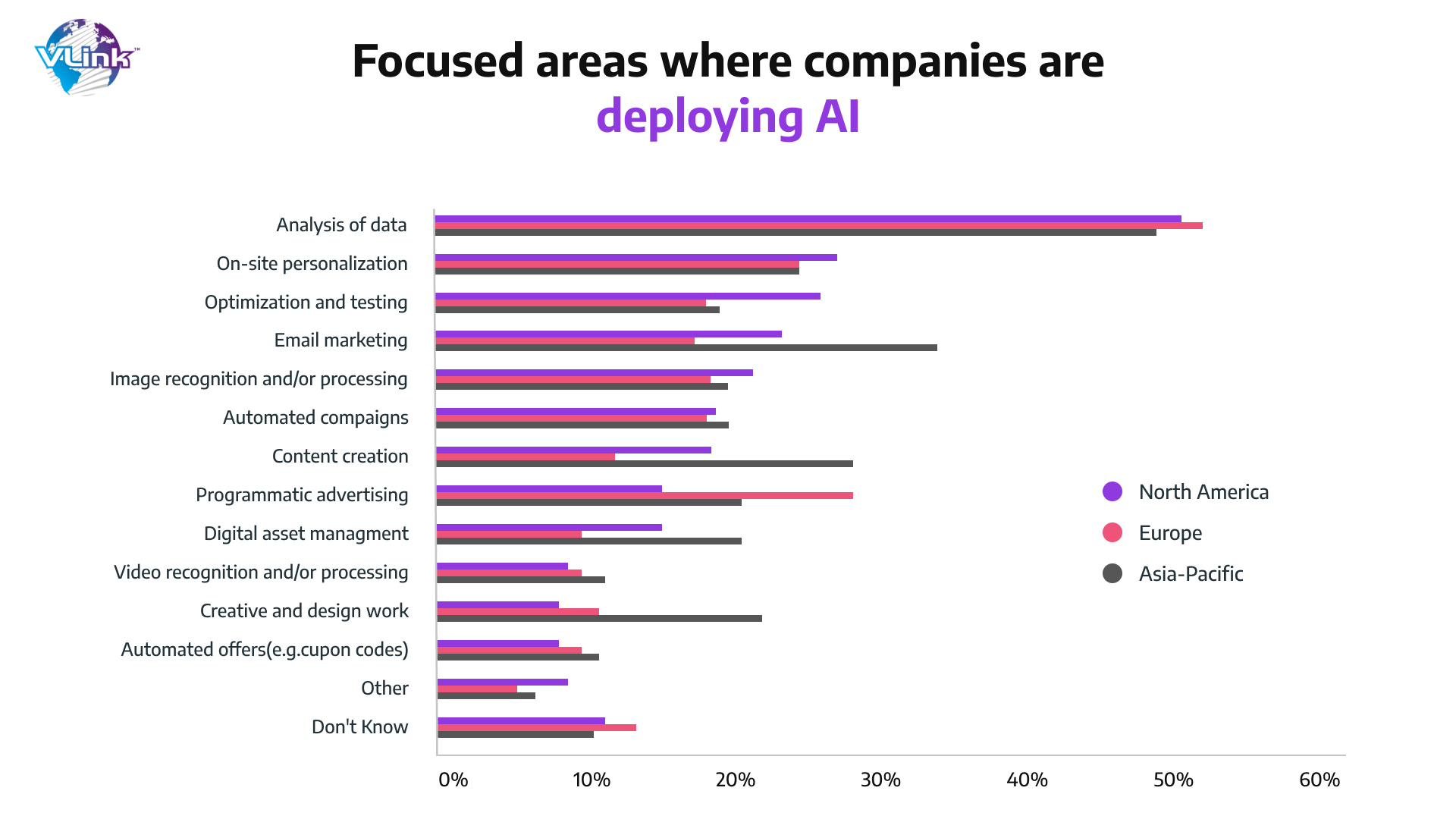 Let's have a look at the top AI and data warehousing trends that are (and will be) shaping the way how companies are treating their data:
1- Curating data cleansing operation
AI is increasingly being utilized to automate the data cleaning process in data warehouses. The use of artificial intelligence (AI) to find and eliminate flaws, inconsistencies, mistakes, and missing information from a data warehouse ensures that the data is correct and dependable.
Organizations may use AI-powered data cleansing systems to analyze and clean enormous volumes of data by using smart algorithms and substantial processing capacity. The ability to handle a wide range of data formats enables thorough data purification, resulting in high-quality data for analysis and decision-making.
2- AI-driven ETL processes
One of the data warehousing trends is the use of artificial intelligence (AI) to help with the extract, transform, and load (ETL) process. ETL technologies driven by AI may automate repetitive activities, improve throughput, and decrease the possibility of manual mistakes.
Data engineers can focus on higher-level work such as constructing data models, training machine learning algorithms, and producing data visualizations since AI handles low-level chores.
3- Continuous Data Quality Inspection
Businesses can avoid the costly and time-consuming process of finding and correcting errors after the fact by implementing continuous data quality monitoring. It is a new data warehousing concept that will change how firms handle their data in the future.
Continuous monitoring, as opposed to traditional data management systems that include periodic data quality reviews, involves real-time monitoring of data quality.
By automatically recognizing abnormalities and mistakes as they occur, AI technology guarantees that data is always clean, correct, and up to date, expediting the data management process.
4- Intelligent Data Modeling
Another data warehousing trend is the usage of AI-powered technologies for intelligent data modeling. AI can examine data sources and construct data models automatically, considering the connections between data elements.
This helps data scientists and businesses to save time and resources that might be spent manually for constructing data models. AI-powered data modeling can also increase data correctness and completeness.
How VLink can help you upgrade data warehouse with AI?
Artificial intelligence and machine learning are projected to drastically alter the current and future business landscape. Businesses that use AI are becoming more adept at predicting activities such as determining the preferences of various clients.
This combined advancement will undoubtedly have an impact on numerous economic sectors, including banking, the stock market, E-commerce, education, health care, manufacturing, and many others. Implementing AI in enterprises would result in enhanced productivity, a better customer experience, better decision making, and more timely planning.
VLink is dedicated to using the power of AI and NLP to unleash new possibilities in data warehousing and assist organizations in thriving in the data-driven future. Furthermore, we give options and flexibility so that you may determine the optimal EDW implementation for your company.