Data Warehouse Modernization: Understanding Its Concepts & Implementation
On-premise data warehouses may be extremely costly and complex to manage. In addition to the expense of creating the infrastructure, you must consider continuing hardware updates, employing competent administrators, fault-proofing, and other factors.
201 Views

5 minute
Table of Contents
1. Introduction
2. What is data warehouse modernization?
3. Why do businesses need to modernize their data warehouses?
4. Steps for data warehouse modernization
5. How VLink can help to modernize your data warehouse?
6. Key takeaways
This on-premise infrastructure might quickly become too much for many firms to handle. Moving to a cloud data warehouse becomes more interesting at this point.
In reality, the finest data warehouses are those that respond to current business demands while being adaptable to changing needs in the future.
But one thing is certain. Today's modern data warehouses run on the cloud, primarily to eliminate the headaches of managing physical infrastructure while attaining infinite scalability.
And if you think you're so early in the journey of data transformation as compared to your competitors then let us show you some stats. Conclusively, you'll get to know it is the right time to go for data warehouse modernization!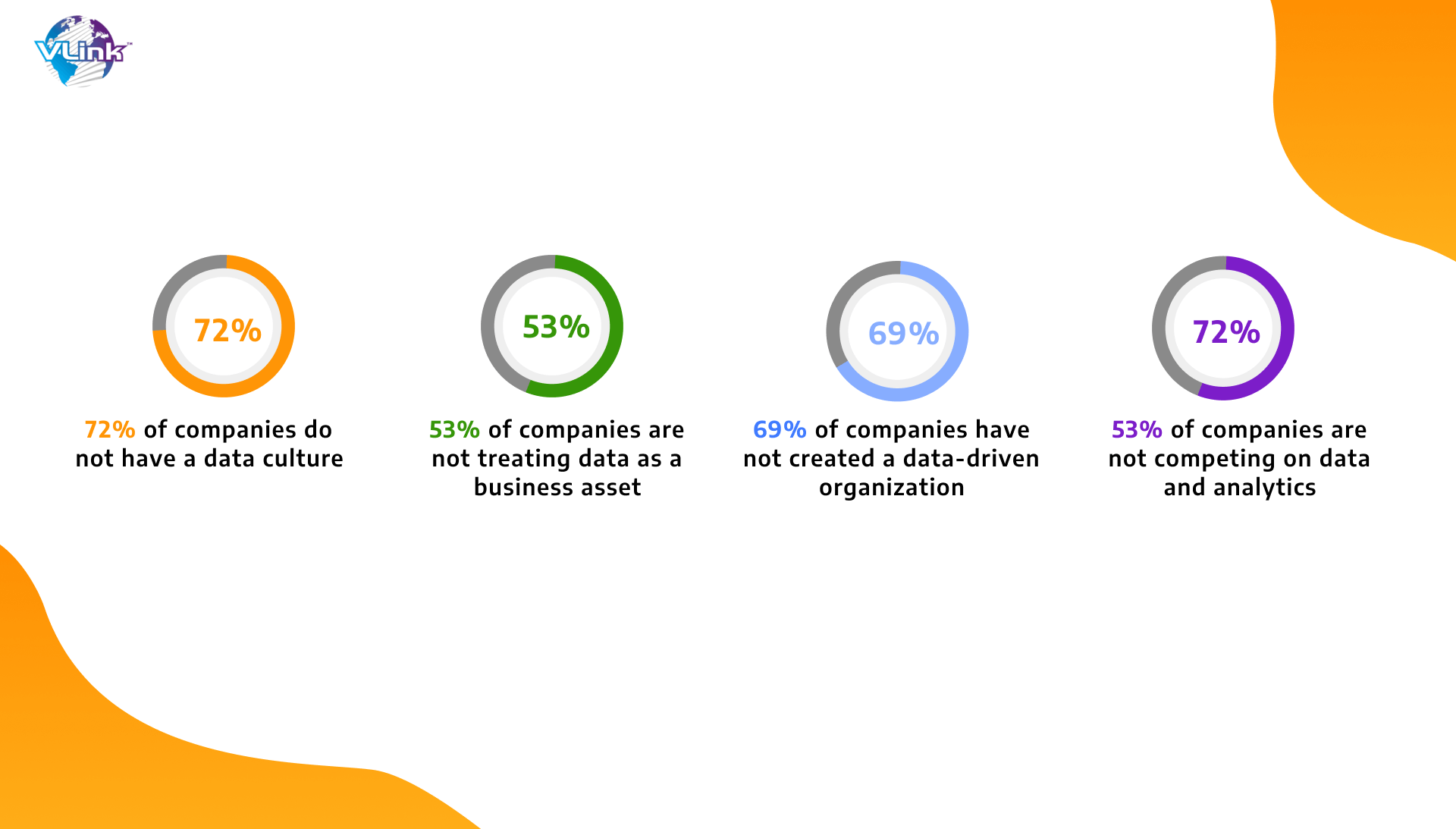 In this post, we'll explore data warehouse modernization concepts, how you can implement those, and how they benefit your business. Let's begin:
What is data warehouse modernization?
Modernization of data warehouses entails a full architectural altering of conventional or on-premises data warehouses in order to better deal with current data management difficulties and needs. It all comes down to modernizing and expanding your data warehouse architecture in order to enjoy the benefits of new technologies, increase the speed and agility of your data operations, and remain relevant in the age of big data.
This re-engineering method may be carried out by integrating several strategies, which typically include:
Increasing dependence on cloud technologies through the migration of a corporate data warehouse (CDW) to systems such as Amazon Redshift, Azure Synapse Analytics, or Google BigQuery.

Data warehouse automation technologies can conduct data warehousing procedures, including ETL pipelines, quicker and more

efficiently

, enhancing data management and analytics.

Implementation of operational business intelligence tools and methodologies for acquiring and processing real-time streams of data while providing self-service data querying features.
You can upgrade the way your organization uses data for various purposes. We've seen data-driven organizations rely on outdated legacy tools. It is also feasible to modernize your tools and technologies without changing the way your organization views data use. You should ideally do both.
Why do businesses need to modernize their data warehouses?
To remain competitive in today's competitive market, firms must modernize their data warehouses due to the increasing diversity, amount, velocity, and authenticity of current data.
To have an in-depth understanding, here are the core reasons for modernizing your data warehouse:
To experience business-shaping performance
Handling such a complicated and diverse series of activities necessitates a large amount of processing capacity and storage space.
As data volumes in our highly digitized world continue to expand at an alarming rate, many businesses are turning to data warehouse modernization, while improving system capacity. And hence, they are aiming to boost performance and manage these large workloads effectively.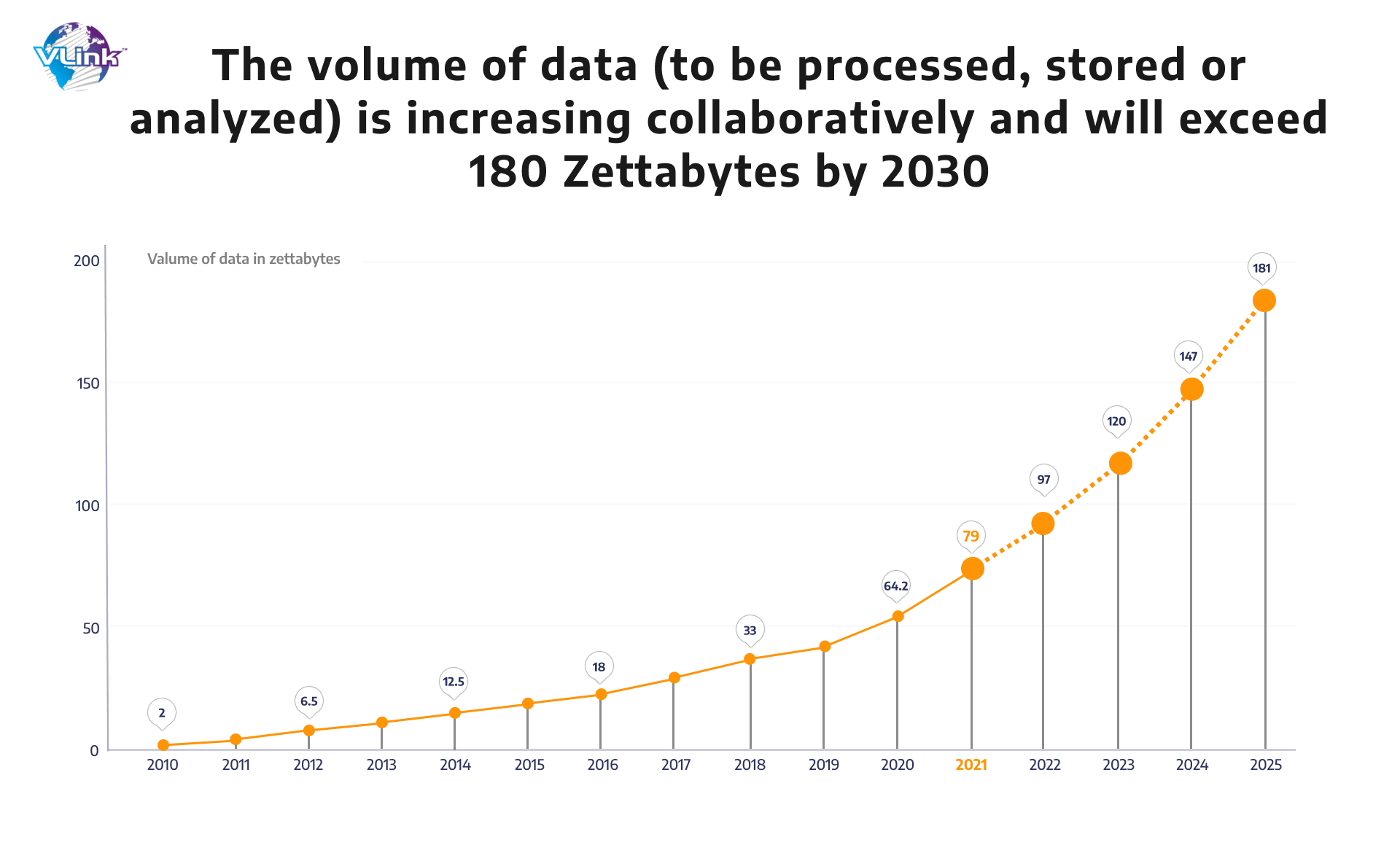 Leverage future-ready solutions
Data transformation not only addresses immediate concerns but also prepares your company for future challenges. It establishes a solid basis for a data ecosystem that scales as your organization expands.
Modernized data infrastructure adapts to the current technological developments, so you don't have to worry about your data infrastructure failing the test of time.
Saving on infrastructure expenses
Because a contemporary data warehouse is built for end-user access, you do not need to engage additional people for data query, insights, and analysis. Furthermore, it aids in the reduction of maintenance expenses related to the data warehousing process.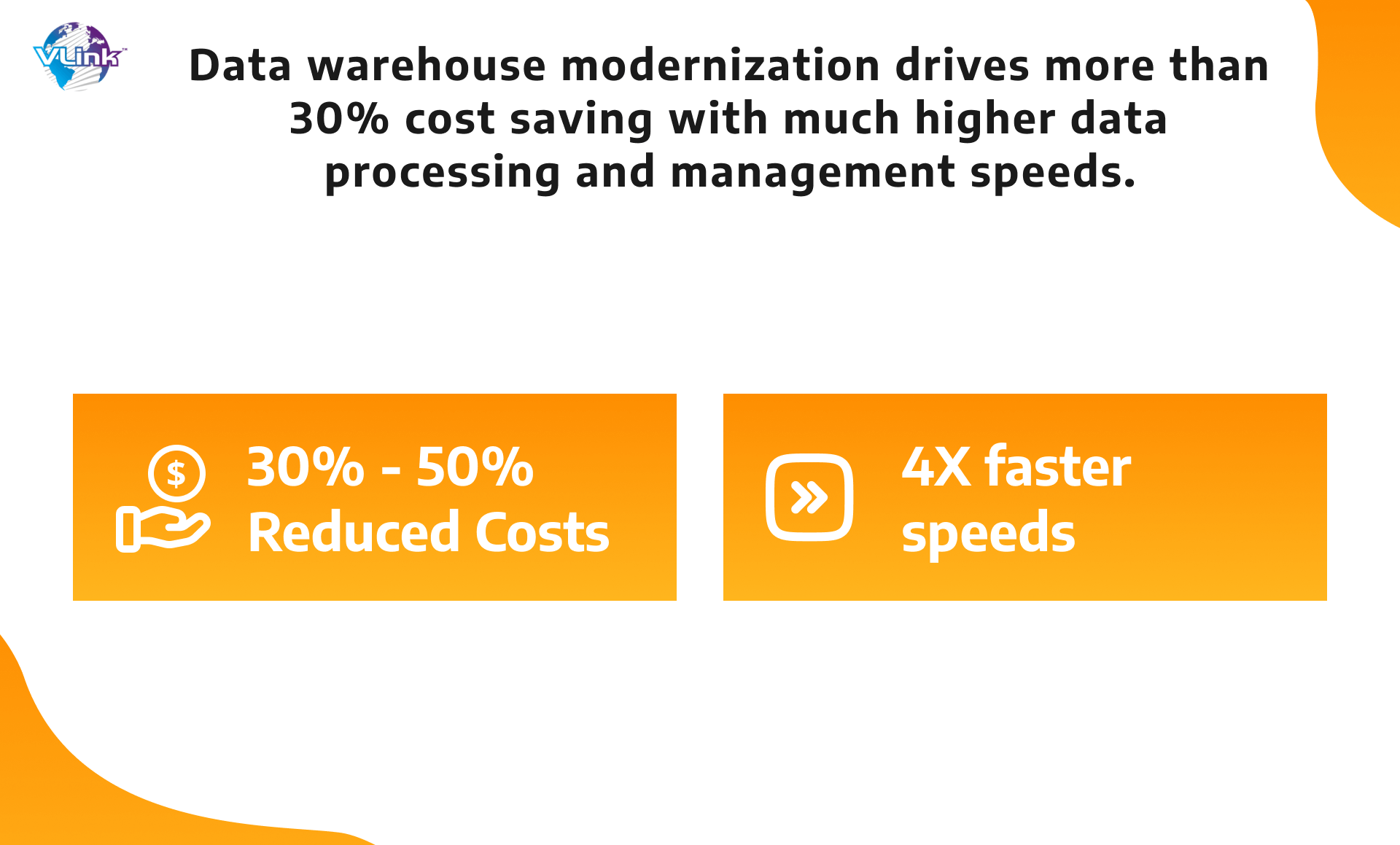 An agile data and analytics approach that begins with a modernized data warehouse is the cornerstone of every data-driven organization.
Achieving data intelligence for improved decision-making
A modern data warehouse approach provides you with a comprehensive perspective of your organization's performance, allowing you to make better data-driven decisions. A modernized data warehouse reduces several potential flaws that might stymie decision-making.
Less time consumption to analyze insights allows users to quickly extract insights from data. Democratizing access to the centralized data warehouse so that all stakeholders may make informed decisions.
While it is necessary to adopt a modern data warehouse in today's era, there are some challenges that companies face while doing it.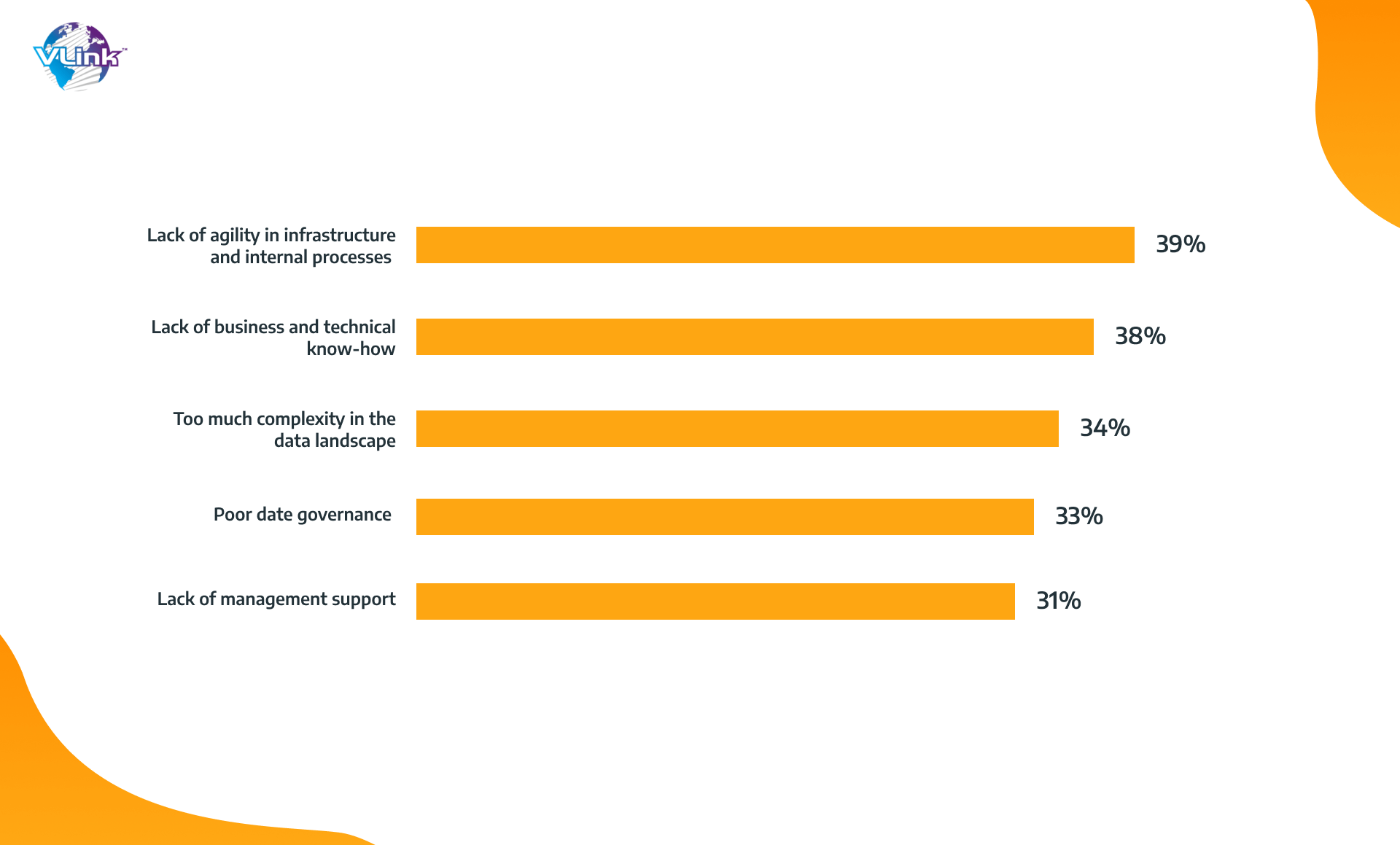 Also Read: Top Data Warehouse Platforms
3 Crucial Steps in Data Warehouse Modernization
Data warehouse modernization is a big step towards building a data-driven business. And these steps will be very effective if taken properly and with purposeful resources. Let's begin.
1- Moving to the cloud architecture
In an age where company demands, innovation trends, and operational conditions may change overnight, such solutions' overall lack of scalability and adaptability makes organizations less appealing.
As a result, several organizations have chosen or plan to shift their data warehousing activities to the cloud. It includes two primary models to be implemented:
Migrating data to the cloud: This occurs when businesses redeploy previously bought on-premises data warehouse systems to a cloud-based architecture, allowing them to preserve their favorite features while reaping the benefits of the cloud. However, not all providers provide this option, so keep it in mind while choosing an appropriate solution.
Deploying cloud from scratch: An alternate approach involves subscribing to an off-the-shelf, cloud-native data warehousing platform, which often provides simplicity of use and a faster setup schedule.
Moreover, there are two options in deploying cloud data warehouse: Hybrid and Multicloud.
Multicloud refers to the distribution of apps and cloud assets over several cloud services provided by different providers in order to save costs, get access to a broader feature set, or comply with local data management regulations.
Hybrid cloud refers to the use of on-premises and cloud resources, as well as public and private cloud environments, to scale up cloud computing resources on-demand and receive the best of both worlds in terms of applications and data warehousing capabilities.
Whether it's data migration to cloud or choosing from multicloud or hybrid, there are several benefits that a cloud environment will provide through a modern data warehouse.
2- Integrating automated ETL pipelines
Data warehouse providers have chosen to automate their ETL processes with AI-powered algorithms that combine data from numerous sources, convert and consolidate it, and then load it. Because all major data warehousing systems now include a complete selection of software options to assist you modernize your system, implementing such upgrades is extremely easy.
Now the question arises here: whether to choose general-purpose ETL or Cloud-native ETL.
Cloud-native ETLs are simple to access and utilize for integrating applications with specific systems.
General-purpose ETLs are perfect for building your own customized components and support multiple data sources and targets.
These tools perform a variety of tasks at a good pace to attain data governance and compliance more accurately than other manual methods.
3- Expanding an existing data warehouse
To guarantee compliance and security, enterprises may occasionally keep their on-premises outdated systems. These obstacles, however, may no longer stymie an organization's digital transformation journey. The following are the benefits of the extension method:
Increased processing power and storage capacity, as well as improved scalability and decreased hardware upgrade costs.

Command of a more regulated environment for testing, with both contemporary and legacy systems coexisting.

Automation takes the form of a contemporary extension, replete with tools that may assist reduce the time, cost, and risk of data warehousing projects while expanding the use cases for advanced analytics.
In these cases, extending the existing data warehouse is the ideal solution. Legacy sources are combined with current technologies and cloud platforms to increase your data warehouse's scalability and agility. This technique retains certain older components while modernizing others with new features.
How VLink can help to modernize your data warehouse?
To begin data warehouse modernization, we focus on automating your whole data lifecycle. Automation and intelligence are crucial for speed, scale, agility, and a shorter time to market. Each of these phases is aided by metadata-driven AI capabilities, allowing you to boost speed and scale. They will also make it possible for you to reuse your work across cloud platforms and processing engines.
VLink ensures to deploy the following approach to modernize your data warehouse with complete effectiveness:
Understanding & adapting your data
To effectively regulate your data, the first step is to gain a full view of it. To do so, we first understand where data comes from and how it goes around the data warehouse system. We also comprehend its characteristics, relationships, and ancestry.
Once we successfully find the proper data, we load it into your targeted cloud data lake. Typically, this begins with a load from an on-premises data warehouse. Following that, an incremental load would be performed to capture change data capture (CDC) from the database.
Ensuring the credibility of data
We ensure that your data is clean, trustworthy, and ready to use when we ingest it into the data lake. To swiftly design, test, and deploy data pipelines, our cloud-native data integration and data quality solutions employ capabilities in a simple visual interface.
Building performance-oriented data processing pipelines
Data consumers may wish to further slice and dice datasets after they have them in the cloud data warehouse. You may continue to create your reasoning using the same visual designer. Meanwhile, Informatica optimizes the execution using our multi-platform engine.
Integrating DevOps practices
DevOps methods that are mature allow developers to concentrate on development. It also allows them to deploy bug-free code on a continual basis through automated operation. The system also includes monitoring features that aid in the achievement of continuous integration and delivery, or CI/CD.
VLink's data warehouse modernization solutions focus on nurturing data efficiency, business agility, and system productivity through advanced technologies. Our experts enable your business to break down complex silos and make data warehouse lifecycle consistent.
Key takeaways
A well-developed data warehouse architecture can help you save money on solutions for data integration of siloed data. Because a contemporary data warehouse is built for end-user access, you do not need to engage additional people for data query, insights, and analysis. Furthermore, it aids in the reduction of maintenance expenses related to the data warehousing process.
From determining whether to 'push' or 'pull' your data to purifying it, you must guarantee sufficient preparation. You'll have a better start in this way.