The insurance sector is well-known for having several points of contact with its customers. Because of recent technology advancements, the insurance industry has introduced a slew of innovative digital solutions that put them right at people's fingertips.
As a result of this wave of digital transformation, pre-existing companies and startups in the insurance market are exploring the prospects of insurance mobile app development. With this development in the business landscape, even the modern customers have become accustomed to utilizing services online and insurance products are no different.
Given the diverse nature of operations, mobile insurance applications for insurance agents and clients keep a touch of refinement while assisting in enhancing customer happiness, user engagement, and sales. There are several other advantages for insurance businesses wanting to engage in insurance mobile app development.
To adapt these advantages, you will need a insurance app development guide that is connected with the demands of the insurance sector.
Why does your business need an insurance app?
Insurance, by tradition, has been powered by middlemen. Although removing them totally may be unrealistic, reducing their involvement will automatically increase profit margins.
The following statistics clearly demonstrate the insurtech industry's rapid evolution:
Between 2020 and 2021, the global insurance market rose by 13%.

Global InsurTech revenue is predicted to increase from $5.48 billion in 2019 to $10.14 billion by 2025.

Insurance market analysis suggests that the industry will enjoy a CAGR of 51.7% from 2022 to 2030

By 2027, the worldwide property insurance market is estimated to be worth $395 billion.
VCs have recognized the insurance market's remarkable growth rate and are significantly investing in it. Here are some facts that back that up.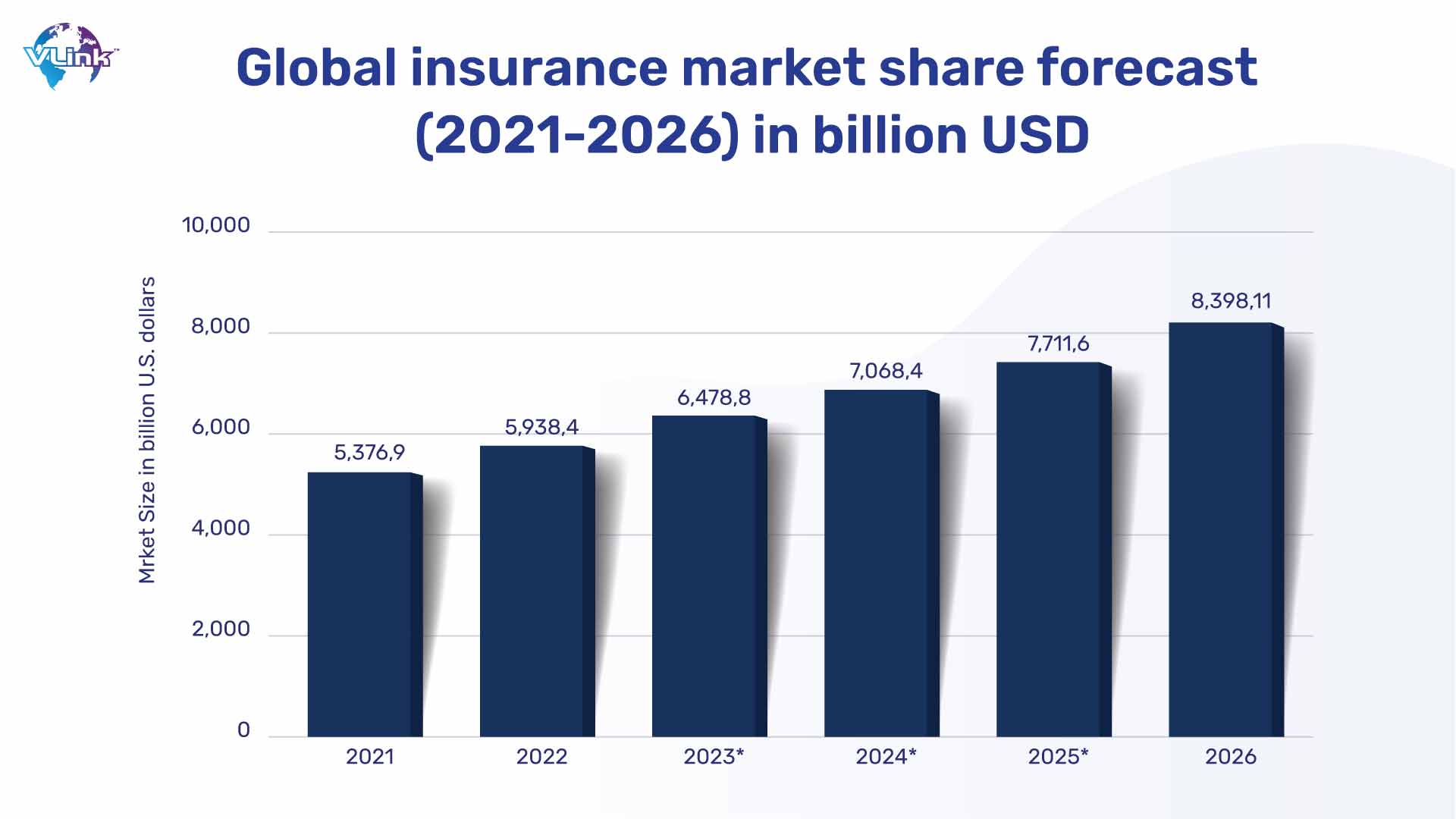 The mobile applications for insurance agents and users enable direct B2C engagement without the involvement of intermediaries. The positivity also permeates the consumer experience, which should never be overstated. And insurtech would be too savvy for its own good not to investigate this possibility.
Types of Insurance Apps
Before hopping on to the other topics, one must know about the different types of insurance apps based on the users. Let's have a look:
1- Insurance App for Customers
The most common type of insurance app is one that an insurer uses to update policies, claim files, and other related tasks. This software improves coordination between the insurer and the insured.
2- Insurance Agent App
For insurance brokers, this is a profitable app alternative. It not only helps agents close sales faster, but it also keeps them up to speed on their clients' policy history, claims made, and so on.
3- P2P
This is another popular insurance application in which consumers choose to pay their insurance premiums with a single company that will be responsible for reimbursements or claims. Furthermore, insurance apps can be divided into industrial niches.
Life Insurance app

Health insurance app

Business Insurance app

Vehicle Insurance app

Travel Insurance app

Property Insurance app
The insurance industry is vast and growing rapidly as they have found a way to keep their audience interacted – a mobile app. But did you ever thing what made insurance apps more enticing – their features.
Must-have features in insurance app development
1. Admin Panel
Make sure it slim and sleek, with obvious call-to-action buttons. The admin profile page will be providing information about vehicle IDs, roadside help, payment buttons, and the opportunity to transfer plans, which is rather straightforward.
2. Policy Details
This screen, which was added throughout the vehicle insurance mobile app development process, presents the policy information, the manner, and the extent of your benefits. An Android and iOS vehicle insurance app offers information about various coverage.
3. Quote & Filters
Quotes and filters are only a few of the things that must be considered while developing an insurance app. These capabilities promise to get your information from its databases and either link you to an insurance agent or reveal the price of a policy immediately.
4. Claim Management
The most important stage of insurance web app development is integrating a claims-filing area. The days of going around in circles to file claims are over.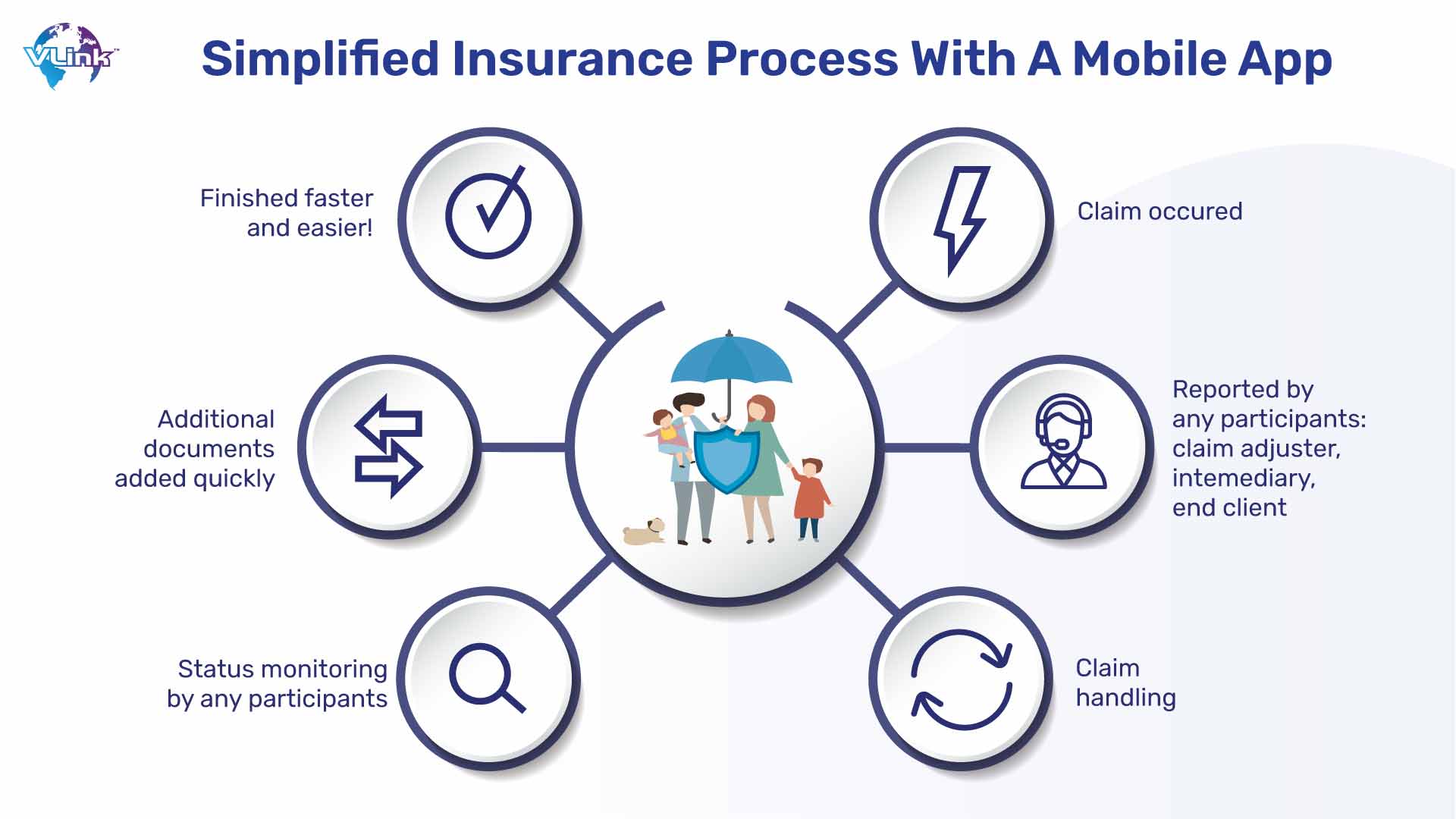 Submitting proofs should be as simple as taking a photo using the app's scanner or the phone's camera. If the entire procedure can be summarized on a single page, that's even better.
5. Payment Gateway
Undoubtedly, payment gateway integration is critical in insurance mobile app development. All major network providers, such as Visa, Master Card, and others, should be accepted by the gateway. It is critical to offer automatic billing for EMIs or a one click payment approach in order to create an insurance app that resonates with every user base.
6. Customer Support
Chatbots are no longer exceptional. Automated replies are a fast remedy for routine queries. Remember to include an in-app call functionality on your insurance app to act as an emergency averting, rapid response mechanism.
7. Push Notifications
Alerts and notifications play a major role in attracting the audience towards your insurance app. Whether you utilize this feature as sending a reminder for premiums, either offers or for both, there is a huge significance of integrating push notifications.
Moreover, users can also get assistance from this feature to leverage new offers in the market. Brands use them in similar ways because it keeps them ahead of others in the race to attaining a larger audience for their business.
8. Document Upload/Storage
The mobile app must not only allow document upload from local file directories, but also import from third-party servers, as in the case of emails.
How VLink can help in insurance app development?
As we had a good look at the must-have features to integrate in insurance apps, further app development process is still required to be explored. Let's begin:
1- Research & strategy
The first step in developing an insurance application (or any other application) is research. It is vital to establish short-term and long-term objectives and to select a strategy for achieving them.
To create the best customer-oriented strategy, you must first fully understand the target audience's preferences and behaviors, then determine how to attract users, how policyholders will interact with the application, what requests it will fulfill, and what will motivate insurance company customers to download it.
2- Business model implementation
At this step, we analyze how establishing a mobile application can help your insurance company. A free app with adverts, freemium (a combination of free and paid premium features), a paid app, subscription, and sponsorship are some of the most frequent revenue models.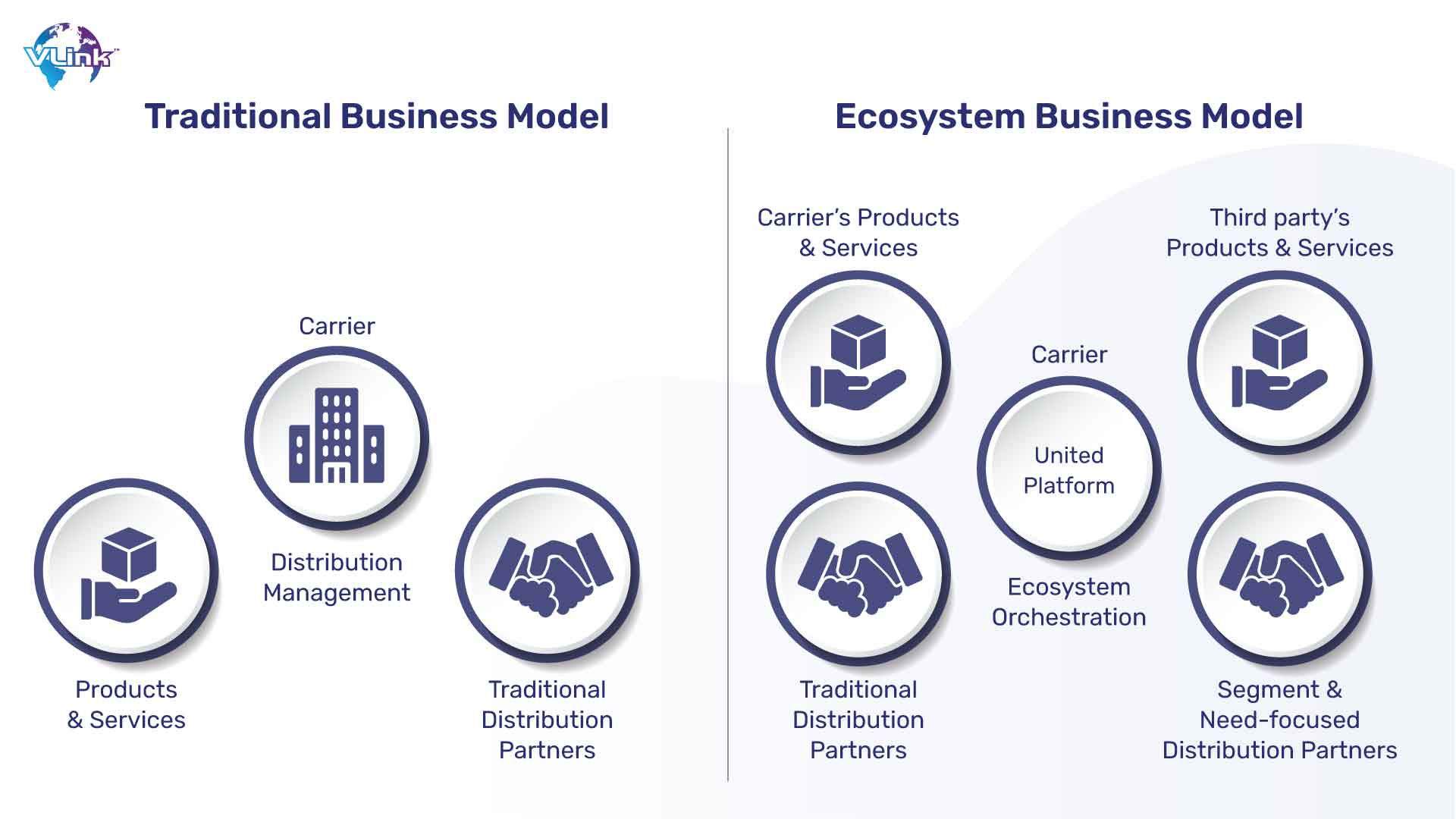 Prior to release, a monetization strategy must be devised and executed in the application. At the same time, monetization approaches can be blended; just one of them is required.
3- Insurance app designing
You already know what type of insurance app you want to build. It is now time to create the app while providing the finest user experience available. At this stage, the requirements must be clarified, the architecture must be determined, and a prototype with all the primary interface features must be prepared.
This is when rapid prototyping comes into play. Mobile developers may use prototyping to test concepts, establish the best features, and assess whether a possible product is viable and workable.
4- Developing the insurance app
Ensure that new and existing policyholders require your product; collect feedback, assess the need for improvements, and appropriately prioritize them; determine the ideal course for future development after multiple iterations; and begin monetization.
Before designing an insurer, you must first establish which tools, features, and capabilities will be critical to its success. The remaining functionality may be built concurrently based on the requirements and market trends.
5- Technical Integrations
You should focus not just on the essential functioning, but also the extra opportunities and trends that have emerged in recent years. Consider personalization, telematics, chatbots and AI/ML, self-service, APIs, cybersecurity, and other features. This is precisely what might entice people to switch from competition.
You can have a full-fledged insurance application after validating the assumptions, processing feedback, and analyzing key performance metrics.
6- Quality Control
Before an insurance application is published to the public, it must be tested for usability, bugs, compatibility, safety, and insurer and policyholder satisfaction. Although QA only accounts for around a quarter of development time, it is a critical stage.
High-quality and thorough testing can help you save money in the long term by identifying and correcting any potential flaws before they become public. Furthermore, QA provides dependability and stability, which is precisely what customers of insurance apps need.
7- Launch & Maintenance
The app will be deployed on both the Apple App Store and Google Play as the next phase in building the insurance app. Prioritizing customer input shortly after product introduction is critical. You can ensure timely improvements and updates by evaluating and using customer input.
The major goal is to increase the number of users since more input will lead to an improvement in the quality of our platform and insurance options. Constant input will be utilized to answer problems and improve our offering.
Technology stack for insurance app development
The insurance app development process and the underlying platform are the two key elements that influence the selection of libraries, languages, frameworks, development toolkits, and programming approaches for constructing a strong insurance app. The tech stack chosen is critical to ensuring the app's reliability, scalability, and security.
The mobile technology stack possibilities for developing an insurance app are influenced by the platform and development methodology chosen, as well as your business objectives and project goals. Any successful project starts with the correct technological stack.
How much does it cost to build an insurance app?
When it comes to application development, there is no one-size-fits-all solution. To calculate the cost of developing an insurance app, consider the project's complexity and scale, business goals, features and integrations, tech stack and development platform (iOS, Android, or both), spent time and developer fees, and much more.
| | | |
| --- | --- | --- |
| Insurance app type | Estimated cost of development | Time frame |
| Simple app | $35,000 to $60,00 | 3 to 6 months |
| Moderately complex app | $70,000 to $ 165,000 | 6 to 8 months |
| Highly complex app | $170,000 to $250,000 | 9+ months |
To give you a ballpark figure, the cost of developing an insurance app is between $35,000 to $250,000. In plain terms, having a highly complicated app with an extensive feature list would raise the cost of insurance app development compared to producing a less complex app with fewer features.

FAQs
Frequently Asked Questions
How long does it take to develop an insurance application?
The time it takes to develop a dedicated insurance app is determined by the app's total complexity. A extremely sophisticated program with a long list of features, for example, will take 9 to 10 months to develop. A simple insurance app with few features, on the other hand, will take 3 to 4 months.
Why insurance businesses should invest in an app?
Mobile apps are already at their peak when it comes to engaging and acquiring many audiences. Insurance businesses can get several benefits such as boosting brand visibility, building business values, and increasing global recognition.
How do you go about finding the best insurance app development company?
Hiring a mobile app development team with suitable experience in the area is recommended when selecting the proper app development agency. Check out the evaluations on sites like Clutch and Good Firms, which have complex filtering, to discover such a team.