Over the last few years, blockchain has become a buzzword everyone (related to different industries) talks about. The worldwide blockchain tech market is $17.57 bn in 2023 and is expected to reach $469.49 bn by 2030.
Even popular brands like Amazon, Paypal and Microsoft are investing in blockchain app development.

Many businesses or organizations worldwide looking to adopt blockchain technology comes with one question "what is the cost to build a blockchain app?"

The brief answer is- IT DEPENDS!
Blockchain app development costs depend on several factors, such as the developers' teams, marketers, a project plan, market research, etc. Most importantly, you'll need to determine the cost & time to create a successful blockchain app.
If you are wondering about the estimated cost & time frame of building your blockchain project, here you'll get a complete blockchain development cost guide, along with factors that impact this price.

Let's first start with some stats on why you should invest in a blockchain development project:

Why Should You Invest in Blockchain App Development? It's Time for Stats.
Blockchain tech adoption has increased exponentially since PayPal and Walt Disney engaged in it in 2014. 81 of the world's top 100 public enterprise implement blockchain technology, with 27 companies working on live blockchain development process. These 27 enterprises are Microsoft, Amazon, Bank of China, Walmart, Alibaba, J.P. Morgan, etc.
Blockchain can provide the following benefits to your business - whether you're using a public blockchain network or selecting a private blockchain-based app.
Strengthen trust

Enables real-time data sharing

Improved security and privacy

Reduced costs

Visibility and traceability

Simple data access

Tokenization

Faster transactions

Here are some stats it's the right time to invest in blockchain development solutions:
These numbers are enough to explain why implementing a blockchain app solution would be a great investment for your business. If you are looking ahead to the development process, blockchain app development costs should be your first concern for successful results.

How Much Does Blockchain App Development Cost?
Blockchain app development costs can range from $40,000 to $300,000 or higher, depending on several designs, features or types.
If you want to get a more accurate estimate of the cost of your blockchain project, consult a specialized blockchain app development company such as VLink. They can provide detailed cost estimates based on the specific milestones and objectives you want to achieve with your blockchain app.

Let's come to main topic;
6 Factors Impacting the Blockchain App Development Cost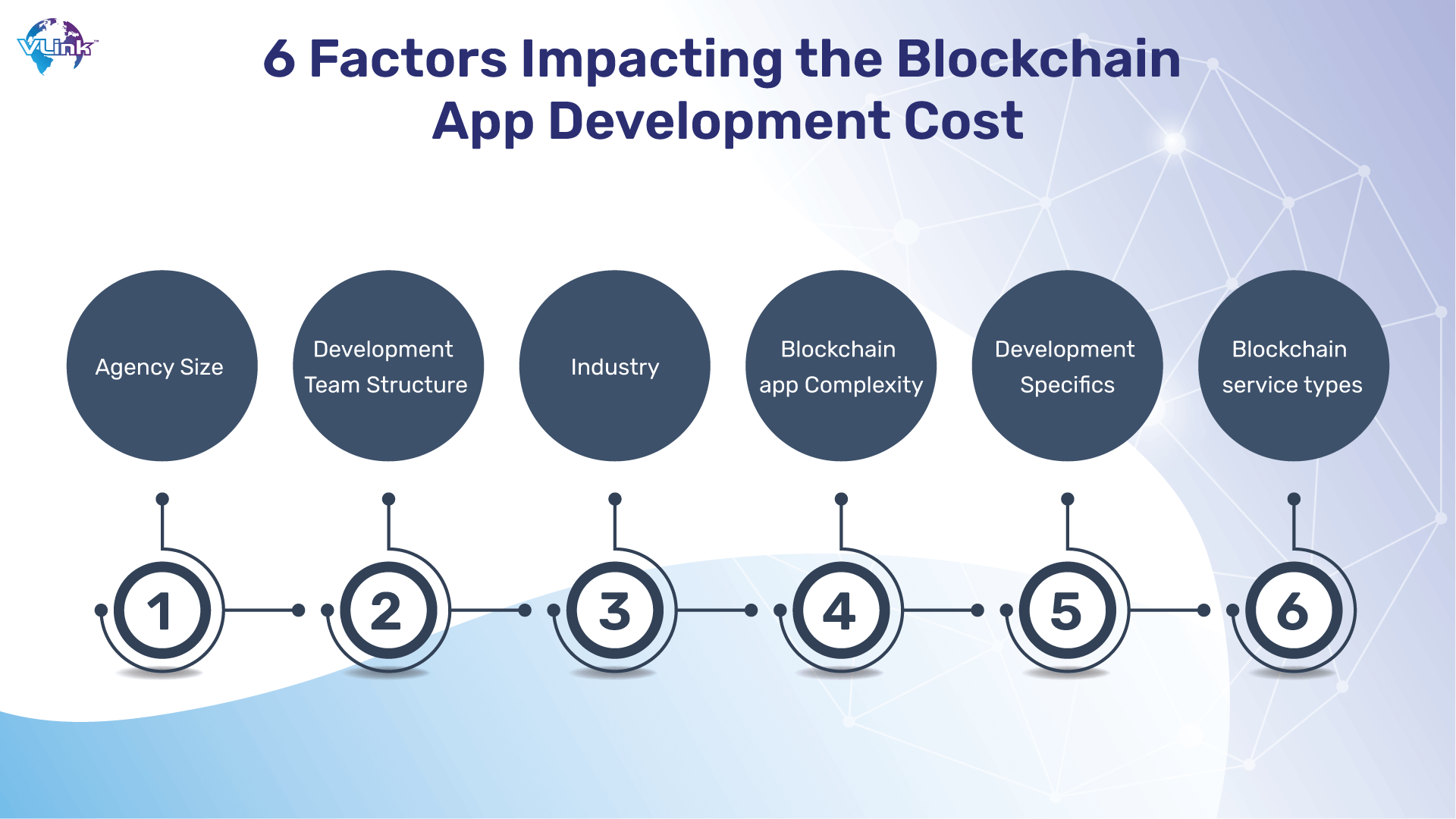 The cost breakdown structure of the blockchain app development domain varies between small-size, SMEs and large-size companies.

Most companies planning to enter the blockchain sector usually prefer to invest in Mid-size software development companies. Reasons are dedicated team, affordable costs and satisfied results.

Cost differences between the three company sizes and development team sizes are shown in the table below.


| | | |
| --- | --- | --- |
| Companies Size | Team Size | Costs |
| Large app development companies | 3000+ experts | $450,000 to $1,500,000 |
| Medium-sized app development companies | 1000+ experts | $40,000 – $300,000 |
| Small development companies | 10 to 50 experts | $2,000 to $ 25,000 |
When selecting a vendor, ensure they have relevant expertise in blockchain technologies and meet your requirements in terms of standards.

For basic projects, you may need a small team of 4-5 experts or freelancers, including:

Backend developer

Blockchain developer

Business analyst

UI/UX designer

Quality assurance manager

Project manager
You'll need more team members if you have a complex project or tight deadlines and need to speed up the process.

For blockchain-based app development, you can;
Expand your in-house team

Hire freelancers

Hire a dedicated outsourcing team
Let's explore each option in detail.

Outsource to Blockchain App Development Company $45-$95/hr.

Assembling an in-house team may cost you around $50,000 for newbies to $100,000 for experienced ones.

Hiring an expert freelancer may cost somewhere approx. $50,000 to $90,000.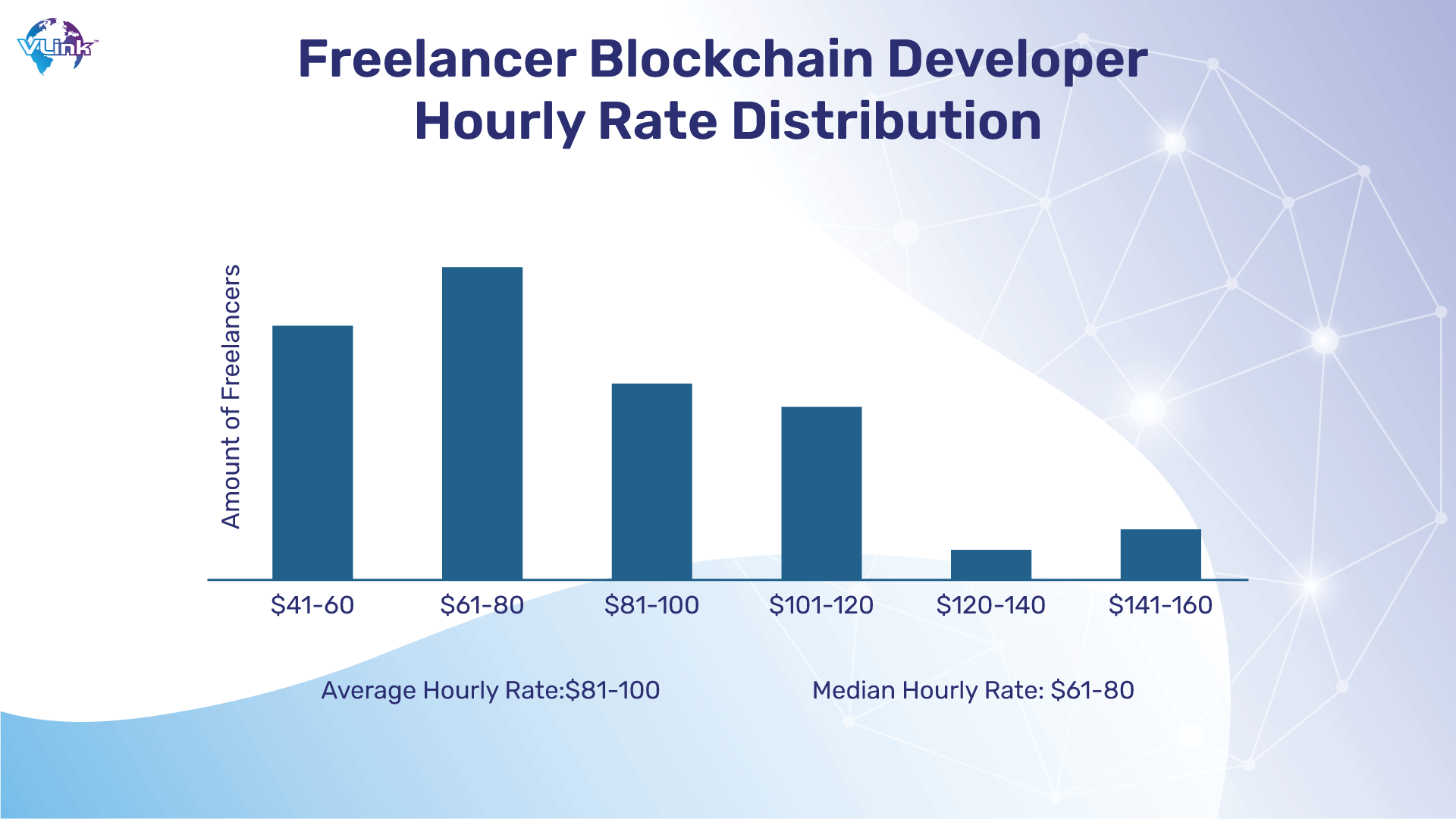 Cost to outsource blockchain app development by region are shown in the below table;
| | |
| --- | --- |
| Regions | Costs/hours ($/hr) |
| North America | $150-$250/hour |
| India | $20-$35/hour |
| Western Europe | $70-$150/hour |
| Eastern Europe | $50-$70/hour |
Blockchain app belonging to the industry impacts the development cost to a great area.
There are several costs influencing factors that vary from one sector to another. These factors are;

The complexity of the dApp

Number of stakeholders

Industry compliances



The blockchain app development cost difference as per several industries;
| | |
| --- | --- |
| Industry | Cost |
| Healthcare | $55k-200k+ |
| On-demand | $40k-1000k |
| Social Media | $45k-100k+ |
| Public Sector | $70k-100k+ |
| Finance Sector | $50k-300k+ |
Blockchain apps are categorized into three complexity levels: low, medium, and high.

The complexity of a project depends on various factors, including;

Data structure

Cryptography

Consensus mechanisms

Platform

APIs

Tech stacks
The table below shows a rough estimation of time and cost for blockchain projects at each level of complexity.
Complexity Level

Project Examples

Cost Estimation

Time Frame

Low

Basic smart contract app

Payment app built with existing cryptocurrencies





~$25,000

~2 months

Medium

Semi-decentralized app

dApp built on an existing blockchain platform





~$100,000-$300-000





~4-6 months

High

Custom blockchain-based platform

Complete decentralized network





~$600,000-$1,000,000





~12 months
The mobile app development process hides several technical nuances that can impact its final costs.
After considering all the requirements of your project, you need to understand them. It may help you to more precisely estimate your development budget.
Blockchain implementation cost also depends on each development project phase. Different types of such apps may require several activities during the development process.
Here is an approximate share of the cost of each development stage for a new project:
| | |
| --- | --- |
| Project Milestone | Cost share (%) |
| Initial consult | 5% |
| UI/UX Design | 10% |
| Development | 45% |
| Testing | 25% |
| Deployment & Maintenance | 15% |
Here are a few general categories of vendor services that are common for several blockchain-based apps:
Infrastructure platforms for computing, delivery, and storage (such as Amazon Web Services): $100 to $1000, depending on the number of users

Blockchain nodes and API development providers (such as Alchemy and Kaleido)

Bug tracking tools for gathering and reporting live bugs (such as TestRail, Instabug, and Bugsee):($10 to $100 per month)

Monitoring services for sending downtime notifications (such as Uptime Robot and Statuspage.io): ($10 to $50)

Notification services for enabling notifications in apps (such as Twilio, Kumulos, and Amazon SNS): ($10 to $50)

Analytics solutions for data analysis and reporting (such as Flurry and Mixpanel): ($0 to $150)
As blockchain tech builds, transforms and obtains new use cases, app types and services appear.

Let's take a look at some of the most popular types of blockchain services: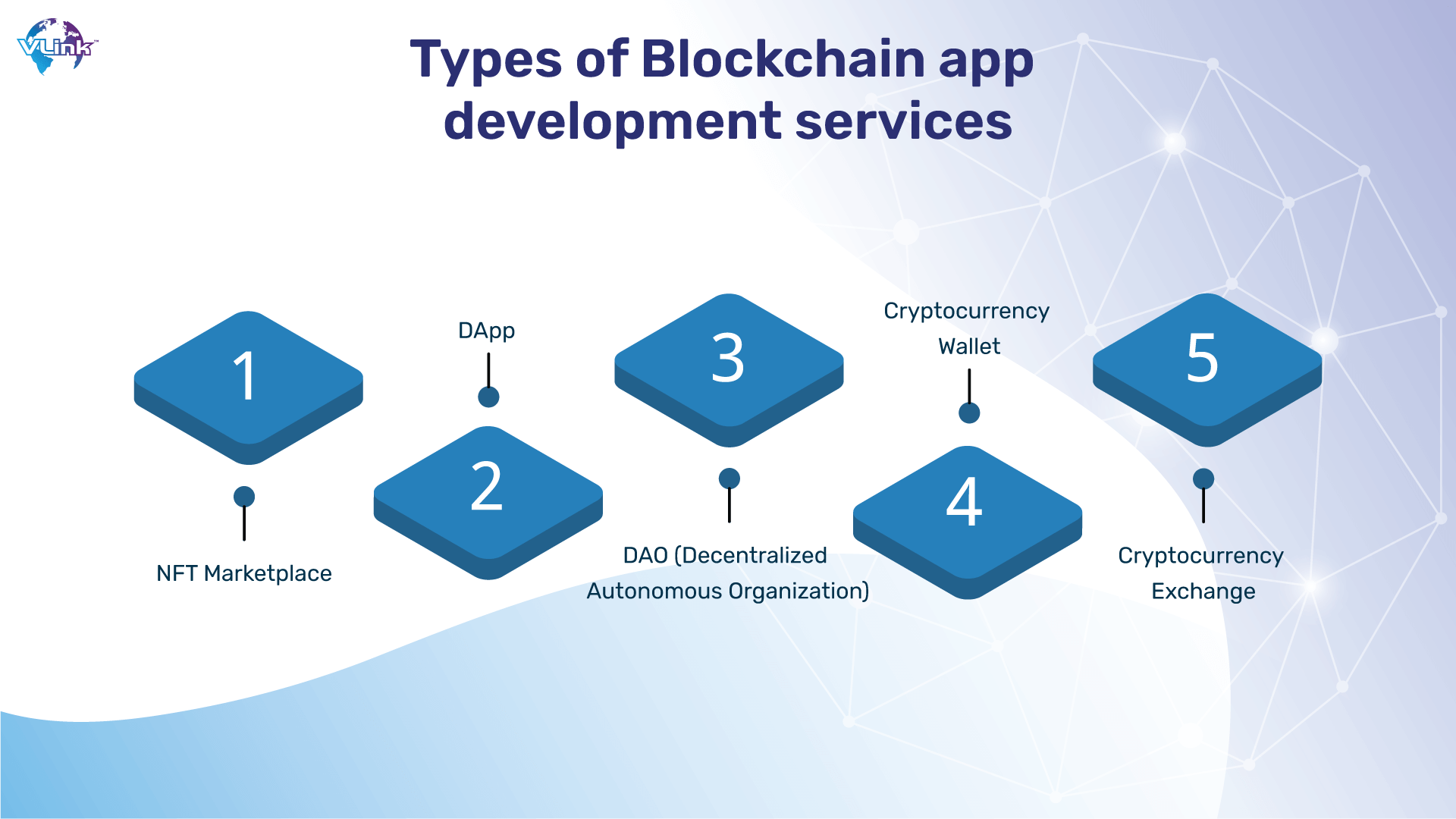 NFT Marketplace
Non-Fungible Tokens or NFT marketplace acts as a public Blockchain platform, allowing users to sell and buy NFTs.

DApp
A decentralized application (DApp) operates independently through smart contracts, which run on the blockchain or a distributed ledger.

DAO (Decentralized Autonomous Organization)
A decentralized autonomous organization (DAO) is a form of legal structure without any governing body, and all its members work collectively toward the success of a single entity.

Cryptocurrency Wallet
A mobile app that allows users to purchase and sell cryptocurrencies, store them and effectively manage transactions.
Cryptocurrency Exchange
This trading application enables users to purchase, sell, and swap numerous cryptocurrencies and fiat money.

The estimated cost and time frame required to create different types of blockchain applications services is shown in the table:
| | | |
| --- | --- | --- |
| Blockchain App Service Types | Estimated Costs | Time Frame |
| NFT Marketplace | $55,000 to $125,000 | 8 to 9 months |
| DApp | $35,000 to $150,000 | 4 to 8 months |
| Decentralized Autonomous Organization (DAO) | $10,000 to $30,000 | 1 to 2 weeks |
| Cryptocurrency Wallet | $125,000 to $200,000 | 6 to 9 months |
| Cryptocurrency Exchange | $135,000 to $190,000 | 4 to 5 months |
Wrapping Up!
Hopefully, you have now understood the cost of blockchain app development. Understanding the explosive growth of blockchain apps is essential. Because they can benefit your company in many ways, including cost effectiveness, improved security, fraud prevention, and more.

By incorporating blockchain technology into your business infrastructure, you can establish a pathway toward a thriving enterprise that ensures optimal return on investment (ROI).
VLink, a specialized company in blockchain mobile app development services, excels in providing top-notch blockchain solutions tailored to your unique business needs. Our experienced development team is expertise in integrating advanced technologies that have the potential to streamline your business operations and drive remarkable outcomes.

FAQs
Frequently Asked Questions
How to develop a blockchain app for your healthcare business?
Here are a few steps you need to follow for building a blockchain app for healthcare business:
1. Define your app's purpose and features.
2. Select a reliable blockchain platform (Ethereum, Hyperledger, etc.).
3. Design and develop smart contracts and backend infrastructure.
4. Build a user-friendly front end.
5. Test, deploy, and maintain the app.
What is the cost of commercial blockchain?
Commercial blockchain development is building a blockchain platform businesses use to streamline operations. The cost of blockchain application for commercial business can range anywhere between $50,000 and $1 million.
What do you need to consider before determining the cost of blockchain development?
Here are several factors you need to consider before determining the blockchain development costs:
Required deliverables

Product interfaces

Level of blockchain involvement

Blockchain type

Number of blockchain platforms

Consensus mechanism

Need for financial transactions

Need for cloud computing

Estimated number of end users
How much time does it take to build a blockchain app?
The time frame needed to create a blockchain app depends on its complexity. A highly complex app with advanced features requires around 9-10 months for blockchain development.

On the other hand, a simple blockchain app with minimal features requires around 3 months for development.