How to create a successful p2p lending app? An Ultimate Guide!
Over the last decades, the popularity of p2p lending apps has been growing steadily, with the rise of the fintech industry. Peer-to-Peer loan software is an advanced & secure way of lending and borrowing money.
201 Views

5 minute
In 2015, the worldwide p2p lending market was valued at $64 bn, reaching $115.61 billion in 2021. And it's expected that the market will reach $558.91 billion in 2027. It means that peer-to-peer lending or loan companies are about to take a large piece of the pie right before traditional lenders.
Lending Club, Funding Circle, and Upstart are some of the most well-known p2p loan apps for lending or borrowing.

Want to make your lending business popular in today's competitive digital marketplace? You are at the right place!
In this blog, we curated this step-by-step guide on p2p lending app development.
But let's start with its basic details!
What is a P2P Lending App & How Does It Work?
P2P lending or money loan app is an automated process of borrowing and lending money through online platforms. It can connect borrowers and lenders directly, avoiding traditional financial intermediaries like banks & credit unions.
How does P2P lending app work?
The process of the P2P lending app works differently for both, the borrower and the lender.
So, an idea of the loan lending work process is necessary whether you are a lender or borrower.
A proper process is shown below figure: -
Why is P2P Lending App Development is Popular in the Fintech Space?
The market of Peer-to-Peer lending is gaining popularity in the fintech sector.
The Statista analysis forecasts that the lending market will progressively see growth this year. And the market size of the p2p lending segment was $ 82.3 billion in 2021. And by 2030, its size will rise to $804.2 billion.
That's why many financial institutions and banks are looking for p2p lending app development solutions to grow your business in the FinTech industry.
Check out below graphical illustration regarding the same:
Incredible Statistics About p2p lending app developments

126+ million users of P2P lending apps in USA in 2020

$1.2bn

P2P lending platforms in the US market size in 2023.

Global peer-to-peer market size is expected to grow by $558.91 billion by 2027.

Prosper and Lending Club, the largest money loan platform in the US, has issued more than $5.5 billion in loans and has grown by 84%.
Benefits of P2P Lending App Dvelopment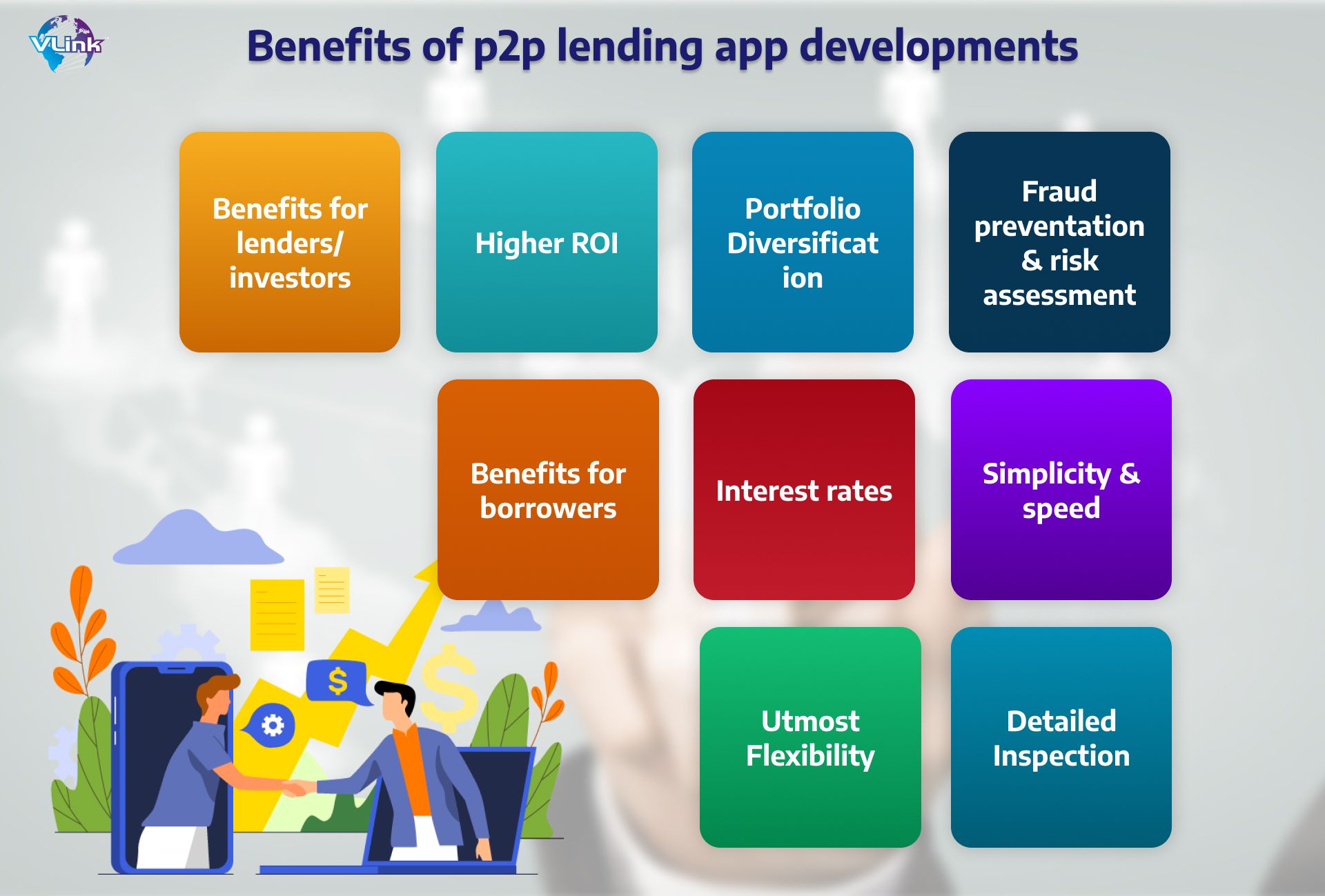 P2P lending app development is a win-win situation for lenders/investors and borrowers.
Benefits for Lenders/Investors

Higher ROI
P2P lending apps provide greater ROI than other investments like deposits or the stock market.
For example, Prosper's platform gives investors 3.5% to 7.5% returns.
Portfolio Diversification
Highly skilled lenders never put all their money into one project. Are you an investor looking to diversify your investments to reduce the risks and generate more profit? Investing in P2P lending app development can be a great opportunity for diversification.
Fraud Prevention & Risk Assessment
Thanks to P2P lending app development solutions, you can create fraud detection systems & apply strict policies to protect you from fraudulent activities.
Benefits for Borrowers
Interest Rates
One of the most crucial benefits of peer-to-peer apps for borrowers is the competitive interest rates. If your project meets the investor's specific requirements, you can get a higher chance of getting lower interest rates than traditional banks.
So, an online lending platform is the best option reducing stress and promoting stability and security.
Simplicity & speed
Modern P2P loan apps streamline the lending process with high speed and simplicity. It's easier than traditional channels.
The online lending platform usually takes up to 10 minutes to determine if you are permitted. And to get a loan, you will need only up to 5 days.
Utmost Flexibility
As a borrower, you can select the most beneficial and discuss the term in detail. Thanks to P2P lending software, you don't have to give any collateral.
Detailed Inspection
While collateral is unnecessary, the P2P lending app thoroughly checks everything to prove the borrower's integrity. It helps the service maintain credibility and ensure trust between borrowers & lenders.
Step-to-Step Guide on a Successful P2P Lending App Development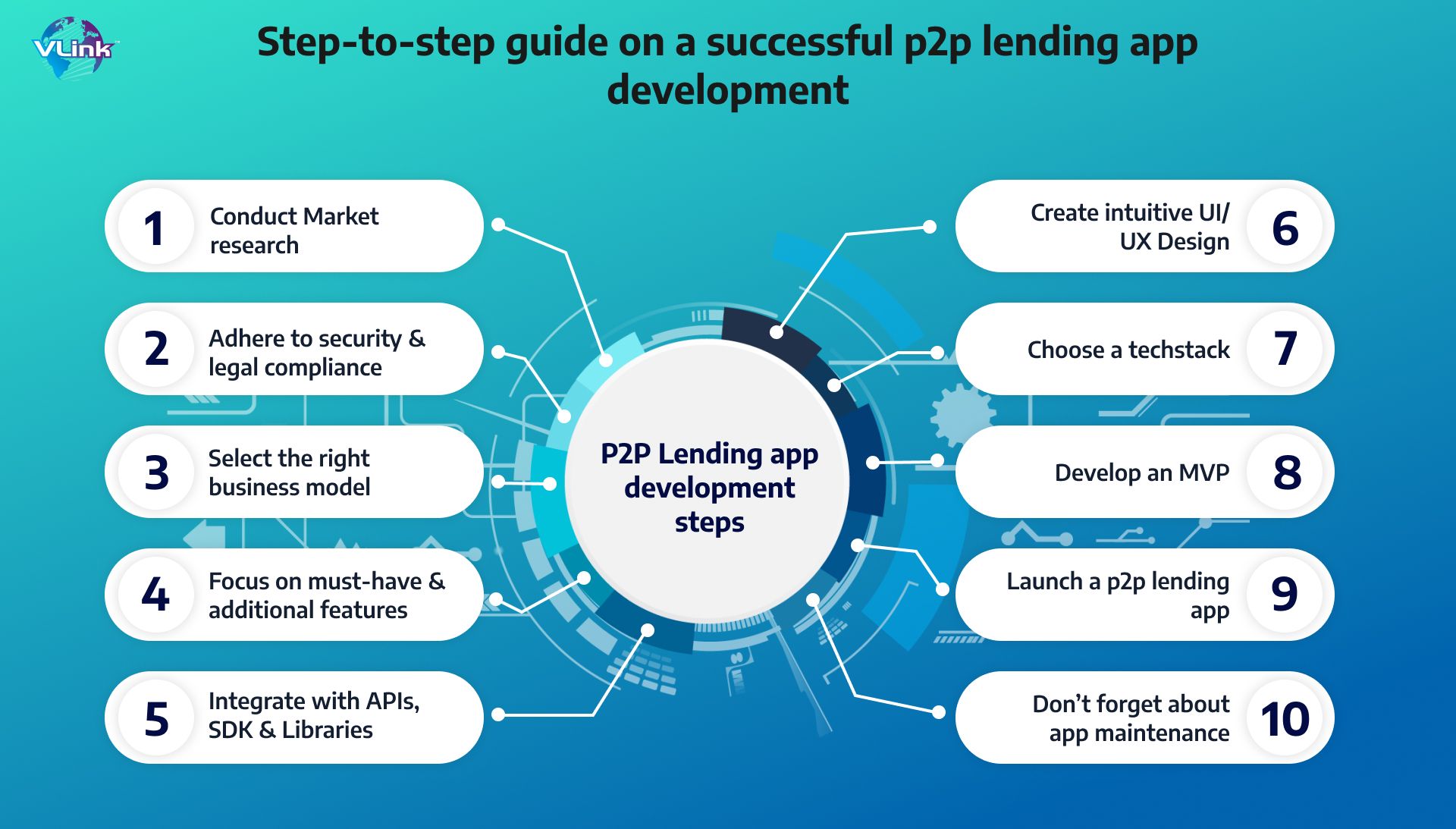 Thinking of creating a peer-to-peer loan app for your business? Here is a step-by-step P2P lending app development process.
Step #1 - Conduct Market Research
Before starting your P2P app design and development project, it's important to clearly understand the segment. Market analysis is essential during peer-to-peer lending software development, like any other app development process.
Access the trendy market conditions to know the trends in the FinTech sector and research the prominent lending apps. This stage will help you to learn about the features, faults and other requirements.
Remember to write down the information you may find helpful during lending app development while analyzing the market and competitors. It will help you to know more about what your potential users want and need.
Step #2 - Adhere to Security & Legal Compliance
Banks become targets in over 25% of all malware attack cases. Users prefer to avoid loan apps that don't follow security compliances. Like other FinTech startups, security plays one of the major roles in money lending app development.
To create a safe & secure P2P loan app, make sure you implement the following things–
Authentication
Improve the security of your P2P loan app with several identity verifications approaches such as Passwords, 2-factor authentication, face recognition, and fingerprint scanning.
Encryption
Strong encryption is essential for a money loan app. You must ensure your P2P lending app includes secure server connections integrated with an essential data-breaching structure.
Legal Law Compliance
To build an app related to payments which can hold required funds and private details, your app must comply with all essential laws of being a payment app.
As your software grows, you must raise your legal aspects and comply with every region's regulation.
Step #3 - Select the Right Business Model
Like other mobile app development processes, a P2P lending app requires immense effort & time. So, choosing a suitable business model for creating a profitable business app is essential.
Follow the right business models, such as advertising, subscriptions and commission-based model, to ensure constant income from your loan software.
Before building your business plan, consider three main options for monetization.
Ongoing Fees

Registration Fees

Subscription Fees
When using mobile app development services, ask your experts to select the right business model to meet your business requirements. It will greatly impact your app's success in the long term.
Step #4 - Focus on Must-Have & Additional Features
Features are essential for a loan app, as they can make or break your business's success.
You need to follow the required features to make your app stand out from the rest.
Registration
When a user downloads the app, the registration feature is essential. Make sure your app has an easy and quick registration process.
You can also add social media accounts, Gmail or a phone number for a game changer move.
Loan Application
One of the P2P loan app's most important features is the application form. Ensure your lending application process is simple and accessible to users so users can access the app without any complications.
Loan Calculator
Add a loan calculator to your app to help users access payment possibilities while connecting with lenders. This incredible feature allows lenders to access the interest rate and other necessary analytical data.
Profile and Profile Edits
Include profile & profile edit features into your lending app to improve users' experience. It allows users to modify their information, add more personal detail & track their activities.
Payments Log
This feature allows users to pay off the interest and main amount via the app by connecting several payment methods such as credit cards, debit cards and online banking. Make sure your loan app has in-app payment options.
Push Notifications
Push notifications are one of the best ways to keep your users informed and engaged. You can send notifications to make someone agree to their lending if the payment is due or they have missed a payment.
Step # 5 - Integrate with APIs, SDK & Libraries
APIs, SDK & Libraries integration add to a safer and more secure account verification procedure. Finance APIs can be useful when creating your secure P2P lending app.
By integrating APIs into your lending app, you can improve the production process, minimize expenses, shorten development time and offer advanced functions in your program.
Step #6 - Create Intuitive UI/UX Design
A lending app with an appealing design can grab the attention of users. Try to avoid complicated designs for your business app.
If you are looking for a leading mobile app & website development services for P2P software, check whether they have a creative designers and developers' team.
In addition, you can keep an eye on the latest technology stacks of your P2P lending app to ensure its long-time success.
Step #7 - Choose a Tech Stack
As we have discussed the benefits, & features of a lending app, it's time to go with tech stack to turn your idea into reality.
Here is a list of technology stacks we use and recommend for Peer-to-Peer lending app development.

Tech Stack

iOS

Swift 5, UIKit, MVVM+C

Android

Kotlin, MVVM+C, Android Studio/Eclipse

Admin panel

Node.js, React

Payment gateway

Stripe, PayPal, Mastercard

Admin panel

Node.js, React

Geolocation

Google Maps API, Mapbox

Server

AWS

Utilities

Firebase, Twilio, Facebook SDK, Google SDK

Notifications

Amazon SNS, PubNub, Firebase Cloud Messaging

Sending bills and invoices

third-party SDKs like Firebase, Twilio, or Nexmo
Step #8 - Develop an MVP
Building an MVP is the best way to visualize how your lending app will look. It saves you time and effort and helps reduce errors and bugs before the final launch.
So first, create an MVP, then start the final app development.
Minimum Viable Product is a cost-effective way to minimize the loan app development cost and keep your budget on track. This stage applies to Android app development services or iPhone app development solutions.


Step # 9 - Don't Forget About App Maintenance
The app launch is not the last development phase if you want success in the long term.
As tech improvements appear daily, you must maintain your lending app regularly and check your users' feedback. To make your loan app up-to-date, upgrade it and add the advanced tech stack whenever required.
What is the Cost of P2P Lending App Development?
The cost relies on several factors: work scope, required resources, location and tech stack. However, hiring a team in different regions can reduce the peer-to-peer lending app development cost.
| | |
| --- | --- |
| Country | Cost/Hour |
| North America | $45–$200 |
| South America | $40–$80 |
| Western Europe | $50–$200 |
| Eastern Europe | $25–$150 |
| Australia | $40–$170 |
Understanding work quality also depends on the location. You can reduce the cost by hiring a dedicated team rather than freelancers.
The Final Thought!
A successful P2P lending app development process requires time, effort and expertise. This platform offers businesses a profitable opportunity in the FinTech sector.
Hopefully, this blog is helpful for you to know "how to build a secure P2P lending app?".
If you don't have a desired development team, hiring a dedicated software development company where experts work is advisable.
Consider VLink As Your p2p Lending App Development Partner!

Looking for a P2p lending platform like LendingClub? VLink is one of the fintech development companies that leverage the power of cutting-edge technologies for building loan platforms.
Being one of the best client-oriented IT service providers, we have transformed various businesses with our secure P2P loan apps. Our dedicated developers have comprehensive experience in creating custom P2P lending platforms with high performance.
Here are some reasons why you should hire us for your project:
Agile development

Cloud DevOps & automation services

for enhanced collaboration

Dedicated P2P lending app development team

Security

On-time delivery

NDA (Non-Disclosure Agreement)




FAQs
Frequently Asked
Questions
What are the types of P2p lending platforms by loans?
Three main types of P2P lending platforms by loans are Consumer Lending, SME business Lending and Property Lending.
What are the most popular p2p lending apps in the US?
The five most popular peer-to-peer lending apps in the US are Lending Club, Prosper, Upstart, Funding Circle and Payoff.
What teams are required for p2p lending app development?
A secure & convenient P2P lending app development requires a team including the RD team, DevOps experts, designers, developers, React developers, NodeJS developers, and Quality Analysts.