NFTs have been establishing trends in recent years, with most NFTs selling in the millions, which has piqued the interest of most people across the world. An NFT Marketplace is required to trade, sell, or purchase and mint NFT.
Several markets, including OpenSea, Rarible, LooksRare, and others, have reached significant milestones in the development of NFT marketplaces. Most businesses are looking for the finest NFT marketplace business models, such as OpenSea NFT marketplace, which is a feasible NFT marketplace platform.
In this blog, we will deep dive into the details for developing an NFT marketplace like OpenSea. From strategy to deployment, it has everything you need to build an OpenSea clone. Let's begin.
Know More About OpenSea
The OpenSea NFT marketplace, the world's leading NFT platform, exemplifies how the system operates. It was formed in 2017 and debuted in August of 2021, but it immediately surpassed a daily trading volume of $75 million.
The OpenSea NFT marketplace includes over 600,000 members and over 2 million collections, with more than 80 million NFTs available to investors and traders. All NFTs are issued in accordance with the ERC-721 and ERC-1155 specifications, making them distinct and tradeable across NFT exchanges.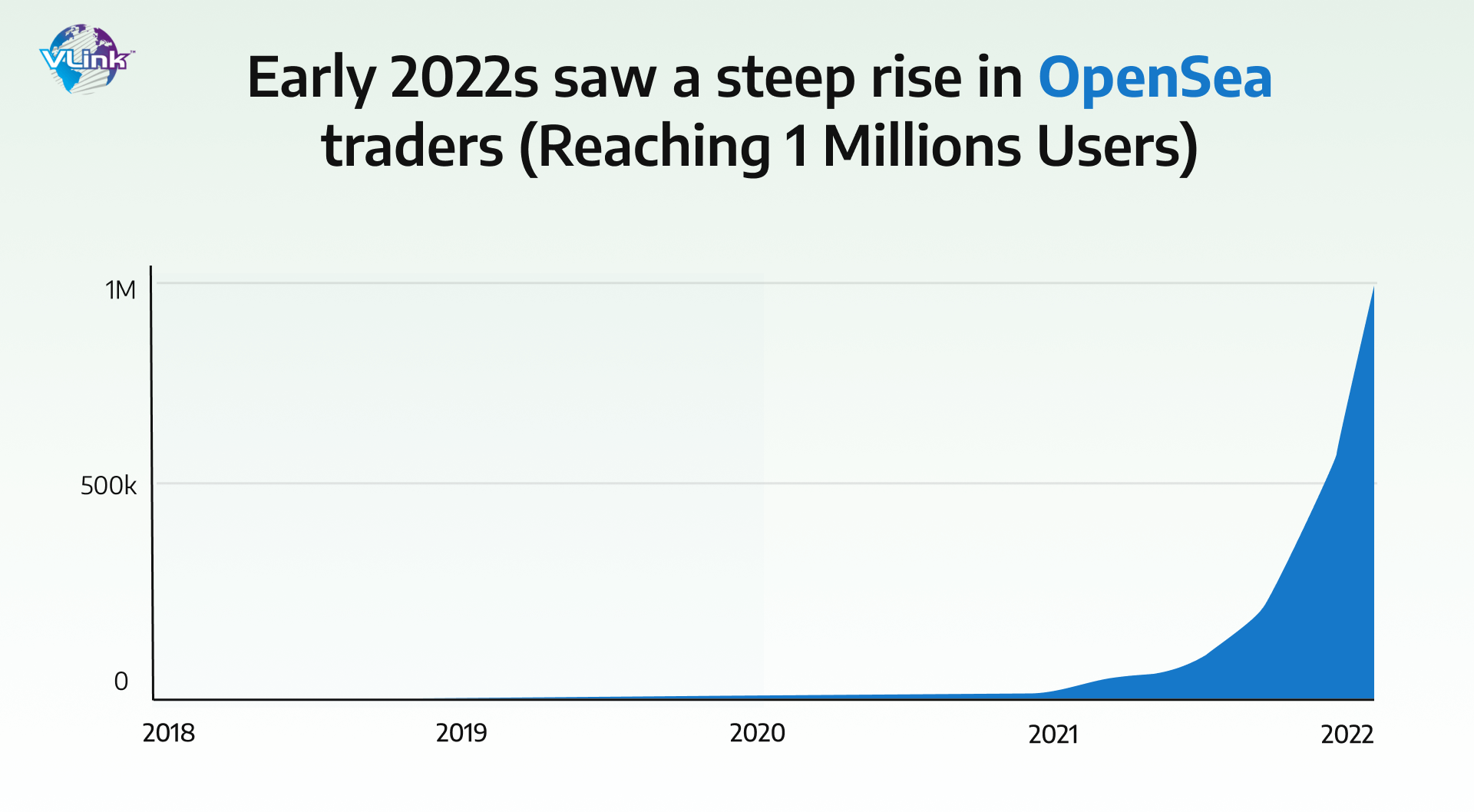 The OpenSea NFT marketplace software will allow you to construct one in a short period of time. The premium white-label OpenSea clone software is a fully developed marketplace script with a slew of plugins to provide consumers the greatest possible experience. You may also integrate any technology you require because it is entirely configurable.
How does OpenSea work?
It is difficult to build an NFT marketplace without first knowing its internal design and work logic. Here is a quick analysis of the key processes in the functioning of such platforms, outlining the procedures you must include in developing your own NFT marketplace.
Registration/Account Creation
To get access to the platform, both artists and NFT purchasers must create an account at the NFT marketplace of their choice and complete the KYC verification process.
Following registration, users must build a suitable wallet or link an existing wallet that supports the storing of cryptocurrencies and NFTs.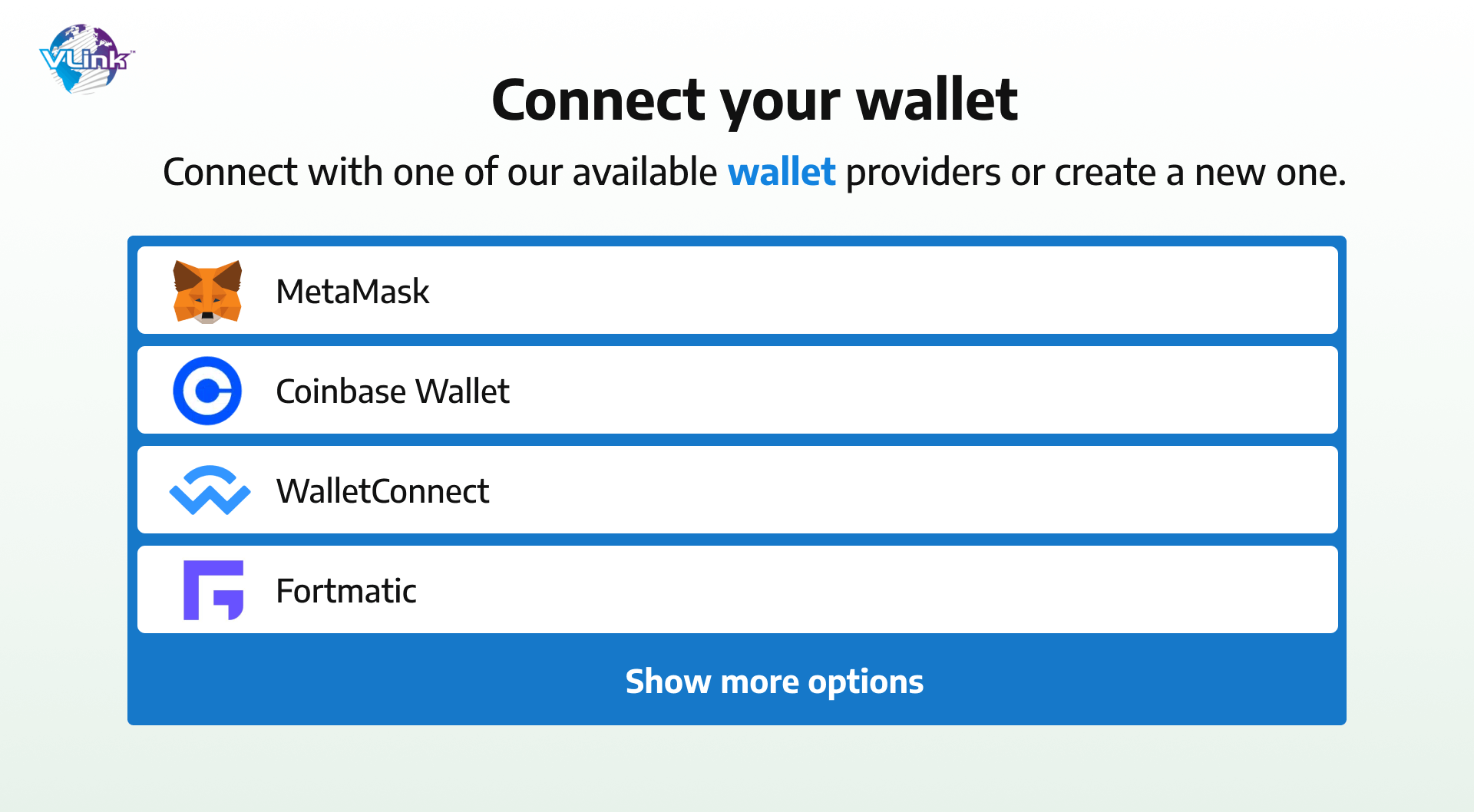 As an NFT vendor, the artist should pay for the membership that allows them to access the platform's resources for NFT minting. When the NFTs are complete, they are listed for sale in the NFT marketplace's online catalog.
The pricing scheme for each minted NFT should be determined by the artist; it might be a fixed-price sale or an auction in which interested people bid for the item.
Buyers that visit the NFT marketplace browse the catalog and select the NFTs they want to acquire, either through an auction or a fixed-price purchase.
The payment transaction is conducted using the associated crypto wallet, with either an instant sale or the highest bid rewarded at the end of the auction.
Versatile Features of OpenSea
The elements that have been injected establish the normal functionality of the OpenSea-like NFT marketplace. Let's take a quick look at the key elements for NFT marketplace development, such as OpenSea.
1- Shop Window/Storefront — A storefront is a virtual exhibitory where NFTs are exhibited for sale together with necessary information such as the owner's name, token name, description, and price information.
2- Smart search option - Users' involvement and retention are far more crucial in search. One method to accomplish this is to make it easier to find NFTs. They can locate the NFTs they desire or are seeking by using the search filter.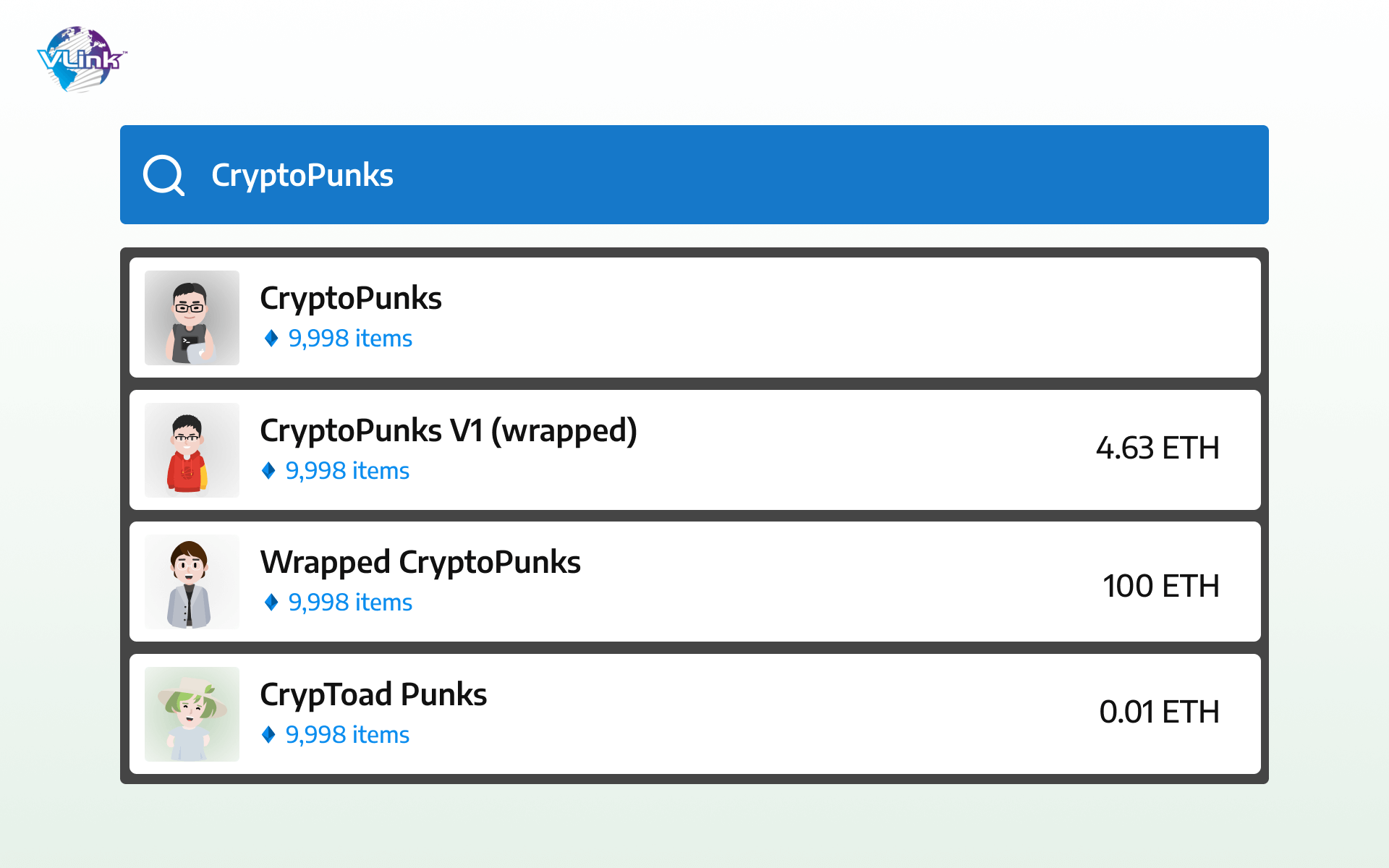 3- Digital Payments – The various payment choices provide consumers with a number of alternatives for selecting the most convenient payment options. Accepting payment in fiat currencies and cryptocurrency is an extra benefit.
4- Filter Option – Using the filter option, customers may rank NFTs based on the highest to lowest price and even categories.
Process to build an NFT marketplace like OpenSea
Building an NFT marketplace like OpenSea requires expertise in professional blockchain developments. They know how to strategize, develop, and deploy solutions with all the necessary functionalities. The VLink team of blockchain architects has over a decade of experience in blockchain solution development.
We follow Agile as well as DevOps approach to implement the software development process and provide the desired outcomes. Let's begin with the process:
1- Building UI Design for NFT Marketplace
The user interface of your NFT marketplace is the front exposure through which users will interact with your services. And that's why it is crucial to design a user-friendly interface integrated with multiple functionality and usability.
To meet your core business requirements, our blockchain developers will utilize the microservice architecture that allows rapid processing and provides top-notch transactional security.
2- Creating NFT Tokens
NFT tokens play a major role. You can't create an NFT marketplace like OpenSea without the function of NFT minting. VLink experts can integrate the minting feature supporting both ERC 721 and ERC 1155 standards to ensure universal coverage for your platform. The minting algorithm should also include robust safety testing, end-to-end encryption, and domain name creation to make the NFTs unique and operational.
3- Developing Smart Contracts for NFT Marketplace
When you launch NFT marketplace projects, you should be ready to equip them with smart contract functionality. These platforms are decentralized, which means that no third party oversees the transactions. All of them take place via smart contracts. VLink developers create self-executing algorithms that guarantee the transparency and fairness of all on-site operations.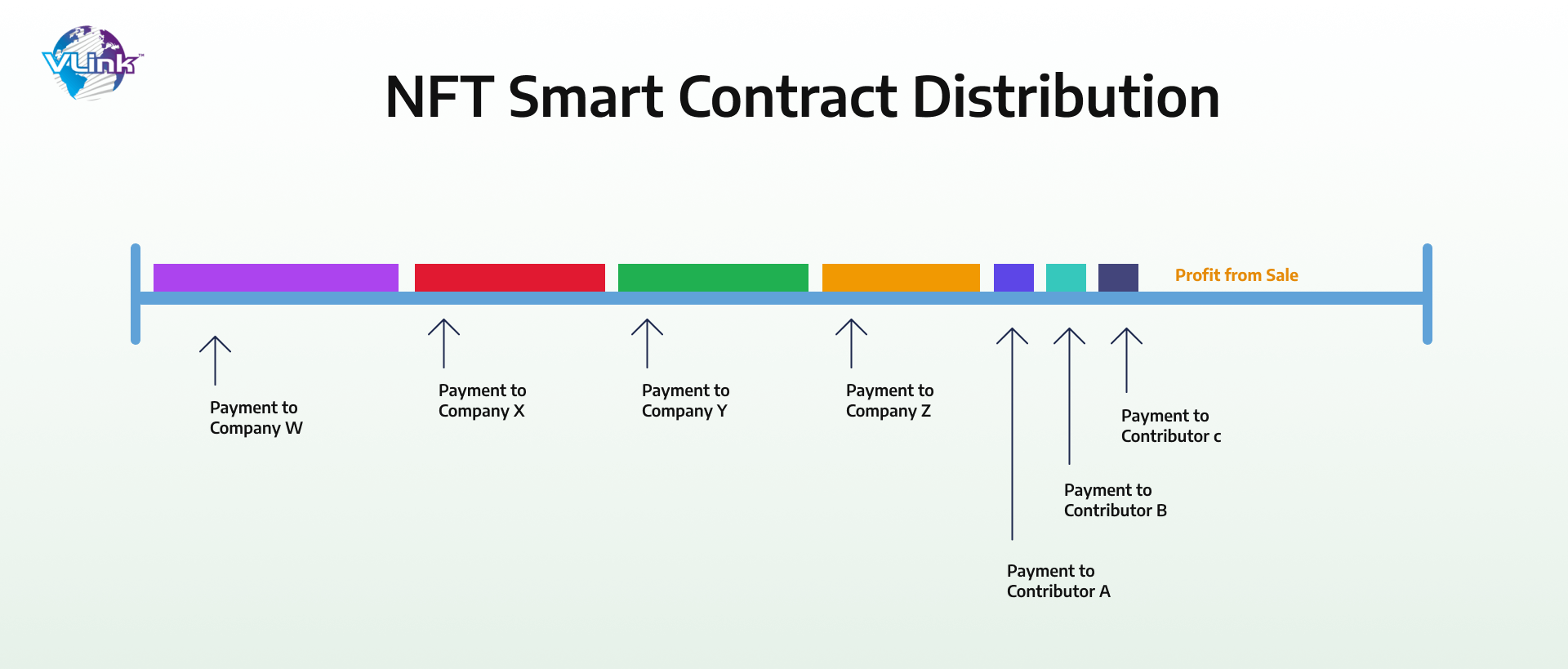 4- User Interface Implementation
When your NFT marketplace's backend and front-end operations are complete, you must combine them to create a seamless, functional whole. Your NFT marketplace project can be given an intuitive, aesthetically pleasing UI designed by VLink professionals, complete with the necessary tabs, forms, and menu items. Our slick graphical user interfaces ensure smooth platform use.
5- NFT Minting Attribute Inclusion
Because the NFT industry is so diverse, it's important to give artists and customers in your marketplace flexible options. As a result, you want to think about providing both single-mode and multi-mode NFT minting alternatives.
While the multi-mode procedure adheres to the ERC1155 standard (NFTs that can be replicated), the single-mode minting method complies with the ERC 721 standard (unique NFTs).
6- Database & IPFS NFT Storage Set-up
NFTs should be kept in a safe place and only used when necessary. By building a database for your platform and connecting it to IPFS NFT storage, a global-access database designed expressly for the needs of decentralization on the blockchain, you can ensure secure and reliable storage. Therefore, an NFT marketplace should be used to ensure both the safe storage and prompt retrieval of NFTs.
7- Testing the NFT Marketplace with Test cases
Without adequate auditing and testing, no blockchain-based product can be introduced to the market. Security and functionality are crucial since the NFT marketplaces operate as decentralized exchanges with no approved middlemen.
Your NFT marketplace project can be thoroughly audited by VLink experts, who can also confirm the logic of the smart contracts and use different test cases to ensure that it is protected against all known dangers and threats.
8- Final Deployment
When the NFT project is ready to go live, it's time to track its real-world performance. VLink auditors monitor the platform's speed of operation, reaction to varied query loads, the work quality of modules, and overall resilience. To prepare the final version of the NFT marketplace for the full-scale market launch, improvements are made based on QA findings and user input.
How Much Does It Cost to Build an NFT Marketplace?
Because there is no uniform, fixed pricing for such projects, the final quotation for your NFT marketplace project will be based on a variety of criteria. To begin, consider the project's timeframe as well as the quantity of human and technical resources involved in the NFT marketplace building process.
If you wish to construct such a platform from scratch, the cost will skyrocket, reaching $100,000. White-label and clone solutions are less expensive, with prices starting at $20,000 depending on the features and service range you wish to include in the project.
Because of technological idiosyncrasies and the availability of coders with the requisite tech stack, the choice of blockchain technology also influences the ultimate pricing.
VLink's role in NFT marketplace development like OpenSea
When you are ready to launch your NFT marketplace, you can start finding a reliable blockchain development company like VLink to build your own platform.
If you lack any of the skills or knowledge required to develop an NFT Marketplace, please contact VLink via this link to let us know about your project requirements.
A professional account manager will call you to answer any questions you have and to explain how we can assist you.

FAQs
Frequently Asked Questions
What NFT market is comparable to OpenSea?
Binance NFT, Blur, LookRare, MagicBox by Gate.io, and OKX NFT Marketplace are some alternatives to OpenSea. Each of these marketplaces has its own distinct set of features and benefits, so do your homework and select the one that best meets your requirements.
Which blockchains make use of OpenSea?
Our objective has always been to link people with NFTs through every available chain. Here are the top available blockchains on OpenSea – BNB blockchains, Klaytn, Optimism, Ethereum, Solana, Polygon, Arbitrum, and Avalanche.
Which programming is used to create OpenSea?
JavaScript. Since OpenSea is versatile of all the NFT marketplaces and focused on providing quality user experiences, JavaScript allows us to build a crypto-native marketplace.