How to Find and Hire the Best Java Developer for Your Project?
Struggling to find and hire a skilled Java Developer? This guide will help you hire the right talent for your project.
201 Views

5 minute
With so many new tech or programming languages, Java still thrives among companies for its versatility, security features, ease of use, and platform independence. More than 222,700 enterprises utilize Java globally, including nearly 91,000 companies in the U.S.
According to a report by Statista, there will be around 28.7 million developers across the globe by 2024. Whether a startup or an established one, companies always demand Java developers to stay at the top of the industry.
Bank of America, Apple, Google & Youtube are a few examples of the biggest names hiring Java experts.
But hiring and finding the right Java developer can be challenging as many options are available in the market.
So,
Absolutely; now you are thinking about "How to find & hire the right Java developer for your project?"

Read this blog!

This blog will explore everything you need to know when hiring Java developers for your organization, from reasons to challenges to tips to costs.
Table of Content:

1.Why Are Java Developers High in Demand? Time For Facts
2. When Should Your Hire Java Developers for Your Project?
3. Common Mistakes Many Companies Make During Hiring Java Developers
4. What Challenges Can You Face When Hiring a Java Developer
5. How Can You Hire the Right Java Developer?
Identify the Project Requirements

Look for the Relevant Experience

Select the Right Hiring Process

Ask for Referrals

Post a Job Listing on Sites

Conduct a Technical Interview

Create a Task for Potential Java Developers

Consider Outsourcing if the above steps are complicated!
6. What Should You Look for When Hiring Java Developers?
Skills to Look for When You Hire Java Developers

Hard Skills for Java Developers

Soft Skills for Java Developers

Experience Level

Hiring Model

Time Zone
7. How Much Does It Cost to Hire a Java Developer?
8. Conclusion!
9. Hire The Best Java developer With VLink!
10. FAQs–
What does a Java developer do?

Where can you find a dedicated Java developer?

How do I manage offshore Java programmers and ensure their productivity?



Why Are Java Developers High In Demand?
Here are some stats Java Developers are gaining popularity in the IT segment:
According to Evans Data Corporation's data, the worldwide programmer population is now 26.9 million. It includes almost 8 million Java developers.

Nearly 75% of Java programmers in the US have bachelor's degrees, while 22% of developers are working with their master's degrees.

Despite the popularity of Maven (71%) and Gradle (48%), 9% of Java professionals still use Ant for Java projects.

There are over 126,574 Java programmers currently employed in the United States.
When Should Your Hire Java Developers for Your Project?
As a growing IT business, software engineering's demand will always be on the rise. Based on the kind of projects you want to achieve; you will have to consider Java programmers with their specific skills.
Here are some projects when Java programmers can be a perfect choice!
Java is still popular among businesses and programmers for mobile app development services.
Spotify and Twitter are great examples of Android apps built with Java.
This programming language is also suitable for cross-platform development services. So, you can hire Java developers for mobile app development projects.

Java can communicate with a large number of systems. It can also be perfect for massive web app development solutions.
LinkedIn is one of the most popular examples of web apps built with Java.
You can use Java for speedy turnaround and a high-performing web app.
With great performance, high scalability, and reliability, Java is ideal for cloud app development solutions.
Gmail is a great example of a cloud-based app built with Java.

Java programming language is ideal for building desktop apps.
For example, Swing or JavaFX - are two popular Java frameworks for creating GUI (Graphical User Interface). These desktop apps can run on Windows, Mac OS, and Linux OS.
Java is ideal for creating enterprise apps. Hiring a Java developer will be a better option if an established company needs streamlined services delivered in one place.
Common Mistakes Many Companies Make When Hiring Java Developers
Searching for a seasoned developer is like finding a needle in a haystack. After posting a job ad, companies commonly find themselves lost in the crowd of CVs without any success in finding the right talent.
Some businesses commit hiring mistakes that turn into disasters in the long run.
Here are some mistakes many companies make when they hire a Java developer for your project:
Not knowing what kind of talent, you want to hire

Hiring inexperienced workers

Avoiding their previous work samples before hiring

Considering only the technical ability

Limiting yourself to local options
Avoiding these mistakes when hiring software programmers can save yourself and your business from a potential disaster.

Challenges You Face When Hiring A Java Developer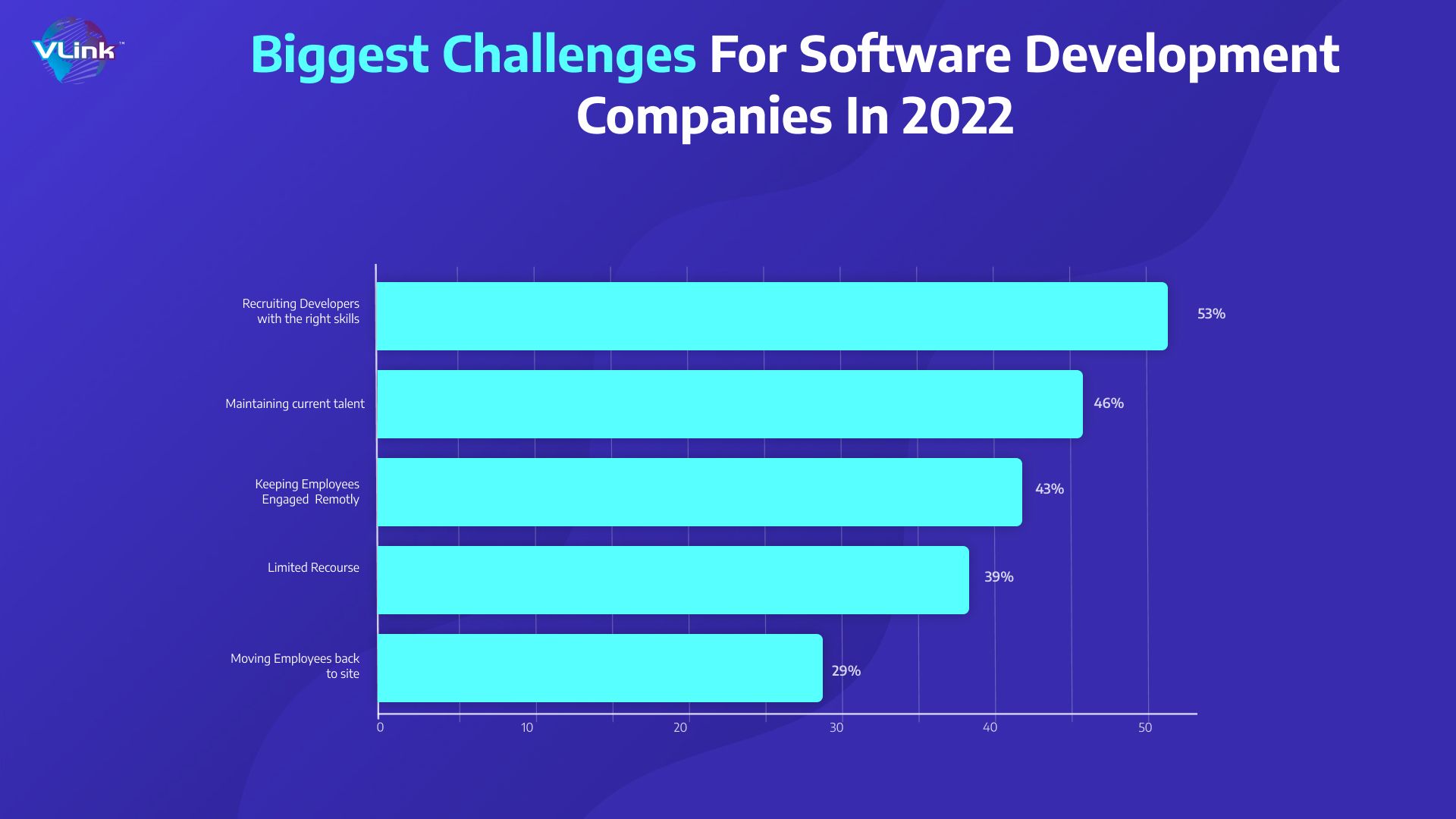 With technological advancements compelling many businesses to go digital, the demand for tech experts grows yearly. So, tech role hiring is becoming harder.
In fact, according to an Indeed survey, 86% of the respondents claimed that finding and hiring software programmers is one of the biggest challenges.
Here are five common challenges you might encounter when building a tech team for your startup:
Lack of Experts with Relevant Tech Skills
Despite the rising number of tech experts, 67% of recruiters still struggle to find the best employees with the right skills they need, according to Jobvite's 2018 Job Seeker Nation Report.
Many businesses are now leveraging tech strategies such as AI and data analytics to resolve this common challenge.
Retain Top Programmers
Many companies, especially startups, face the challenge of retaining top programmers in a competitive IT market. With the high demand for tech experts, developers prefer to leave their current position for a more attractive offer.
Creating a positive and engaging work environment to combat this challenge would be best. In addition, you can offer competitive compensation and benefits to your valuable resources.
High Recruitment Costs
There is no need to mention that hiring software engineers is not only time-consuming but also very costly. Higher recruitment costs are among the biggest challenges many companies can face when hiring a tech expert.
That's why many enterprises go with the service of a third-party outsourcing provider to minimize hiring costs.
Managing A Remote Workforce
As remote work is more popular, many businesses are increasingly dealing with the problem of managing a remote workforce. It includes several issues, such as collaboration and time zone differences.
Enterprises should have clear collaboration protocols, tools, and regular check-ins and meetings to resolve this challenge. In addition, they may use project management and communication software to manage remote employees.

How to Hire the Right Java Developer
Here are some tips you need to follow when hiring the right Java programmer for your software development projects:
Identify the Project Requirements
Before hiring Java programmers, you must determine your project's requirements. Long-term objectives, specialized features, and user requirements are all essential factors you need to consider when identifying your project specifications.
It will help you narrow your choice of Java developers for your projects.
Look for Relevant Experience
Along with great communication ability, a good Java developer is experienced in working on several projects and finishing them efficiently. They know how to handle multitasks without leaving their work incomplete.
So, you need to look for experience as a software engineer when finding your candidates.
The Right Hiring Process
If you want to hire a Java developer for your project, consider exactly how many people you want on your team and what's your budget is. It will help you decide on the hiring model.
Select whether you want to hire programmers on an hourly basis or a fixed-price model.
These hiring models are Hire a dedicated team, project basis and pay as you go.
Ask for Referrals
Asking for referrals is another great way to hire software programmers for your organization.
With this tool, you can improve hiring quality, encourage great employment brands, maintain company culture, and build engagement.
70% of businesses believe referrals have the best culture fit for their company. And around 71% of business owners have a referral program in the US.
So, create a robust and efficient employee referral program to maximize the potential of your networks.
Post a Job Listing
The next step in hiring the best Java developer is posting a job listing on sites where you can find top programmers. Make sure you pay close attention to the job detail that you create. You can post your job ads on LinkedIn, Monster, and CareerBuilder.
Conduct a Technical Interview
Before hiring the best software engineer, you must conduct a technical interview for candidates. An inexperienced developer can affect the growth of your business significantly.
So, ensure you hire Java developers with skills in all areas of your company or business. For that, you need to prepare a list of interview questions beforehand.
Test Their Skills
Make sure you include your tasks from your recent Java development project or other tasks to hire potential Java developers.
However, consult with your project management team to get in touch with top Java developers worldwide.
Creating tasks for potential candidates is an easy way to check the technical skillset of potential programmers in practice.
Consider Outsourcing
So, you can follow the steps mentioned above to hire the process. If your team is not ready for all these steps, it's time to consider Outsourcing.
Outsourcing to Java developers will give you more time to focus on growing your business while benefiting from Java programmers' technical skills in all segments.

What to Consider When Hiring Java Developers?
#1 - Skills to Look for When You Hire Java Developers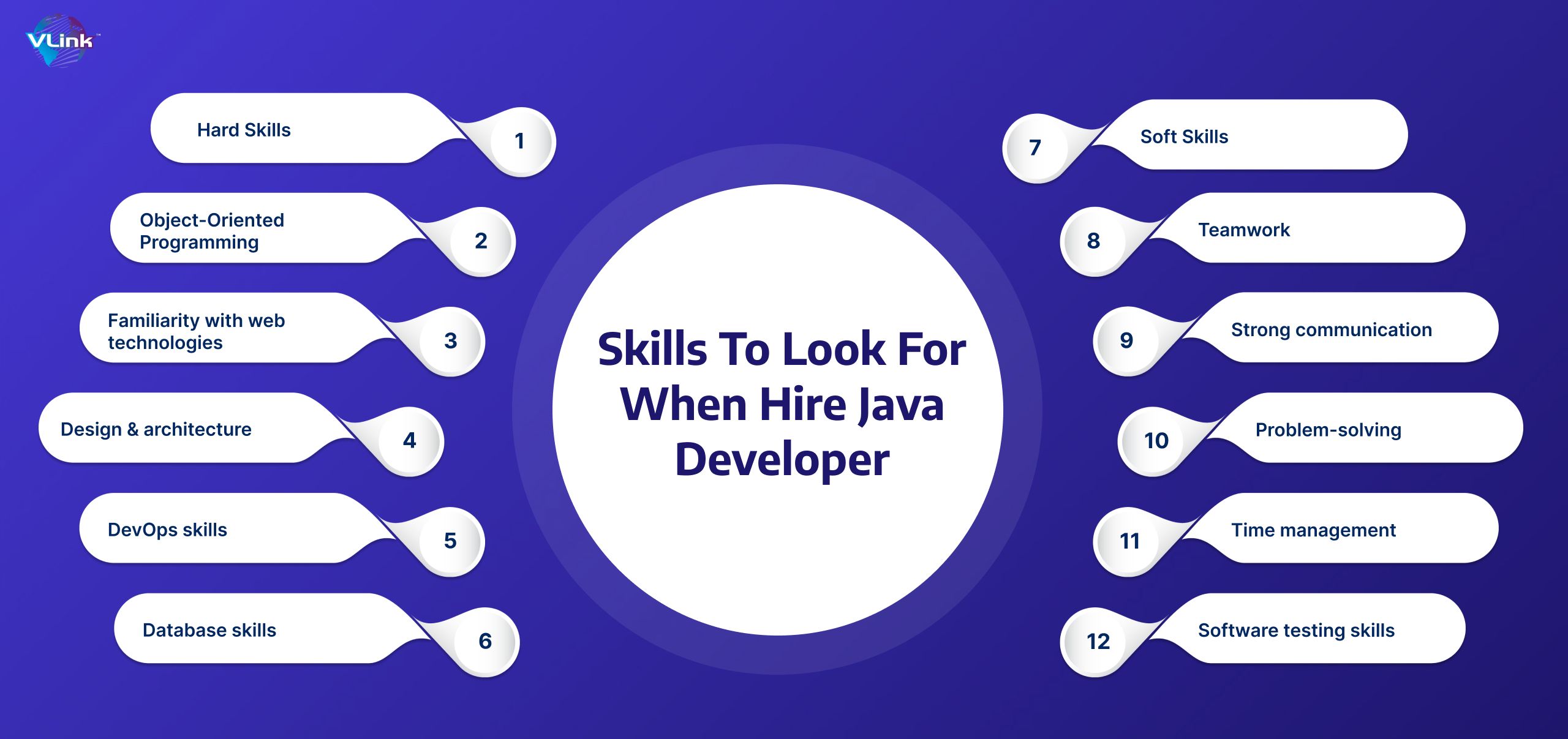 If you are looking for a programmer with exceptional Java skills, you are not alone!
Worldwide 44.1% of companies identify Java programming language as a priority for new developers.
Here are some skills you need to consider before deciding to recruit a Java development team.
Skills for Java developers are divided into two categories Soft & Hard.
Hard Skills for Java Developers

OPP (Object-Oriented Programming)
OPP is one of the most crucial Java skills to look for when hiring software engineers. It's easy and fast to execute and helps keep the Java code "Don't Repeat Yourself."
Here are some of the significant OOP characteristics:
Abstraction: It helps developers to reduce complexity and enhance efficiency.
Encapsulation: It binds data with the code that protects it from external manipulation.
Inheritance and composition: It reuse elements and merges different objects to create a new object.
Polymorphism: It authorizes using a single interface regardless of the underlying forms.
Familiarity with web technologies
If your business has mobile and web app requirements, hiring a developer familiar with web development becomes necessary.
Programmers can create engaging, rich, dynamic web apps with these web technologies. So, ensure your software engineers have fundamental skills such as Servlet, JSP, and Java EE.
Java tech stacks for web development services:
Angular:This front-end web framework helps create a single-page app and build desktop, native, and advanced web apps.

HTML:It creates core elements of websites.

CSS:It helps style web pages.

JavaScript:It adds interactivity and dynamic behavior to these websites.

Servlet API: This technology creates and runs web apps by using several interfaces and classes.
Design and Architecture
Whether it's a website, web app, or mobile app, design, and architecture are two important aspects that add beauty to them.
Ensure you hire a Java developer with proper knowledge about user experience and its importance.
Design patterns can be classified as follows:
Creational design patterns

Structural design patterns

Behavioral design patterns
DevOp Skills
DevOps tools help in the continuous integration and deployment of cloud devops automation services. They automate repetitive tasks, ensure software reliability, monitor and analyze software in real-time, and enhance scalability and performance. So, make sure you hire a developer with DevOps skills.
Here are a few DevOps skills you can consider when hiring a Java developer:
Jenkins: An open-source automation server that automates software development, testing, and deployment.
Docker: A platform that helps developers in building, delivering, and execute containerized distributed applications.
Git: A version control system that lets developers collaborate on code, track modifications, and manage source code repositories.
Ansible: A configuration management tool that automates software provisioning, configuration management, and app deployment.
Maven: A build automation tool that's ideal for Java projects.
Gradle: Another popular build automation tool that helps automate the development and testing of Java apps.
Database Skills
Database skills are another important hard skill you need to consider when hiring a Java developer.
Data plays a vital role in software development solutions. But managing huge amounts of data can be a challenging task.
Java is one of the most popular programming languages to build databases and tools for working with data.
This language can also resolve problems related to database connectivity or performance and optimize queries to improve app performance.
Here are some of the database skills you need to consider in your potential software engineer:
SQL

Database design

ORM (Object-Relational Mapping)

Indexing and query optimization

Database Administration
Software Testing Skills
Java engineers must know software testing tools to ensure software quality and reliability.
Here are some testing tools you need to consider when hiring software developers:
JUnit

TestNG

Mockito

Selenium

Apache JMeter
Java Frameworks and Libraries
Java frameworks allow programmers to develop apps without starting from scratch. On the other hand, libraries help software engineers to reuse the codes and improve the development speed.
Here are some popular Java frameworks and libraries:
Spring Framework: It's ideal for web apps and services development.
Hibernate: An ORM framework simplifies database interactions in Java apps.
Struts: It's an open-source framework that provides Model-View-Controller architecture.
Soft Skills
Here are some of the crucial soft skills you need to consider when hiring Java developers:
Teamwork
Good teamwork skills in a developer can help in completing the project efficiently. So, ensure they possess the skills to cooperate and work with other team members before hiring them.
Strong Communication Skill
Good communication skills in Java engineers help them work well with their team and others by communicating messages effectively.
Ensure your potential developers know how to communicate in Java's written form, interpret non-verbal clues, clarify the steps required to perform a task and utilize protocols when communicating.
Problem-Solving
A soft-core skill you need to check when you hire a Java developer is problem-solving.
From identifying issues and brainstorming answers to thinking about solution implementation and delivering end-user-satisfied results, problem-solving skills simplify project completion.
Time Management
One of the superior soft skills to consider in your developers for Java development projects is time management. It allows developers to meet the project deadlines without compromising quality.
Experience Level
Based on the skills, tech stack, and experience, there are four types of Java developers:
Junior

Middle

Senior

Architect
Junior Developer
Developers with 0-2 years of experience fall into the Junior category.
Make your decision on having the ability to write clean and readable Java code. Ensure developers have good knowledge of Java, Servlets, Servlet methods, and parameters.
The average salary for a Junior Java engineer is around $53,800 annually.
Middle Developer
If you need a middle Java programmer for your project, look for someone with 2-3 years of experience in the same language.
A mid-level Java developer is a strong fully functional engineer who can write and maintain high-quality code, execute and implement software tests and work on software development in all phases. They must have vast experience managing Java and Java, EE, and app development.
According to Glassdoor, a mid-level Java developer earns $71K annually.
Senior Developer
For hiring a senior developer for your Java project, you must look for someone with 4 to 6 years of experience in the same language.
Key skills for senior Java programmers are:
Strong knowledge of all Java framework

Solid pattern and principle skills (OOP, DDD & SOLID)

Security patterns

Database theory

Architectural, distributed, and design patterns

Senior-level engineers focus on enterprise integration, utilize effective software development practices and high coding standards, and write robust and testable codes.
PayScale says a senior Java programmer in the USA earns $105,5k annually.

Architect
It's the most senior role in Java development projects. So, hire professionals with 6+ years of experience in Java architect roles.
A Java architect designs the architecture to support Java development in order to achieve long-term app development goals. They must possess all the skills of a senior Java developer.
Apart from this, they should be able to oversee the tech development team, communicate with senior management, and implement solutions for all sizes of companies- startups, SMEs, or established ones.
According to PayScale research, the average salary of a Java architect is $118,2k.
Hiring Model
The hiring model is another factor to consider when looking for a Java developer. Creating or managing an offshore development team remotely through different hiring models has become a new trend in human resource management.
For example, do you want to hire remote Java programmers hourly or do you need someone for long-term development projects? Selecting the right hiring model will help you choose the right candidates according to your desire.
Here are three types of hiring models you need to consider:
Offshore

Freelance

In-House Team
The pros and cons of these models are shown in the below figure: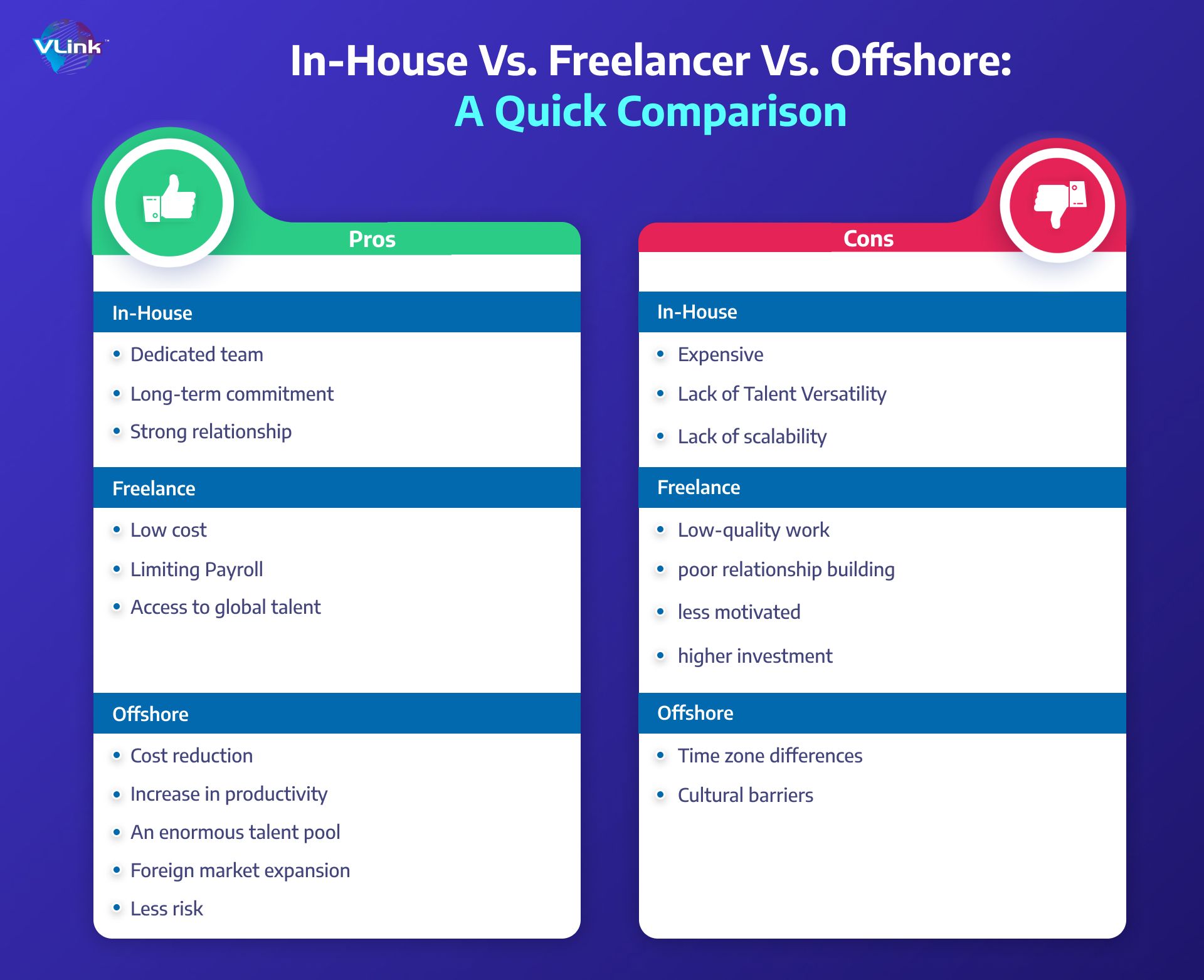 Time Zone
When you hire an offshore Java development team, it's essential to consider the time zones. Working across time zones will allow you to find and hire the best talent regardless of the location.
Considering these factors and following the tips above, you may find the best tech talent for your Java project. Now, it's time to know the cost of hiring a Java developer.

What is the Cost of Hiring an Expert Java Developer?
The cost of hiring Java developers varies depending on the developer's experience, location, and skill set.
For example, a junior Java developer in the US might have an average salary of around $80,000 annually. In contrast, a senior Java programmer may earn up to $150,000 yearly.
You need to carefully consider all associated expenses when budgeting for new hires to ensure they are getting the best value for their money.
With careful planning and research, you can find talented developers at an affordable cost that will meet your business goals.

Hire the best offshore Java Developers from VLink!
VLink is a pioneering offshore software development company that can help you get the best talent for your business growth. With our agile methodology, we provide remote Java programmers with specific skill sets and knowledge from worldwide.
At VLink, we provide three models for hiring dedicated programmers, including monthly-based, Hourly based & fixed-cost projects.
Here are some reasons why you should hire VLink for hire remote Java programmers:
Agile mindset

Easy onboarding

Increased ROI

Hassle-free communication

Get started

immediately

Nominal operational cost

IP protection & security

Replacement Guarantee




Conclusion!
Hopefully, you now have a better idea what to look for and how to find the best Java developer for your business. VLink is one of the top IT staff augmentation companies which provides IT staffing services to add extra talent to your team on an on-demand basis.
Remember that specific skills and qualities are crucial to you and your team.
Don't Rush the process!
Having a solid plan & making your hiring process smooth.
FAQs
Frequently Asked
Questions
What does a Java developer do?
A Java developer can design, develop, test, and deploy Java-based software. They analyze user requirements, visualize system features and define app functionality.
Where can you find a dedicated Java developer?
To hire talent, visit tech communities such as Stack Overflow and Github. Here, you can find a lot of potential talent communication. You can also contact software companies that offer [IT staff augmentation services].
How do I manage offshore Java programmers and ensure their productivity?
To manage offshore Java programmers for good productivity, you can set clear work standards, follow up with remote employees regularly, set a specific interaction time, and provide the right tools to get the job done.