Non-fungible tokens (NFTs) have been on a roller coaster ride in recent years, with a big spike in volume in 2021 followed by a decrease in volume in the later part of 2022. Despite the difficulties, the previous year saw several notable breakthroughs and progress toward the future of Web3.
The value of NFT is tangible and more stable than that of digital currencies. Many companies continue to accept NFT as a form of payment. The future of NFTs might include almost anything, including textual information, digital images, music, and so on.
The ability to adopt and the possibility of transferring ownership rights, as well as blockchain goods, turn out to be the primary benefits. Let's explore how NFTs grew so steeply across the globe after Pandemic.
Rising market of NFT ecosystem
It's hard to believe that this time last year, most people had never heard of NFTs. They took over the art world in 2021, with paintings like The Merge and Beeple's The First 5000 Days fetching tens of millions of dollars.
While daily inscription activity is high, the trading volume of Bitcoin NFTs remains low, owing mostly to the lack of Bitcoin wallets and accompanying markets.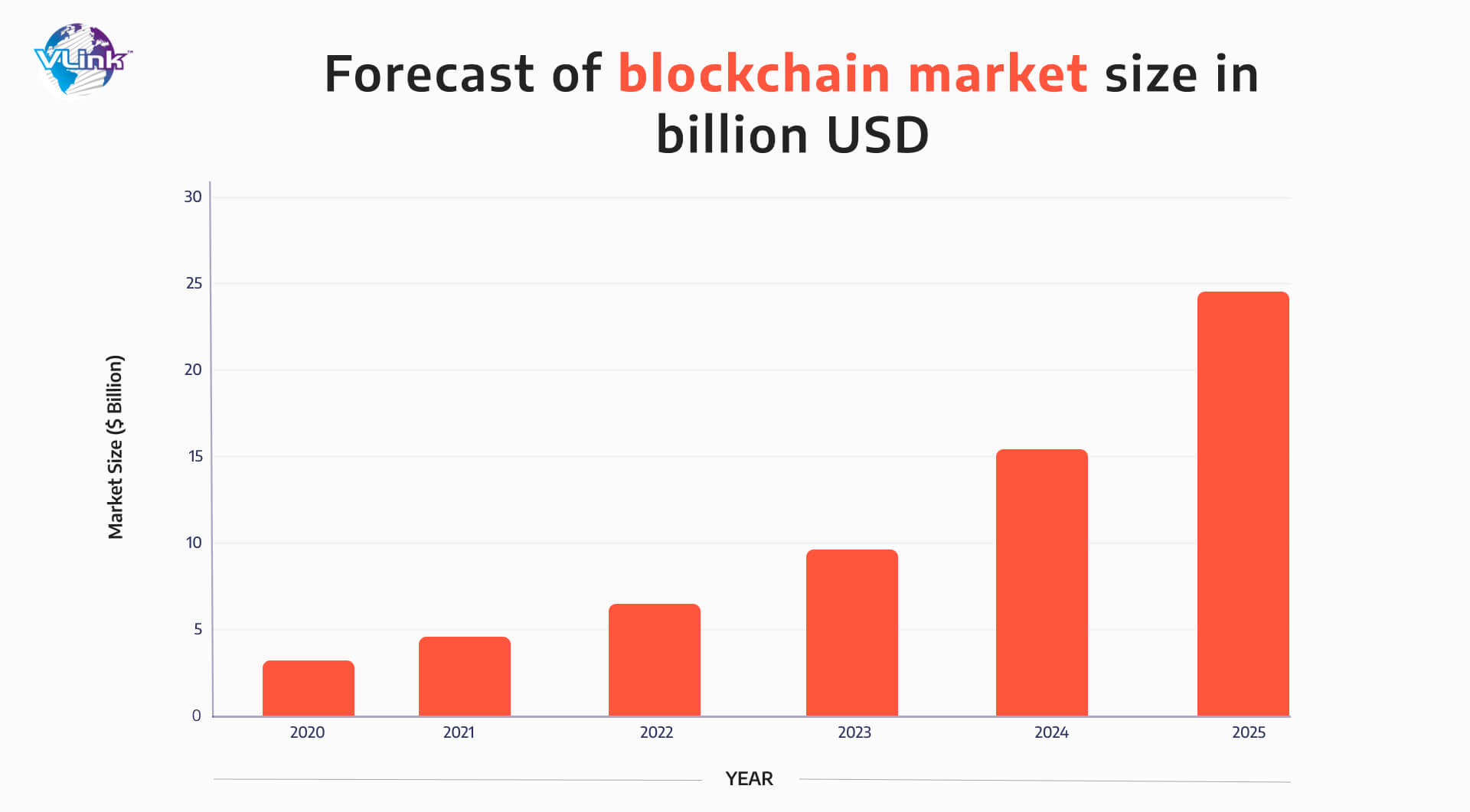 Domestic gaming markets are also being expanded by NFTs. Users purchase NFT things in one game and then utilize them in another after completing a quest. By giving presale NFT in-game products, independent developers are investing in the business.
These and other factors contribute to the five-fold expansion of the Play-to-Earn NFT Games industry, which will increase from $755 million in 2021 to $3618.4 million by 2028.
Because of their rapid growth, NFTs have expanded to include a variety of job choices. In 2021, the development of NFTs began with decentralized finance, smart contracts, and financing. There are several NFT trends, but just a handful of them have the potential to be significant advances in the next 5 to 10 years.
Also Read: https://www.vlinkinfo.com/blog/how-to-create-an-nft-marketplace-like-opensea/
10 future trends in NFT development
1- Soulbound Tokens (SBTs)
Soulbound Tokens (SBTs) are a sort of non-transferable NFT that are excellent for keeping everlasting data. Ethereum Co-Founder Vitalik Buterin proposes them as a full package of tools for internet users to keep and defend their identity.
As an NFT with immutable and non-transferable ownership, SBTs may be used to mint medical records, academic accomplishments, alumni status, work histories, criminal records, and more. SBTs are seen as a key invention in the blockchain sector since they can aid in the preservation and verification of critical information on the blockchain rather than fragile paper records.
Furthermore, the notion of Soulbound Tokens (SBTs) is gaining popularity as a means of managing permanent data such as medical records, academic achievements, alumni status, work histories, and criminal records.
2- AI-integrated NFTs
The collaboration of AI and NFTs will be an intriguing topic to monitor. AI-generated NFTs are a distinct and new trend that blends the capabilities of NFTs with those of artificial intelligence. Artists and collectors may use powerful machine learning algorithms to produce unique digital creations that are encoded as NFTs on the blockchain.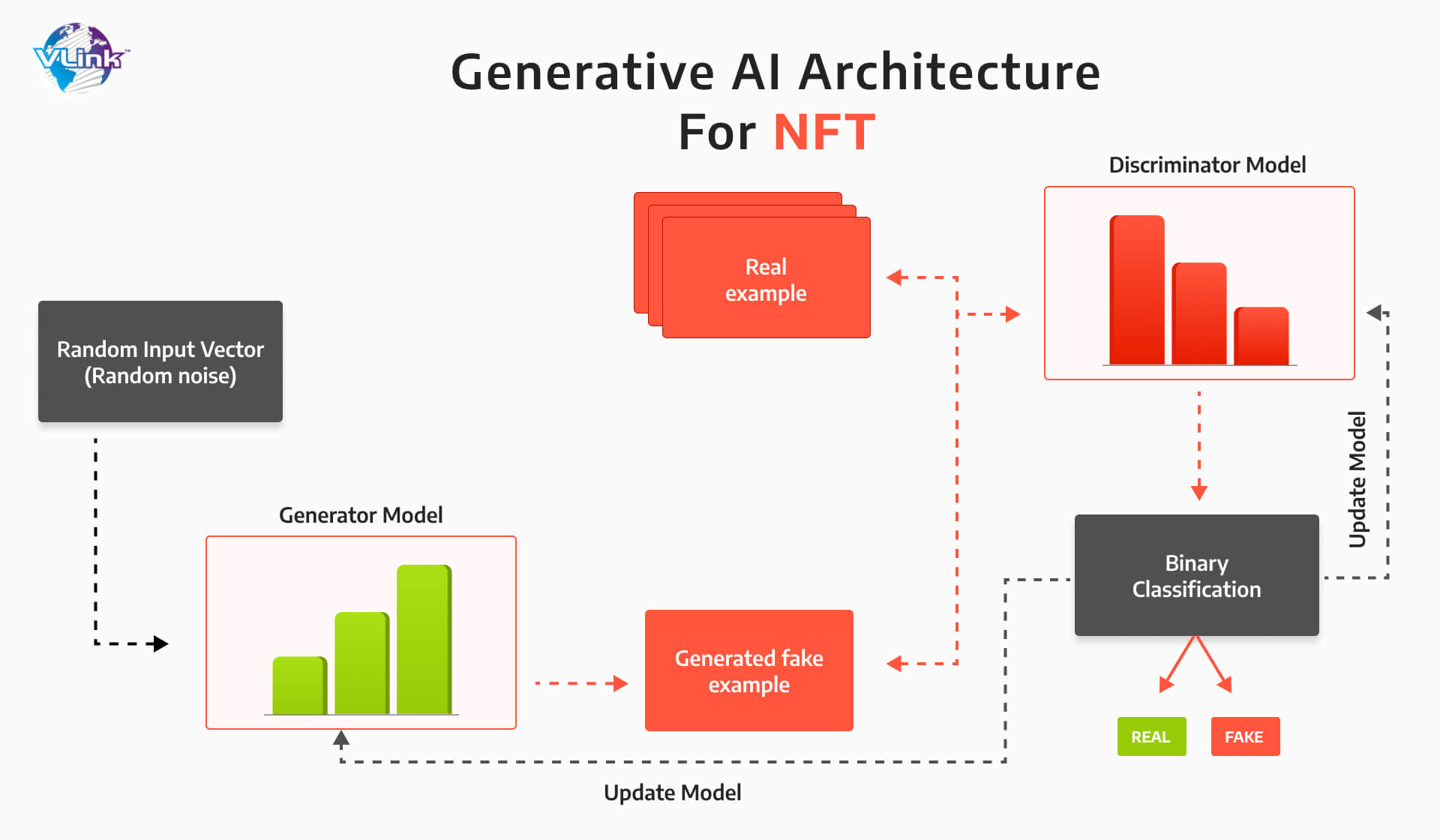 The combination will drive new avenues for generating genuinely one-of-a-kind and rare digital goods, as well as conducting AI-powered art auctions and NFT markets. Virtual reality is another fascinating possible use for NFTs and AI.
Users can develop and sell unique and immersive experiences that are protected and made unchangeable by the blockchain by combining NFTs and VR technology.
3- NFTs for art in metauniverse
Arts are the most popular NFT trends right now. The market is expanding, and it gives a platform for artists to interact. One example is an art foundation that converts genuine labor into digital art, which is attracting more influencers to this movement.
Modern trends include auction houses and metaverse galleries. The platforms, unknowingly, assist painters in displaying their paintings in metaverse galleries. You must wear smart devices (AR headsets) to enter these concerts.
NFT auction houses are sprouting at the same rate. Individuals can submit their own bids on the tokens to become a single owner of NFT. According to experts, the future of NFT is that artists will be able to part with their tangible works, thereby raising the standard of digital art.
4- NFTs in GameFi
Tokens are used in the games and may be readily converted into items to help the gamer or get an extra level, points, and other benefits. According to the creators, the technology can lower the cost of game development while increasing community loyalty. More NFT are applied on physical gaming pieces, like as cards, and then transmitted to a digital representation utilizing blockchain protocols.
GameFi enables you to interact with many elements within the game, which might take the shape of cards, weapons, clothes, or avatars. Players make real money by selling rare NFTs on markets after earning tokens. The NFT sector is predicted to completely transform the gaming industry as a result of this flow.
5- NFT Music
NFTs are also likely to be adopted by the music industry as a means of representing ownership of songs and albums. This will provide artists with a new cash stream and provide fans a new option to support their work. This might also result in new opportunities for fans to interact with their favorite musicians and earn access to special events and goods.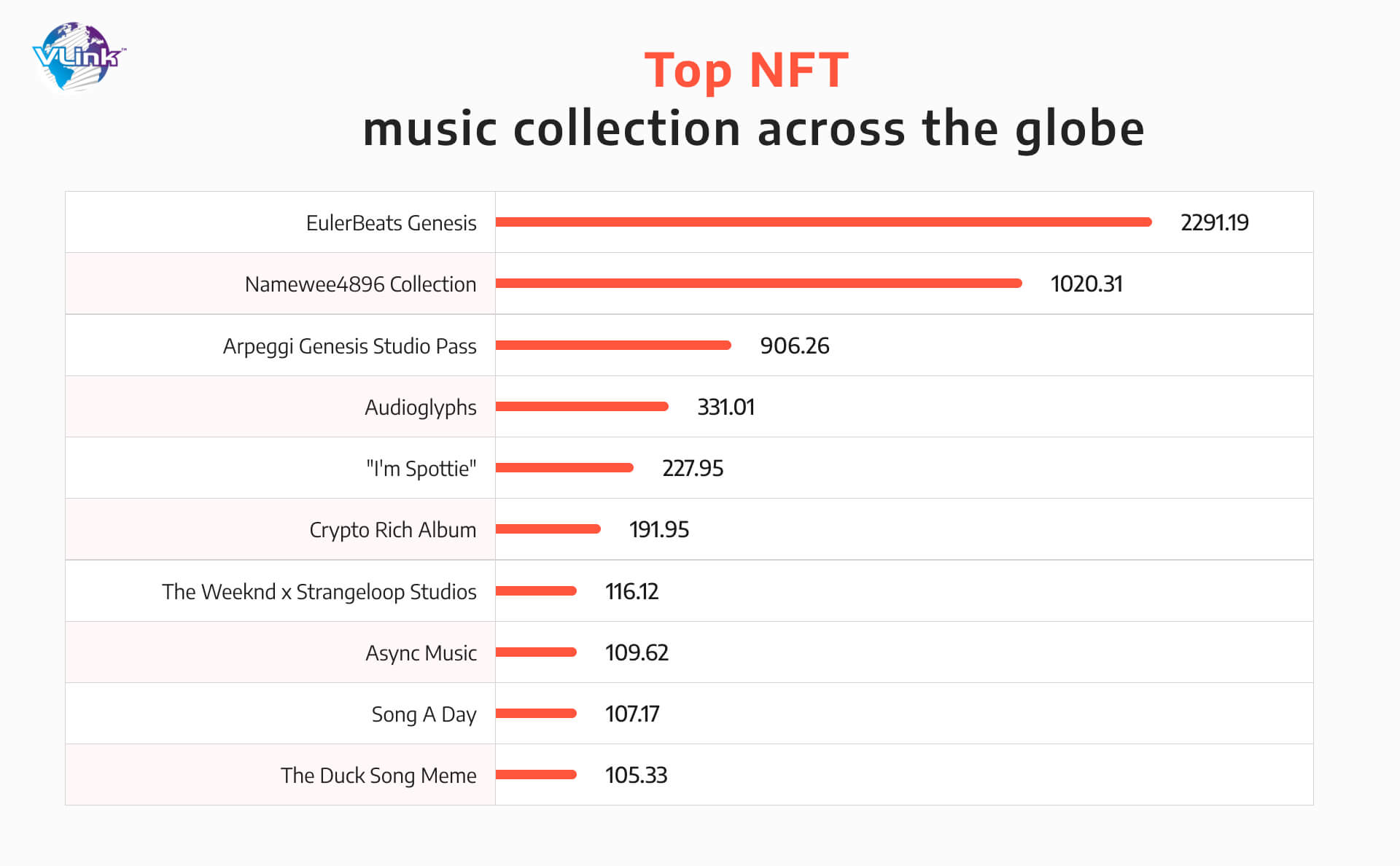 These NFTs might signify exclusive rights to a certain song or album, as well as admission to special performances and events. Furthermore, the usage of NFTs in the music business can assist combat issues like music piracy and guarantee that artists are properly compensated for their labor.
6- NFT Ticketing
As the NFT industry evolves, one trend that is gaining traction is the usage of NFTs for event tickets. This enables assets to be saved in a digital wallet and utilized on any device, anywhere. Digital tickets are the emerging trend in event creation.
When selling, owners can generate enough NFTs, encode them to establish their worth, or hold an auction in which customers can bid on their price.
People will be able to retain the ticket in their wallet and present it when attending the event, like in other places. The NFT trend will continue to increase in the next decades, and many firms have already developed and deployed real-time tickets to test the technology.
7- NFT-based loans
It is a novel crediting technique in which investors use their NFTs as collateral to get financing for new ventures or circumstances when money is needed. There are several platforms available to execute this concept in the decentralized finance (DeFi) industry.
These platforms enable the use of NFTs as collateral before obtaining credits. Arcade is a well-known DeFi platform for crediting with NFT security interest. Assets are locked in an escrow account managed by a smart contract if an agreement with all terms is reached. NFTs cannot be returned or frozen until the loan requirements are met, or a default occurs.
NFT is another trading resource in which consumers may use assets as collateral for loans or provide loans to others. If there is any ERC-721 network token against collateral, credit is granted in ETH cryptocurrency. The NFT is refunded after the loan is paid off.
8- Memberships with NFTs
NFT-based memberships have emerged as a distinct segment of the industry, mostly used by brands and programs. The method of gaining access to these advantages is known as "token-gating," which uses blockchain technology to validate the ownership of an NFT and allows holders access to exclusive benefits.
Bored Ape Yacht Club, LinksDAO, LoudPunx, and Flyfish Club are some instances of NFT membership passes. They provide NFT holders with special rewards and experiences such as apparel drops, events, and NFT releases.
9- NFT digital twins
Any service or product may be duplicated with the aid of a digital twin. This is accomplished using virtual reality and simulation approaches. Technology aids in the creation or replication of genuine products and services in digital form.
Between the copy and the actual physical thing, data is transferred. Sensors assist maintain track on circumstances and provide updates. Many well-known worldwide businesses have begun to use the digital domain, doing everything through NFT look-alikes.
Consider Adidas and their relationship with Karlie Kloss. Customers can utilize the brand's digital shoes on a blockchain thanks to such a partnership.
10- Fraction NFTs (F-NFTs)
Another trend to watch is the emergence of fractional NFTs. These NFTs reflect partial ownership of a digital or physical asset and enable numerous parties to jointly own and share ownership rights, benefits, and expenses.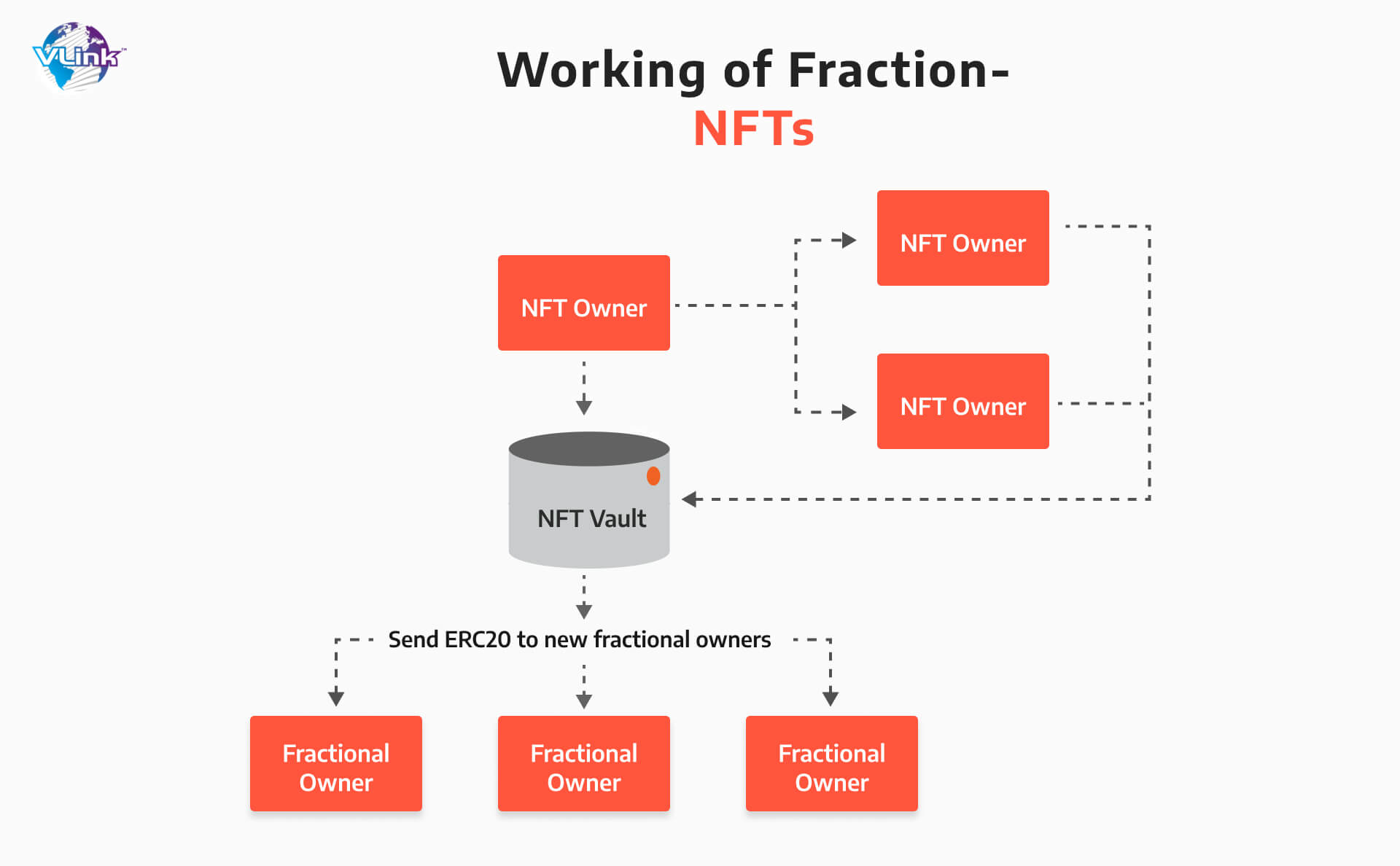 As a result, fractional NFTs may become increasingly common and widely recognized as a method of fractionally owning and trading a wide range of assets.
How VLink can help you stay ahead with NFT development?
The NFT market is likely to reach new heights in the coming 10 years, with new trends and technologies emerging. The use of NFTs is extending outside the usual art and collectibles sector, from AI-generated NFTs to music NFTs. As a result, it's critical for both investors and aficionados to remain up to date on these trends in order to maximize the opportunities they bring.
VLink is here to provide complete NFT development solutions to take your game with blockchain way ahead of the competition. We understand the consistency with your product's performance and hence our blockchain experts implement every possible strategy to build your futuristic product.
Just share your next NFT development idea, and we'll come up with an effective project roadmap.
FAQs
Frequently Asked Questions
How is NFT growing currently?
The NFT industry is predicted to develop gradually throughout the forecast period, with a CAGR of 37.1% between 2022 and 2028. The NFT Spend Value is expected to rise from US$46157.4 million in 2022 to US$278475.3 million by 2028. The NFT market has lately grown significantly.
How is NFT employed in the insurance industry?
NFTs are used to validate the validity and ownership of digital or physical assets such as music, event tickets, video clips, art, and real estate, and they include a set of rights. These rights can be sold or leased to receive royalties at the creator's discretion.