Snowflake Data Warehouse: What is it & Why Use it?
Data holds immense significance in the modern business landscape, driving various aspects of our operations. Whether it's customer communication or decision-making processes, data plays an increasingly vital role.
201 Views

5 minute
Table of Content:
1. Introduction
2. What is the Snowflake data warehouse?
Features of snowflake data warehouse

What is the role of Snowflake in a data warehouse?
3. Why consider Snowflake for data warehousing?
Support for leading cloud platforms

Multi-cluster Architecture

Virtual Data Warehouse

Additional Storage

High Flexibility

Automatic data encryption

Automatic query optimization

Support for JSON with SQL

Encryption and Security

Pay-for-use Pricing Model
4. Integrate your data warehouse into Snowflake with VLink!
5. FAQs–
According to McKinsey, by 2025, employees across organizations will heavily rely on data for every work process, decision, and interaction.
To harness the power of data effectively, organizations require an efficient data architecture that provides readily available structured data for analysis. And you will need a central repository to store large volumes of structured data. This repository is commonly known as a data warehouse.

A data warehouse is a hub where internal and external data sources flow through ETL (Extract, Transform, Load) (Extract, Transform & Load) processes. Data analysts utilize this consolidated data to enhance business processes and facilitate decision-making.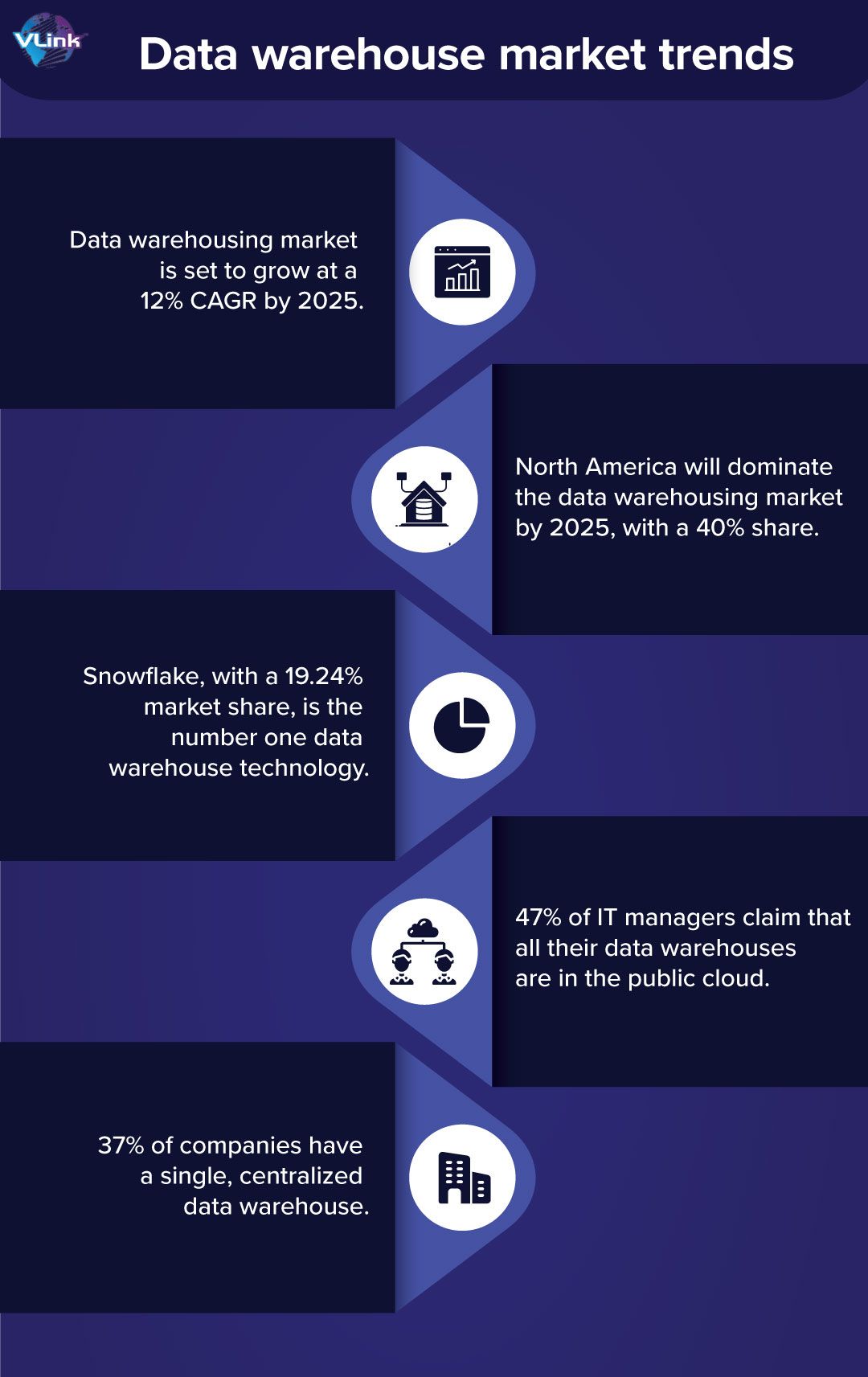 Also Read: a comprehensive guide to data warehouse design & development.
There are two main options for implementing a data warehouse:
Building a custom one & hosting it on-premises

Opting for a cloud-based solution like Snowflake
So, what exactly is Snowflake?
Snowflake is a Cloud-Based Data Warehouse, established in 2012 by three data warehousing experts. Over time, the company gained significant traction, attracting a $450 million venture capital investment, resulting in a valuation of $3.5 billion.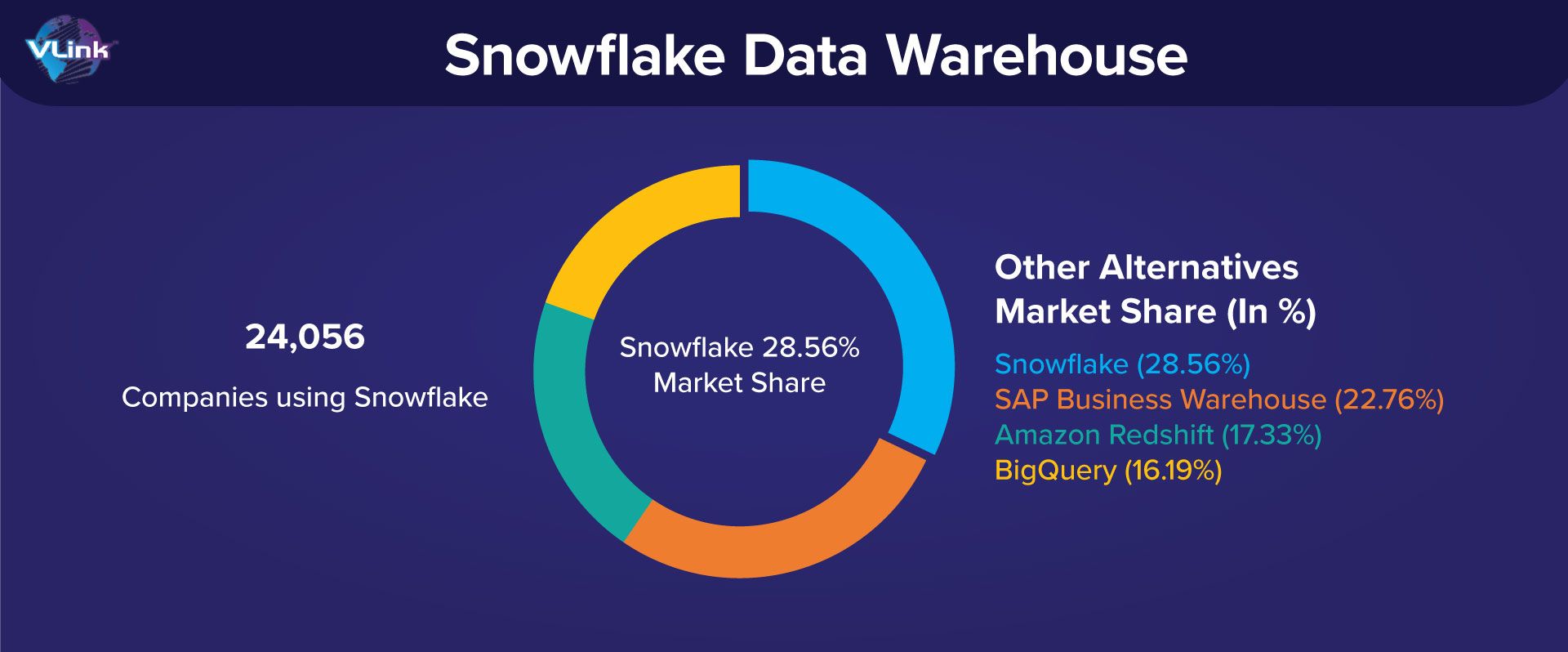 Its true Software-as-a-Service (SaaS) nature enables users to query data quickly, efficiently, and effectively.
But what exactly is Snowflake Data Warehouse, and why is it getting popularity?
To know everything, Stay tuned!
What is the Snowflake Data Warehouse?
Snowflake Data Warehouse is an cloud managed infrastructure solution available for clients in terms of Software-as-a-Service (SaaS) & Database-as-a-Service (DaaS).
When we say it is "fully managed", users don't have to worry about any backend tasks such as server installation or maintenance. With this top Data Warehouse platform, you can easily use three major cloud providers:

Amazon Web Services (AWS)

Google Cloud Storage (GCS)

Microsoft Azure



You can choose the cloud provider that best suits your needs, which is particularly beneficial for businesses working with multiple providers. Snowflake Data Warehouse supports querying using the standard ANSI SQL protocol. It can handle both fully structured and semi-structured data formats, such as JSON, Parquet, XML, and more.
Key Features of Snowflake Data Warehouse
Scalability
Snowflake employs a highly efficient system called massively parallel processing (MPP) architecture, where data is spread across a cluster of independent machines. This innovative approach enables the data warehouse to expand its capabilities whenever required, even multiple times within a day.
As numerous users simultaneously engage in batch processing or real-time streaming of vast amounts of data, the platform adapts by allocating extra resources to accommodate the workload. Once the demand subsides, it seamlessly and automatically reduces resource allocation to optimize efficiency.
Built-in security
The platform incorporates various security measures to ensure user safety. These include multi-factor authentication, enforced for all users, guaranteeing an additional layer of identity verification.
In addition, data protection through end-to-end encryption, ensuring that it remains confidential and secure throughout transmission and storage.
Finally, IP whitelisting strengthens security by limiting access to authorized IP addresses only.

Multi-cloud deployment
The storage facility is compatible with AWS, Azure, and Google Cloud deployment.
Automated software upgrades
The platform automatically deploys software upgrades, eliminating the need for concern about the platform becoming outdated or incompatible with the latest tools in your ecosystem.
The Snowflake marketplace

In addition to its storage and computing capabilities, the Snowflake platform offers a marketplace where you can access a wide range of data and applications. This marketplace allows you to conveniently purchase various resources to meet your specific needs.
For example, you need access to historical job listing data from public and private companies. In such a scenario, you can effortlessly obtain this data by exploring the offerings available in the HR section of the Snowflake marketplace.

What is the Role of Snowflake in Data Warehousing?
The Snowflake Data Cloud provides robust support for various workloads, encompassing data warehouses, data lakes, data engineering, data science, and data applications across various cloud providers. Its advanced architecture offers real-time, limitless storage and computing capabilities to accommodate multiple users simultaneously.
Why Should You Use Snowflake for Data Warehousing?
Here are ten reasons why you should use Snowflake for data warehousing:
Reason #1 - Support for leading cloud platforms
Snowflake stands out from other data warehousing solutions by providing exceptional support for major cloud platforms, including Amazon Web Services, Microsoft Azure, and Google Cloud Platform.
This unique feature empowers IT professionals with unparalleled flexibility to choose and implement the cloud platform that best suits their organization's needs.
Snowflake's remarkable scalability seamlessly extends across all three platforms, ensuring a smooth and efficient data management experience.

Reason #2 - A Wide Array of Architecture

Snowflake is popular among cloud data warehouse platforms with its exceptional scalability and distinctive shared data architecture that offers unparalleled flexibility. And Snowflake's multi-cluster approach and shared data architecture elevate its capabilities to new heights.

The Snowflake architecture includes three layers:
Database Storage

Compute Clusters

Cloud Services
The three layers have been intentionally designed to allow independent scalability. It means that users can allocate or expand resources for each layer separately as per their specific requirements. And then easily revert to the original settings after fulfilling requirements.
This exceptional level of elasticity, which can be described as infinite, is not commonly found among cloud platforms.

Reason #3 - Virtual Data Warehouse

Architecture of snowflake data warehouse can create Virtual Data Warehouse that allows it to support different workload. It's another reason Snowflake is better for data warehousing. It means multiple independent workloads sharing the same data can be seamlessly operated.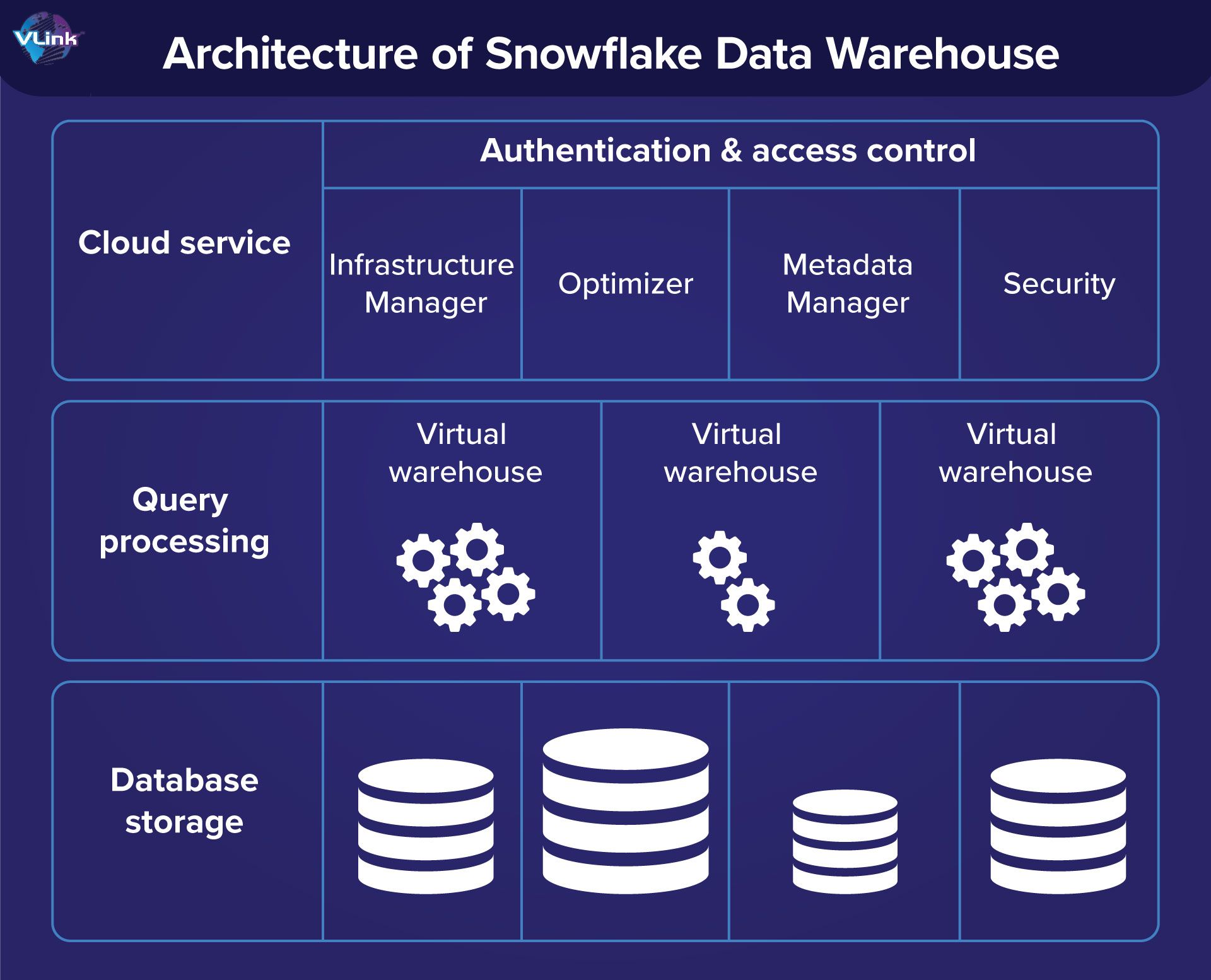 Reason #4 - Additional Storage
The CLONE command in Snowflake provides a simple and accessible way for users to create duplicates of objects, including tables and schemas, across all databases. Notably, this process is remarkably swift, regardless of the object's size, and it has the added benefit of not consuming any extra cloud storage space.
Reason #5 - High Flexibility
Snowflake provides an unmatched level of adaptability and worth when integrated with a data lake. It also allows you to harness the versatility of a data warehouse (Redshift Spectrum) and query services (Amazon Athena) within the same data lake environment.
By choosing Snowflake, you can explore diverse options, not out of necessity but because you genuinely desire the optimal solution.
Reason #6 - Automatic data encryption
The Snowflake data warehouse offers comprehensive encryption throughout the entire data lifecycle, eliminating the need for users to set up and configure additional encryption features at an additional expense.
By utilizing sign-in credentials, the platform grants customers access management controls to limit data access. Data remains encrypted at rest, during transit, and while being loaded.
Additionally, customers can choose the security and compliance features that best meet their needs, ensuring maximum flexibility without compromising cost.
Reason #7 - Optimized Query Automation
Snowflake's remarkable speed is attributed to its automatic query optimization capability. This innovative feature relies on a dynamic query optimization engine within its cloud services layer, effectively handling query planning and optimization by leveraging data profiles.
As a result, Snowflake eliminates the need for indexes, partition and partition key management, pre-sharing of data for distribution, and manual statistics updates.

Reason #8 - Support for JSON with SQL
Snowflake is a platform that generates enthusiasm among inexperienced users due to its robust support for various data formats, including JSON, XML, and other structured and semi-structured data.
One of its key advantages is the ability to swiftly execute queries using standard ANSI SQL.
Its powerful database engine sets Snowflake apart, enabling the seamless integration of semi-structured and structured data within a specific location. By gathering and optimizing JSON documents in a table, Snowflake optimizes data management efficiency.

Furthermore, this platform offers extensive support for programming languages like R, Python, Go, Java, .NET, C, Node.js, and more, catering to diverse analytics needs andacilitating seamless integration with the platform.
Reason #9 - Encryption and Security
Snowflake ensures exceptional data security by providing robust measures. Users can designate data storage regions to align with regulatory standards such as HIPAA, PCI DSS (Data Security Standard), SOC 1, and SOC 2.
Security levels can be adjusted to meet specific requirements. Snowflake includes integrated capabilities for data encryption at rest and in transit, administering access privileges, and overseeing IP allowances and blocking.

To enhance data protection, Snowflake offers two advanced functionalities known as Time Travel and Fail-safe. The Time Travel feature allows users to restore tables, schemas, and databases to a specific point in the past.
On the other hand, the Fail-safe feature ensures the protection and recovery of historical data, with a seven-day duration that begins immediately after the Time Travel retention period concludes.

Reason #10 - Flexible Pricing Model
One of the common reasons you should use Snowflake data warehouse is its flexible pricing structure, which separates the charges for storage and compute resources. Storage costs are calculated based on the average monthly usage, allowing customers to pay for their use.

Similarly, computing resources are billed per second, according to the size of the virtual warehouse employed.

This payment model, known as "on-demand," empowers customers with exceptional control over their warehousing requirements, enabling them to scale up or down as needed. It eliminates the need to spend on idle resources, ensuring efficient allocation of resources and cost optimization.
Based on the information in the blog, the Snowflake Data Warehouse stands out as a highly sought-after cloud-based solution for data warehousing. It is known for its strong emphasis on security, scalability, and widespread adoption.

By familiarizing yourself with these key features, you can comprehensively understand Snowflake and its popularity in data warehousing.

If your business could profit from efficient and robust management of large-scale data lakes, Snowflake data warehousing might be the ideal choice for you.
Integrate Your Data Warehouse into Snowflake with VLink.
VLink is an IT service provider offering comprehensive solution to ensure the security of your data within the Snowflake cloud platform. Our expertise lies in automating data extraction from various sources and seamlessly integrating it into Snowflake.
With a team of highly skilled data warehouse engineers, we deliver an end-to-end process that efficiently manages your data integration or migration without the need for manual coding or cumbersome data volume management.
By eliminating the need for manual intervention in the daily data-loading process, we minimize the occurrence of smaller issues and errors.
If you want to integrate Snowflake into your data warehouse service, feel free to contact us today!

FAQs
Frequently Asked
Questions
What is Snowflake data warehouse architecture?
The architecture of Snowflake enables the scalability of storage and computation layers, allowing clients to independently leverage and pay for them. With its sharing functionality, organizations can effortlessly and promptly share securely governed data in real-time.
Three layers of Snowflake data warehouse architecture:
Database storage: decoupling storage and compute resources

Compute layer: virtual warehouses and scalability

Cloud services: metadata management, optimization, and automation
What are alternatives for the Snowflake data warehouse?
Some alternatives to Snowflake data warehouse include Amazon Redshift, Google BigQuery, Microsoft Azure Synapse Analytics, and Apache Hadoop. These platforms offer similar capabilities for storing, managing, and analyzing large volumes of data, providing options for organizations with diverse needs and preferences.
What are the benefits of a Snowflake data warehouse?
Snowflake data warehouse offers several benefits, such as unlimited scalability, near-zero maintenance, real-time data sharing across organizations, enhanced collaboration, high availability, and security.