Technology improves performance, agility, and resilience while also reducing risk. Utilize important and developing supply chain technology while managing the effects on the larger business ecosystem.
Many supply chains have been sluggish to respond and are still creating the core physical skills necessary to compete today, much alone effectively create, test, implement, and scale digital innovation.
With established solutions on the market, digital transformation is no longer a first-mover advantage; it has become the industry standard. Your supply chain business needs digitizing to attain a competitive edge, which is a bit complex but not difficult to implement.
Supply chain digitization and fulfillment technologies may have a significant influence on a brand's bottom line by making everything more efficient, including supply chain operations and delivery. Let's learn more about supply chain digitization and how it may help your brand.
What is supply chain digitization?
The process of replacing outmoded manual or analog processes with new high-tech solutions focusing on digital transformation is known as supply chain digitization. Brands may employ software to combine data into a single solution that focuses on automation and business intelligence.
While most supply chains employ technology or advanced analytics in some capacity, the key distinction in a digitized supply chain is that the technological systems are connected, reducing silos and allowing them to function in unison.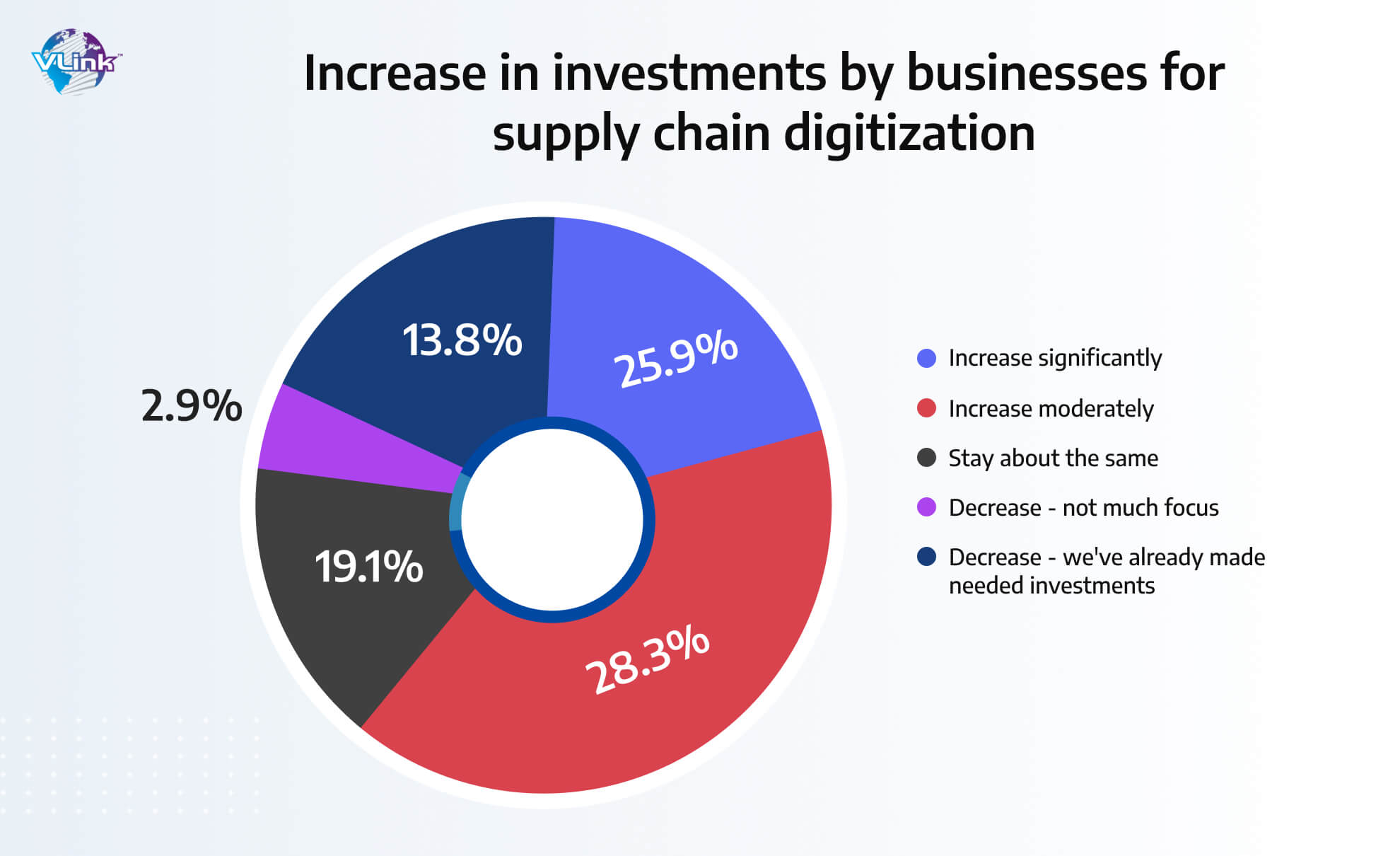 This digital technology might be a ready-made solution, a custom-made solution, or a combination of the two. There have never been more alternatives for digital supply chain operations than currently, making it simpler than ever for organizations to pick a solution that meets their individual requirements.
How does supply chain digitization work?
While specifics vary by organization, supply chain digitization frequently entails three major areas: data management, process linkages, and the employment of digital instruments in physical process execution.
1- Data management via digitization
Supply chain management systems are intended to capture vast amounts of data in a timely and accurate manner. Inventory management software, for example, is used to take orders placed on an online store automatically, process them for fulfillment, update stock levels, and offer real-time inventory counts.
Sales data and client information are also kept and analyzed in order to enhance operations such as demand forecasts and distribution strategies.
2- Improved process integration
Different supply chain technologies are meant to work together to provide an end-to-end supply chain solution, from first-mile delivery tracking through delivering orders. Process integration improves transparency and collaboration among supply chain stakeholders.
3- Using digital technologies to execute physical processes
The execution of several physical operations is also affected by supply chain digitalization. Inventory location data aids in the improvement of selecting pathways and increases efficiency. Furthermore, warehouse robots are used to transfer things inside the warehouse and aid with retrieval in order to provide quick fulfillment.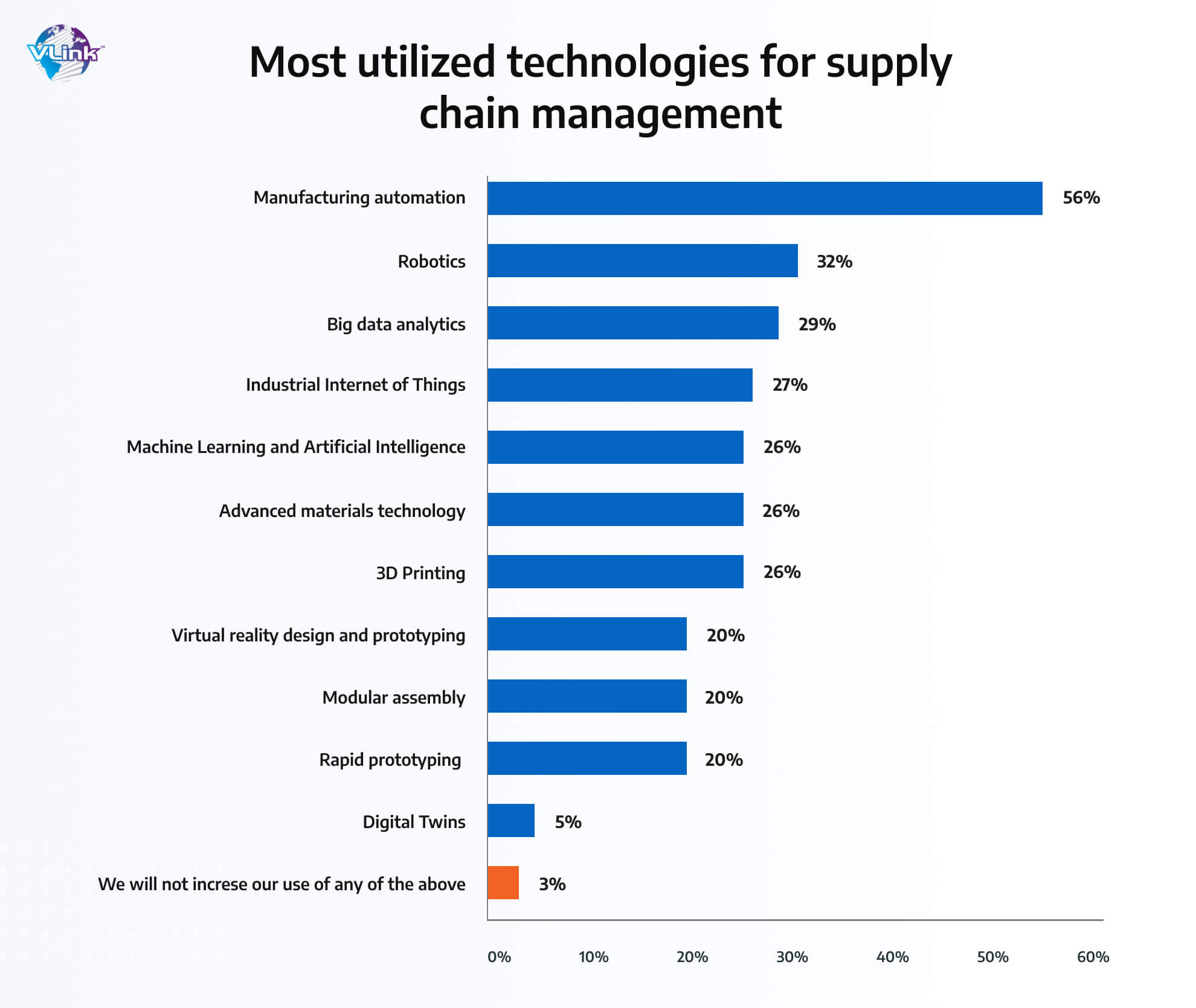 4- Streamlining decision-making
Making use of data to make decisions. Decisions in the transportation and logistics industries must be made fast, and agility is essential. A digital supply chain enables you to collect and analyze vast volumes of data with significantly less work and time than analog systems.
Also Read: Data & Analytics: How the Manufacturing Industry is Innovating
Why do businesses need supply chain digitization?
Supply chain businesses might not be able to compete with the traditional assets in place. They will require innovative solutions to stay ahead and bring value to their customers. And that's why supply chain digitization is needful and important. Here are the core reasons why businesses need it now:
1- Enhance Financial Management
One of the benefits of supply chain digitization is having real-time insight over supply chain logistics such as inventories, which helps companies to better manage financials. The ability to view inventory levels in real-time can help to guarantee that the correct stock level is maintained to match spikes in customer demand without spending resources on surplus inventory.
Stockouts and overflow can be difficult to distinguish, and investing in an inventory control system guarantees that every product in every warehouse (if you utilize more than one fulfillment center) is accounted for. This prevents items from being ignored and becoming stranded on warehouse shelves, which can have a detrimental impact on the bottom line.
2- Boost Automation
A linked and digital supply chain process minimizes the need for manual labor, allowing staff to focus on other activities. Automation also lowers the possibility of human mistakes. Digital supply chain management may connect diverse systems and divisions, resulting in a one-stop shop for vital data.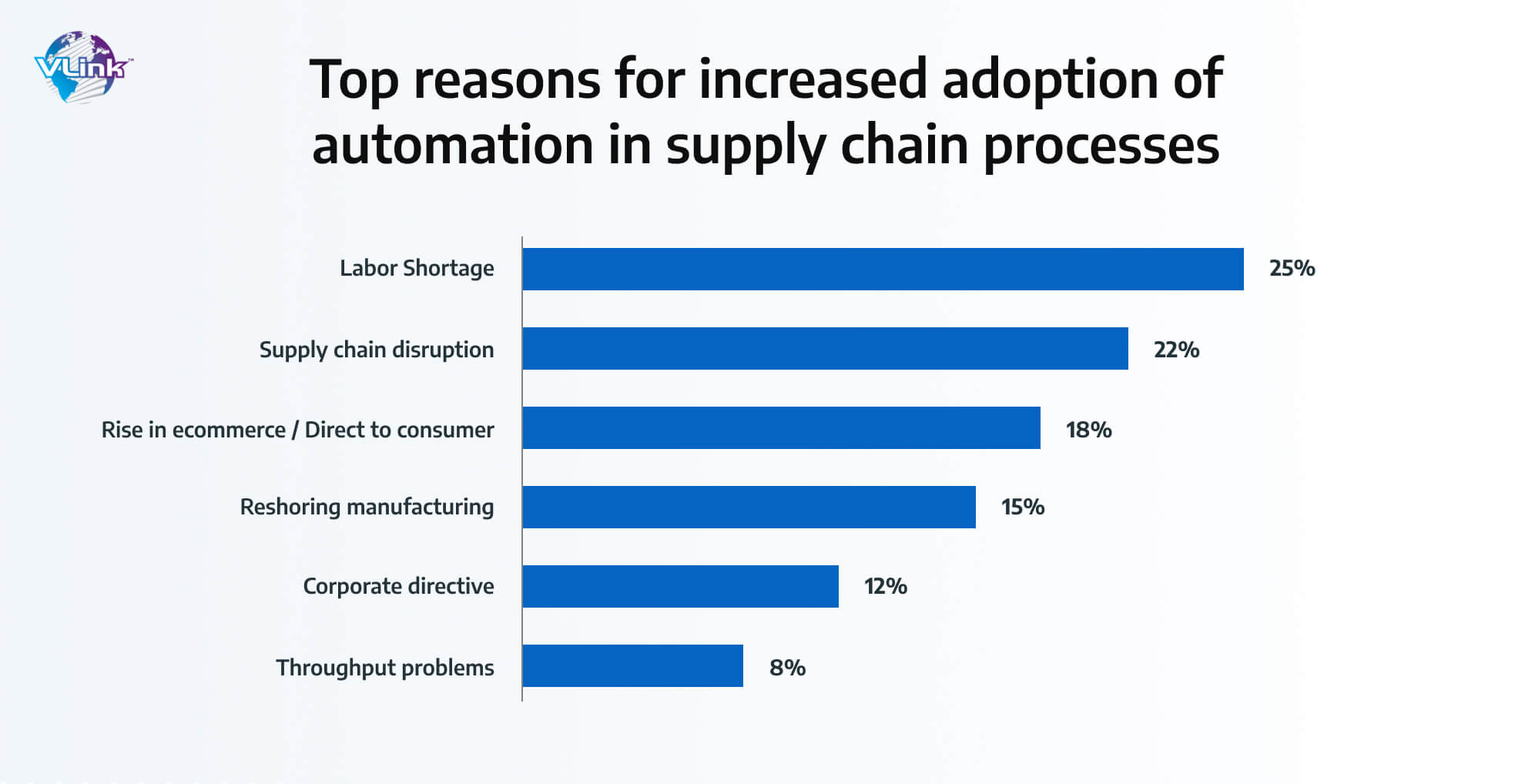 3- Keeping Assets Configured & Linked
If you continue to rely on spreadsheets and email threads to obtain information, you will fall behind. The significant time and effort expended on those jobs reduces efficiency and increases the possibility of human mistakes.
Digitizing your supply chain opens up possibilities for integrating different systems, facilitating collaboration throughout the enterprise, and establishing a single source of truth for information.
4- Reduced lead times
Digitization helps you to reduce lead times and enhance supply chain velocity by providing real-time visibility throughout your supply chain. Integrating your fulfillment software with your ecommerce site, for example, allows you to automatically accept orders and prepare them for fulfillment. Digitization minimizes manual labor across divisions, which helps to accelerate various operations.
Supply chain digitization process
The major problem in producing software in-house is capacity. Large-scale digitization is too large for many businesses' current development teams, who are busy with other critical duties.
In-house software development
The goal of supply chain digitization is to ensure that various supply chain instruments work together to enhance process integration. This entails combining precise data and procedures into a cohesive platform to enable end-to-end insight.
Many organizations prefer to develop their own supply chain software. However, this might be difficult since you may have established systems that you wish to keep. That implies your software must interact effectively with the legacy systems while causing minimal disturbance.
Collaboration with a corporation
Alternatively, you may collaborate with a logistics partner that will give you the most up-to-date supply chain management technology that will interface with your existing systems.
A logistics business may provide supply chain solutions that readily interact with other ecommerce systems, from your online shop to your returns management software, rather than constructing a technological stack from scratch.
This allows for easier deployment and more visibility, while also assisting you in automating key areas of your supply chain. In other words, working with the proper organization will allow you to handle various components of your supply chain in a single location.
It might be difficult to find software that will work effortlessly with your existing systems right out of the box. Furthermore, ready-made solutions are not tailored to your organization's specific requirements, and developing bespoke plugins and integrations to make things work necessitates additional effort from your team (not to mention bug patching and maintenance).
Also Read: Top 5 Digital Trends Impacting the Retail Industry
How VLink can help?
VLink provides industry-leading software that drives insights and efficiency for companies that sell online and in stores. Our solution includes a range of digital capabilities designed specifically for the contemporary commerce brand, such as real-time visibility, inventory management, order management, and network optimization.
By offering total inventory insight of inbound logistics, outgoing logistics, and in-progress stock, VLink simplifies production inventory management. With real-time inventory management, low inventory level notifications, and a predicted view of remaining goods, you can ensure an appropriate stock level.
You can better manage inventory by having safety stock to minimize low inventory count scenarios while also minimizing extra inventory expenditures with correct customer analytics such as demand intelligence.

FAQs
Frequently Asked Questions
What are the supply chain 4.0 technologies?
It is a strategy that helps businesses to optimize their supply chain operations via the use of modern technology and data. Predictive analytics, the integration of new technologies, process automation, and the application of artificial intelligence (AI) are all part of Supply Chain 4.0.
What exactly is digital SCM?
Digital supply chain management is simply supplying chain management with a layer of digital technology layered on top. Predictive analytics to improve inventory allocation and predict demand is one of these technologies. Solutions for automated replenishment. Robotics for assembling or picking.
Why is supply chain digitalization important?
Digitization improves inventory and materials management, assures precise expiration date tracking, and prevents material shortages, all of which leads to less supply chain waste and less need for expedited freight.