The Role of the Internet of Things (IoT) in Insurance
Lack of innovation and security in insurance can cause clients to be underinsured. That's why many insurance companies seek digital solutions like AI, ML, Data Analytics, Telematics & Internet of Things (IoT) in insurance.
201 Views

4 minute
The IoT is among the most disruptive technologies in the insurance industry. According to a report, The worldwide IoT insurance market size is estimated to reach $304.31 bn by 2027, growing at a CAGR of 57.1% from 2020 to 2027.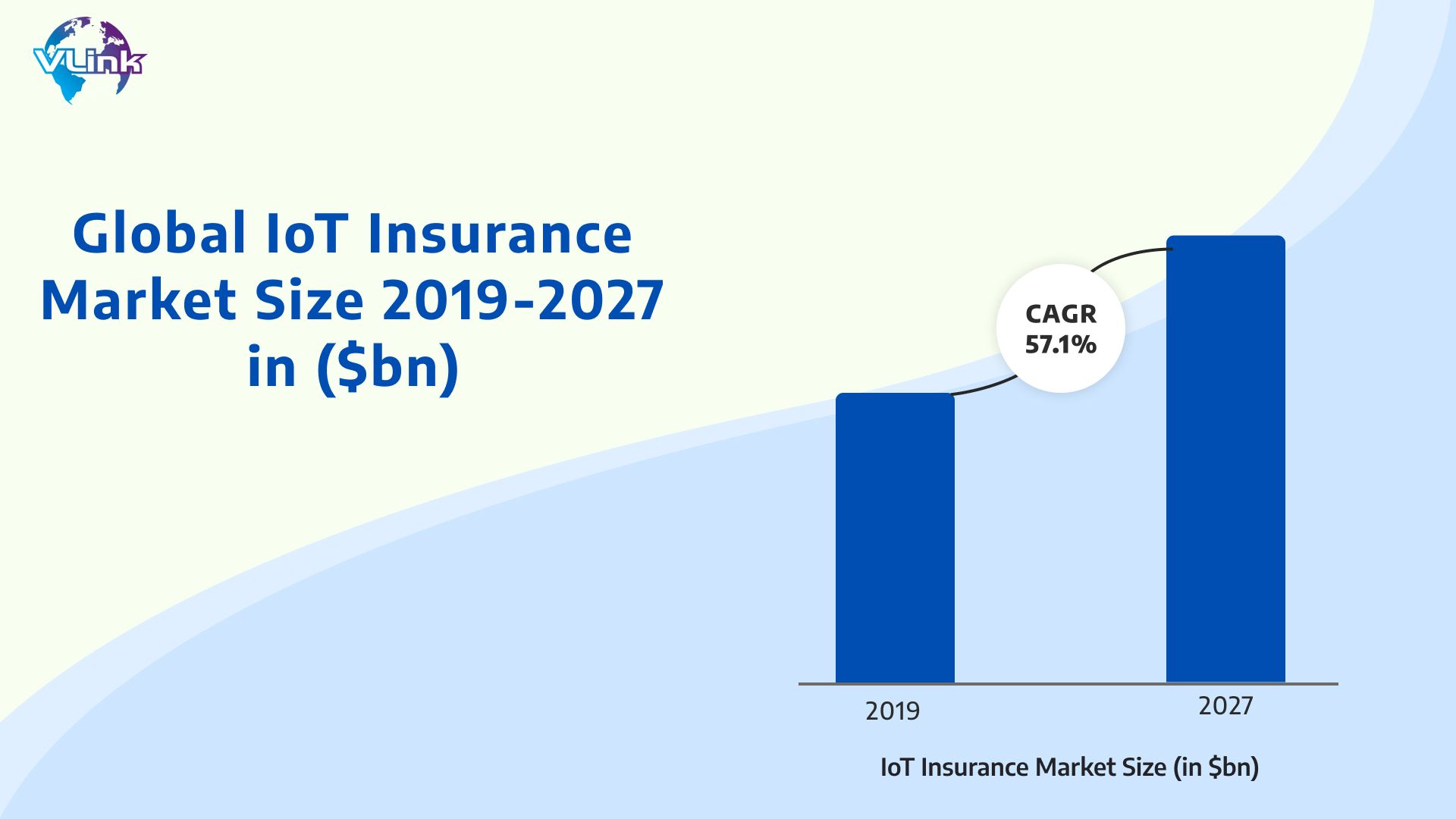 The adoption of IoT in the insurance industry is leveraging new opportunities for businesses and insurers to create new business models to offer innovative solutions to their existing and potential policyholders.
Keep reading to find out the role of the Internet of Things in the insurance industry.
Table of Contents:
1. Benefits From the Internet of Things (IoT) in the Insurance Industry
2. What is the Role of IoT in the Insurance Industry, By Policy Categorize?
3. What is the Future of IoT in the Insurance Industry?
4. How to Implement IoT in Insurance Solution?
5. How will VLink help you with IoT Technology in your Insurance Business?
6. FAQs–
What are top Insurance Companies Adopting IoT technology?

Challenges of Adopting IoT in the Insurance Industry

What is the role of IoT in the healthcare industry?
Benefits From the Internet of Things (IoT) in the Insurance Industry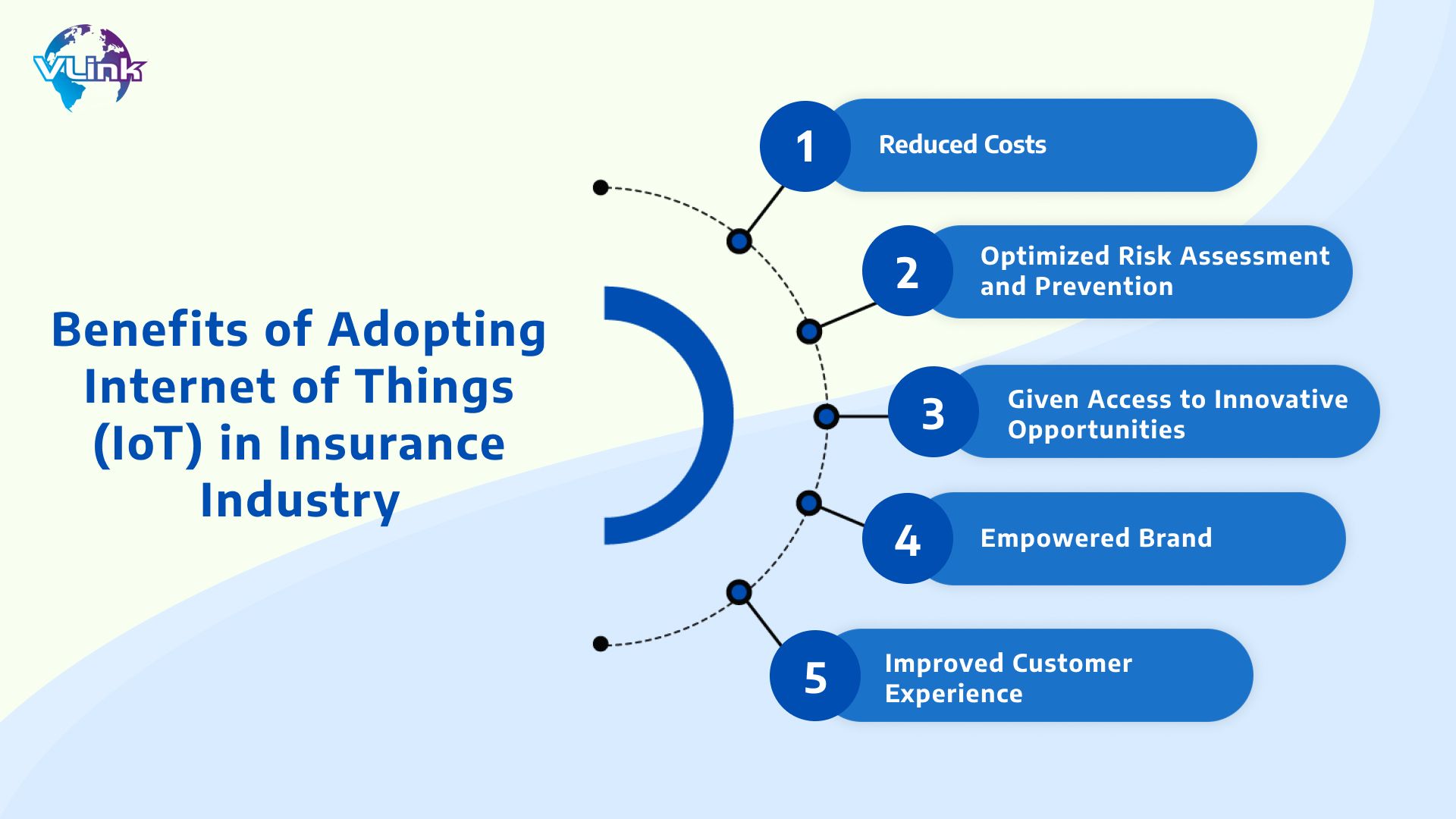 It has become imperative for the insurance industry to adopt IoT to stay competitive in today's rapidly changing market. 20% of the insurers evaluated, tested, or deployed Internet of Things initiatives.
Here are other benefits of integrating IoT in the insurance industry.
You can save billions of dollars each year by using IoT data for detecting fraudulent claims and analyzing sensor data.
Predictive Maintenance reduces organizations' costs since removing the cause of an accident is significantly less expensive than replacing all the damage caused by the accident, which would result in a much larger claim.
IoT allows insurers to take on a preventative approach instead of a reactive one.
For instance:
In the case of boiler breakdown in a commercial building, the insurance firm could warn the policyholder before any costly damage happens. As a result, it improves loyalty, increases client retention and establishes clients' trust.
With the Internet of Things-integrated devices, insurance companies can elevate their benefits from risk coverage to risk prevention. IoT connected devices can alert insurers and customers regarding irregularities.
While it's not the job of the insurers to perform risk management, implementing IoT for this purpose can create a better understanding between customers and the insurance company.
IoT technology allows insurance companies, insurers, or agents to get data collection tools to enhance analysis with several factors. These are corporate context, client behavior, location, physical condition and health state.
By using IoT in insurance for data collection, you can generate useful insights to make innovative and accurate decisions.
Internet of Things technology improves the overall service quality and helps you outperform competitors. Empowering brands is a true competitive advantage because of the industry's strong positions of traditional methods.
Thanks to the adoption of IoT in the insurance industry, you can increase your brand value in the market.
When insurance companies deploy IoT based solutions, it helps improve individual and commercial interaction with your business, establishing strong customer relationships.
This technology introduction into the insurance industry contributes to identifying valuable customers' needs by offering personalized and accurate service packages. All this can bring in more value to your clients.
What is the Role of IoT in the Insurance Industry: Policy Categorize?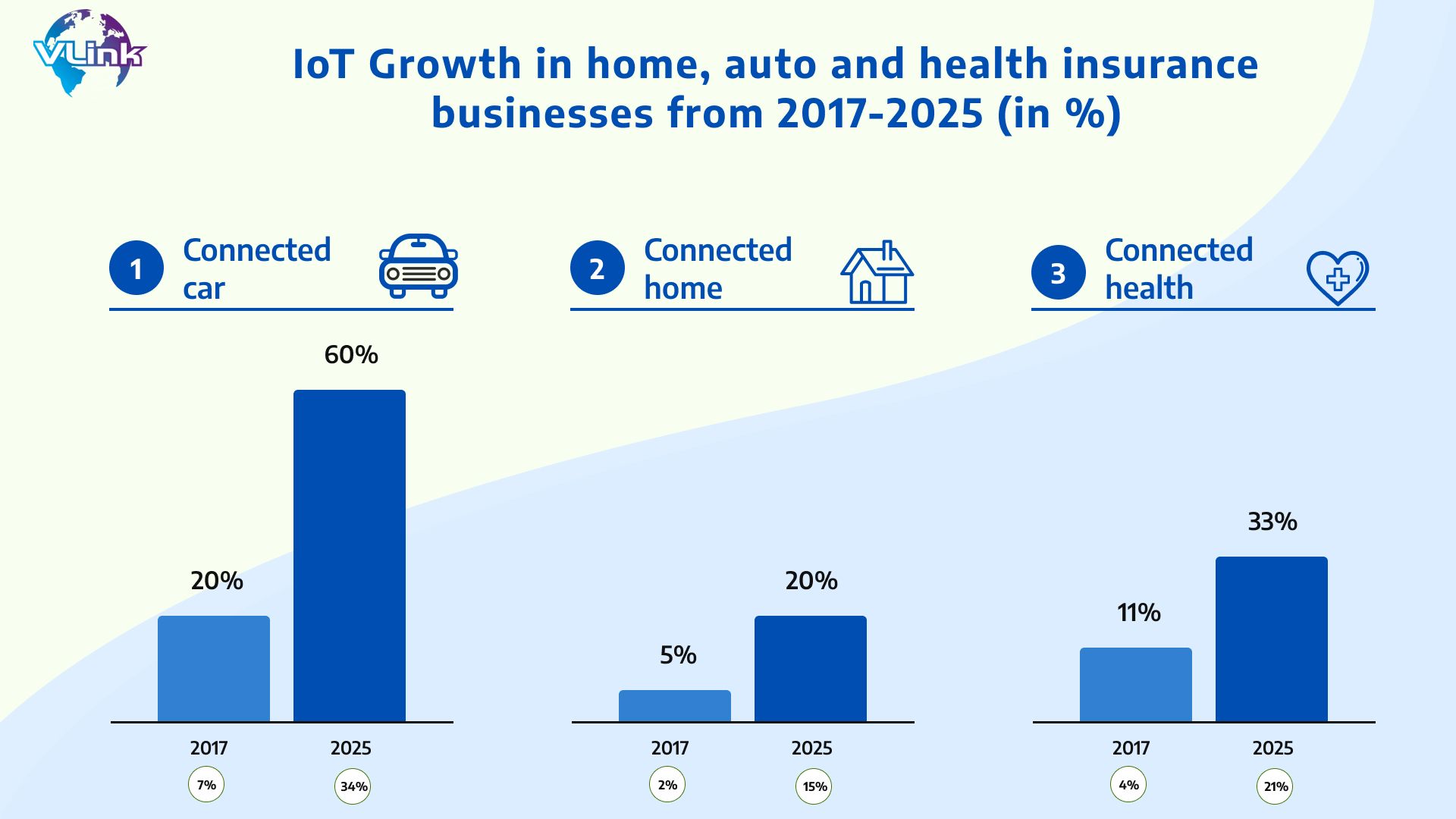 IoT technology can help insurers minimize costs and generate additional revenue related to the insurance industry. According to different insurance policies, there are several other uses of the Internet of Things.
Internet of Things (IoT) in home insurance allows insurers to partner with policyholders.
By using IoT, many companies can use data derived from several devices and external sources, such as weather data and provide the best level of protection possible for their policyholders.
Here are several uses cases of IoT in the home insurance sector:
Reduced Claims Costs

Increased Accuracy of Pricing

Gathered Behavioral Data

Helped the Wider Community

Built a Relationship with Customers
With the rise of the Internet of Things technology, many vehicle insurers are adopting connected devices to increase customer satisfaction, minimize costs and improve overall efficiency.
Here are several uses cases of IoT in the auto insurance sector:
Automated Telematics

Remote Diagnostics

Automated Claims Processing

Vehicle Tracking
By leveraging IoT technology, many healthcare insurance companies can use an insured person's health or medical detail to offer several discounts, including specific rates for women, family or partner plans.
Here are several uses cases of IoT in the healthcare insurance sector:
Simultaneous reporting and monitoring

Significant claim processing

Data assortment and analysis
What is the Future of IoT in the Insurance Industry?
The insurance industry is radically changing due to digital transformation because of innovation and customers' demand. Therefore, many insurance companies increasingly implement IoT for better risk evaluation, customer experience improvements and efficient claim processing.
Gone are the days when buyers had to spend a long time, even months, on paperwork. Thanks to IoT, they can now move through getting insurance and resolving claims efficiently. In addition, Internet of Things connected devices allow insured people to track their coverage and claims easily via digital platforms.
If you are not investing significantly in IoT technology, your competition could get the edge over you.


How to Implement IoT in Insurance?
To be successful with digital ecosystems in an IoT world and implement the Internet of Things in insurance, you need to consider a few things.
Define Application Areas
Insurers need to define critical app areas relevant to their business model. Although specific in analyzing attractive customer segments and promising application areas, insurance companies should consider the mid-to-long-term potential of the market and check factors to unlock unrealized potential.
However, customer segment and behavior analysis reveal strongly growing potential for new IoT-based retail products among wealthy renters and property owners.
Follow Proper Strategic Partnerships
One of the most important steps in implementing IoT is finding the right strategic partner. Here are a few examples you can consider for different sectors:
In Connected Cars, OEMs, telematics, parking garage operators, or gas stations are strategic partners.
In smart housing, utility companies, multimedia providers, telecom operators, and companies in the housing sector as well as specialized property tech sector players, are strategic partners.
Insurers should contact potential partners early and actively involve them in the service development. It will shorten the time to market, lower the investment risk and increase transparency in a rapidly expanding market.
Ensure Scalability
Insurers should represent themselves as trustworthy and reliable partners. In addition, they should highlight the benefits of digital networking for consumers, such as lower premiums or faster breakdown service.
Established insurers can expand on possible offers with greater speed. First, insurers must swiftly visit the market with a first offer to test customers' desires. Then they can scale the offer.
Maximize Rollout Speed
The Internet of Things could reach a point where the insurance product market share increases exponentially. Insurance companies that are unable to act fast will run the risk of losing out completely. So, you need to increase your rollout speed.
Ensure a Long-Term Perspective
Insurance should look for ecosystem IoT Development services as a long-term investment in future capabilities. As the majority grows and the service costs continue to fall in the coming years, the value for customers and insurers will decline considerably.
Insurers companies should start building long-term strategies to expand their market position and build innovative, competitive services for their customers in the years ahead.
Following these tips can improve competitiveness and innovation in your insurance companies. But, if you don't have any experience with IoT app development, you may choose a company that specializes in insurance software development for proof-of-concept implementation and technological feasibility testing.
If you are looking for a development company for implementing IoT solutions into your insurance business, contact VLink!
How VLink Can Help You with IoT Technology in Your Insurance Business?
VLink, a software development company, can assist you in building an advanced insurance system if you want to explore further choices. Our dedicated software developers have experience designing customized IoT apps per the needs of using the best Internet of Things frameworks.
So, if you are in the insurance business, you now understand the potential of implementing IoT technology in the insurance industry.
Key Takeaways!
In recent years, the insurance sector has been slow to implement IoT services. But it's not so anymore. The benefits of using the Internet of Things (IoT) in the insurance industry are tangible and will allow insurers to deliver better service and improve operations in the longer term.
According to Forbes, Internet of Things can benefit insurance companies by minimizing claiming process costs by 30%, while connected devices can reduce prices by 25%.
What's more, improved customer satisfaction thanks to IoT stands out businesses in today's rapidly changing market.
At VLink, our experienced insurance software developers are ready to help take your business to the next level.
We'd be delighted to learn more about your business and help you with your needs.

FAQs
Frequently Asked
Questions
What are top insurance companies adopting IoT technology?
Several established insurance companies such as Liberty Mutual, Progressive, GEICO and State Farm are adopting IoT technologies to improve risk assessment efficiency.
What are the challenges of adopting IoT in the Insurance Industry?
There are a few challenges for IoT in the insurance industry, including disruption to existing insurance business models, data management, data ownership, regulation, data security & fraud are some challenges for IoT in the insurance industry.
What is the role of IoT in the healthcare industry?
The role of IoT in the healthcare industry is to enable healthcare service providers to improve care efficiency and minimize costs. It is useful for patients, physicians and hospitals. Real-time tracking & alerts, remote patient monitoring, reduced waiting time and identification of chronic diseases are some benefits of using Healthcare IoT solutions.