Top 7 challenges of IT staff Augmentation: How VLink Can Solve Them?
In today's business world, companies invest in their remote working structure and extend their teams by outsourcing or adopting IT staff augmentation for business growth.
201 Views

4 minute
The IT staff augmentation market is growing rapidly, driven by trends such as AI and automation, remote work, and the need for soft skills. The global staff augmentation services market is projected to experience a 3.53% CAGR from 2021 to 2025, reaching a significant incremental expenditure of $81.87 bn.
The statistics clearly demonstrate the global recognition of staff augmentation as a beneficial approach for achieving optimal operational efficiency.
However, there are several challenges that may arise when you engage with staff augmentation providers. In this blog, we will explore all staff augmentation issues in depth and check how to overcome them.
Table of Content:

Top 7 Challenges with IT Staff Augmentation & Solutions to Overcome Them
Finding The Right Talent

Poor Communication & Management

Scalability

Time Zone Availability

Legal Issues

Security Risks

Transferring Project Knowledge
2. How Does VLink Assist with Staff Augmentation Challenges?
How To Augment Your Team with VLink?
3. Wrapping Up!
4. FAQs–
What makes IT staff augmentation a success?

How to Get the Best Out of IT Staff Augmentation?

How big is the IT Staff augmentation market?
Before starting this, you need to know everything about IT staff augmentation services.
Top 7 Challenges with IT Staff Augmentation & Solutions to Overcome Them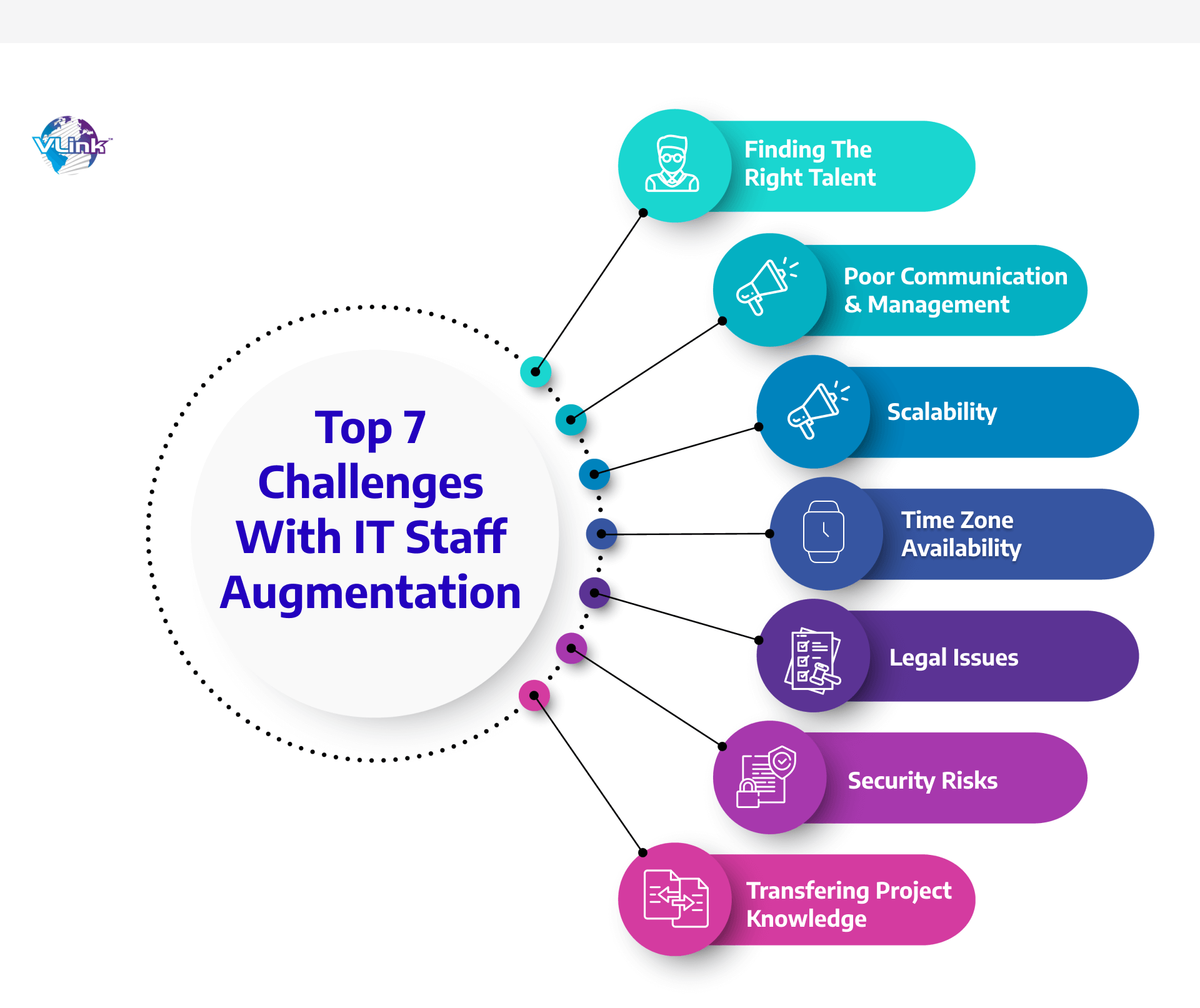 Today, the shortage of talent in the USA is a serious concern.
The lack of skilled professionals is a pressing issue in America. So, finding IT specialists with the necessary expertise, experience, and background is becoming a challenge.
According to the US Bureau of Labor Services, the US IT unemployment rate stood at 3.5% in 2023.
Therefore, many companies are leveraging IT staff augmentation services and hiring dedicated offshore developers from prominent IT outsourcing destinations like Eastern Europe, Asia, and Latin America.
Solution: Partner with A Reliable Tech Vendor
The most analytical solution to the skill gap issue is to hire a reliable IT staff augmentation company. A vendor equipped with the necessary resources presents an effective solution for fulfilling your requirements efficiently.
To find the most suitable staff augmentation agency for your software development project, you should consider several things:
Cultural compatibility

Time zone availability

Size of the talent pool

Service range

Technology expertise
Follow these steps to select a staff augmentation vendor:
Select the best location

Compile a vendors list

Conduct an introduction round

Check the reviews, references, success stories, and video testimonials

Consider providers' size and their recruitment capabilities

Make sure your partner complies with security standards such as ISO, PCI DSS, & HIPAA
Also Read: How can IT staff augmentation drive your business to success.
Many businesses face poor communication challenges with their remote team through IT resource augmentation services. Ineffective communication often hinders the advancement of any project development and can contribute to its failure.
Solution: Establish Effective Collaboration
Effective communication is the key to the success of a staffing partnership. No matter your IT staffing partner size, you should highlight some factors before setting up a partnership:
Ensure you get a dedicated employee for project delivery.

Select the right collaboration tools for effective communication

Check regular reviews of delivered services.

Follow project management approaches like Agile, Scrum, Kanban, and SAFe.

Follow coding practices.

Make sure your partner provides security for your data.

Use time-zone difference to your advantage.
Many businesses encounter a significant challenge when they use IT staff augmentation services to scale their development team.
Setting up a big software development team with a lengthy recruitment process to work on different projects can extend your time-to-market.
Thus, you need to clarify how much time it usually takes for a company to increase its team with one IT expert.
Solution: Select an IT Staff Augmentation Partner with a Wide Network of IT Talents
Before starting a partnership with a vendor, you need to consider several things:
Figure out the company's average attrition rate. According to a LinkedIn analysis, it should be around 10-15%.
Check the company's internal pool of IT Talents.

Discover whether the company provides employees with comfortable working conditions, professional growth, training opportunities, and fair compensation.

Agree with staffing vendors on reasonable notice periods for scaling up/down a team.
If your augmented team members are onboarded from different time zones, coordinating schedules could be a nightmare. There are several challenges that many businesses face when working in remote settings.
Some of them are:
Lack of real-time communication

Collaboration at odd hours

Shortage of team bonding
Solution: Time Management Tools and IT Staffing Service Providers With Global Offices
With time management tools, you can resolve these conflicts and ensure your team (within different geographical boundaries) is in the same direction.
However, with managed IT staffing service providers, you can successfully address challenges and ensure high productivity.
If done correctly, staff augmentation helps to quickly extend your digital and IT team. VLink is a trusted strategic partner for many enterprises worldwide and, as a result, has become a fast-growing provider of staff augmentation services and software development solutions.

The quality of a contract can significantly impact your business, and a poorly assembled one can have detrimental consequences. It may result in unexpected outsourcing expenses, a loss of quality, breached security, and various staffing challenges.
Solution: Opt for Win-Win Contract
In software development outsourcing, most contracts align with three primary collaboration models:
Long-term project

Short-term time & material project

Fixed-price projects with required scope
Make sure your contract aligns with your specific business goals. Additionally, there are numerous crucial elements that every contract should include to prevent legal complications:
Initiate penalties for non-compliance with the contractual terms

Liability clauses that clearly define the limits of responsibility for your partner

Warranty provisions to ensure a certain level of quality for the services delivered

The selection of the governing law, especially for international contracts

Non-solicitation clauses that mutually prohibit the poaching of IT experts
Engaging the services of an IT staff augmentation agency with a global talent pool can provide effective solutions for addressing legal issues and ensuring a smooth contractual process.
Security threats are among the most common IT staff augmentation challenges, as staffing includes bringing an external team into your internal procedures. Some of these challenges can be overcome by taking the necessary security measures a company requires with any employee.
Solution: Maintain a Balance Between Efficiency & Security
Cooperation with augmentation firms should be conducted under NDA standards to reduce the risk of data breaches and fraud violence.
Make sure you hire trusted remote developers to prioritize the safety of your clients, projects, and organization.
Knowledge transfer is essential to any project development process, from initiation to planning to deployment.
Inadequately structured and resilient knowledge transfer plans can result in businesses encountering the challenge of inconsistent knowledge transfer, ultimately resulting in wasted time, resources, and investments.
Solution: Promote Efficient Knowledge Sharing
A practical approach to overcoming the knowledge transfer hurdle involves enlisting the services of an IT staffing firm that excels in effective knowledge transfer practices on a global scale.
Reputable tech staff augmentation organizations such as VLink boast a proven track record of delivering projects for clients on time and on budget. We recognize that successful knowledge transfer requires a systematic approach, encompassing meticulous planning and transparent communication.
To ensure a successful knowledge transfer, you will need to follow a few fundamental steps:
Determine the specific knowledge items that need to be transferred.

Identify the individuals who will be accountable for facilitating the knowledge transfer process.

Verify essential technical documentation.

Conduct relevant meetings and Q&A sessions to facilitate the transfer of knowledge.

Establish measurable metrics to evaluate the outcomes, such as time spent on project kick-off and team velocity.
How Does VLink Assist with Staff Augmentation Challenges?
At VLink, we have a dedicated, certified team of IT experts with diversified experience and many skills. Our working approaches, and quality services will help you get the right tech resources for your long-term or short-term projects.
Here are just a few reasons why VLink is a good choice for your IT staff augmentation service provider:
500+ tech experts

Strong employer brand

tried and proven staffing augmentation strategy

Ability to meet skillset gap

Experience with AI, ML, Blockchain, & Data Science

Hands-on experience with Scrum and SAFe

How to Augment Your Team with VLink?
Here are a few steps we follow during team augmentation with VLink:
VLink initiates contact with the candidate and conducts an initial screening process.

We conduct a comprehensive technical interview to evaluate the candidate's soft skills.

After receiving client approval, we extend a job offer to the candidate.
Wrapping Up!
Securing the appropriate talent is essential, but what other factors are crucial? The key lies in adopting a hiring strategy that aligns with your budget, thus enhancing the team's ability to deliver projects on time.
IT companies can face many challenges, such as a shortage of experts, security threats, time zone availability, and scalability. Collaboration with a staff augmentation company can overcome these challenges.
By doing so, you can elevate, speed up, and improve their internal processes, leading to quicker project completion without incurring excessive costs or sacrificing flexibility.
If your company requires additional assistance for a software development project, consider reaching out to VLink. Countless businesses have experienced accelerated value and achieved swift project completion by leveraging our specialized staff.

FAQs
Frequently Asked
Questions
What makes IT staff augmentation a success?
IT staff augmentation can be considered a success when certain key factors are present. These factors are:
Clear communication and collaboration between the augmented staff and the existing team

Skills and expertise with project requirements

Seamless integration of augmented staff into the organization's culture and processes

Timely and efficient delivery of tasks and projects

Effective project management

Cost-effectiveness
Successful IT staff augmentation maximizes productivity, enhances project outcomes, and fosters a positive working relationship.
How to get the best out of IT staff augmentation?
To maximize the benefits of IT staff augmentation, follow these key steps:
Clearly define your project requirements and goals.

Choose a reliable and experienced IT staff augmentation provider.

Ensure effective communication and collaboration with the augmented team.

Provide comprehensive onboarding and training to align them with your business processes.

Establish clear expectations, roles, and responsibilities.

Regularly monitor progress and provide timely feedback.

Foster a positive work culture and treat augmented staff as integral team members.

Leverage their expertise and skills to enhance productivity and achieve desired outcomes.
How big is the IT Staff augmentation market?
The IT staff augmentation market is substantial and continues to grow. It encompasses hiring external IT professionals on a contract or temporary basis to supplement existing in-house teams. With the increasing demand for flexible talent, the market size is estimated to be significant.