Top Mobile App Development Trends To Follow
The mobile app development ecosystem is always changing and emerging. Current and upcoming mobile app development trends keep on coming with new technological improvements, growing user expectations, and industrial evolutions.
201 Views

4 minute
Table of Contents
1. Introduction
2. Top mobile app development trends
3. How VLink can help you deploy the latest mobile app development trend?
4. FAQs
Businesses need to understand that keeping their mobile apps upgraded with the latest technology trends will help them reach success faster. The same is true for content creators and producers eager to elevate their businesses through mobile development.
According to Statista's Digital Market Outlook, revenue across most categories will rise over the next several years, reaching roughly 613 billion US dollars by 2025.
Google Play and the Apple App Store have a combined total of 6.63 million applications. Now, how can you make your app visible among millions? The only way out is merging your business application with the emerging mobile app trends to provide users a better experience that others might not have. Once you have the right code to crack, you will have the ball in your game!
The mobile app development market is transforming at breakneck pace. To succeed in this digital Darwinian era, you must get familiar with shifting mobile app development trends. Whether you're an entrepreneur, a business owner, a developer, an investor, or a business enthusiast, this article will help you remain ahead in the industry by highlighting top mobile app trends.
Emerging & top mobile app development trends to watch out
1- AI & machine learning integration
Artificial intelligence is already a well-established and dominating technology. Today's growth of artificial intelligence solutions in the industries streamlined its expected worth to reach approx. $190 billion by 2025. And hence, we will see more industries will be aiming to combine technology with human intelligence in the future.
The deployment of machine learning and artificial intelligence solutions with mobile apps can drive a rapid boost in their performance and efficiency. This tech-combo can help businesses as well as users to pre-define their expectations from an app while serving the media or content for best results.
The strength of AI can be seen in smart algorithms that help to analyze data, predict the upcoming trends, generate reports, and visualize the collected data for various purposes. Moreover, businesses are using AI to automate the processes and remove the obstacles for better efficiency and productivity.
2- internet of Things (IoT) App Integration
The IoT (Internet of Things) is far from a new concept, and its merging with the mobile app technologies can bring a broad range of solutions in the industry. It's just the beginning that we're seeing connected devices and smart appliances, the future has a lot more surprises for us!
As per the reports from McKinsey, the global share of Internet of Things market will be reaching $318 billion by the end of 202 2023 which $226 billion will be the share of customized IoT software/services.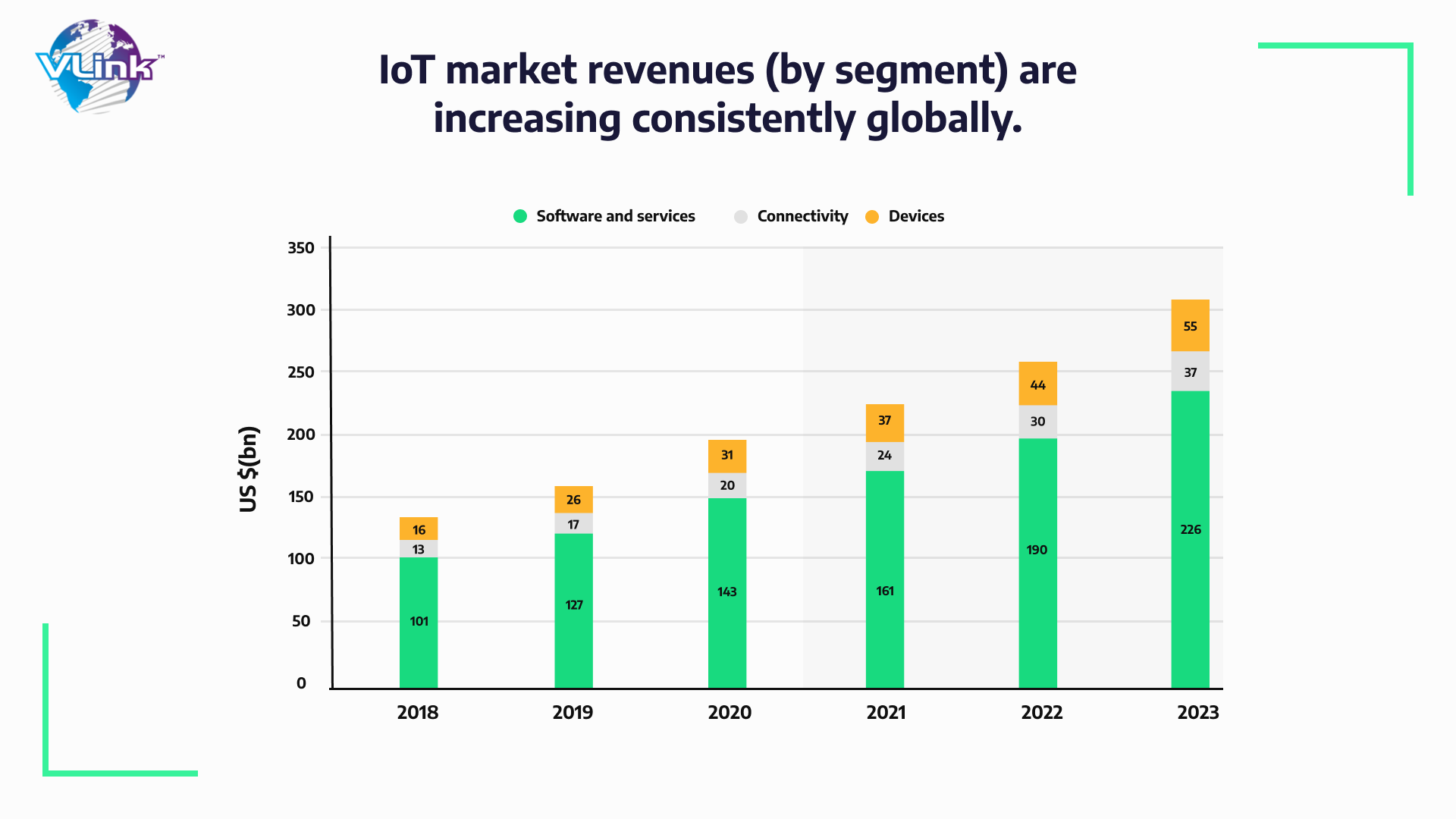 Marking that, it will be a 58% increase in the global market share of IoT from 2020. And hence, the technology is all set to attain steady growth in the next decades. One of the reasons is that IoT has a great impact in the everyday life of individuals, helping them to become more productive and balanced (both physically & mentally).
3- Emerging 5G technology
5G is the next generation of mobile networks, bringing superfast speeds, minimal latency, and the capacity to support many connected devices. According to Statista, the total expected 5G subscribers worldwide by 2023 are 1.9 billion. It is predicted to rise to 2.8 and 5.9 billion in the ensuing year, respectively, by 2024 and 2027.
Its network connection is 100x quicker and more efficient than 4G, with latency reduced from 50 milliseconds (4G) to 1 millisecond. This network is being used to expand app functionality and harness new features like augmented and virtual reality, improved cloud capabilities, faster data transmission, and enhanced live streaming.
The introduction of 5G will increase the operation of mobile apps, allowing developers to add new features to the app. As a result, developers can make use of 5G's potential to design amazing apps that make the most of this new technology.
4- Augmented & Virtual Reality (AR & VR)
Augmented reality will continue to grow. AR elements in mobile apps may be used for a variety of purposes. For content providers, AR adaptation is a top mobile app development trend. You may utilize this technology to be creative, like how Instagram and Snapchat employ face filters.
Today, there are several instances in which businesses leverage AR and VR to improve customer experience.
Lenskart allows people to virtually test glasses before purchasing them.

Ikea employs augmented reality to allow people to preview how furniture will appear in their house before purchasing it.

L'Oréal has virtual cosmetics software that lets users preview how their makeup would look on their faces.
Virtual reality is also causing havoc in the realm of mobile app development. This is particularly true with gaming apps. Integrated with fully functional smartphones games, VR technology can provide a frictionless multi-dimensional experience of virtual worlds.
Due to this, the demand for VR-based devices and apps also increased in the recent years. Have a look at the growth of the technology: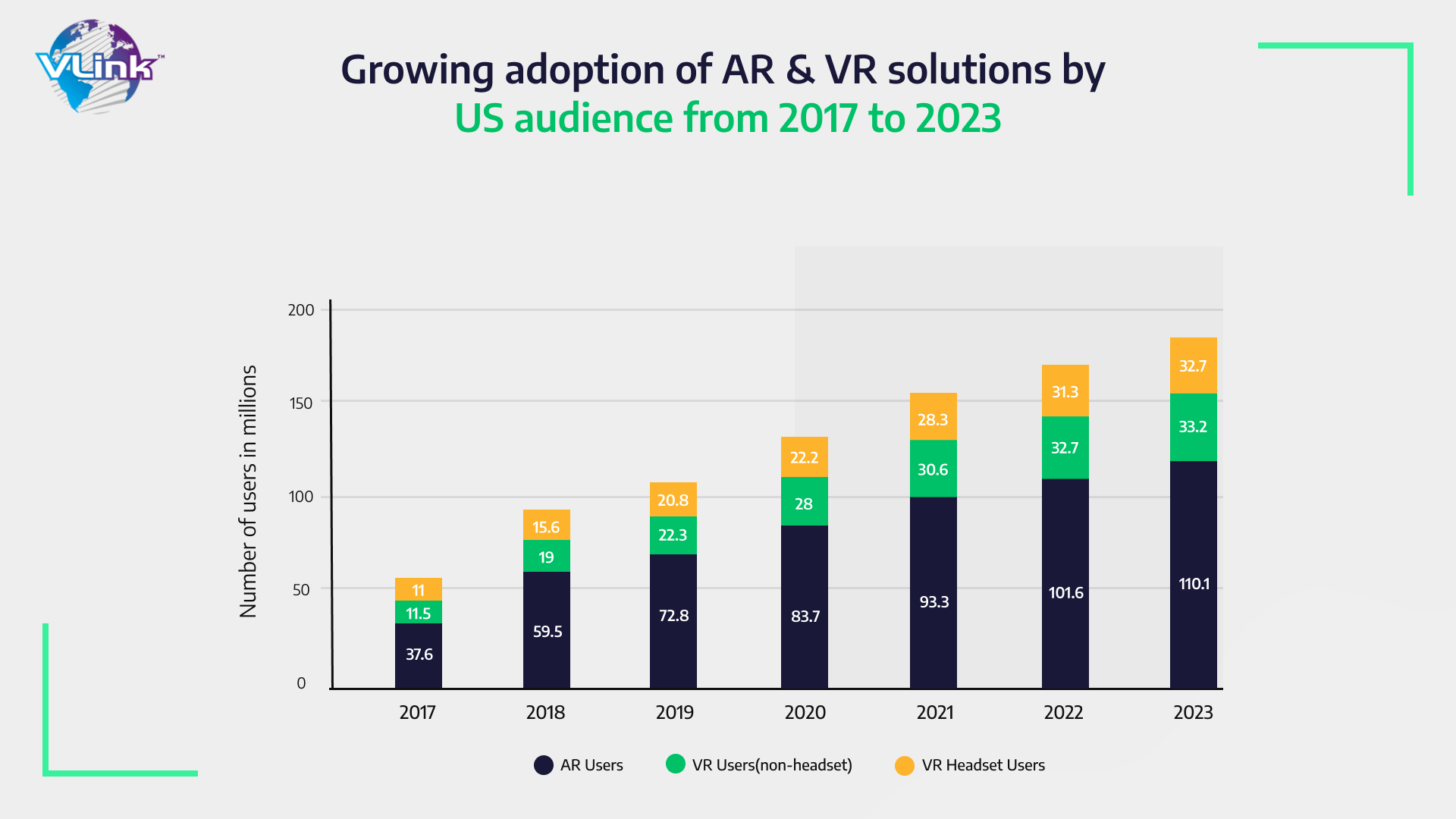 As a result, businesses will have ample opportunities to build their own AR-VR integrated applications and provide a never-forgetting experience to their users.
5- Super apps for super success
We have heard of super applications before, but still, most of us aren't aware of their capabilities for businesses. To be explicit, it is an ecosystem of programs that users commonly utilize owing to their flawless integration.
A super app offers a combination of core functionalities and access to multiple small applications within the same interface for the end users, such as consumers, business executives, etc. The development of super apps is growing at a rapid pace as companies are completely focused on providing frictionless experience to their potential audience by having everything at one place.
One particularly intriguing example is Natural AI, which alters people's interactions with their phones and allows them to address various problems with a single app.
6- Smart wearable apps
Many significant developments occurred in the wearable device market this year. Apple has released the WatchOS 8 upgrade. It introduced additional capabilities, new watch faces, expanded wallet access, and a revamped UI for Apple Watch users.
Another similar real-time solution came to existence where Google released a wearable development platform that is capable with its operating system for connected devices, combined with Samsung's Tizen software platform. As a result, mobile app launch time is experienced to reduce by 30%.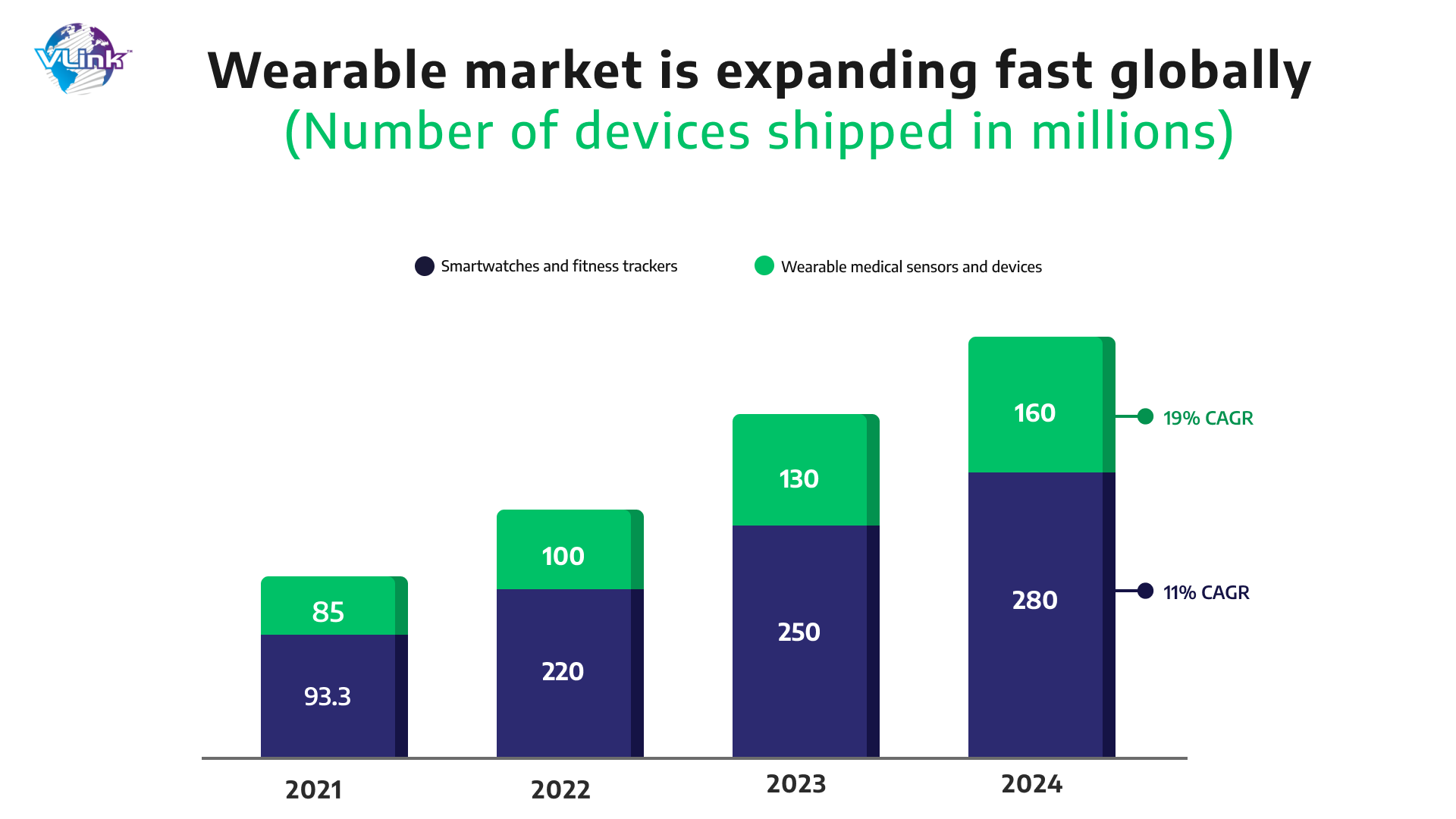 Wearable technology is one of the major emerging mobile app trends of 2023 and future, which reached 929 million devices by the end of 2022.
The growth rate of wearable app development is consistently increasing as analyzed in above facts. And hence, tech businesses and innovation centers are making all possible efforts to boost this market by manufacturing and developing smartwatch OS applications and platforms.
7- Beacon technology embracing smart connectivity
The first mobile app beacon was made available in 2013, and till now the industries are implementing the latest versions of beacon technology to resolve their business challenges. However, substantial advances in this technology have been made in recent years.
The beacon technology market is growing at a compound annual growth rate of 59.8%, according to Statista. In the upcoming years, the market value of beacon technology will be 10 times more as determined in 2016 ($519.6 million). It will hit approximately $56.6 billion of global market share by 2026.
Beacons may also be used to track customer activity in stores. They can determine if a user spends a large amount of time in a specific aisle. The software can automatically send a push notice to encourage the sale of such goods later.
8- Entertainment & gamification
Mobile app development for entertainment and games has become an integral aspect of modern life. Some folks cannot bear the thought of going a single day without them. Users are always seeking exciting features in apps, as seen by the massive engagement of the game PUBG: one thing is certain that this mobile app trend will stay here for so long.
We can estimate the popularity of mobile entertainment applications because Netflix has around 74% active customers in the United States and Canada. Furthermore, the number of mobile phone gamers is predicted to reach 162.8 million by 2023; mobile devices are the most popular among gamers, accounting for about 90% of digital gamers.
Smartphone gaming market share tops the chart among other devices.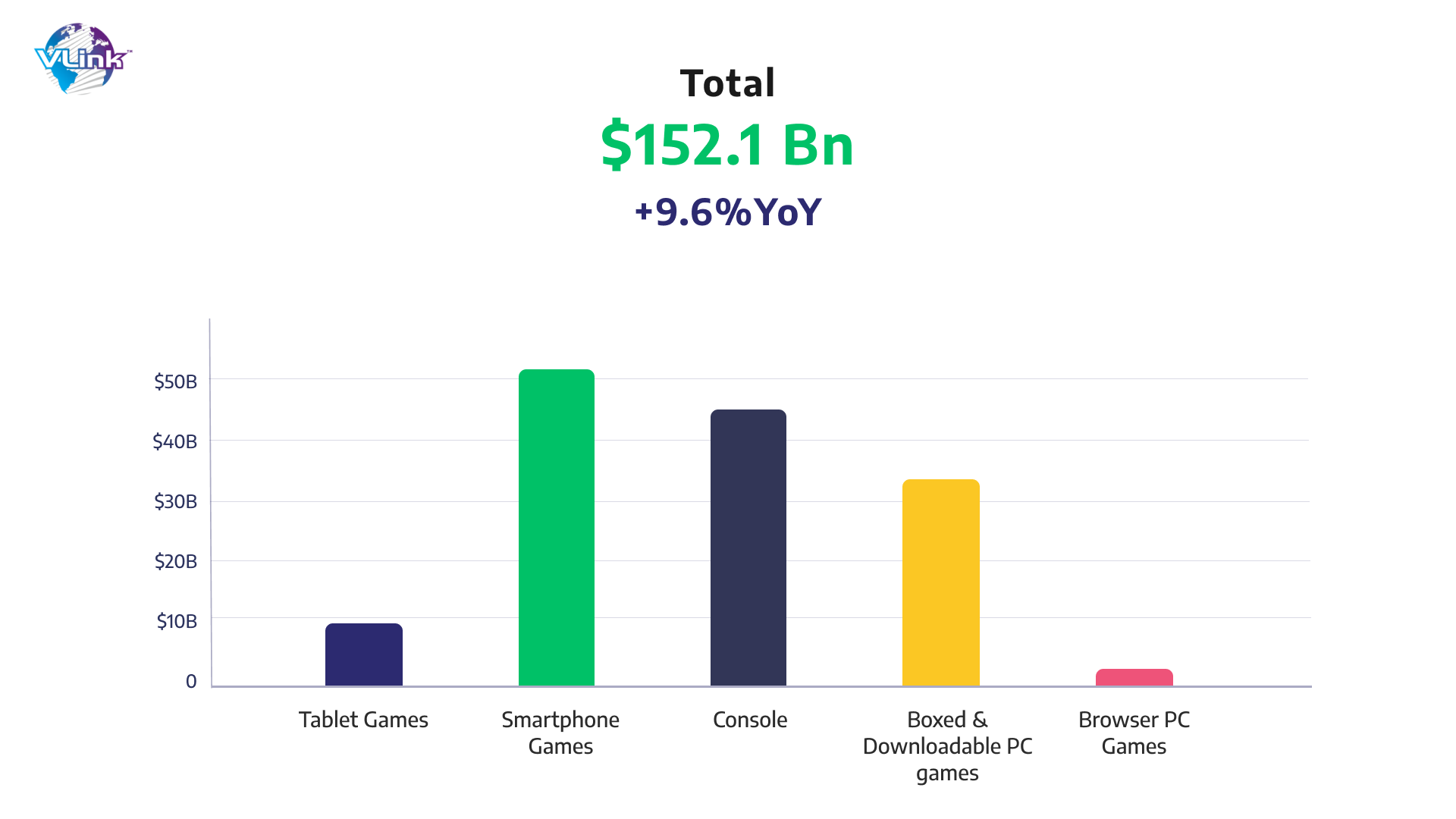 9- Appification for foldable devices
Foldable gadgets such as the Samsung Galaxy Fold, Huawei Mate X, and the redesigned Motorola Razr were released in 2019. Depending on the user's wishes, these smartphones fold to compress or increase the screen size. For example, a user may make a call with the gadget closed while unfolding it to view a movie on a bigger screen.
Approximately 3.2 million foldable phones were shipped in 2019, according to Statista. This figure is predicted to rise to 50 million by 2023. This will undoubtedly be a banner year for foldable, so app developers must prepare appropriately.
The concept is that an app's display should automatically change as the screen folds or unfolds. When creating or upgrading an app, businesses and content developers can account for these devices.
The concept of developing foldable smartphones is quite interesting as their displays get folded without any impact on the UI screen. And that's how their design and innovative usability is attracting consumers to buy them. Considering this an opportunity, more and more tech companies have started to build mobile apps for foldable devices.
10- Implementation of touchless UI
The touchless interface provided to app users is one of the developing trends in mobile app development. Gartner predicts that by 2023, more than half of all large commercial apps will have at least one sort of touchless experience.
The latest mobile app UI trend is gesture control, which allows you to operate apps by merely moving your head or screen. Upcoming smartphone apps will be able to monitor eye movements to assist with scrolling. All these developments will soon become application development trends.
The next several years are sure to offer an interesting transition in the app design development industry, from streamlined mobile app design to trendy AR/VR app interfaces.
How VLink can help you deploy the latest mobile app development trend?
Mobile app development trends will keep on emerging every year. You'll see enhanced security, with automated data analytics, AI-driven features, and a lot more. If your business application is integrated with one of these emerging app development trends. And that is how you can also compete with the latest industrial trends adopted by others globally.
VLink is a prominent digital transformation and mobile app development business noted for its well-defined methodology and step-by-step procedure for exceeding expectations. With our cutting-edge development practices, we believe in maintaining your app's user experience at the forefront of its systems.
All your team's mobile app developers must be aware of mobile app development trends and incorporate them into the app development process.

FAQs
Frequently Asked
Questions
What will the future of mobile app development look like?
The growth rate of mobile apps on marketplaces is increasing every year. Developers now have the resources they need to build transformative mobile applications that can revolutionize the way we live and work. And all these possible efforts will be boosted by the integration of advanced technologies like AI and ML, the Internet of Things, and 5G.
Why is the Internet of Things the future of mobile app development?
IoT devices are internet-connected and can communicate with one another, allowing them to exchange data and share information. There are additional chances to build mobile applications with this connectivity. Mobile apps may now connect with tangible items and devices thanks to IoT.
Why does your business need an app?
Mobile applications may provide organizations with a significant competitive edge by increasing recurring business possibilities and refining referral rates. They can also increase the rate of acceptance of new products and services. Mobile applications enable SMBs and their target consumers to communicate in both one-way and two-way fashion.