Even during an era of turmoil, the real estate business continued to be profitable. Real estate app development can help realtors to exploit the benefits of this trend, given that people search and shop for virtually everything using their smartphones.
However, given the increasing popularity of online real estate searching, today's property market also has fierce competition. To be successful as a realtor, you'll need to create an app that is user friendly and full of features.
According to a real estate market report, almost 95% of businesses in the sector have dedicated Web sites listing properties for sale. The real estate app for both buyers and sellers is vital in today's mobile driven age because they can see a property at any moment.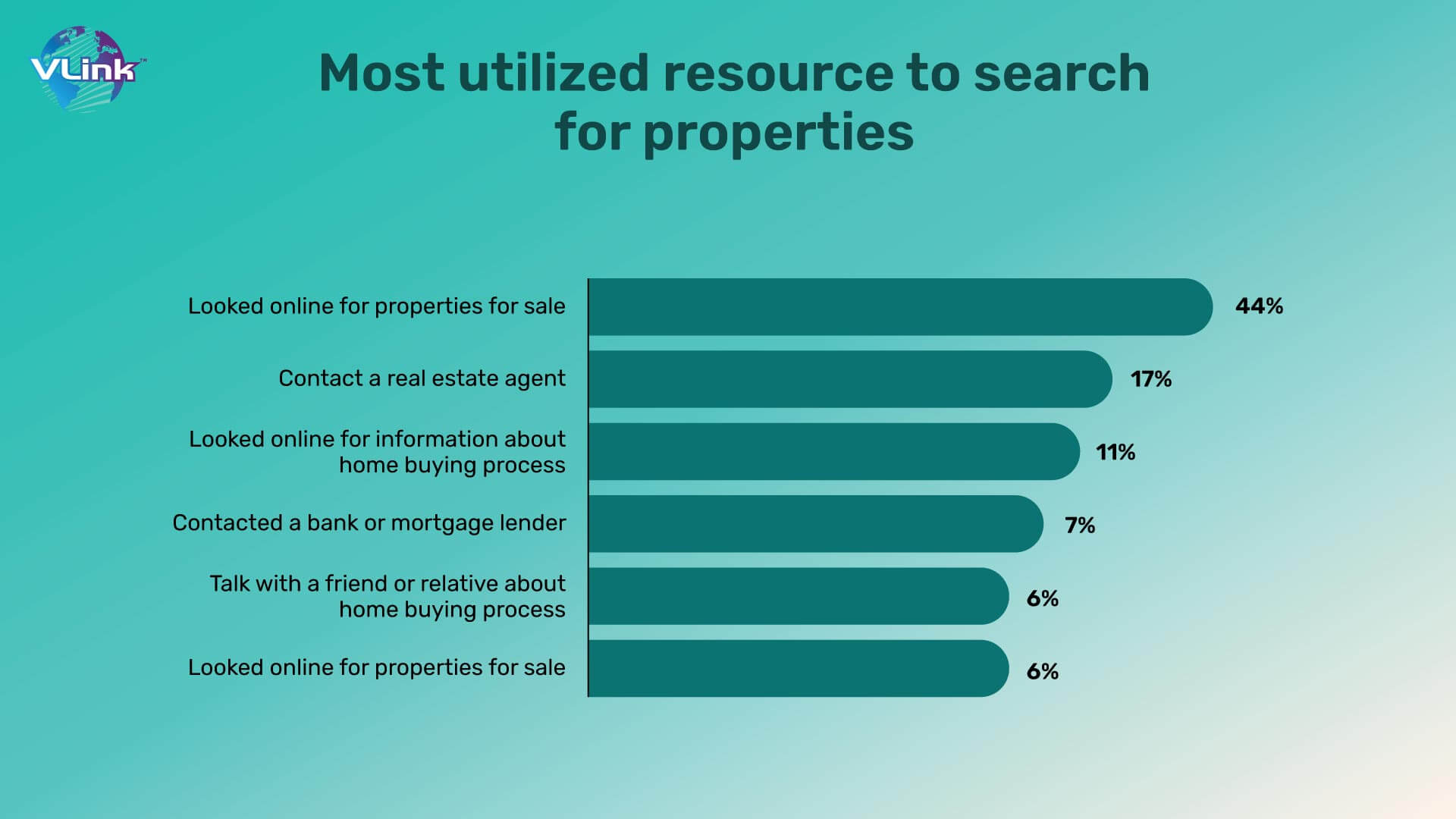 To capitalize on the increasing demand for mobile property search, a number of housing companies have launched apps. By providing an app that is seamlessly functioning and contains all necessary features, you can stand ahead of the curve.
The best features in mobile app development for property business will be highlighted here, which you can take advantage of in comparison to your competitors. The real estate app can help you digitize your business and attract new customers, regardless of whether you're an agent or a builder.
Top-notch Features of Popular Real Estate Mobile Application
The main purpose of an app for real estate lies in drawing attention to the potential customers, while simplifying the entire purchasing and selling process. It should be uniquely designed, focused on providing exact queries to the users, and defining impressive experience.
The current market trends and expectations of home buyers and sellers need therefore to be kept in mind. If you want to create an app for realtors, the following list of special features will be useful.
1- Short and Simple Onboarding
For all housing and construction mobile applications, this is the most essential and necessary feature. Many people start using your property app because it's easy to sign in or register quickly and easily. While building a business app for your real estate company, it is necessary to engage users from the initial state till end.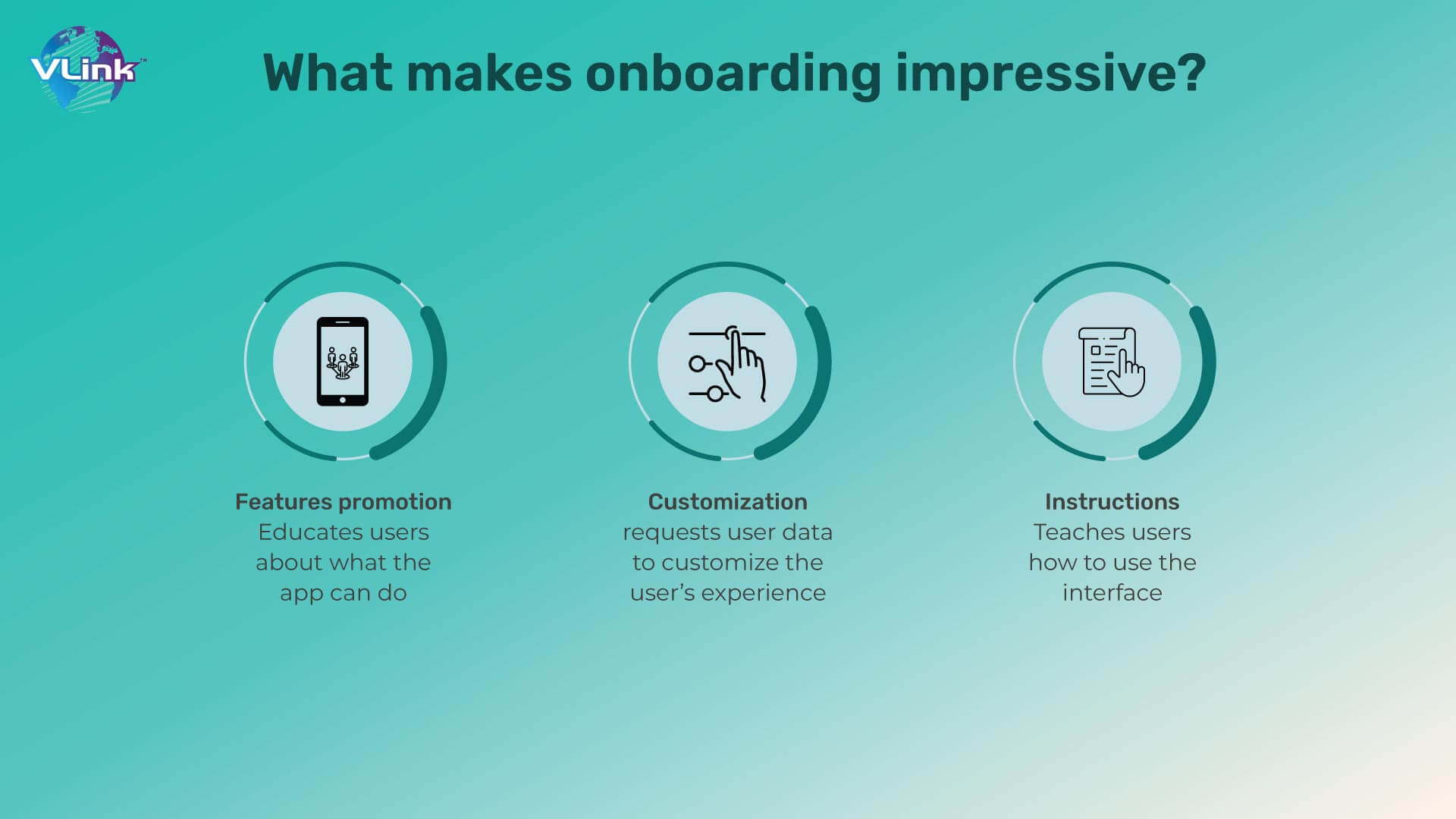 You can accept the new user's activation by using different authentication methods such as OTP (one-time password), social media or email accounts verification. Moreover, you can utilize all of them by offering users choosing the convenient one.
2- Different Profiles
The real estate app can be configured with three distinct profiles to assist users or buyers, property sellers and agents in performing their different functions. For instance, an app that offers different features than real estate agents can be provided to people who are searching for a new or rented house.
Access to the property can be made available to the buyer and he can save it as a favorite listing. On the other hand, their listing, schedule, and potential buyers are displayed in the agent's app with advertising options.
3- Property Listing
The main feature of the Real Estate app is to list properties. It's got the information that users need to know about available properties. It allows property to be added by people who wish to sell or rent their houses.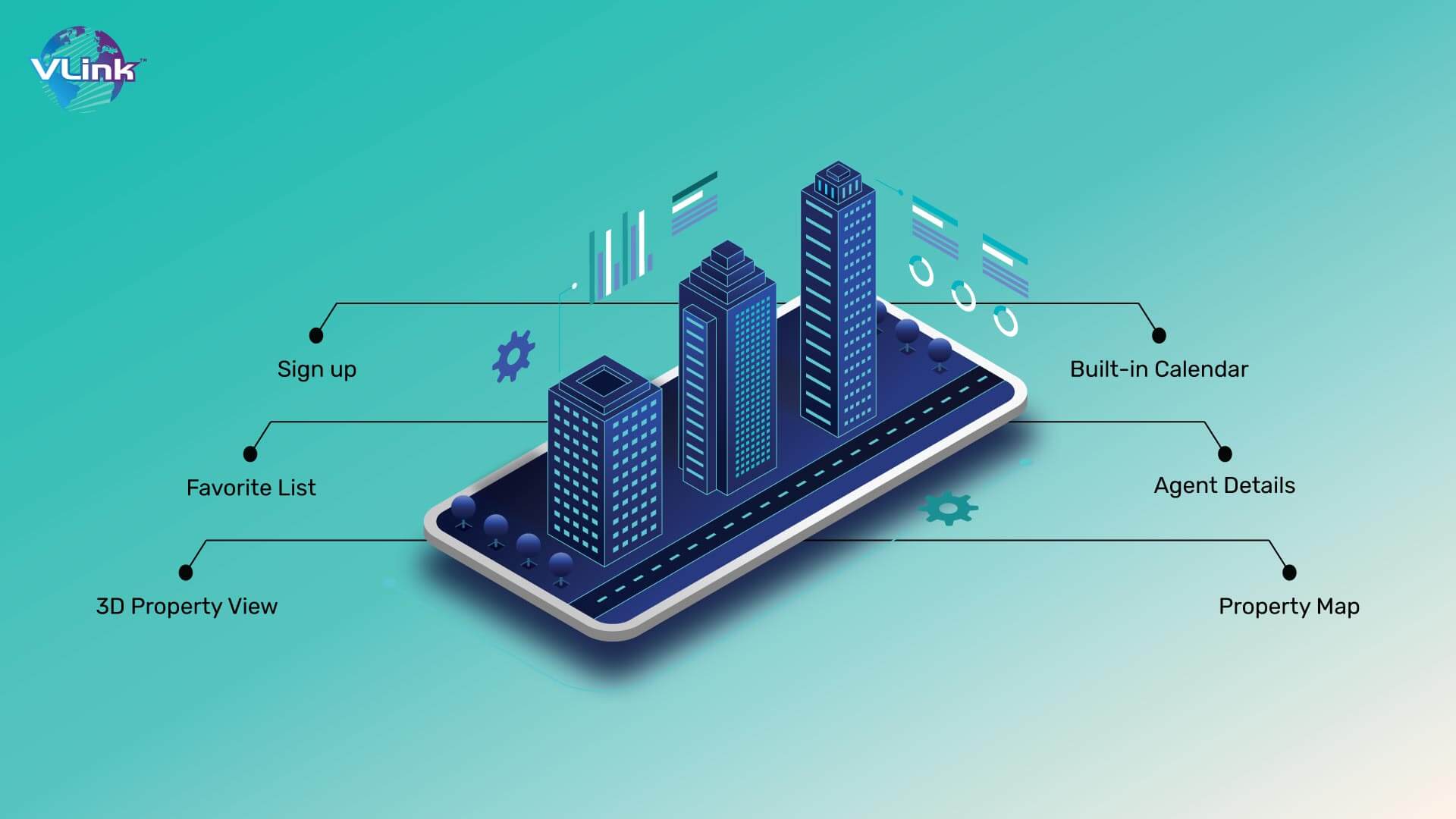 In this case, the robust real estate application is based on a substantial database or many servers because listing of properties increases year by year. The real estate app will also be expanded with more users added and there'll be an even bigger list. This is why you must make sure your databases are flexible enough for expansion.
4- Search and Filters
For home buyers and users looking for rental houses, finding the right property is a difficult task. By streamlining the search process, a real estate application can help users. You will find different filters in the app, so you can see available features that meet your needs if you use them.
For example, by clicking on Recent or New listing options in the filters, an app user will see new posts. In order to make the search process more effective, larger and popular real estate apps have an elastic search function.
5- Details
All the property advertisements contain information such as description, photographs, videos, price data, location, local landmarks, owner's details and so on. More than 80% of users can make their decisions about buying a house with photos and videos. Another crucial aspect of the property's description is the complete contact information of its owner.
6- Favorites
This feature enables users of the app to easily select properties. It helps them to decide whether to buy or rent a property. This functionality allows users to see their favorite properties at anytime and anywhere.
7- Interactive Maps
For any real estate and construction business app, the map is an indispensable feature. The hired software developers for real estate app development will provide a feature to access navigation within the app.
You can display useful information and statistics on properties, apart from showing where they are located. In addition, you will be able to see crime rates and nearby schools as well as the local median income of residents.
Following stats show that Google Maps is the most utilized integration in mobile apps for search purposes.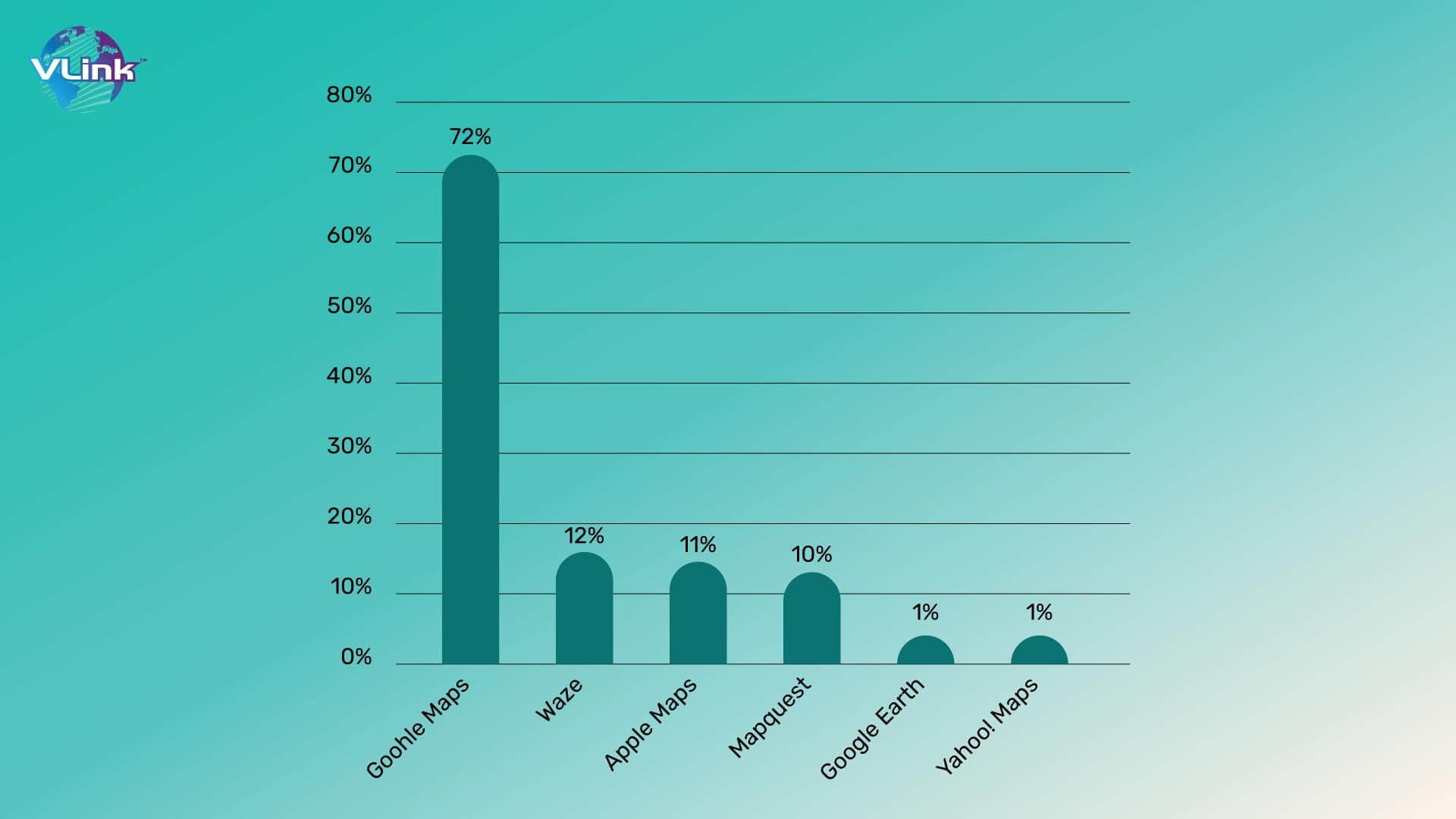 Add any information you need in an interactive way; we'll be able to enrich the maps. Potential customers will have a wide range of pertinent information when they locate your property on the internet, thanks to an intelligent map feature.
8- Cost Calculator
Changes in real estate costs shall be observed on a regular basis. In real time, customers can use the cost calculator to get an accurate indication of a property's overall costs.
Your property app's custom estimating feature is essential because users can get an idea about the cost of a house quickly by using it. The ability of the calculator to provide any information, such as taxes, initial payment amount, interest on loans and so forth, should nevertheless be checked.
9- Calendar
Many realtors believe that Calendar is an optional or additional feature, but it can make your app useful for homebuyers and agents alike.
If buyers wish to schedule a meeting with the seller or agents, they can find available appointment dates and time slots by using an app of their own. This functionality can be included in the property app developed for either iOS or android devices by the dedicated development teams.
10- Push Notifications
For the purpose of marketing, push notifications may be used effectively. Your real estate app may be able to run successfully during the period thanks to this feature. Notifications about news from industry, changes in prices, new properties or favorite status can be sent by pressing a button.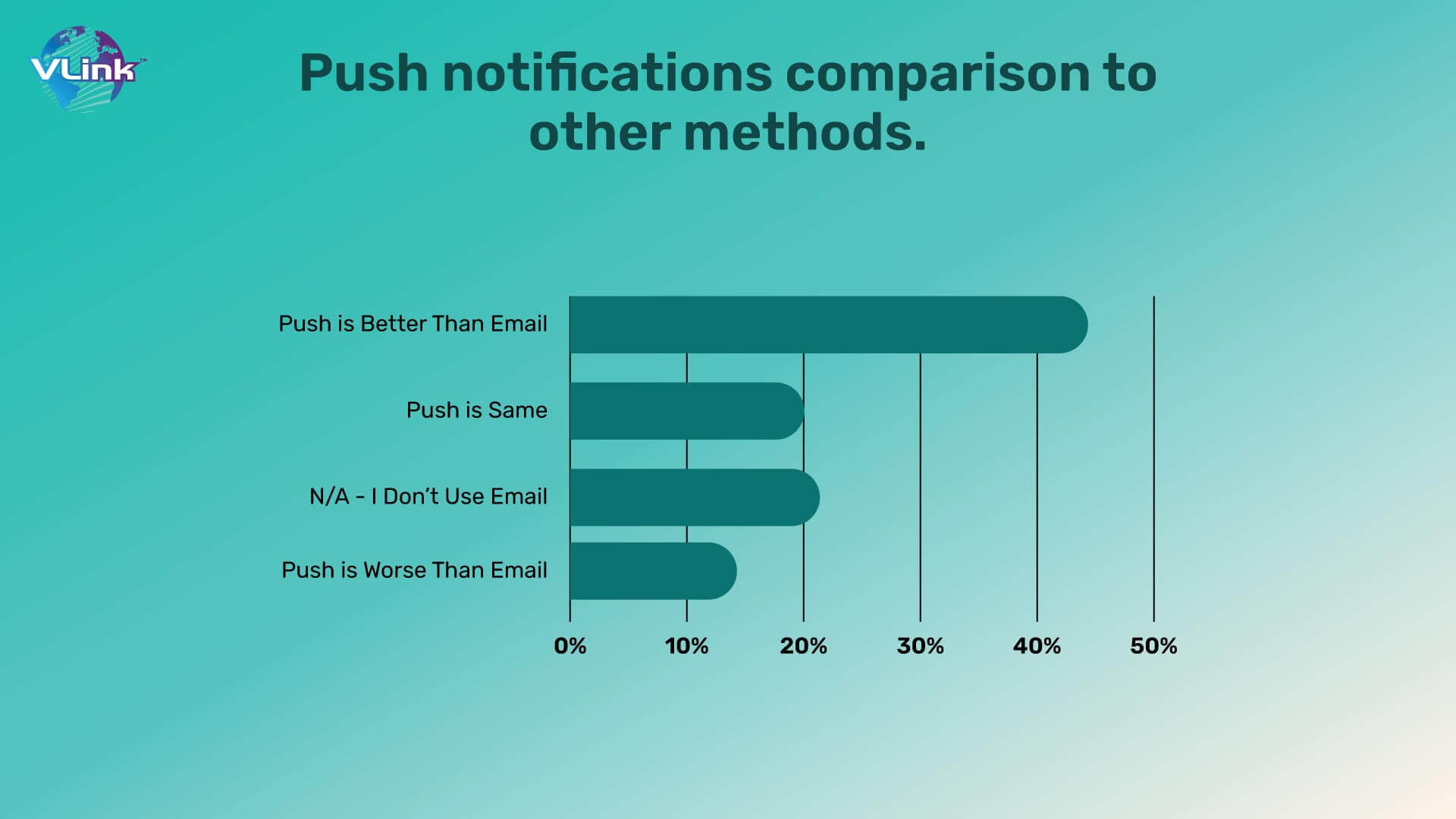 It's a convenient way of reaching out to potential customers. To provide a personalized tone, though, these messages should be of relevance. For that reason, app users should be provided with value by your notifications. Your app's users can get irritated if they use this feature too much.
11- In-App Chat
A chat or phone call can make it easy for your clients to communicate with realtors and estate agents around the clock on in-app. By placing your app users at another level of the sales funnel and sealing a deal, it can help you increase revenues.
Direct call, voicemail and Internet Chat are the methods of in-app communication. Through this feature, buyers and interested users can ask the seller or real estate agent directly about a specific property.
12- Virtual Tour
Your real estate app is going to benefit from the use of VR technology. It is also a time saving tool and can help your app users make an informed decision by allowing them to view buildings in 360 degrees as well as virtual tours. Virtual tours, too, are called 3D walkthroughs and they give them a lifelike feeling of approaching the place they're interested in.
According to the official report, 70% of first time home buyers believe that a 3D virtual tour's importance is in fact more than an Open House. Virtual tours can provide an immersive experience for users, although photographs and videos are crucial to the choice of a real estate.
Additional integrations in real estate app development
1- CRM integration
For the majority of agents, their CRM is their most crucial tool for remaining at the top of their target market's minds and snagging as much repeat and referral business as they can.
When your CRM and website are integrated, you can automate repetitive operations like establishing new leads in the CRM for any new website leads, form submissions, account sign-ups, or pop-up submissions. You can also tag and annotate CRM contacts based on information entered on your website.
2- Integration of MLS
For a set charge, real estate professionals can access the various property listings in a multiple listing service (MLS), a proprietary database. Professionals would be able to effortlessly integrate and post additional real estate offers on their site by integrating such a service.
3- Marketing and Advertising Tools
You may also give sellers, landlords, and real estate brokers resources to help them advertise their properties. Email marketing, content marketing, or social media marketing are some examples of this.
Conclusion
To conclude, this article mentions all the must-have features that a real estate mobile app should have. These features make the search for a property hassle-free, and convenient and hence such apps are super easy for most users to work with.
If you want to develop mobile applications with the highest care, and flawless UI design, VLink is the correct spot to go. We have a team of highly experienced professionals who can help you build flawless real-estate apps.
Real estate companies can use this as a checklist for them before launching the app. Also, clients can use this as a checklist for them after downloading any real estate app for searching for a property.
FAQs
Frequently Asked Questions
What is a real estate CRM software?
Real estate CRM solutions can keep track of a ton of data as well as advertising and company analytics while keeping everything arranged and simple to use. Agents may maintain organization, locate properties, and reach out to and connect with potential, existing, and former clients by using a CRM.
How to make money with a real estate app?
The finest applications are available for free download, but they make money through in-app purchases. They also gain from sponsored listings, advertisements, and other sources. Others may be used by anybody, regardless of device, because they have equivalents on real estate websites.
Is it worth investing in mobile app development for my real estate business?
Apps for real estate investment may be worthwhile based on your own tastes and goals. For investors, these applications may be convenient and accessible, enabling them to quickly manage their money, follow market trends, and come to wise conclusions.