Invest in ERP software development if you plan to expand or grow your business. It improves your supply chain management and boosts your business with high ROI.
Enterprise Resources Planning (ERP) software is gaining popularity among modern businesses. The global ERP system market was $18.33bn in 2022, and it's expected to be worth $83.90 bn by 2029, as shown below figure;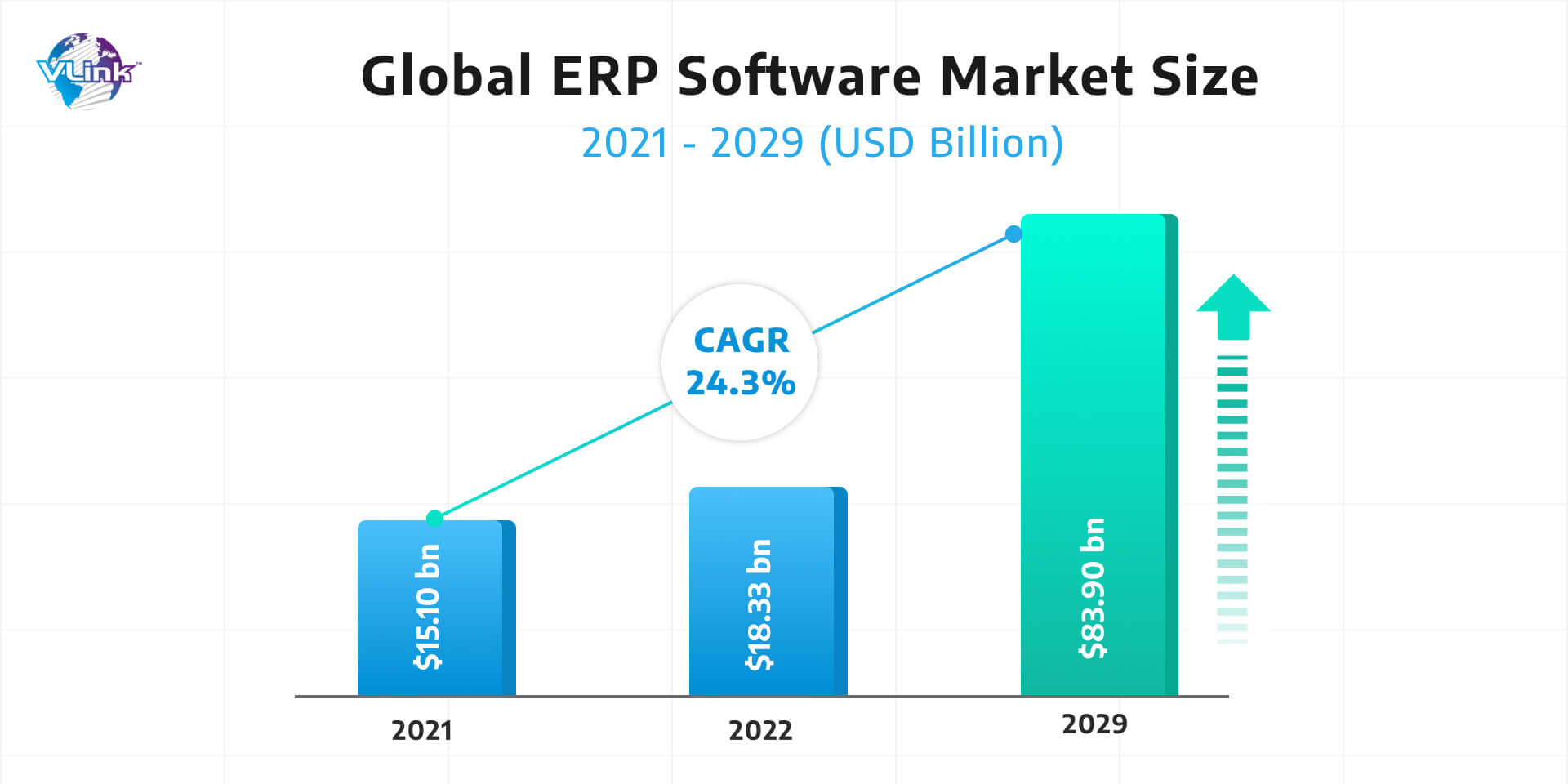 Although those numbers are impressive, small businesses who've never used the software may find it challenging to understand why Enterprise Resources Planning is essential to their business. It offers the essential data required for success, encompassing data analysis, reporting, tracking, accounting, and automation capabilities.
Many companies have stood out from the crowd by implementing ERP software. If you want to know about enterprise resource planning, read this blog. Here, we will explore everything from ERP to why we should invest in Enterprise Resources Planning software.

What is ERP Software?

ERP stands for Enterprise Resource Planning. ERP is business management software that integrates various core processes and functions across an organization into a unified system. It enables businesses to streamline and automate their day-to-day operations, enhance collaboration, and gain valuable insights from data.
The main purpose of ERP software is to facilitate the flow of information and improve efficiency within an organization. By centralizing data and processes, ERP systems can eliminate data silos, reduce duplication of efforts, and provide a holistic view of business operations.
It can lead to better decision-making, increased productivity, and reduced operational costs.
Key features of ERP software typically include:
Integration

Real-time Database

Automated Processes

Reporting and Analytics

Customization

Scalability

Security and Access Control
Market Overview of ERP Software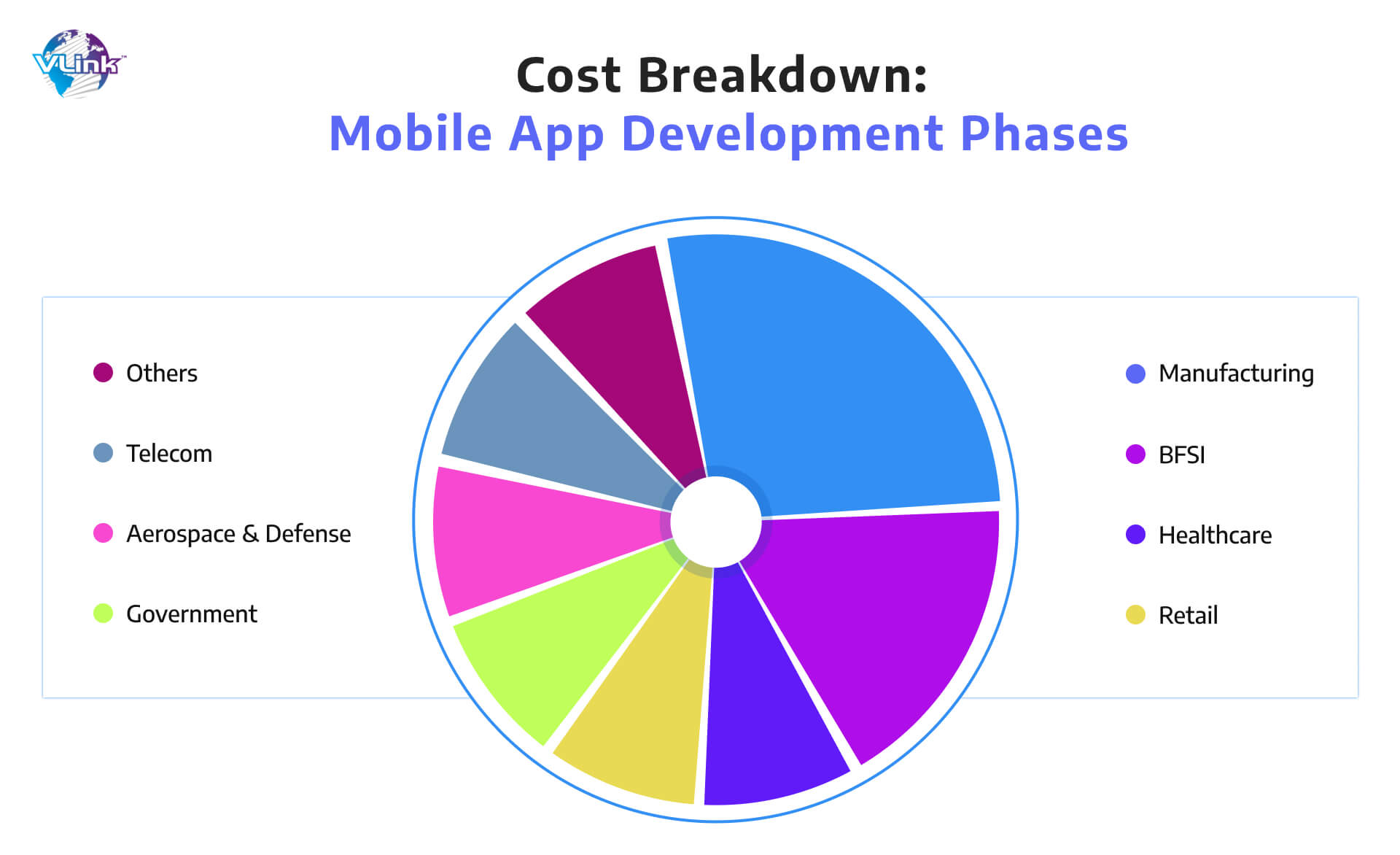 Here are market statistics of enterprise resources planning software from valuable resources:
64% of organizations are thinking of implementing ERP within the next three years.

North America's finance ERP market is the largest at $4.5 billion, followed by supply chain ERP ($2.45 billion) and HR ERP ($2.3 billion).

The

manufacturing industry

is gaining the top rank as the main user of ERP, with 33.66%.

78% of companies use some ERP consultant; 90% ERP implementation, 51% organizational change management, 46% tech assessment; 41% business process management; 34% post-implementation, 25% digital strategy, 25% project auditing, and 3% M&A integration.

Using Enterprise Resources Planning software reduces operational costs by 23%.
Why Should You Invest in ERP Software Development?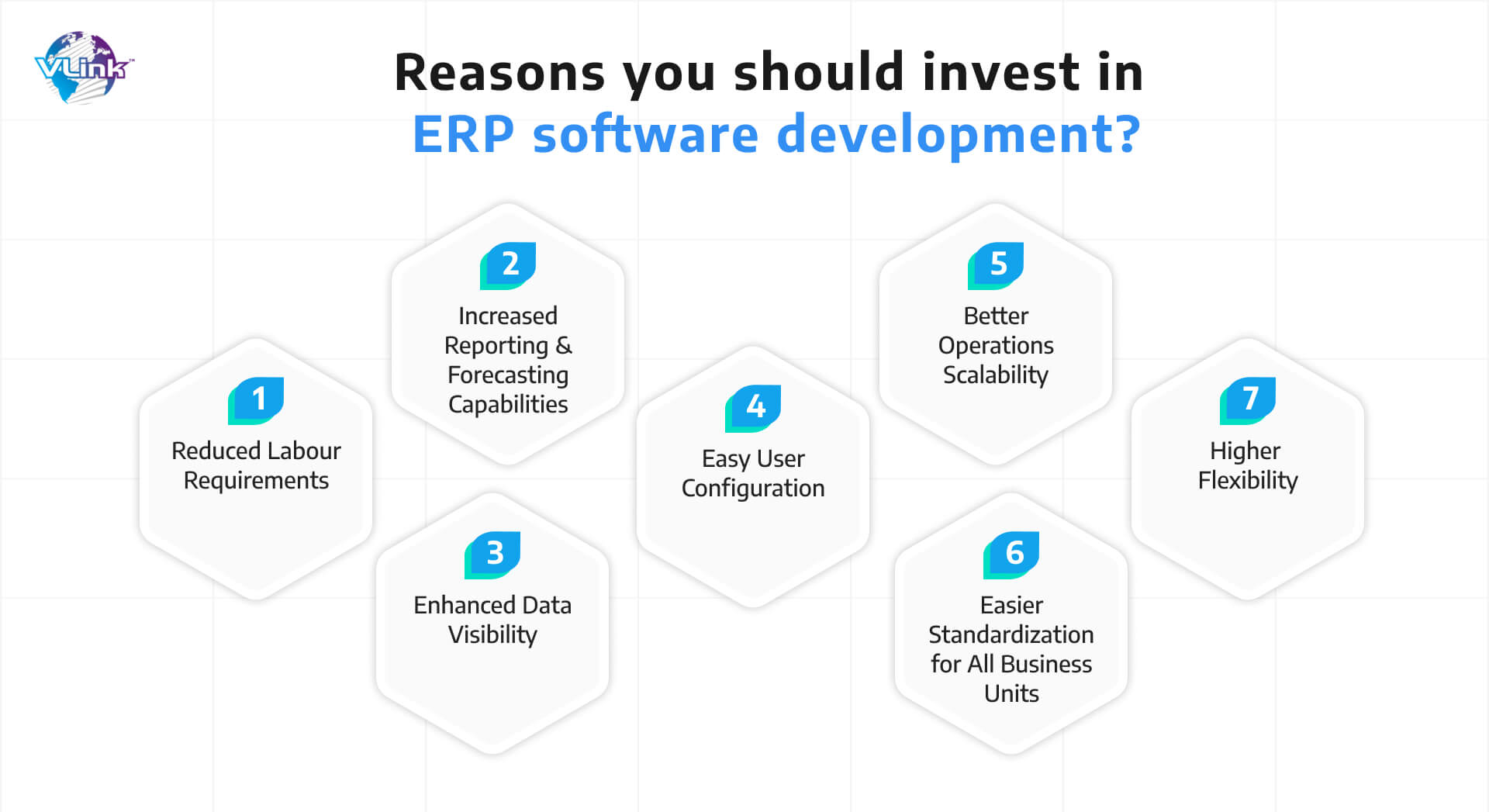 Here are a few reasons why you should invest in Enterprise Resource Planning software development:
Standardizing a business process can present numerous challenges, especially when functioning smoothly. However, implementing ERP software helps ensure that all global operations centres adhere to the designed process that the ERP system manages.
It is essential to note that not all enterprise resource planning systems offer the same efficiency level.
When companies standardize business processes on a global scale, they must ensure flexibility to cater to diverse customers. For that, integrated cloud-based technologies are utilized, along with installing a large database, which enhances information availability and accessibility within the business.
For several decades, technology-driven reporting and forecasting have existed. However, they were constrained by limited computing power and the necessity for onsite hosting, resulting in slow generation and narrow applicability. It reduced their effectiveness in risk reduction.
Modern ERPs have addressed these issues, primarily due to advancements in AI and ML capabilities and the adoption of cloud-based architectures and seamless system-wide integration.
Reports and forecasts can be swiftly requested and delivered, drawing data from various linked sources. These powerful capabilities allow businesses to significantly mitigate risks and promptly identify opportunities, nearly in real-time.

The latest generation of ERPs offers a solution to eliminate data silos, creating a unified and reliable source of information accessible to all business units. This immediate availability of data eliminates bottlenecks in regular operations, enabling teams to focus on productivity instead of spending time on data consolidation and interdepartmental requests.
In the past, onsite systems were frequently extensively customized to match a business's specific operations. Unfortunately, such customizations often led to long-term problems, particularly when the team responsible for them changed or new users were introduced.
In contrast, cloud-based ERP solutions now provide a diverse range of configuration and personalization options from the start, eliminating the need for deep software customization. These personalized features work seamlessly and come with vendor support, ensuring the business can fully utilize the system regardless of changes in the organization's personnel.
As your business expands, ERP systems adapt and evolve with you. Whether you're onboarding new clients, implementing additional processes, establishing new departments, or creating workflows, all growth-related aspects seamlessly integrate into your existing ERP system.
Investing in an ERP system means investing in the future of your organization. With DRI's assistance, we can assess your business processes and ensure you have the most suitable system to facilitate company growth, streamline operations, enhance real-time decision-making, and achieve numerous other benefits.
Numerous ERP systems are designed based on industry best practices, offering significant advantages to businesses worldwide. Adopting these proven processes allows your business to standardize its systems, improving efficiency throughout all departments. It fosters the ability to deliver consistent results and a continuous drive for operational enhancement.
ERPs enable you to consolidate data from diverse sources into a unified platform, providing a flexible and cohesive system for all departments in your business. This integration can encompass leveraging the capabilities of Salesforce, HubSpot, Shopify, and other platforms.
Contemporary ERP solutions can efficiently handle numerous features, ensuring precise and valuable information delivery for your business.
Consider VLink as your ERP Software Development Partner!
VLink brings 16+ years of experience in end-to-end ERP development and support to help companies improve their business workflow's efficiency, reduce operational risks and optimize costs.
Our dedicated team can build a custom Enterprise Resource Planning system that perfectly meets your needs. Whether a small business, a medium company or an established enterprise, we will create the platform you're looking for that better accommodates your needs.
Why Turn to VLink For Custom ERP Software Development?
Advanced security techs and skilled professionals

Strong background in microservices, DevOps

Experience in creating complex ERP systems at fixed time

Experienced Development team
At VLink, you will get comprehensive ERP software that covers your complete business processes or develop an existing platform to focus on a specific area of your choice!
Contact us to develop custom Enterprise Resource Planning software!

FAQs
Frequently Asked Questions
How to build custom ERP software?
Building a custom ERP software involves several key steps;
Gather requirements and identify processes to streamline,

Design a database schema to store essential data,

Choose a development language and framework,

Create modules for different ERP functions (e.g., finance, HR, inventory),

Implement a user-friendly interface,

Integrate with existing systems if required,

Test rigorously for functionality and security,

Deploy the software on a reliable server,

Provide ongoing maintenance and updates
Collaboration with domain experts and developers is crucial for a successful outcome.
What is the cost of building ERP Software?
The cost to build ERP software varies significantly based on complexity, features, and development resources. Generally, it can range from tens of thousands to millions of dollars.
What are the most popular manufacturing ERP systems?
Some popular manufacturing ERP systems include SAP ERP, Oracle Manufacturing Cloud, Microsoft Dynamics 365 for Finance and Operations, and Infor CloudSuite Industrial.
However, remember that software popularity can change over time, so verifying current trends and customer preferences for the most up-to-date information is essential.