Customers in the digital age want deliveries to be dependable, quick, and transparent; they want to be able to trace the delivery, even if it just takes a few hours to arrive. Route planning aids in meeting this requirement.
To achieve a competitive advantage, several firms use route planning tools. These computerized technologies analyze goods, staff, vehicles, laws, and potential routes to assist logistics and distribution organizations in increasing their agility.
This digital technology, which is powered by Artificial Intelligence (AI) and machine learning, is better equipped to manage short notice changes in transportation, driver, or route availability.
But what exactly is a route planning solution? How it can play a major role in solving supply chain challenges. Let's know all about it.
What is a route planning solution?
Route planning solution is a full-fledged platform that helps supply chain businesses to handle major as well as minor operations increased efficiency and better productivity. The solution analyzes the best route for delivery and optimizes the decision-making process by providing traffic updates, drivers' availability, and fleet size.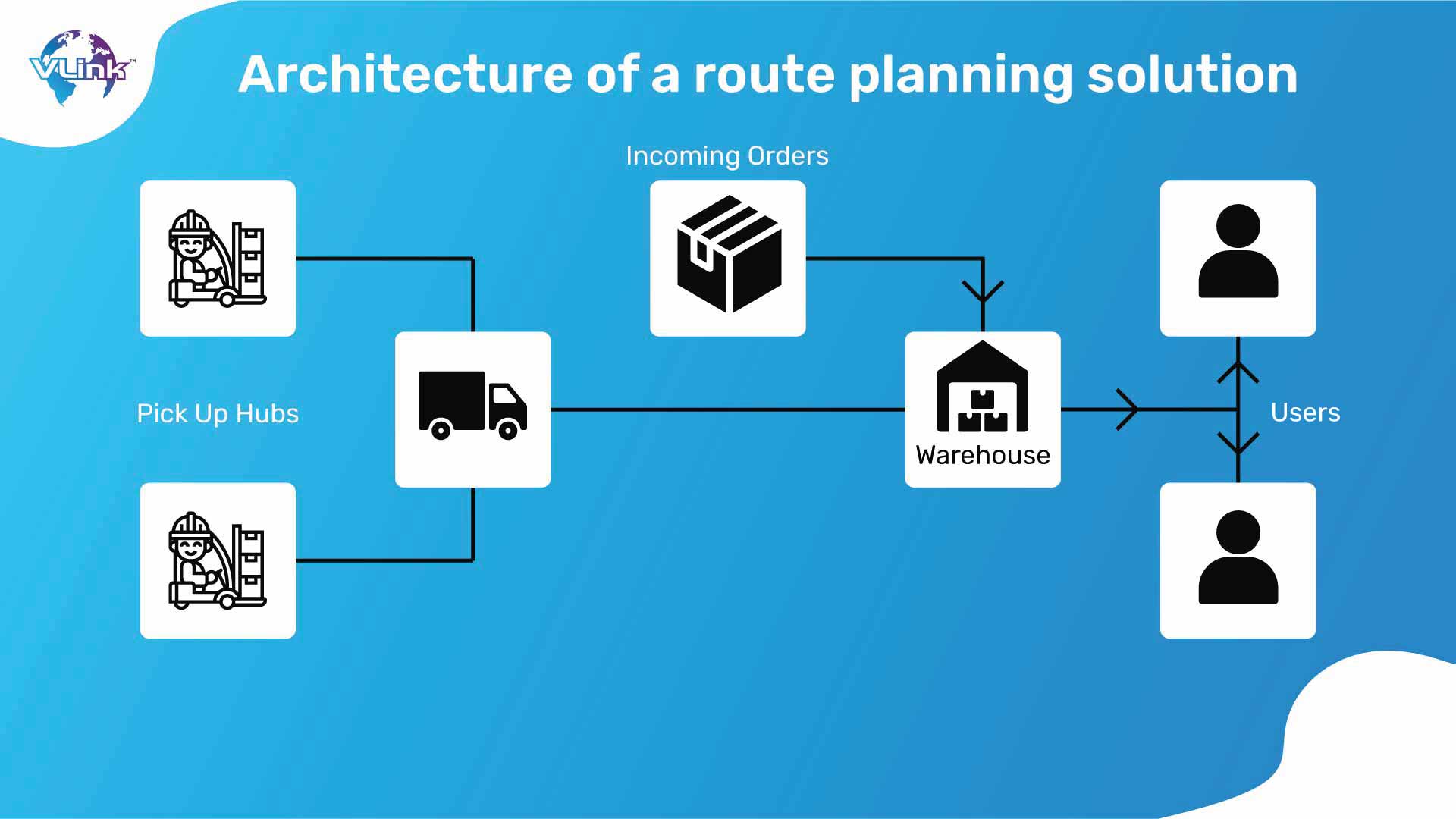 It also continuously analyzes performance, including driver information, fuel economy, carbon emissions, and a variety of other corporate KPIs. Because route planning and optimization software is cloud-based solution, all information can be shared and exchanged at any time and from any location.
This means that not only do drivers and fleet managers receive frequent warnings and updates, but customer communication is enhanced as well. Companies may give more precise delivery times while also keeping their consumers informed.
How does supply chain route planning & optimization work?
Route planning software for supply chain management generates the most efficient and cost-effective route plan by assessing the factors discussed above. This solution works according to the sophisticated algorithms applied on several functions such as routes, combinations of fleet, and availability of drivers.
Gathering information on delivery locations, delivery windows, and the number of items to be delivered is the first step in the optimization process.
This data is then used to create an initial plan that decreases the overall distance or travel time required to complete the deliveries.
The plan is then optimized by changing the order of stops, vehicle assignments, and routes to obtain the most efficient route plan.
After improving the plan, the program generates a route plan that includes the sequence of stops, projected arrival times (ETAs), and optimum routes for each vehicle.
The route design can be reoptimized to reflect changes in the last-mile delivery process or unplanned occurrences.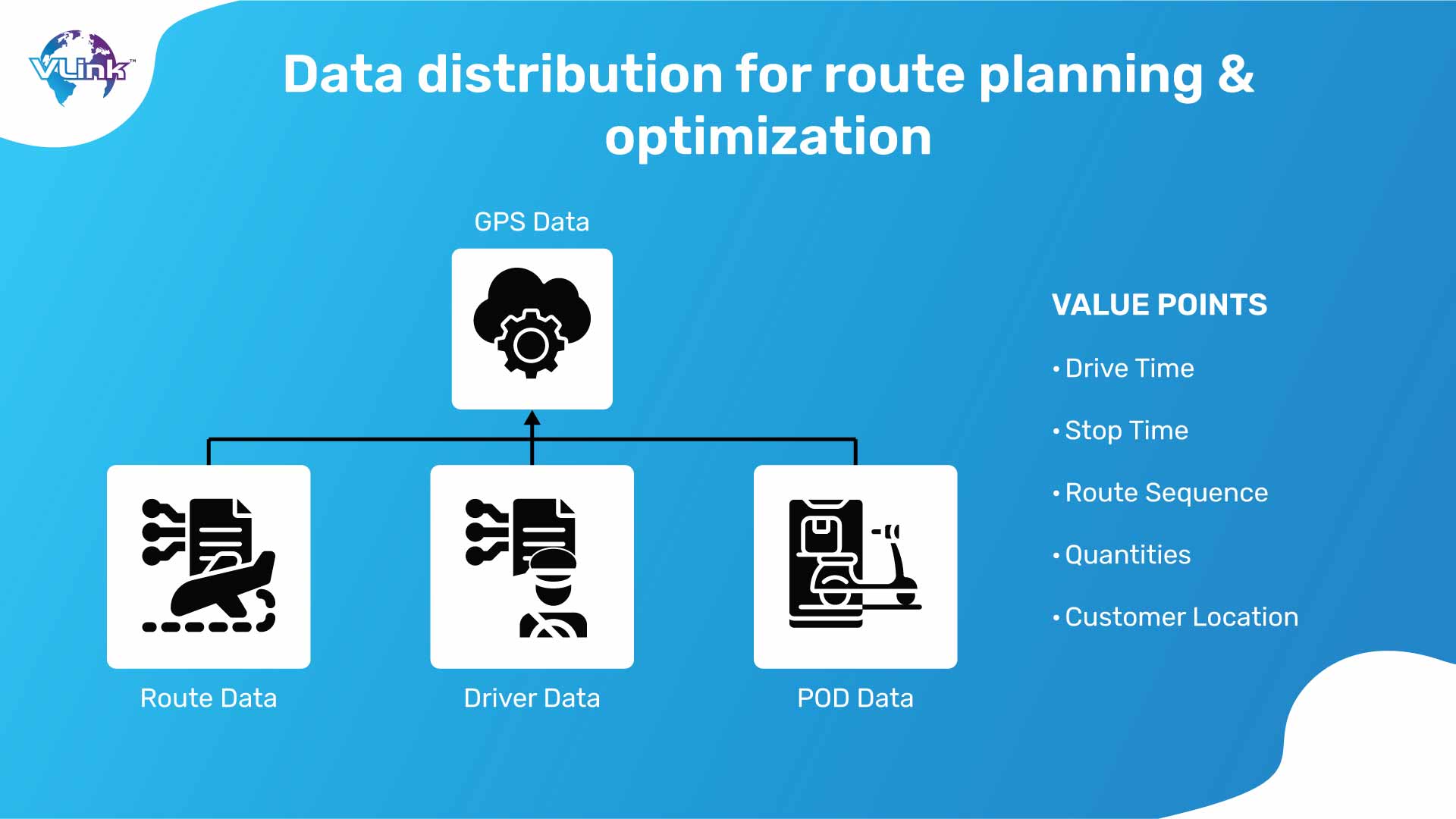 Key elements of route planning & optimization in supply chain
The need for route planning software has grown, particularly in North America, Europe, and Asia Pacific. Here are the major features that managers may use to improve their logistics operations with the help of a route planning and optimization software:
Order Scheduling: Receive and manage client orders, including delivery time frames, priority, and special requirements, to ensure optimum customer satisfaction.
Scheduling deliveries: Setting up time slots for quick pickups according to the real-time traffic conditions, availability of the drivers, and route efficiency. These components operate in tandem to enhance fleet operations, streamline scheduling, track routes in real time, manage routes efficiently, and effectively manage drivers.
Load Balancing: Optimize order distribution to drivers and vehicles to guarantee balanced workloads and effective resource usage.
Route Optimization: Use route planning tools to determine the most efficient routes depending on distance, traffic, and delivery limitations.
Dynamic Route alterations: It analyzes congestion in routes, changes in order, and other impactful conditions that affect the routes.
Alternative Routes: Determine and give other routes in the event of road closures, construction, or other unforeseen circumstances that may disrupt the scheduled route.
Driver Availability and Assignments: Maintain a record of driver schedules, availability, and working hours to enable effective route allocation.
Performance monitoring: Monitor driver performance indicators such as on-time delivery rates, average trip time, and customer comments to find areas for improvement.
Communication & assistance: Assist drivers and dispatchers in communicating route updates, client requests, and changes in delivery instructions.
Vehicle inventory: Maintain an up-to-date database of all available cars in the fleet, including specs, capacities, and availability.
Vehicle Maintenance: Keep track of vehicle maintenance schedules and make sure that vehicles are in good functioning in order to avoid breakdowns and delays.
Vehicle Assignment: Assign suitable cars to drivers based on characteristics such as capacity, route appropriateness, and fuel efficiency.
Benefits of supply chain route planning & optimization solution
Route planning software may help your firm thrive in a variety of ways. It enables you to give a better service by increasing delivery speed and accuracy. This leads to increased client satisfaction and a better reputation for your company.
Meet customer requirements
You will be able to match the customer's expectations if you can give more precise delivery timeframes and tighter windows. You may also keep clients informed by using the medium of communication of their choosing, such as SMS or email.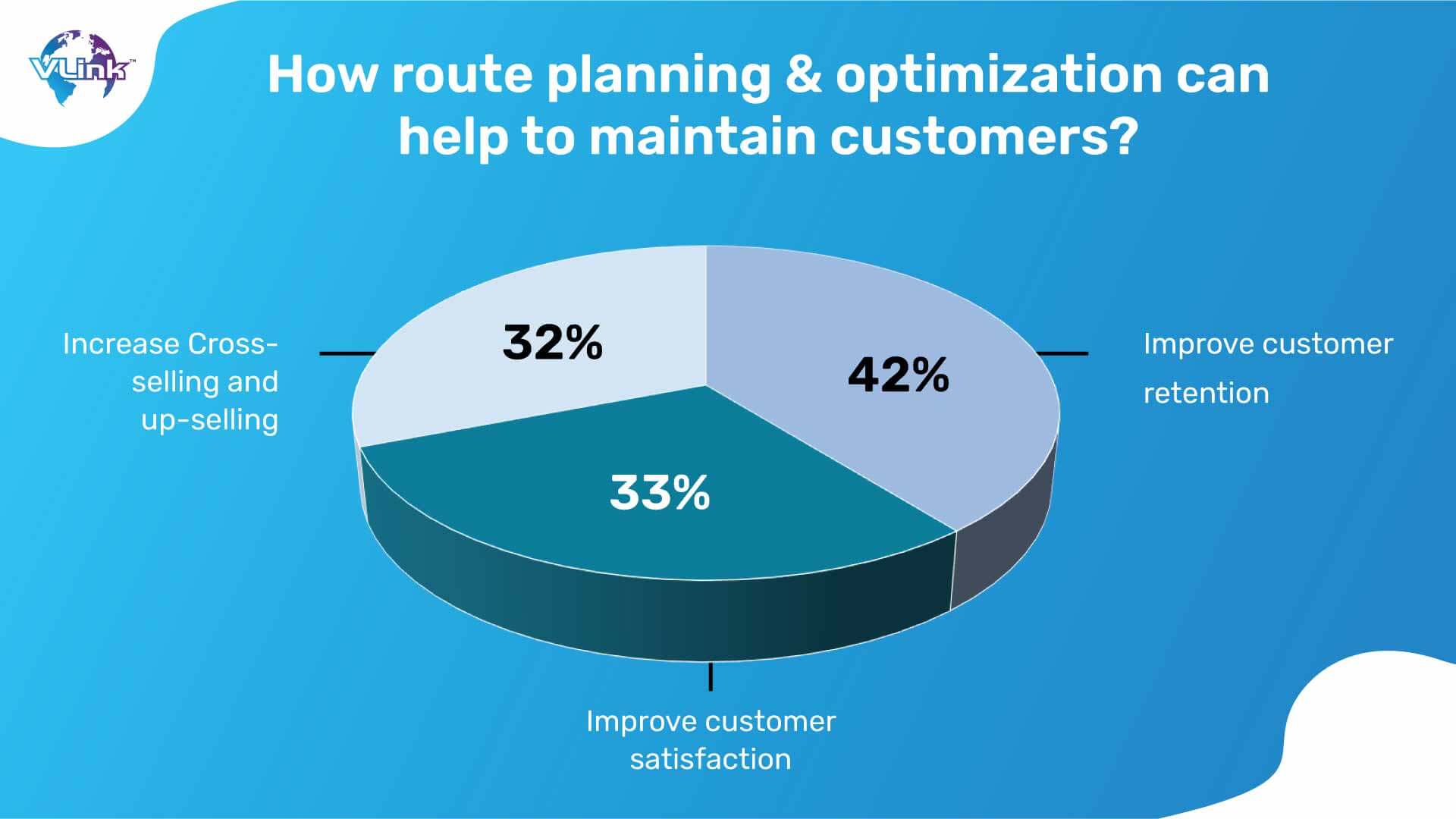 By aligning the goals of supplying the goods with the advanced route planning solutions, you can meet expectations of customers quite effectively. By improving your customer service you'll receive positive reviews and referrals.
To enhance efficiency, the route planning algorithms will constantly examine incoming data (new orders, available resources, vehicle breakdowns, and so forth).
The finest route planning software will also utilize previous data to improve continuously. Unlike a person, who may be content with what works, route planning software will continue to assess scenario choices and hunt for new efficiencies.
Businesses can get insight into regional or national scheduling by centralizing logistics operations using route planning software.
This can assist in avoiding vehicles travelling with empty cargo space, pushing supplier pickup consolidation, and identifying other possibilities to streamline procedures and decrease costs.
A digital solution can assist increase driver morale by making journeys less stressful and reducing vehicle fleet wear and tear.
Tracking driver's performance.
Monitor your drivers' performance to keep them safe and under control. You can check that each driver follows the rules and the timetable. You may also keep an eye on their driving safety. This will assist you in determining whether you have any weak connections.
Route planning keeps track of a variety of key performance indicators (KPIs) that influence your company's progress. These include delivery times, delays, fuel expenditures, and average delivery time and cost. With this information, you can zero in on areas for improvement.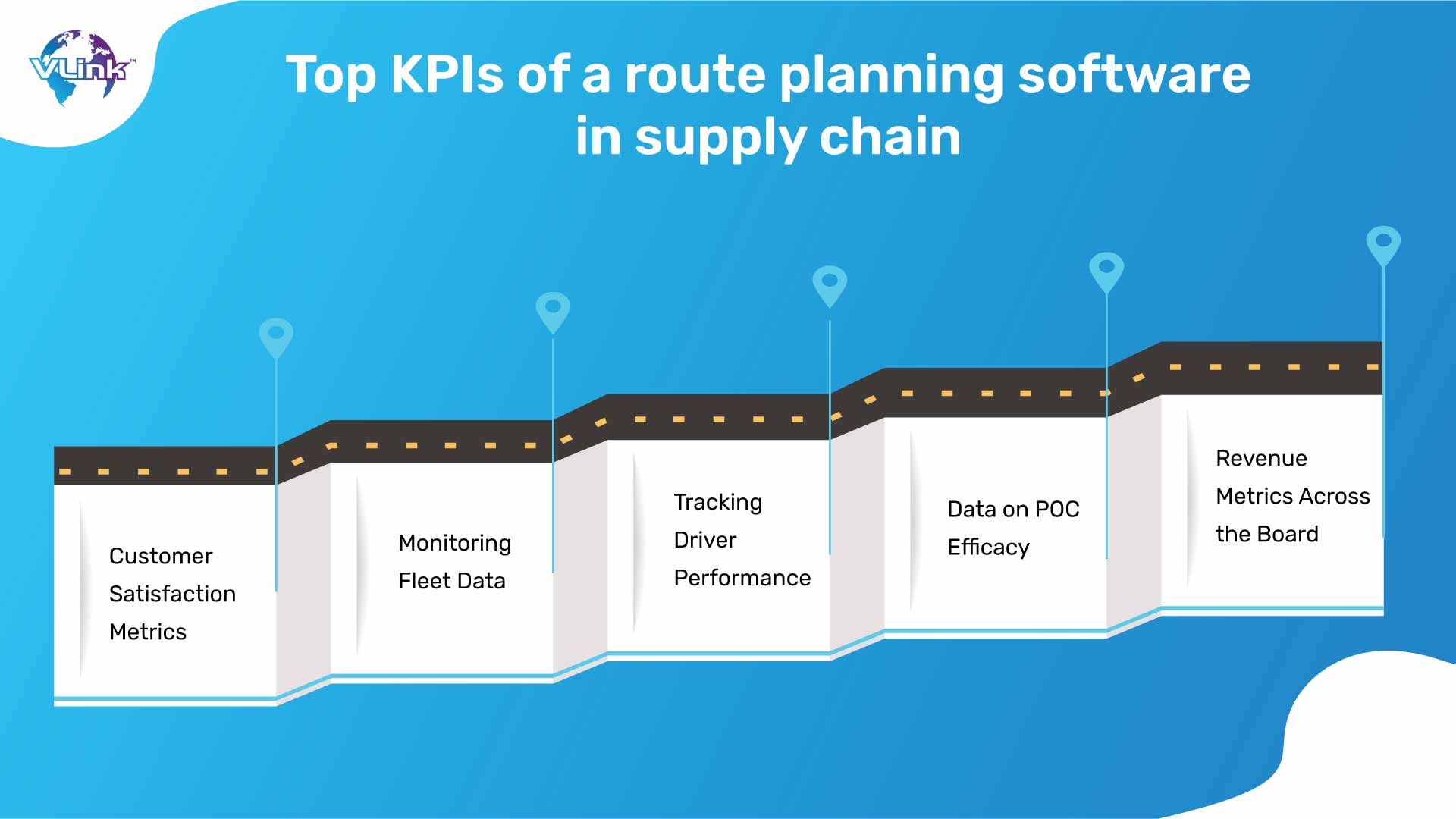 Customers want rapid, dependable delivery with continuous updates, so if you can give this, you'll be able to outperform your competition and become a market leader.
Also Read: Importance of AI & Data Analytics In LegalTech
How to choose a reliable supply chain route planning & optimization solution?
It might be difficult to select the finest supply chain route optimization software, but it doesn't have to be! In this part, we'll go over the most important variables to consider when selecting the best route optimization software for your company.
1- Simplicity of use
The simplicity of use of supply chain route optimization software is one of the most important elements to consider while choosing it. This implies that the program should have a clear and simple-to-use dashboard with self-explanatory settings.
It should also be easy to set up and have few setting needs. The program should contain adequate training and assistance to assist users in swiftly getting up to speed. Online tutorials, documentation, or specialized support teams might all fall under this category.
2- Customization & flexibility
Customization and flexibility are essential features to consider when picking supply chain route planning and optimization software.
To guarantee that the automated route optimization process meets the specific needs of the business, the software should allow for the adjustment of factors like delivery schedules, vehicle types, and service times.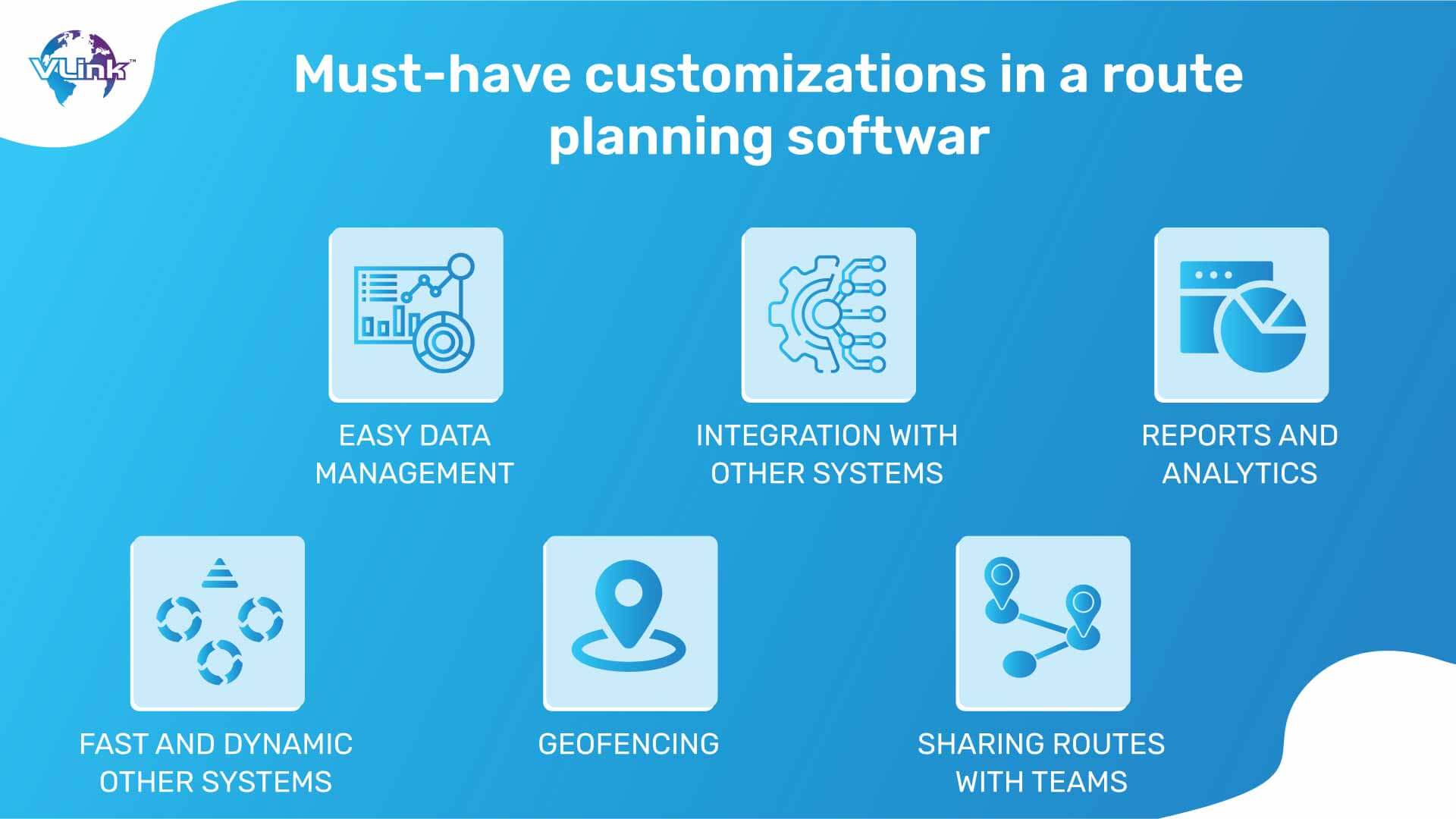 The program should also be adaptable enough to accept changes by changing routes and allowing for location adjustments.
3- Integration
Route planning optimization software should function in conjunction with your existing systems, such as your transportation management system (TMS), warehouse management system (WMS), or e-commerce platform. Reliable software should not only integrate but also work with your existing systems, resulting in increased overall efficiency.
4- Data analytics and reporting
Robust data analytics and reporting skills are essential for tracking and assessing supply chain key performance indicators (KPIs) and identifying opportunities for improvement.
Make certain that the software you select delivers detailed information on delivery timings, delivered and missed stops, and driver performance. This data can help you make more educated judgments and optimize your supply chain routing operations over time.
5- Price
When choosing supply chain route optimization software, price is an important issue to consider. The cost of this type of software varies substantially depending on the degree of capability, features, and support provided.
So, look for a solution with clear pricing and make sure to examine your budget and choose which features are critical to your organization. Consider the potential ROI in terms of better efficiency, lower fuel costs, and increased customer satisfaction.
6- Consistent customer support
Finally, choose route planning software for your supply chain that offers excellent customer service. If something goes wrong, you don't want to be left in the dark, so search for software that has timely customer service and a comprehensive knowledge base.
Traditional route planning approaches do not meet the real-time difficulties that your organization faces daily. You can efficiently monitor your fleet network in real-time with VLink's supply chain solutions and provide your personnel with the information they need to make smarter shipping decisions and trace all activity on the warehouse floor.
Some of the most popular features of our supply chain management solutions include:
The ability to view load quantities by route, as well as the status of orders as they pass through the distribution center.
Our solutions have integrated fleet management feature depending on when the truck will return more trips, and this information is shown on a visual dashboard.
The planner can use route optimization techniques to transfer orders from one route to another based on truck capacity and freight weight.
Truck capacity utilization can be properly assessed, and objectives established in the Load Planning module for organizations who control their own distribution fleet.
The shipping module in route planning solution enables easy interaction with all major shipping companies. Order rate shopping guarantees that the best carrier is chosen.
Digitization of supply chain is getting prioritized for businesses. So, it is better to partner with a professional software development company like VLink to upgrade your infrastructure.

FAQs
Frequently Asked Questions
What is route planning in supply chain management?
Route planning is the practice of calculating the most efficient mode of transportation or transfers between many locations. Route planning is used to determine which route is the most cost-effective while going from one location to another.
What does route planning serve?
The process of developing a detailed strategy for moving commodities from one location to another is known as route planning. Route planning's primary purpose is to accomplish deliveries while identifying the most effective manner for saving time, money, and fuel.
What is the purpose of route planning solution?
Route planning is the criteria to simplify the optimizing the navigation through in-depth analysis of routes while supplying products/goods. Scheduling, on the other hand, is involved with determining when a shipment should take place as well as scheduling pickups, deliveries, or transfers.