A Comprehensive Guide to Magento Development Services
E-commerce has now grown to be a multi-billion-dollar business. Selecting a credible online store platform is crucial for business owners to increase productivity. That's where Magento comes into play.
201 Views

5 minute
The popularity of Magento is significantly rising as it's one of the platforms trusted by big brands such as Nike, Nespresso, and Burger King.
Magento handles over $155 billion in transactions every year. And with 59,739 sites on Magento 1 and 35,906 on Magento 2, most of these e-commerce platform users are in the US.
Magento is a highly prevalent e-commerce platform for building and managing online stores. With a range of unique features and customized themes, it helps to deliver an excellent shopping experience to customers.
So, we won't be wrong if we say that Magento development service is worth it for a robust and scalable eCommerce store.
Table of Content:
1. What are Magento Development Services?
2. Why Should You Consider Magento Development Services for Your eCommerce Store?
Interesting Magento Statistics 2023
3. Unique Features of Magento eCommerce Development
Catalog Management

Order Management

Advertising & Marketing

Easy Checkout

Payment Modes

Analytics & Reporting

Enhanced Security
4. Top Result-Driven Magento Trends in 2023 & Beyond
5. How to Build a Magento website or store?
6. Step-by-Step Guide to Build & Launch Magento eCommerce Store or Website?
Analyze Magento's Server Requirements

Select a Web Host and Domain Name

Download and Install Magento Open Source

Configure Your Administration Settings

Choose and Install a Theme for Your Store

Explore Extensions for Advanced Functionality

Modify Your Store Settings

Set Up Your Product Pages

Select Your Payment and Shipping Options

7. Tech Stack for Magento eCommerce Development Services
8. How Much Does It Cost to Create a Magento eCommerce Website?
9. Why Choose VLink for Reliable Magento Development Services?
10. The Final Thought!
11. FAQs–
What are the benefits of custom eCommerce development services?

What is the future of Ecommerce with Magento?

In which industries Magento development services are used?
This blog will explore everything you need to know, from its features, benefits, stats, and development to costs.

Let's first start with its brief introduction!

What are Magento Development Services?

Magento development services refer to all the stages of creating and launching an e-commerce store using Magento's open-source platform.
The services include everything you need to boost your Magento website's performance, from development to testing to support & maintenance. Magento development solutions range from building brand-new eCommerce stores to integrating custom functionalities.
If you want to add new features, upgrade to the latest version, or integrate a third-party app, consider using a Magento platform for your Ecommerce store development service.
Why Should you Consider Magento Development Services for your eCommerce Store?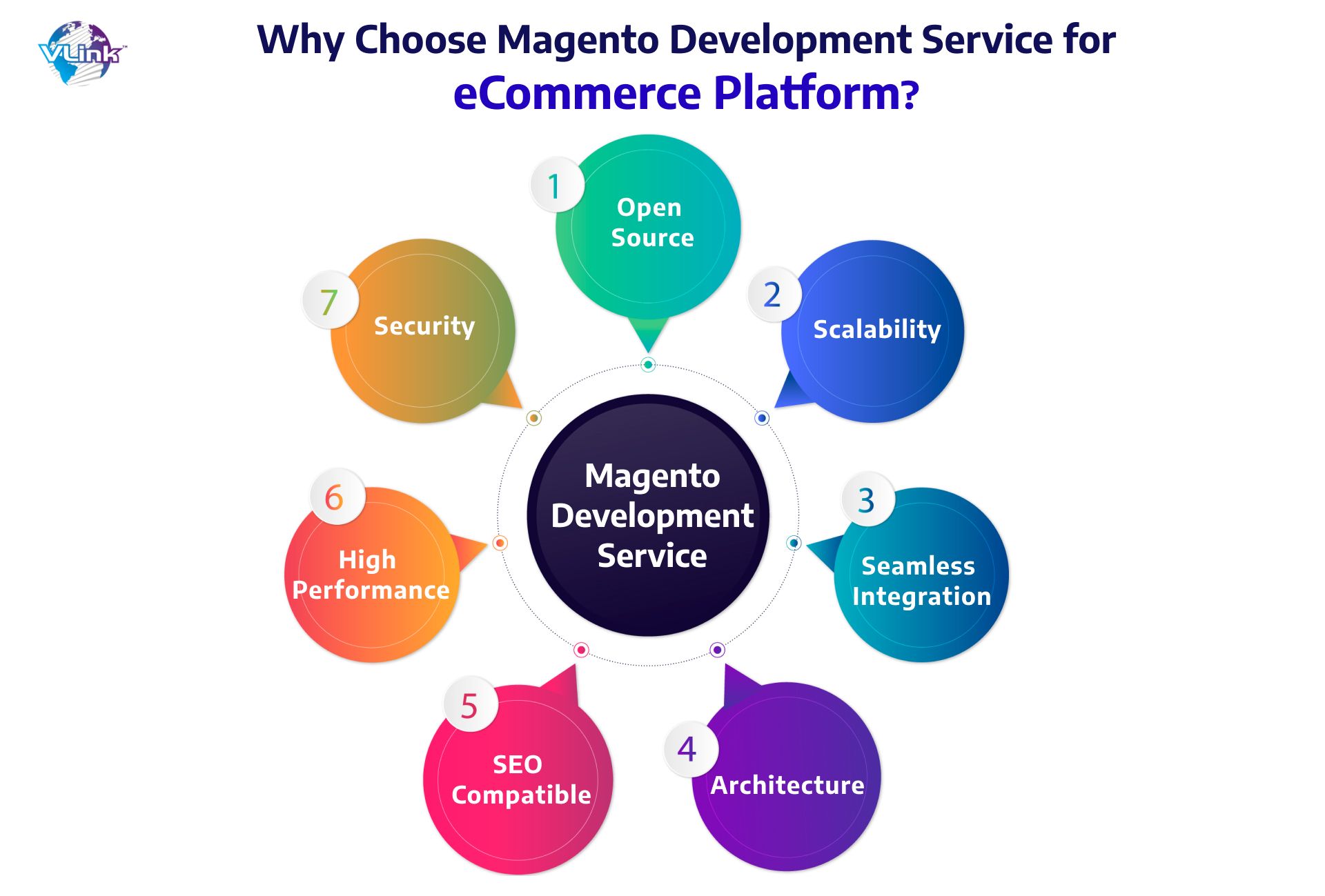 Magento is grabbing massive attention from all the eCommerce development platforms available in the market. Many merchants prefer professional Magento development services to build a flawless Magento eStore or website.

Still unsure why Magento is gaining immense popularity in the eCommerce industry?
Here are a few reasons to select the Magento platform for your eCommerce development services:

Open-Source Platform
One of the prime reasons for using Magento for eCommerce website development services is open source & free to use platform. It means you can build a robust and outstanding Magento store for your business.
Due to its flexibility, this platform offers endless customization that meets your projects' needs.
Scalability

Due to the platform's scalability, Magento makes it simple to scale up your website per the organization's requirements.
Magento is available in several editions, including community (free) and enterprise (paid). You can select any version as per the needs of your business.
A dedicated team of experienced Magento developers will help you build a highly scalable eCommerce website or store.

Seamless Integration
Magento provides an effortless collaboration with several third-party integrations.
A Magento website or store can be integrated with payment gateways like PayPal, Google Analytics, Google Shopping, eBay, and so on for receiving and making payments, order tracking, etc.
With a reputable Magento development company, you can integrate several third-party extensions into your eCommerce store for additional functionalities & features.
Architecture
More technologies are included in Magento 2 to enhance website optimization and customization.

Here are the most notable tech stacks of Magento 2 development:
Composer - enables you to reuse third-party libraries without dealing with source code, minimizing extension conflicts.
NGINX - a reverse proxy, HTTP cache, and load balancer all in one.
Symfony - facilitates content management, improves functionality, and enhances the online store look.
Varnish – improves website speed.
Powerhouse is the latest version of Magento regarding speed and handling errors.
SEO-Enabled
Magento has integrated SEO features that support URL structure, sitemaps, URL, metadata, tags, & descriptions.
It helps to design search engine optimization-friendly eCommerce stores very easily. Magento websites even rank higher on SERPs and drive more relevant traffic.

High Performance
If you need an eCommerce platform to create fast-loading websites, Magento is a worthy choice in terms of performance. Thanks to Vanish and Memcached, this platform can improve the site's speed.
In addition, Magento 2 works with lower server response times due to several built-in functionalities. With the aid of the right Magento development partner, you can optimize your website for increased performance and user experience.
Security

Regarding users' personal information, payment details, and sensitive data, security is the top concern for eCommerce websites or stores.
With Magento, you can keep your customers' data safe. The built-in security features include PCI compliance & SSL security to minimize the risk of cyber-attacks. Additionally, Magento 2 reduces the risk of data vulnerabilities and offers two-way authentication.
An experienced Magento developer can build a Magento eCommerce store featured with advanced security features for your business.
Interesting Magento Statistics 2023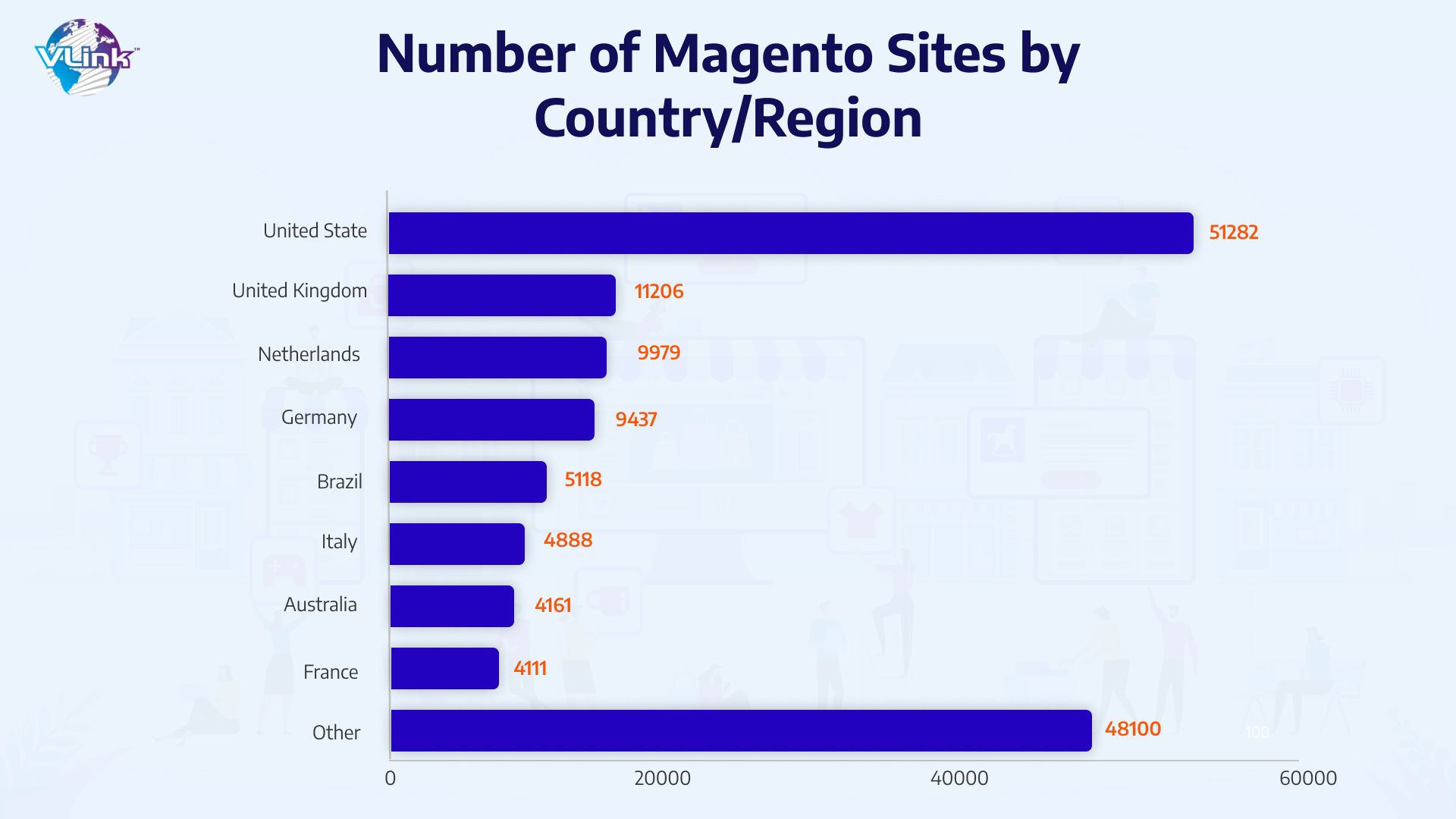 Magento is one of the most renowned eCommerce web builders for online business. Its popularity is growing daily in the US, as shown in the graphs below, with numbers of Magento sites by country.

Here are some interesting stats about the Magento eCommerce development platform:
According to statistics, the Magento platform is downloaded 5,000 times per day.

Currently, over 250,000 online stores run on Magento (Adobe Commerce)

38% of sites use Magento 2, while the remaining 62% use Magento

Magento holds 4.55% of the global eCommerce market share, making it the fourth-largest open-source eCommerce web builder.

Magento has a 9% market share in the top 10K web stores.



Unique Features of Magento eCommerce Development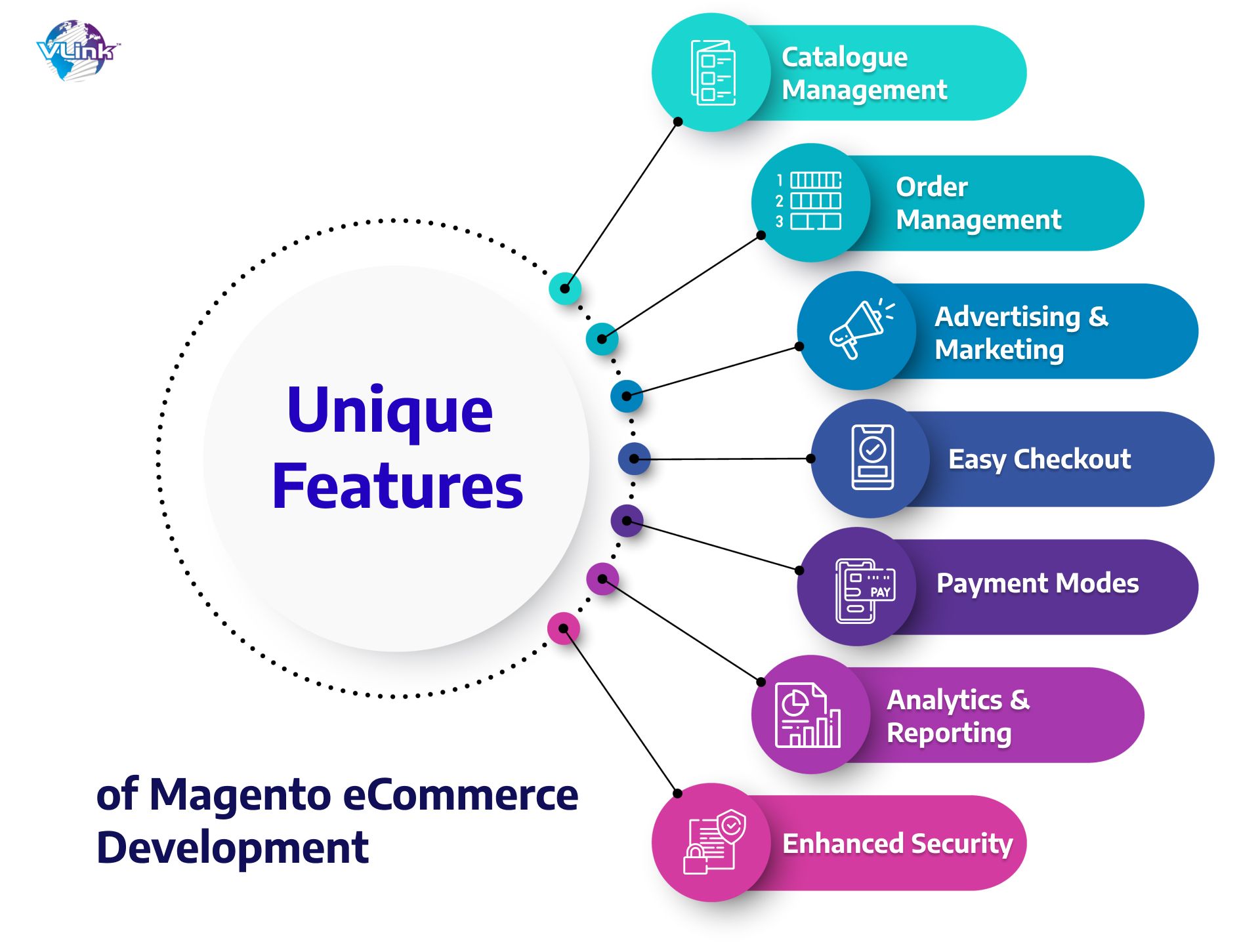 Here are some unique features of Magento eCommerce development:

Catalog Management
One of the primary features of Magento is catalog management. You can easily add products to the catalog, update, and set options like shipping, orders, and payment according to customer preferences.

There are several options within this feature:
Batch Import & Export of catalog

Digital products downloads like videos, music, etc

Complete inventory management

Approve, Edit & Delete Product Tag

RSS Feeds and much more



Order Management
Order management is an important feature that enables eCommerce stores to run efficiently & keeps customers satisfied. It bridges the gap between Magento's in-store and online store and drives a smooth customer experience.

A few crucial options are:
Creating, viewing, editing, and fulfilling orders from the admin panel

Print invoices, shipping labels, and packing slips

Email notifications

Options to generate invoices, credit memos, and shipments per orders



Advertising & Marketing
Marketing & advertising campaigns are important for your successful eCommerce store. Magento comes with a wide range of marketing tools.

It includes numerous tools to make promotion easier. A few of the themes are

Cross-sell products

Monitor coupon usage

Manage newsletters & polls

Supports cost variations depending on groups and quantity

URL tools, new promotion tools, and more



Easy Checkout
Magento eCommerce has in-built extensions that ensure an effortless checkout process with multiple payment gateways. Magento development services help customers with ease to make a successful purchase.

A few Checkout options are:
Shipping products to different addresses in a single order

SSL security support for the purchase

Address book support for checkout

Options for gift message per item

Shopping carts to set an expiration time
Payment Methods
Payment is the biggest concern for online store owners when selecting an eCommerce shopping platform.
Magento store gives your customers immediate (PayPal, credit card, etc.) or delayed (check, COD, credit, money order) payment options when they place an order on your store.
No matter the transaction mode your customers pick, the Magento eCommerce platform meets their payment expectations and minimizes your risk of not being paid.

Alternative payment options you will get with Magento:
One-page checkout

Integration with Authroized.Net and PayPal

Accept Purchase Orders

Accept Check orders

Additional Payment add-ons
Analytics & Reporting
Magento has in-built analytics and reporting features that show your online store's performance. It not only monitors consumer trends but also empowers you to define strategies.

Magento eCommerce usually focuses on the following:

Tax

Sales

Best Purchased Products

Best Viewed Products

Total Sales refunded

Low Stock of Products

Total Sales Invoiced
Enhanced Security
Magento eCommerce platform has added two-factor authentication and Google ReCaptcha to minimize the chance of security attacks. It ensures security to specific website pages like Register, Login, Contact Form, Admin Login, and Forgot Password.
More Magento eCommerce out-of-box features are:
GraphQL Support

Page Builder

PWA (Progressive Web App) Studio

Asynchronous and Bulk Web API (Application Programming Interface)

Multi-Source Inventory (MSI)

PHP 7.2 Support

Page Hierarchy

Google Tag Manager

Rewards & Loyalty

Customizable Pricing



Top Result-Driven Magento Trends in 2023 & Beyond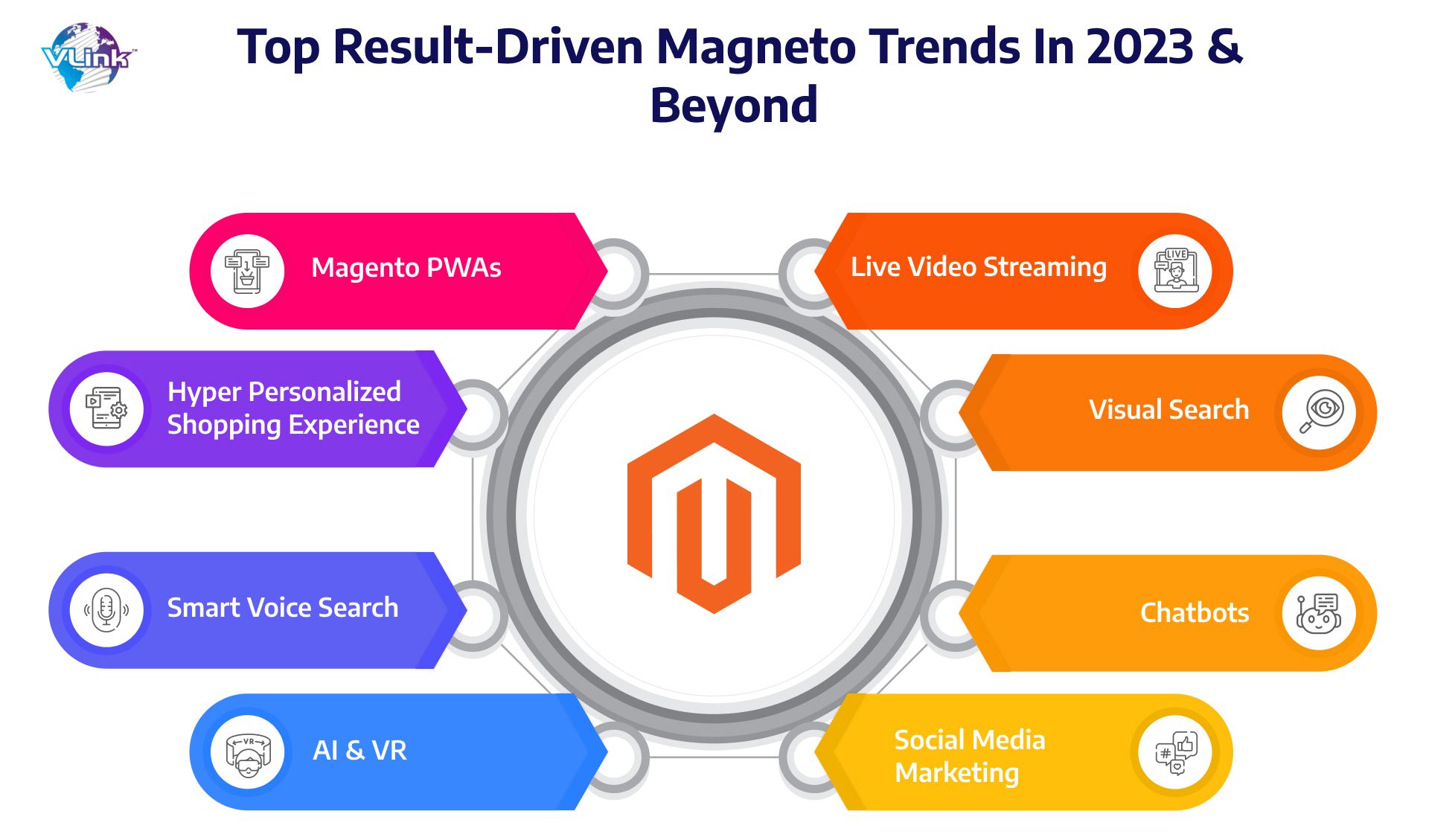 Magento is one of the sought-after frameworks for entrepreneurs planning to transform their retail business into eCommerce.
However, you must adopt the latest Magento trends to stay relevant in the retail & eCommerce industry to build a strong brand presence.

Most popular result-driven trends of Magento in 2023 & beyond is shown in image below:
How to Build a Magento Website or Store?
Magento eCommerce website development includes several stages, as shown in the below table:

| | | |
| --- | --- | --- |
| Magento Development Stages | What It Consists of | What You Need to Do |
| Research Analysis | Planning, ideation, market research, budget analysis and project roadmap. | Make sure your Magento eCommerce website development plan aligns with your business goals. |
| Wireframing | Creating wireframes & strategizing the store's layout and navigation architecture. | In this stage, you must focus on ease of use, accessibility, and navigation. |
| Design | Creating front-end design: theme, color scheme, product pages, shopping cards, etc. | Here, you need to keep an eye on the overall shopping experience. |
| Development | Coding, building dynamic features and developing functional websites or online stores. | This development stage is where your ideas start to turn into reality. Ensure your Magento eCommerce development team build hyper-customized websites or online stores. |
| Integration | Third-party integrations with legacy tools, analytics, payment gateways, shipment partners, etc. | During this stage, you need to integrate best-in class business management tools into your store. It will help you to streamline your operation and improve your efficiency. |
| Testing | Testing the performance and function of eCommerce websites or Magento eCommerce websites in real-time. | Make sure all your project requirements are met. Focus on the impeccable accuracy of your website. |
| Deployment | Launching websites or online stores live for audience access. | In this stage, you must focus on how your website performs and matches your customers' expectations. |
| Support & Maintenance | Ensuring technical support and applying security patches with updates, backing up data, troubleshooting issues with efficient resolutions. | The technical support and maintenance from your Magento partner keep you on store running 24/7 with smooth operation without any downtime. |

Step-by-Step Guide to Build & Launch Magento eCommerce Store or Website?
Step #1 - Analyze Magento's Server Requirements
Like other platforms, Magento has some requirements to analyze before shopping for a hosting provider. After gathering all requirements, you can ensure your website runs properly.
Make sure you have the following requirements:
Operating System

Web Servers like Apache or Nginx

Memory

Databases like MySQL version 5.6 and 5.7

PHP: Magento recommends using PHP 7.3

Security: Secure Sockets Layer (SSL) certificates
Step #2 - Select a Web Host and Domain Name
In this step, you must list web hosting services and system requirements. Select one that provides excellent support and security for your platform.
Here are some popular hosts for Magento:

Bluehost

Hostinger

DreamHost
Step #3 - Download and Install Magento Open Source
After purchasing a web hosting plan, you must set up your account. First, install the Magento open sources headline over the page and click the get started button. Then you will see various options to start the installation process by adjusting your configuration setting.
Step #4 - Configure Your Administration Settings
Before executing the installation process:
Customize your credentials.

Move ahead and specify the services where you want to launch your Magento website.

After finishing your administration setting, click the button to complete the installation process.
Finally, you will get a confirmation message.
Step #5 - Choose and Install a Theme for Your Store
Pick the right theme for your online store. These types determine your store's look. In the future, you can change themes as per your branding purpose.
Magento also gives a theme customization option. You just need to go to content and then the configuration for setting modification.
Step #6 - Explore Extensions for Advanced Functionality
Magento has several extensions that increase your website's value by improving its functionality.
Here are some categories for adding extensions:
Security

Marketing

Analytics Tracking

Payment Gateways

Shipping
Step #7 - Modify Your Store Settings
Before starting to upload products to your eCommerce store, customizing your website setting is the last thing you must deal with.
There are multiple factors that you should consider before personalizing your store settings:
An email address for transaction notifications

Customer account settings

Location, time zone, and currency settings

Shipping and payment options
Step #8 - Set Up Your Product Pages
If you want to add products to your Magento eCommerce store, you will need to follow a few steps.
Here are several options for this feature:

Simple products

Grouped products

Bundle products

Virtual products

Configurable products

Downloadable products
Step #9 - Select Your Payment and Shipping Options
Magento offers excellent features for both shipping and payment options. From easy shipment to smooth and secure payment transactions, it convinces visitors to purchase from your store.
Tech Stack for Magento eCommerce Development Services
Let's differentiate the technology stacks between both versions (Magento 1 vs. Magento 2)
Required Tech Stack for Magento 1
Apache 2. x

PHP 5.2X - 5.5.X

MySQL

Solr (Only for EE)

HTML

CSS

jQuery (In the last themes)

Zend Framework 1
Required Tech Stack for Magento 2
Apache 2.2/2.4

Nginx 1.7 or greater

PHP 5.6.x/7.0.2/7.0.6

MySQL/MySQL Percona 5.6x or greater

Varnish 3x/4x or Memcached 1.4x

Soir 4x

HTML5

CSS3

jQuery

RequireJS/Knockout.js

Zend Framework 1/2

Symfony

Composer
How Much Does It Cost for Magento Development Services?
The cost of Magento development services varies significantly depending on several factors:
Project Complexity

Developers' experiences and expertise

Location

Number of features and functionalities

Number of products and pages

Site design

Third-party integration

Customization level
The development cost of Magento websites can range from thousands of dollars for small projects to ten thousand or more for a large project.
That said, there is never a fixed cost for Magento development services. It relies on your project's distinct needs.
So, what are you waiting for?
Get a detailed quote from a Magento development company.
Also Read: Top considerations for selecting the best mobile app development company.
If you are looking for a dedicated partner for your Magento website and e-commerce store development services, VLink is the best way to go!
Why Choose VLink for Reliable Magento Development Services?
With happy clients and dedicated Magento developers, and 100+ successfully delivered projects, VLink has become a reliable Magento development agency for all sizes of businesses from diverse industries.
Here are some other reasons why VLink is your Magento development partner:
End-to-End services at one destination

Magento solutions as per clients' needs

Our adherence to deadlines & commitment to meeting the highest quality standards

Protective team for constant communication

The Final Thought!
Whether you are thinking of creating an online store or planning to scale your eCommerce business efficiently, Magento is the best platform! Its scalability, powerful features, and large support community will undoubtedly be a game changer for your online retail business.
At VLink, we provide reliable & efficient Magento development services. Contact one of our Magento development team expert or get a free cost estimation for your project today.
FAQs
Frequently Asked
Questions
What are the benefits of custom eCommerce development services?
Custom eCommerce development services have many benefits, including enhanced capacity, simplified user experience, latest technology updating, unique appearance, SEO-friendly, mobile-friendly, improved customer relationships, and foolproof security.
What is the future of eCommerce with Magento?
The future of eCommerce with Magento seems clear: It will dominate online sales and customer service platforms. A few Magento trends you will look for in your future are AI, More Personalized Marketing, Advanced PIM Solutions, Strengthened Security & PWA.
In which industries Magento development services are used?
Magento is a full-service website development platform that can be used for different industries such as real estate, e-commerce, retail, travel & education.