Electric vehicle (EV) companies have lately expanded because of developments in digital transformation solutions and environmentally friendly transportation. One of the most interesting areas of growth in the automotive sector is EV app development. By 2030, the size of the worldwide EV market is expected to reach $693.70 billion, as illustrated in the following figure: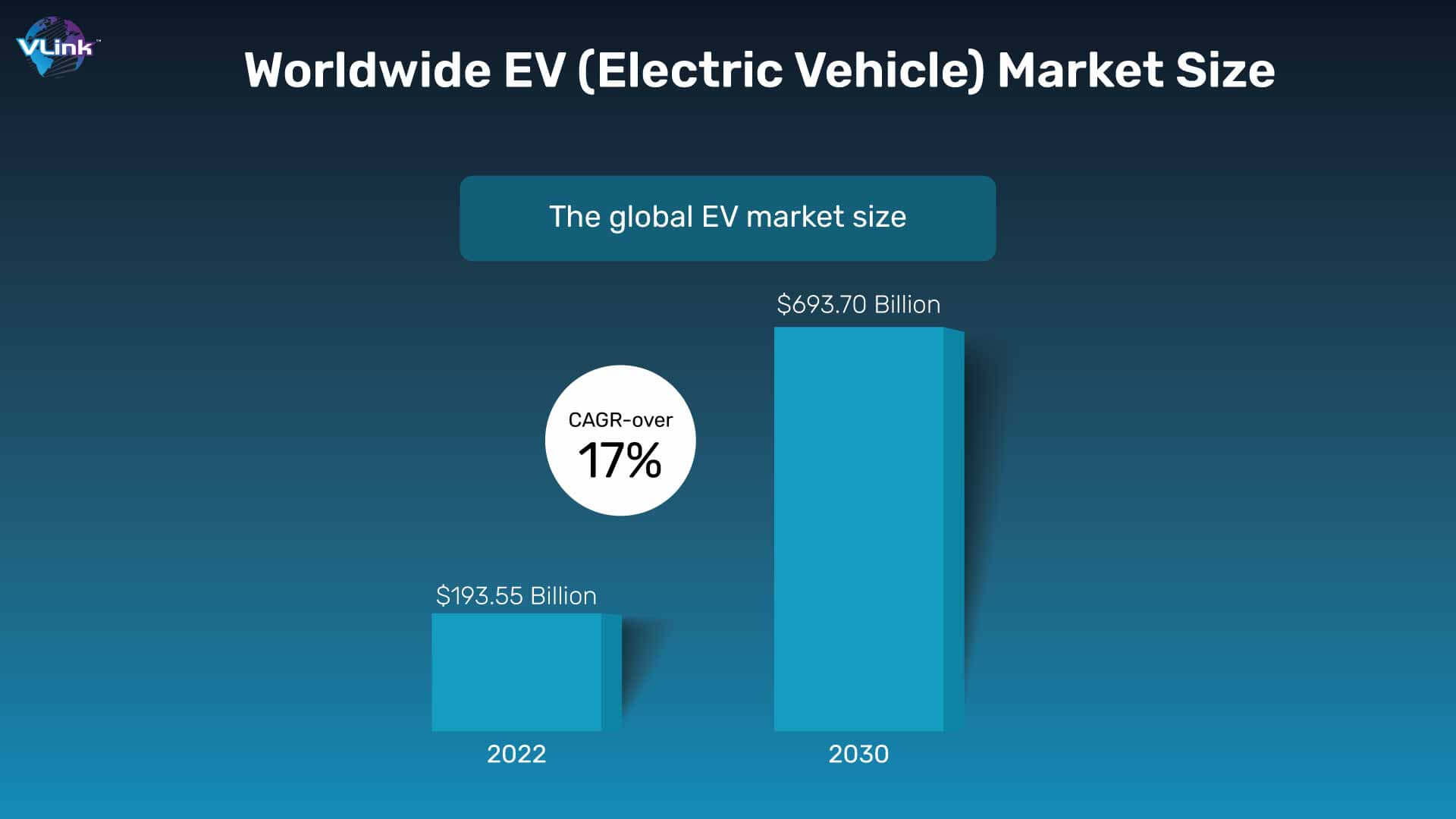 This software helps in the management and optimization of EV consumption. The functions it normally provides vary from real-time battery monitoring to remote vehicle management, trip planning, navigation, and knowledge of the location and accessibility of charging stations.
This blog is the ideal spot to learn about various sorts of EV app ideas if you're a business owner or entrepreneur trying to grow your corporation in this sector.
Let's get going and discover the intriguing world of EV app ideas!
Why Build Custom Electric Vehicle Apps for Successful Business? Time for Facts!
Here are several stats on why you should invest in custom EV app development:
Worldwide adoption of electric vehicles is continuously rising because of several factors, such as governmental incentives, falling battery costs, and environmental awareness. It's predicted that EV passengers will account for 58% of all vehicle sales globally by 2040.
According to

Statista

, EV market revenue is predicted to grow $561.3bn in 2023, and this figure will reach $906.7bn by 2028, at a CAGR of 10.7%.

In 2027, unit sales of EV are predicted to grow

16.21 million vehicles

.

The

US electric vehicle market

was worth USD 24.03 billion in 2020 and is projected to be worth USD 137.43 billion by 2028.
Enhanced security, competitive advantages, improved user experience, and customer engagement are some common benefits business owners enjoy with custom EV app development. But there are two important reasons why you should invest in electric vehicle software;
The shift towards sustainable transportation

The rising demand for EV-rates Apps
7 Successful Electric Vehicle Mobile App Ideas for Your Business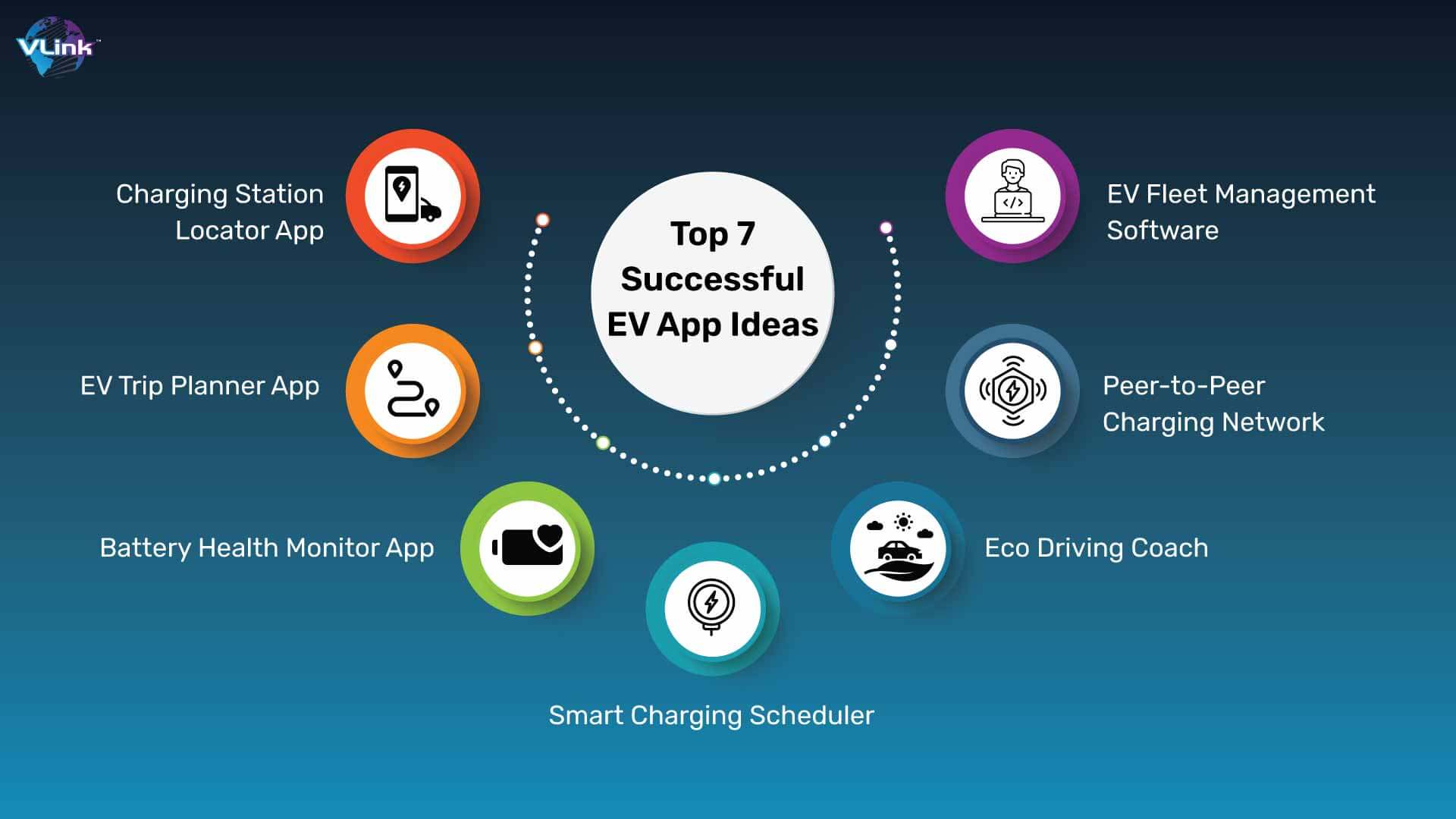 App Idea #1 - Charging Station Locator App
What is the Charging Station Locator App?
A Charging Station Locator App is a software that helps electric vehicle (EV) owners and drivers find charging stations for their electric cars or plug-in hybrid vehicles.
How Does Charging Station Locator App Work?
This EV app uses a database of charging stations, offering map-based searches with filters, real-time status updates, user reviews, and route planning. Users input preferences, view station details, and can sometimes pay for charging via the app. Notifications and user contributions increase the experience.
Key Features of Charging Station Locator App
Map-Based Search

Search Filters

Station Information

Real-Time Status

User Reviews and Ratings

Route Planning

Payment Integration

Push Notifications
Incredible Statistics of Charging Station Locator App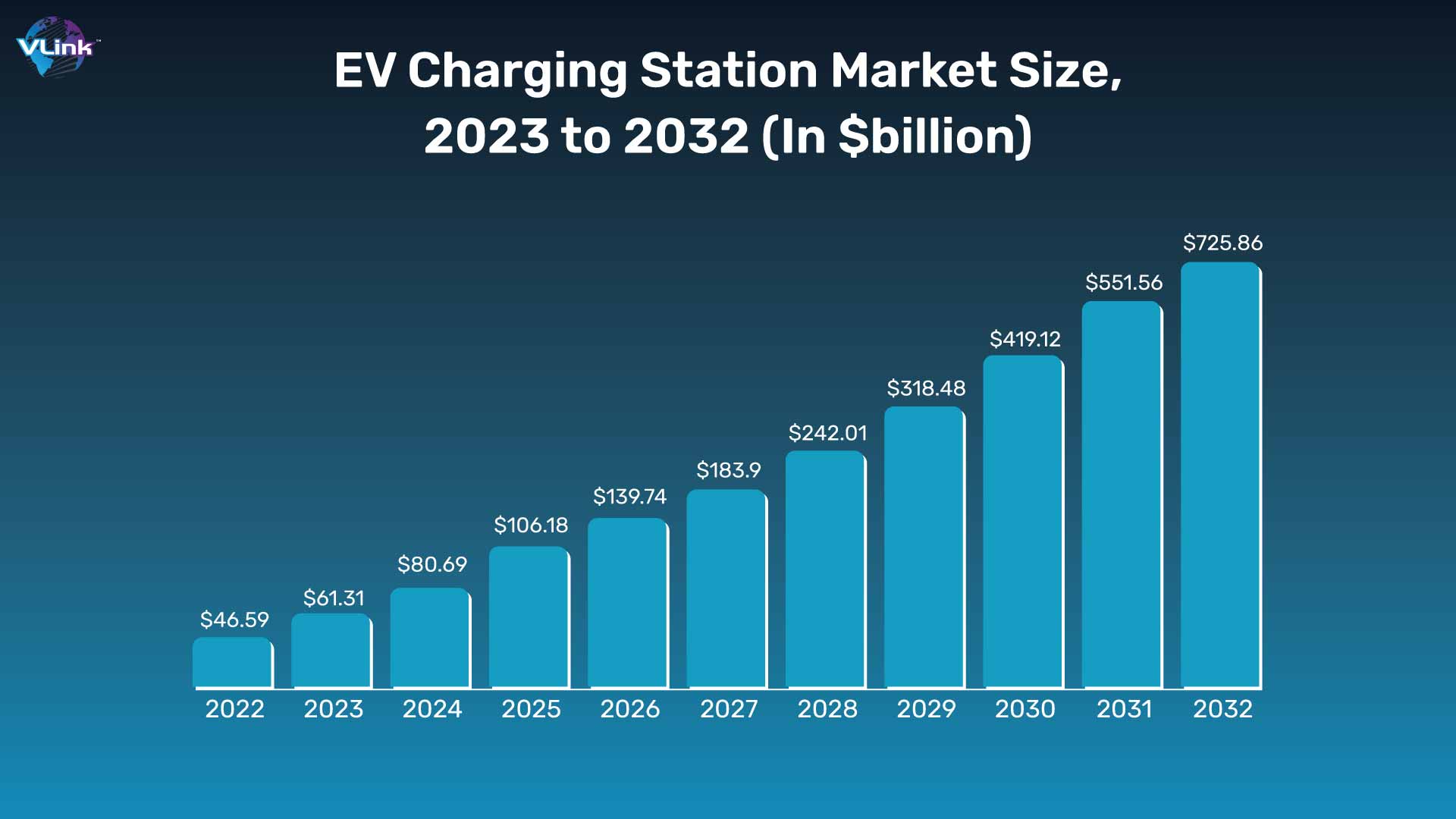 The market for electric vehicle charging stations is anticipated to surpass USD 239.62 billion by 2031, growing at a CAGR of 30.94% from 2023 to 2031.
Over 138.100 plug-in EV charging stations will be available in the US by May 2023.
Nearly 44,600 public and private charging stations may be found throughout California.
Popular Charging Station Locator Apps
Plugshare

Tesla

EV Energy app
App Idea #2 - EV Trip Planner App
What is the EV Trip Planner App?
EV trip planner app users may organize and arrange their travel. These applications offer details on the availability, cost, and distances between the charging stations along the routes. In order to choose a convenient charging station for the journeys, apps now offer real-time data about the charging stations.
How Does the EV Trip Planner App Work?
The software uses the GPS in the user's smartphone or car to find charging outlets in the area. It offers details about the available charging stations, charge rates, and connection type. Some of these also enable users to schedule the station in advance.
Additionally, it provides information on how long it takes a car to charge completely and recommends the optimal route depending on where the charging stations are located.
Key Features of the EV Trip Planner App
Route Planning

Charging Station Locator

Real-time Data

Weather and Traffic Updates

User Profiles

EV Model Compatibility

Charging Cost Estimation

Navigation Integration
Popular EV Trip Planner Apps
Electrify America

EV Trip Optimizer

Greenlots
App Idea #3 - Battery Health Monitor App
What is a Battery Health Monitor App?
EV owners may use EV Battery Health Monitor Apps to assess the efficiency and condition of the battery pack in their vehicles. These applications provide real-time information on the battery's voltage, temperature, charge level, and other important factors that affect the battery's overall health.
How does the Battery Health Monitor App work?
These programs function by gathering information from the EV's battery management system (BMS) and giving it to the user in an understandable format. The BMS continuously tracks the battery's performance while wirelessly delivering data to the app. The app may inform the user of the battery's condition after data analysis, including any problems or possible problems.
Key Features of Battery Health Monitor App
Battery Health Assessment

State of Charge (SoC)

Battery Temperature

Optimization Recommendations

Alerts and Notifications

User Profiles

Security Features

Multi-Platform Compatibility
Popular Battery Health Monitor Apps
MyGreenVolt

BMW i Report app

EVBatMon
App Idea #4 - Smart Charging Scheduler
What is a Smart Charging Scheduler?
The goal of this app idea is to help EV users to optimize charging schedules. You can consider factors including electricity rates, time-of-use tariffs, and the user's driving patterns. This app can automatically schedule charging sessions during off-peak hours, saving users money and minimizing strain on the electrical grid.
How Does Smart Charging Scheduler Work?
A smart charging scheduler optimizes the charging of electric vehicles by taking into account customer preferences, grid statistics, and power pricing. It efficiently meets customers' charging demands while decreasing prices and maintaining grid stability via several functionalities:
Scheduling charging during off-peak

Affordable hours

Adapting to grid circumstances

Integrating renewable energy sources
Key Features of Smart Charging Scheduler
Real-time Grid Data

Rate Optimization

Grid Demand Management

Renewable Energy Integration

Charging Rate Adjustment

Fleet Management

Grid Support

Remote Control
Popular Smart Charging Scheduler
JuiceNet by eMotorWerks

ChargePoint

EVgo
App Idea #5 - Eco Driving Coach
What is Eco Driving Coach?
Eco-driving coach's app can provide real-time feedback and instructions on how to drive efficiently and feasibly. It tracks sudden braking & acceleration to alert customers about safe driving conditions and increase the range of their EVs.
How does Eco Driving Coach work?
This software helps in reducing air pollution and greenhouse gas emissions by encouraging environmentally friendly driving processes. It's vital to create eco-beneficial driving habits for a clean & green future.
Key Features of Eco Driving Coach
Real-time Feedback

Fuel Efficiency Tips

Speed Management

Route Optimization

Cruise Control Suggestions

Driver Reports

Safety Integration

Mobile App Integration
Popular Eco Driving Coach Apps
GreenMeter

Drivvo

Fuelio

OnBoard Speed & Timer

App Idea #6 - Peer-to-Peer Charging Network
What is a Peer-to-Peer Charging Network?
A Peer-to-Peer Charging Network for EVs enables individuals to share their private charging stations with other electric vehicle owners. Users can locate available charging spots, negotiate pricing, and arrange convenient charging sessions. It fosters community-driven EV infrastructure expansion and offers cost-effective, accessible charging solutions.
How Does Peer-to-Peer Charging Network Work?
A Peer-to-Peer Charging Network allows EV owners to share their private charging stations. Users register on a platform, locate available chargers, negotiate terms, and initiate charging sessions. Charging hosts set their rates and availability, promoting community-based EV charging, fostering cost savings, and expanding charging infrastructure through shared resources.
Key Features of Peer-to-Peer Charging Network
User Profiles

Real-time Availability

User Reviews and Ratings

Mobile App Integration

Charging History

User Notifications

Fleet Management
Incredible Statistics of Peer-to-Peer Charging Network
The

global peer-to-peer electric vehicle charging market size

was valued at USD 128,927.3 thousand in 2022 and is expected to expand at a compound annual growth rate (CAGR) of 22.3% from 2023 to 2030.

North America

accounted for the largest market share and is estimated to grow at a CAGR of 22.8% during the forecast period.

The

Asia Pacific

is the second largest region. It's estimated to reach an expected value of USD 220 million by 2030, registering a CAGR of 23.4%
Popular Peer-to-Peer Charging Network
App Idea #9 - EV Fleet Management Software
What is EV Fleet Management Software?
Apps for managing electric vehicle (EV) fleets are computer tools that provide businesses and organizations control over and improvement over their EV fleets. These programs provide analytics and real-time data on EV usage, charging status, necessary maintenance, and other crucial fleet management duties.
How does EV Fleet Management Software work?
In order to provide fleet managers with insights and recommendations, the EV Fleet Management App collects data from EVs and charging stations. By tracking the whereabouts of the vehicles, the battery levels, and the need for maintenance, fleet managers can use the app to make data-driven decisions that will improve the efficiency and performance of their EV fleets.
The app may also provide features for route optimization, preventative maintenance, and driver performance monitoring.
Key Features of EV Fleet Management Software
Vehicle Tracking

Battery Health Monitoring

Route Optimization

Telematics and Performance Data

Driver Behavior Monitoring

Billing and Cost Management

Compliance and Regulation

Integration with Charging Networks

Inventory Management

API Integrations
Incredible Statistics of EV Fleet Management Software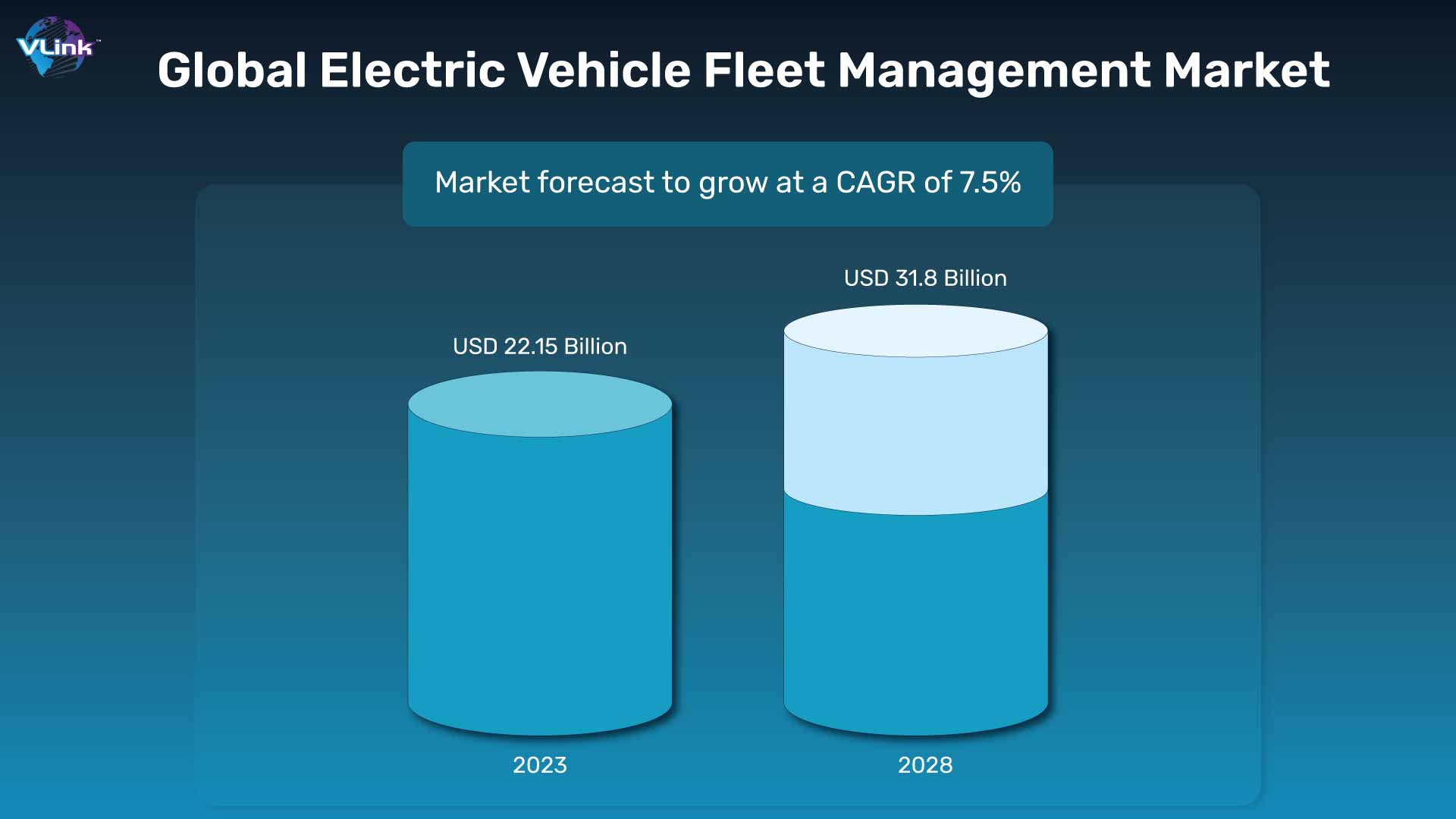 The

global market for fleet management software

would increase at a CAGR of 19% from $23.67 billion in 2023 to $79.82 billion in 2030.

With a revenue share of almost 73.8% in 2022, the commercial vehicle sector led the market by vehicle type.

With a revenue share of almost 64.6% in 2022, the solutions category led the market in terms of components.

North American region hold a share of

about 33.8%

in previous years.

Asia Pacific region is expected to grow at a

CAGR of 12.3%

over the forecast period 2023 to 2032.
Popular EV Fleet Management Software
ChargePoint Fleet

FleetCarma

Greenlots
So, if you have decided which EV app ideas you will go with for your business, it's time to think about electric vehicle app development costs.
How Much Does it Cost to Build an EV App?
The rough market cost of EV Software development in 2023 is as follows:
| | | |
| --- | --- | --- |
| Software Type | Estimated Cost (USD) | Estimated Time |
| Simple | $40,000 to $60,000 | 3-6 Months |
| Moderately Complex | $60,000 to $100,000 | 6-9 Months |
| Highly Complex | $100,000 to $250,000 | 9+ Months |
It's difficult to determine an exact estimate of the EV mobile app development cost. You can consider development team size, stages, location, and other factors to know the exact development price.
Factors impact the cost of building an electric vehicle app.
App platform

Complexity

UI/UX design

Team size

Company location
There is no need to mention that the hourly rate of developers, designers, and other experts depends on the region.
For UAE, you may have to pay $60-$65 / hr.

Around $95-$100 / hr in the US,

$80-$90 / hr in Western Europe,

$25-$40 / hr in Asia
Suppose you are planning to build a successful Electric vehicle software for your business within your budget. In that case, it is better to get in touch with a dedicated EV mobile app development company in the U.S.

Choose VLink for an Electric Vehicle App Development Solution!
VLink is a reliable EV app development company integrating the highest EV charging app solutions while building successful electric vehicle software. With our EV mobile app development solutions, you can provide a seamless experience to users, ease your business operations, and ease huge ROIs.
From electric vehicle charging app development to EV fleet management software development and EV roaming software development, our dedicated development team caters to all your e-mobility software needs.
For more information about electric vehicle software, contact us!
FAQs
Frequently Asked Questions
How do you build EV apps?
To build Electric Vehicle (EV) apps, follow these steps:
Define the app's purpose and features.

Choose a development approach (native or cross-platform).

Design the user interface and user experience.

Develop the app, considering data integration, GPS, and charging features.

Test thoroughly, ensuring functionality and performance.

Deploy the app-to-app stores.
What is the future of EV charging technology?
The future of EV charging technology is promising. It will see faster charging, increased charging infrastructure, wireless charging, bidirectional charging, smart grid integration, and enhanced user experiences through mobile apps. As EV adoption grows, innovation in charging tech will continue to support convenience, efficiency, and sustainability.
What is the role of technology in EV charging stations?
Technology plays a crucial role in EV charging stations. It enables real-time monitoring, user authentication, payment processing, remote management, and load balancing. Smart grid integration optimizes energy use, while data analytics and mobile apps enhance user experiences. Technology advances drive convenience, efficiency, and grid stability in the EV charging ecosystem.