How Much Does It Cost to Build a Mobile App?
Mobile apps help businesses build brand loyalty and strong customer relationships via personalized user experiences.
201 Views

6 minute
With the benefits of having a mobile application, it's no wonder why every business invests in app development.
But what is the cost of a successful mobile app development service?
You've probably asked this question once or twice, especially if you want to build a profitable app for your business.
Creating a basic app cost between $40,000 to $300,000. Always remember these figures are only estimates. The final cost may be significantly less or more based on the specific project's requirements.
Many factors affect the app development cost. Depending on its complexity, the average price would be:
Simple App Development Cost – $40,000 to $60,000

Medium App Development Cost – $60,000 to $150,000

Complex App Development Cost – from $300,000
This blog will explore cost factors for building an app, prices of popular brands' mobile applications, and app development phase costs.
Table of Content:

1. App Development Cost Statistics
2. Top 6 Key Factors That Affect Your Mobile App Development Cost
App Platform

Mobile App Complexity

App Features & Functionality

App Type

Development Team's Location & Size

App Maintenance
3. 5 Most Popular Global Apps and Their Development Cost
4. Cost Breakdown: App Development Phases
5. 4 Options to Choose for App Development
6. How Can VLink Help in Mobile App Development Cost Estimation?
7. FAQs–
How to reduce the cost of app development?

What are key hidden cost-driven factors?

What is the timeline for developing an app?
Mobile App Development Cost Statistics
Data from authorized resources (Statista) suggests that having a mobile app will bring immense gains. Here are some incredible statistics to support this claim;
Mobile app market revenue is predicted to grow by $1,095.9 bn in 2027.

Google PlayStore has over 100,000 and App Store gets over 30,000 new mobile apps monthly for download.

App Store market revenue will reach nearly $200 bn by 2025.

App Store market's revenue is $34.1 bn in Q1 2023, marking the highest quarterly recorded amount.
Thus, it's evident that mobile app demand is growing rapidly, and having one will significantly impact your startup.
The app development cost dramatically relies on several factors.
Let's look at what the app prices rely.
Also Read: Everything about mobile app development.
Top 6 Factors Influencing Mobile App Development Cost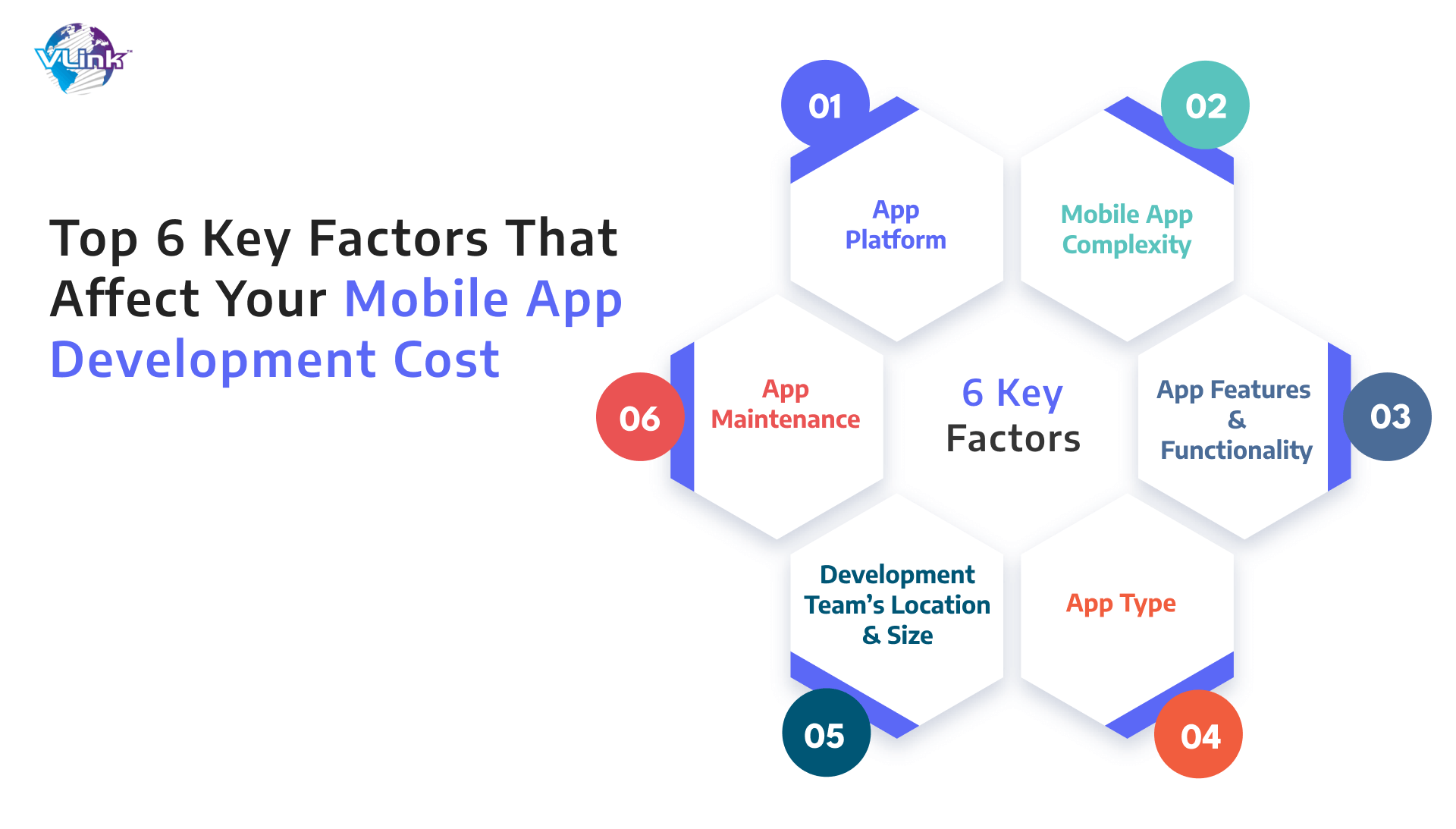 App Platform
Before starting the mobile app development services, selecting the right platform is essential. Depending on your target audience, you can go with native, web, hybrid, or cross-platform.

You would opt for one platform as a startup owner with a minimal budget.
Here are the most popular mobile app platforms you can choose from:
Native app platform (Android & iOS)
Programming language-wise, Swift and Objective C are perfect for iOS app development, while Android app development happens on Java or Kotlin.
Web app platform
Web apps like Progressive Web Apps are more cost-effective than native apps.
Regarding cost, web app development prices can range between $15,000 and $50,000.
Cross-platform
Developing an app for both Android & iOS platforms simultaneously is a new cost-effective trend.
Single code use and less development effort make cross-platform most popular in the mobile app market. It comes into two types of Flutter and React Native.
Hybrid app platform
Hybrid App is a perfect combo of both native & web applications.


| | |
| --- | --- |
| App Platforms | Average Costs |
| Android Apps | $50,000-$500,000 |
| iOS Apps | $75,000-$500,000 |
| Hybrid Apps | $10,000 to $150,000 |
| Cross-Platform Apps | $25,000 to $60,000 |
| Web Apps | $15,000 to $50,000 |
Mobile App Complexity

The average price of creating a simple application is $5,000 – $50,000. Such apps have features like a login system, user profile facility, dashboard, and limited administration.
Medium to complex app prices can range from $50,000 to $120,000. Such mobile apps include a plethora of features for both user engagement and app monetization.
A complex app price is between $100,000 to $300,000 and up. These apps are equipped with innovative technologies such as AR/VR, AI, and ML. They also include multi-language support, high-end data logic, and many more.
Depending on app's complexity, an average development cost breakdown is mentioned below in table:
App Complexity

Level of Complexity

Average Timeline

Average Cost

Simple App

MVP functionality

Basic UI

2-3 Months

$5,000-$50,000

Medium Complex App

Sophisticated features

Custom UI




3-9 Months

$50,000-$120,000

Highly Complex App

High level advanced features

Bespoke UI

Two platforms




10+ Months

$100,000-$300,000




App Features & Functionality
Features and functionality are important aspects of mobile app development. It includes choosing backend infrastructure, content management systems, tech stacks, and third-party integration services.
These components can potentially add to or reduce the overall development costs. But different features can impact app prices.
Look at the average app development cost and time required for basic & complex features.
Features

Functionalities

Approximate Time

Average Costs

User Login

Login with social media

Login with email address

Forgot password option

Log out option




30-42 Hours

$500 – $1,000

Profile Completion

Add basic info

Add photo

Set region




30-40 hours

$900-$1,000





Messaging

Online/offline status

Typing status

Send media files and documents

Read/sent status




170-180 hours

$3,000-$5,000





Push Notifications

Push notifications and reminders for users

25-32 hours

$1,000 – $1,200





Basic Admin Panel

See list of users

Delete/block user

Create user

Edit user




66-90 hours

$3,500-$4,000

















Advanced Features Integration: Cost Breakdown
Advanced Features

Functionality

Approximate Time

Average Costs

Payments

Transaction history

Check balance

Add debit/credit card

Payment gateways




60-78 hours

$2,500-$3,000





Apps

Detect user's location

Set pickup and destination point




100-120 hours

$3,000-$4,000





Calls

Audio calls

List of contacts

Video calls




300-400 hours

$14,000-$15,000




App Categories
Mobile app development costs vary greatly from category to category.
Depending on the category, several things can change, such as the number of users, features, functionalities, and security criteria. It can ultimately lead to varying prices to build a mobile app.
Let's glance at the top categories of apps with the average development cost & timeline.
| | | |
| --- | --- | --- |
| App Type | Estimate Costs | Development Time |
| Startup App | $40,000-$400,000 | 1,600h |
| Game App | $60,000-$250,000 | 1,600h |
| Retail App | $50,000-$150,000 | 1,200h |
| Augmented Reality App | $100,000-$250,000 | 1,600h |
| eCommerce App | $60,000-$250,000 | 1,600h |
| Social Media App | $50,000-$300,000 | 1,200h |
| Business App | $50,000-$200,000 | 1,200h |
| Learning App | $60,000-$225,000 | 900h |
| Video Streaming App | $80,000-$300,000 | 1,600h |
| Restaurant App | $40,000-$150,000 | 900h |
| Shopify App | $30,000-$180,000 | 900h |
| Food Delivery App | $40,000-$150,000 | 900h |
| Healthcare App | $55,000-$300,000 | 1,200h |
Development Team's Location & Size
Mobile app development costs rely on different factors such as team location, structure, and project complexity level.
A basic development team usually includes a project manager, developer, QA engineer, & UI/UX designer.
A backend programmer, system administrator, or additional designers may be essential for your extensive project. With an increasing project scale, the development costs will increase automatically.
Here is a rough mobile app development team cost estimation:
| | | | |
| --- | --- | --- | --- |
| Development Team | Basic App | Medium App | Advanced App |
| Developers | $30-40,000 | $50-60,000 | $100,000+ |
| UI/UX Designers | $4-5,000 | $5-7,000 | $10-15,000 |
| Project Managers | $5-7,000 | $10-15,000 | $10,000+ |
| Q/A Specialists | $8-10,000 | $15-20,000 | $20,000+ |
| Business Analysts | $2-3,000 | $5-8,000 | $8-10,000 |
| DevOps | $2-4,000 | $5-7,000 | $10,000+ |
| Solution Architect | $1-3,000 | $5-8,000 | $9,000+ |
Rough development team cost estimation according to different regions below:
| | |
| --- | --- |
| Region | Hourly Rate $ |
| USA | 120-150 |
| UK | 100-120 |
| Australia | 100-120 |
| Western Europe | 80-100 |
| Eastern Europe | 30-50 |
| India | 20-30 |
App Maintenance
Undeniably, expenses don't end at the last stage of the app development process. Businesses will have to continue changing their apps to keep up with the varying market trends, which come with different prices.
What takes your budget post-app development?
App bug fixes
Design changes
App maintenance cost is calculated yearly at 20% of the complete development cost.
So, these are key factors determining the cost of creating a mobile app. Now, we will discuss the costs of popular mobile apps.
5 Most Popular Global Apps and Their Development Cost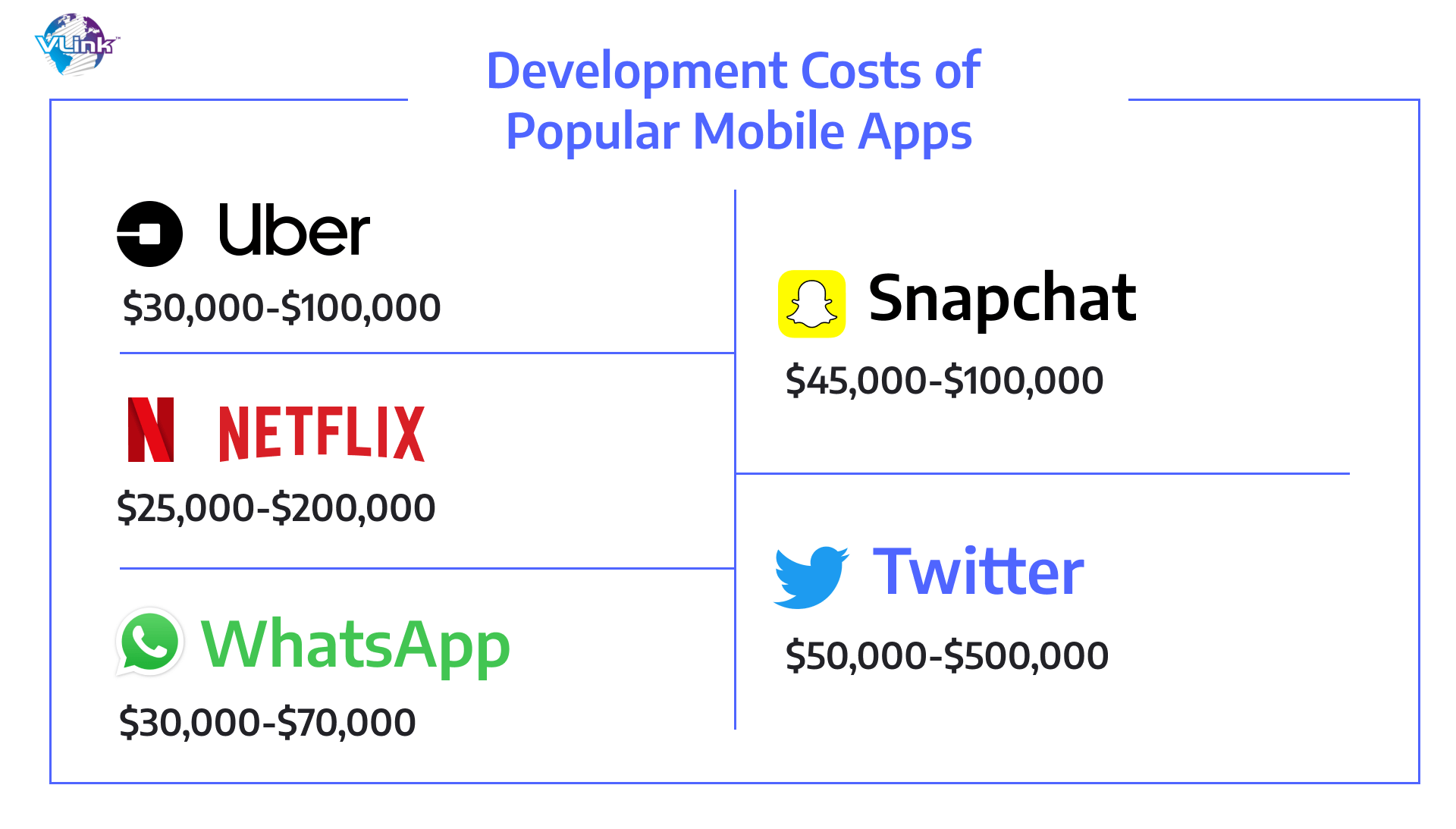 Here are five popular apps that have redefined and transformed the concept of customer experience and are currently leading the app market. We have also mentioned the average app development price of these apps below in the image:
Cost Breakdown: App Development Phases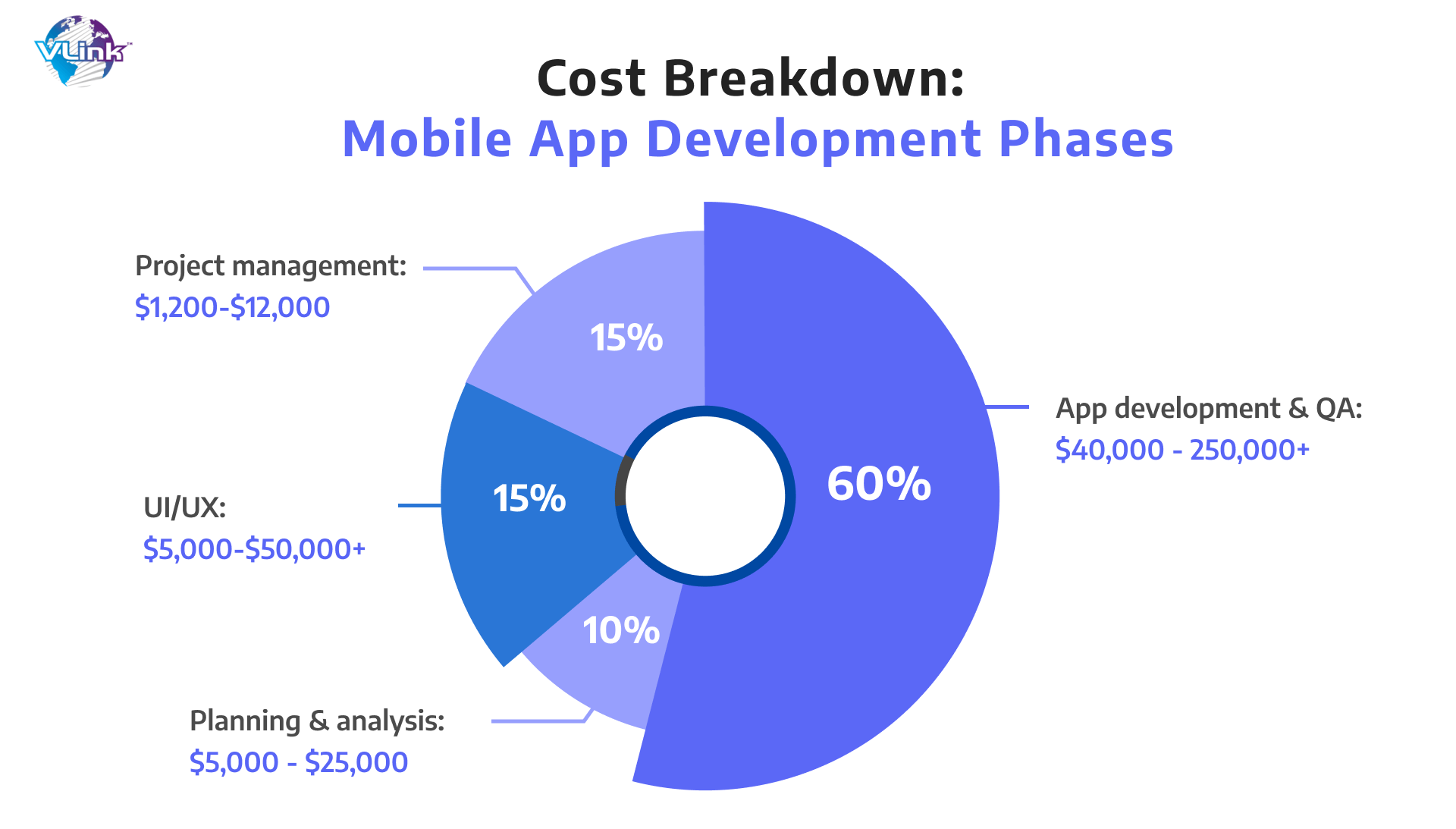 Costs of building a mobile app also depend on each development stage.

Software development is usually separated into four major stages:
Planning & Analysis

UI/UX Design

Mobile App Development

App Testing

Let's see how each phase impacts the final app cost.
Planning & Analysis
The first stage in the app development process is planning & analysis, also known as the discovery stage. According to Clutch, 70% of businesses start with analysis and project planning.

The discovery stage includes business analysts, UI/UX designers, software developers, and product owners working on several tasks:

Market research and competitor analysis

Identify potential users' pain points and their solutions

Create prototypes for app visualization

Set all steps during app development and determine a timeline
Planning & analysis stage costs may range from $5,000 to $25,000 and even go beyond. It takes 2-5 weeks.
UI/UX Design
The development stage includes creating a user-friendly design relevant to your customers' expectations.
Designing a mobile app can range from $5,000 to $50,000. The price depends on the different screens.
Mobile App Development
How much does mobile app development cost? Several influencing factors can shift the cost of creating an app.

The minimum price to build an app is $5,000-$10,000.
A more complex app will cost you around $50,000-$75,000 and reach $300,000+.
App Testing & Deployment
The last stage of mobile app development includes testing and app deployment. This phase ensures your app is ready for customers with an impeccable user experience.

For QA & app testing services, you need to pay $5,000-$10,000.
4 Options to Choose for App Development
The total mobile app development price heavily relies on who you select for the app development.
There are multiple choices.
App development company

Local team

Inhouse development team

A freelance developer

Hiring an experienced development team has several benefits, such as lower costs and higher quality.

If you want the best team for your buck, select experts wisely.
Option #1 - Hire a Local Agency
You can always select a reputable SME local company that provides a wide range of services, including SEO optimization.
Android and iOS app development costs by local companies will be higher.
Also Read: iOS app development let your business grow at full potential.
Depending on the country, the development & design team's per-hour rate can range between $150 to $250.

Option#2 - Build an In-House Team
The in-house team works entirely as a part of your company, receives fixed monthly payments, and gets daily instructions from your management.
The cost of an in-house team varies with the startup's location and the developer's expertise.

For startups based in the US, the price is
Full-stack developer = $180,000/year

Designer = $160,000/year

Android & iOS mobile app programmer = $ 170,000/year
Option# 3 - Hire Freelancers
You can work with freelancers if you need a team for a small project. But you must spend much time on communication and project management.

With a freelancer, you can follow two ways:

Hire them on a contract basis
Hire them on an hourly basis

Plus, you can find freelancers from several platforms, such as Upwork, Fiverr, etc.

The freelancer's average hourly costs depend on the country you are hiring from.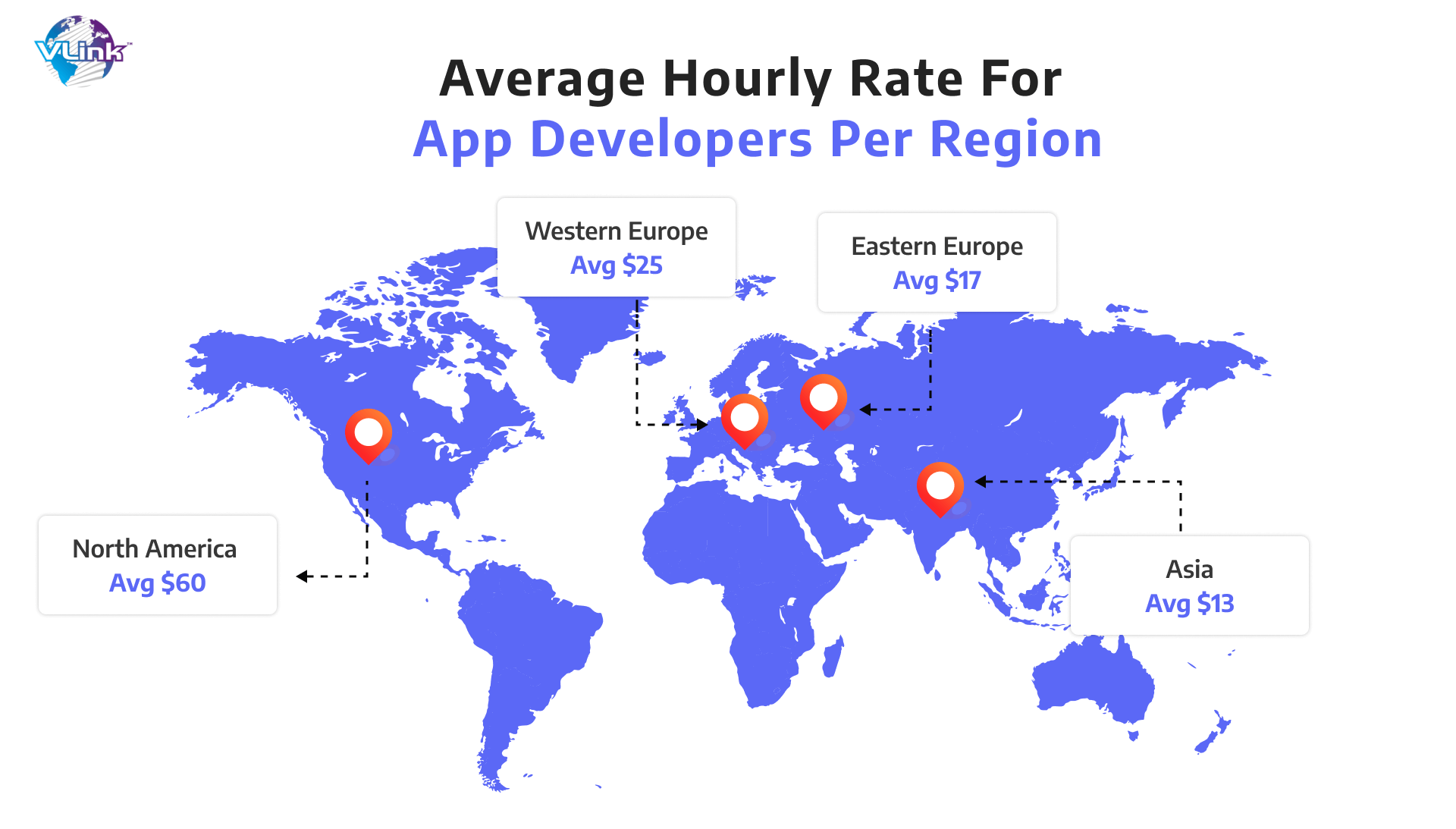 US: $50 per hour

Asia: $15 to $25/hour

Ukraine: $25/hour

Latin America: $20/hour



Option #4: Outsource App Development
Outsourcing a mobile app development agency allows you to turn your app idea into reality and manage the overall architecture.
It lets you focus on your business needs while the expert team manages your technical requirements.
Development costs differ from country to country.
For example, developers' costs in the USA are 2x-3x higher than hiring developers in Ukraine.

The cost of outsourcing mobile app development to an offshore agency varies from $30,000 to $500,000.

Suppose you plan to hire a reputable outsourcing agency to revitalize your digital presence. In that case, VLink is the right choice for your business, whether a startup or established.
How can VLink Help in Mobile App Development Cost Estimation?
So, how much does it cost to build a mobile application? Well, it's quite evident that there is no exact answer to this question. Considering all the key factors should help you determine a nearly accurate price for your dream app.

But analyzing app development's final cost is a very challenging task. So, it would be better to consult a certified app development company like VLink for reliable services.

Our development & designing team are experts in creating, designing, and launching innovative, scalable, and secure apps with next-gen features.

FAQs
Frequently Asked
Questions
How to reduce the cost of app development?
To reduce app development costs, consider using cross-platform development frameworks like React Native or Flutter, which allow you to simultaneously build apps for multiple platforms.
Prioritize essential features, minimize scope creep, and leverage existing libraries and open-source solutions. Outsourcing development to countries with lower labor costs can also be cost-effective.
What are key hidden cost-driven factors?
Key hidden cost-driven factors refer to underlying factors that can significantly contribute to the overall cost of a project, product, or service but may not be immediately apparent. These factors are;

Inefficient processes

Poor quality control leads to rework or defects

Inadequate planning and risk management

Reliance on outdated technology or infrastructure

Lack of skilled personnel

Regulatory compliance issues

Unforeseen market fluctuations
Identifying these hidden cost drivers is essential to minimize expenses, improving profitability, and enhance overall project success.
What is the timeline for developing an app?
The timeline to develop an app can range from a few months to a year. It depends on complexity, features, team size, and resources.