With the growing adoption rate of digital-first enterprise mobility solutions, tech industry leaders are being driven to introduce improvements in mobile technologies. And it will open a lot of chances for companies to stand out in the market rivalry.
By 2026, the global market revenue for mobile apps will be $614.40 billion. With so much potential wealth, there is a significant amount of responsibility to adjust to evolving market standards. Let's have a look at figure below mentioned image: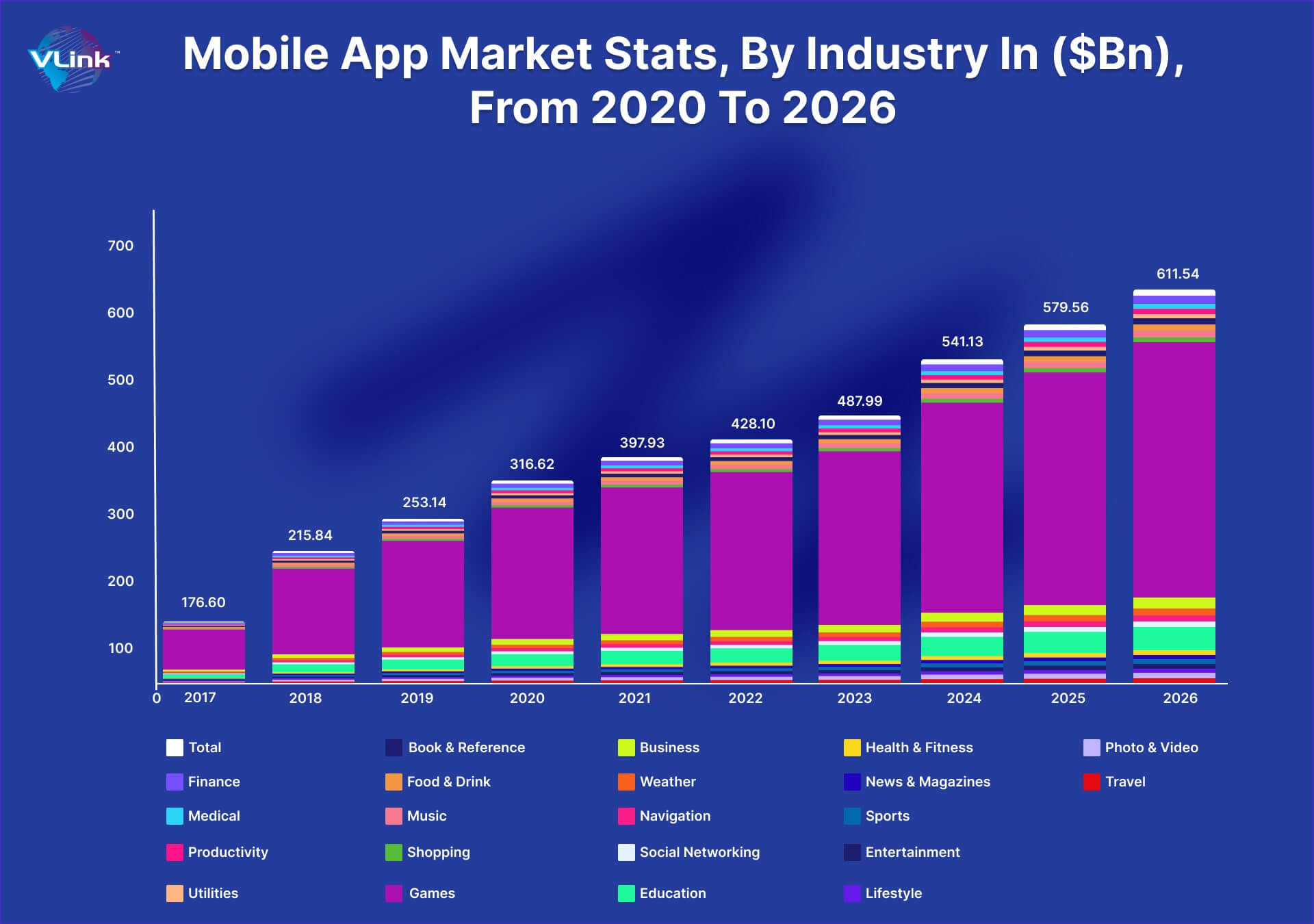 To provide your consumers with the best possible service, if you want to increase your digital footprint via mobile app development, now is the time to learn about the newest developments in this area.
So, whether you're an investor, entrepreneur, business owner, programmer, or business enthusiast, this blog will help you remain on top of the latest mobile app development stats, facts & trends for 2023 & beyond.
Why Should You Invest in Mobile App Development? Key Facts!
With the rising demand for mobility solutions and instant access to everything, the software and app development market has seen significant growth. Here are some reasons why mobile app development for business owners is a successful investment:
Delivered better user experience

Increased revenue

Improved brand awareness

Enhanced users' accessibility

Increased customer engagement
Let's have a look at a few key stats of mobile applications:
According to one research, the number of smartphone users has increased by 0.3–0.6 billion every year since the invention of the device. In 2022, there were 6.6 billion smartphone subscriptions, and by 2027, it is predicted that there will be 7.7 billion subscribers.
From 2016 to 2022, there will undoubtedly be an increase in smartphone users of 10.4% yearly.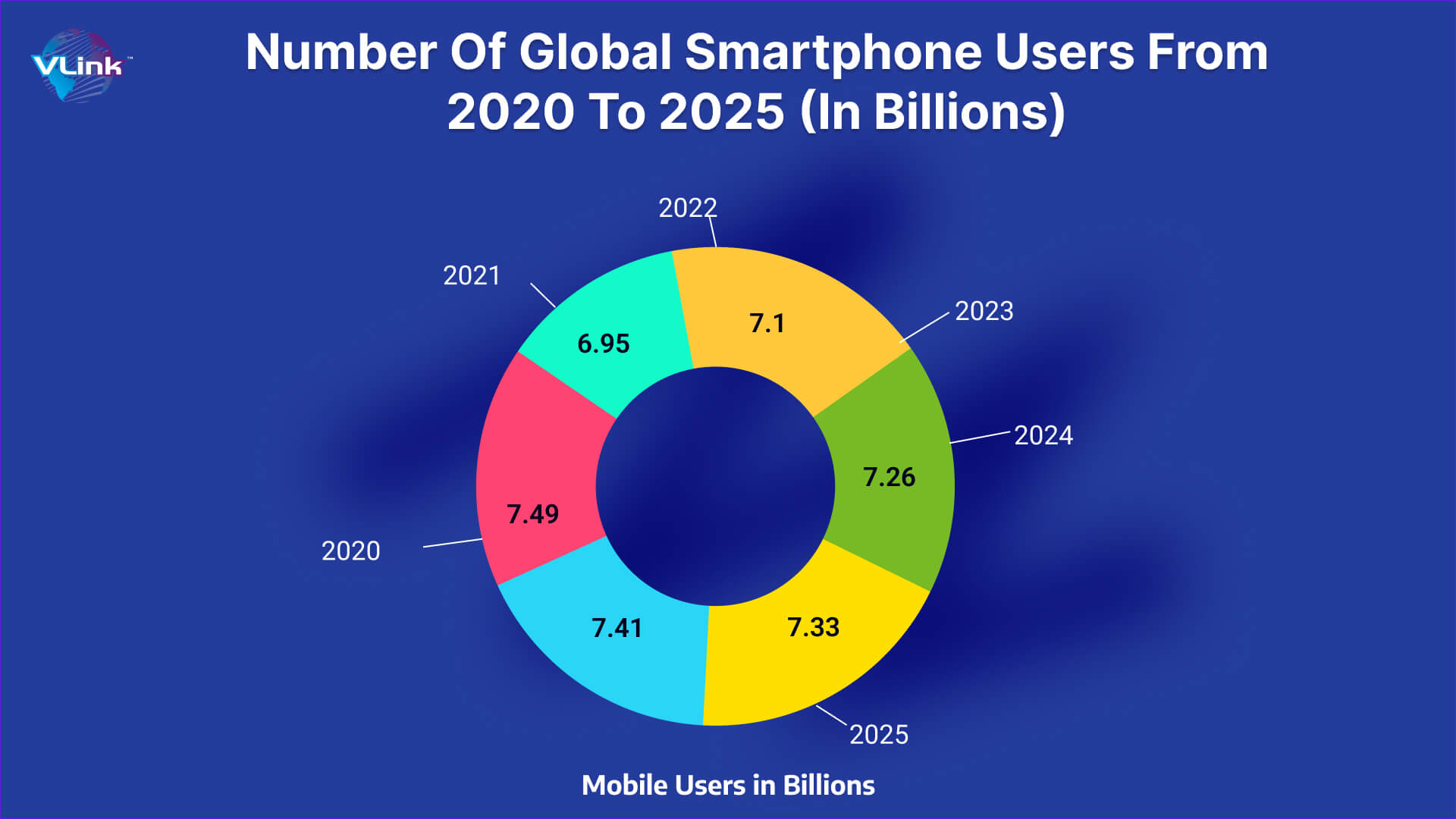 In the third quarter of 2023, Android continued to hold the top spot among mobile operating systems, with a market share of 70.5 percent. Apple's iOS, Android's main competition at the time, with a market share of 28.8%.
Google's Android and Apple's iOS, both of which debuted in 2007, have developed over time with the introduction of additional features and capabilities. The most current edition of iOS, iOS 16, was made available in September 2022, whereas Android 13, the most recent version of the operating system, was published in August 2022.
In terms of hardware, iOS is solely supported by Apple products, whereas Android is shipped with devices from a variety of vendors, including Samsung, Google, and OnePlus. Apple has also done a far better job at keeping its consumers informed.
While just 25% of Android users were running the most recent version in January 2023, 81 percent of iOS users had iOS 16 loaded as of February 2023.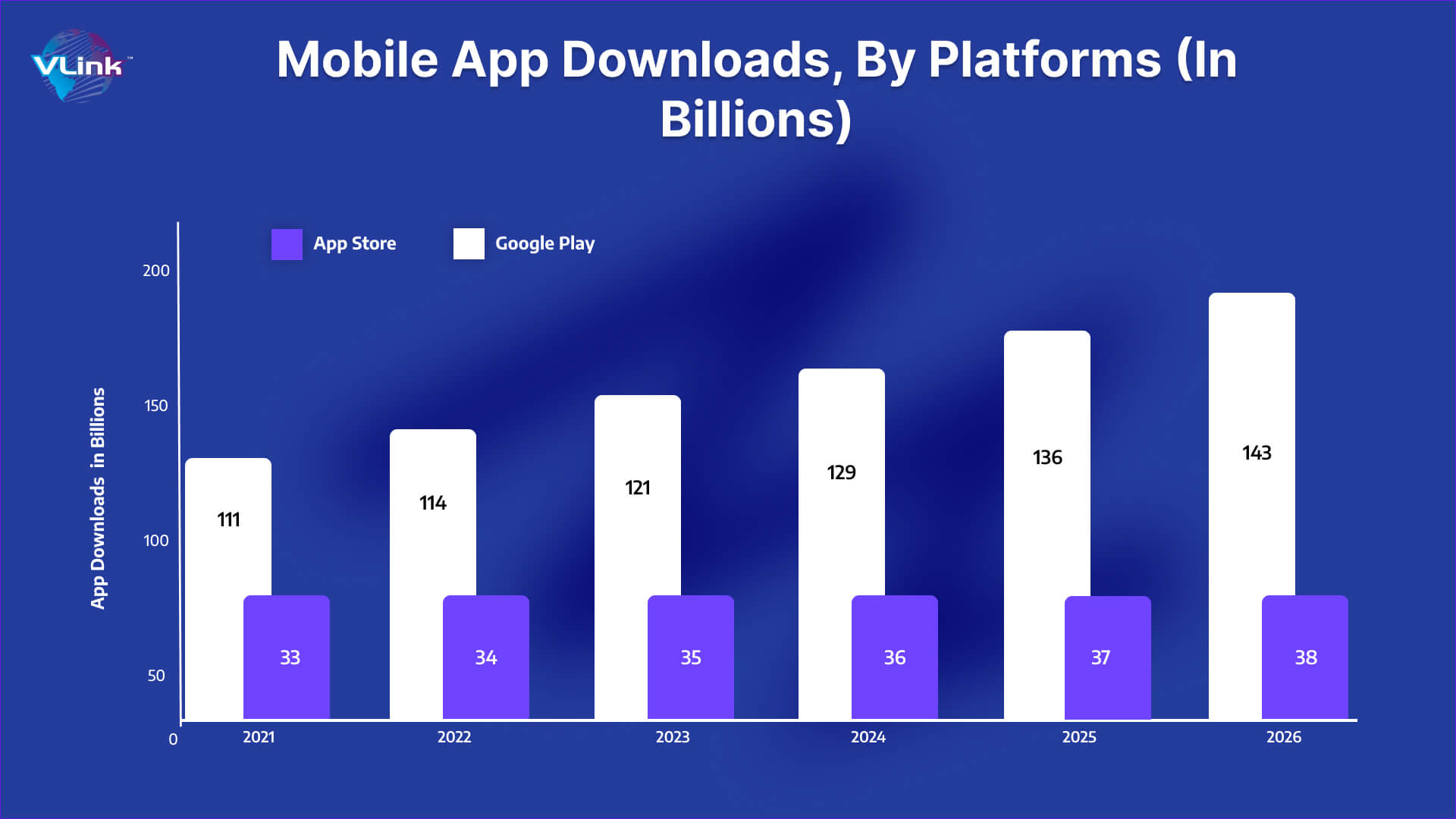 Here are some smartphone usage statistics for 2023 & beyond:
Year-over-year (YoY) growth for smartphone usage is predicted to be at a stable 2-3% by 2025.
It is predicted that by 2025, there will be 7.34 billion smartphone users worldwide, up from 6.92 billion as of 2023.
By 2025, approx. 72.6% of worldwide smartphone owners will access the internet solely using their cell phones.
It means by 2025, there will be over 1.3 billion people who will depend on their smartphones to access the internet worldwide.
Globally, there are around 10.37 billion mobile connections.
Believe it or not, there are 2.46 billion mobile connections worldwide.
There are expected to be 7.52 billion smartphone users by 2026.
The market for app downloads is anticipated to increase at a compound annual growth rate (CAGR) of 13.4% between 2022 and 2030 and reach an estimated value of USD 565.40 billion by that time.
In fact, it is anticipated that mobile applications will produce more than 613 billion dollars in revenue by 2025, with mobile games accounting for the largest portion of that total.
Mobile App Development & Download Statistics
Here are key stats of mobile app development & download in 2023 & beyond:
Play Store was responsible for 110.1 billion downloads in 2022, and iOS had 32.6 billion downloads.

21% of Millennials open an app more than 50 times every day.

49% of users open an app 11 or more times each day.

Mobile applications account for 70% of all American digital media consumption.

An average smartphone owner utilizes ten apps per day and 30 applications monthly.
Here are a few important mobile app statistics based on downloads:
Since more people are using smartphones and tablets, the number of downloads of mobile apps rises as their popularity grows. Research studies and figures indicate that the rate of app downloads is rising annually and will do so in the upcoming year. Over 218 billion app downloads were made in 2022, an increase of 75 over the previous year.
There were 90.3 billion mobile app downloads in 2018 in China and is predicted to grow to 147.2 billion downloads per year by 2023.
In North America, there were 12.1 billion mobile app downloads in 2018, and it is projected to reach 15.2 billion downloads in 2023.
When developing mobile apps, the first thing to think about is a revenue plan. Globally, free apps are downloaded the bulk of the time. Since many apps on the Apple App Store and Google Play Store are free to download, research data indicates that mobile consumers do not anticipate having to pay for app downloads.
Only a small percentage of smartphone users who download apps for free will do so if they are charged. Even still, 98% of app income is still generated by free apps. Free software downloads can still generate revenue.
The monetization method of in-app purchases is one that mobile app creators should consider. Therefore, app developers are able to release both paid and free apps.
Download Rates of Mobile Apps on Google and Apple Store
Google is the most trusted platform by the global audience based on a daily basis for even the smallest query search. In 2022's first quarter survey, the community counted over 2.65 million Android apps with 494K+ publishers in the Google Play Store alone.
While Play Store is removing low-quality & spamming apps from the store, its app numbers are increasing every day. The Google Play Store gets updated with around 3,739 new mobile apps regularly.
With such increasing Google Play Store app numbers, at the latest, its app download rate was noted as around 111.3 billion, which was around a 50% increase from the 2016 app download rate.
The SensorTower has projected a rise in the Google Play Store users' spending on apps from $53 billion (in 2022) to $60 billion by 2023.
Apple App Store is the second largest and the closest competitor of Play Store, with a varying user base region-wise. The Apple App Store, with a limited pool of 500 apps, counted around 1.64 million applications available to iOS users as of the 2022 Q3. This OS platform is in continuous expansion, with an average of 31,500 apps launched/month in February 2023.
There are 2.11 million iOS mobile apps accessible in the App Store, with 724K+ producers worldwide. Around 221,666 games make up the whole iOS app store, with the rest of the applications being non-games.
The most recent analysis by Statista indicates that 36,000 iOS mobile apps were downloaded and available globally in the App Store as of June 2022.
App Store predicts a revenue increase of about $96 billion by 2023 from $88 billion in 2022 Q1 due to the increasing popularity and user base internationally.
Play Store and App Store Categories Statistics
Here are both popular Play Store & App Store market stats by categories: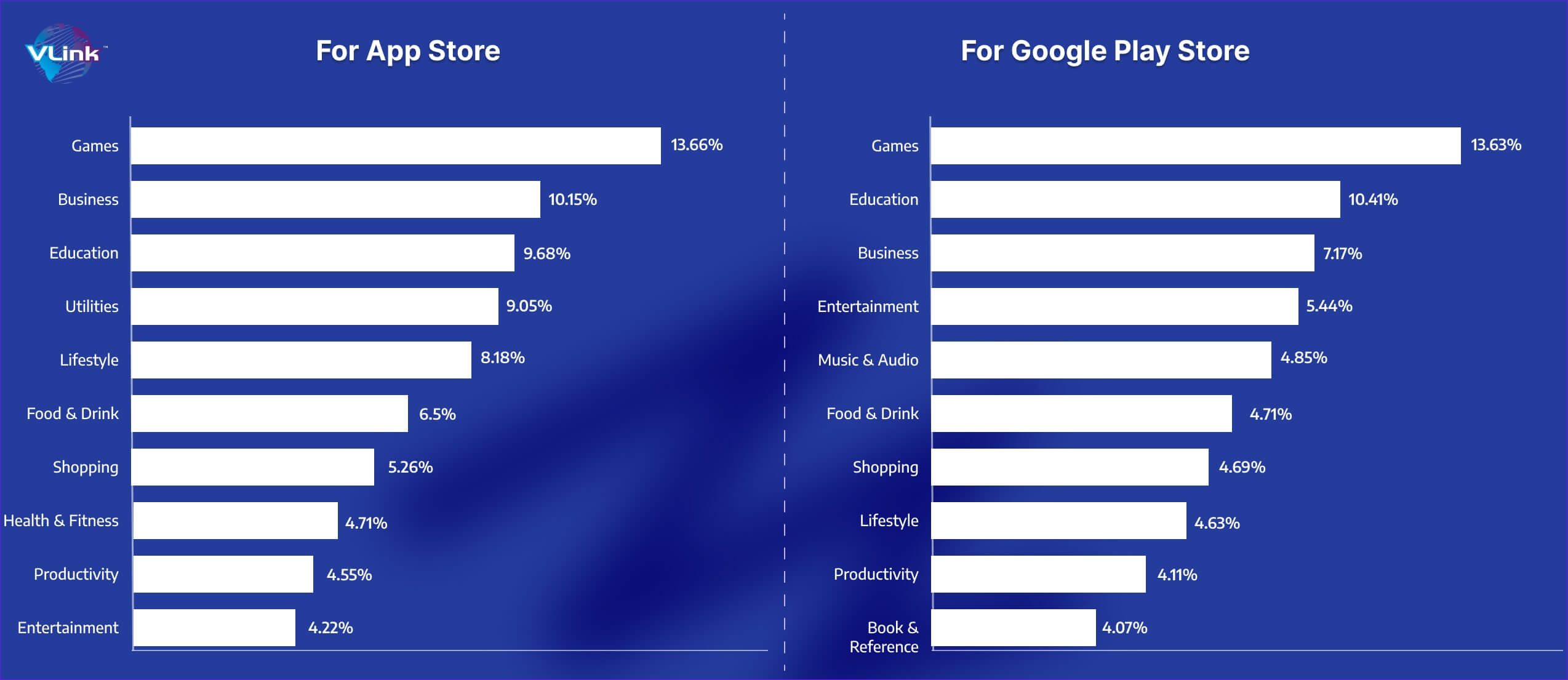 Let's discuss several app categories of both stores:
The number of social media users worldwide has expanded to a record 4.9 billion people worldwide. This figure is predicted to jump to approximately 5.85 billion users by 2027.
Market leader Facebook, which has more than 2.9 billion monthly active users, was the first social network to cross one billion registered accounts. The most popular social media sites are Facebook, WhatsApp, and Instagram, which collectively have over one billion monthly active users.
Facebook announced having more than 3.8 billion monthly core Family product users in the second quarter of 2023.
Social network users worldwide, by platform in millions, are shown below figure: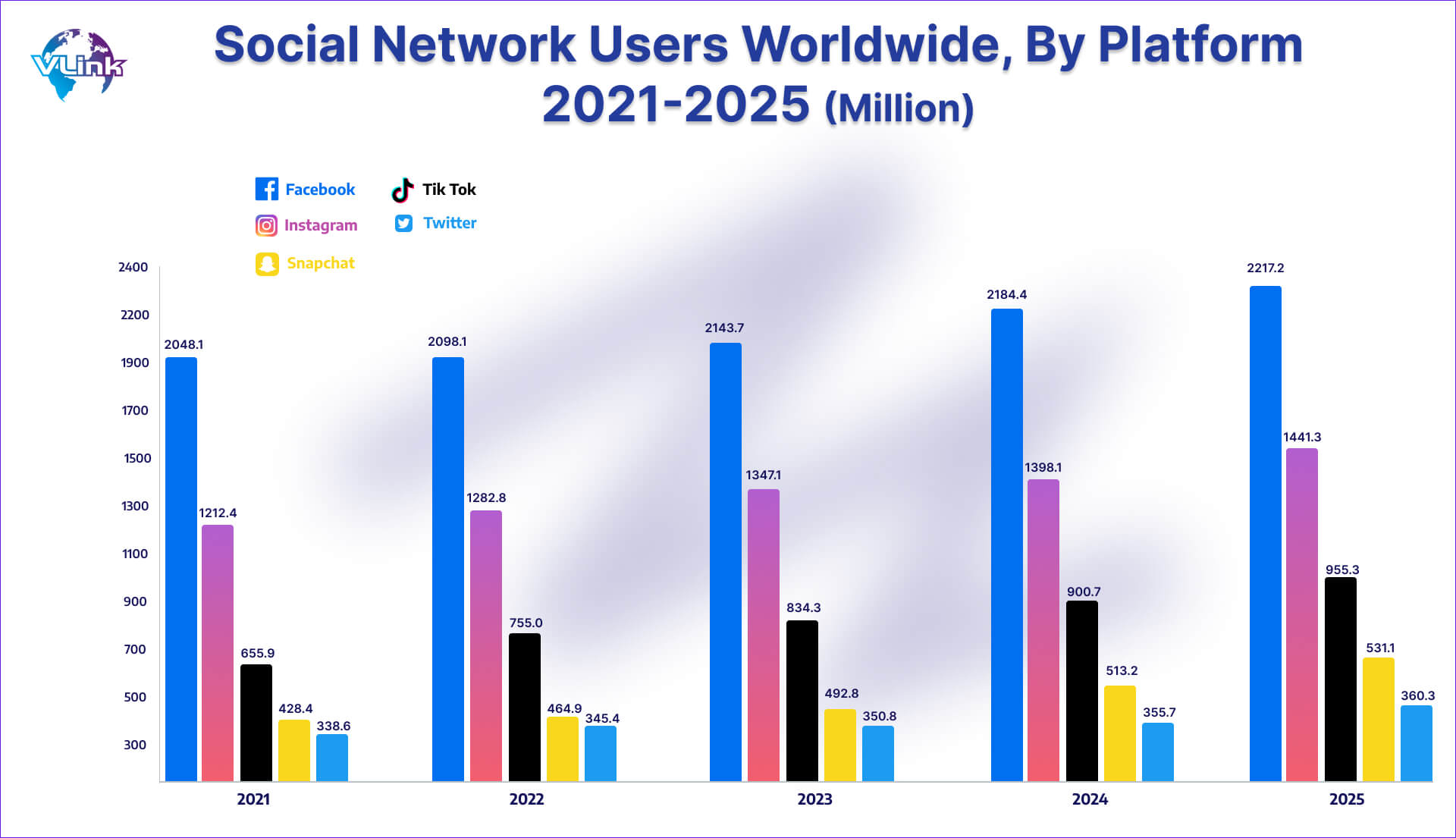 Do you want to be as successful as Facebook? It's essential to build a social media app like Facebook. Before starting this development process, you need to consider all strategies and features of this app.
Messenger apps and video calling software connect the world. Now, all online chat applications also offer HD video calling facilities, and their usage has increased a lot worldwide.
See below-mentioned popular real-time online chat app stats and their worldwide user base: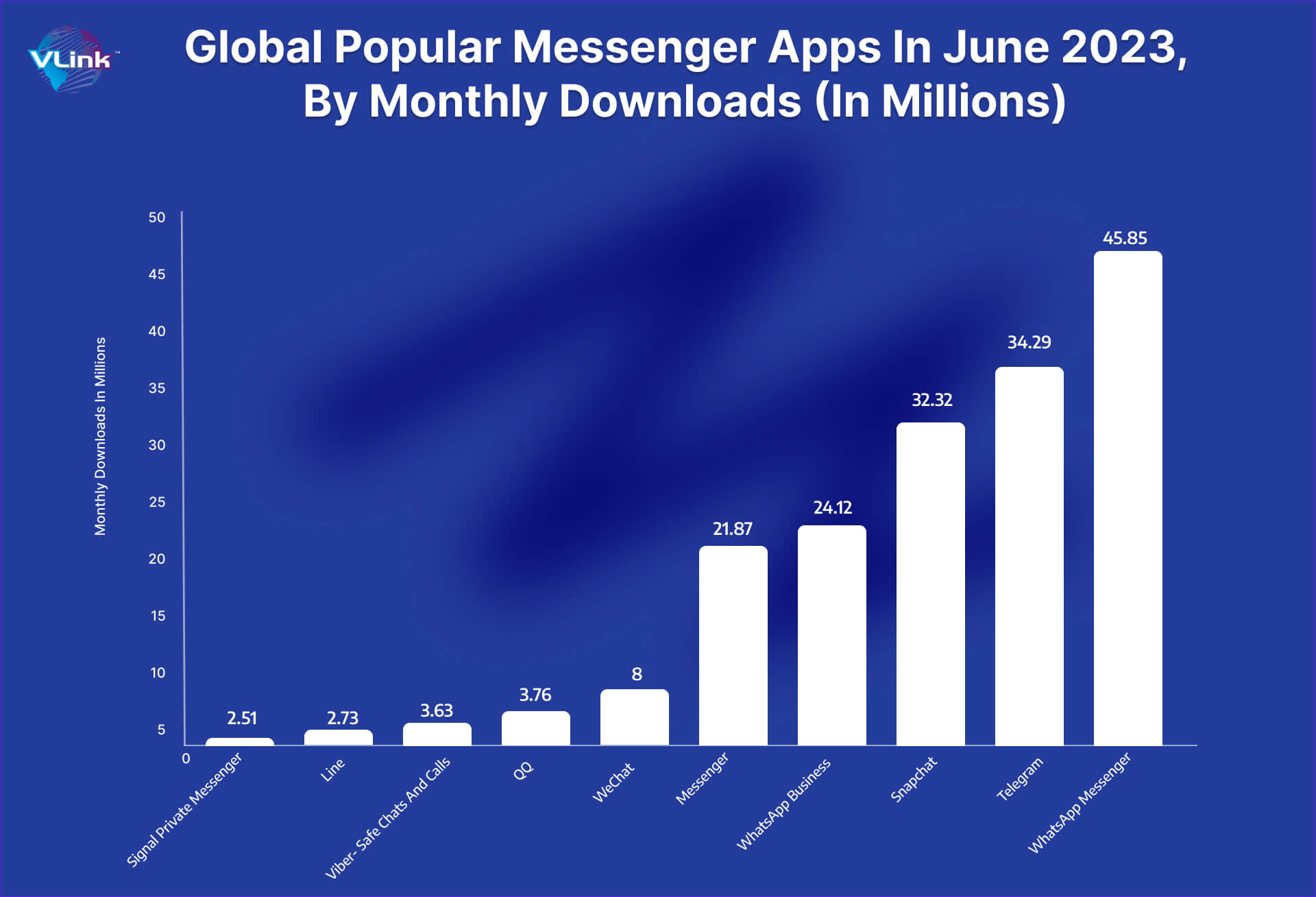 The market is filled with several top (OTT) Services or online video streaming apps such as YouTube, Netflix, Amazon Prime Video, Disney+ Hotstar, and AppleTV+.
As per Statista, the revenue from the OTT market was last estimated at $121.61 billion in 2019, and at a CAGR of 11.60% (2022-2027), it is predicted to reach $275.30 billion by 2022 and $476.60 billion by 2027. In 2022, the user penetration ratio will be around 35.7%, and by 2027, it is anticipated to increase to 44.1%.
Global video streaming software market (2023-2028) as shown in below figure: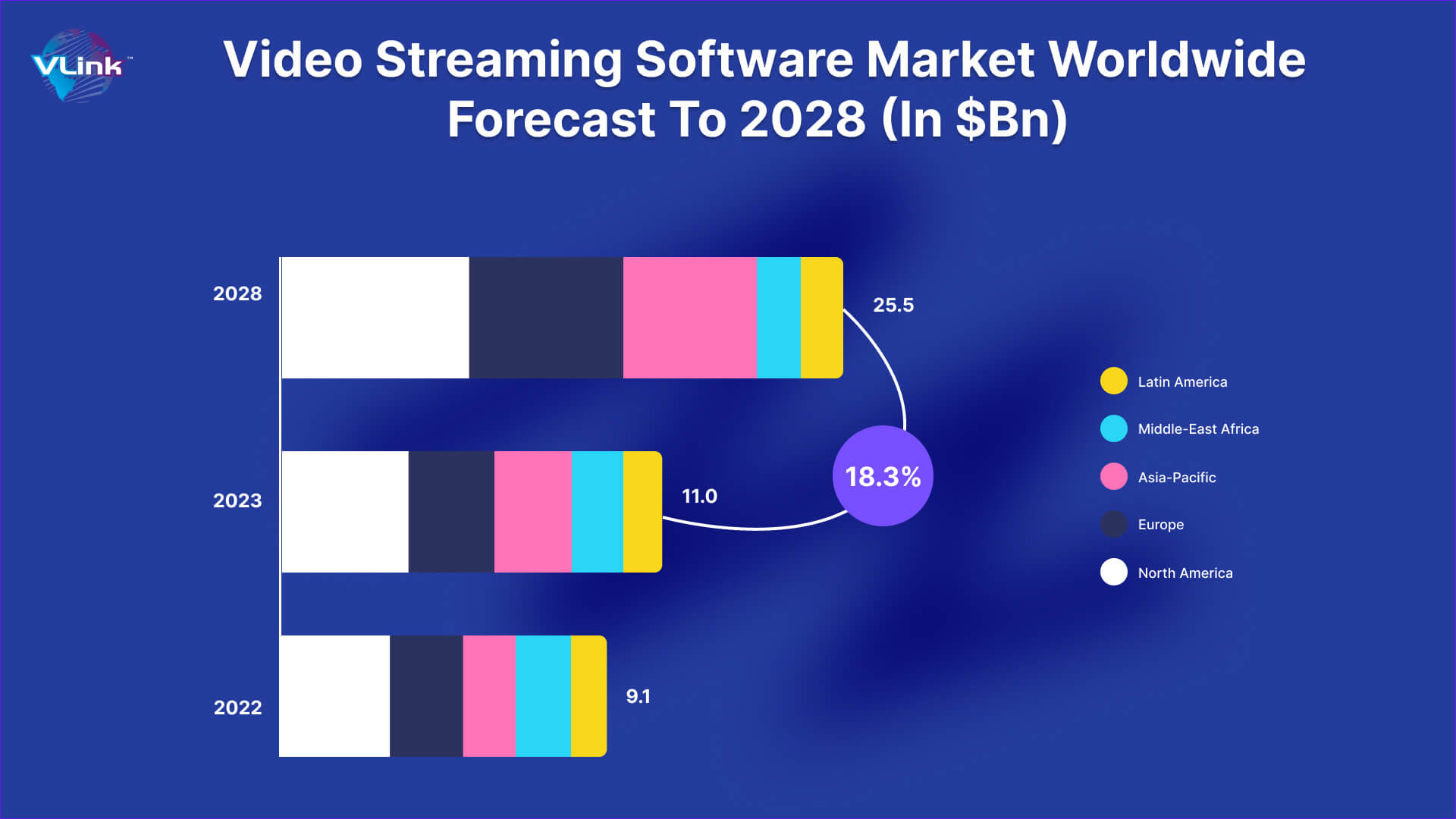 If you build an OTT app like Disney+/Netflix/Prime Video to be succeed in the video streaming market, you need to hire a reputable development company in U.S.
With such success rates, the market for personal finance apps on the internet is predicted to reach $1,576.86 million in value by 2027, growing at a CAGR of 5.7% from 2020 to 2027.
The market for e-trading mobile apps is expected to grow annually by 5.1%, reaching a value of $12.16 billion by 2028, according to projections.
It's expected that there will be 5.48 billion users in the digital payments market by 2027.
So, if you are planning to part of this growth, you need to build a custom financial software for your business.
By 2025, the income from on-demand applications will total $335 million due to the numerous apps and the rising popularity of on-demand services.
The CBInsights analysis estimates that US smartphone users spend $57.6 billion annually on the market's on-demand service applications. The following are the expenditure breakthroughs:
Furthermore, it is predicted that spending on on-demand app marketplaces in Europe will total $1.8 trillion by 2025.
Additionally, the market for on-demand apps opens up a lot of new business options for budding entrepreneurs and supports their growth in the next years on a worldwide scale.
Here are some stats on gaming apps from reliable resources:
In 2023, the mobile games segment is projected to generate $173.60 billion in revenue.

Revenue is anticipated to expand at a compound annual growth rate (CAGR) of 6.42% from 2023 to 2027, with a forecasted market size of US$222.70 billion at that time.

There will probably be 2.3 billion mobile gaming players globally by 2027.

User penetration is anticipated to reach 25.1% in 2023 and 29.2% in 2027.

In terms of worldwide comparison, the United States will produce the greatest revenue ($46,470.00m in 2023).

In the market for mobile games, the average revenue per user (ARPU) is anticipated to reach US$90.16 in 2023.

Mobile App Development Trends for 2023 & Beyond
Here are top mobile app development trends to follow in 2023 & beyond:
AI & ML Technologies
Looking at the most recent developments in mobile UI design without including AI & ML would seem very odd. The idea of "computational design" that AI introduces allows for automated algorithms to create app interfaces rather than human designers.
Alternatively, if there is little prospect of making significant changes, AI and machine learning development solutions can be employed to speed up the design process.
The goal of AI design programs is to resemble human decision-making closely. Therefore, there may be little variation in the outcomes. Beyond the basics, AI is also gradually making progress in iterative UX design.
Cloud-Native Mobile Applications
Unlike conventional methods, cloud-native technologies provide scalability, cost savings, and quicker development times. That's why many businesses and dedicated development team are moving toward building more successful mobile cloud-based applications.
Mobile app developers will be able to swiftly launch mobile apps in the cloud. It enables businesses to make use of functions like serverless computing, elastic scalability, and automated back-end services.
Dropbox, Slack, and Salesforce are a few businesses that use cloud-native mobile apps and cloud managed infrastructure services. Most programmers can develop mobile apps that leverage cloud hosting and services in 2023.
Integration Of Mobile Apps with Other Devices and Platforms
By 2028, the size of the worldwide smart home market is anticipated to be $10.9 billion, with North America accounting for more than a third of that figure. As a result, more sophisticated security systems, lighting, thermostats, cleaning equipment, and other gadgets will all be totally remote-accessible via cell phones.
Chatbots
Creating AI-enabled chatbots for customer management have emerged as a key trend in the mobile app development thanks to their capacity to provide customers with interesting and personalized conversational experiences. Chatbots interact with users in real-time dialogues using natural language responses to queries and requests.
Because of advancements in Natural Language Processing (NLP) and machine learning, chatbots are getting smarter and more effective, facilitating seamless interactions and improving customer satisfaction with mobile app experiences.
On-demand apps
According to the Harvard Business Review, the industry for on-demand app development is profitable, drawing in close to $60 billion in investments and more than 22 million users. The paper emphasizes that the on-demand economy will keep expanding and further solidifies on-demand apps as the future of application development.

Hire Developers for Mobile App Development Services!
VLink is a trusted mobile app development company in U.S. with 500+ experts, developers, engineers, and architects. Our dedicated development team is skilled in creating top-notch mobile apps that captivate users.
Hire experienced developers to create dynamic mobile apps & software using React Native, Flutter, and Kotlin. With experience in digital transformation, big data, machine learning, cloud computing, and more, our talent will deliver you the highest quality results for your business.
So why are you still waiting? To begin your next app development project, contact our experts.
FAQs
Frequently Asked Questions
How much does it cost to build Android & iOS apps?
The cost to build an iOS and Android apps can vary widely, depending on complexity and features. Simple apps may cost $5,000 to $20,000, while complex ones can range from $50,000 to $250,000 or more. Costs include design, development, testing, and ongoing maintenance. Hiring developers, use of third-party tools, and location can impact expenses.
How to create an Android or iOS mobile application for your business?
To build a mobile app for your business, follow these steps:
Define your app's purpose and target audience.

Select a development approach (native, hybrid, or cross-platform).

Design the app's user interface.

Develop the app using programming languages like Java, Swift, or web technologies.

Test and refine the app.

Launch it on app stores.

Promote and market your app to reach your audience.

Gather user feedback for continuous improvement.
What tech stacks do you need to develop mobile applications?
To develop mobile applications, you typically need different tech stacks for Android and iOS:
Android: Java/Kotlin, Android Studio, and Android SDK.

iOS: Swift/Objective-C, Xcode, and iOS SDK.
For cross-platform development, tools like React Native, Flutter, or Xamarin allow you to use a single codebase for both platforms.