How to build an OTT app like Disney+/Netflix/Prime Video
The increased reliance on mobile phones boosts the use of mobile apps in a variety of industries such as commerce, food ordering, entertainment, and travel. According to the figures mentioned below, industries select virtual users and online enterprises to reach more people throughout the world.
201 Views

6 minute
Because OTT (over-the-top) platforms like Netflix, Amazon Web Series, Facebook, YouTube, HBO, Apple TV, and other comparable streaming services simplify operational infrastructure and focus on the brand and narrative. These OTT streaming services have increased household involvement to incredible levels.
And consequently, businesses like media influencers, TV shows broadcasters, and digital businesses are leveraging great opportunities to have their own OTT app with quality streaming content. Even to build an app like Netflix, Disney + or Prime Video, they can easily manage by hiring a professional mobile app development company.
The story doesn't stop here as you will be surprised to see the stats of OTT app industry!
Table of Contents
1. Introduction
2. How OTT apps boomed in recent years?
3. Why you should go for an OTT app?
4. Must-have features to consider in OTT app development
5. Steps to build an OTT app
6. Trending techs used by Netflix/Disney+/Prime Video
7. How much does it cost to build an OTT app?
8. VLink's OTT app development approach
9. FAQs
How OTT apps boomed in recent years?
OTT video streaming platforms have accelerated content distribution over the internet. With the quick pace of OTT services bringing significant changes, there is a major influence in the digital media business.
According to Deloitte's report, over 68% of US households have daily access to OTT services, with consumers consuming material for at least 100 minutes (about 1 and a half hours) each day. Now that this is proven, firms may capitalize on the possibilities of OTT platform development, including OTT software and mobile app development.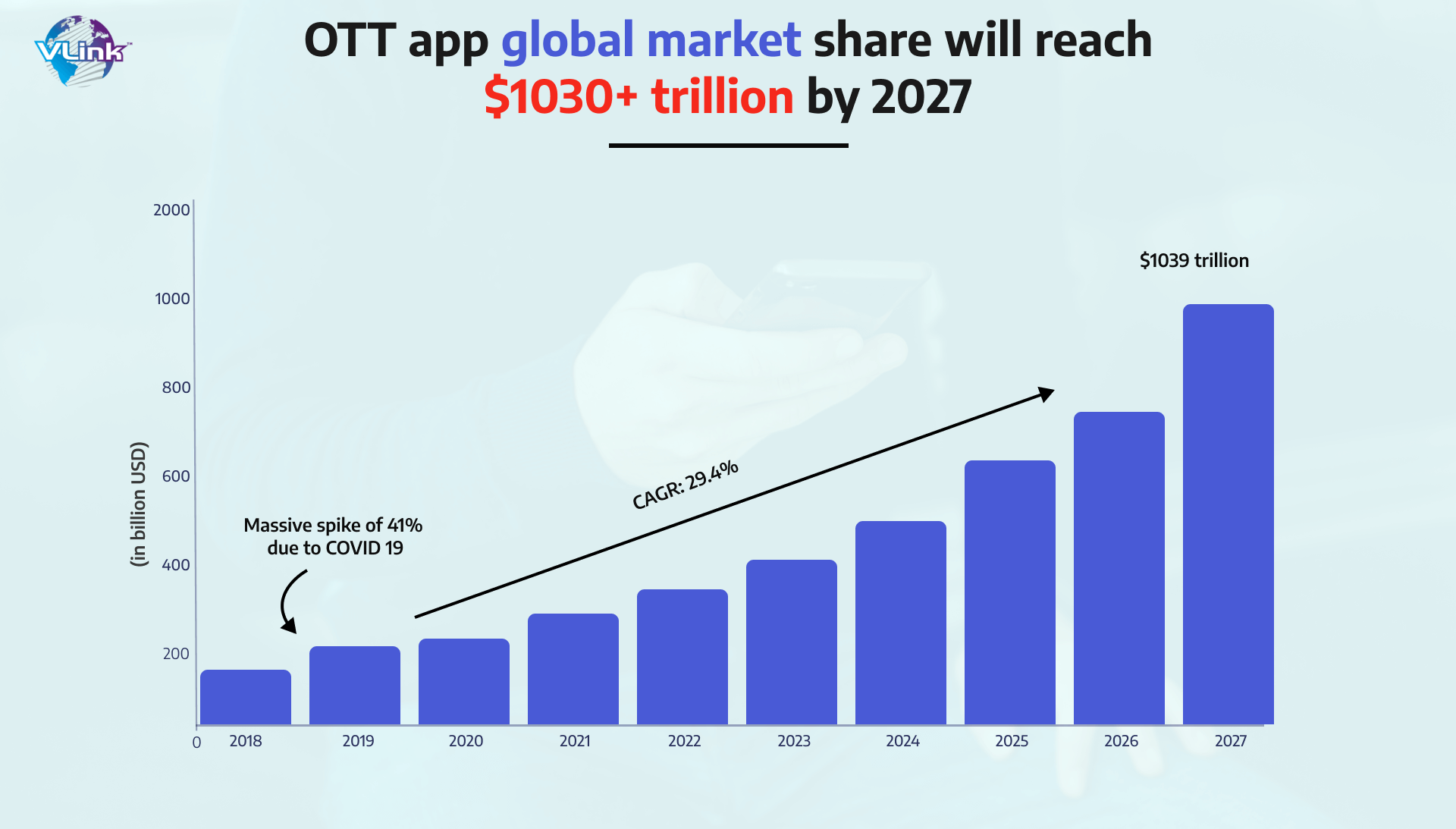 The popularity of OTT app creation is skyrocketing right now. The global market for over-the-top video is expected to reach $316 billion by the end of this year.
The impact is clear in all major corporate areas, including the media and entertainment industries. The face of this sector has drastically changed, particularly with the development of over-the-top services.
As the market and trends continue to evolve, organizations are focused more than ever on OTT video streaming growth.
Why should you go for an OTT app development?
As the success of popular OTT apps like Netlike, Disney+ and Amazon Prime Video can be seen in the above stats, more businesses are likely to level up their game in video streaming app development. People are loving the way businesses are providing their favorite content through online streaming, and that's why building an OTT app can be a win-win for everone.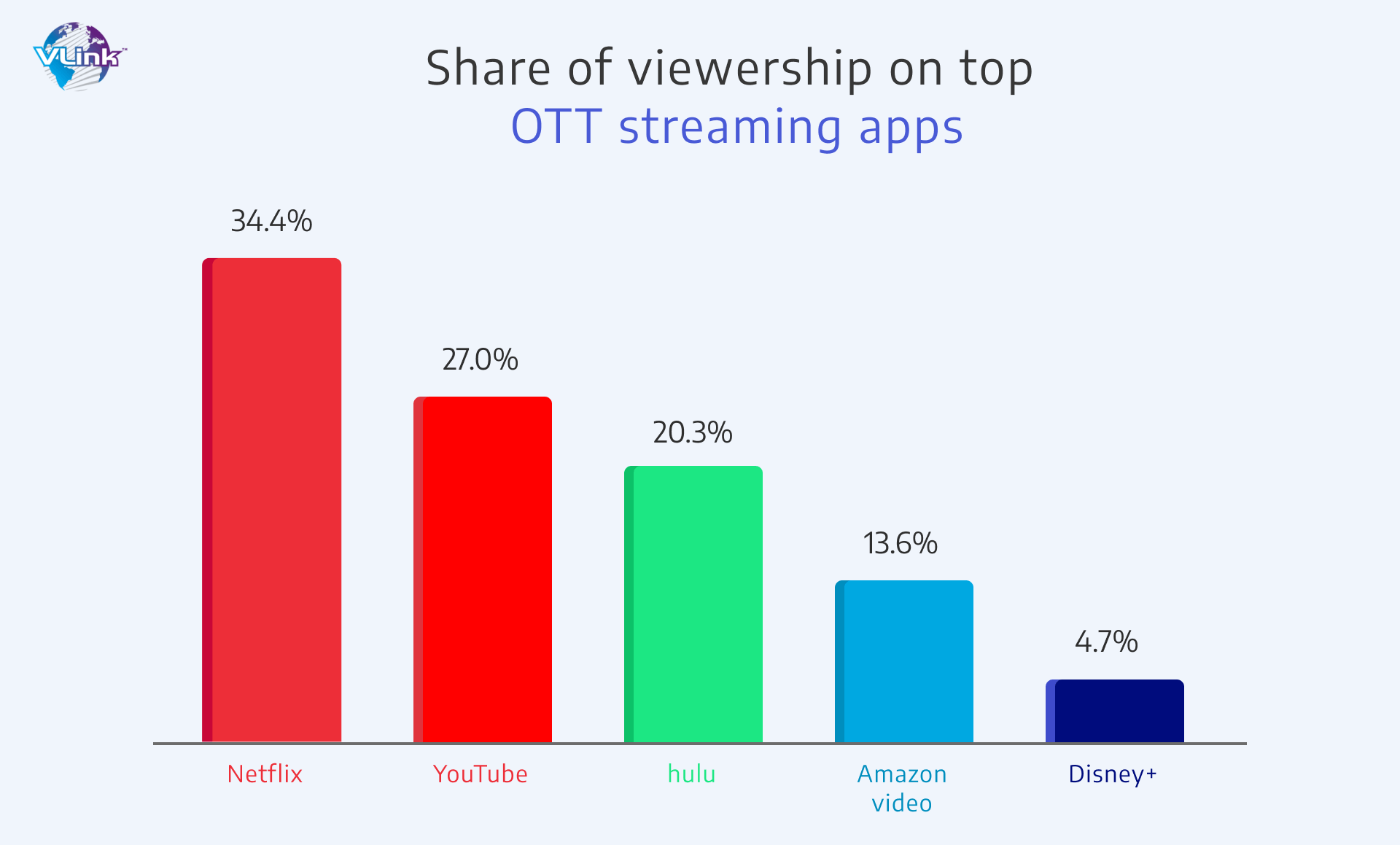 Here are the top reasons you should go for OTT app development:
The first thing that draws people to OTT platforms is the ability to select what material they view and when they see it. OTT applications, as opposed to traditional TV platforms that consist of pre-scheduled shows, allow consumers to see material on demand.
When it comes to service costs, OTT applications are less expensive than traditional TV platforms. Because most OTT platforms employ subscription-based revenue strategies, customers pay once and may access the content indefinitely. Furthermore, users can cancel or upgrade their membership plans at any time.
One of the obvious benefits of OTT platforms is that they provide a diverse choice of material when compared to traditional TV platforms. OTT applications can readily accommodate varied user interests because they offer a vast collection of TV series, movies, documentaries, and other types of unique content.
OTT applications are freely accessible on a variety of devices, allowing consumers to view their favorite content whenever and wherever they choose. This is one of the most significant advantages of OTT applications over traditional TV platforms.
Must-have features to consider in OTT app development
Even if you know how mobile apps work, the concept of OTT app development might seem a bit complex to you. And for that, you will need a professional OTT development company that can help to build a roadmap and execute it for you.
But, before we begin with the crucial steps for building an OTT app like Netflix, Disney+ or Amazon Prime Video, let'slook at the must-have features for your OTT app.
This is an obvious feature. Your application should have a user profile option that allows users to manage their side of the application, including the material they wish to watch, their preferred payment method, and suggestions based on their watching history.
Also, if you want to go the Netflix way and add more users to the app, have numerous screens in the app, with each user having their own set of OTT platform capabilities.
It is one of the most important aspects of OTT applications. Users may simply search for different sorts of material based on their interests using smart search. It keeps consumers from searching the entire site for their preferred options.
To boost user engagement, you may also incorporate analytics tools to analyze their search behavior and offer customized results.
Payment gateway integrations
Integration with a payment gateway is a vital aspect in the creation of an OTT platform. It is the last step done by the consumer when he decides to purchase a premium plan or subscribe to your content on the OTT platform. There should be multiple options to purchase subscriptions, focusing on providing seamless customer experience.
Push notifications are one of the engaging features that no OTT app development company can overlook. This feature provides businesses with an easy opportunity to promote their services and upcoming content. For OTT applications, you should be certain that your users get timely notifications of updated content, repayment status, or subscription notifications.
Favorite list or Watchlist
The Watchlist functionality is the next essential feature of an OTT video streaming application. The user can add items that they want to view later. You only need to use a notification mechanism to remind people to watch the series.
Category-based content distribution
Businesses may improve their consumers' experiences by classifying material methodically based on genre, year of release, or language. This makes it easier for their viewers to find the episodes or movies they want.
By providing material in several languages, you may simply expand your business outside the primary place in which you operate. You may also give subtitles and soundtracks in many languages to your consumers, like Netflix, Disney+, and Amazon Prime Video do.
Crucial steps in OTT app development
Now comes the part where you need to focus the most after including the must-have features for your OTT app development. The steps involve multiple phases to assure you get the exact desired product. Let's begin:
1- Picking the right category
Before diving into the world of OTT platform app development, you need to first narrow your focus. As a result, the first and most important stage is to identify the audience you want to target with your OTT streaming content and invest time evaluating market information.
Here are the most-watched categories on OTT apps since 2019: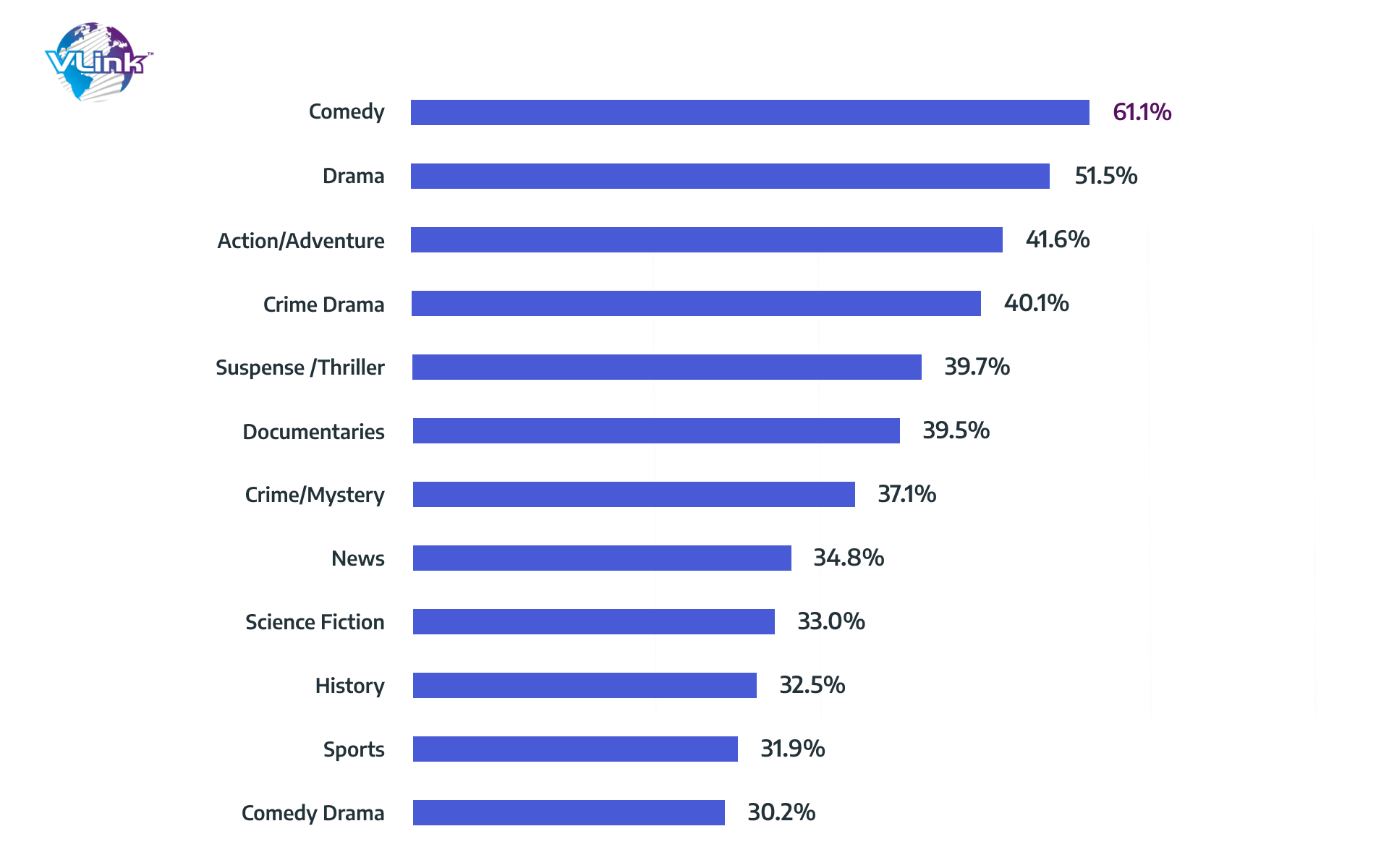 Categories like entertainment, sports, and news are the most trending categories, but you can choose them all. Here, your demographic analysis will play a crucial role as you will get to know what your audience likes to watch on OTT apps.
2- Loading the licensed content in inventory
It is critical that the material you publish is meaningful and relevant to your target audience. This applies to both the video material and any textual explanations that accompany it. Because OTT platforms are subscription-based, it is also critical to provide a diverse choice of material from which users may pick.
To broadcast originals on your platform, you must get license authorization from content creators. The sort of license required is determined by the type of material. Your content library should comprise both live and on-demand material. This allows viewers to watch programming as it airs or catch up on prior episodes whenever they want.
4- Select an app monetization business model
The following phase in the OTT app development process is to select the best business model for monetizing your business. There are five main OTT business models that are currently in use by the popular brands:
Free-to-watch: The best way to utilize this model is to offer a trial period for a month or two. Users can leverage the content on your OTT app and once they get engaged the trial period will provide subscription plans. This model works the most when you are launching a new OTT app.
Hybrid model: It is a combination of both free and paid content on an OTT video streaming app. While you can choose to offer free content, some of the premium content will remain available if the users purchase any subscription plan.
SVOD (Subscription Video on Demand) model: Subscription-based model is the most common business model used by popular OTT apps like Netflix and Disney+. Users can choose from different plans according to their requirements. You can customize these plans to give more flexibility to users for choosing a subscription plan.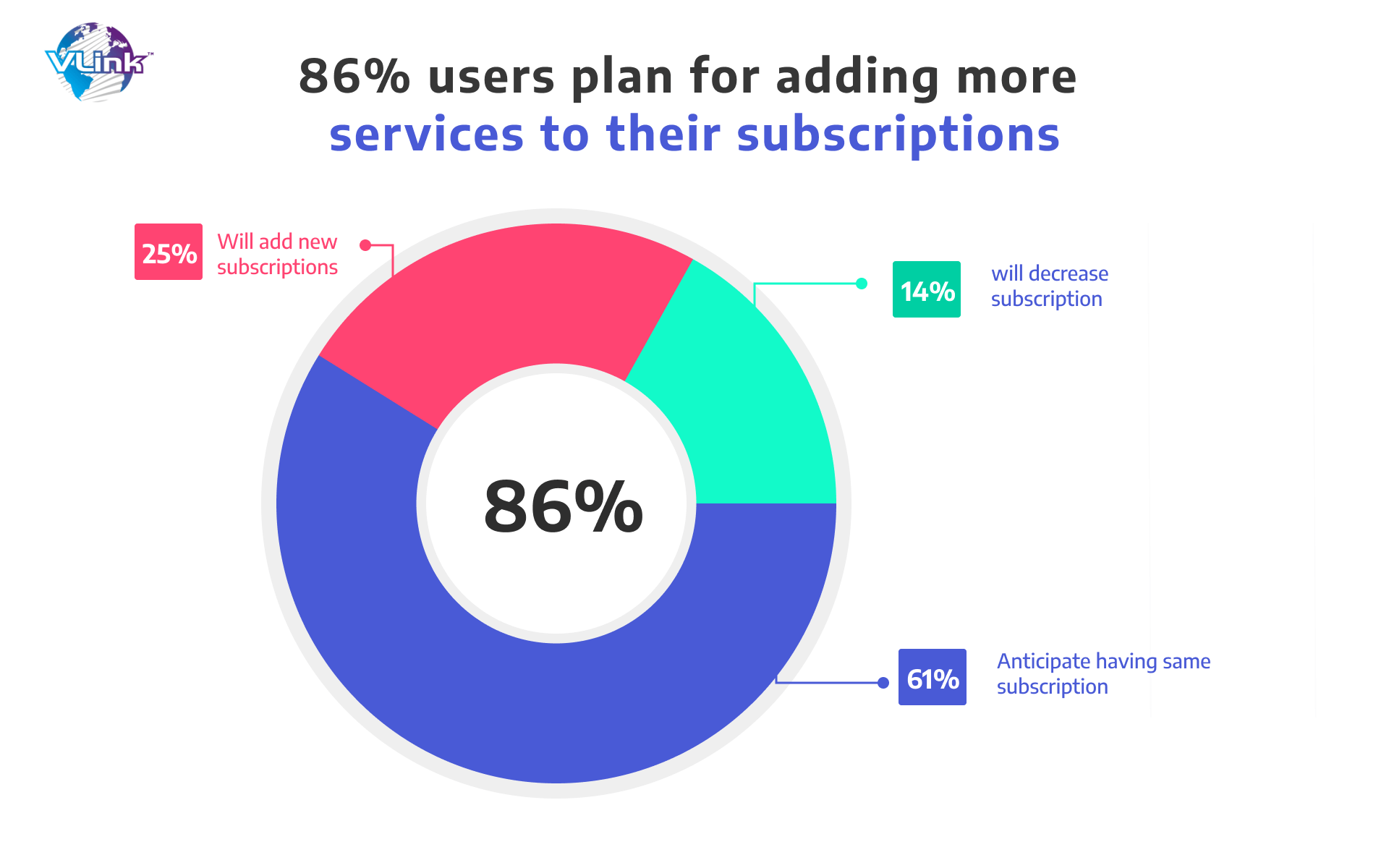 TVOD (Transactional Video on Demand) model: This model focuses on giving the users flexibility to pay only for the content they want to watch, such as a TV series, live sports, or a movie.
AVOD (Advertising Video on Demand) model: This model is based on providing free content in exchange for watching the sponsored video as ad or promoted content. Businesses are charging according to the number of views on these videos from advisors. The more active users your OTT app has, the more views on the video, and hence increased revenue.
All these models are discussed in depth in the preceding section. Choose a model that fits your company's goals and needs.
5- Utilizing the best OTT app development tech stack
Next step is to choose the right technology stack for building your OTT video streaming app. While there are several OTT platform development technologies and third-party tools that may be utilized to build your OTT applications, the ultimate pick will be based on your precise requirements and OTT app concepts.
To get a better idea and the most effective combination of mobile app development technologies, we have gathered the best tools together for your help: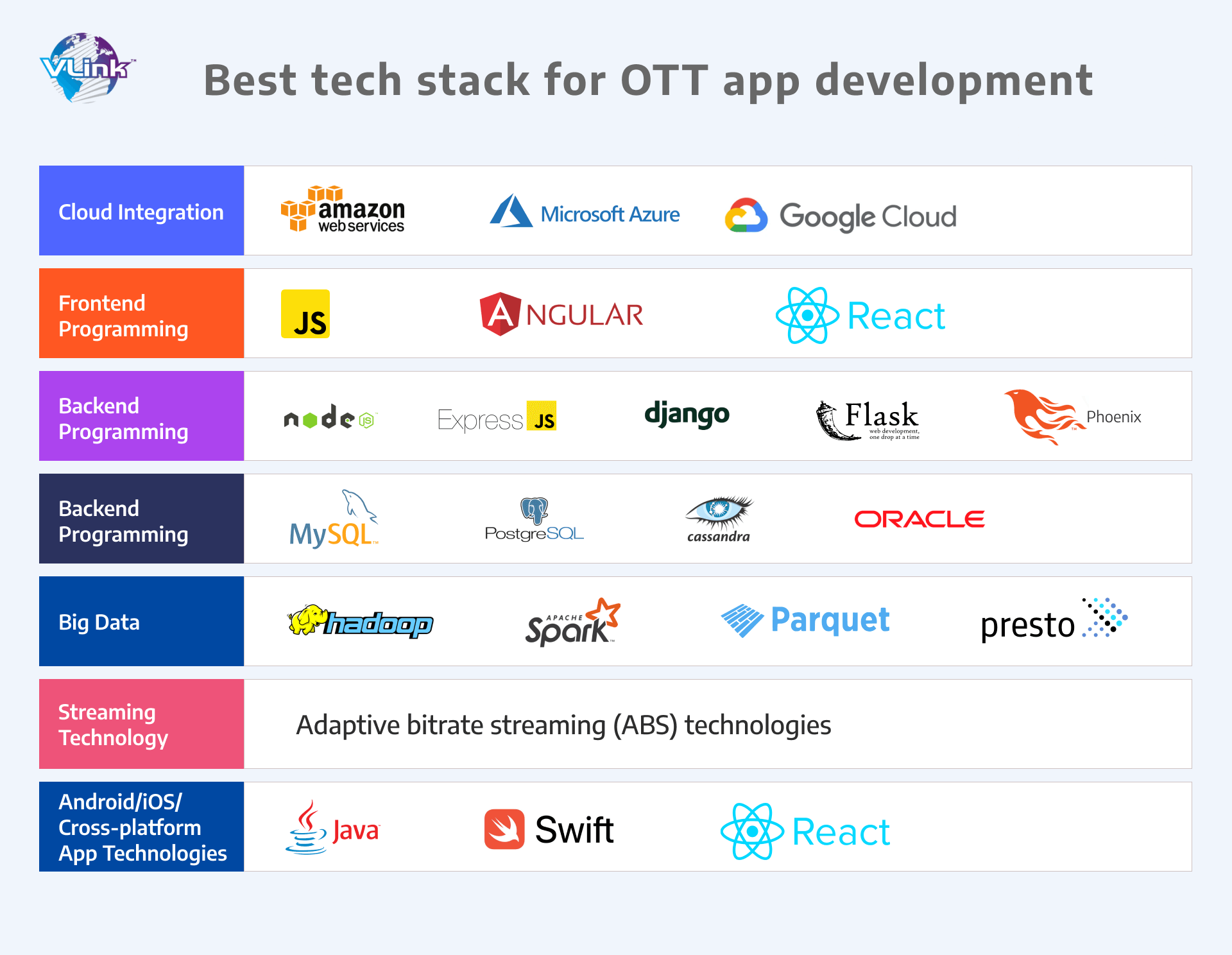 6- Features and technical integrations
Analyze your competitors to decide the features to be integrated and then list down all the necessary technical aspects. You must also finalize the platforms and devices for which you intend to create your app. You can, for example, have a web app, a smartphone app, a TV app, or a cross-platform app that works on all platforms.
Moreover, there are multiple APIs (Application Programming Interfaces) available that can make your OTT app more furbished to provide top-notch experience. We have already listed the most crucial OTT app development features before this section. And if you want to add more functions, our experts are always available to serve with better solutions.
7- Testing & QA for improved app experience
While you're focusing on boosting the revenue and creating a brand through OTT app development, you should know that quality user experience will play a crucial role. To assure this, test every screen, feature, functionality, navigation, and every dynamic activity that your OTT app offers.
Focus on providing a captivating video streaming experience while offering original content. With several OTT providers available, focus more on delivering excellent content to the public.
Trending techs used by Netflix/Disney+/Prime Video?
Among all the reasons for why OTT apps are so popular, one reason is the accurate utilization of innovative technologies such AI and machine learning. Netflix, Disney+, Prime Video, and a lot of other OTT apps are focusing on generating effective responses while automating their experiences.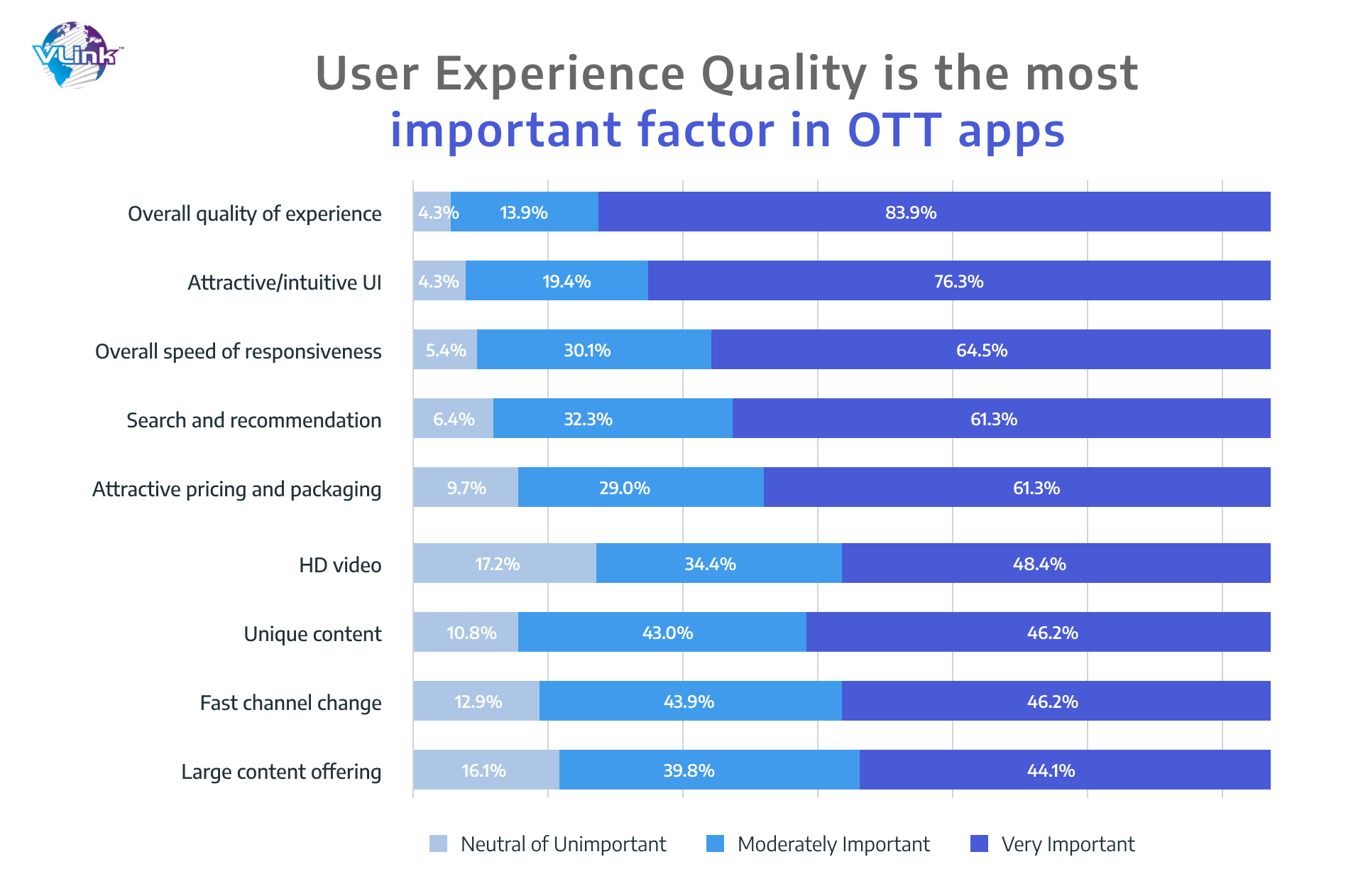 Personalization of thumbnails
Over time, OTT apps like Netflix & Prime Video learned that it could not depend just on titles to captivate viewers; it also needed to produce aesthetically appealing thumbnails. AI produces thumbnails by annotating and ranking hundreds of frames from a previously watched movie or TV show to decide which thumbnails are most likely to elicit a user click.
Tailored content recommendation
The integration of AI in OTT apps is helping businesses to analyze users' choices when it comes to streaming their favorite content. Smart algorithms analyze their behavior, choices, and the time they dedicate to watching their content. And this helped OTT app businesses to personalize their experience by recommending content that they will love to watch.
Streaming quality optimization
AI-based user experience analytics make sure that users are watching their favorite content in the best possible resolutions. The algorithms track the quality of transmitting video content as suggested in user's device (240p, 360p, 480p, 720p. HD, 4k, etc.) and enhances it when the network's strength gets better.
How much does it cost for OTT app development?
Analyzing the app development cost, regardless of industry, is something that every business owner thinks about before deciding. It is significant because firms cannot devote all their efforts to building an app. As a result, having advanced awareness of all the important aspects influencing the OTT app development cost becomes critical.
The key aspects that might greatly impact the entire cost of establishing your OTT platform are listed below.
App's complexity

Features & technology integrations

Developers' onboarding & location
The average cost for developing an OTT app from scratch like Netflix ranges between $25000 to $150,000. However, having a firm grasp of these aspects ahead of time may assist organizations in determining the actual OTT app development cost.
VLink's OTT app development approach
It is critical to be informed of all current market trends in businesses like media and entertainment, in which the customers' needs change daily. Not only does their comprehension matter, but so are the proper solutions for providing a tailored experience to consumers.
VLink has crafted appealing mobile apps with considerable competence in OTT app development and access to sturdy technology. Our development team has completed several app development projects both locally and worldwide.
Aside from OTT app development, we also assist our clients with extensive market and competitive analysis to create a distinct yet demanding offering. The odds of success are quite high if optimal practices and a unique app idea are used.

FAQs
Frequently Asked
Questions
What are OTT apps?
Over-the-top (OTT) apps are video streaming platforms that provide users content from all over the globe such as TV shows, movies, live news, live sports, and much more. These apps can be downloaded from app marketplaces and can be viewed on multiple devices such as Smart TV, smartphones, tablets, laptops, etc.
Which OTT apps are popular nowadays and why?
The most popular OTT apps are Netflix, Disney+, PrimeVideo, Hulu, HBO Max, and YouTube. The reasons behind their popularity are the convenience of accessing content anytime, flexible pricings, on-demand videos, and top-notch user experience.