Whether for sales, marketing, or support, customer communication plays a vital role. In addition, clients prefer to continue with companies that provide hassle-free collaboration and easy customer management. That's where AI-enabled chatbots come in!
AI chatbots are now the quickest and most effective method to deliver customized, proactive experiences that drive customer engagement. They increase customer services by automating consumer support.
In fact, 35% of customers want more businesses to employ chatbots to enhance customer service and communication strategies. The market size of AI chatbot from 2021 to 2027 is shown in below figure:
With several artificial intelligence chatbot advantages, you should make plans right away to automate client interactions and guarantee a hassle-free customer experience at every turn.
In this blog, we will explore AI-powered chatbot's benefits, integration process, and use cases.
Let's start with its basic definition.
What is an AI-Enabled Chatbot for Customer Service?
An AI-enabled chatbot is a virtual assistant powered by artificial intelligence (AI), machine learning (ML), and natural language processing (NLP) that simulates human-like communication.
An Artificial chatbot can read and understand written human language, which enables it to function independently. It can deliver interactive answers to customers in real-time by understanding their languages.
With the ability to learn from previous conversations, chatbots may change their responses to fit several contexts and recurring patterns. For example, it's great for organizations who want to predict website visitors' purchasing trends.
Chatbot has developed in different industries and gained great attention from customers. 56% of consumers prefer to pay more for their purchases if companies will help with excellent customer support.
Benefits of AI-Powered Chatbot for Customers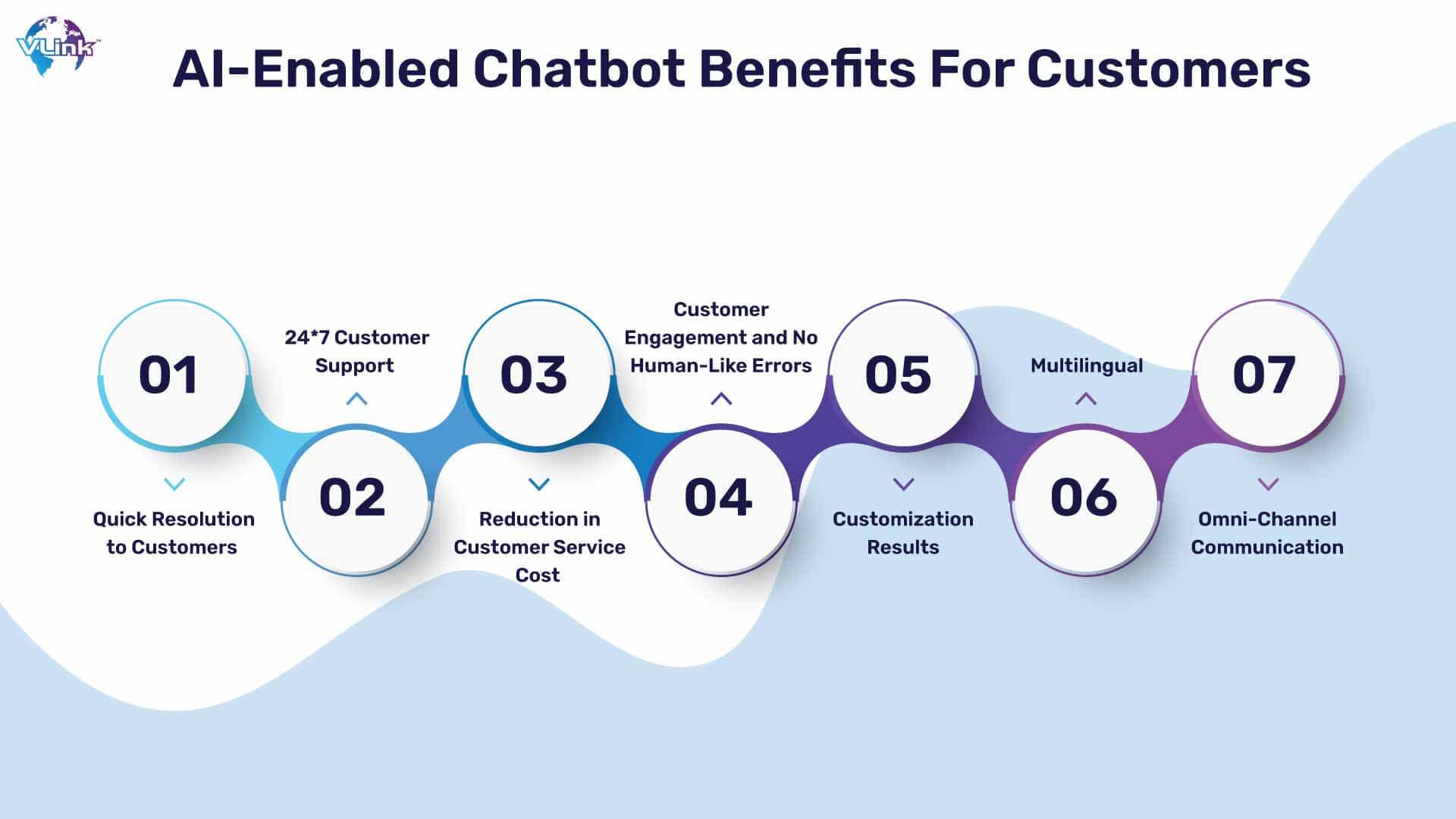 Every consumer expects an immediate answer to their question. Nobody likes to wait or hold out. The customer support procedure is now a lot simpler and faster, thanks to AI. It is frustrating for the person to have to wait for the person to join the live chat for more than five to ten minutes.
The AI chatbot, on the other hand, will respond to clients right away and provide solutions.
The best conversational AI has a short reaction time built in and responds to requests right away with human-like replies. Since AI can be consistent, there is no waiting period. Additionally, it can carry on a real-time conversation with many consumers.
One of the biggest benefits of AI chatbot solution is that it increases customer satisfaction by providing instant, 24x7 customer support. Whether the user is attempting conversational speech or chatting, artificial intelligence supports the inquiries whenever they arise and promptly finds solutions.
Every customer will be happy and satisfied to receive such excellent but less in-depth customer care.
Chatbots easily satisfy the 75% of customers who anticipate a response within 5 minutes of interaction by providing prompt, relevant answers.
AI chatbot implementation is an investment to optimize customer service expenses. By investing in this support, you can save extra customer service costs that can be used in hiring more support resources.
With artificial intelligence chatbots, a business can minimize costs on different levels:
Salaries

Training

Infrastructure
Similarly, customer service with AI chatbots can benefit in different ways:
Reduce chat availability at peak times

Automate common business operations

Allow for new customer service paradigms
In addition, AI bots decrease a significant amount of expenses and add value to the bottom line by delivering a more seamless brand experience to customers.

Enterprises may enhance consumer engagement through chatbots.
Engagement may be pushed based on user data and made more engaging by deploying conversational AI chatbots.
As bots may provide regular responses, you can avoid giving clients useless information.
In addition, clients are more likely to stay on your website longer and continue the dialogue if they receive pertinent and prompt replies.
Ways to improve customer engagement using chatbots:
Personal touch to conversations-
Artificial Intelligence Chatbots identify responses as per customer details and history. So they can engage at a personal level and drive conversations.
Real-time response-
Bots help to deliver fast, real-time responses and stay ahead of the competitors.
One-on-one responses-
Customers want quick one-on-one responses. You can use virtual assistance to meet that goal and enhance their experience with your brand.
The capacity of chatbots to analyze client data and interactions allows them to provide customized replies and recommendations that cater to the unique requirements and preferences of each consumer.
This degree of personalization may include everything from making recommendations for items based on past purchases to coming up with unique solutions for challenging problems.
A chatbot for a retail store, for instance, might suggest goods based on a customer's browsing history. In contrast, a chatbot for a healthcare provider can provide tailored advice on how to treat a specific medical problem.
Chatbots may help you create more meaningful connections with your consumers, which can enhance loyalty and customer retention by offering tailored experiences.
63% of business leaders agree that AI/bots can deliver hyper-customized experiences to customers.
68% of customers are willing to transfer brands that offer customer service in their language. In addition, 64% of respondents stated they would be prepared to pay more for goods or services that allow customers to interact with them in their native tongue.
These results highlight the value of offering multilingual help to raise customer satisfaction and promote business expansion.
Chatbots may be configured to provide multilingual service, making them indispensable for multinational corporations looking to broaden their consumer base and communicate with clients in various time zones. With this feature, you may speak to consumers in their native tongue, which will increase their happiness and loyalty.
Additionally, chatbots can offer in-the-moment translation services, allowing for smooth connections with clients who speak multiple languages. It not only improves the client experience but also creates intercultural understanding and a more welcoming workplace.
According to Juniper Research, demand for chatbot messaging apps is expected to grow significantly from 3.5 bn in 2022 to 9.5 bn by 2026.
This growth is anticipated to be mostly fueled by e-commerce businesses' growing preference for omnichannel retail methods. For consumers to have relevant dialogues across all platforms, an omnichannel customer support strategy must be put in place.
By offering automatic replies that include consumers in meaningful conversations, conversational AI has the potential to be extremely important in delivering continuous service.
You can contact your consumers wherever they are and provide them with a seamless experience by utilizing a variety of channels, including social media, messaging applications, and email.
Real Use Cases of AI Chatbots in Different Industries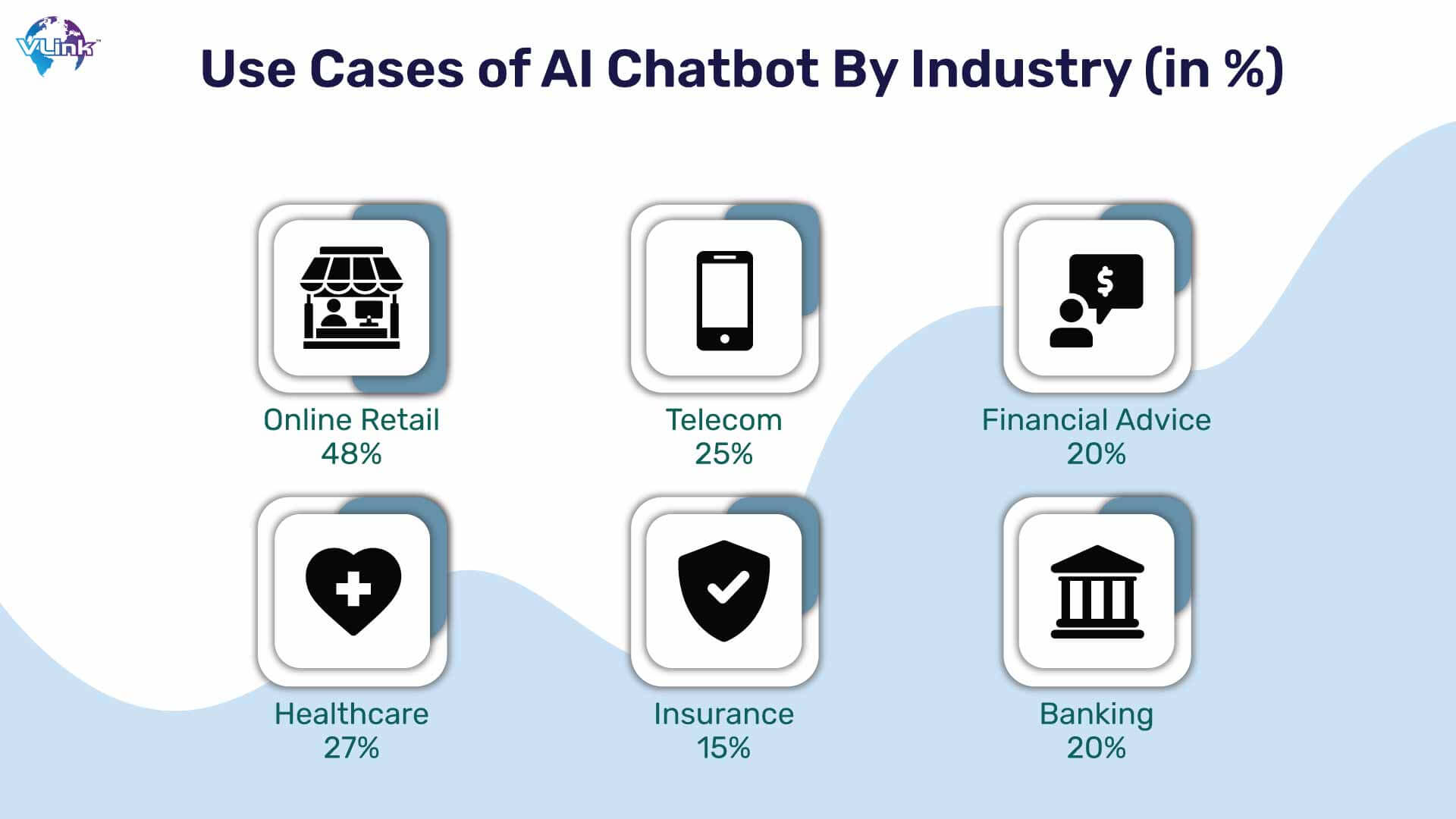 AI-Integrated bot helps in different industries and eases customer care processes everywhere. Here are use cases of AI chatbots in the following sectors:
Retailers are fueling their businesses with AI bots incredibly. According to Insider Intelligence, the consumer retail industry spent $2.8 bn in 2019, and this figure will reach nearly $142 bn by 2024.
Use Cases of AI Chatbots in the Retail Industry:
Chatbot provides custom recommendations based on active sales and ongoing marketing campaigns.

The virtual assistant will answer customers' queries.

It keeps customer engagement always up to the mark.

Chatting support is available 24*7.
Also Learn: How better experience can lead to more sales in retail industry.
The AI Chatbot will provide different leverages to the healthcare industry and grow the business quicker than traditional methods.
The worldwide healthcare market size was estimated to reach $196.85 Bn in 2023. It is projected to raise $944.65 Bn by 2032, with a growing CAGR of 16.98% from 2023-2032. These figures are showing that how digital transformation revolutionize the healthcare industry.
If you want to grow your healthcare business in today's digital world, you need healthcare web development services. A mobile-friendly website will provide several benefits such as Real-time communication, BI reports and dashboards, Data storage and maintenance, easy patient management, etc.
Use Cases of AI Chatbots in the Healthcare Industry:
It helps to book appointments quickly & easily.

It provides required medical information to the customers.

It provides instant customer support to customers' queries.

It collects patient information and automates the data in the database.
Also Learn: everything you need to know before developing a healthcare chatbot.
The AI chatbots market size in the education sector was valued at $2.48 Bn in 2022 and is predicted to reach $53.68 Bn in 2023. Operating your EdTech business with AI chatbots will benefit you.
Use Cases of AI Chatbots in the EdTech Industry:
24*7 available support systems

Effective in making better interactions with customers

Personalized learning experiences

It collects feedback and takes reviews from chatbots
Also Learn: how to build an eLearning app like Duolingo.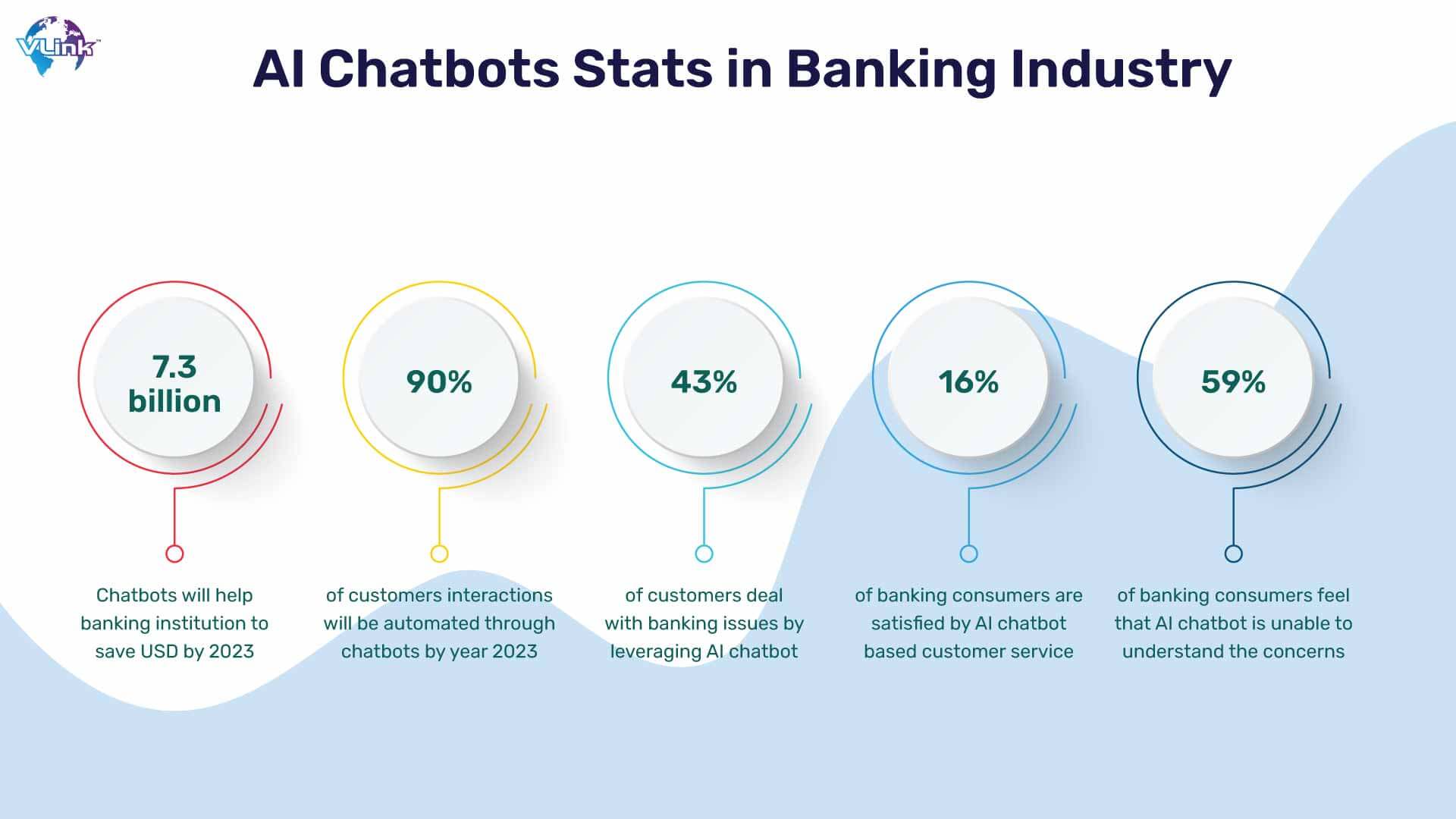 You can give a customized touch to your banking and finance business with Artificial Intelligence Chatbots. The financial service industry gained 79% of successful customer interactions in 2023. So, Their insurance claim management helped to save $1.3 Billion by 2023 (est.).
Also Learn: The future of FinTech with embedded finance using AI & ML.
Use Cases of Artificial Intelligence Chatbots in the Banking and Finance Sector:
Better and seamless customer support, accessible to users 24*7.

It will help to find the most suitable personal finance option for your needs.

Gather customers' data and use the important information for implying loans.

It identifies customers' behavior to understand whether it's a fraud or an actual query.
Experienced developers will help you build an effective and successful app for your finance business. But only if you know how to fina and hire experienced FinTech developers.
Artificial Intelligence bots in Real Estate are predicted to grow $1335.89 bn by 2029, with a CAGR growth of 35% (2023-2029). Therefore, nothing can be a great investment for business growth than live chatbot integration.
Use Cases of AI Chatbots in the Real Estate Industry:
It can generate multiple leads for the business.

The bots will consider their queries and try to understand customers' behavior to know their interests.

It schedules meetings and manages all the customers simultaneously.
How to Integrate an AI chatbot for customer management?
Here are several processes to create an AI chatbot for customer service:
An AI-integrated chatbot development can take proper planning and preparation from an experienced team to plan this project. This team needs an experienced project manager, business analyst, & software architect.
Review the following artificial intelligence bots that offer great value to customer support teams:
HubSpot CRM

Conversica

Intercom

Netomi

Jitbit Helpdesk

IBM Watson Assistant

Ushur

Tidio
These chatbots will help your business to improve its overall customer service processes.
Assess how an AI chatbot adds value.
You need to identify why you need an Artificial Intelligence customer support chatbot. Here are several things a chatbot can do:
Attend to simple-to-medium complex customer service

inquiries

Minimize the load of customer support agents

Answer customer questions after regular hours

Build better customer relationships

Most businesses are steadily using chatbots to provide customers with a better user experience.
After analyzing business requirements, BA needs to write them up effectively. Your team should define the project scope. For example, you might build web, Android, and iOS apps such as a chat widget.
The architect must define the NFRs, including scalability, performance, and maintainability. Use the right approach to build AI-powered chatbots.
When it comes to building chatbots, no-code or low-code platforms play a vital role—no-code platforms like Appy Pie help to create web apps, mobile apps, and chatbots.
Also Learn: How to build a low code platform for your organization.
There are several chatbot development platforms, such as Chatfuel, Landbot, Tars, and HubSpot CRM chatbot builder.
Although low-code or no-code platforms minimize development effort, you get limited personalization options.
Here are several tech stacks you need to choose the right one from:
Cloud platforms: Use AWS, Google Cloud, and Microsoft Azure for

cloud managed infrastructure services

.

Databases: MySQL or PostgreSQL is open-source relational database management system for NoSQL database for MongoDB or Apache Cassandra.
AI & ML development: Use Python for

machine learning & AI development services

.

Web development: Use JavaScript, HTML, and CSS for front-end web development. Use Node-js for backend web development.
Mobile development: Build native Android and iOS apps. Native apps offer optimal user experience, performance, and security. Use Java for the Android app and Swift for the iOS app.
You should hire experienced developers & designers for the following roles:
UI Designers

Web developers

AI developers

iOS developers

Android developers

QA experts

DevOps engineers
To hire the right one, you can follow several hiring strategies, such as:
Freelancers

In-House

Outsourcing
Also Learn: Everything you need to know about IT staff augmentation.
Here are several things a software development team must do:
Design UI of apps & chatbots

Deploy the information security solution

Create APIs by using tools like Postman and Swagger to create APIs

Code the web app using an IDE like Eclipse

Build the Android app using Android Studio

Create an iOS app using Xcode

Build and test the AI chatbot

Integrate bot and other relevant APIs into other web and mobile apps

Test the complete set of apps through

QA software & testing services

Deploy web and mobile apps

Consider VLink for AI-Enabled Chatbot Integration Services!
Now that you are familiar with the benefits & integration process of AI Chatbot development for customer service, make the right decision for your business. At VLink, we specialize in building innovative AI chatbot solutions that revolutionize the way businesses interact with their customers.
From e-commerce to customer support, we create customized chatbots for several industries. Stay ahead in the digital landscape with our intelligent, adaptable, and platform-friendly conversational AI-integrated chatbot solutions.
For more information about AI chatbot solutions, contact us!
FAQs
Frequently Asked Questions
What are the features of a customer service chatbot?
Customer service chatbots typically have features like automated responses, 24/7 availability, instant answers to common queries, personalized interactions, multi-channel support, and seamless escalation to human agents when needed.
What are the key benefits of chatbot integration with the website?
Chatbot integration with a website enhances user experience by providing instant customer support, answers to queries 24/7, efficient lead generation, data collection for analysis, and cost savings through reduced human agent workload, ultimately increasing customer satisfaction and conversion rates.
What is the best AI chatbots for customer services?
There are some top AI chatbot platforms for customer service, including IBM Watson Assistant, Dialogflow by Google, Microsoft Azure Bot Service, and Chatfuel.
The best choice depends on specific business needs, scale, and integration requirements, so it's essential to evaluate options based on those factors.