IT Staff Augmentation Services: All You Need to Know
In the unpredictable and ever-changing 21st century, finding & retaining a skilled workforce has become a global challenge.
201 Views

4 minute
According to a 2023 survey, 77% of global employers find attracting required skilled talent difficult. Out of this number, 78% are in the IT industry.
From lack of skills to higher competition, there are several challenges IT companies face when looking for skilled talent. As shown below in the figure: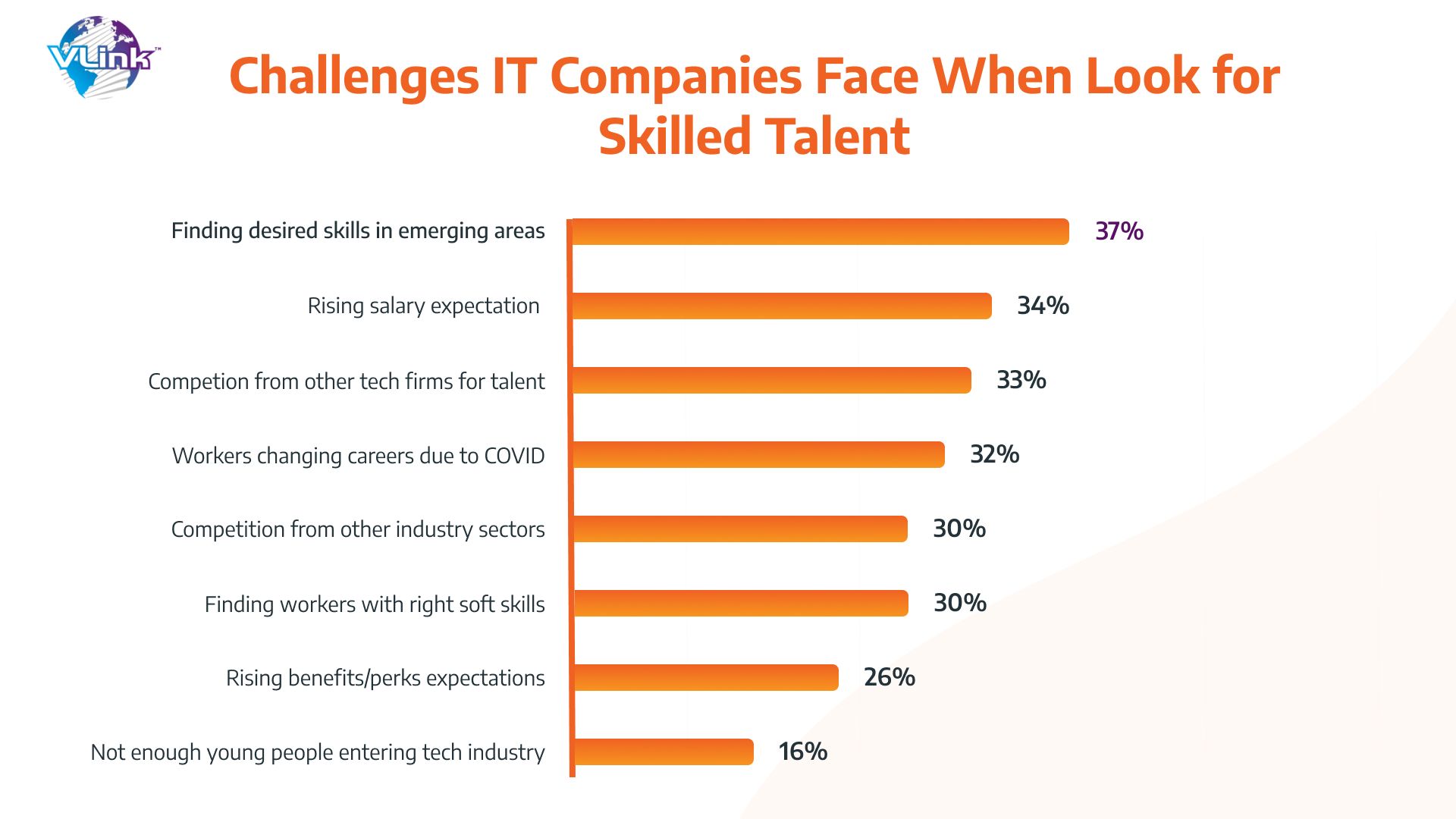 Companies are shifting towards IT staff augmentation services to overcome these challenges.
The Staff augmentation market has seen exponential growth in recent years. Here are some stats: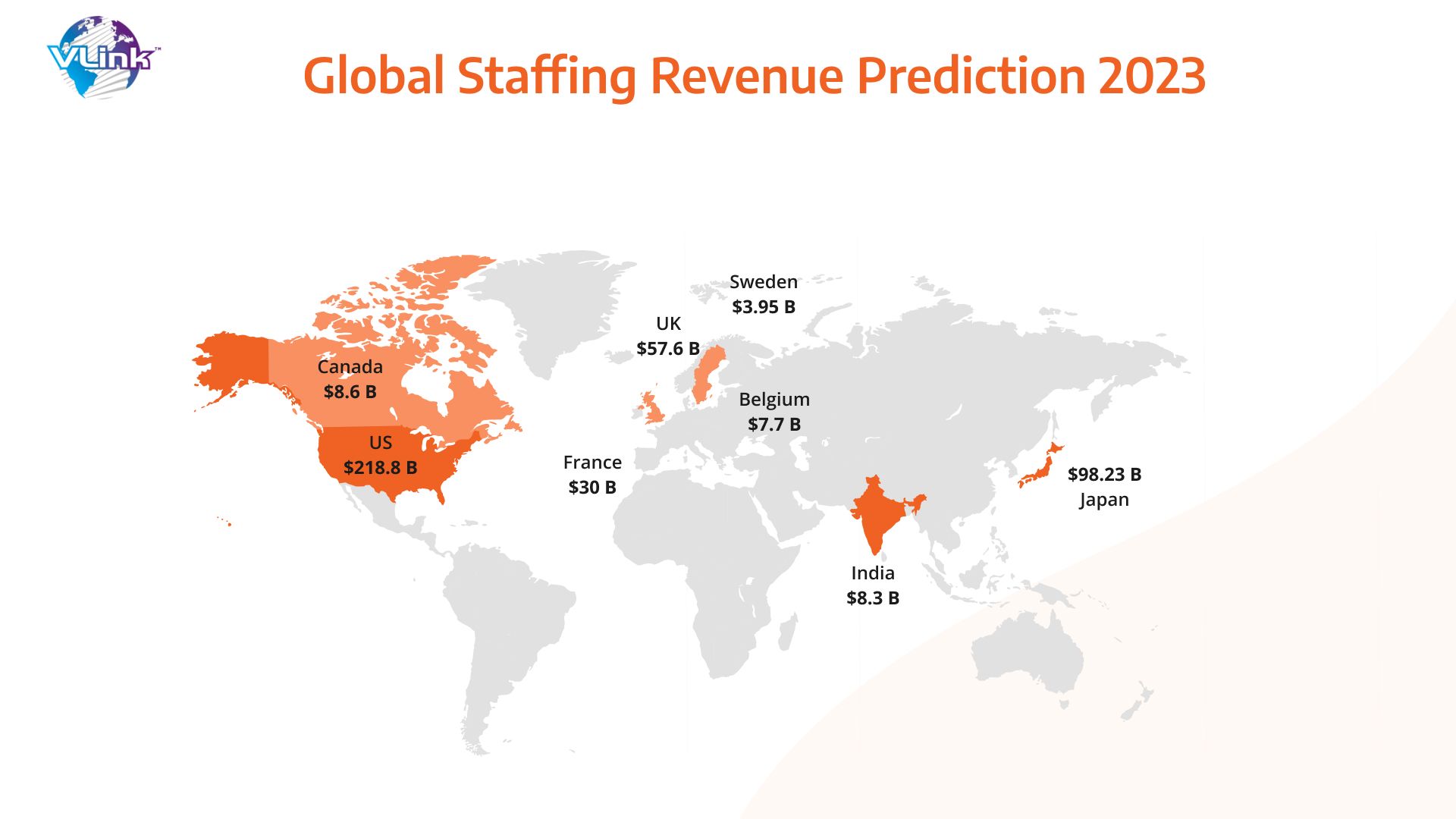 The

US IT staffing market

is predicted to reach around $39 bn by 2024.

The global tech staffing segment is projected to reach $470 billion by 2023.

SIA projects global staffing revenue growth of 4 % next year.

Staff augmentation companies generate $490 billion of revenue in annual spending.

Staff Augmentation is a terrific way to hire trained human resources for specific short- or long-term projects. So, here's everything you need to know about IT Staff Augmentation, from what it means to how it can help your business.
Table of contents:
1.What is IT Staff Augmentation
2. Types of IT Staff Augmentation
3. How Does IT Staff Augmentation Differ from Outsourcing Models?
4. Why Is IT Staff Augmentation So Popular Today?
Benefits of IT Staff Augmentation Services
5. How to Choose the Right IT Staff Augmentation Service? Things to Consider!
Staffing Services

Expertise & Knowledge

Technical Skills

Communication Methods

Cultural Differences and Language

Monitoring Quality and Deliveries
6. IT Staff Augmentation with VLink
7. Conclusion!
8. FAQ–
When to use IT staff augmentation services?

What are the models of IT staff augmentation?

What is the cost of IT Staff augmentation services?
What is IT Staff Augmentation?
IT staff augmentation is the process of boosting your company's in-house development team with additional tech resources. It could mean hiring contractors or temporary talents that can provide qualified IT professionals as required.
There are several reasons you might consider Tech team augmentation for your business.
One example is a company has a large project and needs extra help to deliver it on time. Or they may have a shortage of talent.
The goal of a staffing service is to support an organization's IT needs and goals, offering flexibly and cost-effectiveness.


Read this: Nearshoring IT Staff Augmentation: Everything You need to know
What are the Types of IT Staff Augmentation?
There are four types of IT staff augmentation for businesses.
Functional staffing involves recruiting supplementary personnel to assist with tasks or functions. To illustrate, if there is a requirement for coding assistance, a developer would be hired.
Similarly, for server management, you need to hire an administrator. This temporary-based staffing approach is suitable for additional support without the commitment of hiring a full-time employee.
Technical staffing focuses on specific technical skills required for a project.
For instance, if you require expertise in a particular software, you can hire an experienced developer with the relevant skill set. This form of augmentation is particularly useful when your in-house team lacks the specialized skills needed for a project.
To streamline the management of technology-based projects, consider outsourcing to a software product development company that provides IT staff augmentation services.
Infrastructure staffing involves bringing in additional resources to support your company's infrastructure. It may include tasks such as setting up servers and managing networks.
Companies often opt for staff augmentation when they lack internal resources to handle infrastructure-related tasks or prefer not to invest in the necessary tools and training.
Project staffing entails hiring additional resources to assist with a specific project. It could involve anything from website designing to mobile app development solutions.
Organizations commonly turn to project staffing when they lack the internal capacity to complete a project or choose to outsource it to save time and costs.
How Does IT Staff Augmentation Differ from Outsourcing Models?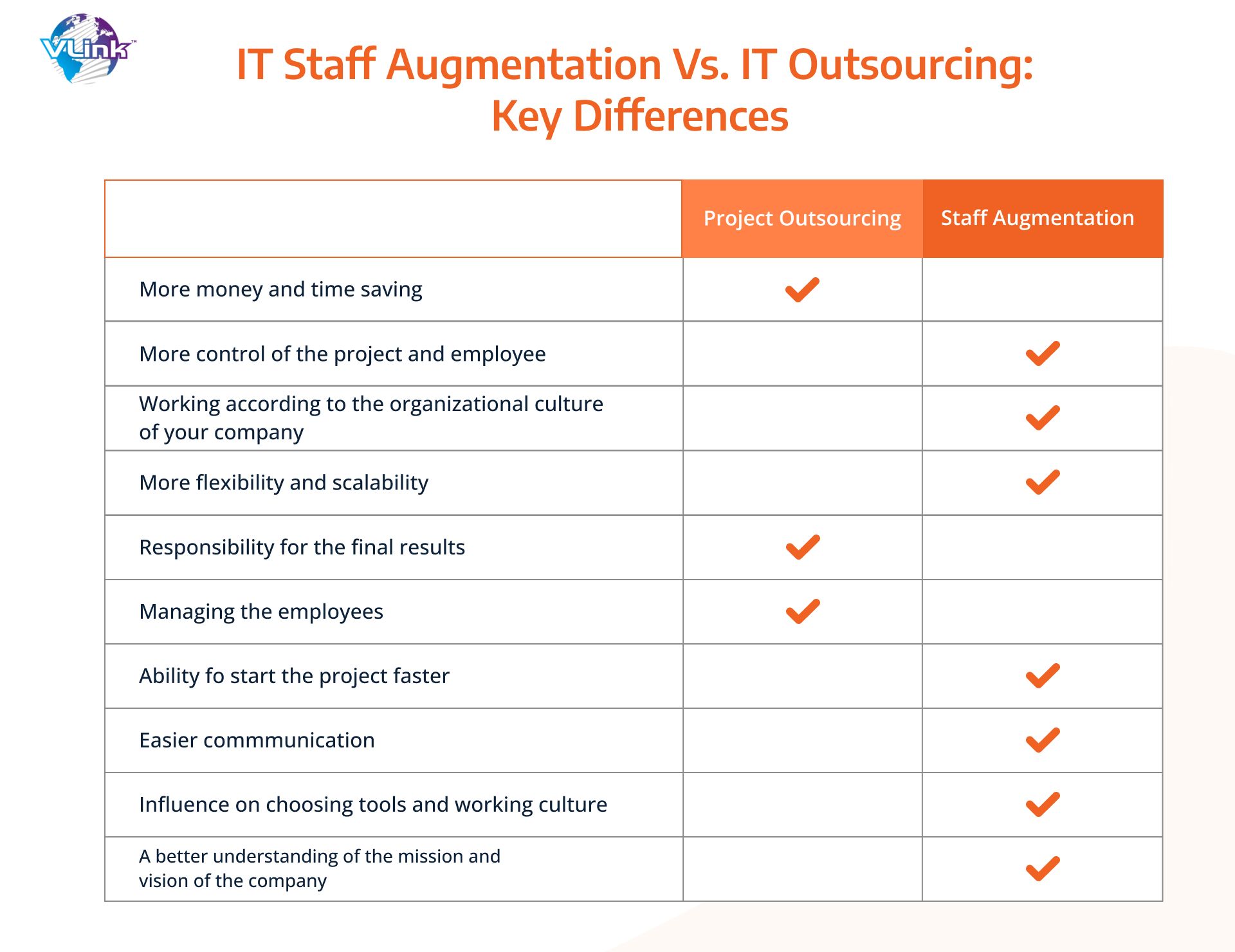 Like Staff Augmentation, Outsourcing models involve the engagement of external resources to supplement the existing IT capabilities of an organization. However, they differ in several key aspects, including the level of control, the scope of work, and the long-term strategic implications.
Also Read: Interesting IT Outsourcing Trends to Watch.
Understanding the differences between IT staff augmentation and outsourcing models is crucial for companies seeking to optimize their IT operations and make informed decisions about resource allocation.
Why Is IT Staff Augmentation So Popular Today?
Easy hiring makes staff augmentation popular in the IT industry due to the enormous scale of the software industry. According to a Businesswire report, this market's revenue is expected to reach nearly $1,493 bn by 2025.
Many software development companies benefit from this flexible hiring. They use the capabilities of highly skilled professionals cost-effectively and efficiently.
Also Read: How to Extend Development Teams And Solve Hiring Problems with IT Staff Augmentation.
Benefits of IT Staff Augmentation Services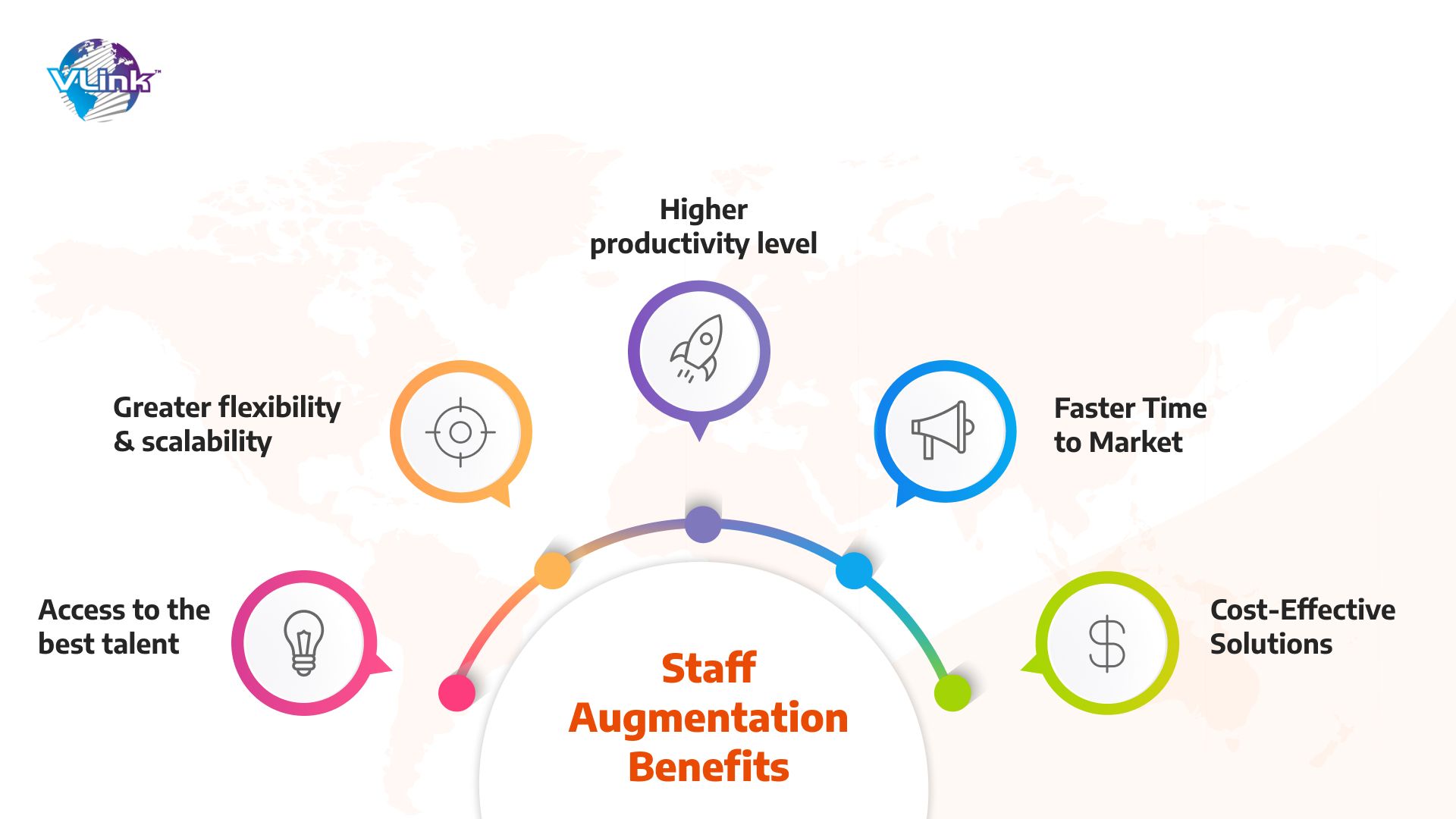 IT staff augmentation allows businesses to scale their technical workforce up or down based on project requirements. It allows organizations to quickly ramp up their IT capabilities without needing long-term hiring commitments.
This agility enables companies to respond effectively to changing market conditions and project demands.
IT staff augmentation services give businesses access to a diverse pool of IT professionals with specialized skills and expertise.
For example; If you want scalable and high-performance software services, you need a highly skilled Java programmer. But, to find the right one, you need to know how to find & hire the best Java developer for your project.
Also Read: How to find & hire FinTech app developers for your finance software development projects.
Whether it's software development, cybersecurity, cloud computing, or data analytics, It staff augmentation allows companies to attract the talent they need to execute specific projects or address skill gaps within their existing teams.
Hiring full-time employees can be costly due to recruitment expenses, onboarding, benefits, and salaries.
IT staff augmentation provides a cost-effective alternative as companies can engage external professionals on a project basis or for a specific duration.
Organizations can save on overhead costs associated with permanent employees while still accessing high-quality talent.

By leveraging IT staff augmentation, businesses can expedite project delivery and accelerate time to market.
With access to a larger pool of skilled professionals, companies can quickly assemble teams and start working on projects without waiting for the lengthy recruitment process.
This agility can be particularly beneficial in fast-paced industries where speed is a competitive advantage.
Staff augmentation services result in increased productivity due to the developers' exclusive focus on a single project instead of project outsourcing teams that handle multiple projects concurrently.
Developers are motivated and dedicated by working solely for one client and supporting their overarching vision, leading to heightened productivity levels.
You can enjoy these benefits only if you choose the right IT staff augmentation services.
How to Choose the Right IT Staff Augmentation Service?
Here are some things you need to consider for choosing the right staffing services in the IT industry:
#1 - Staffing Service
To ensure the selection of the appropriate service for your company, it is essential to evaluate its staffing needs and determine the areas where your team requires expertise.
By identifying these gaps, you can efficiently address them with targeted abilities. Discussions with your team will provide a comprehensive perspective on areas requiring additional skills.
With this knowledge, you can readily locate suitable talent through a trusted IT staff augmentation partner.
#2 - Expertise and Knowledge
Before selecting a staff augmentation provider, it is crucial to thoroughly assess their offered services and determine if they align with your company's requirements.
Previous clients' feedback and reviews can provide valuable insights into the satisfaction levels associated with their services. You can also request the provider to share case studies from their past clients.
Ensuring that the staff augmentation provider inspires trust and possesses extensive expertise in your industry is essential, as a lack of knowledge on their part would render them unsuitable for your needs.
#3 - Technical Skills
When considering a staff augmentation company, it is important to assess their knowledge and ensure they clearly understand the project's nature and requirements.
Additionally, verifying that they possess the necessary technical skills is crucial to avoid any issues that could impact the project's results and quality. The abilities of the developers who will join your team should align with the capacities and skills of the staff provided.
If you are looking for Angular web developers for your project, 8 essential skills to look for in angular web developers in 2023.

You can find individuals with strong technical capabilities by setting high expectations and conducting interviews and selection processes.
#4 - Communication Methods
Establishing effective communication channels with your staff is vital to ensure the timely delivery of projects and alignment with expectations.
A well-defined communication method will prevent workflow interruptions and keep both parties informed until project completion, regardless of time zones or physical locations.
By leveraging good communication practices and utilizing appropriate tools, you can efficiently manage the business process and team performance, effectively addressing any challenges.
#5 - Cultural Differences
When augmenting your company's staff with a remote team, it is important to consider potential cultural differences. Your provider should ensure cultural and linguistic compatibility between the internal team and the new resources.
Additionally, you can consider top 10 countries for hiring the best tech talent & remote software developers.
#6 - Monitoring Quality and Deliveries
To effectively monitor ongoing tasks and track project progress, it is essential to establish clear and transparent work plans and methodologies. When augmenting your staff, the added resources become an extension of your team and require your guidance.
You can select a dedicated project manager to create a plan that includes projected hours and expected outcomes. The staff provider should also offer exceptional support when issues arise with the contracted developers.
It is important to determine the frequency of project updates to assess the provider's commitment to monitoring product quality and timely deliveries from the developers.
If you cannot find the right Staff augmentation services for your software development project, contact VLink!
IT Staff Augmentation with VLink!
We specialize in software development and staff augmentation with over 17+ years of experience in the global market. Your company or IT project can access essential skill sets by availing of VLink's IT staffing and staff augmentation services.
Our dedicated team can bridge the gaps within your IT team, effectively supporting your app development process. Our flexible tech staffing options provide your in-house developers with additional minds and resources, empowering them to accomplish more.
Conclusion!

As you might have seen from the preceding discussion, leveraging business augmentation offers remarkable advantages to companies, regardless of size. It promises exceptional flexibility and cost-effectiveness.
With extensive IT staffing and outsourcing expertise, VLink is equipped with years of experience in the field.
Our dedicated team is ready to offer professional guidance and proficient assistance in bridging the staffing gaps within your organization. We ensure seamless and productive flows in the process of staff augmentation.
Contact our dedicated managers today to discover how we can assist you.

FAQs
Frequently Asked
Questions
When to use IT staff augmentation services?
Staff augmentation is used when organizations temporarily supplement their existing workforce with external talent for specialized projects, short-term assignments, or to meet increased demand during peak periods.
What are the models of IT staff augmentation?
Some common models of IT staff augmentation include the dedicated team model, the time and material model, and the project-based model.




The dedicated team model involves a dedicated team working exclusively for the client, while the time and material model charges based on the actual time and resources utilized.




The project-based model focuses on specific projects with defined deliverables and timelines.
What is the cost of IT Staff augmentation services?
The cost of IT staff augmentation services can vary depending on factors such as the skill level and experience of the staff, project requirements, and location. Generally, hourly rates can range from $25 to $150 per hour, with an average rate of around $50 to $75 per hour.