Digital transformation in healthcare drives efficiency and innovation, paving the way for more efficient, economical, customized, and patient-centric care. According to Grand View Research, the US digital health market was $77 bn in 2022 and is predicted to grow at a CAGR of 17.10% from 2023 to 2030.
From eHealth to mHealth, AI screening, and wearables, every aspect of healthcare leveraged technology to serve patients and healthcare organizations. In addition, digital healthcare solutions gather, identify, and efficiently share data, empowering medical experts to analyze patterns and detect any irregularities.
Consequently, medical institutions can develop strategies and provide customized care, fostering patient trust and loyalty.
In this blog, we will dive deeper to understand the benefits of how digital transformation in healthcare rethinks the future of medicine and patient care.
Benefits Digital Transformation Drive Innovation In the Healthcare Industry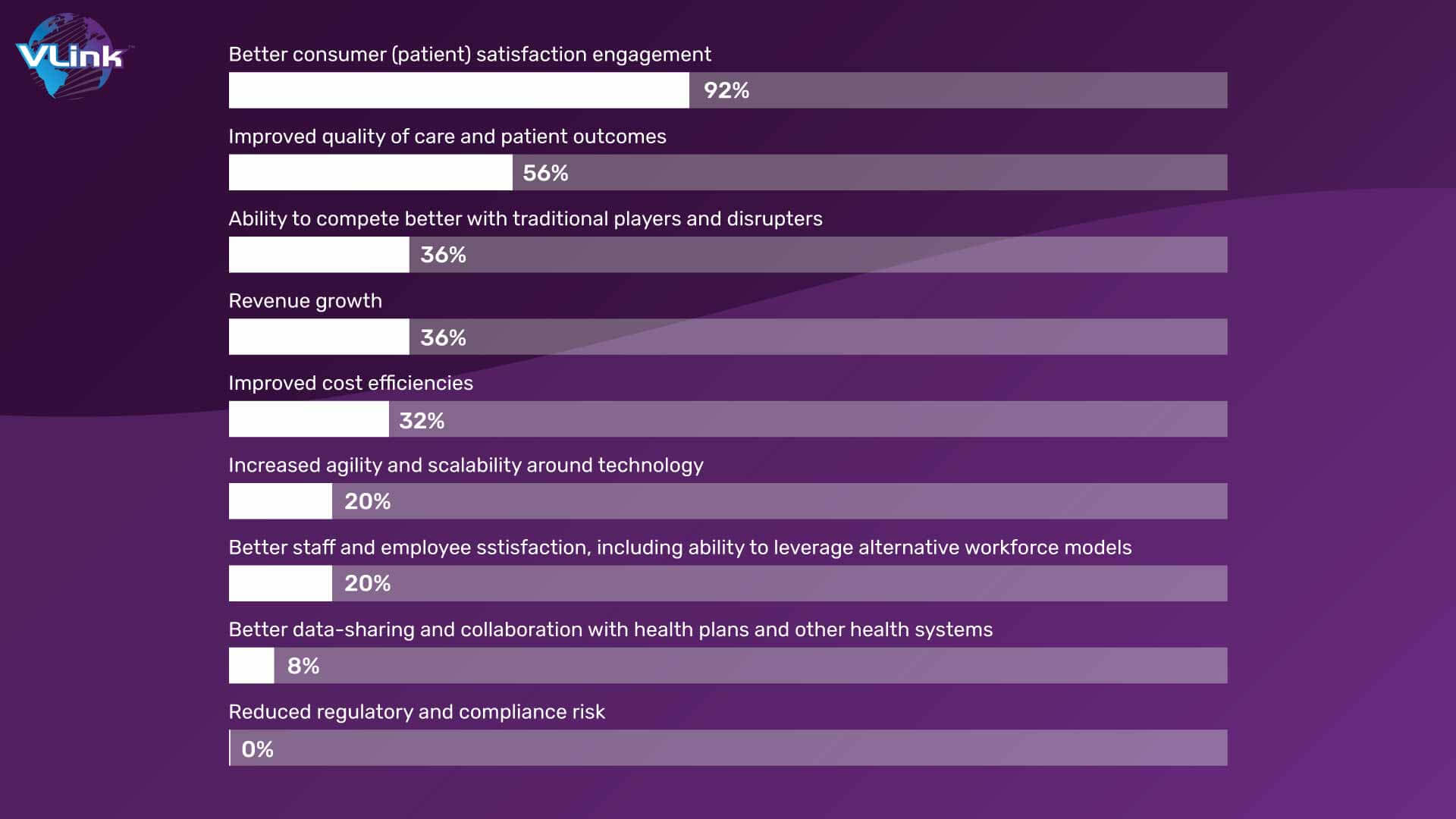 Digital transformation can increase patient outcomes by facilitating precise diagnoses, quicker treatment, and individualized medical attention. Advanced technologies allow medical practitioners to gather and identify large amounts of data to enhance diagnostic procedures.
Also Read: Definite guide to enterprise digital transformation if you want to take your business online.
Digital tools such as telemedicine, wearable gadgets, and remote monitoring can enable healthcare providers to monitor patients' health in real time. It can lead to improved patient outcomes, minimized hospital readmissions, and enhanced patient journey.

Digital healthcare industry solutions can assist medical practitioners in optimizing their operational processes, reducing administrative tasks, and improving efficiency. With Electronic Health Records (EHRs), providers can handle patient data and reduce paperwork.
AI-powered chatbots can manage routine queries, releasing staff to concentrate on other essential responsibilities. In addition, doctors & nurses can automate repetitive tasks, including appointment scheduling and renewing prescriptions, minimizing the load on administrative personnel.
Digital transformation has the potential to minimize costs by reducing inefficiencies, improving patient results, and cutting down hospital readmissions. Digital tools like telemedicine can diminish the necessity for face-to-face appointments, thereby cutting healthcare expenditures for patients and providers.
In addition, these technologies can help providers manage their inventory and resources, decreasing waste and costs. Medical service providers can achieve higher operational efficiency by optimizing workflow, resulting in cost reduction and enhanced profitability.
Leveraging digital transformation can improve data security and privacy of patient data within healthcare, safeguarding it from unauthorized access and breaches. Secure messaging and two-factor authentication play a role in ensuring that authorized individuals can access patient information.
Through data encryption and establishing secure storage infrastructures, providers can protect the defense of patient data against cyber vulnerabilities and information breaches.
With the expanding worldwide access to information and technology, there has been a substantial rise in the demands patients place on hospitals & healthcare organizations. It increases patients' desires for personalized and easily accessible care.
According to McKinsey, around 40% of consumers said they would continue to use telehealth in the future.
Real-World Examples of Digital Healthcare Solutions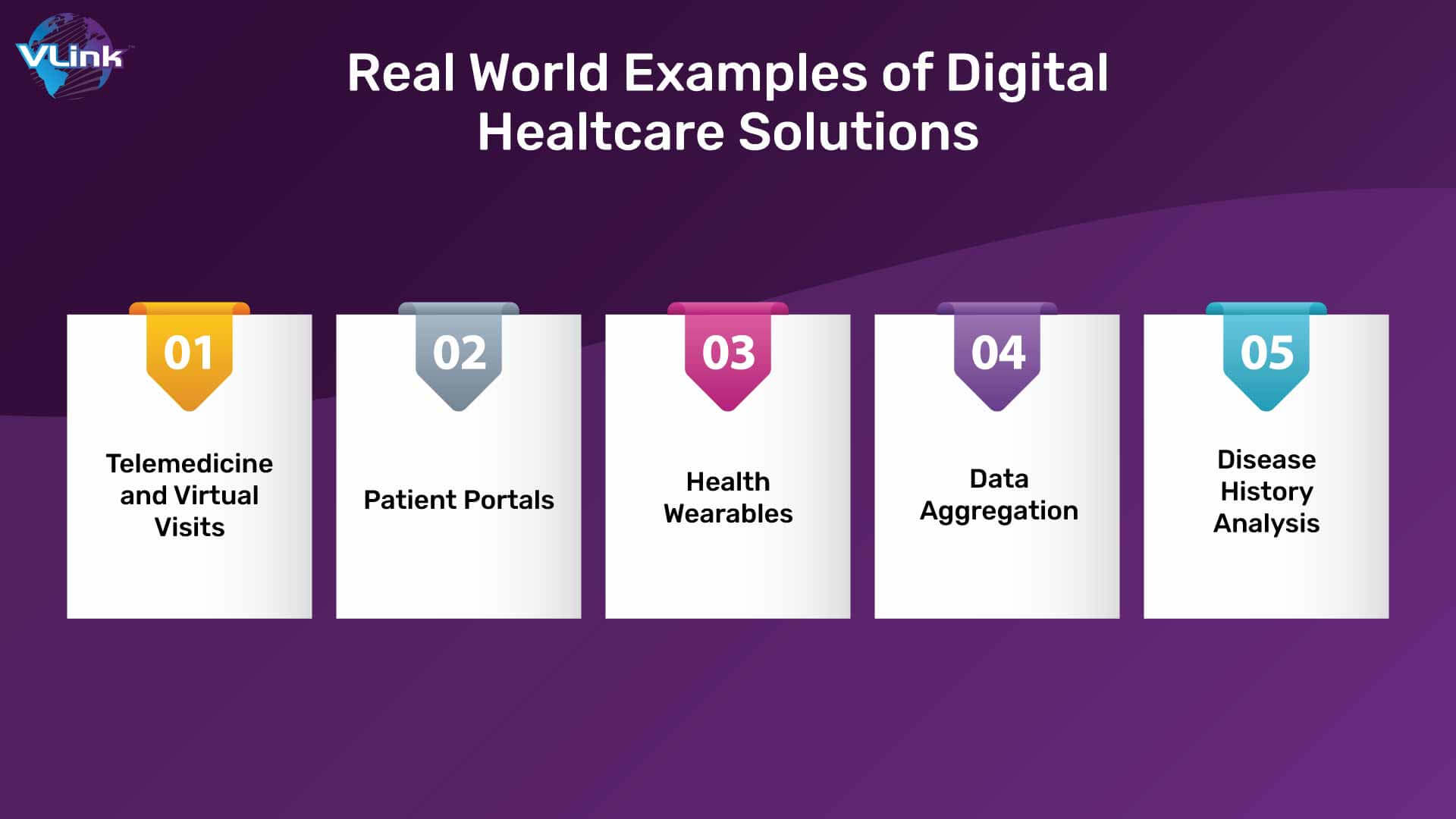 One significant impact of digital transformation in healthcare is the growing number of virtual doctor visits & telemedicine. The number of teleconsultations skyrocketed, allowing patients to schedule medical appointments and consult doctors from their homes via video, audio, and messages.
For instance, Zocdoc is a popular healthcare app for finding doctors urgently, scheduling online video visits at their convenience, and keeping track of their annual checkups.
Amidst the ongoing expansion of telemedicine, patients residing in suburban or remote regions can access prompt medical attention without needing to travel to a hospital physically. It's a more time & cost-efficient method than traditional in-person hospital consultations.
82% healthcare providers use patient portals for engaging patients. This use case of digital healthcare solutions promotes faster and more convenient access to electronic health records and minimizes the burden on the medical staff.
A great example is the FollowMyHealth system.
It empowers patients to arrange appointments with experts, review their prescriptions and medical records, and exchange their health-related information effortlessly.
System integration with advanced technology allows users to get accurate real-time health data and metrics. Some of the most common health wearables are heart rate trackers, oximeters, and fitness trackers.
For example;
Apple Watch is one of the most popular wearable devices for monitoring the heart rate, sending reminders, and recording health records. In addition, healthcare providers can use this data for diagnosis, and prescriptions.
In short, wearables revolutionize the medical sector and make it more proficient.
In today's digital age, hospital institutions collect data from various sources, such as electronic health records, lab results, insurance claims, & medical devices. Due to the plethora of these resources, crucial patient medical history information is neglected.
Data aggregation allows medical practitioners to make more informed patient-care decisions without worrying about missing critical information. These digital healthcare use cases improve patient care while minimizing expenses.
For instance, Mayo Clinic uses the data aggregation approach by integrating cloud solutions. They utilize the cloud to host data storage and analytics together.
Many tools help identify a patient's medical history data record to give healthcare providers recommendations about treatment results.
For instance, BostonGene uses this solution to help sincerely analyze a patient's previous conditions. It offers a customized treatment plan that would potentially consider the best outcomes.
Digital Transformation in the Healthcare Industry: Key Trends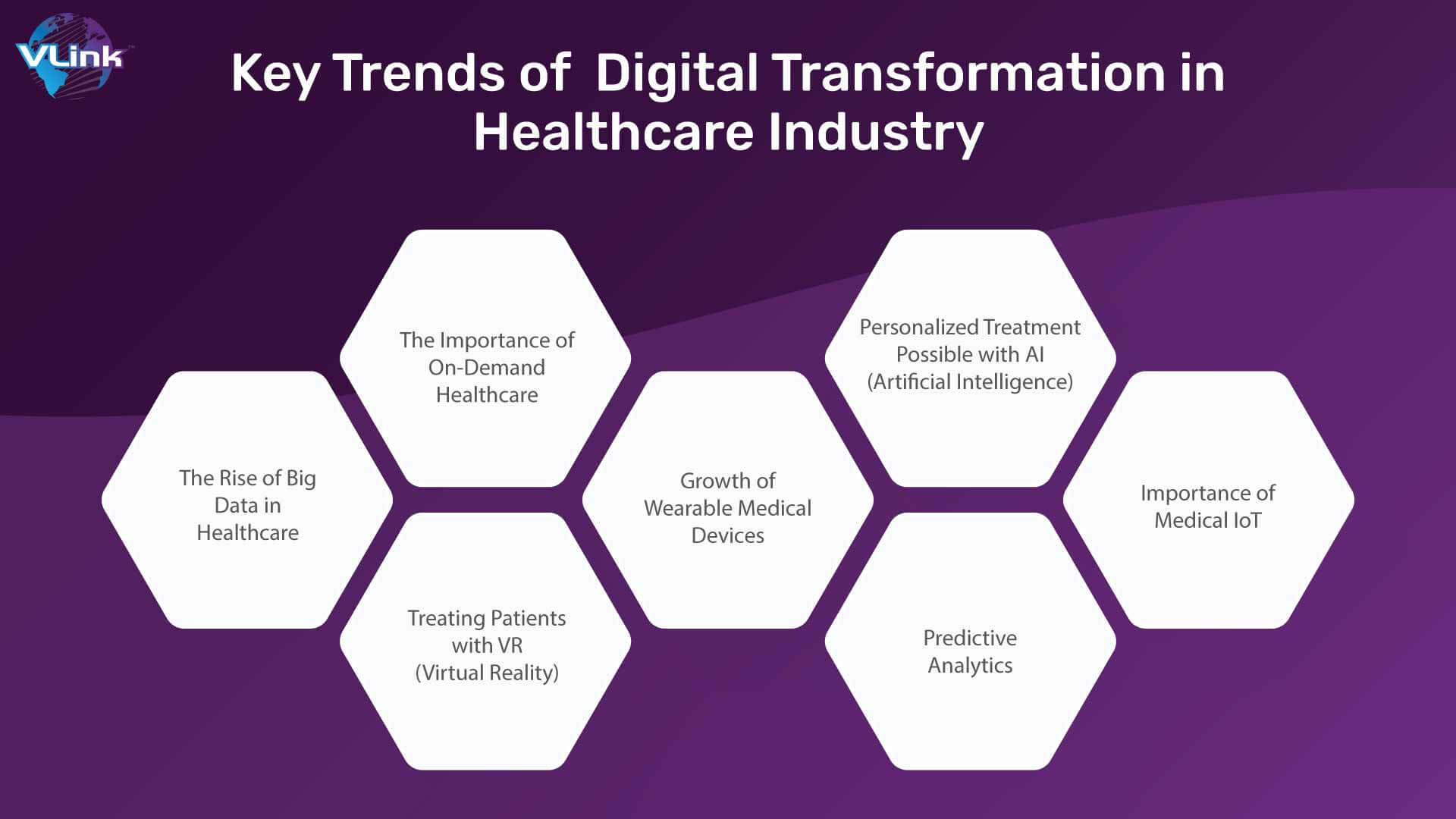 The digital healthcare market is surging rapidly by leveraging big data. According to Globe News Wire, the worldwide big data market is $337.03 bn in 2023 and is projected to reach $662.63 bn by 2028 at a CAGR of 14.48%.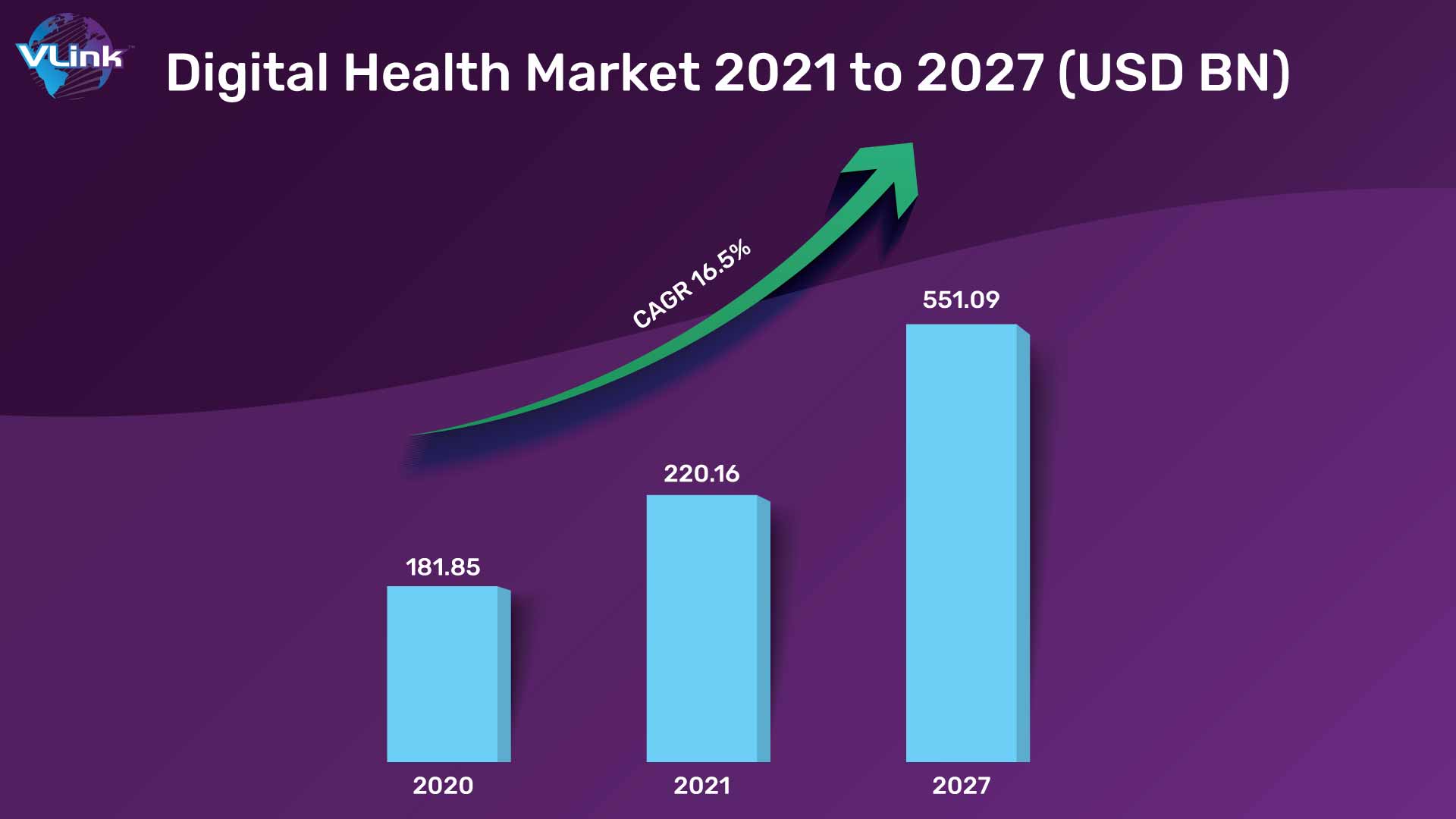 With its power to convert unstructured and structured data into meaningful insights, this tech trend can offer a plethora of benefits;
Less Rate of Medication Errors

Accurate Staffing

Informed Strategic Planning
The healthcare mobile app development services is entering a digital era as patients rapidly use their smartphones to access on-demand healthcare solutions.
This trend is user centric. And thanks to Nomad Health, physicians can offer on-demand healthcare services to patients as per their experience and availability.
If you want to build an on-demand app for taxi companies, you need to know how to build an app like Uber? It will help you create competitive taxi software for your business.
Virtual reality is one of the most essential parts of the digital healthcare ecosystem. It treats people with chronic pain or who have been struggling with the perils of the drug crisis. In addition, this technology helps individuals dealing with PTSD, stress, and stroke.
Everybody is betting on VR tech trends, from physicians to nurses to pharma, for better medical care and treatments. That's why the worldwide AR/VR market is predicted to grow $9.5 bn by 2028.
Gathering medical data from wearable devices is another digital transformation trend in healthcare. Gone are the days when patients were satisfied with a physical test once a year. But thanks to innovative technologies, patients can now focus on prevention and looking for information about their health more frequently.
The wearable device market (like Fitbit, & fitness bands) is expected to grow more than $27 million by 2023.
Artificial Intelligence provides several benefits over traditional clinical decision-making. It allows medical practitioners to get data on care protocols, treatment, patient results, and diagnostic approaches.
Particularly in the context of serious illnesses, machine learning and AI development services holds significant relevance. For instance, IBM's research revealed that their model analyzed breast cancer in 87% of cases.
In contemporary times, AI-driven chatbots are progressively gaining familiarity among patients. This tech trend is used in chatbot development and virtual health assistants.
Another factor supporting digital transformation in healthcare is predicting which diseases will become significant issues soon. Information gathered via Big Data can help healthcare institutions build healthy lifestyle recommendations for their patients.
For instance, you can hire an analyst to identify keyword activity on social media channels and major search engines to determine the most common searches for medical conditions, diseases, and general health.
The predictive data analytics services could help all-size businesses determine when to hire temporary workers due to closing outbreaks of colds and flu that could result in labor shortages.
While the medical sector has been slow to embrace the Internet of Things services, this tech trend is shifting rapidly. Uses cases of medical IoT perform several core solutions, ranging from simple tracking solutions to complex automation.
These functions serve as the basic principles of an innovative hospital, prioritizing clinical excellence, patient-centered care, and operational efficacy.
IoT for doctors
Doctors can oversee patients' well-being in real time through IoT sensors and wearable devices integrated into home monitoring systems. Medical IoT tech trend facilitates direct engagement between healthcare experts and patients. It can help healthcare providers determine the most effective treatment strategies for patients.
Also Learn: the role of IoT in mobile app development project.
IoT for patients
Devices like fitness bands and wirelessly linked heart rate monitors allow patients to get personalized care. IoT devices record medical appointments, monitor calorie consumption, track daily steps, and measure blood pressure, heart rate, and other relevant metrics.
In addition, IoT devices deliver reminders for doctor appointments, calorie monitoring, and other activities. This tech trend provides medical-related data in the scenario of continuous remote tracking for senior patients. It includes employing an alert system and relevant healthcare professionals and family members.
How VLink Can Help Your Digital Transformation Journey?
As a reliable healthcare software development company, VLink has built several scalable digital solutions per clients' requirements in the medical sector. Our diversified development team, with many years of experience in digital transformation, has mastered all the latest technologies, such as AI, ML, IoT, Blockchain, and Cloud Computing.
We have worked with several healthcare institutions, helping them embrace digital innovations to improve revenue, minimize expenses, and offer increased customer experience.
Our experts can turn your needs into perfect software solutions with a user-friendly UI/UX. For more information, contact us!
FAQs
Frequently Asked Questions
What is digital transformation in the healthcare industry?
Digital transformation in healthcare refers to integrating advanced technologies and processes to modernize healthcare delivery. It encompasses adopting digital tools like electronic health records, telemedicine, and data analytics to enhance patient care, streamline operations, and improve overall efficiency and outcomes within the healthcare sector.
What are digital transformation challenges in the medical sector?
Digital transformation challenges in the medical sector include data security concerns, interoperability issues between different systems, resistance to change among healthcare professionals, regulatory compliance complexities, and the need to balance technology adoption and a human-centered approach to patient care.
How do you implement innovative digital healthcare solutions into your business?
Identify specific needs and goals to implement innovative digital healthcare solutions into your business. Collaborate with technology providers to select suitable tools such as telehealth platforms or AI-driven diagnostics. Plan integration, ensure data security, and train staff. Continuously monitor and adapt the solution to optimize patient care and operational efficiency.