It's no secret that low-code/no-code solutions are gaining momentum in the contemporary software development sector. And valid reasons behind this mobile app development trend are cost-effectiveness, high flexibility, and faster development.
According to Gartner, the low-code technology market will reach $5.8 bn by 2021. It's forecasted that 70% of new apps could be created using low-code tools and platforms by 2025.
With a shortage of developers compelling businesses to seek avenues for accelerating software delivery and reducing workloads, many companies use noncode technology for their app development projects.
Suppose you plan to build a low-code platform but need to know how you are at the right place. This blog will explore everything about low-code app development, from benefits, features to steps.
Let's start with a brief introduction!
What is a Low-Code Development Platform?
A Low-Code Development Platform allows programmers to build apps or software with minimal manual coding efforts. It streamlines and speeds up mobile app development for business by providing a visual interface and pre-built elements.
As a result, developers can design, build and deploy apps or software faster than ever, even without using complex hand-coding.
What are the Benefits of Low-Code Development?
Here are the topmost common five benefits of low-code development: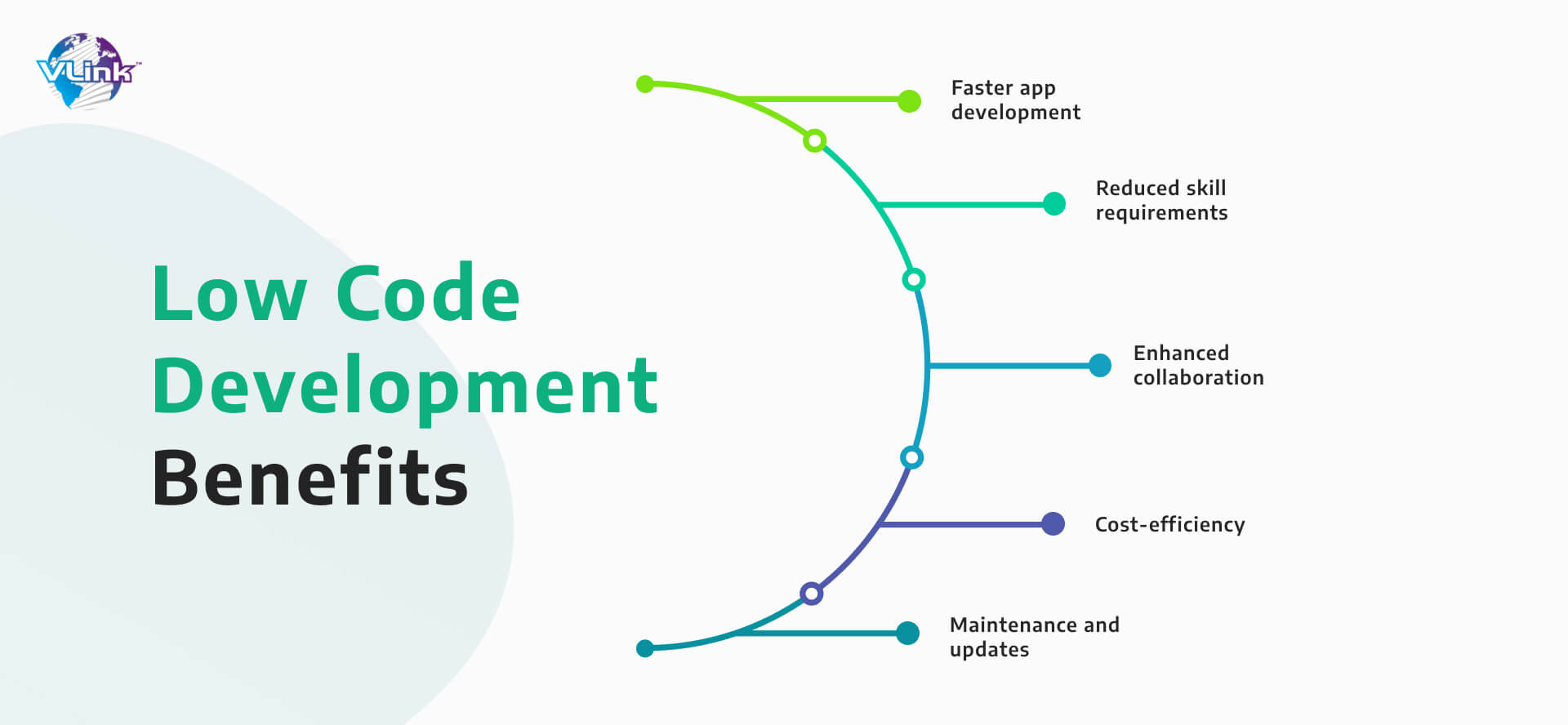 Faster Application Development
Low-code platforms speed up the development process thanks to visual development tools, pre-built templates, and reusable elements. The development team needs to drag and drop components to build software quickly.


Also Learn: How mobile apps can help your business to grow faster.
Reduced Skill Requirements
Low-code platforms simplify intricate coding tasks, so developers with diverse technical skills can engage in the development process. It reduces the requirement for programmers to possess expertise in numerous programming languages, thus lowering the skill threshold.
Enhanced Collaboration
Low-code platforms make it easier for multiple team members to work on the same project simultaneously. It improves communication between developers, designers, business analysts, and other stakeholders, which leads to more efficient and cohesive development.
Cost-Efficiency
Low-code development can help reduce development costs by streamlining the development process and making it easier for organizations to allocate their development teams more efficiently.
Maintenance and Updates
Low-code platforms have built-in features for handling updates, security patches, and maintenance tasks. It helps you save time and effort on keeping apps up-to-date and secure.
Features of Low-Code Development
Features of low-code development are shown below image: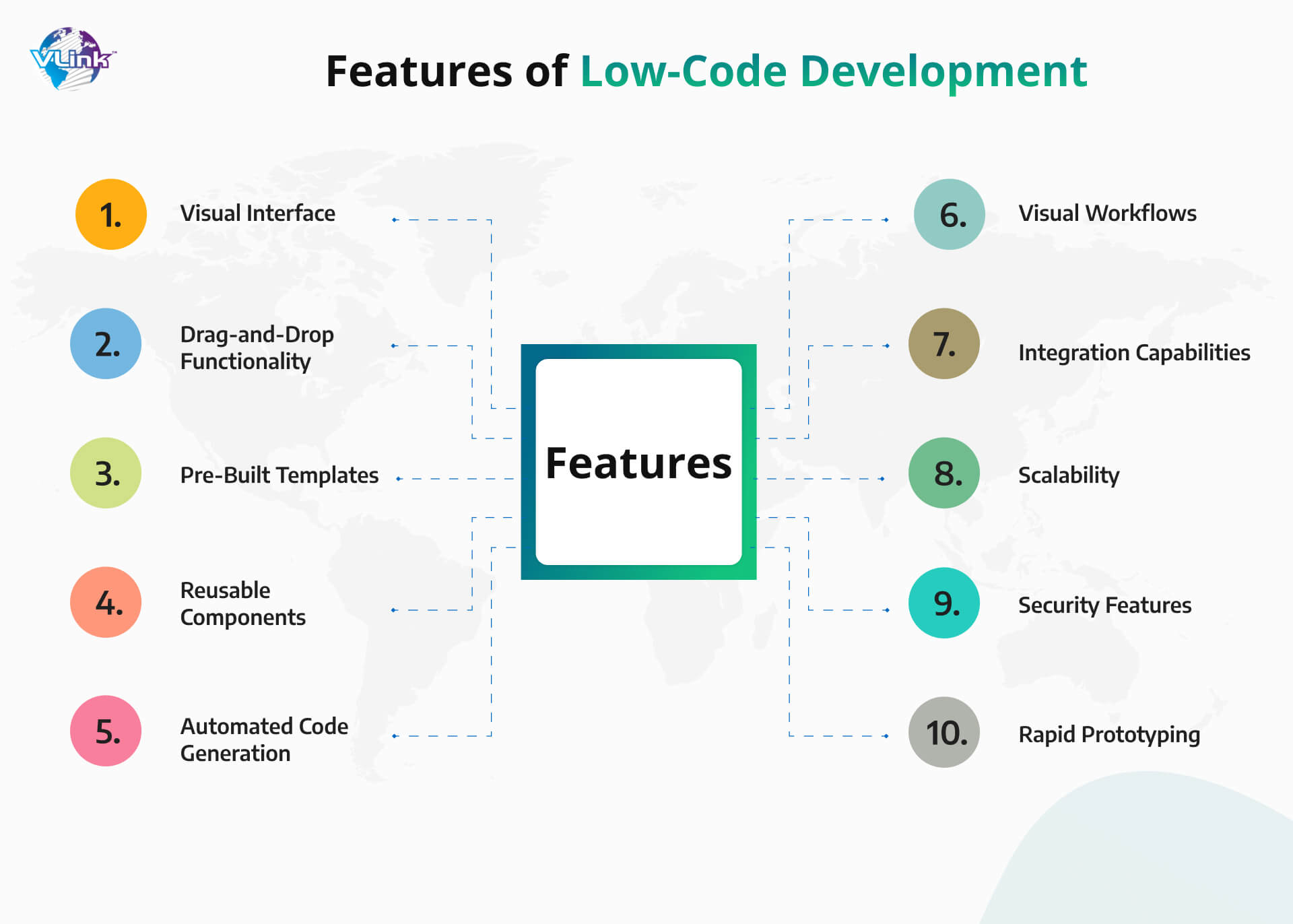 Step-By-Step Guide on Low-Code Application Development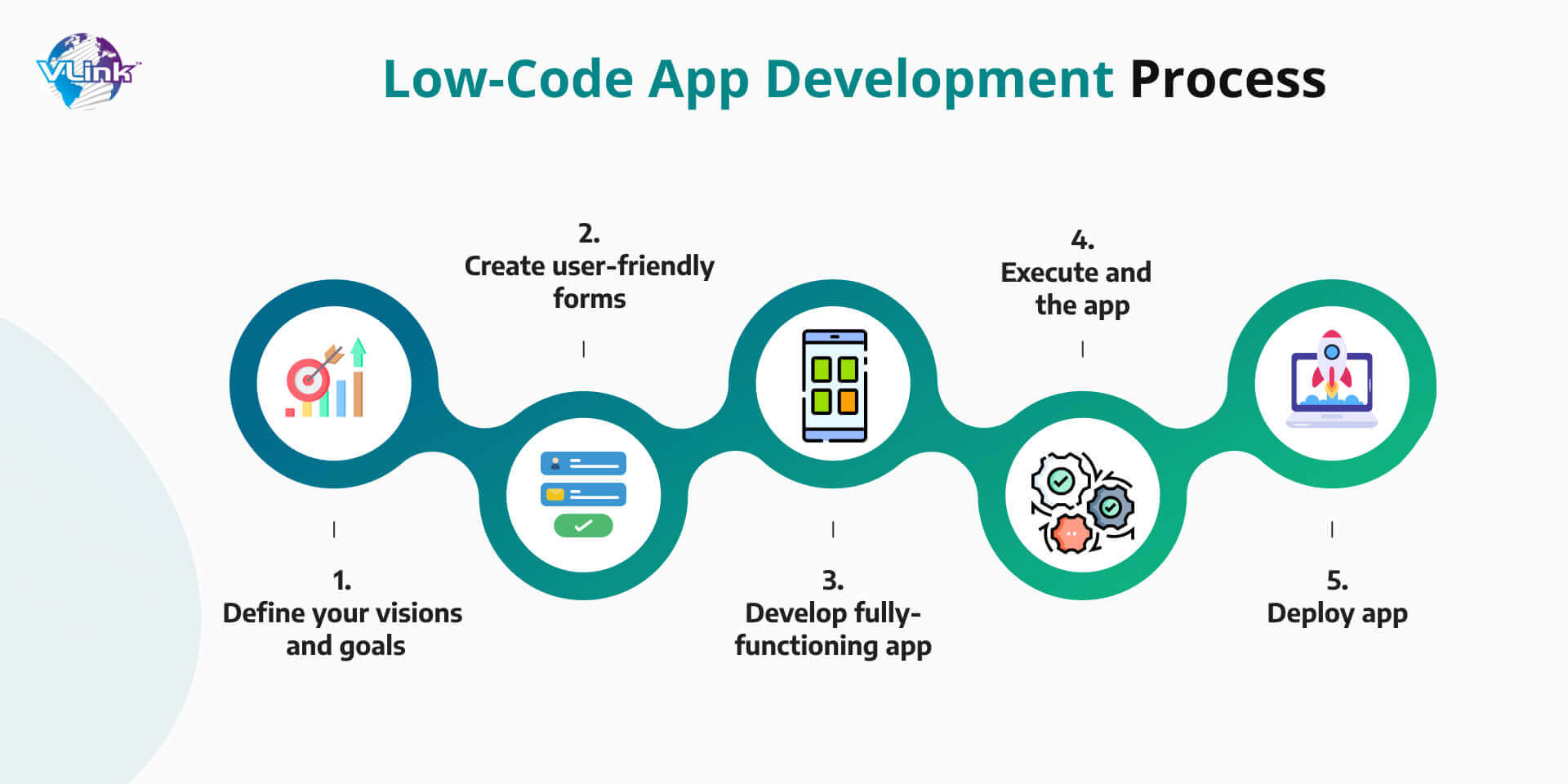 Define your visions and goals
Clearly define the purpose and goals of your low-code platform. What kind of applications do you want users to build? What problems will your platform solve? Understand your target audience and their requirements.
Create user-friendly forms
Simplified adoption of low code is facilitated by a seamless and excellent user experience. Leveraging the outlined process and data, coupled with drag-and-drop capabilities, intuitive forms can be generated for efficient data collection.
A resilient low-code platform empowers users to construct forms dynamically, maintaining user-specific control and offering a range of readily applicable widgets. Crafting impeccable documents encompassing diverse field types and functionalities enhances application development.
Develop fully functioning app
Developing applications through low-code functionalities is easy, demanding only basic training and coding acumen. The solution adopts a visual approach to app creation, enabling individuals to construct applications of varying complexities without developer involvement.
Additionally, adjusting the default code opens doors to accessing heightened app features. Among the notable merits of a low-code platform lies the automation of business processes. By utilizing pre-constructed templates and visual development tools, the capacity to automate monotonous tasks devoid of human intervention emerges.
This efficient automation conserves employee time and energy, which can be better directed toward essential business responsibilities.
Execute and test the app
Before launching an application, testing is an essential procedure. This process aids in detecting technical problems and glitches early before the application is made publicly available. An erroneous application has the potential to impact process efficiency and performance detrimentally.
Low-code platforms offer a testing arena where the created application can undergo meticulous examination and multiple tests to assess its functionality and rectify technical issues. Informed by the outcomes of these tests and user input, required adjustments can be implemented before advancing the application to the live phase.
Deploy app
Low-code platforms provide adaptable application deployment capabilities, enabling swift installation, configuration, and establishment of fully operational applications through a few clicks. Concurrently, these platforms deliver immediate, real-time enhancements, corrections, and feature updates.
How Much Does Low-Code App Development Cost?
The cost of building a low-code app can vary widely based on factors like;
The complexity of the app,

The features and functionalities needed,

Low-code platform,

Development resources

Additional services such as customization, integration, and ongoing support
Essential low-code apps cost a few thousand dollars, while more complex or enterprise-level apps could range from tens to hundreds of thousands or more.
It's recommended to consult with a development team or a low-code platform provider to get a more accurate cost estimate based on your specific requirements.

Also Learn: how much does it cost to build a successful app.
What is the Future of Low-Code Development?
From individual departments to entire enterprises, organizations worldwide are embracing low code to transform their approach to resolving business challenges.
Elevate your digital strategies by rapidly constructing and pioneering solutions yield unparalleled business advantages.
Low-code stands as the future of application development—backed by its proven track record, shown in the figure below: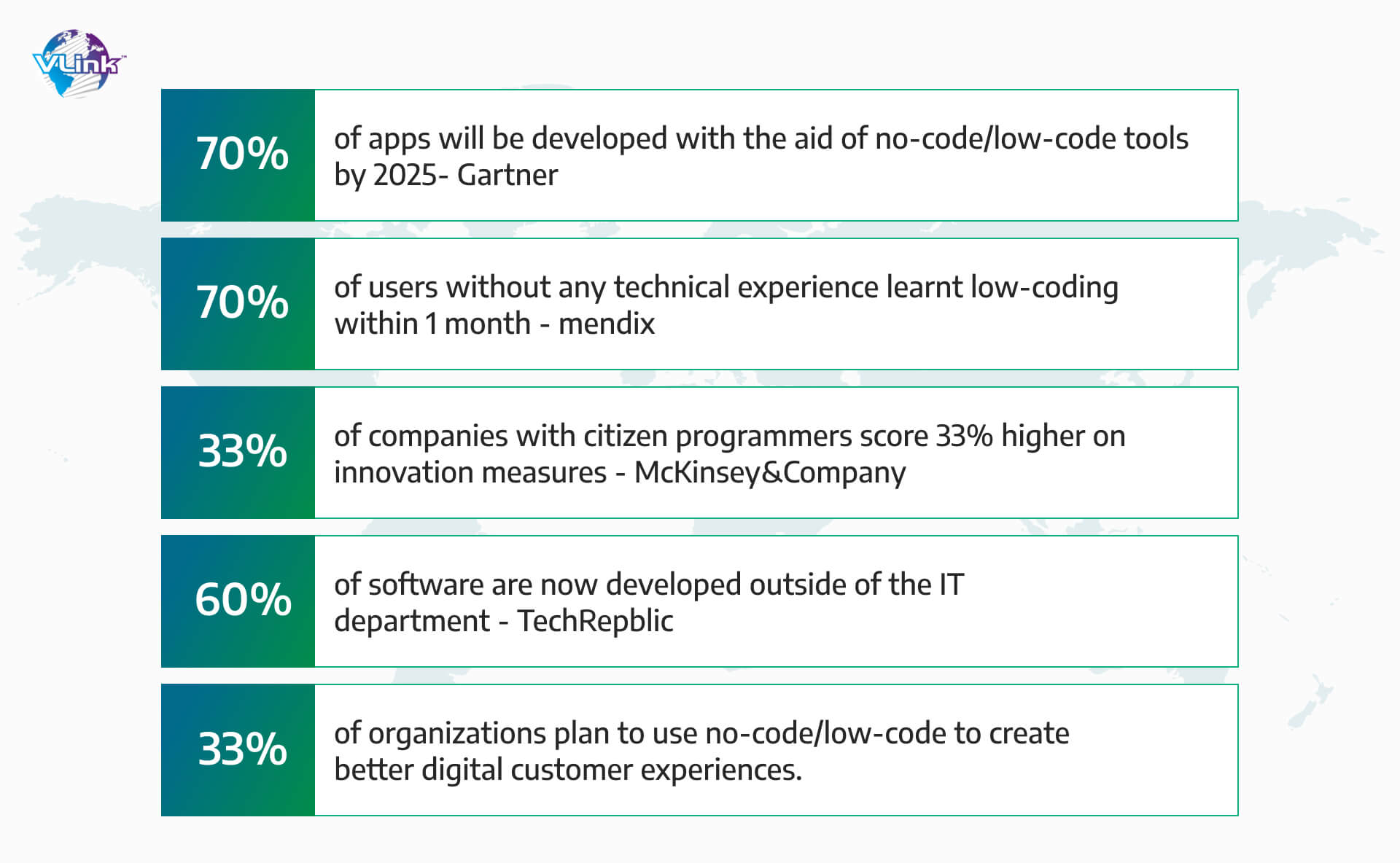 Wrapping Up!
Hopefully, you have understood everything you need to know about how to build a low-code platform.
If you want to create essential apps with little to zero customizations and low-security vulnerability, follow a low-code/no-code development approach. But customized mobile app development solutions would work best for you if your business goal is to enter the app market with a high-quality, successful product.
You can contact a dedicated mobile app development company like VLink for customized app development. Utilizing expert resources and extensive years of experience in bespoke development, we craft applications that ensure the satisfaction of both our clients and their customers.
For more information about low-code app development services, contact us!

FAQs
Frequently Asked Questions
What are the best low-code platforms?
Several top low-code platforms are available, catering to different needs.
Microsoft Power Apps offers robust integration with its ecosystem.

OutSystems provides enterprise-level features and scalability.

Mendix emphasizes collaboration and speed.

Appian offers robust process automation.

Salesforce Lightning Platform excels in CRM-related apps.
These platforms empower users to create applications with varying complexities, catering to their specific requirements. The choice depends on integration needs, scalability, speed, and specific use cases.
What is the difference between low-code and non-code platforms?
Low-code platforms enable application development with minimal coding, using visual interfaces and pre-built components. Non-code platforms require traditional programming skills to create apps from scratch.
Low code accelerates development, allowing users with limited coding expertise to participate. Non-code demands coding proficiency, suited for professional developers.
What are the challenges of low-code development?
Challenges of low-code development include limited customization for complex scenarios, potential vendor lock-in, security concerns due to abstraction, scalability issues for high-demand apps, and the need for well-defined processes to avoid creating fragmented applications. Adequate planning, monitoring, and selecting the right platform can mitigate these challenges.