So, you have chosen iOS as an ideal mobile app development platform for your business success. After deciding to build an iOS app, the question "How much does it cost to build an iOS app" arises. The iOS app development prices vary considerably, ranging from $40,000 to $730,000.
The complexity level of the app is the major factor determining the estimated cost of iOS app development. Other considerations that may impact on your expenses include the programmer's hourly rates and device types.
How do we do determine the cost of an iOS app? Let's begin with the industry standard calculation approach to estimate your iPhone app price.
iOS App Development Cost Estimation Formula
Mobile app development cost, whether Android or iOS, depends on the hours it takes to build and determining that amount with spent time resources.
The formula of the iPhone app development cost calculator:
(UI/UX Design Hours + Platform Wise App Development Hours + Backend Server Hours) x Hours Rate of Developers

In addition, several factors impact the cost of building an iOS app.
Let's delve right into all those factors!

Factors that Determine the Cost of iOS App Development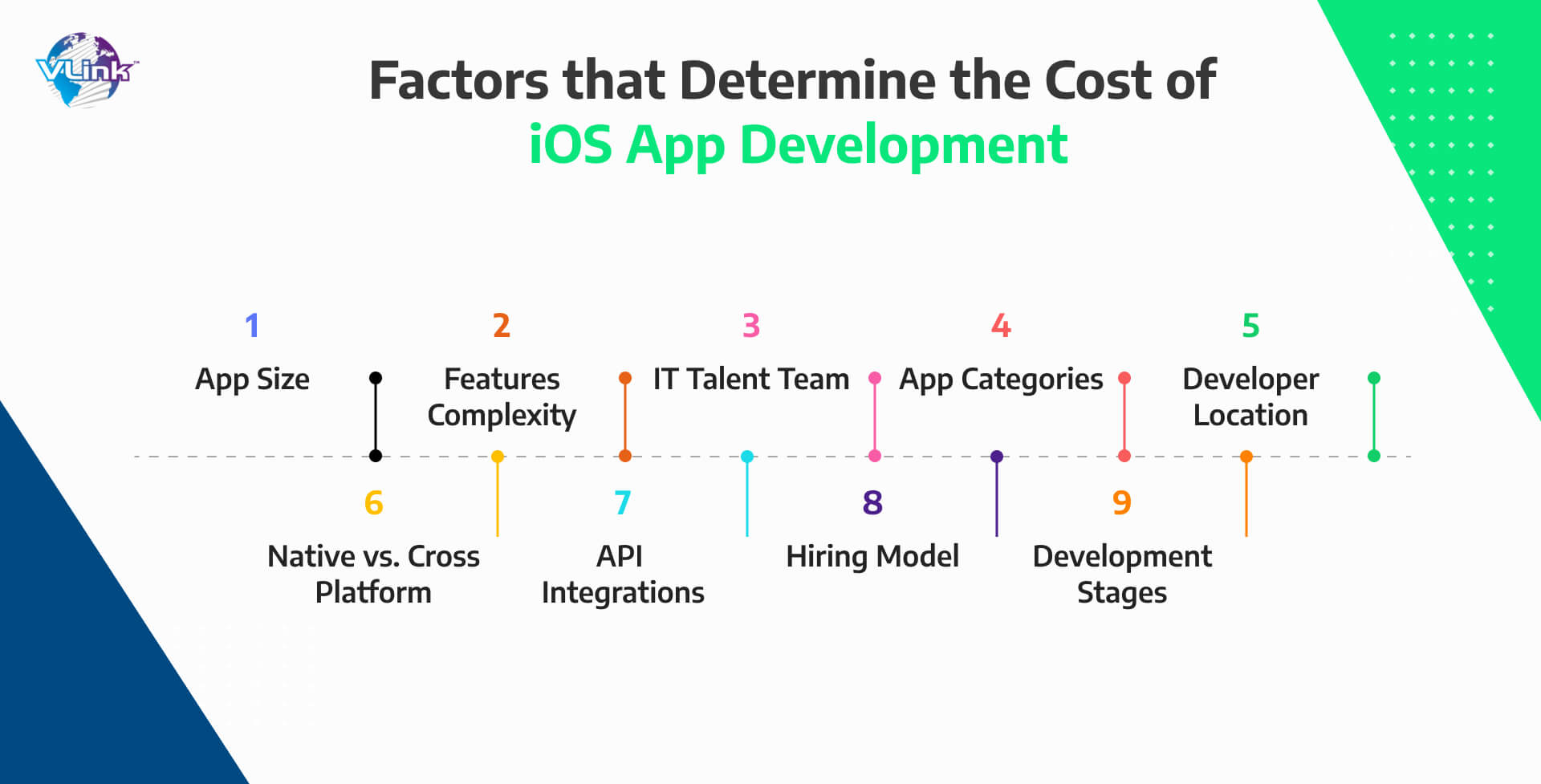 As your iOS app grows, the number of screens and features also increases, leading to extended development time and elevated costs. So, app size is one of the main factors determining the cost of building an iOS app.
Cost Breakdown of App Size
| | |
| --- | --- |
| App Size | Cost |
| Small app development cost | $8,000-25,000 |
| Medium app development cost | $25,000-50,000 |
| Enterprise app development cost | $50,000+ |
Another factor that can significantly impact the cost of creating an iOS app is the complexity of the features you select for your applications.
Here are feature-based breakdowns and the estimated effect they can have on your iPhone app costs:
Low-Complexity Features
User login and registration
This feature lets users register and access the application using their unique credentials. Additionally, it encompasses functionalities such as password recovery and account management for comprehensive user experience.
User profile and settings
This feature empowers users to personalize their app experience by managing their profile and preferences. It encompasses various options, such as customizing notification settings, changing the app's appearance, controlling privacy preferences, ensuring a tailored and user-centric interaction.
Data synchronization
With this feature, users can synchronize and access their data seamlessly across multiple devices, enabling the smooth usage of apps on both smartphones and tablets.
In-app purchases
This feature enables users to acquire extra content or features within the app, offering both one-time purchase options and subscription choices.
Medium Complexity Features
Data visualization
This functionality enables the application to present information visually, utilizing charts or graphs. It greatly enhances user comprehension and facilitates the interpretation of data.
Geolocation
It empowers the application to monitor the user's whereabouts and deliver pertinent information or features tailored to their current location.
Push notifications
It enables the app to send users notifications even when it is not in active use. These notifications alert users about new content, updates, or other essential information.
Social integration
This feature allows the app to seamlessly integrate with various social media platforms, enabling users to share content and connect with friends directly from within the app.
High Complex Features
Augmented reality
AR enables applications to cover digital content on top of the real world with a phone's camera and sensors.
Machine learning
This functionality empowers the app to leverage algorithms and data to make predictions or provide user interaction recommendations.
It enables the app to monitor user-centric behaviours, collect analytics, generate customized reports, and offer advanced search and filtering capabilities.
Internet of Things (IoT) integration
It enables the app to establish connections with and manage IoT devices, such as smart thermostats or smart locks.

Also Learn: Role of IoT in mobile app development.
Advanced Multi-Factor user authentication
This functionality encompasses safeguarding user data through the implementation of password manager solutions.
Cost Breakdown as Per App Complexity with Features:
Simple iOS App: $20,000-$60,000
Key features:
Basic functionalities

Simple UI/UX design
Semi-complex iOS app: $60,000-$250,000
Key Features:
Medium functionalities

High backend

Smooth & adaptable interface
Highly complex iOS app: $250,000-$500,000
Key features:
Complex functionalities

Robust backend

Highly interactive UI/UX design

Integration of cross-selling and upselling features
There are several aspects to iOS app development, and multiple skills have different market values worldwide. With individual iOS talents, your project can become a costly affair.
So, it would be better to hire an offshore iOS app development company for full-stack iOS development services at an affordable rate.
| | |
| --- | --- |
| Position | Hourly Rate |
| iOS Developer | $20-$100 |
| UI/UX Designer | $15-$50 |
| Scrum Master | $50-$150 |
| QA Engineer | $12-$40 |
| Business Analyst | $30-$70 |
| Project Manager | $60-$180 |
There are several types of iOS mobile apps, and the cost of each depends on its category. Every category comes with its functionalities, features, security criteria and demographics.
Cost breakdown to build an iOS app based on its category: (Table)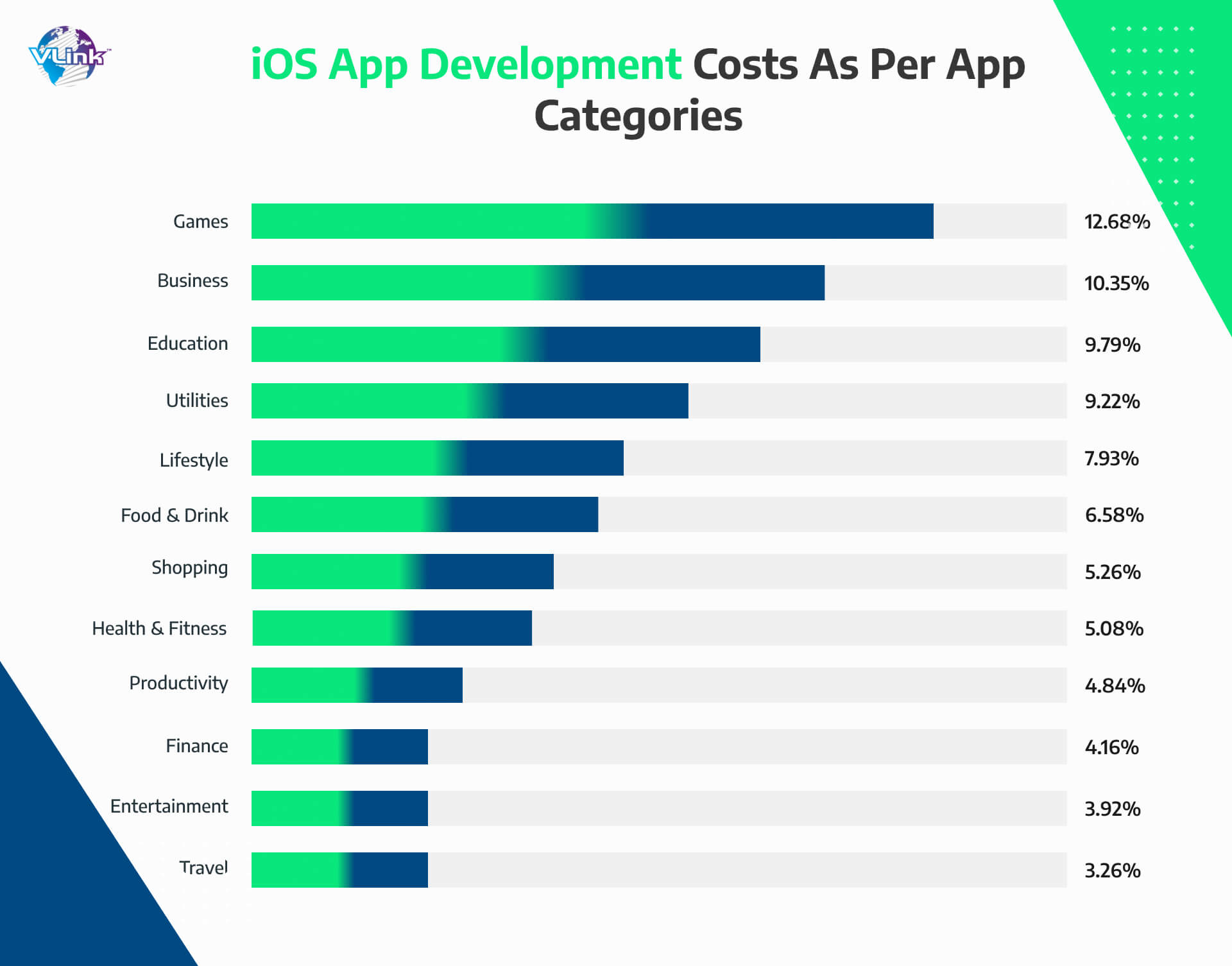 iOS app categories
Gaming Apps: $30,000-$250,000

Business Apps: $5,000-$150,000

Education Apps: $10,000-$80,000

Health & Fitness Apps: $5,000-$250,000

Entertainment Apps: $15,000-$100,000

Food & Drink Apps: $10,000-$30,000

Travel Apps: $5,000-$80,000

Shopping Apps: $15,000-$100,000

Social Networking Apps: $10,000-$50,000

Medical Apps: $30,000-$90,000
When deciding the iOS app development price, location plays a vital role.
For example, the iPhone app development cost in India is different from the price illustrated by an iOS mobile app development company in the US.
Cost Breakdown of iOS app development based on development team location: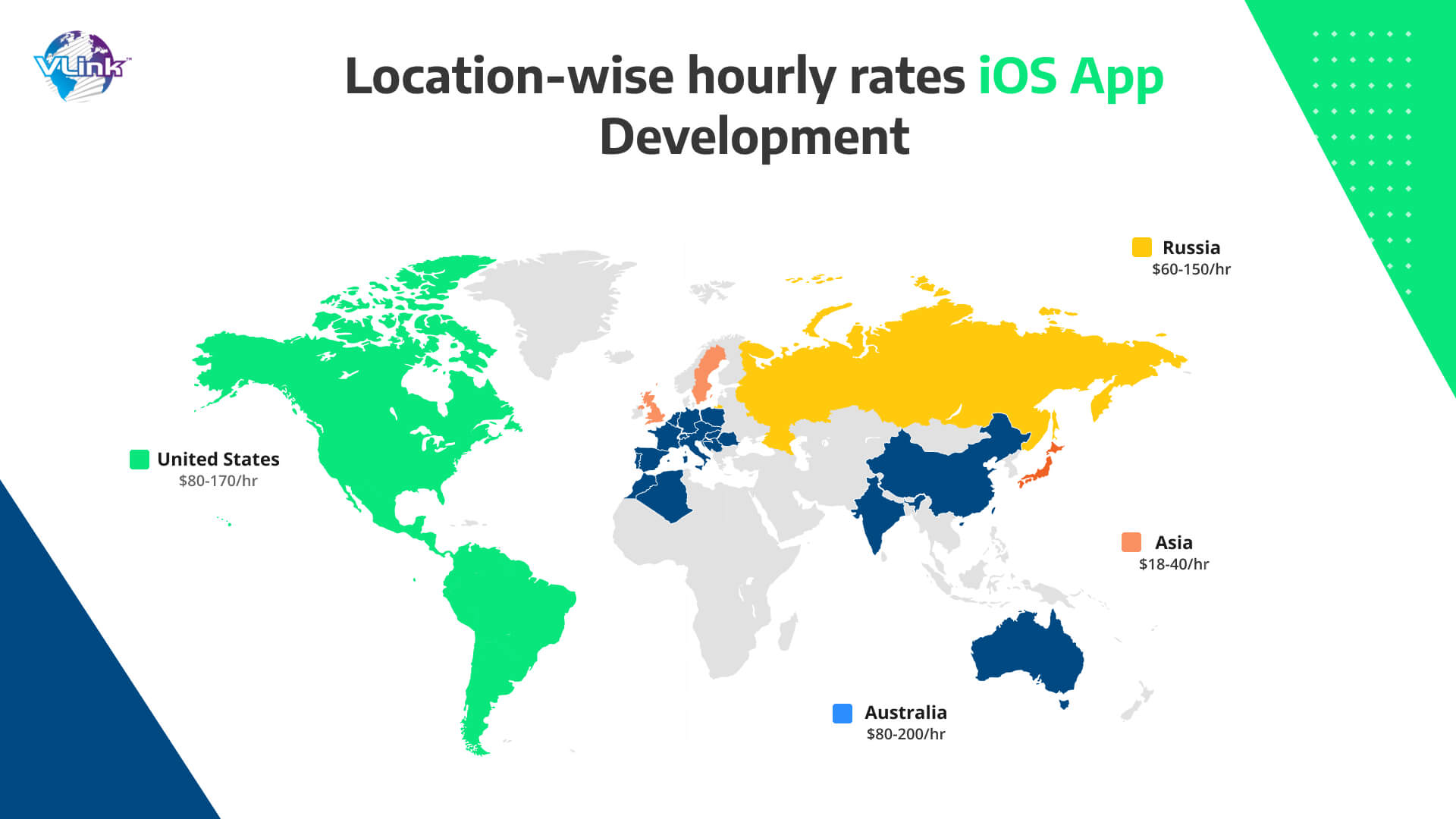 | | |
| --- | --- |
| Region | Cost/hr |
| India | $20-40 |
| United States | $80-170 |
| Ukraine | $30-$100 |
| Australia | $80-200 |
| Russia | $60-150 |
There are two methods of iOS app development:
Cross Platform

Native iOS app development
Cross-platform iOS app development costs are usually lesser than Native platforms. It lets you publish your app on both Apple App Store & Play Store.
However, Cross-platform comes with performance challenges, slow coding, and limited user experience.
On the other hand, native iOS app development costs are significantly higher. But it comes with a high level of security, reduced maintenance and improved scalability.
Cost Breakdown of iOS app development based on Platforms:
Native iOS app: $100,000

Cross-platform: $15,000-$20,000+

API integration is one of the most valuable factors that enables an iOS mobile application to seamlessly connect with other organizations or data vendors to automate several app features.
There are several types of APIs for different services.
1. Payment APIs Integrations: $2500-$5000
Here are popular payment integration APIs are:

| | | | |
| --- | --- | --- | --- |
| Payment Gateways | Transactional Charges | Monthly Charges | Currency Conversion Fees |
| Paypal | 2.9%+ $0.30/transaction | No fees $30 for PayPal | 0.4%to3.3% |
| Stripe | 2.9%+ $0.30/transaction | None | 2% |
| Authorize.net | 2.9%+ $0.30/transaction | $25 | N/A |
| Braintree | 2.9%+ $0.30/transaction (No fees for the first $5000 processed) | None | 2% |
| Apple Pay | 1%+ $0.25-$10 for instant transfer | None | N/A |
2. 3rd Party API Integrations
Here are some popular used 3rd party API integration and their cost breakdown analysis for your mobile app development solutions:


| | | |
| --- | --- | --- |
| 3rd Party Integration Services | Key Features | Average Cost to Integrate |
| Google Maps | Navigation or Geolocation Access | $200 |
| Facebook APIs | Authentication & Authorizing | $200 |
| Skyscanner API | Get flight search, ticket costs and live quotes for traveling | $100 |
| Movie Databse API | To access IMDB rating, runtime, release data, awards, etc. | $600 |
| Booking API | To access facilities, costs and accommodation queries | $800 |
Here are three basic ways to hire developers for your iOS development project:
1. Hire In-House Developers (Cost Level - High)
When should you hire in-house developers for your iOS project:

If you have leisure time for project completion

If you have multiple and recurring projects

If you have a huge budget to pay salaries and other high expenses

If you want complete control over the management
| | | |
| --- | --- | --- |
| Hiring Model | Salary Range | Project Complexity |
| In-House | $100,000/annum | Simple |
| Developers | $120,000/annum | Complex |
2. Hire Freelancers (Cost Level - Moderate)
You can approach through freelancing platforms such as Upwork, Fiverr and Freelancer.
When you should freelance iOS developers for your project:
If you want to build a basic iOS application

If you need an additional resource to complete an existing project in time

If you have a small task



| | | |
| --- | --- | --- |
| Hiring Model | Hourly Rate Range | Project Complexity |
| Freelancers | $34-$79 | Simple |
| | $20-$120 | Complex |
3. Outsource to Offshore iOS Development Company (Cost Level - Low)
When you should hire Offshore Developers for your iOS project:
If you need an enterprise iOS app

If you want to save on overall iOS app development

If you have access to global and specialized IT talents

If you use your time to focus on core business strategies



| | | |
| --- | --- | --- |
| Hiring Model | Hourly Rate | Project Complexity |
| Offshore | $45 | Simple |
| Development | $79 | Complex |

Also Learn: Staff Augmentation vs. Outsource: which one is right for your business?
One of the most essential factors of the iOS app development process is to test the app repeatedly for performance & security. It ensures your app is fully functional.
| | | |
| --- | --- | --- |
| Types of Test | Average App Testing Time | Costs |
| UX Testing | 10-60 Hrs | $200-$1500 |
| Functional Testing | 50-200 Hrs | $700-$3000 |
| Performance Testing | 10-30 Hrs | $150-$500 |
| Security Testing | 50-120 Hrs | $800-$2000 |
| Platform & Device Testing | 10-20 Hrs | $100-$200 |
Here is an iOS app design cost breakdown that can help you understand the cost of designing an iOS mobile application.
| | |
| --- | --- |
| Process | Costs |
| Research | $50-$350 |
| UX Design | $2000-$10,000 |
| UI Design | $1000-$5000 |
| Branding | $5000-$20,000 |
| Animation & illustration | $1000-$30,000 |
How Can VLink Help You in iOS App Development?
VLink has been a leading iOS app development company for the past 13+ years. Our dedicated team of experienced iOS app developers ensures that the app can help your business grow and make significant profits.
Share your requirements with us and get the best assistance within reasonable iOS app development costs.
We are experts in building everything from an average to a complex iOS-based app. Without further delay, I will discuss the cost of creating a mobile app. Once done, we will leave the rest to your team of professionals, who will handle the process.

FAQs
Frequently Asked Questions
What are the hidden costs of iOS & Android app development costs?
Hidden costs of iOS and Android app development may include:
Third-party tool licensing fees.

Ongoing maintenance and updates.

Testing on multiple devices.

Security enhancements.

App store fees.

Potential delays or revisions.
These additional expenses can significantly impact on the overall development budget.
How to reduce the cost of iOS app development?
To reduce the cost of iOS app development, consider these strategies:
1. Define clear project requirements upfront.
2. Use cross-platform development tools like React Native or Flutter.
3. Reuse code and components when possible.
4. Opt for outsourcing or freelancers.
5. Prioritize essential features first and add enhancements later.
6. Utilize open-source libraries.
7. Conduct thorough testing to prevent expensive post-launch fixes.
What are the benefits of iOS app development?
Benefits of iOS app development include access to a vast and affluent user base, higher revenue potential due to iOS users' willingness to spend on apps, better security, smoother user experience, and easier app approval process on the Apple App Store.