Staff Augmentation vs. IT Outsourcing: Which Is Best for Your Business?
In today's dynamically changing technological landscape, businesses face increasing pressure to stay competitive and innovative. As a result, many organizations find themselves grappling with the challenge of meeting their IT needs effectively and efficiently.
201 Views

4 minute
Table of Content:
IT staff Augmentation Vs. Outsourcing: Key Differences
2. Staff Augmentation Vs. IT Outsourcing: which is Right for Your Business?
When Should You Choose IT Staff Augmentation?

When Should You Choose IT Outsourcing?
3. How Can VLink for Staff Augmentation or IT Outsourcing?
4. Wrapping up!
5. FAQs–
Undeniably, the lack of tech talent is the reality of today's market. 87% of U.S. retailers identify shortage of skilled personnel as a significant challenge for 2023. According to the research by Korn Ferry, unless the United States finds a more highly skilled workforce, it could lose out on $162 bn because of a shortage of tech talent.
Luckily, IT staff augmentation and outsourcing come to the rescue with their numerous benefits: global tech talent access, reduced overhead costs, increased efficiency, and many more. Both hiring models are becoming increasingly popular in the IT market.

But which one is right for your business? IT staff augmentation vs. outsourcing!
In this blog, we will analyze both models, their benefits, and their key differences to choose the right model for your business.
IT staff augmentation Vs. Outsourcing: Key Differences
IT Staff Augmentation vs. Outsourcing: Overview
What is IT staff augmentation?
IT Staff Augmentation is a business practice of upscaling your in-house development team with tech talent on a short-term or long-term basis. This approach includes experienced, full-time, employed software developers from outsourcing agencies.
Learn everything about IT staff augmentation service.

What is IT outsourcing?
The outsourcing model is like hiring a dedicated development team, including a project manager, software developers, testers and UI/UX designers for a certain period.

Outsourced talent is responsible for delivering all IT services required by a business. However, they focus more on processes and services than the technology department, mobile app development and testing.
Also Read: interesting outsourcing trends to watch in 2023.
Staff augmentation Vs. IT outsourcing: Market Trends
According to a survey, global IT staff augmentation market revenue is around $ 81.87 bn. And this number is expected to reach $385.9 bn by 2027.

Reasons, why choose IT staff augmentation is shown below image: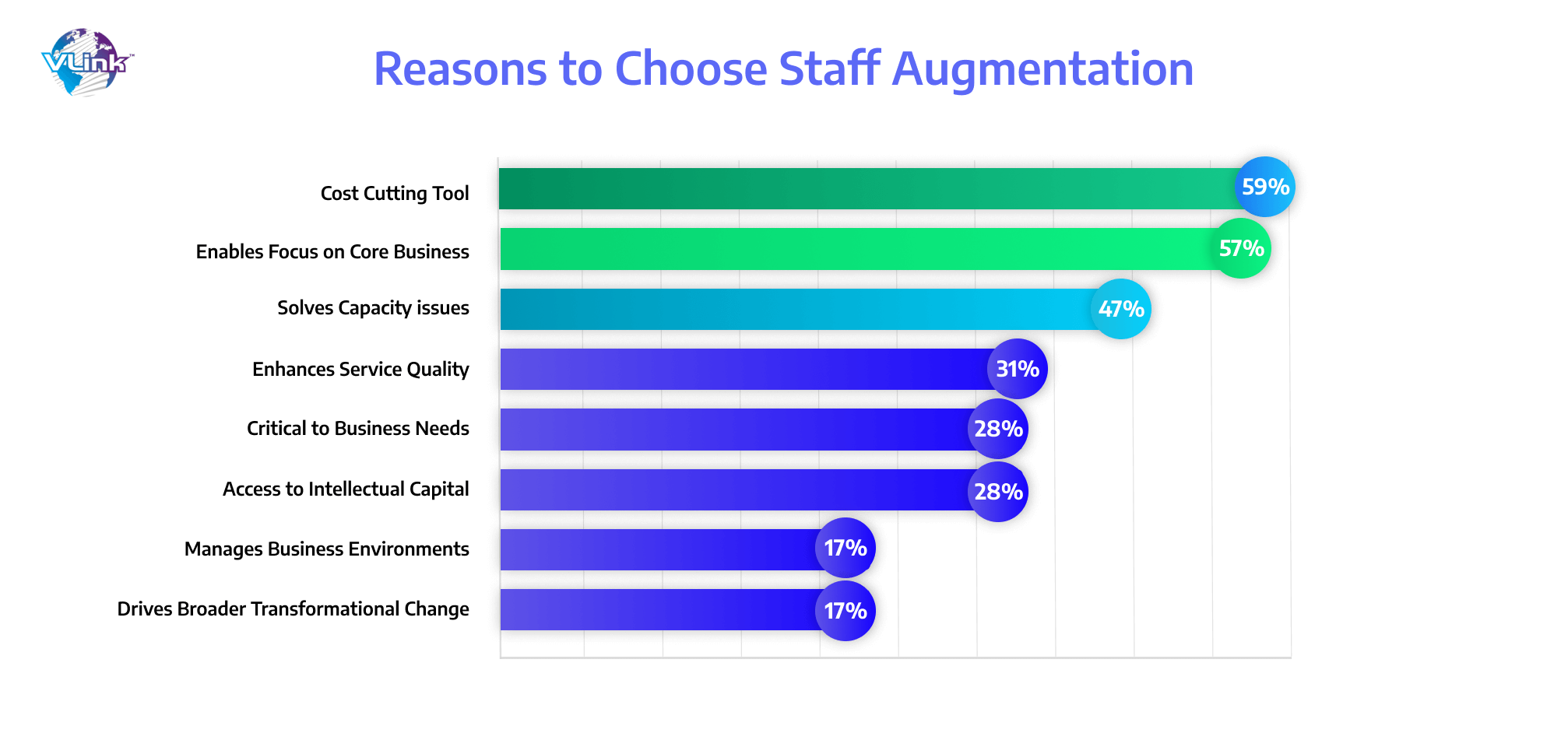 In 2021, the IT Outsourcing market was valued at around $ 526.6 bn, projected to increase by $682.3 bn by 2027. Statista and Globe Newswire say the IT outsourcing market will grow by $425.19 billion by 2026.
The below images represent the reasons why outsourcing to software companies is superior to hiring freelancers;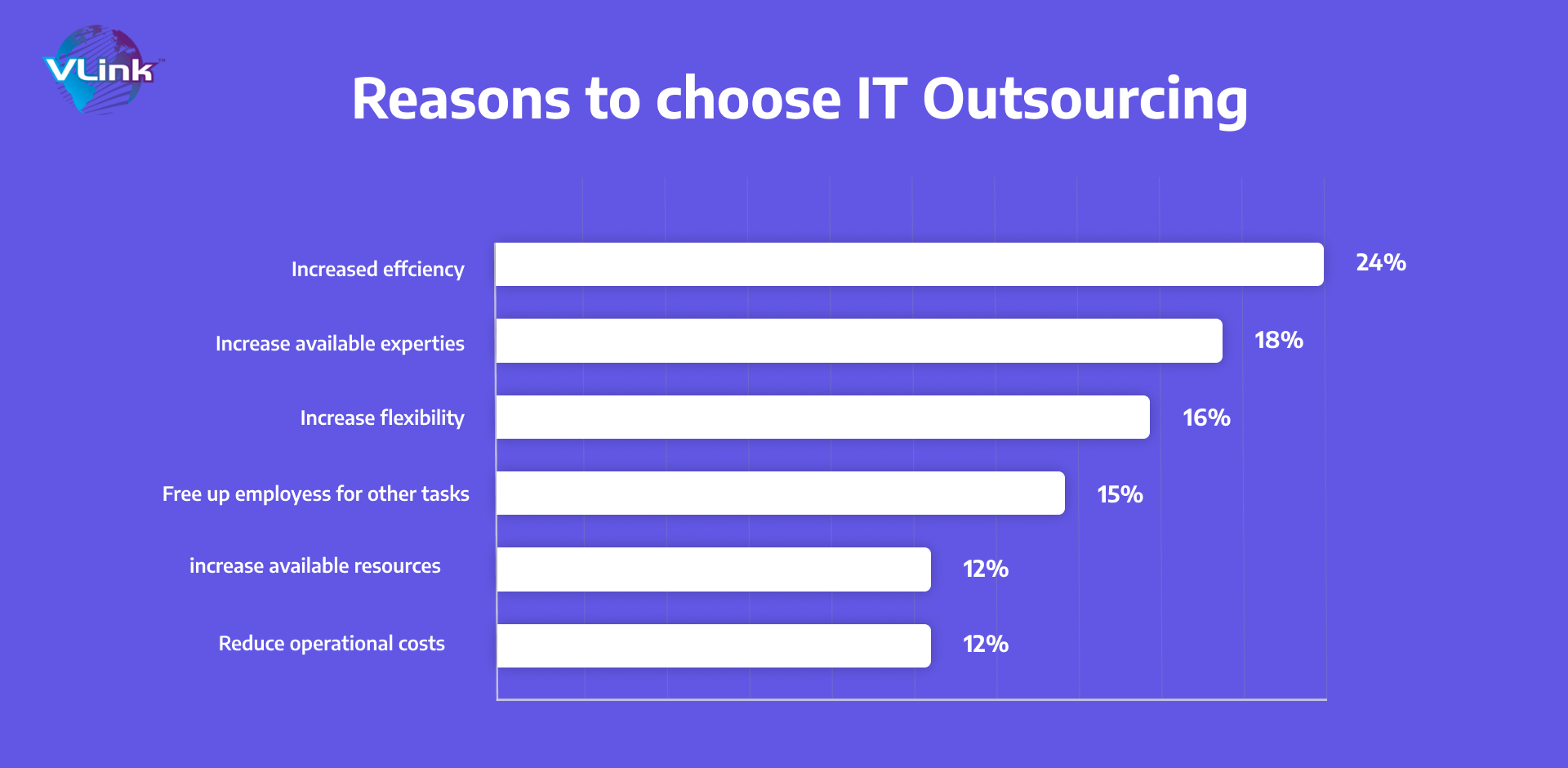 Staff Augmentation vs. Software Development Outsourcing: Benefits & Drawbacks

Staff Augmentation: Benefits & Drawbacks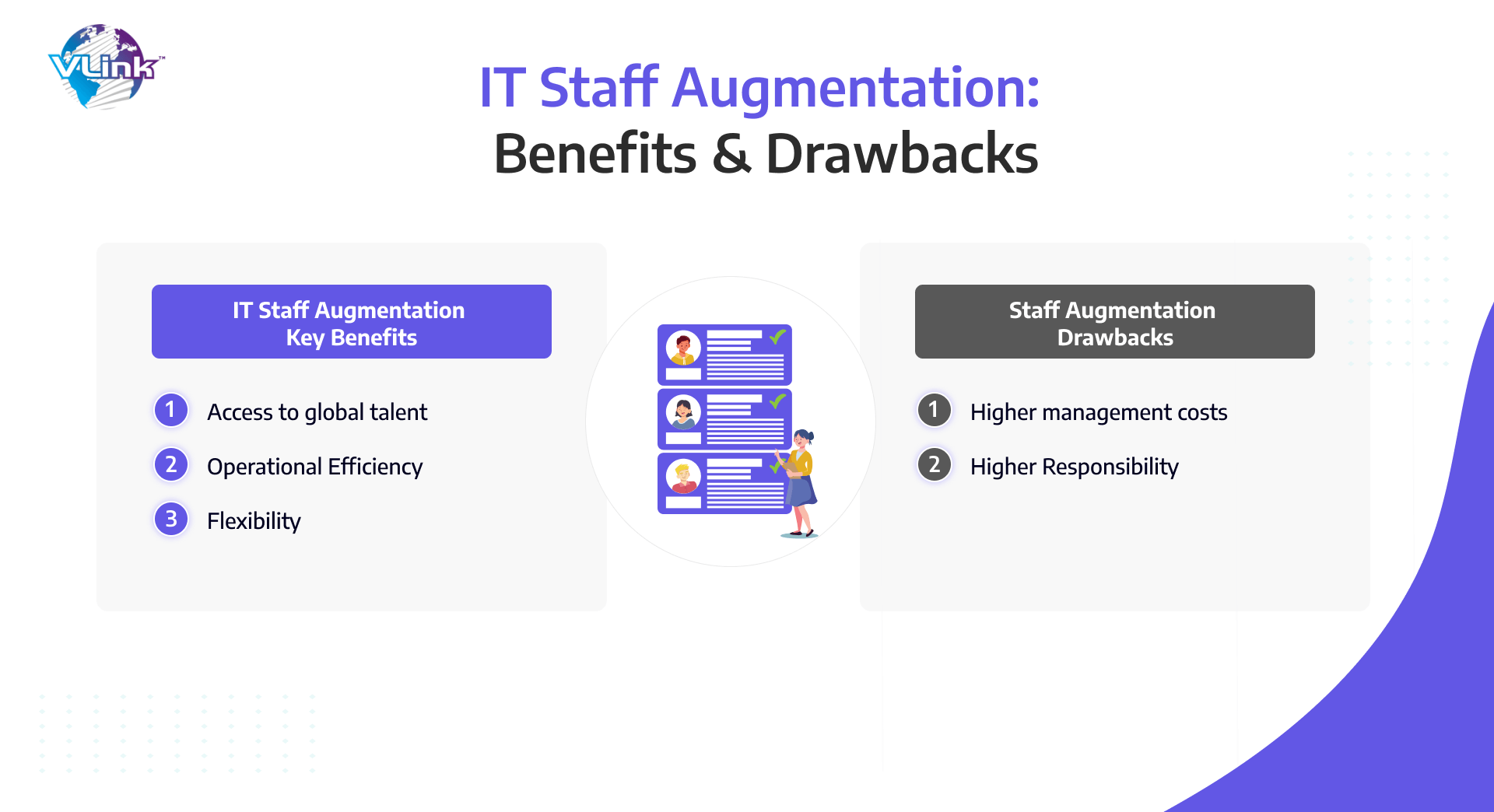 Key Benefit #1 - Access to global talent
Staff augmentation services provide an opportunity to tap into a vast pool of tech talent globally. Experienced professionals with unique strategies and fresh perspectives will enrich your projects and take them to the next level.

Key Benefit #2 - Operational efficiency

One of the primary ways how IT staff augmentation can drive business to success is operational efficiency.
Many startups and small businesses experience higher operational costs, especially during slight periods with fewer ROIs. With staff augmentation agencies, you can allow flexible working platforms, resulting in higher operational efficiency. You don't need to pay infrastructural costs at the new place.
In the short term, staff augmentation solutions reduce hiring and operation costs.

Key Benefit #3 - Flexibility
Staff augmentation is a flexible hiring model that helps to minimize extra expenses associated with permanent hirings, such as EPF (Employee Provident Fund) and health benefits. It also allows experts to work on a project basis.
It's a win-win situation for employers and employees, yielding mutual benefits.
Drawback #1 - Higher management overhead

Onboarding new team members requires additional time and effort from higher management. But this step is necessary for security measures, access issues, and other incidents for your projects.

Drawback #2 - Higher responsibility
Always remember, augmented staff works for you. So, no matter what your decisions regarding the product are, you will have to deal with the consequences!
Software Development Outsourcing: Key Benefits & Drawbacks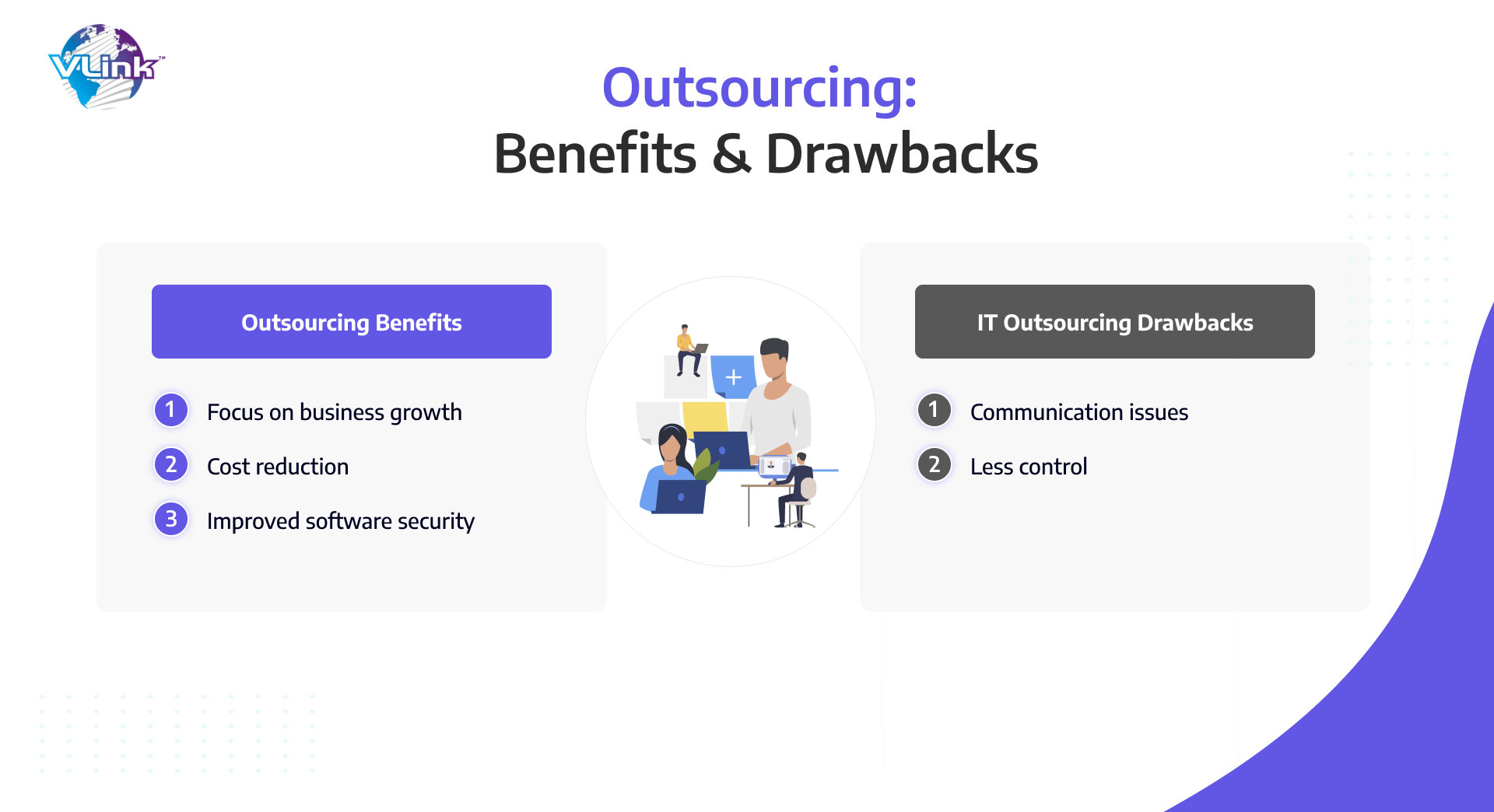 Key Benefit #1 - Focus on business growth
Finding and managing a software development team is time-consuming and complicated. But, with IT outsourcing, you can focus on your core business activities for which you didn't have time to work on a project in-house.
Key Benefit #2 - Cost reduction

Around 300,000 jobs are outsourced every year only in the US. No wonder many companies look for support, especially in high-quality development with lower rates.

With IT outsourcing, you can save employee and operating costs, including recruitment process costs, employee benefits, or office rentals.

Always choose quality over price; outsourcing allows you to level them out.
Key Benefit #3 - Improved software security

Is your firewall up to date? Do you have DMZ installed? Do you audit your Workstations and Servers? Has your company implemented PCI security standards and worked to maintain those standards?

By outsourcing talent from a company familiar with PCI Compliance standards, you can rest assured that your company is reducing the risks of maintaining client data, credit card numbers, sensitive competitive information and more.
Drawback #1 - Communication issues
One of the biggest drawbacks of using IT outsourcing is communication issues.

It would significantly hinder your business efficiency and extend other problems like downtime.
Drawback #2 - Less control
You can allocate your resources towards your core functions when opting for third-party services. However, some individuals may feel uneasy about entrusting their security or critical operations to an external provider.
There is a potential risk that a secondary managed service provider (MSP) may not uphold the same standards as an in-house team.
Although you can provide direction regarding what you need to accomplish, you give up some control when outsourcing.

There are many reasons for this, including the fact that you often hire a contractor instead of an employee. And since the person is not working on-site, it can be not easy to maintain the level of control you desire.
IT staff augmentation vs. Outsourcing: Cost efficiency
Outsourcing is commonly utilized to manufacture extensive and intricate products. Among the various types of collaborations in outsourcing, fixed-price contracts are predominantly favored as the chosen model.

Staff augmentation in the IT industry can be cost-effective as it enables you to pay for the actual hours worked on your project, giving you greater control over employee engagement.

For example, you can opt for extended hiring periods with reduced compensation, thus balancing employee involvement and financial efficiency.

Staff augmentation vs. IT outsourcing: Project purpose
With staff augmentation, you can keep the staff size and scope of their contracts with full-time workers. This model makes meeting deadlines and completing projects easier.

With software project outsourcing, companies can benefit of specialty skill set. Still, they must carefully evaluate their options between staff augmentation and outsourcing.

IT Staff Augmentation Vs. Outsourcing: Control level for your project
Management-level needs can also help determine whether IT staff augmentation or outsourcing is the right choice.
IT staff augmentation provides more control and flexibility. Augmented professionals can be easily integrated into the existing team structure and managed by professionals. So, if you can provide more management, nothing can be better than staff augmentation.

Outsourced vendors usually manage the project and oversee the team, so it requires less control. Outsourcing will be better if your main focus is the result.
Staff Augmentation Vs. IT Outsourcing: Data Security Risks
Evaluating a vendor's security policies is crucial when considering outsourcing, as it introduces potential risks due to sharing sensitive information outside your organization.
Therefore, it becomes imperative to thoroughly assess the security measures the vendor implements before deciding to outsource.
In contrast, staff augmentation provides data security as augmented staff are integrated into the company's existing security protocols.

IT Staff Augmentation Vs. Outsourcing: In-House Situation Estimation
Evaluating your current situation is essential before deciding between staff augmentation vs. outsourcing.
Outsourcing may be better if you have a talent shortage or overloaded projects.
Staff augmentation is the right choice if you want to scale your existing team.
Staff Augmentation vs. Software Development Outsourcing: Quality & Expertise

Having complete control over selecting staff for augmentation empowers you to carefully choose individuals with the precise expertise and skills required to enhance your in-house team.
As the product owner, you can shape the processes according to your preferences by closely overseeing the development process, ensuring that the final product aligns with your vision.
By collaborating with a proficient and adaptable outsourcing team, it becomes feasible to attain precisely the envisioned product by the project's completion. Nevertheless, achieving this outcome necessitates increased communication and commitment.
One of the primary motivations for business owners to outsource their software is the ability to entrust the product to seasoned professionals, enabling them to allocate their valuable time towards other essential business responsibilities.

IT Staff Augmentation vs. Outsourcing: Flexibility
IT staff augmentation model makes hiring more flexible than outsourcing. You can consider technical & communication skills, work processes and many more.
In general, outsourcing flexibility is limited to your requirements for the product rather than the team itself. Usually, when you're partnering with an outsourcing company, you will get workforce that are;
Fit the requirements for expertise

Free from other projects

Have time to take on another project
Staff Augmentation vs. IT Outsourcing: Which is Right for Your Business?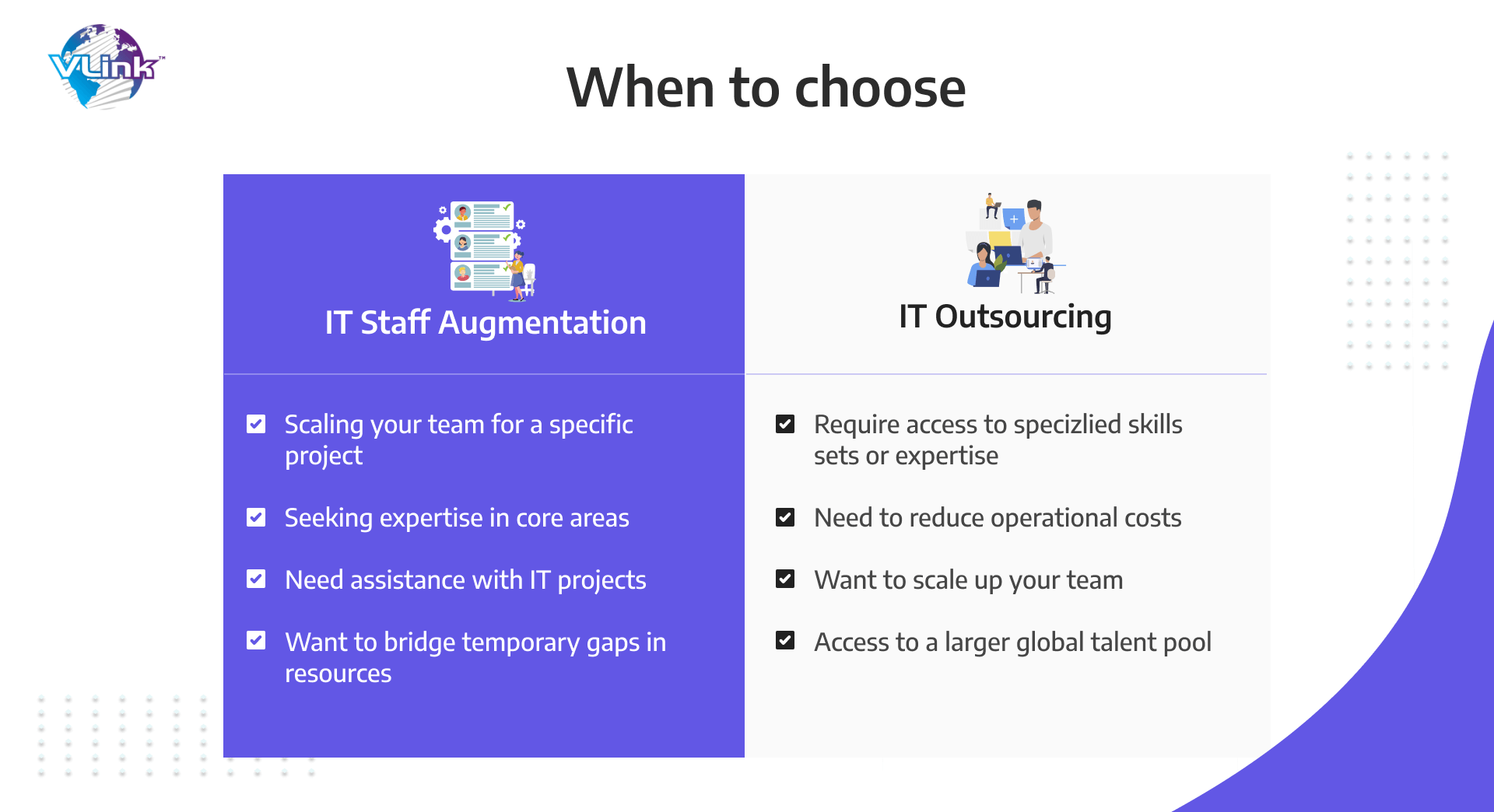 It would be best to choose your hiring model per your specific needs.
Both staff augmentation and IT staffing models have their pros & cons. So, you must consider all the abovementioned factors to make the best decision. You must also choose the right model to utilize specialist expertise according to the right scenarios.

When To Choose IT Staff Augmentation
If you need to quickly scale your dedicated team for a specific project or initiative.

If your business needs expertise in core areas such as software development and creative design.

If you need assistance with IT projects requiring specialized knowledge.

If you need to bridge temporary gaps in human resources because of unexpected turnover within the organization.
When To Choose IT Outsourcing
If your business needs access to specialized skill sets or expertise.

If you want to minimize operational costs by replacing expensive, full-time IT staff with an external team of specialists.

If you need to quickly scale up the existing internal team without additional resources.



Whether you choose IT staff augmentation or Outsourcing, VLink is the right choice!
How Can VLink Help with Staff Augmentation or IT Outsourcing?
VLink is a worldwide software development and staff augmentation company with 13+ years of experience. We have a dedicated team of software engineers, QA testers, project managers and other IT specialists who can help your business to turn digital or roll out a competitive software product.
We offer various cooperation models, including full-process outsourcing, dedicated team, and staff augmentation, so that you can select the best option. Our services are the best ways to know how to extend development team and solve hiring process.
Conclusion!

When deciding if staff augmentation or IT project outsourcing is right for your business, it's essential to understand the critical differences between the two models. The right one for your organization depends on your unique needs and objectives.
VLink offers IT staff augmentation services and would happily help determine if this delivery model suits your business needs. Schedule a call today to get started!

FAQs
Frequently Asked
Questions
How can you find the right talent from augmentation or outsourcing services?
There are a few key considerations to remember when finding the right talent for your needs, whether through augmentation services or outsourcing.
Firstly, clearly define your requirements and expectations, understanding the required skills and expertise.
Secondly, thoroughly research and potential augmentation or outsourcing service providers, assessing their reputation, track record, and client testimonials.
Thirdly, communicate openly and extensively with the service providers, discussing your goals, timelines, and top challenges of IT staff augmentation.
Lastly, consider conducting trial projects or interviews to evaluate the capabilities and compatibility of the talent before making a final decision.
These steps will help you find the right talent that aligns with your objectives and business requirements.
What are the risks of staff augmentation, and how to mitigate them?
Staff augmentation carries certain risks that should be considered and mitigated. These risks and their solutions are:
Potential lack of alignment between augmented staff and the existing team, leading to communication and collaboration challenges. It can be addressed by establishing clear expectations, facilitating open communication channels, and fostering a positive team culture.
The quality of augmented staff, as they may lack the necessary skills or experience. Mitigation involves thoroughly vetting candidates, conducting rigorous interviews, and verifying their qualifications through assessments or reference checks.
Increased dependency on augmented staff could lead to overreliance and reduced internal expertise. To mitigate this, it is crucial to balance augmenting the team and retaining core competencies internally.
How to reduce the risks of IT outsourcing?
To reduce the risks of IT outsourcing, you need to choose the right vendor by evaluating their track record, reputation, and security measures. Establish clear communication channels and expectations, define service-level agreements, and conduct regular performance reviews.
Implement robust contractual agreements and thoroughly assess the vendor's data protection and compliance protocols.