Technology has completely changed the way we live and how we interact with the world. It also holds true for our pets. Using smartphone apps, we can schedule veterinary appointments, order treats for our dogs, or even find a babysitter for when we go away for the weekend. But why?
Here are some stats about pet app development in the USA and Europe.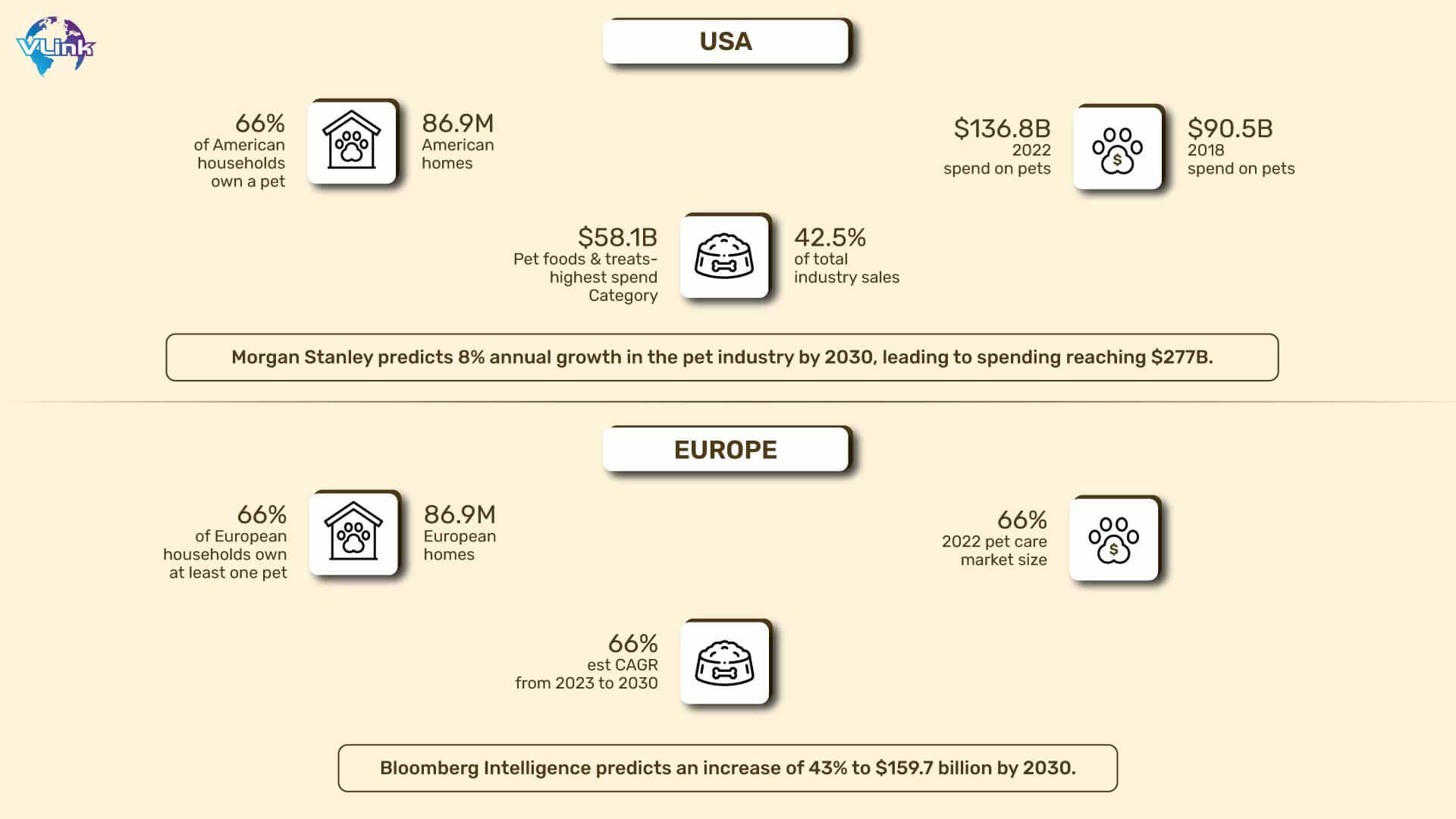 The global pet tech market is expected to grow from $5bn to $20bn, 2021-2028.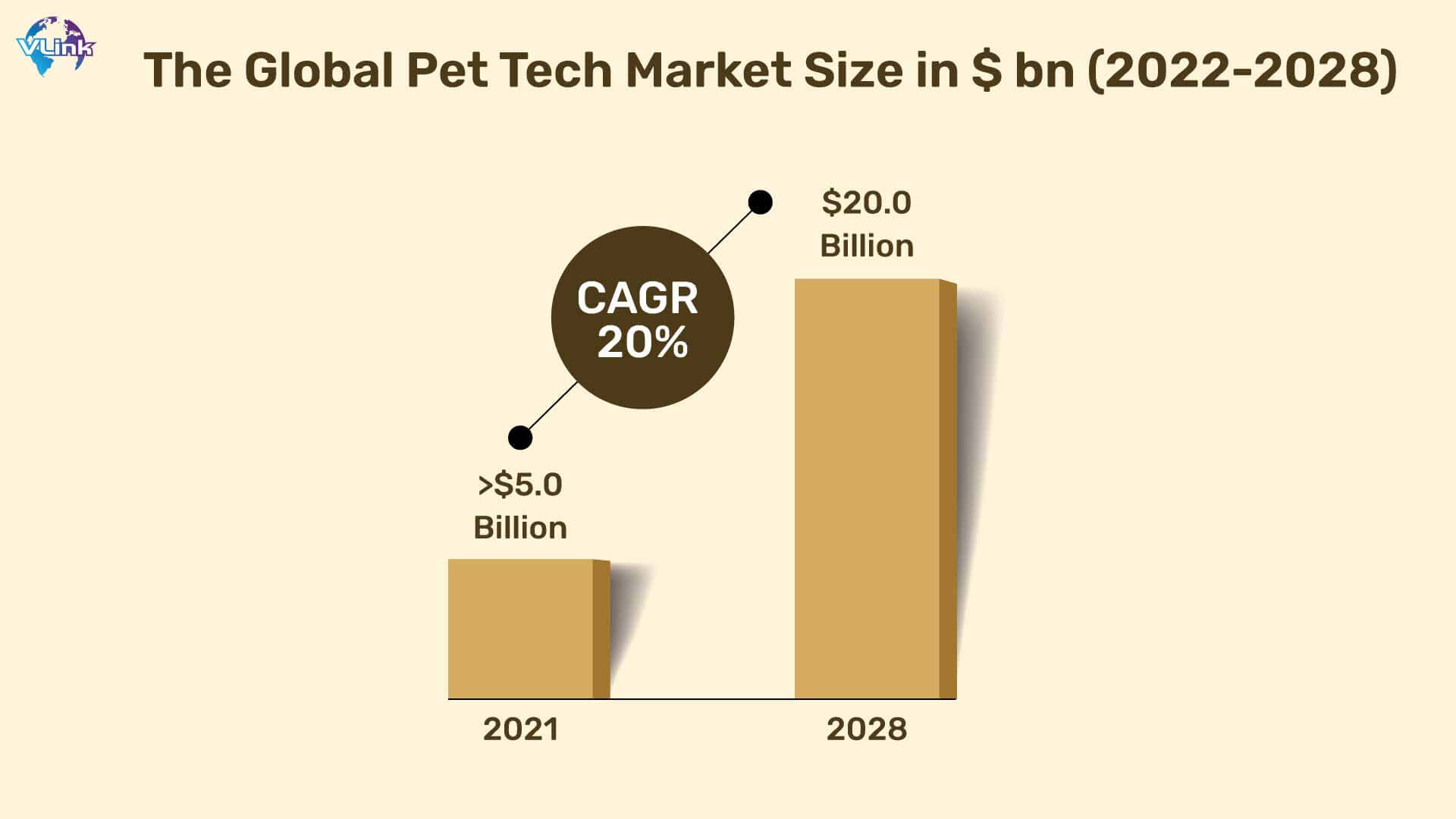 The number of apps available to download on mobile devices continues to develop rapidly. So, if you want to build a successful pet app within your budget, here are different categories you can go with for your business.
In this blog, you will learn about different types of best pet app categories.
Best Apps for Pet Owners & Lovers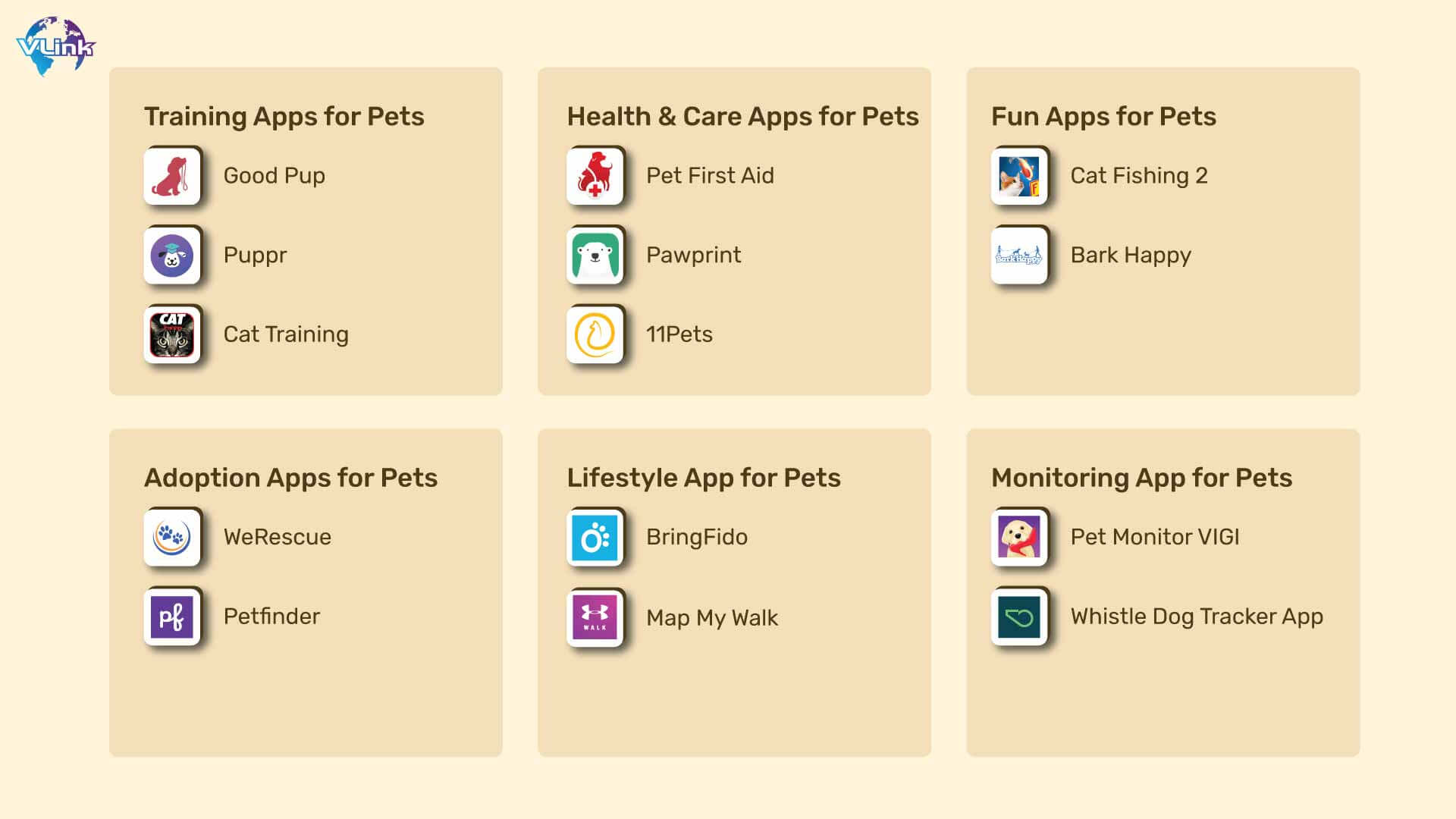 Good Pup - The New Standard in Dog Training
If pet owners want to provide flexible and less hassle training for their dog at home, nothing can be better than Good Pup. It comes to the first list of best training pet apps that allows pet owners or pet lovers to schedule sessions with a certified trainer via video. Furry friend lovers can also access their trainer outside of sessions for any queries.
Key Features of Good Pup:
Weekly Video Call

Daily Goals

Text Check-Ins

Guaranteed Results

Available for the iOS platform

100K Downloads
Puppr: Ideal for Dog Training and tricks
Whether a pet owner needs at-home help with teaching their dog to shake hands or wants to speak to a vet about how to stop puppies from nipping, Puppr is the best app to consider.
Puppr includes step-by-step photo instructions and an integrated clicker to help pet lovers train their pups. The lessons cover over 50 tricks, from basic obedience like "sit" to advanced tricks like "skateboarding."
Key Features of Puppr:
Easy video instructions

Live chat with expert trainers

Progress trackers to monitor your dog's progress level

Built-In Clicker

Collect Badges

Available for both Android & iOS.

500K Downloads
Cat Training: Great for Cat Trick & Training
It's challenging to train cats for new kitten owners. That's where the Cat Training app comes in! Pet (cat) owners can seek advice from a certified and experienced vet. It also provides good guidance to new and experienced pet lovers alike.
Ideal for Android & iOS.

50K+ Downloads

Pet First Aid: Ideal for both Dog and cat care
If anyone has ever researched "What are the symptoms of a pet's allergic reaction?" or "a certified vet hospital near me", Pet First Aid is the right choice! This app helps both cat & dog owners take care of any emergencies their pets might encounter through step-by-step instructions.
Pet First Aid also helps to locate pet-friendly hotels. In addition, you can set vet visits, create furry friend profiles and recognize toxic elements. Pet lovers can access expert guidance on maintaining their pet's health.
Available for Android & iOS

100K+ Downloads
Pawprint: Perfect for Reducing Your Carbon Footprint
Keep all of your dog's vital information in one location with this best pet app. Pawprint even allows you to access and store official medical records for your dog. It's excellent for keeping track of things like vaccination schedules, veterinarian visits, and even weight and feeding data.
Key Features of Pawprint:
Calculate your Carbon Footprint

Understand the Impact of your Actions

Contribute to Climate Projects

Available for iOS

5K+ Downloads
11Pets: Ideal for Pet's Health
Various resources are available for pet owners to use on the petcare platform 11Pets. Taking care of our pets' needs and health can occasionally become challenging. As a large family of animal lovers, we at 11pets have created the most excellent digital platform to assist people in providing better care for their pets.
11Pets Key Features:
Medication reminders

Medical records

Adoption papers

Access to professional groomers

Networking opportunities with other pet parents

Easy tips for home care, house training, & preventative treatment

Available for both iOS and Android devices.

500K+ Downloads
Enhance the well-being and entertainment of your furry friends with fun apps for Pets:
Cat Fishing 2: An Interactive Game for Cats
Cat Fishing2 features swimming fish on the screen that your cat can "catch" by tapping the screen. It's fantastic for playtime because it provides the mental stimulation to keep your cat's mind active while scratching their hunting itch.
Key Features of Cat Fishing 2:
Endless gameplay with no time limits or screen interruptions

No ads

Unlimited access to all particular fish types and settings

Available for both Android and iOS

1M+ Download
Bark Happy: A location-based app and community for dog lovers
New to the area? Only in need of new friends who own dogs? Through its GPS, this app locates dogs in the area, dog-friendly establishments, dog-related events, and even lost-and-found notifications. Look for activities and playmates for both you and your dog.
Available for both Android and iOS

50K+ Downloads
WeRescue: Ideal App to Find Fur-Ever Friend
WeRescue is the go-to choose for animal lovers seeking their next best friend. WeRescue app ensures pet owners have access to an incredible variety of pets. Ready to find their forever homes. Explore a wide range of adoptable pets, such as rescue dogs, cats, birds, reptiles and small & furry creatures.
Key Features of WeRescue:
Advanced Breed Search

Comprehensive pet details

Filters of any pet adoption app

Stunning high-resolution photos

Available for iOS
Petfinder: Ideal to Find Nearby Pets to Adopt
Everyone might already be familiar with the popular Petfinder website, but did we know that the company now offers a mobile app? Like the website, you can view animals in the area and around the country, search for animals of a specific breed, gender, or size, and read about each animal.
What's more, Petfinder helps pet owners to find their "favorite" cats and dogs so that they may return to them later.
Available for Android & iOS

1M+ Downloads
BringFido: A Great Place to Search Furry Friends
There's a lot of planning to do if your dog is going to travel with you. Where are the hotels that allow dogs? What about restaurants that allow dogs? You can find out via the BringFido app. To locate the best lodging options for your dog, search by location and use the built-in price, dog size, and other filters.
If you're planning a move and want to discover the best dog-friendly locations in your new neighbourhood, BringFido is worth checking out. You can even register to get notifications about future events that welcome dogs!
Available for Android & iOS

100K+ Downloads
Map My Walk: Ideal App for Pet Health
Together with your dog, burn calories with Map My Walk. This best pet app tracks calories, logs your walks (time, distance, pace, and speed), and as mentioned above, interactively maps your walks using the GPS on your phone.
Along with connecting with friends, you can get photos taken along your route to track your nutrition and workouts.
This app makes walking more enjoyable for you and your dogs, like FitBit or other fitness trackers. It uses GPS to measure distance, speed, and duration and can assist you in switching up your boring old route.
Pet Monitor VIGI: Ideal Pet Tracking App
Track your puppy or dog when it's at home. To stop barking, use two-way video chat; alternatively, carry on with puppy training. When your dog is barking or howling, or if your puppy is experiencing separation anxiety, you will be alerted by your pet camera's noise and motion activity sensors.
Available for Android or iOS

1K+ Downloads
Whistle Dog Tracker App: A Smart Pet Tracker
It's no secret that pets occasionally wander, which causes pet parents a great deal of stress and anxiety. Luckily, you can track your pet's location with the best pet apps like the Whistle app, which you can download. Your pet's collar is equipped with a GPS tracker that lets you follow them around at all times.
With the Whistle app, you can always find out where your pet is. Beyond merely tracking your pet's whereabouts, the Whistle GPS tracker and app can assist you in keeping an eye on their overall health and fitness.
Available for iOS and Android users.

100K+ Downloads

How to Build a Pet App for Both Android & iOS Platforms?
To build the best pet app for both Android and iOS platforms, you can follow these steps:
Conceptualize the Idea: Define the app's purpose, features, and target audience.
Market Research: Study competitors and identify unique selling points.
Design: Create wireframes and UI/UX design for a user-friendly interface.
Development: Write code using

cross-platform app development frameworks

like React Native or Flutter for efficiency.

Testing: Thoroughly test the app for functionality, usability, and bug fixing.
Deployment: Publish the app on Google Play Store and Apple App Store.
Maintenance: Regularly update and maintain the app to keep it up-to-date and bug-free.
Consider hiring dedicated development team for a smoother process.
Contact VLink to create a successful pet app!
Want to elevate your pet training and furry friend matchmaking business? We have got you covered! At VLink, we provide a wide range of professional pet care app development services to make your idea a reality.
Our latest software development tools & technologies completely satisfy the dynamic companion animal health sector. Thus, we deliver the best pet app development for both Android & iOS platforms to you within your budget.
If you want to build a pet app for your furry friend business, contact our experts!
FAQs
Frequently Asked Questions
How much does it cost to build a pet app for Android & iOS?
The cost to build a pet app for Android and iOS can vary widely based on features, complexity, and development resources. An essential mobile app development costs around $10,000 to $20,000, while more complex apps with advanced features range from $50,000 to $100,000.
What are the critical features of pet app development?
Critical features for a pet mobile app development services include user profiles for pet owners and pets, a pet adoption or marketplace section, appointment scheduling for vets and groomers, geolocation services to find nearby pet services, a social network for pet lovers, photo sharing, and in-app purchases for pet-related products.
Push notifications, ratings and reviews, and a user-friendly interface are crucial for a successful pet app.
What are the best pet pups for Android & iPhone Users?
Some popular pet apps for Android and iPhone users include:
Petfinder: Helps users find and adopt pets from shelters and rescues.
Rover: Join furry friend owners with local pet sitters and dog walkers.
Chewy: An online pet store for purchasing pet supplies and food.
Wag!: Provides on-demand dog walking and pet sitting services.
iKibble: Offers information on safe and unsafe foods for pets.
The best app depends on your specific needs as a pet owner or enthusiast.