As the prevalence of unfortunate mental health issues continues to rise, the demand for cognitive and inner peace has become increasingly imperative.
Approximately 26% of adults in the United States experience psychological distress, and globally, 54% of the population acknowledges experiencing worry or stress in their everyday lives.
This is where the meditation app comes in!
A meditation app helps users in practicing meditation and mindfulness. These apps typically offer a variety of guided meditation sessions, relaxation techniques, and mindfulness exercises that users can engage with to promote mental well-being, reduce stress, and enhance focus.
The Global Mindfulness Meditation Application Market Was Valued At $97.6 Million In 2022 And Is Projected To Reach $307.1 Million By 2030, Growing At A CAGR Of 12.4% From 2022 To 2030.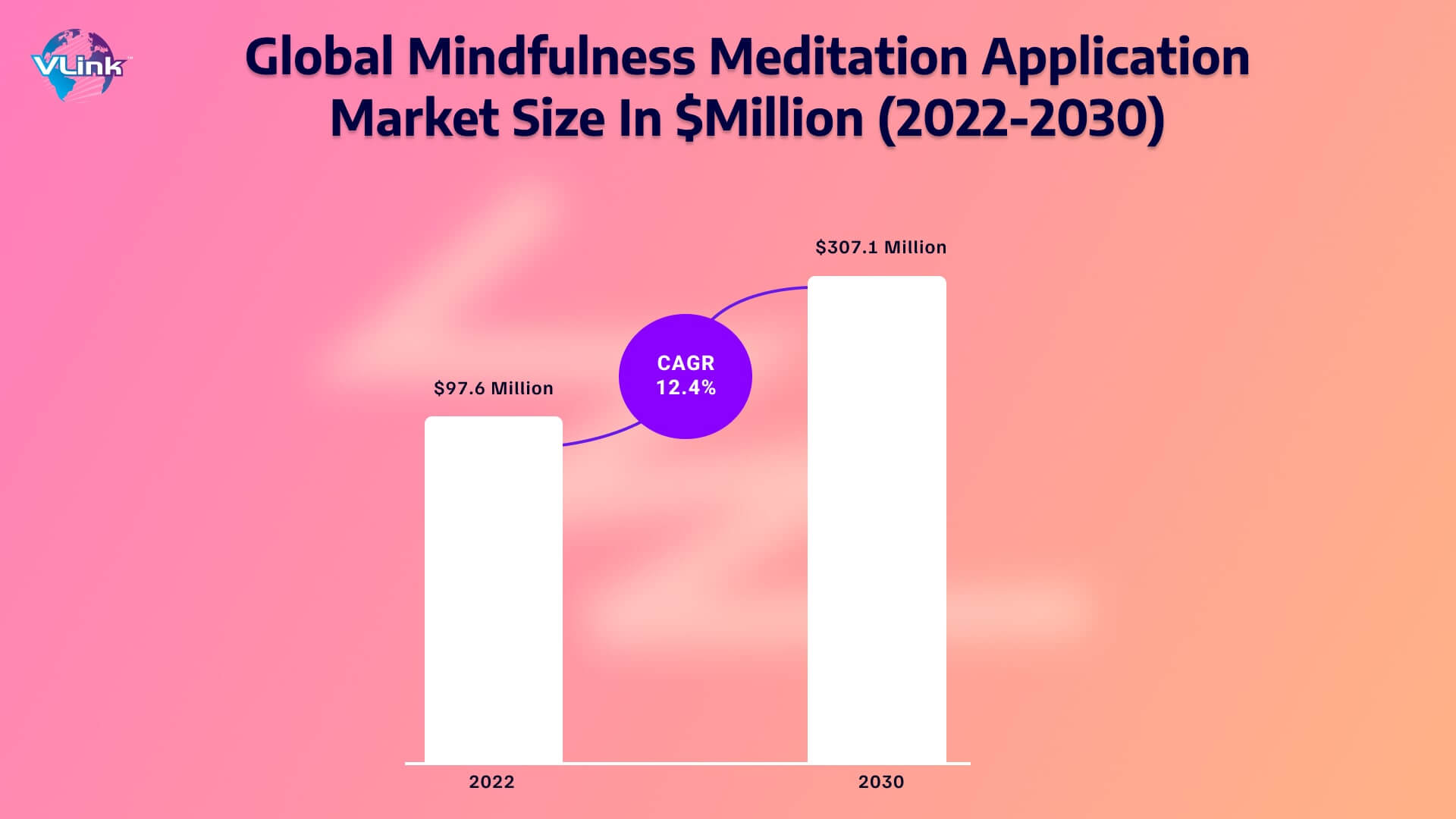 Calm, Headspace & Insight Timer are some popular meditation apps. Headspace holds the second position in the market.
Why Headspace is Popular Among Users?
Northeastern University claimed that 3 weeks of Headspace emphasizes compassion by 23% and reduces aggression by 57%.

Health Professionals found that 10 days of Headspace improves self-compassion.

Moreover, it enhances focus by 14% and makes people happier at work and school.

Another study showed that 10 days of Headspace can reduce stress by 14%.

11% Increase in resilience after 30 days.
But, the main concern is the cost of building a Headspace-like meditation app if you want to invest in this sector. In this blog, you will explore meditation app development costs, factors, and features.
Let's start with a few stats:
Incredible Market Stats of Headspace like Meditation App
Meditation ranks just below yoga in popularity in the United States, with around 14% of adults and 7% of children practicing it. Globally, the number of meditation practitioners ranges from 200 to 500 million, and this figure is steadily increasing.
In addition, people are growing willing to invest in meditation apps, highlighting the expanding market for mindfulness and mental well-being applications.
Here are statistics that emphasize your decision to invest in Headspace-like meditation app development:
Revenue in the Meditation Apps market

will reach US$4.43bn in 2023.

Revenue is expected to show an annual growth rate (CAGR) of 9.83%, resulting in a projected market volume of

US$7.08bn by 2028

.

The

Meditation Apps Market

is projected to reach USD 6.89 billion by 2028, with a CAGR of 42.34% from 2022 to 2028.

Headspace and other comprehensive meditation applications generated approximately $195 million in revenue.

65% increase in the search for yoga and meditation apps

The user switch to medication apps stood at 186 million in 2022 and will be projected to reach 275 million by 2027.

With USD 815.80 million in revenues in 2022, the United States of America has been on top of the top market for meditation

mobile app development services

.
Meditation app development is relatively inexpensive and proves profitable for businesses. Let's come to the main concern: "the cost to build Headspace like meditation app."
Cost of Headspace like Meditation App Development
The question often at the forefront of the app industry is centered around the development cost of Headspace, like meditation and wellbeing apps. The query, "How much does it cost to build an app like Headspace?" is paramount.
It considers the potential for businesses to garner maximum revenue, explore various monetization opportunities, and establish a secure position in the market.
To provide a comprehensive overview, the cost of developing an app similar to Headspace can vary between $20,000 and $100,000, contingent upon the specific requirements of your project. Nevertheless, thoroughly analyzing the contributing factors to the Headspace app cost is crucial for making well-informed budgetary decisions.
Factors Influencing the Cost of Building a Meditation App Like Headspace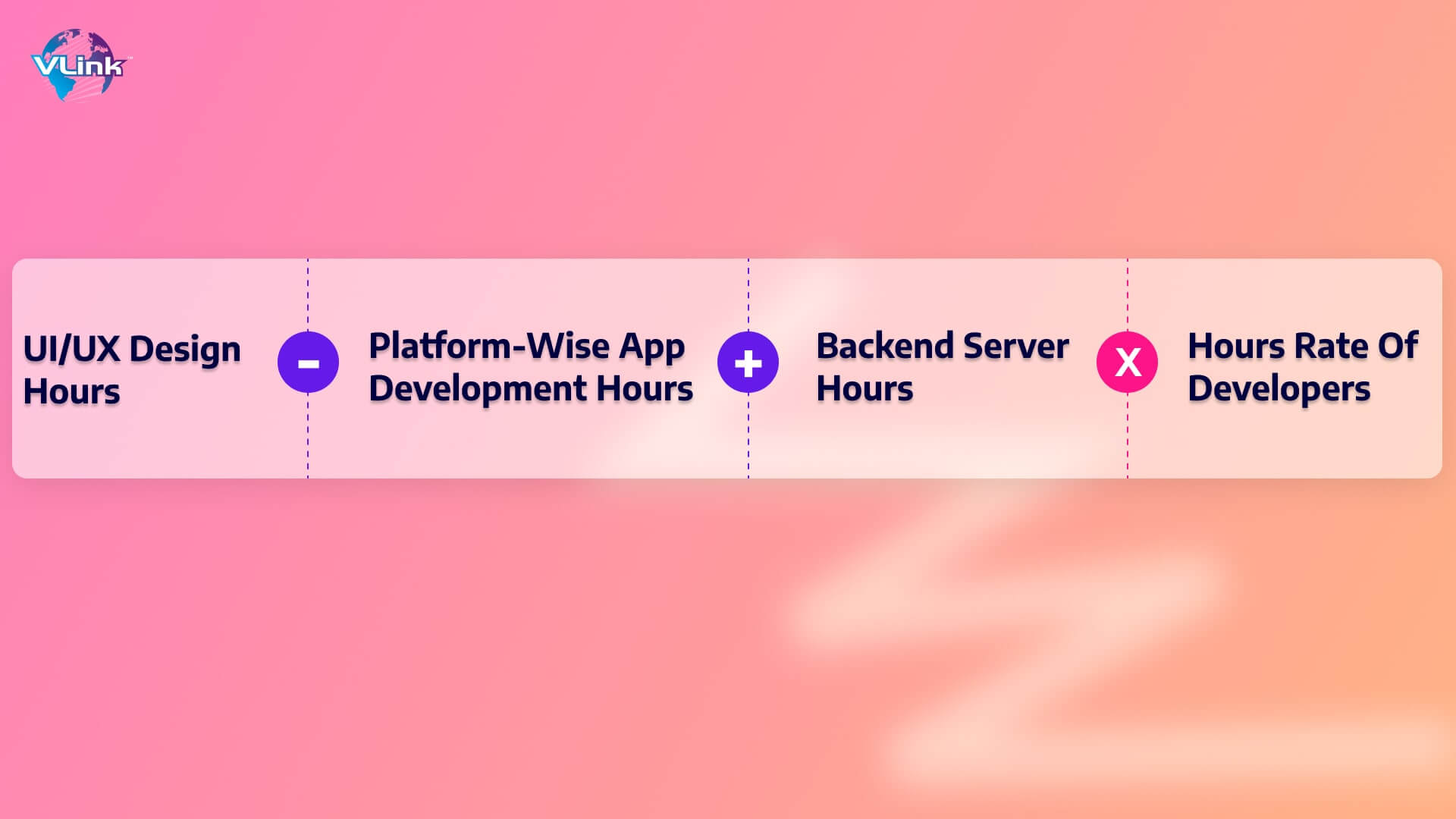 One of the most critical factors considering the development cost, time, and expertise required to build a mental health app is the app's complexity. A mobile app with a simple architecture and design takes less time, effort, and cost. Simultaneously, an application with integrated advanced functionalities will raise your development costs.
For example, you must also integrate your app with APIs to activate specific services, including certain costs. It includes several features according to your app budget.
Here is the Headspace-like meditation app development cost breakdown as per its complexity:
App Complexity

Complexity Level

Average Timeline

Average Costs

Simple App

MVP functionality

Basic UI

1-3 months

$20,000-$35,000

Medium Complex App

Sophisticated features

Custom UI

3-6 months

$35,000-$60,000

Highly Complex App

High level advanced features

Bespoke UI

Two platforms

6+ months

$60,000-$100,000 or above
The animation and design phase significantly impacts the overall development cost of your Headspace-like app. The implementation costs vary based on the type and quality of designs available.
A meditation app prioritizes minimal, soothing designs that enhance user experience. It considers the specific strategies and animations that align with the calming theme while being mindful of their associated costs during development.
Here is the Headspace meditation app cost breakdown based on the design requirements:
App Process

Design Tasks

Average Development Time

Cost (Approx.)

App Design Research

Market research

Competitor analysis

Market trend analysis

Selecting ideal solutions

Based on niche and available resource

$100-$350

UX Design

Rough sketches

Low fidelity wireframes

High fidelity wireframes

Simple- 10-14 hrs

Medium- 50-60 hrs

Complex- 150+ hrs

$2,000-$5,000

UI Design (Visuals)

Mood boards

UI mockup samples

Final UI mockups

Simple – 14-20 hrs

Medium- 80-90 hrs

Complex- 100+ hrs

$5,000-$20,000

Branding

Logos, icons and social media

$5,000-$10,000

Animation & illustration

Visualizing user and on-screen content

Direct manipulation

User action visualization

Based on level of animations

$1,000-$10,000
The market offers two prominent app development platforms, Android and iOS, each with distinct requirements. Choosing the right platform is crucial as the development costs differ.
Maximize audience reach by developing your meditation app on a cross-platform development platform, ensuring compatibility and accessibility across diverse devices. This approach accommodates a broader user base while managing each platform's potential variations in development costs.

The cost of your meditation app project depends on whether you hire experienced developers or freelancers. Additionally, the geographical location of the developer or company influences costs due to regional rate variations.
So, when considering an outsourced app development team, it's essential to account for these factors to arrive at a reasonable estimate for the development cost of your Headspace-like app.
| | | | |
| --- | --- | --- | --- |
| Team | Simple App | Medium App | Complex App |
| Development Time | 1-3 months | 3-6 months | 6+ months |
| Developer | $10,000-$20,000 | $20,000-$35,000 | $35,000-$60,000 |
| UI/UX Designer | $4,000-$5,000 | $5,000-$7,000 | $10,000-$15,000 |
| Project Manager | $3,000-$5,000 | $5,000-$10,000 | $10,000+ |
| QA Specialist | $5,000-$8,000 | $8,000-$10,000 | $10,000+ |
| Solution Architect | $1,000-$3,000 | $5,000-$8,000 | $9,000+ |
| Total | $15,000+ | $40,000+ | $70,000+ |
Here is a rough cost estimation of hiring models:
Hiring Model Types

Rate

Time Required

Cost (USD)

Hire a local agency

US: $150 to $250

600 hours

$40,000

Set up an in-house team

Full stack developer: $98,000 per year

6-12 months

$80,000

Hire freelancers

US: $50/hour

Asia: $15-$30/hour

3-5 months

$20,000-$50,000

Outsource app development

India: $25/hour

600-800 hours

$30,000-$40,000
A meditation app like Headspace is estimated at $57,000 to $65,000 for a complete development cycle — UI/UX design, development, and QA testing.
| | |
| --- | --- |
| Development Services | Estimated time frame and cost |
| UI/UX design | 1,5 months/$5 265 |
| Frontend development | 3 months (in parallel with BE)/$18 495 |
| Backend development | 3 months (in parallel with FE)/$15 210 |
| Admin app | 2 months (in parallel with FE and BE)/$8 640 |
| QA testing | In parallel with development/$5 400 |
| Project Management | Throughout the entire development/$3 750 |
Here's a list of crucial Headspace app features you need to integrate into your following meditation app.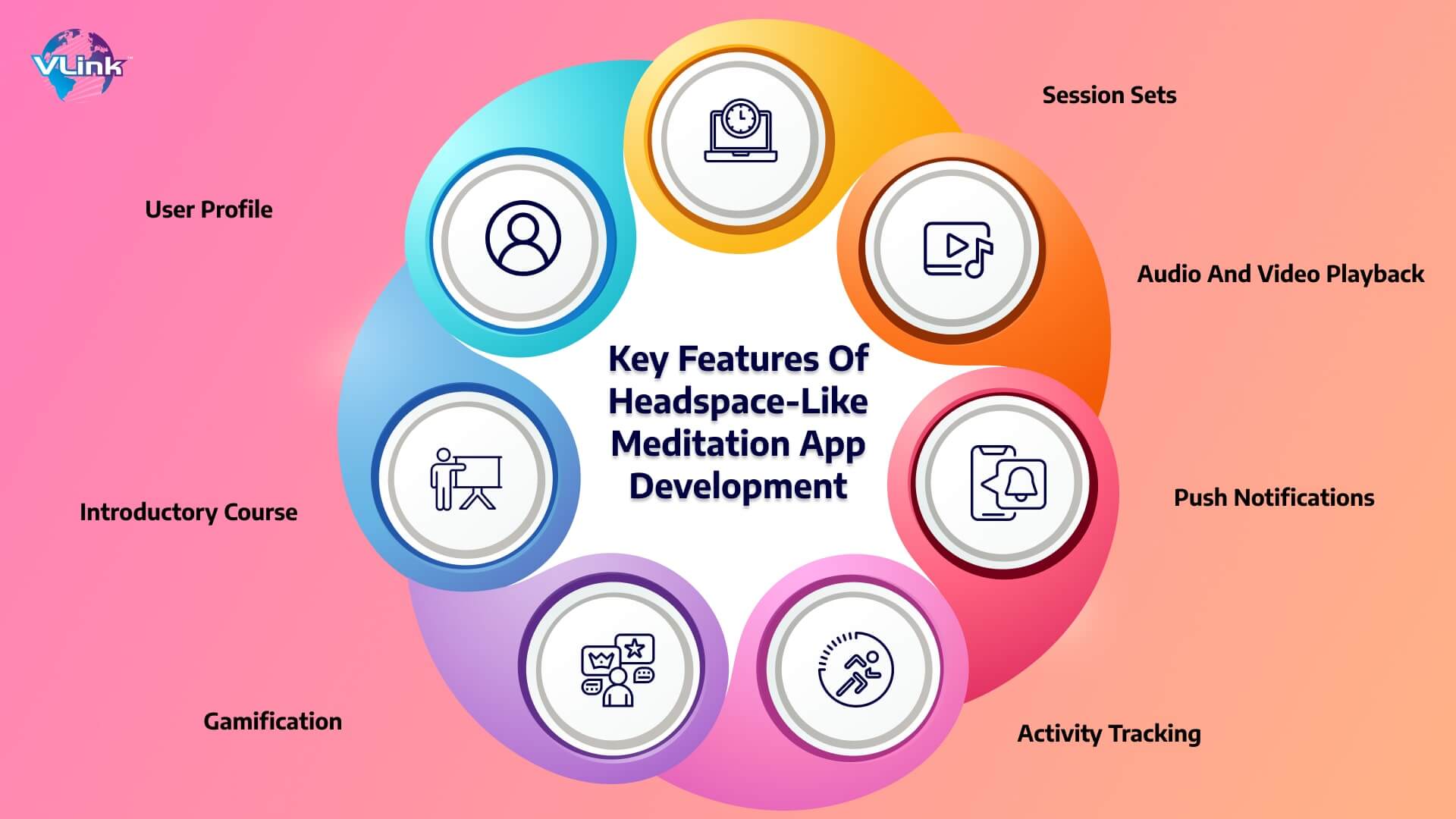 User Profile
While the user's primary data, like their username, social media links, and email, remains consistent, it's advisable to request additional information from users of your meditation app. This additional information helps better understand their specific needs and requirements.
So, the user profile feature in your meditation app, like Headspace, must contain queries:
User's Age

Investment Time

Newsletter and Course update on email

Stress level understanding
Introductory Course
What contributes to the success of apps like Headspace is their recognition that not every user is familiar with the ancient practices dating back 2,500 years.
The Headspace app incorporates an introductory course that gives all users a starting point and a fundamental understanding of the principles behind meditation and mindfulness.
Gamification
Even in moments of anxiety, individuals yearn for the thrill of competition. Integrating gamification elements into the app satisfies this craving and enhances app retention strategies. Explore how AR/VR apps gamify fitness and well-being for reference.
So, it's important to note that the inclusion of gaming elements may result in a proportionate increase in the development cost of your meditation app like Headspace app.
Session Sets
A crucial component of any meditation app is the session set, comprising multiple sessions that guide users through attaining calmness and relaxation.
Audio and Video Playback
Integral to the session sets is the availability of audio and video playback options. Users can also leverage features to record their chanting voice or create video logs of their meditation practice. It allows them to observe and track improvements in their breathing and overall mindfulness journey from the initial stages to the present.
Push Notifications
Push notifications are among the most effective tools for strengthening app retention strategies. Given the task-like nature of consistently returning to an app that encourages users to step outside their comfort zones, it's common for people to skip days.
The critical function preventing this habit is the use of push notifications. Timely notifications serve as reminders, prompting users to revisit the application and continue their journey towards calmness.
Activity Tracking
The app component examines users' interaction history, displaying their progress within the application and indicating the remaining stages to achieve the next level of calmness. Incorporating activity tracking is a crucial element of ensuring user engagement in your meditation app. It's an aspect you shouldn't overlook when determining the application's features.
Here are advanced features of Headspace-like meditation app development: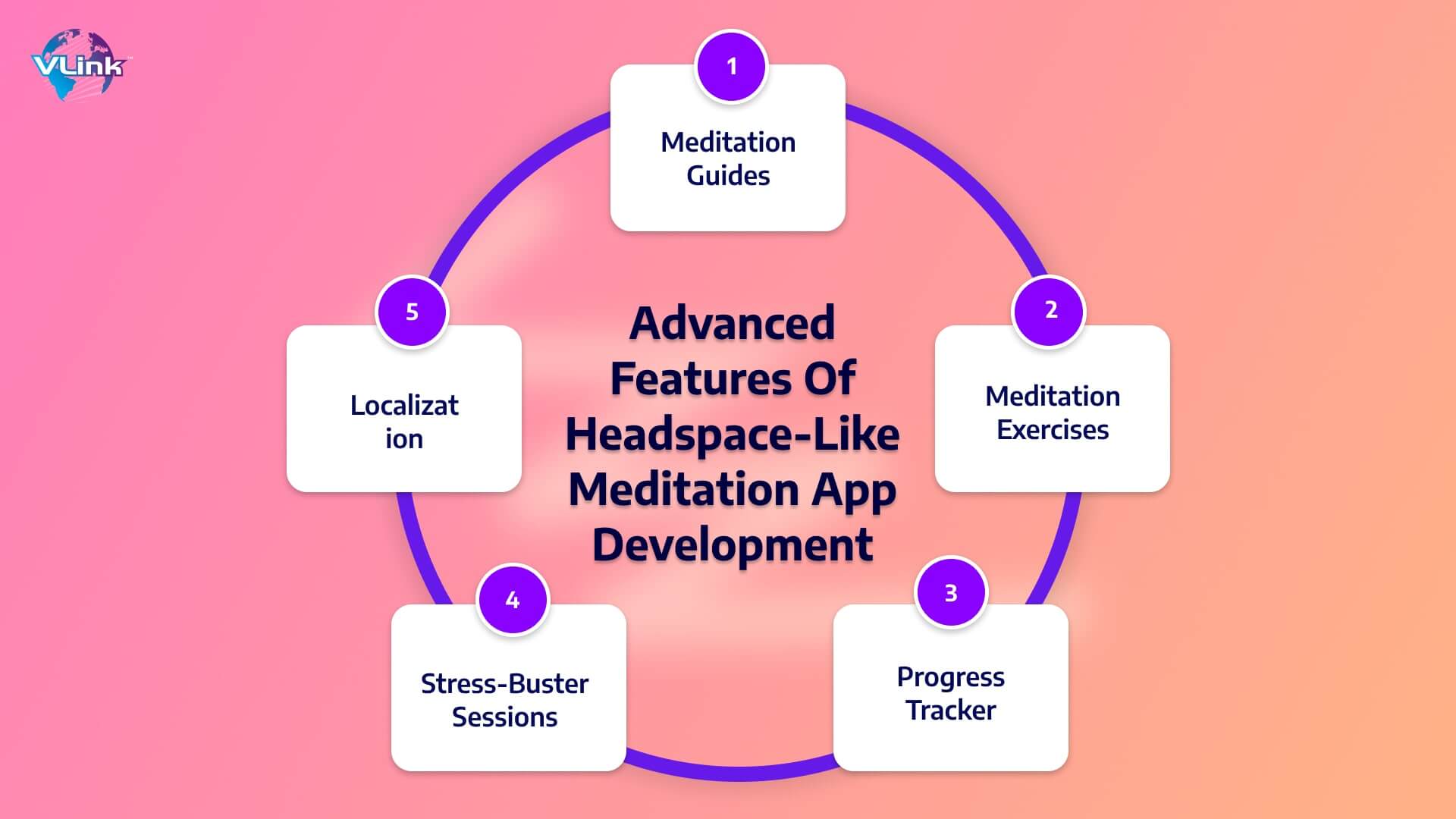 Meditation Guides
A meditation app resembling Headspace should empower users to engage in independent meditation. To support health enthusiasts, consider integrating comprehensive meditation guides that guide through various meditation practices and fitness exercises.
This feature proves especially beneficial for beginners, offering substantial assistance to users seeking guidance in their meditation and fitness journey.
Meditation Exercises
Ensure your meditation app offers a variety of meditation exercises to assist users in relaxation, stress reduction, and managing depression. Take inspiration from the Headspace app, which incorporates numerous breathing exercises for a tranquil and peaceful experience.
Consequently, consider integrating features that empower users to learn diverse meditation mobile app development technologies. They enhance the overall effectiveness of your application in promoting mental well-being.
Stress-Buster Sessions
Users often turn to meditation to address specific challenges like stress, insomnia, and depression. So, catering to their needs is crucial by providing diverse solutions in your meditation app. Incorporate sessions of varying lengths tailored to help users combat their specific issues.
This approach addresses their concerns and builds trust in your app as a valuable tool for tackling and overcoming various mental health challenges.
Progress Tracker
In developing a meditation app, a tracking feature is essential for monitoring daily user progress. Ensure your app allows users to analyze the time dedicated to meditation, session listening, and more. This feature enables users to compare data, offering insights into the app's usefulness and value, making it a valuable tool for their meditation journey.
Localization
Launch it globally with app localization if you consider building a Headspace-like meditation or sleep app. This feature allows users to access content in various languages across different regions, expanding your customer base and market reach.
You tap into a vast global user audience by providing the app in local languages. Additionally, refer to relevant resources for more insights on enhancing mobile app conversion through localization.
Based on the features above, the estimated development cost for a Headspace-like app is $20,000-$50,000.
So, these are factors that influence Headspace-like meditation app development costs.

Calculator to Estimate Your Headspace-Like App Development Cost
Industry experts have devised a formula for accurately calculating the development cost of a Headspace-like application. This formula multiplies the total hours invested in the app development process by the billable hours of the resources involved.
By quantifying the time spent on development and multiplying it by the applicable hourly rates, this method effectively estimates the overall cost of developing a meditation app like Headspace.
UI/UX Design Hours - Platform-Wise App Development Hours + Backend Server Hours x Hours Rate of Developers
Having explored the costs associated with developing a Headspace-like app, let's delve into the process of creating the Headspace app. It'll provide insights into the steps to build an app like Headspace and guide you through the developmental journey.
Hire Headspace-like Meditation App Developer with VLink!
Do you have a unique idea to build a meditation app like Headspace? Our dedicated development team can help you turn your vision into reality via its reliable wellness app development services.
At VLink, our developers have extensive experience and market knowledge, ensuring that you are served with the most functional, innovative solutions.
From strategic planning to designing, development, testing, and launch, our experts take pride in working closely with you at each phase.
Talk to the wellness app experts to uncover unlimited app development opportunities.
FAQs
Frequently Asked Questions
How do you build a meditation app like Headspace or Calm?
Here are steps to develop a meditation app like Headspace or Calm:
Research: Understand user needs and competitor offerings.
Define Features: Outline meditation programs, guided sessions, and user-friendly interfaces.
Design: Create an intuitive and calming user interface.
Development: Employ experienced developers for iOS, Android, and backend development.
Integration: Integrate features like user profiles, payment systems, and meditation content.
Testing: Conduct thorough testing for functionality and user experience.
Launch: Release the app on the App Store and Google Play.
How do you make money with a headspace-like meditation app?
Monetize your Headspace-like meditation app through subscription models, offering premium content and features for a fee. Implement in-app purchases for additional meditation programs or exclusive sessions.
Partner with experts for co-branded content and charge a premium. Consider ads for a free version. Leverage affiliate marketing by promoting related products or services. Expand revenue streams through merchandise sales or hosting premium events and workshops.
Why should you launch a meditation app?
Launching a meditation app offers a lucrative opportunity in the growing wellness industry. With increasing stress and a focus on mental health, there's a rising demand for accessible mindfulness solutions.
A meditation app allows you to tap into this market, offering users a convenient way to manage stress and anxiety and improve overall well-being. It provides a scalable platform to reach a global audience, fostering a sense of calm and mindfulness in people's busy lives.
What is the Headspace app?
Headspace is a popular meditation and mindfulness app offering guided sessions to manage stress, improve focus, and enhance overall well-being through meditation exercises and mindfulness practices.
What are the types of meditation apps?
Meditation apps come in various types, catering to different preferences and needs. Guided meditation apps, like Headspace, provide structured sessions.
Mindfulness apps focus on being present in the moment.

Relaxation apps offer stress-relief techniques.

Sleep meditation apps aid in better sleep.

Personalization apps tailor practices to individual needs.
All these types contribute to a diverse landscape of meditation apps promoting mental well-being.