Crowdfunding Platform Development Guide: How to Build a Crowdfunding Platform
Companies belonging to several industries need funding from several resources to grow. In recent years, this segment has surged, and they are even taking help from crowdfunding platforms!
201 Views

4 minute
The global crowdfunding market was valued at $17.51bn in 2021 and is expected to reach $42.93bn in 2028. According to Forbes, real estate crowdfunding sites alone will be valued at $300 billion by 2025. This is why various businesses are gravitating to crowdfunding platform development services.
Are you a startup owner looking for a crowdfunding website for your business? If so, there are things to consider
Ensure your site has smooth functionality,

Better business models,

Seamless payment processing,

Security features to ensure profitable results.
Curious to know more about its development process?
You are at the right place!
This blog describes everything regarding crowdfunding platform development, from what it is and how it works to its development stages to costs.
Let's first start with its brief introduction!
What is a Crowdfunding Platform, and How Does it Work?
A crowdfunding platform can be a basic website or an app to finance a specific project. This simple approach raises funds through the collective endeavour of the crowd.
The crowd includes business partners, individual funders, customers and other sources.
If you plan to have a crowdfunding website development service, ensure it's working properly. Many businesses are choosing this platform for its flawless and easier work process.
Let's dive in to know how does crowdfunding platform works.
As a project manager, you must register on the platform and creat an account.

Now, you can specify the approach you want to select for the necessary amount.

You can also make decisions towards the contributions of individuals in the campaign.

For any contribution to the crowdfunding tech stack, sponsors must register on the platform.

When the period of the requested amount has come to an end, the fund you have managed to raise will be delivered to the project manager.

However, the crowdfunding platform development takes a commission (5% - 12%), usually on the overall earned funds.
Market Growth & Stats of Crowdfunding Platform
According to Fundera, the crowdfunding market will be worth more than $300bn in 2030.

As per Fundera's report, on average successful crowdfunding campaigns have raised $28,656.

The average success rate of crowdfunding campaigns is 22.4%.

$17.2 billion is generated yearly through crowdfunding in North America.

53% of email shares of crowdfunding campaigns turn into donations.

12% of Facebook shares convert to donations.
The global crowdfunding market overview from 2019-2027.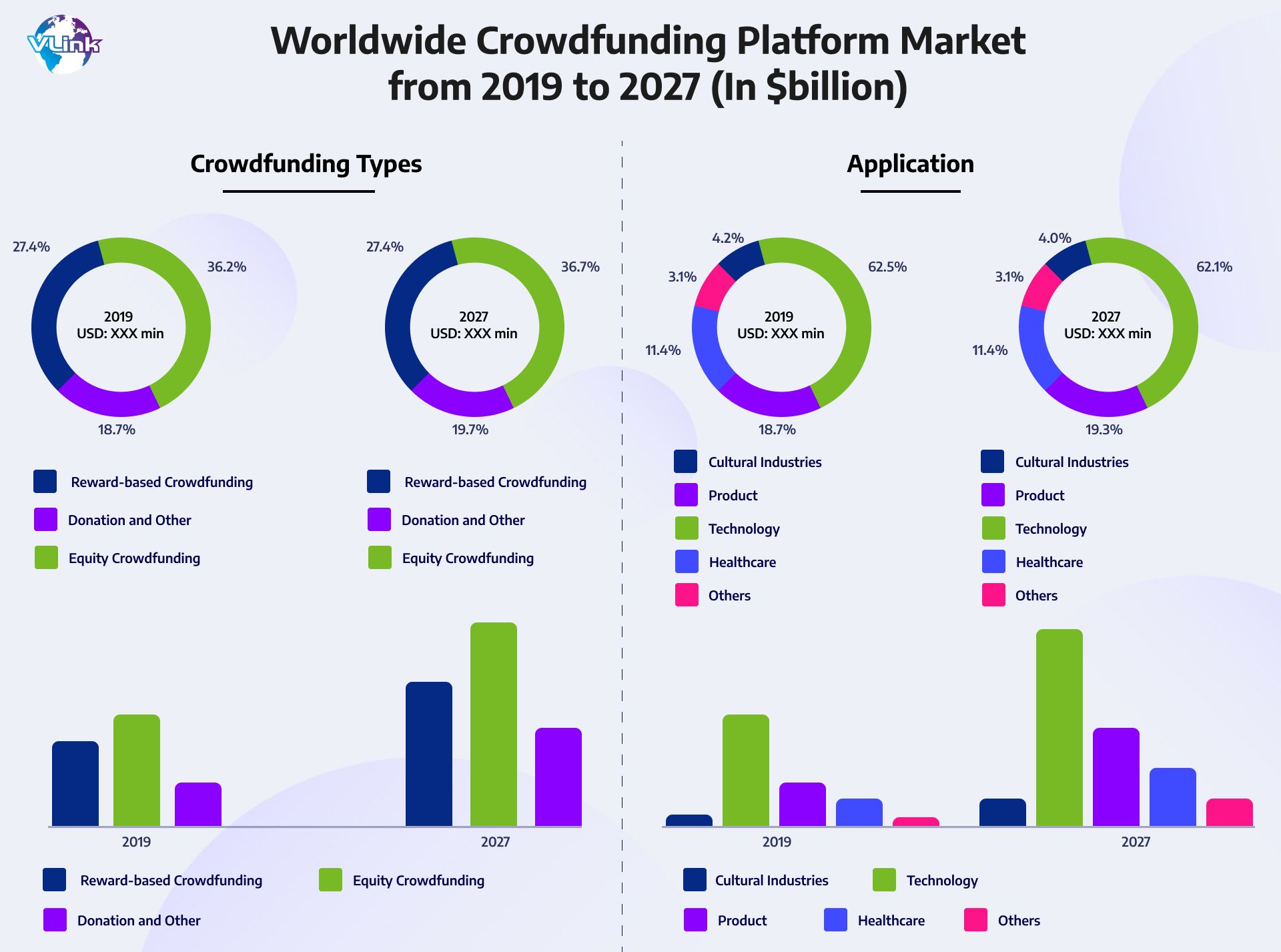 These figures have cleared now that the crowdfunding market is expanding quickly, and entrepreneurs adopting this method avail of all its benefits.
Benefits of Crowdfunding Platform Development
It's accessible funding for everyone

It's a great alternative to traditional funding

It reduces the risk for backers and creators

It tests your marketability and proves your concept

It provides free brainstorming, consultation, and feedback

It's perfect for pre-sales and generating revenue

It's a free marketing tool for public relations

It controls your project and decisions
What are the Types of Crowdfunding Platforms?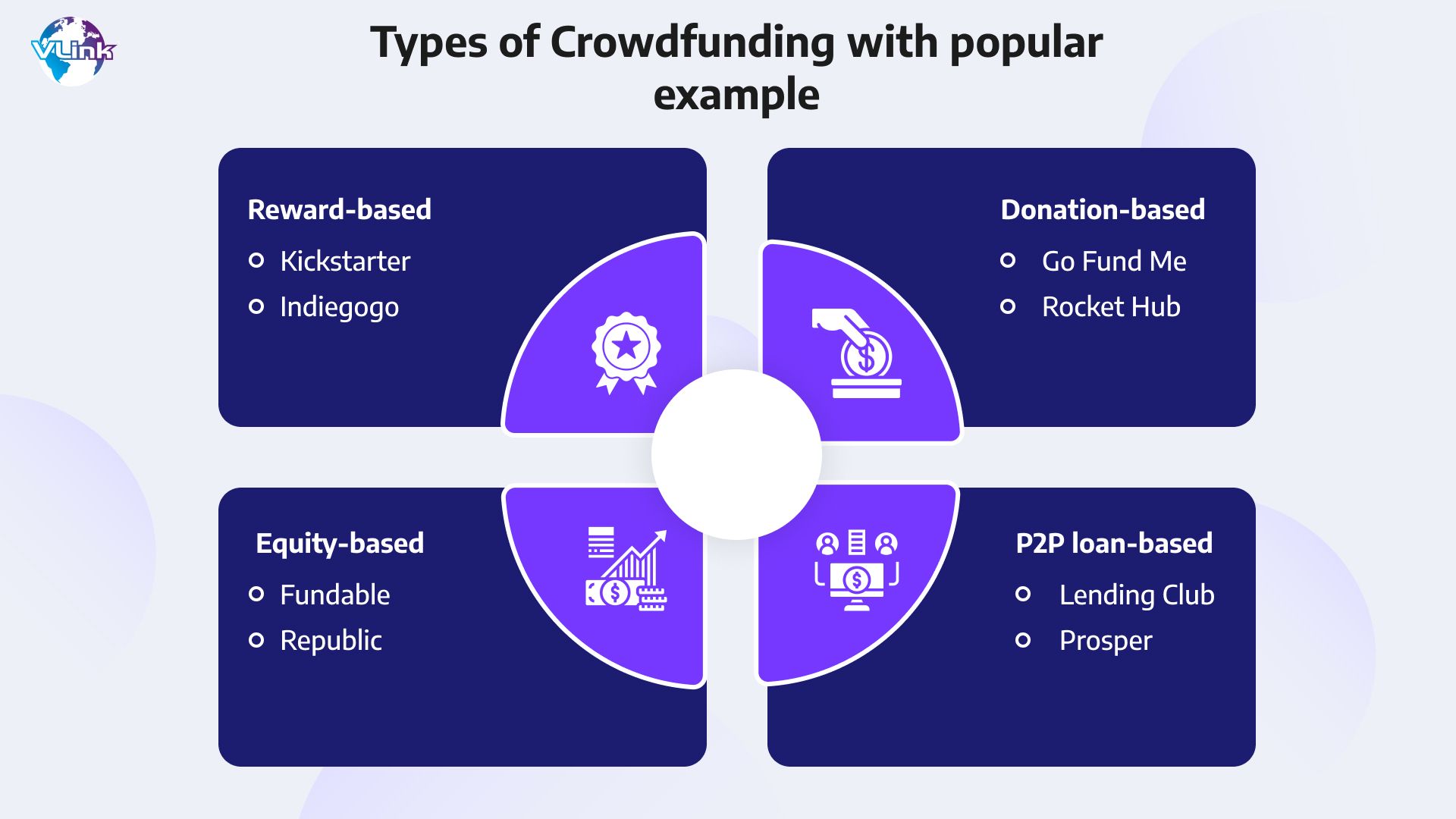 Whether you need customized or white-label crowdfunding platform development services, picking the right one that meets your purpose is crucial.
Most Popular Crowdfunding Platform in 2023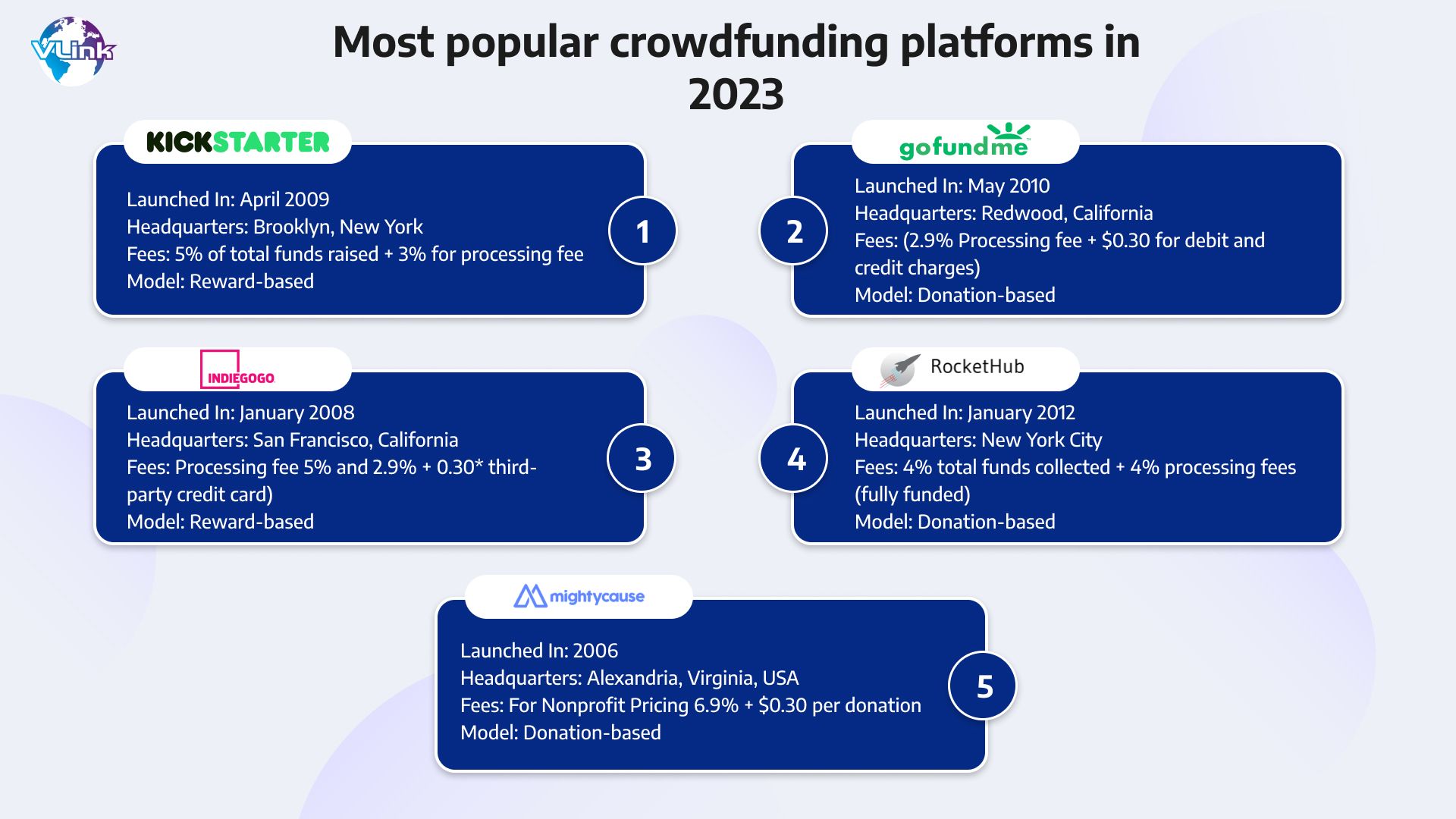 Must Have Features for your Crowdfunding Platform
Fundraiser Panel
Profile

Campaign Management

Social Media Sharing

Payments Types

Analytics
Admin Panel
Admin login panel

User profile management

Ads management

Premium and subscription model

Revenue management

Verify the account of users

Help & support

Manage the feedback
Investors Panel
Creating a Profile

Search Page

Project Details

Statistics

Backing Options

Payment Methods
Advanced Features for Crowdfunding Website Development:
Community Formation

Project Support & Assistance

Confirmation and Reminders

Calculating the Funds

Pre-launch Page
Step-By-Step Guide for Crowdfunding Platform Development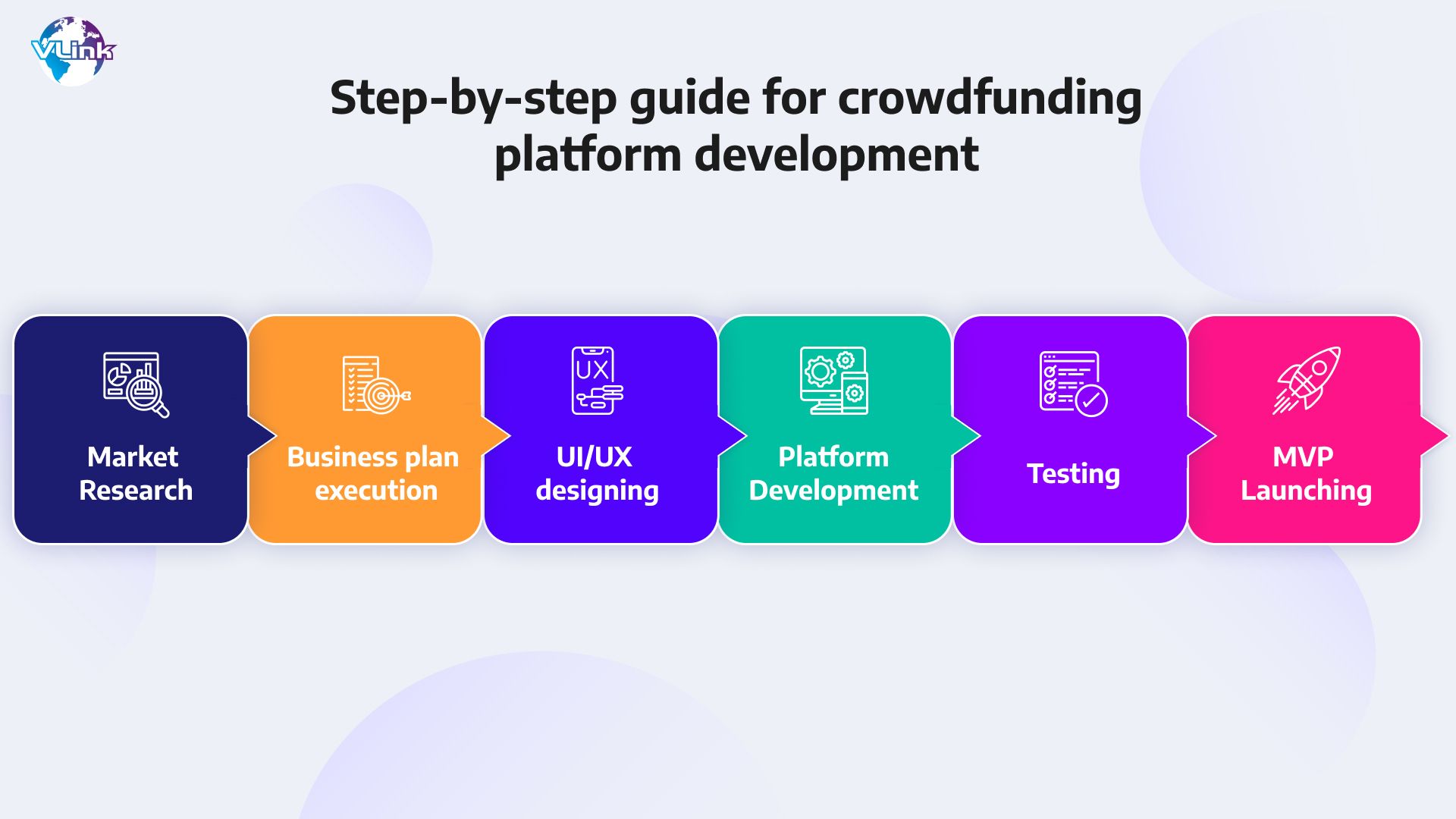 Here are the following crowdfunding development steps to make your platform standout in the market.
Let's have a look:
Step #1 - Conduct a Market Research
Having deep market knowledge before hiring web development services helps in different ways. You must consider platforms and targeted audiences to stay competitive with them.
You can measure your platform's success based on social media followers and active participants.
Step #2 - Business Plan Execution
Your proposed idea and goals must align with each other for funds. To make this step successful, you must know how to build a secure & reliable crowdfunding site.
For that, you need to discuss and consider your project and its budget.
You can get the desired results with an effectively well-planned and designed venture structure. Ensure you arrange the resources to turn your idea into a well-executed business plan.
Step #3 - Create an Interactive UI/UX Design
The design has several segments that work together to improve your website and mobile app experience. With a highly skilled UI/UX designer team, you will get a design that includes a user-friendly interface, adaptability, and a pleasant color combination.
When designing a crowdfunding platform, ensure it starts with creating the wireframe. It will help you decide how your crowdfunding app and sites look, feel and work on different devices.
Step #4 - Platform Development
After completing the design process, be it building a design from scratch, utilizing templates or a customized financial software, you must focus on the development phase, including writing the site code.
The crowdfunding platform development platform consists of two segments:
Website Development: In this procedure, web developers build the code (HTML, CSS, javascript, and server code) from source control to a hosting platform and launch it to the internet.
App Development: In this process, mobile app developers will create your crowdfunding app by following various steps:
Create your developer account

Link your merchant account

Develop a crowdfunding app

Prepare store listing

Upload an APK file for Android and .ipa file for iOS

Set up pricing and distribution

Launch the app to stores
Step #5 - Testing Phase
The next step is to determine what we have designed & developed; it's essential to know the crowdfunding site's performance.
QA software testing and maintenance of crowdfunding platforms help to find bugs and glitches that might hamper the performance and abilities of the site.
Step #6 - Launch an MVP
In the MVP launching stage, you will get an idea about the market and the audience's feedback about your solution. It's a quick and affordable way to conduct the market by improving the final product as per the target audience's feedback.
After releasing the MVP version of the crowdfunding platform with key features in the market, you can upgrade it with advanced features as per user feedback.
If you are looking for expert team, you need to know how to find & hire fintech app developer for crowdfunding platform.
Required Tech Stack for Crowdfunding Platform Development
Ensure your dedicated crowdfunding developers have rich knowledge about the latest technologies and use them when building the platform.
The right tech stacks for crowdfunding platform development are the following: -
Tech Stack

JavaScript Framework:

Vue.js, React, etc.

Programming Languages:

Python, Ruby, PHP, Node.js

Databases:

MySQL, PostgreSQL, MongoDB, NoSQL, Redis

Analytics:

Google Analytics

Web Framework:

Ruby on Rails

Web Server:

Nginx

Widgets:

Facebook, Twitter

JavaScript Libraries:

JQuery, Lodash

How Do Crowdfunding Platforms Make Money?
A crowdfunding site is more than raising money via donations and real estate. It may be used as an innovative monetization method to generate money. Here are a few monetization models that may be used on a crowdfunding site.
Membership Fee: This platform charges customers monthly or annual fees for subscriptions or membership.
Success Fee: This monetization enables the platform to get a proportion of the complete capital raised by the campaign.
Loan Processing Fee: It's ideal for loan-based crowdfunding platforms that charge 1% of the money loan by users.
Ads and Promotion: One of the most effective monetization models of crowdfunding is ads and promotion. Platforms enable non-profit groups to start campaigns for free as they gain money via advertisements and promotions.
Future Sales: Many crowdfunding platforms are using future sales monetization strategies to increase money.
How Could Blockchain Help Crowdfunding Platforms?
There are several areas where blockchain could help crowdfunding platforms.
Crowdfunding sites and platforms powered by blockchain technology reduce the need for an intermediate third party.
Decentralization:
As blockchain is decentralized, it doesn't depend on several platforms to create funds. Any project can get visibility and be funded if investors think it's worth it.
The blockchain-powered crowdfunding platform is less expensive for the creators.
Access Equity:
Blockchain depends on asset tokenization for investors' equity or ownership.

Universal Opportunity:
Projects developed with a blockchain-integrated crowdfunding model can get funded easily. A person with an internet connection can contribute to projects easily.

Flexible Options:
Integrating blockchain as asset tokenization into your crowdfunding project allows creators and entrepreneurs more liberties. Generally, asset tokens have their currency to authorize organizations to hire developers and advertisers.

Peer-to-Peer:
P2P network helps people with their investments, which generates more interest in the entire process.
How Much Does A Crowdfunding Platform Development Cost?
Crowdfunding platform development costs depend on your business model, needs and other factors. These factors are as follows:
The application design and development.

Basic features

The advanced features of the crowdfunding app

The platform used (Android or IOS)

The intricacy of the app

Experience team
Each project is unique and has a separate price. However, we will provide estimated figures to provide a basic idea of the costs.
If you want to create a crowdfunding platform from scratch, it may cost from $36,000 - $70,000 depending on the complexity of the requirements.
You can use a white-label crowdfunding solution to launch quickly to validate your idea at a minimal cost. Setting it up and customizing it to your business needs may cost from $15,000 to $25,000.

Conclusion!
Undoubtedly, building a crowdfunding platform is a daunting task. But, by getting all the required knowledge about crowdfunding and following the above tips, you can create a secure and profitable crowdfunding website and app.
But if you are still confused about what to do and where to start, let VLink help you.
VLink - A Right Crowdfunding Platform Development Partner!
VLink is one of the best crowdfunding platform development companies delivering robust solutions that allows seamless and secure fundraising. We have a team of dedicated developers who stay updated with all the latest tech stacks, delivering seamless, scalable, secure and robust crowdfunding platform sites and apps.

Leverage the benefits of partnering with VLink!
100% customized solutions

Secured platform

Competitive advantage

Highly scalable and robust

Rich-Text CMS

Certified scrum teams and product owners

White-label crowdfunding services
Whether you want on-demand app or website development, our developer team is always here to assist you.

FAQs
Frequently Asked
Questions
What are the top crowdfunding platform development trends?
Several popular crowdfunding platform development trends exist, such as crowdfunding for nonprofits, equity crowdfunding, real estate crowdfunding, investors' financial literacy & crowdfunding events campaigns.
How long does it take to start a crowdfunding site?
Crowdfunding platform development takes around four-six months. The estimated time relies on the development approach, required functions, selected technology, team and other nuances.
Is it possible to collect all types of crowdfunding in one platform?
Yes, you can combine different types of crowdfunding platforms into one. But, still, you should focus only on one platform type, such as Equity, Donation, Debt & Rewards.
What is the difference between traditional fundraising and crowdfunding?
The difference between traditional fundraising and crowdfunding is that the first one depends on direct mail campaigns, & events to raise funds from individuals or organizations. On the other hand, crowdfunding raises funds by requesting a small amount of money from a crowd, mainly via online platforms.
Is crowdfunding legal?
Yes, crowdfunding is legal, but laws apply to your crowdsourcing, depending on your location.