Everyone enjoys sports with comprehensive and intelligent analysis. But have you ever wondered how broadcasters, sprots businesses, and teams make the game so exciting for us? With all the advanced tools, equipment, and strategies, every game is becoming more optimistic. But how it is all happening?
Today, big data is playing a significant role behind the scenes in making these events more competitive and interesting for viewers.
Figures showed that 2.5 quintillion bytes of data are generated per day in 2022. With so much data being generated, more individuals will have access to information that will help them make better decisions. As a result, it is not surprising that data is becoming increasingly important in practically every business. Sports analytics is one such topic that is blossoming in this new era.
For a long time, coaches and front offices kept data analysts at arm's length. Today, however, it is not commonplace for data analysts to fill positions on sports teams. As players and management look for whatever statistical advantage they can get, the importance of sports analytics appears to be expanding.
Analytics has also found its way into how consumers consume sports. Off the field, experts, broadcasters, and fans rely on statistics all the time, whether it's to deliver play-by-play breakdowns, make forecasts, or make power fantasy league judgments.
What is sports analytics?
Sports analytics is a newer profession that utilizes data to assess things like athletic performance and business health to improve the operations and overall effectiveness of a sports organization. It is the study of athletic performance and business health to maximize a sports organization's procedures and results.
On-field data metrics assist teams in determining how to enhance in-game strategy, dietary regimens, and other approaches for boosting their athletes' performance levels.
Off the field, corporations may use data to track ticket sales, develop marketing campaigns, and save operating expenses. Betting businesses and fans have also gotten involved. Data is used by sports betting analytics organizations to assess the likelihood of specific game outcomes occurring.
Data analytics is essential in today's industry. Several firms in various sectors have used data analytics to help them improve their performance. Businesses today have enough information to enable them to make better business decisions and lower expenses more effectively by incorporating data analytics into their company strategy.
Expansion of SportsTech through smart data analytics
Sports and data have long been inextricably linked. Box scores are published in newspapers, baseball cards show a player's career numbers, and radio commentators have long utilized data to offer context to their comments, such as how many yards a running back has gained on average in each game they've played.
According to a 2021 research from Research and Markets, the worldwide sports analytics business is predicted to reach $3.4 billion by 2028.
Sports analytics didn't exist until 2002, when Oakland Athletics general manager Billy Beane used it to put together a squad of lesser-known players that came close to winning the World Series. His method of maximizing a squad through statistical analysis became known as "Moneyball" and rapidly became the way other teams functioned.
As investment in the global sports market rises, athletic teams are increasingly dedicated to investing in sports data analytics to gain a competitive advantage, with the sports analytics industry expected to reach $4.5 billion by 2025.
Analytics has also influenced how viewers consume sports. Fans may visit websites such as FiveThirtyEight for data-driven sports news and their favorite team's chances of winning a title.
In football, broadcast commentators frequently break out a player's breakaway speed, whereas in baseball, they break down the launch angle after a home run. It's even used to forecast the greatest players in fantasy sports.
Applications of data analytics in different sports
Although the underlying goal of sports data analytics is universal - to acquire a competitive edge via statistics and data analysis - different sports use different approaches to efficiently gather and analyze data for their sport.
1- Data analytics in soccer
Teams use sophisticated analytics to assess and enhance their performance by leveraging match player performance statistics, video footage, predicted goals and assists, and data signals. Teams can identify over or underperforming players, identify areas for growth, and choose the best players for a specific gameplan or playstyle.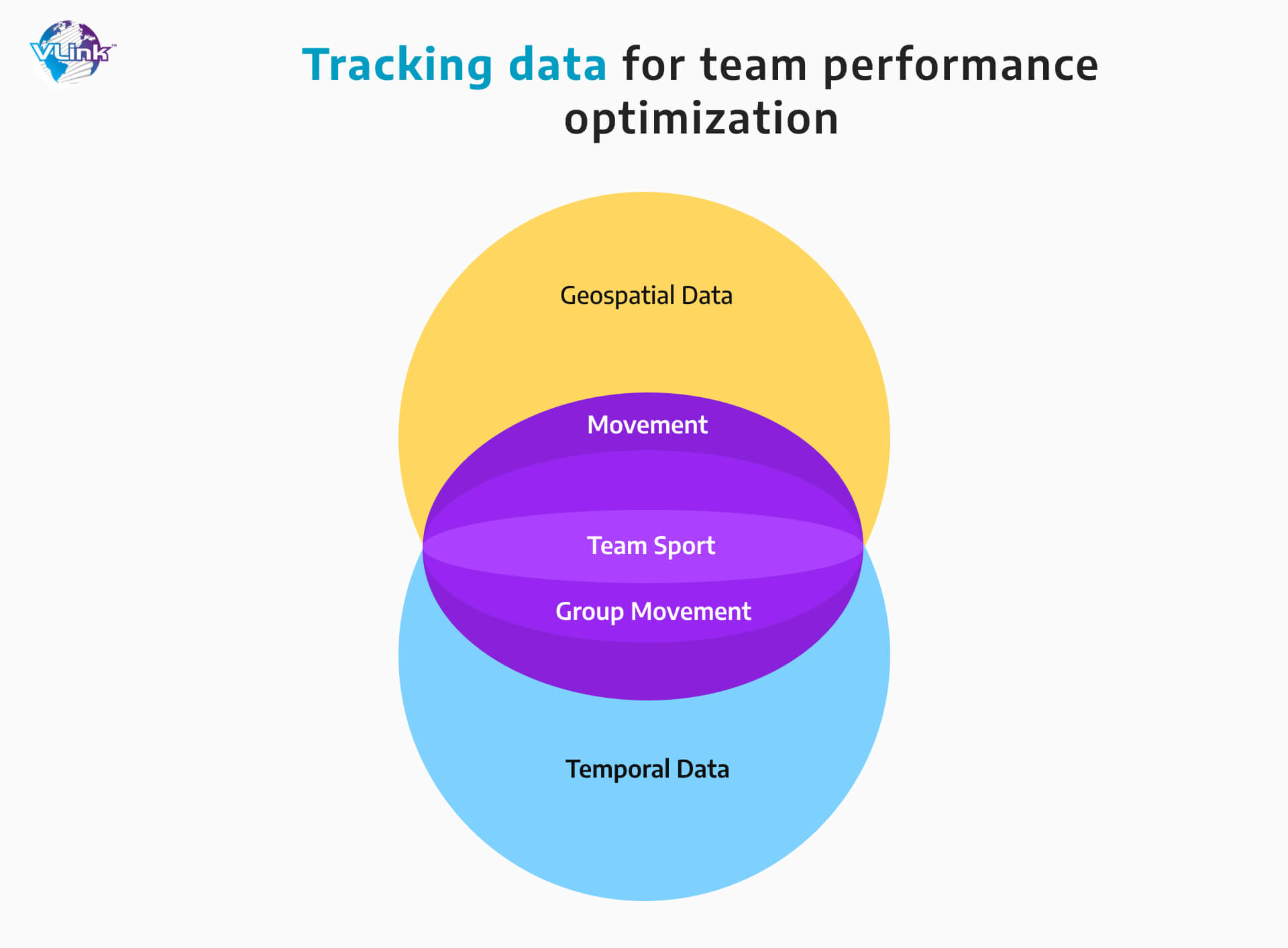 Teams can study their opponents' performances and discover flaws using the same techniques used to assess match and player performance. Data may be utilized to give customized strategies and game plans to teams.
2- Data analytics in cricket
To acquire a competitive advantage, cricket, like many other sports, has adopted data analytics. Cricket teams and organizations are using data analytics to improve their performance, optimize their strategy, and make better decisions, thanks to the capacity to gather and analyze massive volumes of data.
Data analytics is also being utilized to improve player development and training. Data is used by teams to identify areas in which players need to improve and to create individualized training programs for each player.
Also Read: A Complete Guide for Sports Betting App Development
3- Data analytics in Olympics
As teams and organizations arm themselves with fresh information that might help them enhance their performance in the future, data analytics has invaded practically all sports categories.
While the degree of data collected during Tokyo 2020 was the most advanced to date, the unique circumstances of this Games edition, which took place during a worldwide epidemic, certainly had an influence on the data.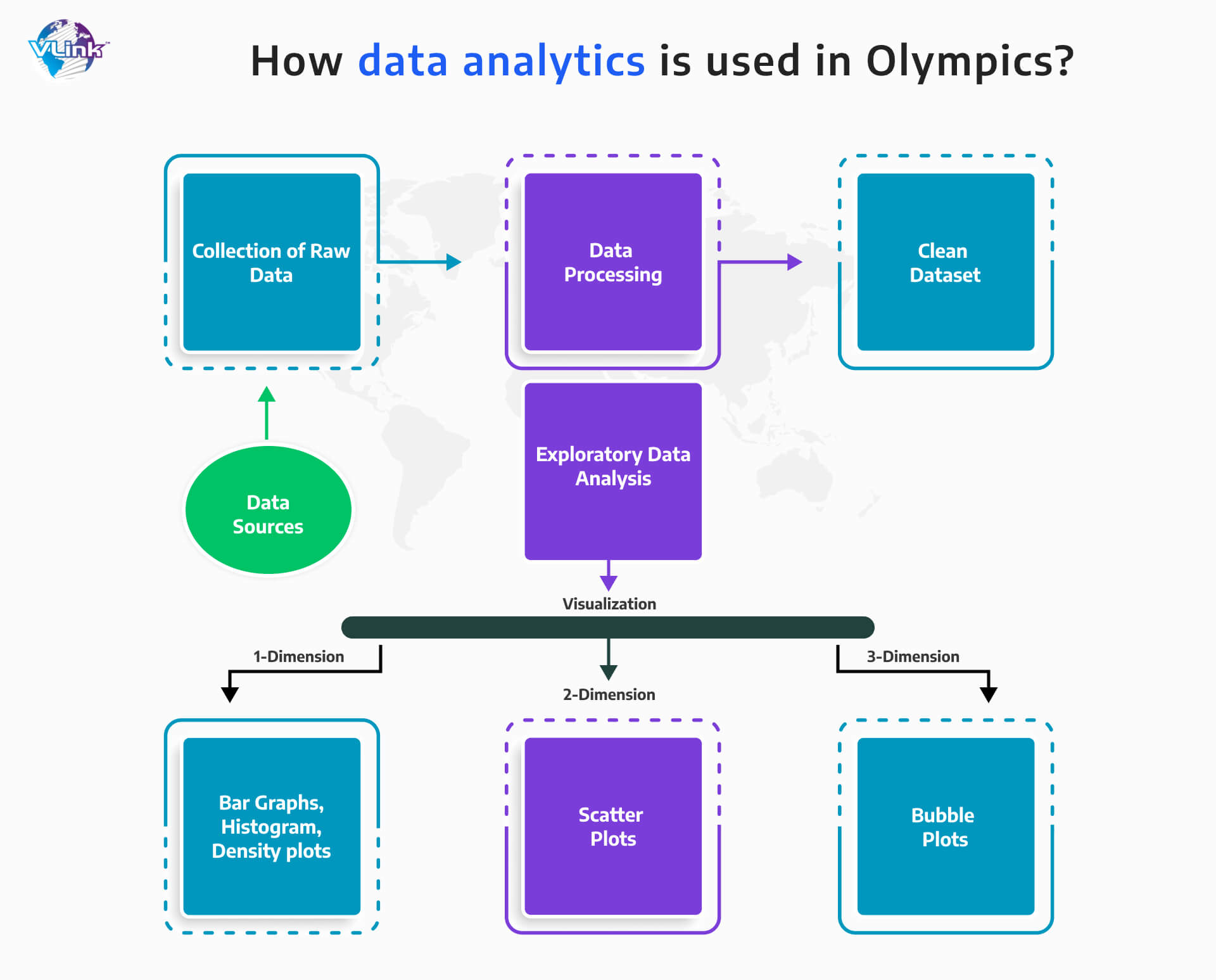 To put the Tokyo data into context, the IOC and Paris 2024 conducted a comparison of figures with prior Games editions (Rio 2016 and London 2012). This research found that the numbers of some of the certified demographic categories in Tokyo were quite like prior Games editions, while the variances for others were not that substantial.
4- Data analytics in basketball
The NBA (National basketball association) is now experiencing a huge change. Almost all NBA front offices now have data analysts on staff. Capitalizing on data analytics is a trend that is permeating every aspect of the game, from rookie scouting to finding undervalued players to calculating efficient shots and the emergence of the three-point shot.
Most NBA clubs employ data analysts. These data analysts collaborate with coaches and players to optimize players' skills and, like "Money Ball," find undervalued players. NBA players employ wearable devices to monitor their health, avoid injury, and manage tiredness.
Beneficial impacts of data analytics in sports
Every major sport has gone through an analytics metamorphosis. Several sports clubs are eager to acquire a competitive advantage through data analytics and are substantially investing in recruiting sports data scientists to examine objectively.
1- Decision-making in game planning
Data-driven insights have continued to affect game strategy and decision-making in sports throughout the last year. During matches, coaches and analysts now have access to real-time data, allowing them to make educated judgments on the fly.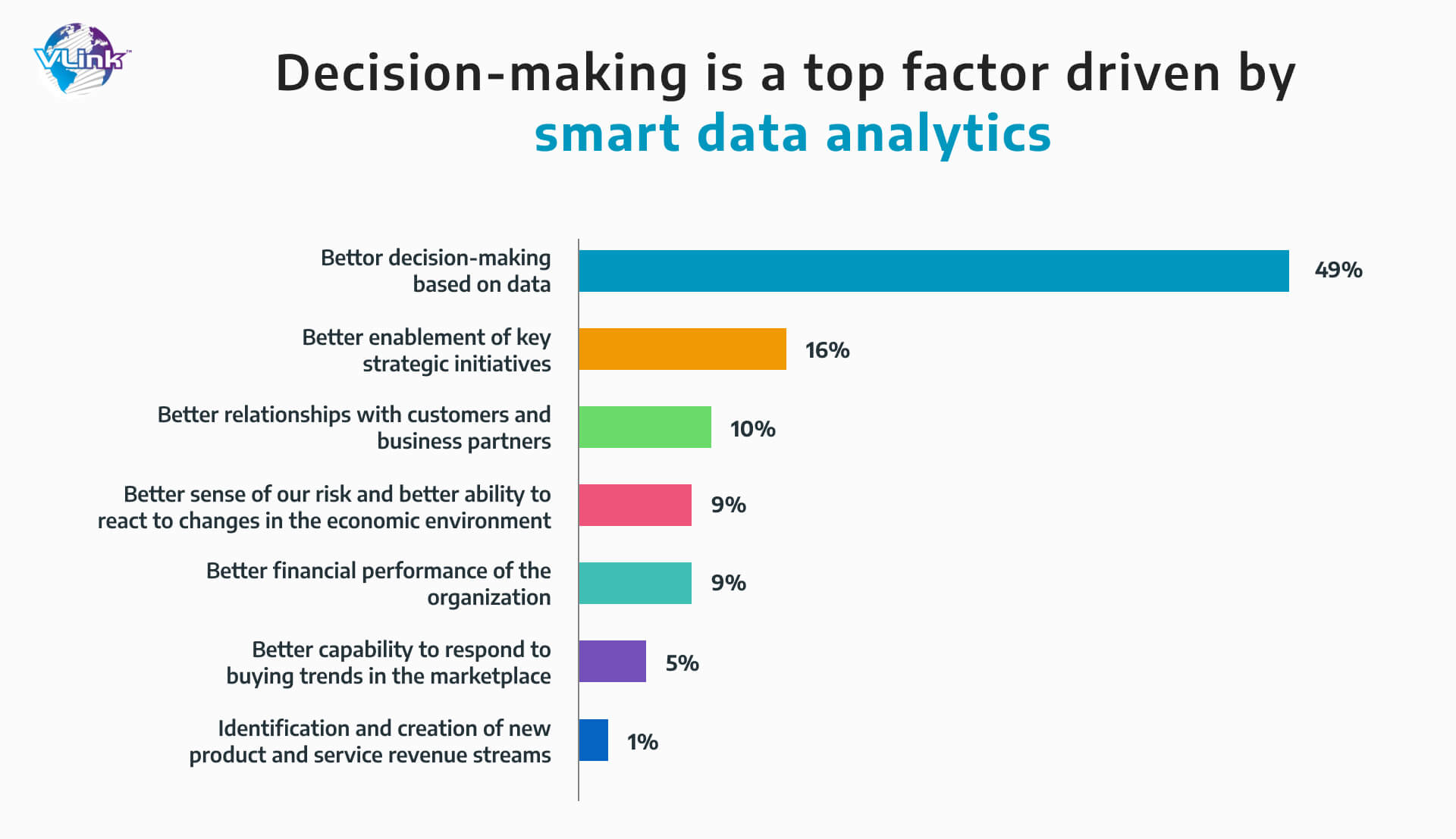 Teams can create ideal plans by analyzing opponent trends, tracking player placements, and assessing game scenarios using sophisticated analytics. This has resulted in the creation of prediction models that can more accurately foresee game results and player performance, boosting strategic planning and preparation.
2- Enhancing customer engagement
Through app logins and online video views, sports organizations may discover trends in digital engagement, such as online sports viewing, to determine what and when people are watching. Augmented reality is being used to provide more immersive experiences.
They may employ analytics to engage followers through social networks by mining sentiment from social media feeds. Social media has proven to be an excellent marketing platform for university teams looking to engage with millennials and sell tickets through data-driven campaigns.
3- Create quality watching experience
Anyone who has watched a sport for a long time would be familiar with how sports broadcasting has changed over time. Sports commentary, for example, has progressed from just calling the action to teaching viewers with figures and information to enhance the viewing experience.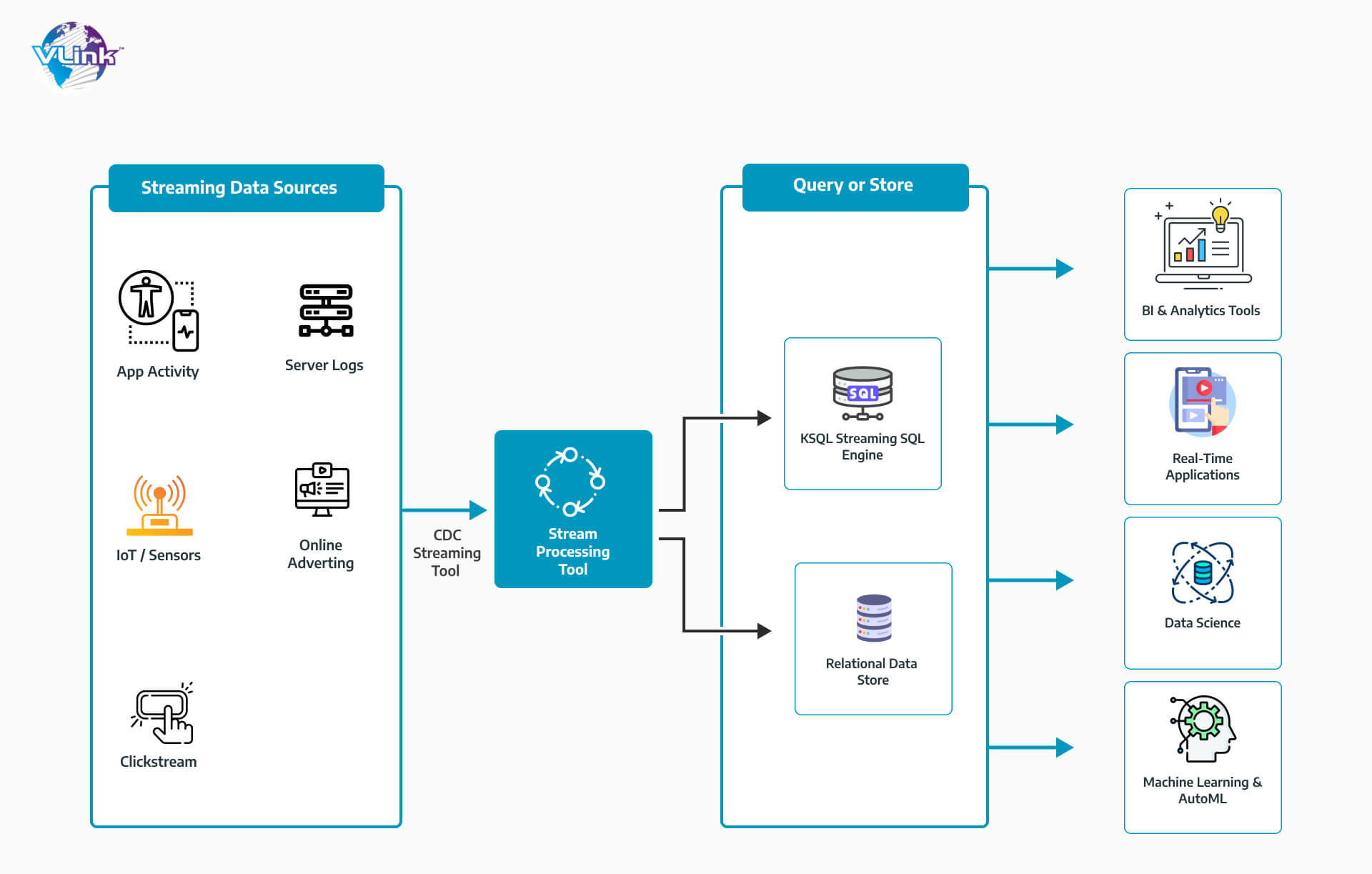 Broadcasters are now even hiring statisticians to deliver additional information to viewers for them to comprehend the context of any performance. Even basic graphical components now include contextual information to assist viewers grasp the significance of each occurrence, which is made possible by big data analytics.
4- Players' analysis to optimize performance
Player performance analysis is one of the most visible areas where data and analytics have had a substantial influence. Advances in this technology over the last year have resulted in more precise and detailed data collecting, allowing clubs and coaches to better evaluate individual player skills and workload.
GPS trackers, accelerometers, and heart rate monitors, for example, have become standard among athletes, offering a variety of data about their physical qualities, movements, and physiological responses.
5- Data-driven talent recruitment
Data and analytics are becoming increasingly important in the identification and recruiting of talent. Analytics enables clubs to compare player performance across leagues and competitions, allowing for more informed and data-driven recruiting decisions.
Data from player monitoring systems, performance measurements, and sophisticated statistics are increasingly utilized to discover rising talent and analyze their potential fit within certain teams or systems.
How VLink can help in deploying data analytics for your sports business?
Big data has transformed several sectors in recent years, and it is no stranger to sports. It has improved players' performance, broadcasters' fan engagement, and coaches' games techniques. Marketing data analytics also plays a significant part in this process.
Dive into data analytics to see how a few key insights may revolutionize sporting events and athletic performance. Big data analytics play an important role not only in sports, but also in business. You can have a professional analytics environment at your fingertips with VLink's data analytics for all your business needs.

FAQs
Frequently Asked Questions
What are programming languages used in sports analytics?
The primary languages of sports analytics are R and Python, and most jobs will require you to know at least one of them. Don't stress about learning while you're just starting started.
Is there a future for sports analytics?
According to the research, the Sports Analytics Market will expand from USD 2.5 billion in 2021 to USD 8.4 billion by 2026, at a compound annual growth rate (CAGR) of 27.3% throughout the projected period.
What algorithms are used in sports analytics?
Supervised machine learning methods such as naive bayes, decision trees, linear regression, and neural networks are used in sports analytics. Unsupervised machine learning methods such as k-means clustering, and association rules are also used in sports analytics.