Gone are the days when people depended on gambling clubs and agents to bet on their favourite sporting events. The rise in mobile app popularity has revolutionized the world of sports betting, presenting a golden opportunity for entrepreneurs and developers to explore the betting app development sector.
According to the reports by Forbes, the market size of the betting industry was around 80 billion US dollars in 2018 and is expected to reach 102 billion US dollars by the end of 2023. US gambling market size, by type, is shown in the graph below: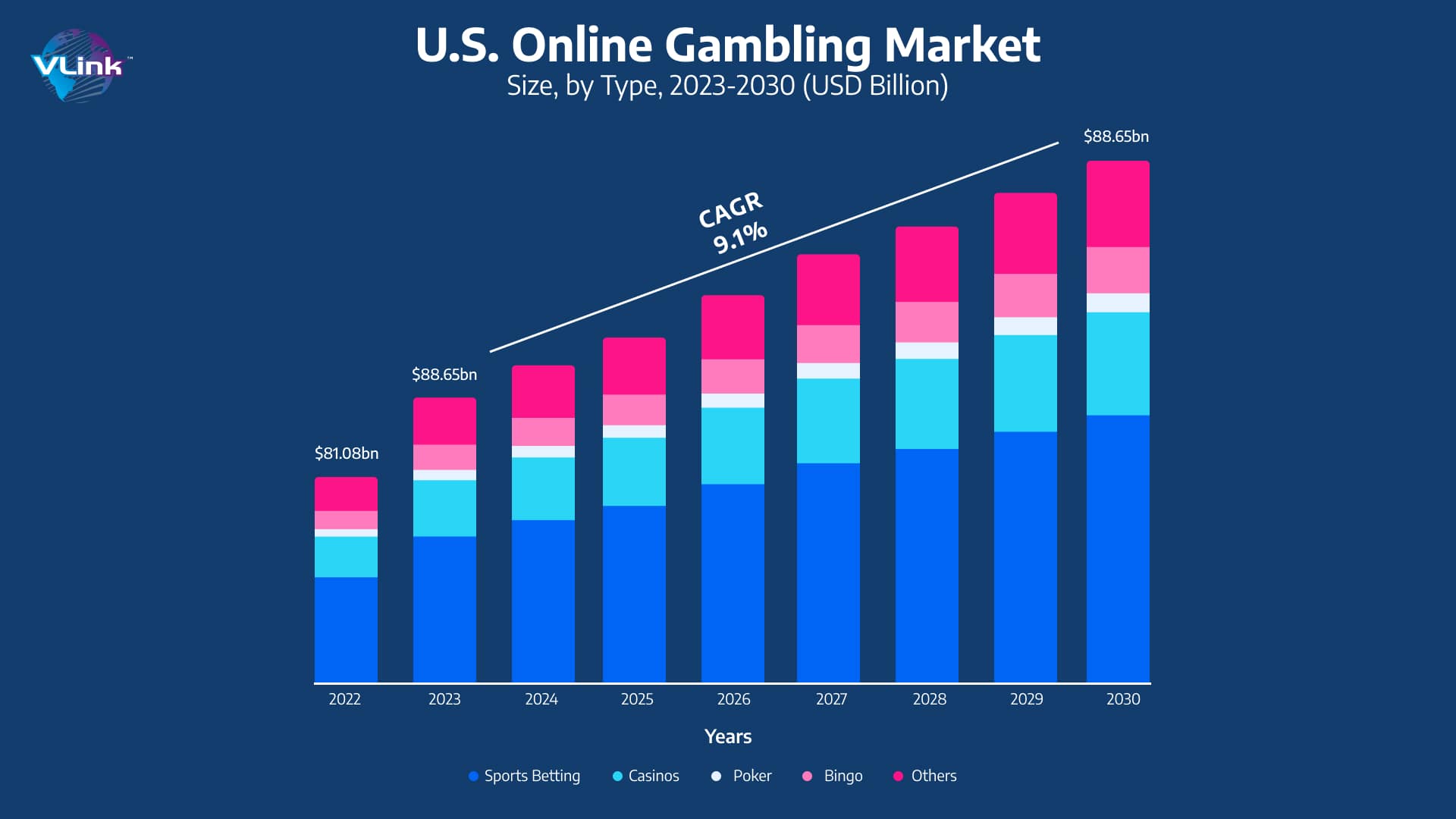 Many popular mobile sports betting apps exist, such as FanDuel, BetMGM Sportsbook, and WynnBET. And Draft Kings is gaining top rank among popular betting apps, with a 57% share market.
So, if you are planning to invest in a mobile sports betting app development project, there are several key considerations that you should take into account.
This blog will provide a comprehensive guide to building a successful sports betting app for your business.
Why Sports Betting App is Getting Popularity?
Over the last decade, there has been a significant surge in the popularity of sports betting. Mobile apps or software are the reason behind this success. Online sports betting market revenue is expected to grow by $14.44bn by 2027, as shown in the graph below.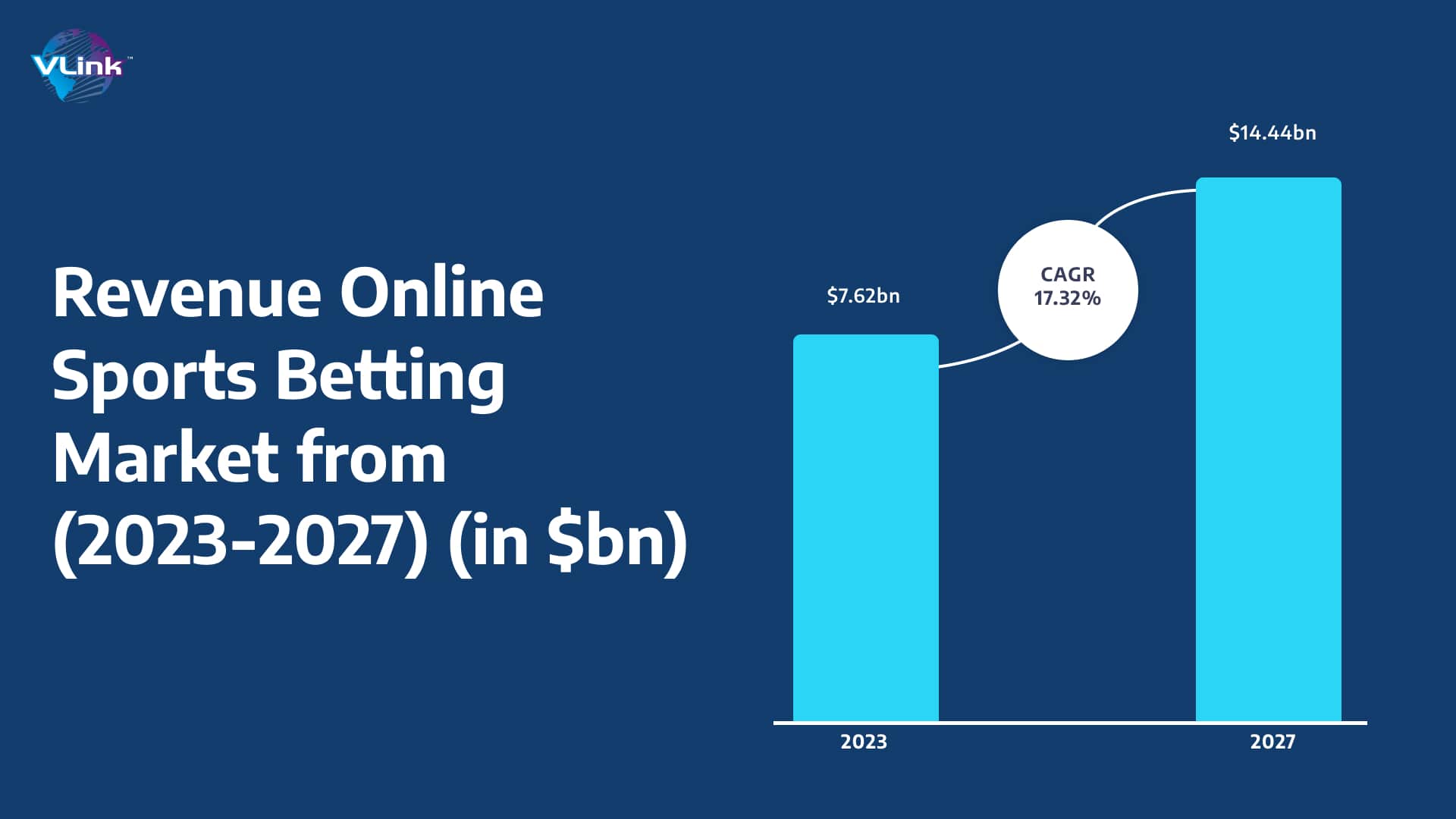 Here are a few facts about why you should invest in sports betting app development:
Over 50% of all online gamblers prefer to use mobile phones to meet their gambling needs.

In the EU, mobile bettors' revenue exceeds 50% of online betting sales in some significant sportsbooks.

3 in 4 sports prefer making bets online or through mobile apps.

Convenience (78%) and easy deposits (75%) are why people prefer online/mobile sports betting.

The top online sports betting platforms survey respondents preferred include FOX Bet (50%), FanDuel (45%), BetMGM Sportsbook (41%), PointsBet (41%), BetRivers (35%), WynnBET (31%), Caesars Sportsbook (29%), and Barstool Sportsbook (23%).



Benefits of investing in sports betting app development
Various Bonus & Rewarding Systems

Increased Admin Panel

Customized Solutions

Responsive App Architecture

Multiple Payment Gateway Options

Higher Profitability

Higher Credibility
Key Features of Sports Betting App Development
With several benefits, the popularity of mobile sports betting apps has surged significantly. They come with a wide range of sports betting app features that improve user experience and provide a seamless betting experience.
Key features you need to consider during mobile app development for sports betting are shown below image: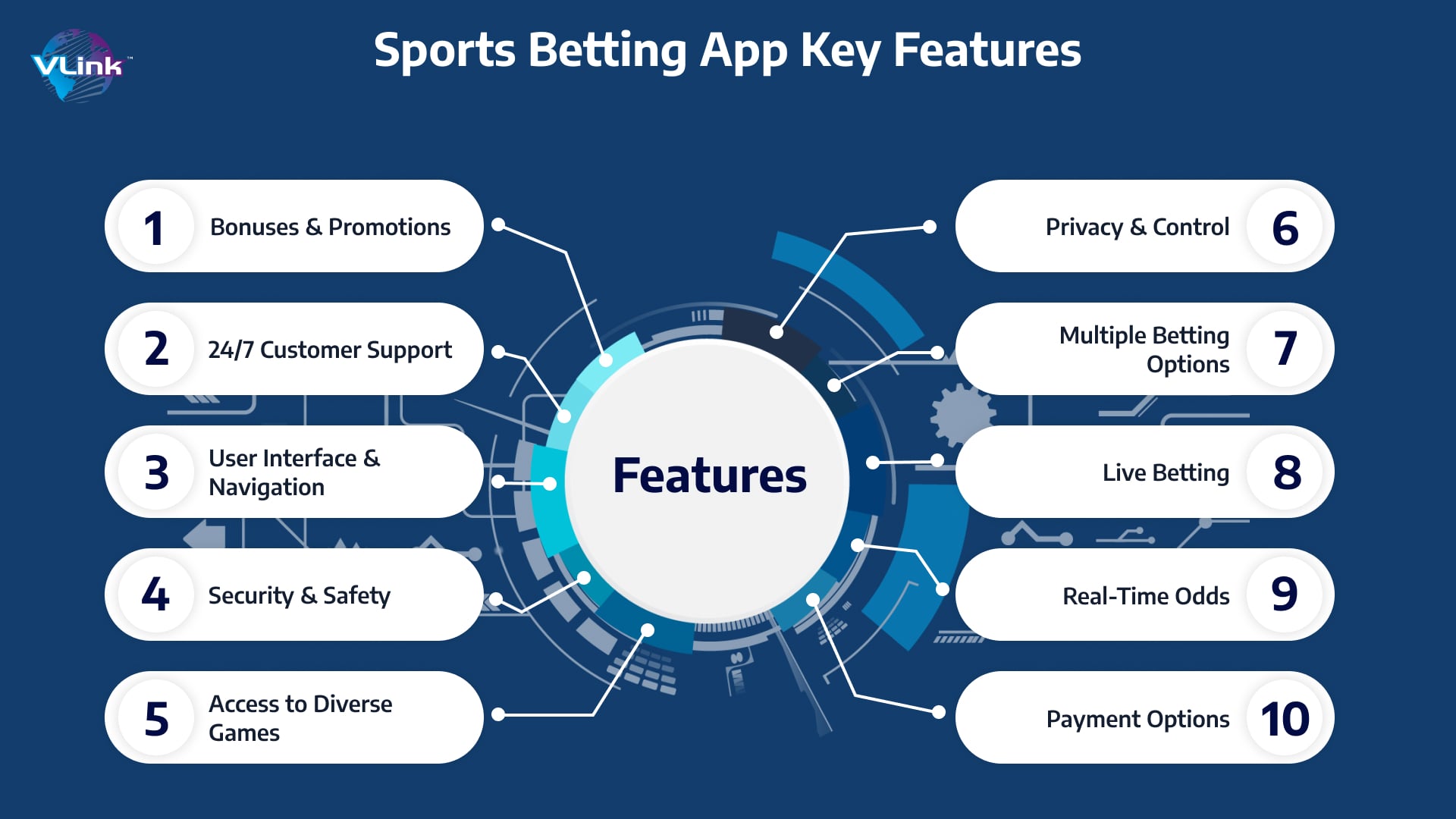 Step-by-Step Guide on How to Build a Sports Betting App: From Ideation to Release
Here is a step-by-step guide to facilitate the development of betting platforms.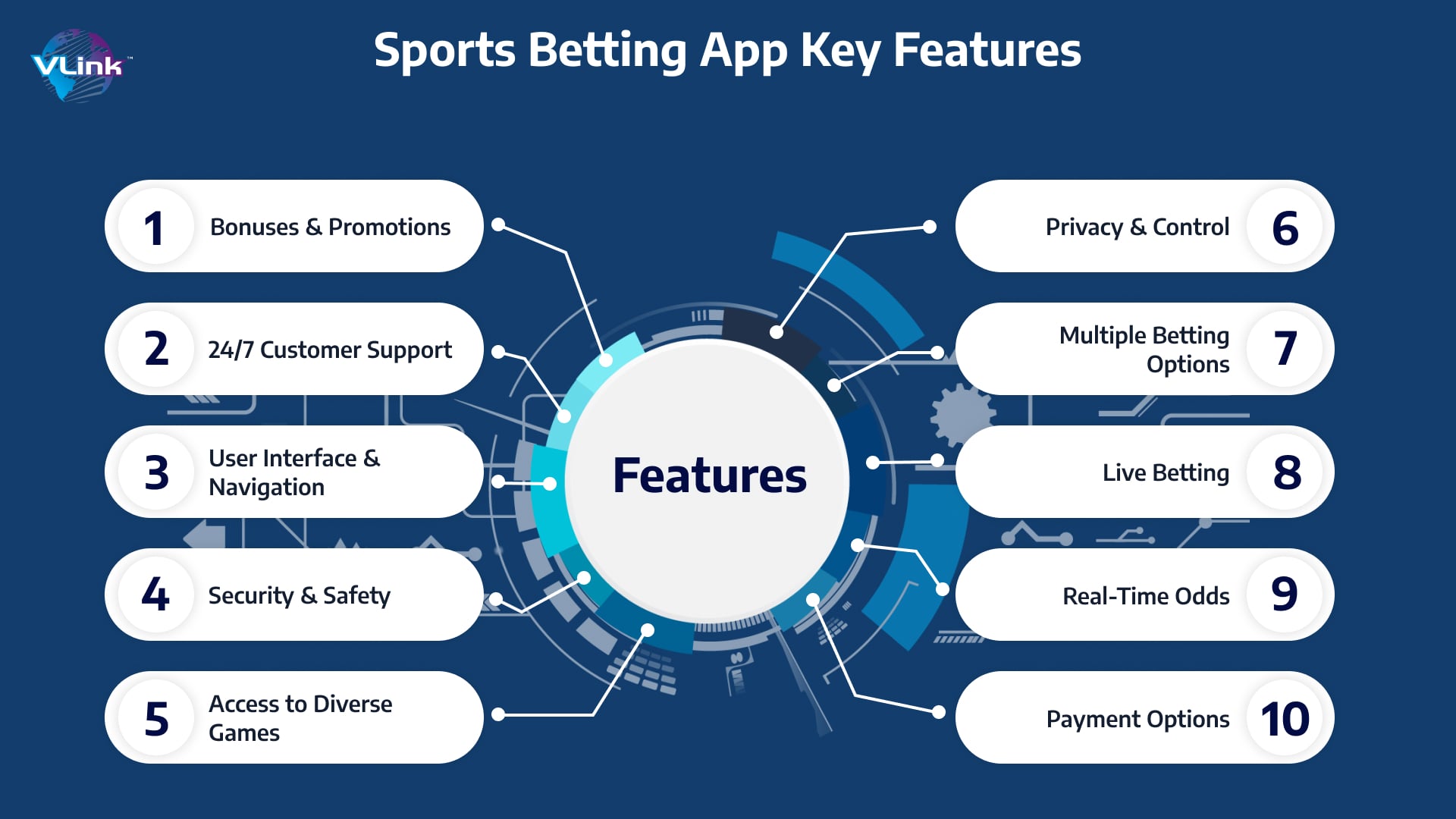 Before creating an impactful strategy, you must research the features and functions of popular mobile sports betting apps such as FanDuel, BetRivers, BetMGM, etc.
Focus on exact laws & regulations, such as permitted user age range, allowed US states, getting a sports gambling license, etc.
In addition, you can hire betting app developers with great experience in building betting apps. Ensure they have excellent knowledge about a few things, including;
Having a great audience base in the sports betting industry

Understanding the best UI/UX development strategies
Understand the demographics and preferences of your potential customers to effectively engage and entice them to participate in sports betting on your platform. Develop a comprehensive marketing strategy to attract and retain betting enthusiasts to your app.
First and one of the most crucial steps you need to consider when building a sports betting platform is researching market trends. It'll help you to identify and analyze betting trends and app functionality.
In addition, keep yourself updated with emerging mobile app development trends and potentially significant impacts on the betting market in future.
After creating an impactful strategy, designing your sports betting platform's user interface is another required step. Designers will provide clickable wireframes for the betting platform.
A wireframe serves as a blueprint or schematic of a sports betting app and aids developers in brainstorming & work on projects.
Once you approve your platform's design, the programmer will develop the decided features to deliver fully functional and ready-to-use sports betting apps.
Incorporate essential functionalities into your online betting app, including but not limited to, bet placement, live scores, deposit and withdrawal options, and a robust anti-fraud system.
The development team will integrate app features and APIs, with front-end development parts, like buttons and widgets of your application.
Instead of adding all the app features, we suggest you build the app's MVP, including essential elements for users to place bets on your platform.

Integrate a reliable payment system into your app, enabling sports betting players to deposit and withdraw funds conveniently. Various payment options are available, including Stripe, NETELLER, and Skrill. You can seamlessly use them to enhance the user experience.
Once you have completed the development phase, consider QA software & testing service. It'll make your mobile sports betting app seamless for an uninterrupted experience.
Having a betting platform riddled with bugs and glitches will drive away potential users and pose significant risks to your business's success. You will get error-free software for your sports betting business by properly checking your app's quality.
Finally, it's time to launch your dream betting app onto the market. Ensure you use efficient marketing strategies to promote your online sports betting apps among the desired target audience.
Enhance your sports betting business's chances of success by leveraging influencer marketing and collaborating with content creators whose niche aligns with your app to promote it to their audience.
Optimize your app's performance according to each platform's guidelines, including Android, iOS, and other targeted platforms, ensuring maximum visibility and usability.
Additionally, prioritize post-launch maintenance and regular updates, integrating the latest features to continually improve your platform and provide users with an enhanced experience.
Bonus Tips for Sports Betting App Development

#1 - Hire Outsource Sports Betting App Development Company
Consider engaging an outsourced sports betting app development company to accelerate the creation of your app.
By hiring a specialized team, you can tap into their expertise and experience in the field, ensuring a robust and well-crafted app tailored to your specific requirements.
Outsourcing can save time and resources, enabling you to focus on other aspects of your business while the development company handles the technical aspects.
Ensure you thoroughly research and select a reputable company with a proven track record in sports betting app development to ensure the success and quality of your platform.
There are two types of hiring models i.e., outsourcing and IT staff augmentation. If you are confused between them, read staff augmentation vs IT outsourcing to find the right one for your development project.
#2 - Maintain the Security of Your App
When creating a sport betting app, prioritizing robust security measures is paramount. The app must offer users a safe and protected environment, guarding against false betting and fraudulent activities while ensuring overall monetary security.

#3 - Use Attractive Design to Grab Your Target Audience's Attention
A distinctive design is crucial in captivating the target audience's attention. Understanding market trends and user preferences is vital to create an unbeatable sports betting app. Realistic graphics and innovative features will elevate your app, providing bettors with an exceptional experience.
#4 - Use CRM System
Customer Relationship Management (CRM) is a strategic approach to effectively manage interactions and communication between an organization, its existing customers, and potential clients.
Implementing a CRM system empowers businesses to maintain continuous connectivity with clients, streamline processes, and offer round-the-clock customer support, thereby fostering solid and lasting customer relationships.
#5 - Integrate Attractive Features
An elegantly designed mobile app enhances your brand's accessibility and reliability. Adopting unique marketing features, including live streaming, exclusive games, and cashback offers contribute to positive brand recognition, leaving a lasting impression on customers.
Clients who download the app will likely share their experience through word of mouth or provide feedback, improving goodwill for the company.

How Much Does It Cost to Build a Sports Betting App?
The cost of creating a sports betting app can significantly fluctuate based on its features and intricacy. Typically, the development expenses can fall between $30,000 to $40,000.
Several factors influence the overall cost, including the app's feature set, complexity, chosen platform, the number of required developers, and the development timeline.
In addition, it is essential to consider marketing expenses and ongoing maintenance costs when budgeting for the app's complete investment.
Read More: How much does iOS app development cost if you are planning to build sports betting app for iOS platform.
Partner with VLink for Your Sports Betting App Development Projects!
Whether you're looking for White Label or Custom sports betting apps, we ensure that our solutions are customized to your unique needs, providing a seamless user experience and delivering exceptional results. VLink, a renowned company in the mobile sports betting app development industry, serves a wide range of clients worldwide with its exceptional services.
Our dedicated team of sports betting app developers have many years of experience delivering innovative sports betting software solutions, betting platform development services and many more. They are fully equipped to craft cutting-edge, impactful software that will surpass your expectations.

FAQs
Frequently Asked Questions
What is a sports betting app?
A sports betting app is a mobile application that allows users to place bets on various sports events and matches. It provides a platform for users to access odds, place wagers, and monitor their chances, providing a convenient and accessible way to engage in sports betting on smartphones and tablets.
How to make money through betting apps?
Betting apps generate revenue through various channels. They earn money from user bets, taking a small percentage as a commission or "vig." Additionally, in-app purchases, premium features, and subscriptions can contribute to income.
Sponsorships, advertisements, and partnerships with sportsbooks can also be lucrative. A seamless user experience and enticing promotions can increase engagement and boost profits.
What do you need to consider when hiring a sports app developer?
When hiring a sports app developer, consider their experience in sports app development, expertise in relevant technologies, and a portfolio showcasing their previous work.
Assess their proficiency in comprehending your requirements and their ability to communicate effectively. Verify their reliability, reputation, and deadline adherence to ensure a successful app development partnership.