Insurers want to be both technologically enabled and data driven. To meet such goals, insurers must be able to fully harness their data assets for strategic decision making. The insurance sector is not recognized for its quick and efficient operations.
Customers have become accustomed to waiting a few days — at most — for a response when applying for a new insurance or submitting a claim. However, today's insurance clients are no longer satisfied with the status quo and have demonstrated a willingness to switch insurance providers if they do not receive quick and appropriate service.
Insurance automation may be used to automate routine operations like as applicant pre-qualification, claims processing, policy administration, regulatory compliance, and underwriting while ensuring that no crucial information are overlooked.
Insurance automation helps sustainable growth through automation scalability and seamlessly connects with all of your business goals for ambitious organizations who want to stay ahead of the competition.
What is insurance automation?
Insurance automation is a tool that is used to streamline all insurance activities such as marketing, renewals, and sales. RPA is a common tool in insurance automation. Insurance automation has the potential to save time and effort in an industry plagued by inefficient, paper-based procedures, dramatically altering both the consumer and staff experiences.
Look no farther than conversational AI for an illustration of this. Conversational AI is a common type of intelligent automation that interprets and comprehends human language and formulates answers using natural language processing (NLP and NLU) and deep learning.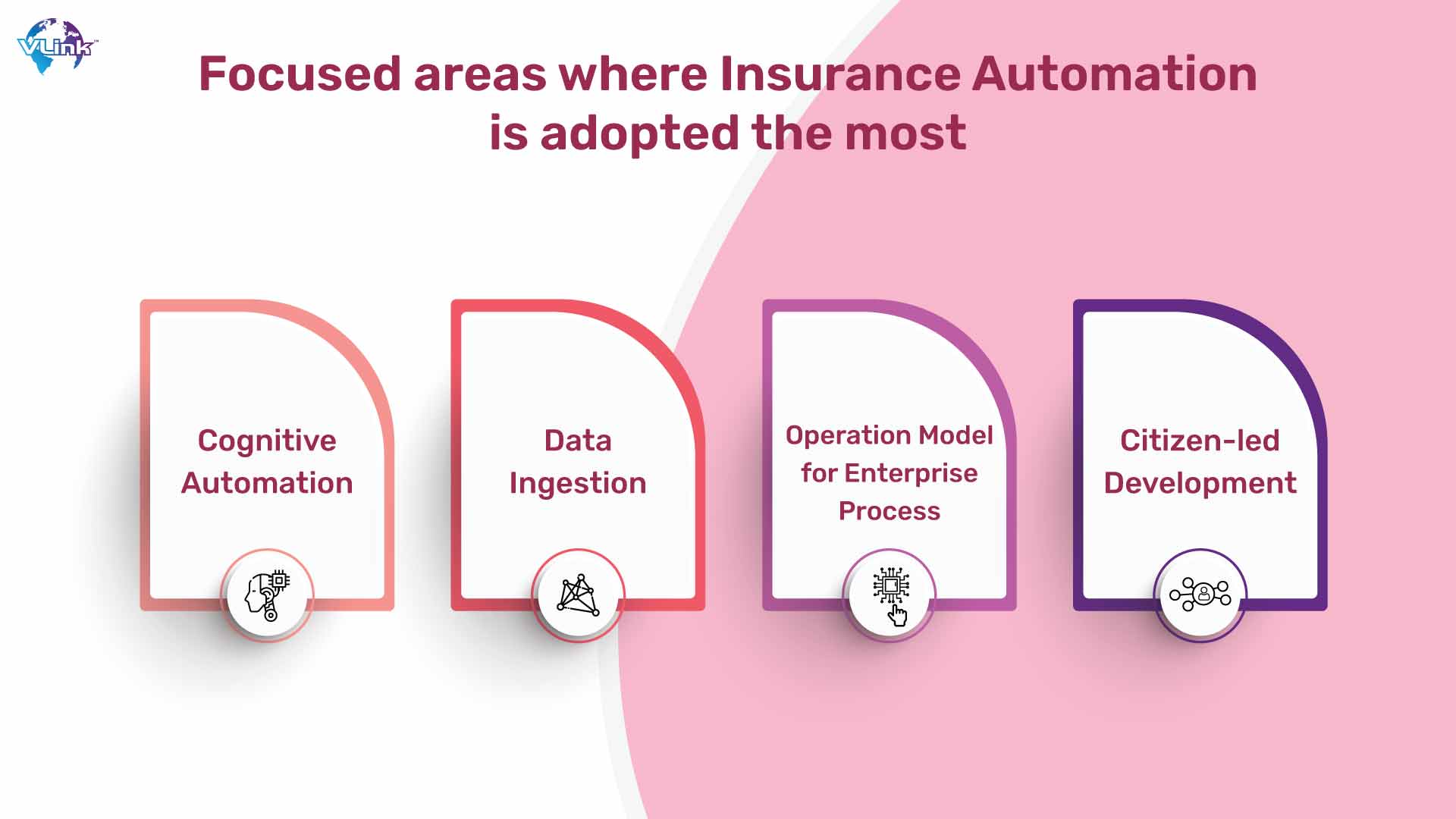 Although the technology underpinning conversational AI is advanced, the overall premise is simple. Conversational AI may be used by insurance businesses to develop virtual agents and assistants capable of delivering internal and external help.
Intelligent automation has the potential to alleviate many of the problems that insurers face today, ranging from time-consuming, paper-based claims processing to long wait times for customer service – and that's only scraping the surface.
Also Read: Integrating Artificial Intelligence (AI) In Insurance Apps
Business benefits of insurance automation
Natural Language Processing (NLP), computer Learning (ML), and other cognitive software techniques are used to feed a simple insurance chatbot and convert it into an intelligent, self-processing computer. Human intelligence and smart machines work together to improve occupations and remove monotonous chores, resulting in:
1- Cost-savings & increased efficiency
Insurance companies are well-known for managing massive volumes of data. If human representatives are the only force available to process these data, it may take more time and money to complete the task.
Insurance automation is the finest answer for long-term success in a highly competitive business. Insurance automation is commonly used by businesses that want to raise their rates and automate time-consuming tasks that will help them save money and improve the efficiency of their services.
2- Enhanced customer experience
One of the advantages of automation in insurance is that it dramatically improves client experience. However, one crucial distinction to keep in mind is that Robot Process Automation (RPA) and Artificial Intelligence (AI) are two distinct techniques.
Artificial Intelligence (AI) is responsible for an AI-powered RPA's time-saving features; it offers enough intelligence to make RPA human-like. AI enables a basic bot to learn, evolve, and adapt to any given situation without the intervention of a human representative.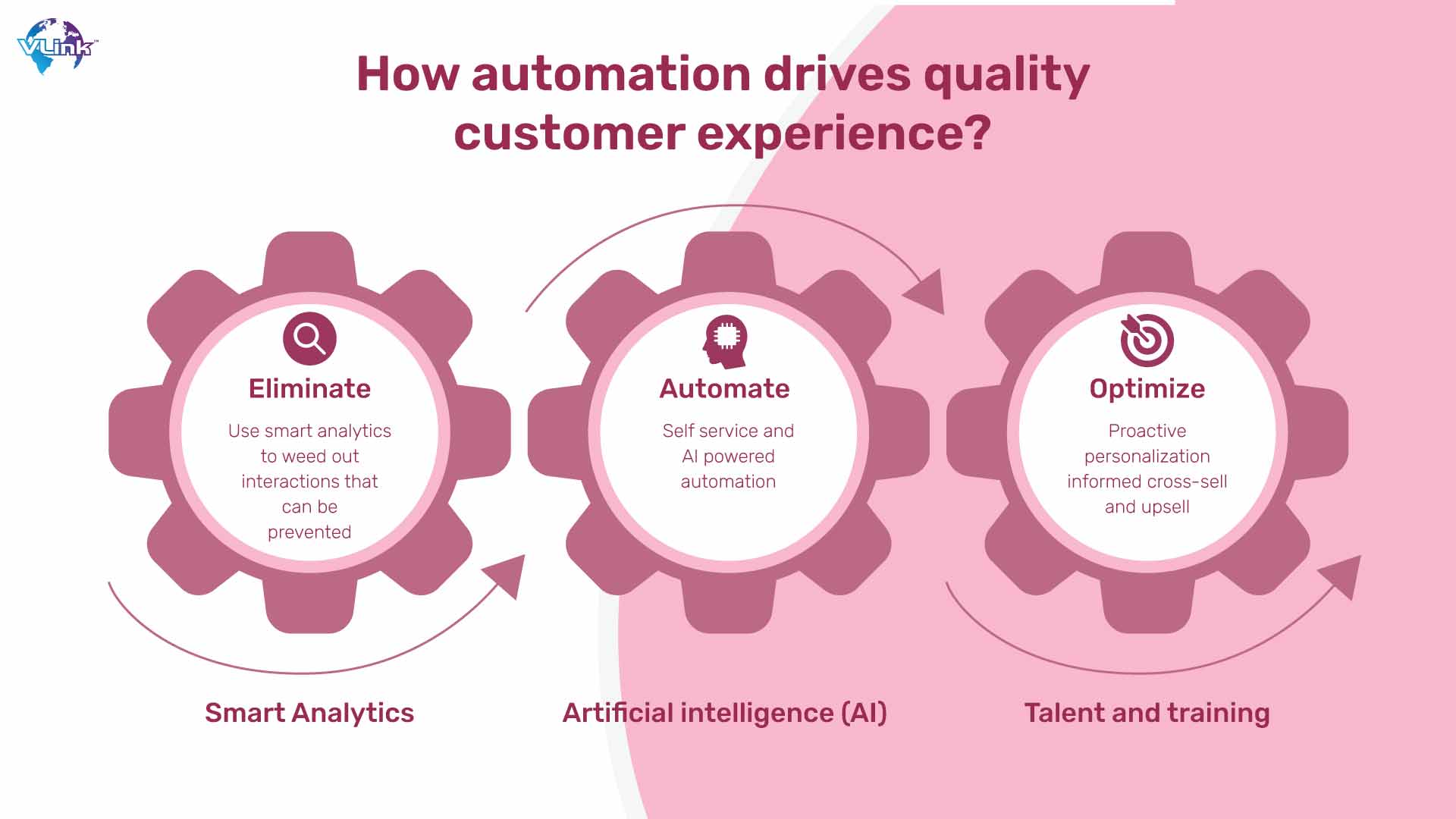 These AI-powered robots employ software learning technologies such as Natural Language Processing (NLP), Natural Language Understanding (NLU), Machine Learning (ML), and other robotics software to mimic human activities.
When the power of AI is infused into a simple conventional robot, it transforms into the ultimate powerhouse that assists businesses in increasing customer experience and income over time.
3- Detection & prevention of fraud
Because of contemporary technology, vital papers such as insurance claims may be readily reproduced and forged. There have been instances where an employee has inadvertently ignored this critical paperwork, costing the organization more money than they were ready to spend.
RPA can pre-scan documents submitted by the client, such as a notification of loss claim, to check that they are legitimate. It employs fraud detection algorithms that warn the insurer if the papers supplied are legitimate or not.
4- Drives scalability for your business
Robotic Process Automation in insurance enables firms to scale their operations without hindrance. Companies who employ insurance automation should expect an improvement in accuracy of 80-90%, an increase in reaction time of 80%, and a 50% boost in profitability.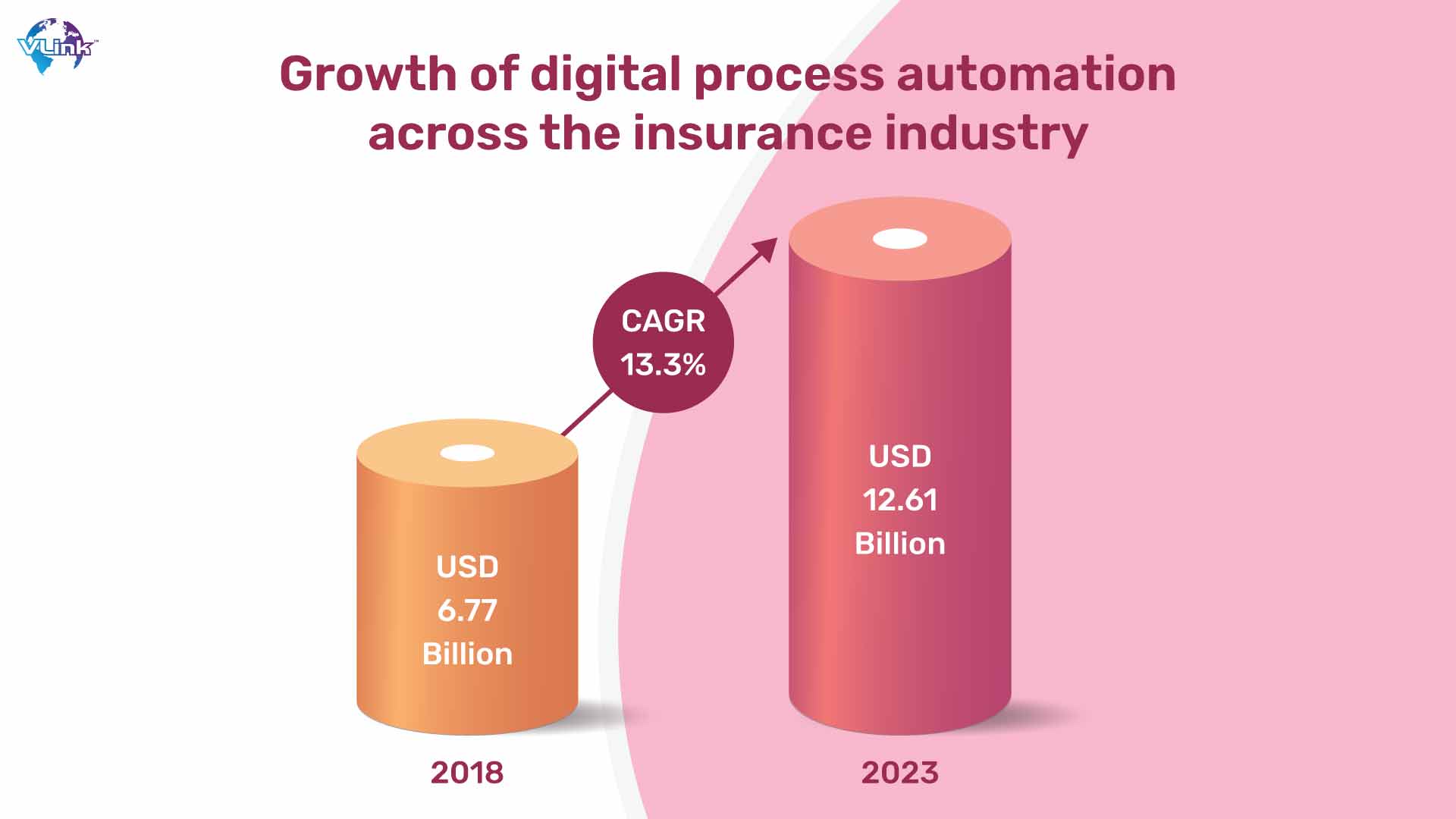 Insurance businesses who invest in RPAs should expect a 100 percent return within the first year. Furthermore, the more bots a corporation adds, the more probable the profit will double in the next years.
5- Improved data accuracy
Insurance automation may enhance data accuracy as well as save time. Manual operations, particularly data input, are prone to human mistakes. Intelligent automation eliminates the danger of human mistakes by automating the data collecting process.
Poor data quality can create a variety of problems, ranging from delaying the claims process and stalling consumer payments to prohibiting insurers from effectively pricing policies and making data-driven business choices.
6- Seamless integrations of additional tools
To streamline business operations, many intelligent automation options links seamlessly with insurance firms' existing systems. To develop seamless user experiences, a conversational AI solution can connect with instant messaging systems like Slack and WhatsApp, live chat platforms like Zendesk and Salesforce, and authentication programs like Signicat and OpenID.
7- Minimal human errors
Human mistakes are not uncommon in the insurance sector. Insurance businesses that continue to allow human error to affect their strategy from the inside out may face far more serious problems than simply losing millions of dollars.
RPA in insurance is intended to assist in handling the rising demands from policyholders, customers, and other partners without breaking a sweat—reducing the chance of mistakes significantly as compared to people.
It's quick, clear, and available across various channels to optimize every opportunity and improve the customer experience with few to no errors.
Top trends in insurance automation
Leaders will need to let go of old assumptions and business models to embrace new ways to make and distribute things that are fundamentally different in many situations. Here we'll look at the top insurance trends that companies will use to leverage the benefits of latest technologies:
1- Insurance automation for smart labor management
Labor expenditures are one of the most significant expenses for any firm, and they will only climb as inflation rises. Insurance businesses may save money on manpower by automating routine processes like processing claims and providing policies.
Furthermore, when it comes to jobs like data input and analysis, automated systems frequently outperform people. This means that insurers who automate their processes will have a competitive edge over those who do not.
2- Integration of process mining & automated testing
Process mining and automated testing will become increasingly crucial as insurance businesses aim for best-in-class automation. Process mining can assist in the identification of inefficiencies and bottlenecks in corporate processes, which can subsequently be remedied through automation.
Automated testing may assist in ensuring that new or updated automation solutions are functioning properly and uncover possible flaws before they cause difficulties in production.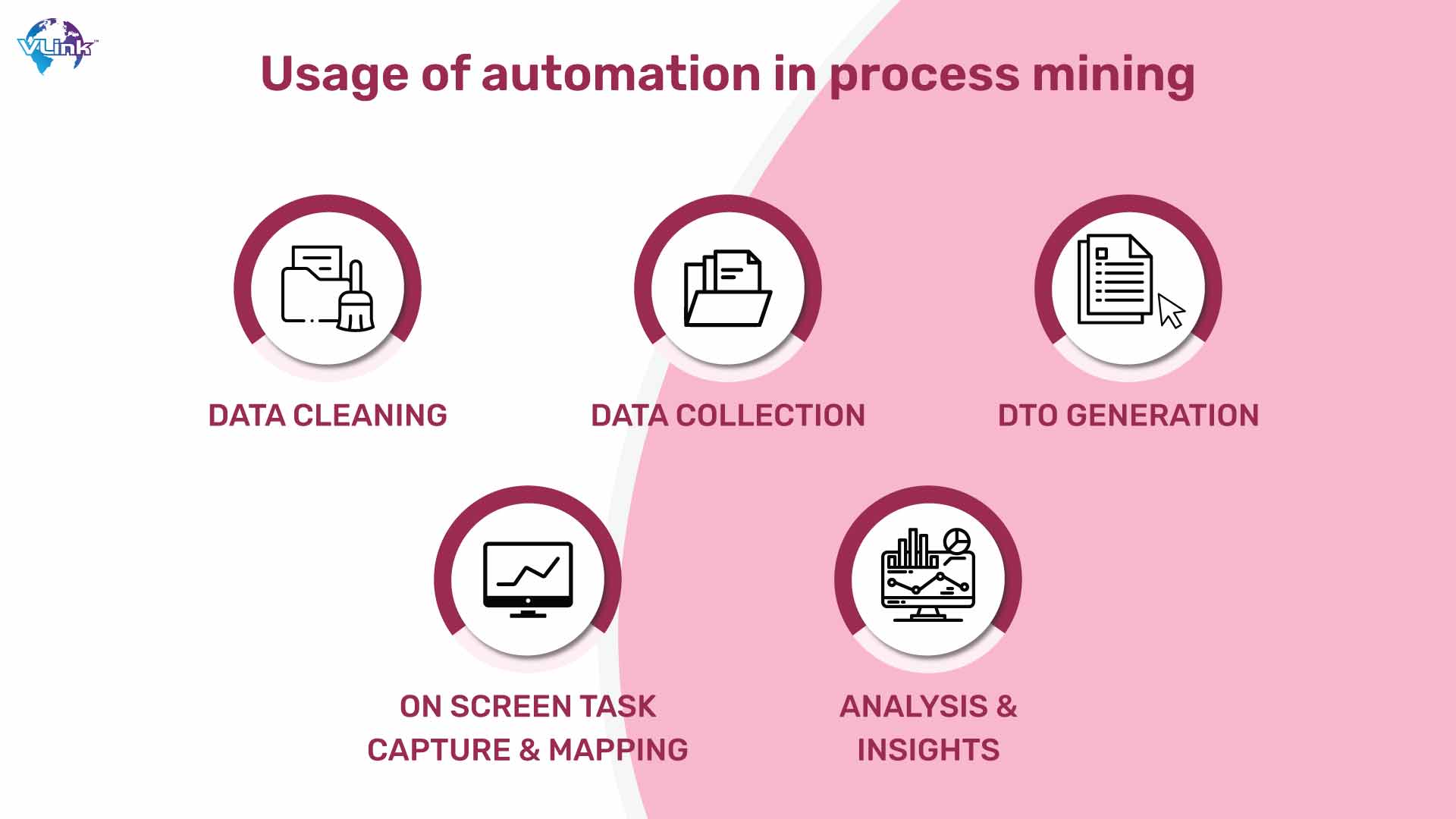 Process mining is a novel technology that lends itself nicely to insurance applications. It creates visual representations of business processes using data from event logs, which may subsequently be evaluated to discover opportunities for improvement.
3- Automation in insurance operations
One of the most significant advantages of automation is its potential to boost efficiency and accuracy. Insurers may free up personnel to focus on higher-value operations by automating monotonous procedures. Automation can also assist to decrease mistakes and inconsistencies, resulting in a better customer experience and improved company outcomes.
Furthermore, automation can assist insurers in becoming nimbler and more responsive to change. Businesses may swiftly respond to new market conditions or client requirements by automating procedures and workflows. In today's quickly changing world, this adaptability may be a vital competitive edge.
4- Implementation of Digital CIO (Chief information officer)
One of the difficulties CIOs confront is that there is no one-size-fits-all approach for automation. The optimal technique will differ based on the demands and goals of the company. CIOs must collaborate closely to understand the organization's current IT infrastructure and determine where automation might be most advantageous.
The function of the chief information officer (CIO) is becoming more vital than ever as digital transformation efforts continue to take off. CIOs must be able to guide their enterprises through digital transformation and help them reap the benefits of automation.
This implies they must be well-versed in the many forms of automation technologies and how they may be used to achieve corporate objectives.
Top use cases of insurance automation
There are various applications for intelligent automation in the insurance sector, but here are a few examples to get you started:
1- Processing of claims
Even though it takes time, having rapid and effective claims processing is critical to an insurance company's profitability.
Investing in AI-powered RPA insurance services may greatly simplify the claims processing workflow by automating claim intake, evaluation, and payment.
Manual claims processing would take approximately one week to complete. Automation makes data available in a matter of minutes.
2- Compliance with regulations
Insurance firms must follow the laws and regulations of the government. However, changes to these requirements usually necessitate insurers re-construct their business operations and adapt to the critical change—even if it means incurring irreversible financial and operational losses.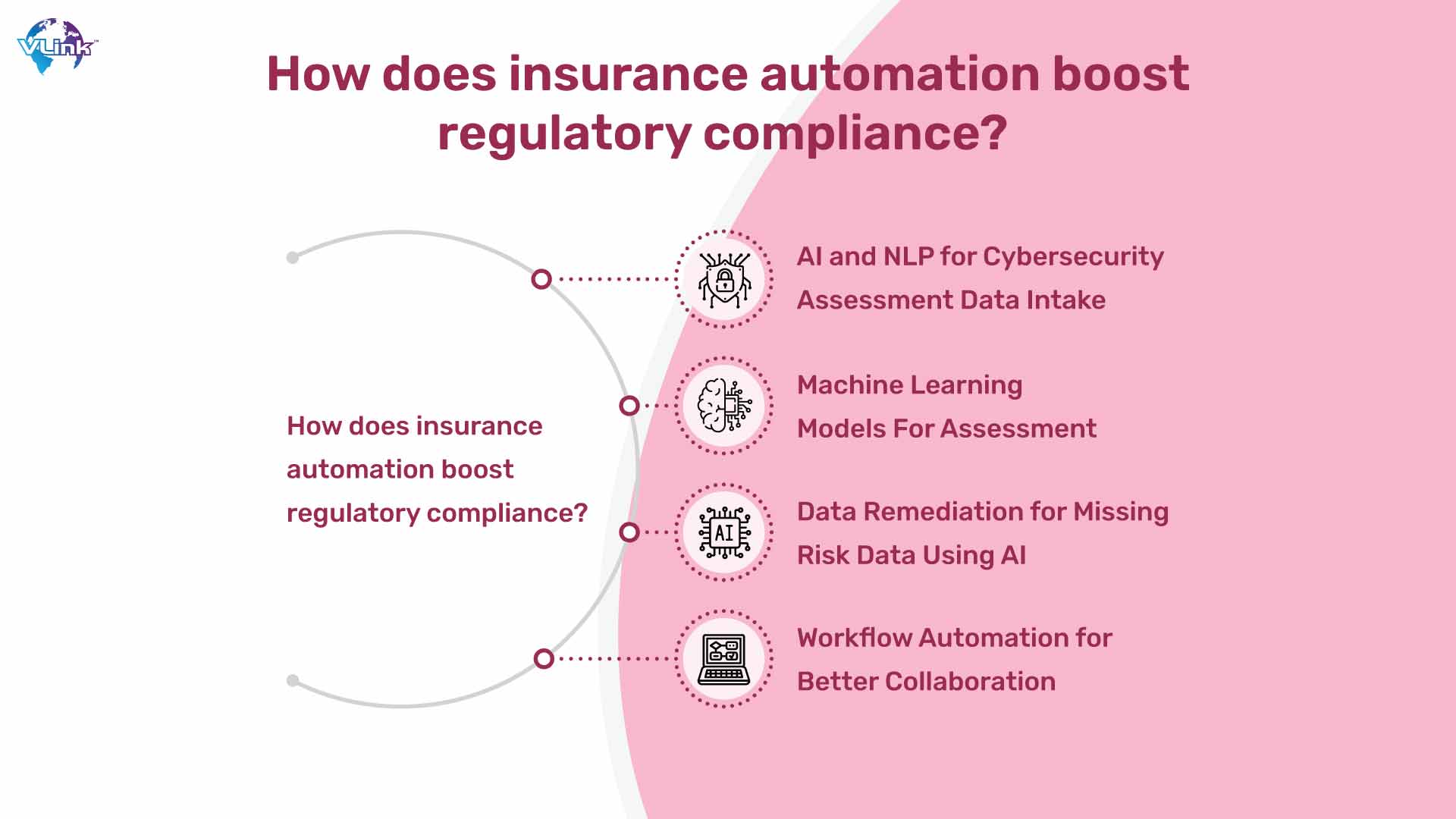 An AI-powered insurance bot is the solution to assisting insurance businesses in enhancing and improving their compliance. Insurance automation eliminates the need for agents to read the operations handbook. It enables businesses to assure the accuracy of their data while also monitoring regulatory compliance in real time.
3- Automated policy management
RPA insurance services may also be utilized throughout the policy management life cycle, such as policy modifications and policy issuance. Pre-underwriting checks, updating internal systems, and engaging with customers all need a significant amount of manual labor.
Automation in insurance services may be used to automate every stage of policy issuing, significantly decreasing the time and effort that insurers formerly did manually.
4- Underwriting
Automation in insurance does not have to be confined to the fundamentals; it may also include sophisticated features such as obtaining and analyzing critical information from many sources to underwrite the risks associated with the selected policy, such as health hazards and financial constraints.
With the use of RPA insurance services, time-consuming operations like evaluating the history of customers' claims, assessing loss runs, collecting data, and creating suggestions based on prior losses may be completed in a matter of minutes.
How VLink can help in deploying insurance automation?
RPA in insurance may, without a doubt, be matched with any company purpose. Indeed, an increasing number of insurers believe that RPA has helped them decrease costs and improve processing time for their policies, resulting in delighted clients and increased internal productivity.
VLink has the latest technologies that can help your insurance business become automated. We can build and optimize existing systems to advanced machines that help you manage processes more efficiently and productively.

FAQs
Frequently Asked Questions
Will insurance industry become automated?
Insurance firms that employ intelligent automation technology such as conversational AI and RPA will have a bright future. Among the anticipated advantages are: Improved operating efficiency: The ability to automate vital yet time-consuming procedures has the potential to simplify operations across the business.
How is AI impacting the insurance industry?
AI performs best when it can process massive amounts of data. Armed with this information, insurance professionals will explore methods to leverage AI technology to improve customer service, fraud detection, underwriting and pricing, and sales. AI in insurance is still in its early stages.
What is the insurance industry's future?
According to the India Fintech Report 2022, several insurance companies have developed that have improved their core offers by using technology such as AI, IoT, ML, and other applications.