How Popular Brands Like Starbucks Have Increased Sales Through Mobile App Development?
Leading brands like Starbucks leverage mobile app development to get more sales. To know how and replicate this success, read this blog.
201 Views

5 minute
From navigation to food ordering to online shopping to entertainment to searching for jobs and handling finances, we all rely on countless mobile apps to perform our daily tasks.
As per Statista survey, people use smartphones for several tasks, as mentioned below in the image: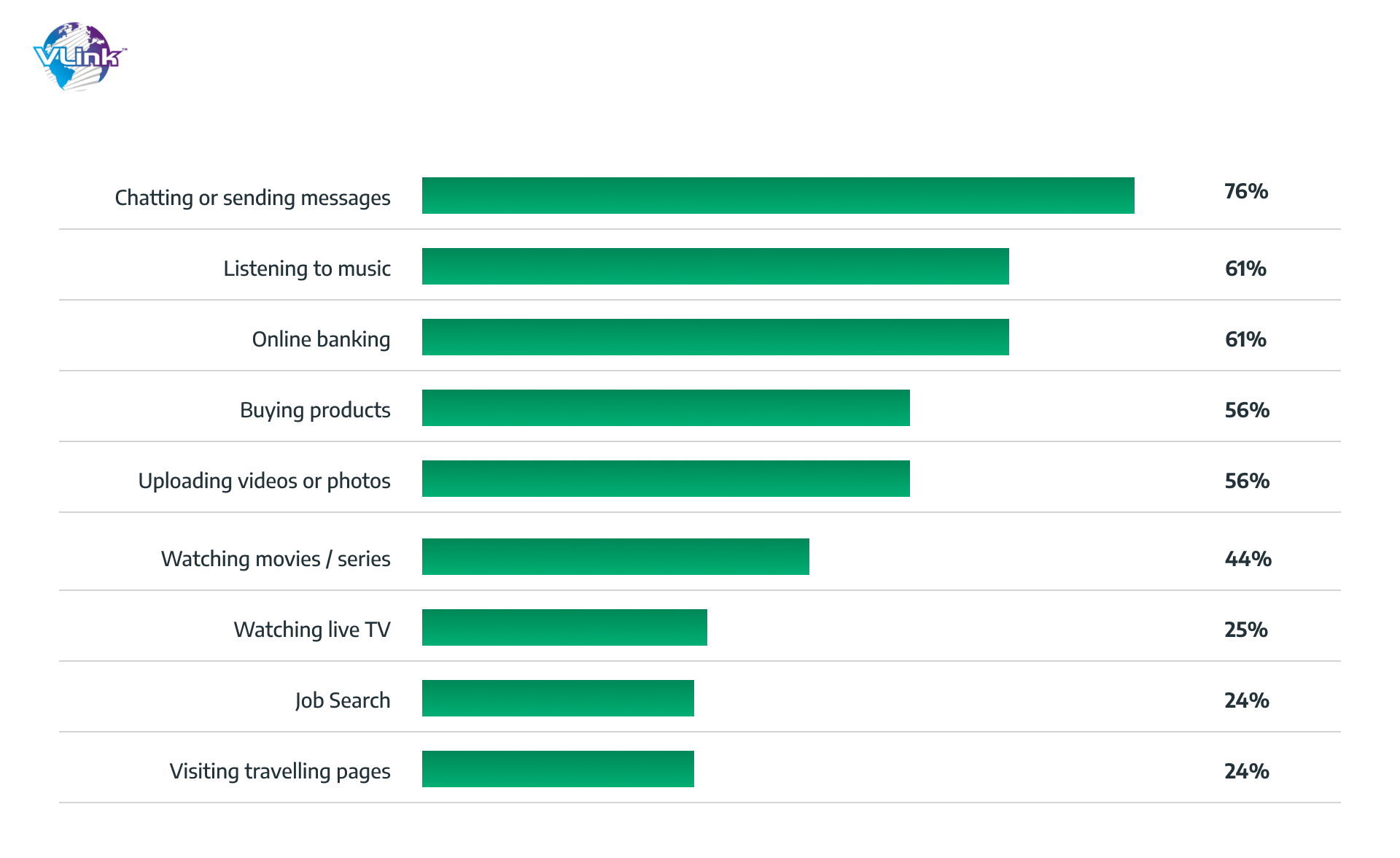 Oracle revealed that around 67% of Fortune 500 companies prefer to invest in mobile apps to connect with their customers. Leading brands like Starbucks invest in mobile app development to revolutionize sales and enhance customer experience.

Whether a startup or an entrepreneur with an ambitious new idea, mobile app development can help you take your business to the next height. By studying the giant's success story, you can uncover the transformative impact of apps on sales, customer engagement and overall business growth.

Let's begin this journey by exploring how Starbucks created a mobile app to boost sales.
Table of Content:

1.How Starbucks Increased Sales Via Mobile App Development?

Mobile App Like Starbucks Features to Increase Sales

Technologies popular brands like Starbucks use to build an app

2. How Can VLink Help Build a Mobile App That Boosts Your Sales?
3. Conclusion!
4. FAQs–

How Starbucks Increased Sales Via Mobile App Development?
Unlock the mobile app like Starbucks features, functionalities and strategies that drive their maximum sales.
Let's first know the success story and key characteristics of Starbucks.
Success Story

Starbucks' success story in leveraging apps to boost sales highlights the rising demand for app development for businesses. It shows how investing in mobile application development services can generate significant revenue growth and improve user experiences.

Renowned for its coffee and customer experience, Starbucks launched its app in 2009 for its brand lovers to find Starbucks nearby stores, & nutrition details. This decision has played a vital role in its brand awareness and sustainability.
In 2011, Starbucks integrated a seamless in-app payment feature to meet the demand of loyal customers. A valuable addition to Starbucks card and brand loyalty.
There was a time when people had to wait in a long queue to order their favourite coffee. In 2014, the retail giant adopted the feature of mobile ordering to elevate customer experience to the next level. Now, users just need to order a coffee online and pay instantly to take it away on the go.
2017 Starbucks updated its app and incorporated a rewards program to increase sales and customer engagement. This strategy resulted in a remarkable 12% increment in-store sales and an estimated $26 bn boost in annual revenue.
The net global revenue of Starbucks in $ bn (2018-2022) is shown below image: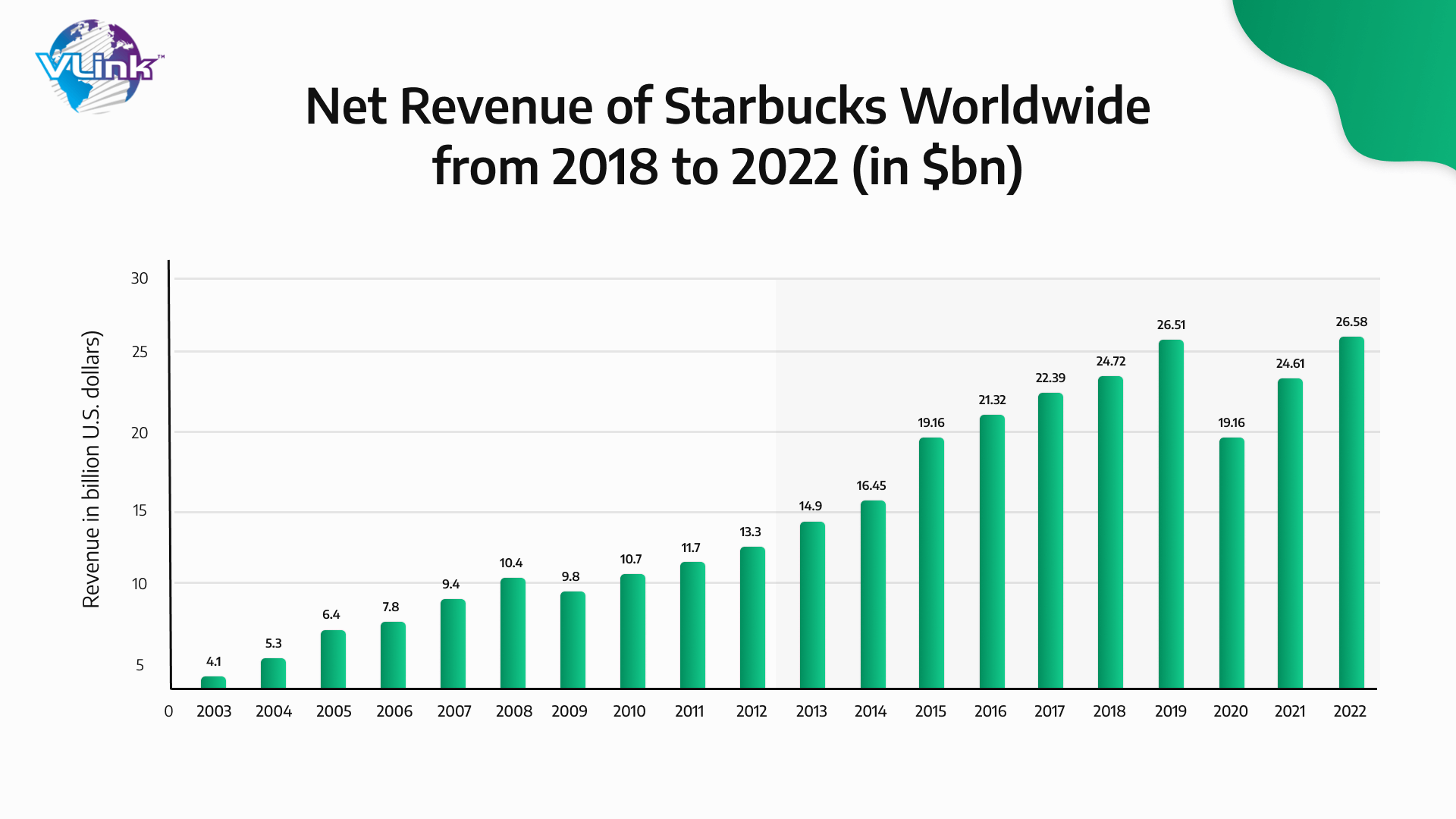 Loyalty Program
Starbucks empowered its brand app with an in-app loyalty program to increase customer loyalty and personalized experience. It drives around 50% of its business.
Generation-wise, 31-40% of millennials, 24% of Gen-X, and 14% of baby boomers use the Starbucks app.

Thanks to the feature-rich, user-friendly app, active Starbucks reward members in the USA have increased by 13% to 18% yearly. And this number reached around 27.4 million in 2022.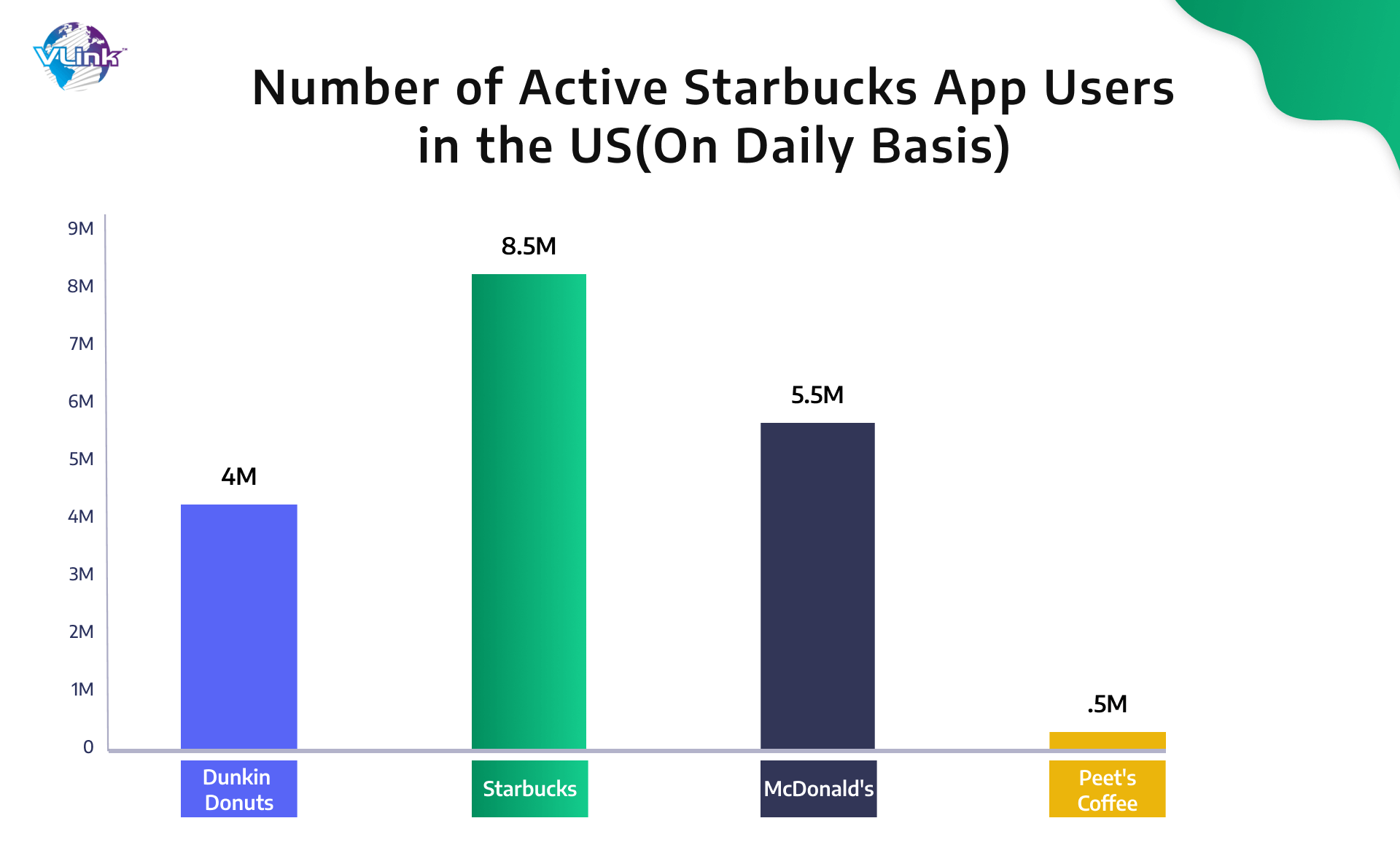 By integrating loyalty programs, mobile payments, and convenient ordering options, Starbucks enhanced the overall customer experience and increased engagement and loyalty.

Why is the Starbucks App a "Must Use" App for Customers?
A few years ago, Starbucks' mobile payment app was popular with many mobile payment users in the USA. Only within the last few years, Apple Pay has surpassed Starbucks with over 40 million users while Starbucks comes in with over 30 million users, as shown below image.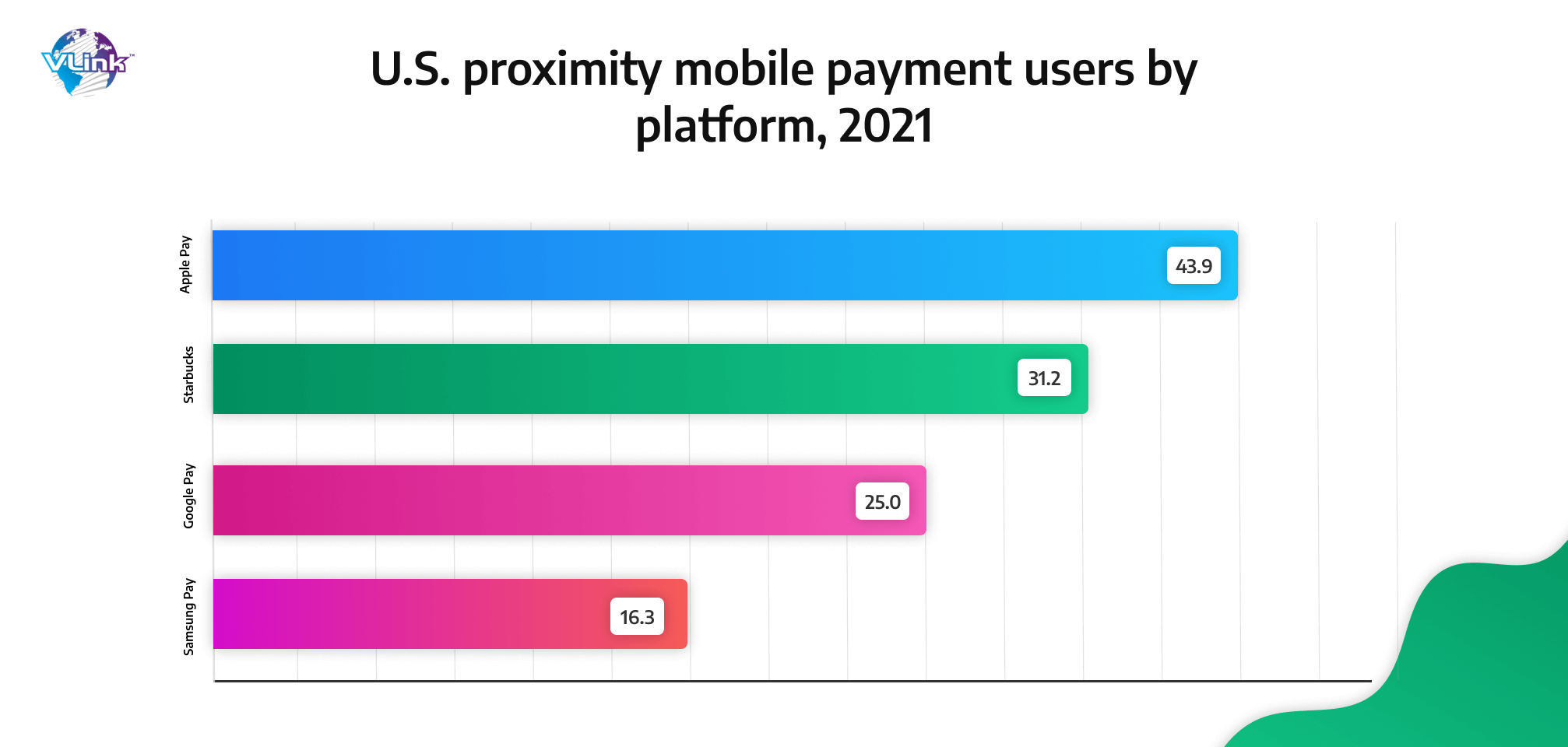 Here are four reasons why the Starbucks app is a "must use" app for users:
The smooth, engaging, and interactive UI of Starbucks makes the user's journey from signing up to onboarding to payment execution easy & secure.

Great, interactive, fun customization options make the mobile app more attractive and deliver a personalized experience.

The crystal clear and easily accessible reward program shows how to earn and redeem loyalty points.

The online payment process done via the Starbucks app is pretty smooth, secure and convenient.
Mobile App Like Starbucks Features to Increase Sales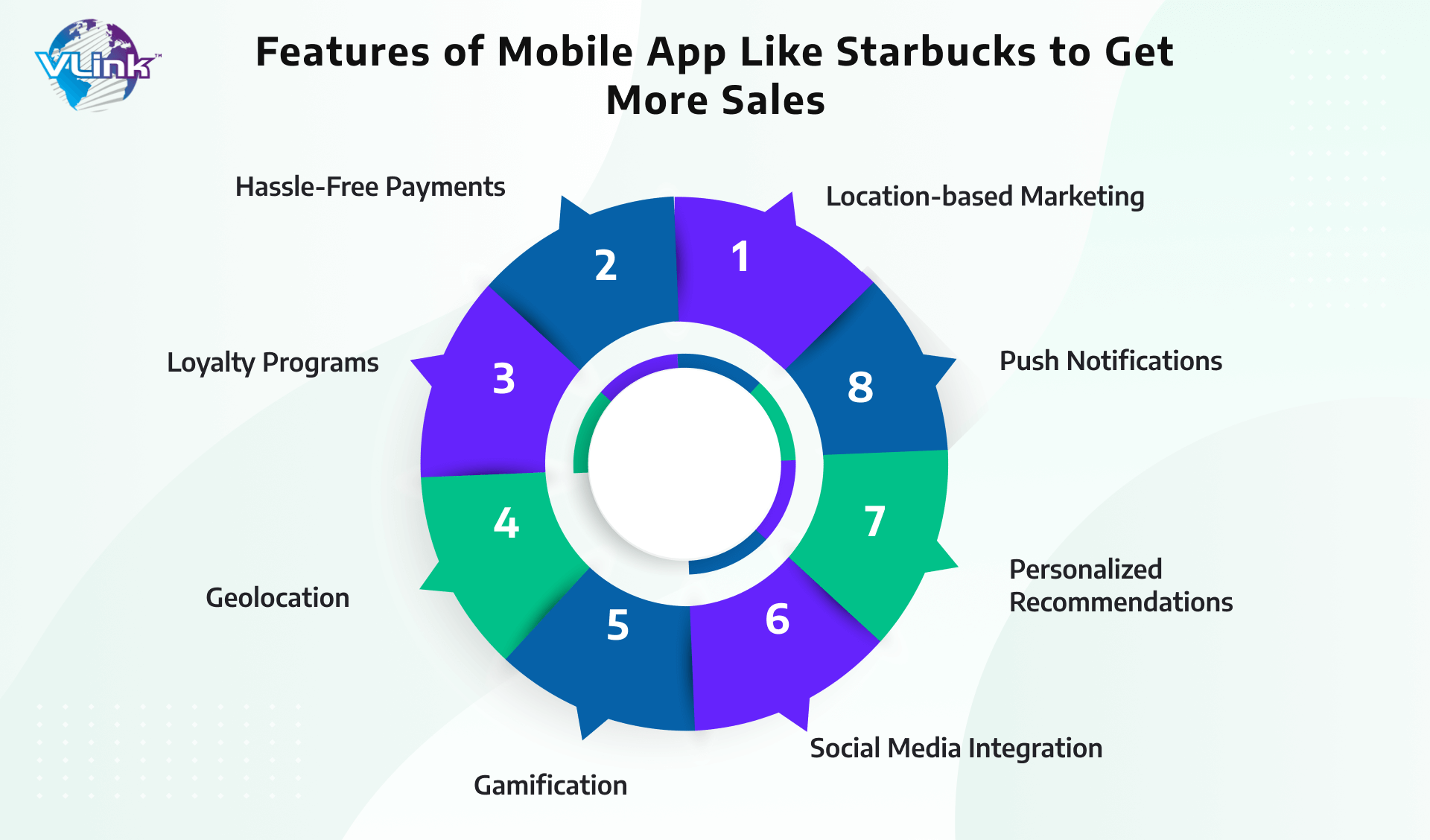 To give your customers a seamless experience, consider incorporating several interesting features into your mobile app, like Starbucks.

Feature #1 - Location-Based Marketing

Location-based marketing gives you a sophisticated way of attracting relevant customers to your store. This feature helps you send the right push notification in time with the right offer, increasing foot traffic to stores and closing more sales.
Popular Brands like Starbucks use location-based marketing to engage customers and boost sales.
Feature #2 - Hassle-Free Payments

Users will need card management to pay for the order through mobile money. With Starbucks mobile app, users can check their account balance, upload money and gather stars from collecting rewards later.
Plus, users can transfer money and check their mobile payment history. It drives customer conversion and loyalty.

Feature #3 - Loyalty Programs
In today's competitive world, you must incorporate everything that takes your business a step ahead. Like coffee apps like Starbucks, it allows startups to reward their customers patronize a loyal customer base and encourage customer retention uncovered to the market.
So, incorporating a loyalty program could be a game changer for your mobile app.
Feature #4 - Geolocation
Geolocation technology helps customers conveniently discover the closest stores.
With GPS technology, users can find their nearest Starbucks store and collect their orders, streamlining the entire process from ordering to picking up in-store.
Numerous Android app development services are leveraging GPS integration to enhance the customer experience.

Feature #5 - Gamification
Gamification can be a clever and profitable strategy to generate more profit and sales via mobile apps for businesses.
Starbucks has an amazing gamification feature that keeps users engaged with the brand and its apps. The best thing is that users can earn rewards and unlock advanced game levels with exclusive gifts and perks.
Feature #6 - Social Media Integration
Incorporating social media into their mobile app allows startups to enhance customer engagement and leverage a powerful platform for viral marketing.
Instagram seamlessly integrates with various social media platforms, empowering users to effortlessly share their photos across multiple channels. This integration not only amplifies customer engagement but also enhances brand visibility.
Additionally, Instagram facilitates streamlined user acquisition and onboarding.
Feature #7 - Personalized Recommendations

With gathered data from the app, you can provide personalized recommendations to customers, increasing sales and customer loyalty.

Starbucks app gained a massive increase in sales and engagement thanks to personalized recommendations to users based on their viewing history and preferences.
Feature #8 - Push Notifications

Push notifications can keep customers engaged and informed, increasing customer engagement and sales.

The coffee app Starbucks takes the cake with some of the most creative push notifications that make customers order immediately.
Required Technologies to Build a Mobile App Like Starbucks
Popular brands like Starbucks have raised their revenue by building apps. But what technologies did they use?
Cloud Technology

Mobile applications are consistently linked to a cloud platform, enabling them to rapidly expand their capabilities to meet users' needs. For that, you can hire cloud managed infrastructure service.

If your application gains popularity, it becomes effortless to incorporate additional servers into the cloud platform, ensuring seamless scalability to accommodate the increasing demand.
Big Data Analytics

Using big data analytics technologies like Hadoop and Apache Spark empowers top brands to better understand their clients.

By storing and analyzing client data in real-time, these brands can create personalized experiences, precisely target consumers with tailored offers, enhance customer service, and accomplish many other objectives.
Augmented Reality (AR)

The convergence of cloud technology, big data analytics, and augmented reality (AR) is driving the increasing popularity of augmented reality as a powerful tool for revenue growth and customer engagement.
Major companies like Walmart are embracing this technology by integrating augmented reality features into their applications, enabling customers to visualize products before purchasing.
Tech Stacks for Mobile App Like Starbucks (Table)
Mobile Apps
Android, iOS, & Windows10
Programming Languages
HTML & Microsoft.Net
JavaScript Framework
React.js., JQuery
PHP Application Framework
Laravel
Data & Transaction Security
Symantec SSL
So, ready with a plan? Hire React or Flutter mobile app developers to create a perfect app like Starbucks for your startup and experience better growth within less time.
How Can VLink Help Build a Mobile App That Boosts Your Sales?
VLink is a leading software development company with expertise in innovative native and cross-platform app development services. Our team are experts in industry-leading technologies like cloud and DevOps, AI/ML, Web 3.0, etc., to cater to all your needs.

As a dedicated IT company, we understand how crucial your business is, especially when you want to make your unique presence stand out from the crowd. For over 13+ years, we have been helping startups to reinvent their approaches, which makes us your right tech partner.

Our developers focus on creating cutting-edge platforms & implementing the core values of your brand into them. From thorough app project planning to mobile app redesign and digital revamping, our team effectively caters to your dynamic growth requirements.

If you want to follow the strategy of Starbucks to turn your mobile app investment into profitable growth, schedule a call with our mobile app experts now!
Wrapping Up!

Starbucks' success story in leveraging mobile applications shows the importance of mobile apps for increasing sales.

Investing in mobile app development solutions and incorporating features can enhance customer engagement and drive revenue generation. To leverage the potential of mobile apps, businesses need to invest in Android development services and create user-friendly apps customized to their target audience.
Building an app like Starbucks will help you increase sales and customer engagement regardless of your business size.

FAQs
Frequently Asked
Questions
What is the cost of building a mobile app like Starbucks?
Building a basic app may range between $20,000 and $30,000. You must pay around $30,000 to $50,000 for additional featured apps like Starbucks.
You need to consider several factors influencing the accurate cost of an app like Starbucks. These factors are the developer's location, the app's complexity, features & tech stack, platform and UI/UX design.
Why are mobile apps important for business growth?
The mobile app is important for business because it increases brand awareness, saves time, improves engagement rates and strengthens business growth.
How to build a mobile app like Starbucks?
You need to follow several stages for mobile app development like Starbucks.
Discovery

Prototype & Design

MVP Development

Testing

Maintenance & Support
However, building an app like Starbucks could require millions of codes. Instead of developing an app from scratch or getting the cost of experienced app programmers, you can use VLink.
Our service is easy to use and will ship your software faster & more effectively.