How to Hire Dedicated Developers for Your Tech Team Fast: A Complete Guide
Scaling a business is a mammoth task, especially when dealing with the need for the right talent and skill set. According to a PWC report, the widening skill gap and acute talent shortage will cost companies upwards of $8.5 trillion by 2030 in the US alone.
201 Views

5 minute
In today's competitive digital era, not having access to experienced professional teams can be a major bottleneck for future growth plans. Most software development companies are dealing with the same challenge - Lack of experts.
One such solution is hiring a dedicated development team to work for you on a project-to-project basis. Hiring dedicated developers gives you flexible access to talent on demand without straining your budget.
This guide will take you through all required things for hiring and managing a dedicated software development team.
Table of Content:
What is a Dedicated Development Team?
Why should you hire dedicated developers?
When should you hire dedicated developers?
What are the benefits of hiring dedicated offshore, nearshore, or onshore developers?
Tips for hiring a dedicated development team for your next project
How much does it cost to hire dedicated developers?
Common mistakes to avoid when hiring dedicated developers
Kickstart your development project by partnering with VLink to hire dedicated developers
FAQs-
How to Hire a Dedicated Software Development Team for my project?
Which Developer has the highest salary?
Why hire dedicated outsource developers instead of freelancers?
What is a Dedicated Development Team?
Dedicated developers are outsourced skilled personnel that work for organizations on fixed deliverables. Once the deliverables get approved, the on-demand developers are disbanded. They are hired for the express purpose of aiding the development of a specific software project.
Professionals bridge the skill gaps within your organization while requiring no tax, HR, or administrative responsibilities. Your organization can save money, time, and resources to focus better on business-critical tasks.
Dedicated programmers fall somewhere in the middle between full-time and part-time employees. While they offer more flexibility and cost less than full-time employees, their dedication, skill set, and goal-based work put them above part-timers.
Development team may include:
Full-stack, front-end and back-end developers

UI/UX designers

DevOps engineers

Quality assurance specialists

Business analysts

Product managers
There are different ways you can hire developers, depending on the sources and work environments:
Freelancers

Dedicated development outsourcing model
Why Should You Hire Dedicated Developers?
Companies today need to develop much faster than before without compromising quality while reducing upfront costs and boosting profitability. But it becomes increasingly challenging to achieve when labor costs account for 70% of total business expenditure.
A more agile approach is required that is best serviced by incorporating a malleable hiring strategy. Software development outsourcing to dedicated developers is the ideal solution for all stakeholders.
When Should You Hire Dedicated Developers?
Today, most lean startups and organizations hire dedicated offshore developers to save money, fast-track development, and get to market as quickly as possible.
So, do you want to explore the concept of a dedicated software development team? Here are the signs you should look out for:
Your business has urgent software needs that cannot be served by existing in-house talent.

New development projects in the pipeline have a variable scope and unclear parameters.

Due to cost constraints, your IT team cannot access the latest technologies.

Your development timeline needs to be crunched to accelerate the time to market.

Your budget for the project is low, and you need to look for greater cost efficiency.
What are the Benefits of Hiring Dedicated Offshore, Nearshore, or Onshore Developers?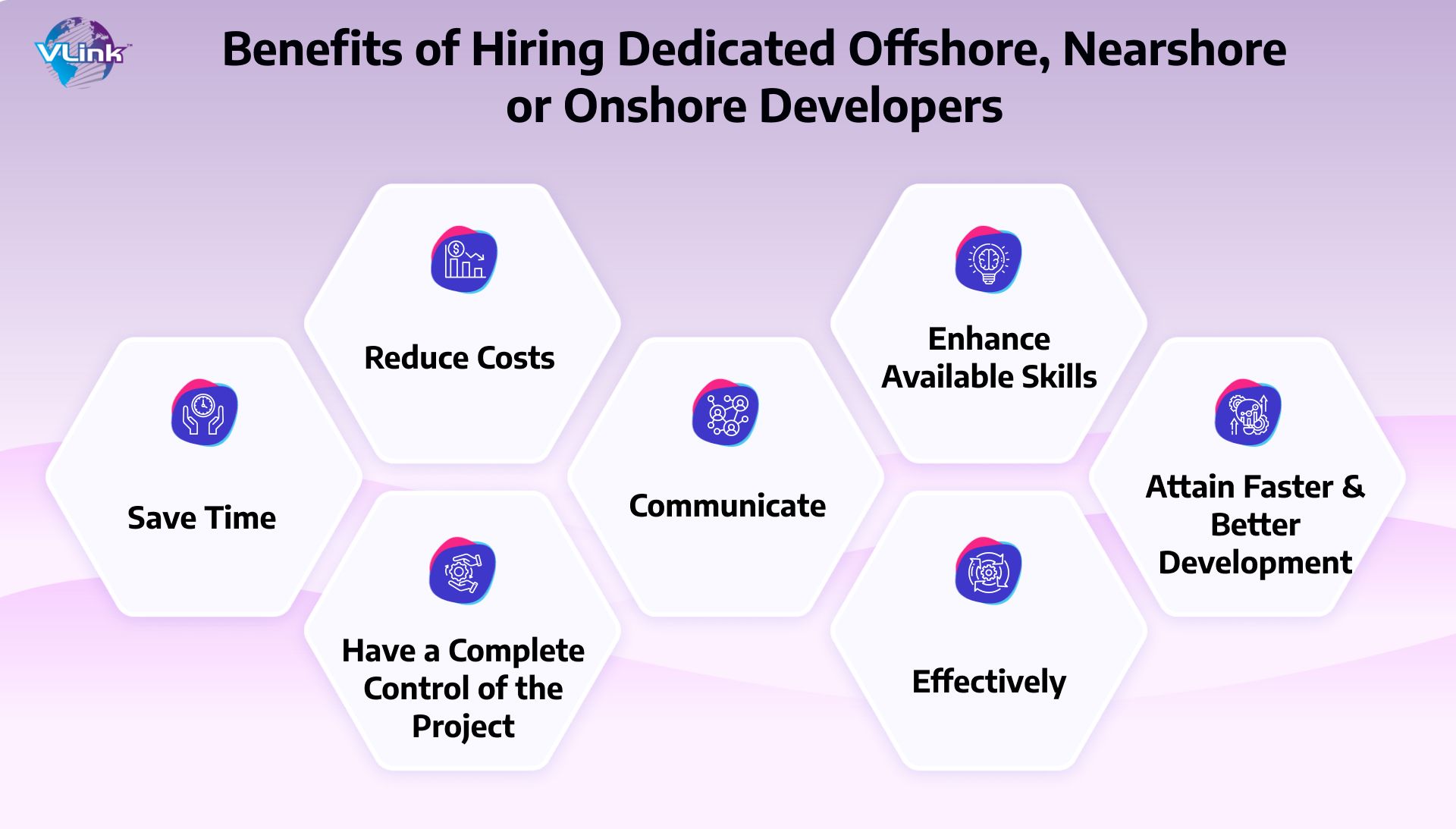 Benefits #1 - Save Time
Companies spend almost 52 days hiring a new full-time employee as mentioned by toggl.com. Much time is wasted, from sending out advertisements and interviews to finishing paperwork. Working with an agency to onboard a team of dedicated developers takes a fraction of this time.
Benefits #2 - Reduce Costs
Hiring offshore dedicated developers from regions with lower labor costs can directly translate into cost savings. Moreover, you can also entirely avoid the investment you'd have to otherwise pour into head hunting, training, benefits, payroll, and taxes.
Benefits #3 - Have Complete Control of the Project
You can actualize your project scope and scale it when required by changing your team size quickly without any long-term commitments. Additionally, due to the flexibility offered by outsourcing talent, you retain complete control of the development goals and deliverables.
Benefits #4 - Communicate Effectively
Most agencies that supply dedicated developers appoint a project manager to oversee all operations. Instead of wasting time tracking different resources, you can directly work with the project manager to gain complete visibility into the project development pipeline.
Benefits #5 - Enhance Available Skills
Dedicated developers give you access to highly skilled individuals with several years of experience. You can also handpick the talent for a specific project ensuring only the right people join your team.
Benefits #6 - Attain Faster & Better Development
A dedicated development team focuses on only one project at a time. Unlike freelancers or contractual workers, they continue to work on the assigned deliverables without being distracted by other opportunities.

These programmers have access to the available technology, profound domain knowledge, and enough experience to ensure faster and better software development.
Tips for Hiring a Dedicated Development Team for Your Next Project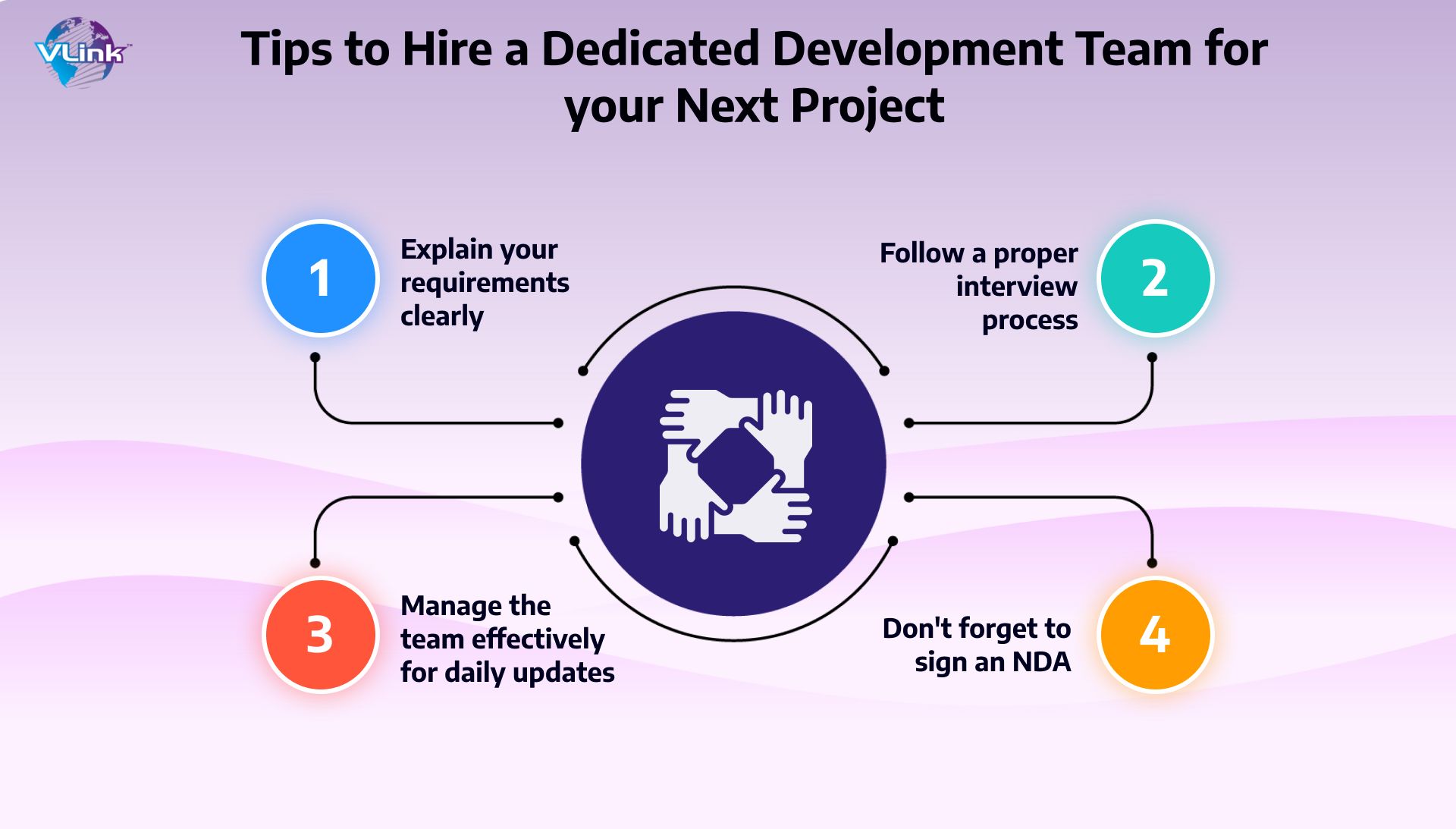 Explain your Requirements Clearly
Before you even talk to an agency or vendor to supply dedicated developers, you must clearly define your project. Your project documentation should clearly outline your goals, timeline, personnel, talent, business, user, and software requirements, along with expectations. These will allow you to build a team quickly with the exact resources you need.
Follow a Proper Interview Process
Before you finalize your team, conduct extensive interviews to verify their background, experience, and company fit. Don't just rely on your vendor to pick a team for you.
Manage the Team Effectively for Daily Updates
Even though the dedicated workers might not be full-time employees who report to you, it's essential to maintain constant contact with the project manager. Getting regular updates and staying involved in the development is part of the process.
Don't Forget to Sign an NDA
Signing the NDA is a critical yet overlooked step. Strict new data privacy laws and guidelines require you to take responsibility for third-party actions. Having an ironclad NDA will keep your organization and customers safe.
How Much Does It Cost to Hire Dedicated Developers?
A Glassdoor report said that an average company in the US spends upwards of $4,000 to hire a new full-time employee. This prohibitively high cost can strain small and medium companies and eat into their thin profit margins. You can rest assured that hiring dedicated developers costs a fraction of that amount.
The exact estimate will vary from region to region depending on the scope of the project, the technical expertise required, and the number of developers needed. But here's a rough idea of what it costs to hire developers from these regions hourly.
| Country | Rate/Hour |
| --- | --- |
| India | $10-$25 |
| Eastern Europe | $25-$50 |
| Western Europe | $50-$150 |
| Australia | $50-$150 |
| USA | $50-$250 |
Common Mistakes to Avoid When Hiring Dedicated Developers
Trying to save money by cutting corners
A dedicated development team always delivers on its promise of timely, quality work. But that is only possible if you invest in the right resources. Cutting corners and asking vendors for discounts might help you save money but will eventually affect the quality.
Not conducting a thorough background check
Conducting a background check of the vendor you choose and the developers you pick for your team is essential. Check the veracity of the vendor's claims, talk to the references they provide, and look at their case studies and portfolio.
Not hiring the right skilled personnel
Interviewing all potential hires should be a priority. While interviewing the candidates, check their experience, expertise, cultural compatibility, and communication skills.
Kickstart your Development Project by Partnering with VLink to Hire Dedicated Developers
At VLink, we have worked with small, medium, and large organizations to deliver their projects via a dedicated teams of developers, skilled programmers, and QA specialists.
We provide 24/7 time zone alignment, attrition management, on-premises, cloud-native development, and a dedicated point of contact. You can also opt for a developer trial to test our development services.


FAQs
Frequently Asked
Questions
How to Hire a Dedicated Software Development Team for my project?
There are several ways to hire dedicated software development team for your project. These include starting with a clear product vision, researching the market, selecting your team, defining work procedures, setting up the infrastructure and quality assurance. Apart from this, you can hire dedicated developers for your project.
Which developer has the highest salary?
There are several highest paying software jobs such as IT security specialist, full stack developer, cloud engineer, mobile developer and system engineer.
Why hire dedicated outsource developers instead of freelancers?
Outsourcing dedicated developers instead of hiring freelancers is the best way for your project. Freelancers' work on any project or software depends on how much you pay. If you have a long-time project, you must outsource dedicated developers.