Plenty of times we have seen an app come into existence that broke the records for getting the most downloads or having the most active users – be it PUBG or TikTok! But recently, an AI-integrated face editing app got huge attention, which is "FaceApp".
This face moderating app got massive increment with usage and downloads, thanks to the mobile and entertainment industry. Hundreds of thousands of users are making use of FaceApp to alter their pictures, accessing features for becoming older, younger, or even switching genders.
FaceApp picked up a steep rise in the early 2019s when celebrities joined the evolutionary, AI-enabled filters with a large social media community. However, despite such popularity and success, questions about the app's data privacy and security have become the key concern.
But before going towards this way, let us understand a bit more about FaceApp. Let start with its concept and how it works:
What is FaceApp?
If we talk about a photo-editing app that has got all of us with surprise with its AI-based filters, age alteration techniques, and multiple other features – FaceApp is the name that comes in the mind. The app works by transforming real-time pictures with a virtually created identity (either by face, age or gender) using available features as filters.
You're also able to go back in time, even though the younger filters for some reason aren't as realistic and aren't as fun to use. Maybe because we already know what we looked like when we were younger, the app's success rate with that transformation is lower since users have no idea what they're going to look like in the future.
It is a free mobile application available in the Apple App Store and on Google Play for Android devices. The app has been reviewed almost 200,000 times in the App Store and carries a 4.7 rating.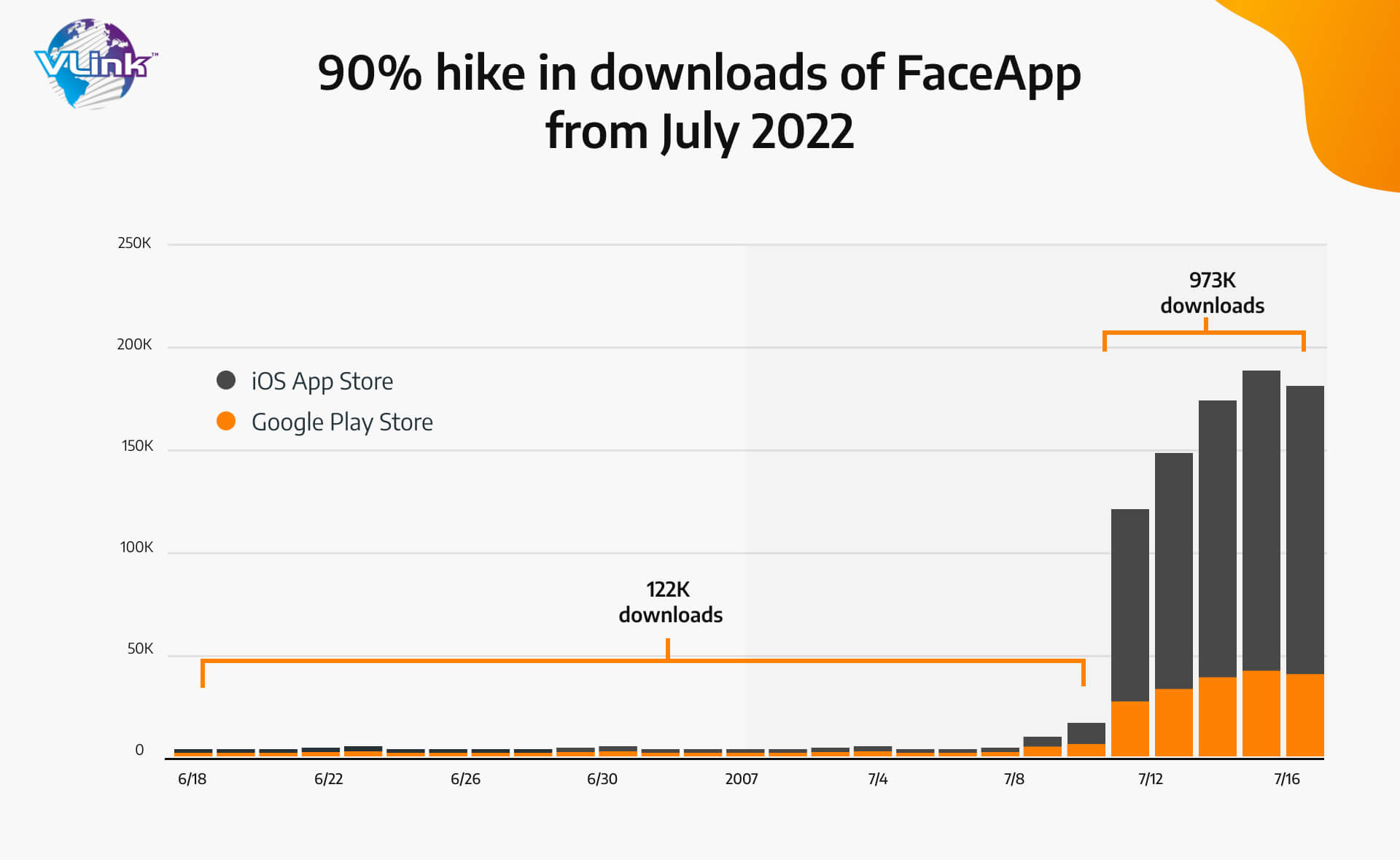 The app's free version provides plenty of filters, but of limited choices as some of them are paid. These filters include changing the face, including the smile, change the tone of skin, alter type of hair color, and change the gender.
How did AI make FaceApp popular & interesting?
FaceApp, powered with artificial intelligence, includes neural networks to make the application handy, easy to use and impressive. Neural networks in mobile applications have a function of pattern recognition and forecasting that helps businesses in various functions like telecommunications, managing operations, detecting information quality and much more.
To understand this better, FaceApp has machine learning algorithms that make artificial changes in the actual picture, according to the user. And that's why people like it as they like to play with the friendly features that entice them a lot.
Moreover, the developers of FaceApp have implemented the logic in a smart way to identify, moderate, and present an alternative image according to the filters available in the app. And every filter has its own logic, for example, anti-aging and aging filters determine the skin tone and adjust the wrinkles to make a person look younger or older.
Despite all these tech-blended features, FaceApp has been a part of controversy for its data privacy and security. In the very next section, we'll be diving deeper into the concerns of its safe usage.
Is FaceApp safe?
Concerns over FaceApp management of user data increased in 2019, prompting US Senator Chuck Schumer to request an FBI inquiry. It's unclear if the FBI ever began a formal investigation, but it did answer Schumer's request.
Schumer, who was Senate Minority Leader at the time, tweeted the response, disclosing that the FBI regards any software built in Russia as a "potential counterintelligence threat."
Can it be claimed that FaceApp is a secure app if we presume that images are protected with Google Cloud Platform and Amazon Web Services, and that FaceApp never breaches its own TOS and privacy policy? This is a tough subject, but there is no evidence that FaceApp has ever been compromised. It looks to be about as safe as any other well-known software.
FaceApp, like many similar programs, gathers data for advertising and to enhance the service itself. It also reserves the right to share personal information about users with affiliates, service providers, social networks, and advertising partners.
Considerable factors to build an app like FaceApp
As previously said, the software employs artificial intelligence with the assistance of deep learning technology to provide realistic results. These technologies are difficult to learn and need more than one person to complete in a reasonable amount of time.
As a result, it is recommended that you approach professional mobile app developers with your requirements and let them handle the development.
Here are the steps to build an app like FaceApp:
1- Ideation & market research
There are several picture editing applications available in app stores. A viral product should provide something distinctive. Some applications are just "trendy". They arrive and depart. If you have a concept for a deep neural network-based solution to a problem, your app may be the next big thing.
2- Selecting the features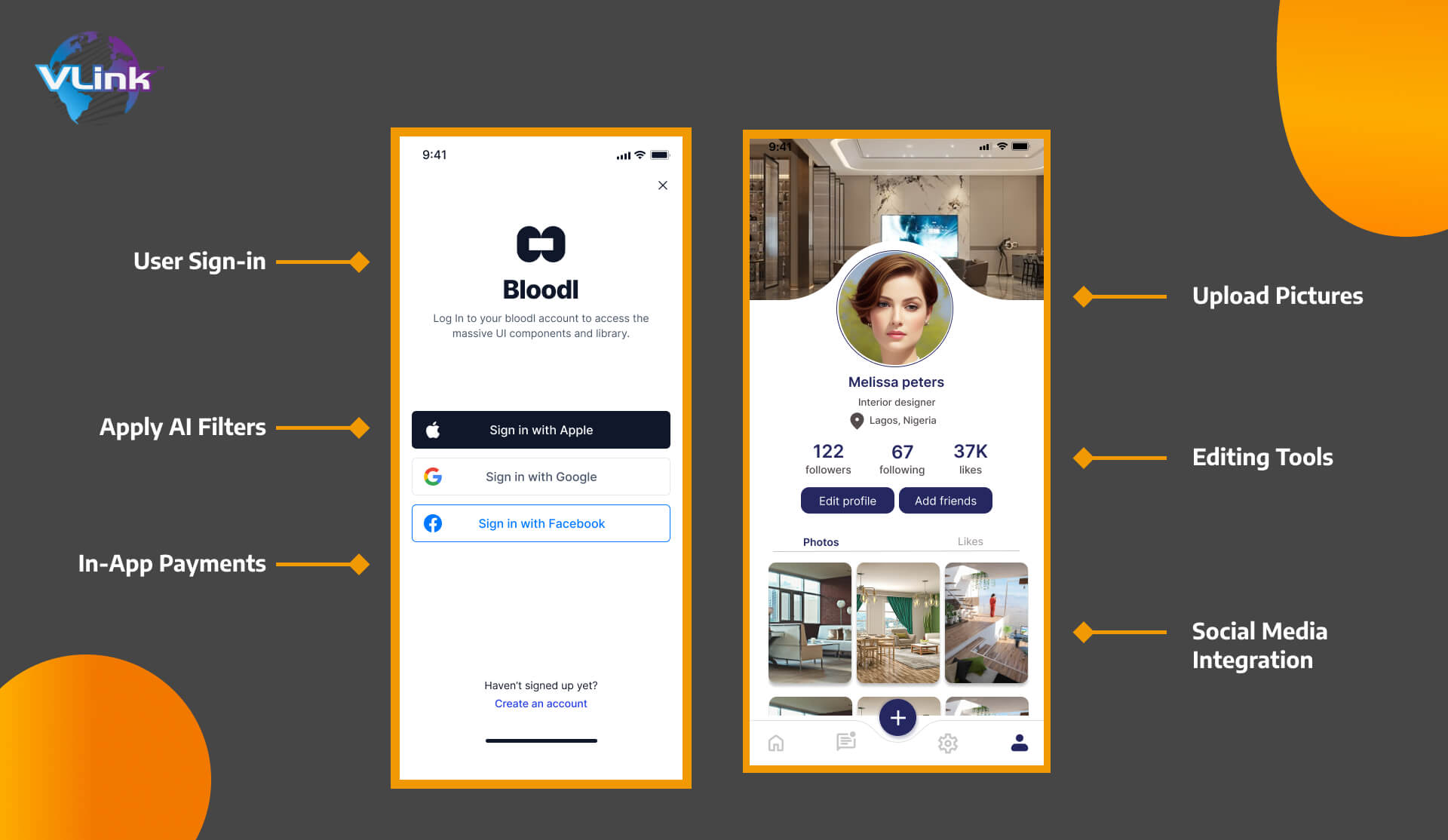 When developing an AI-based editing tool, the following capabilities should be prioritized:
Registration and login will be necessary since the AI photo alteration service requires access to user data.
Image uploading: When developing face editing software, you must allow users to submit photographs from their cellphones as well as social networks or storage services such as Gmail or Dropbox.
AI-based photo filters: The filters incorporated into the program and processed by artificial intelligence are the key reason for FaceApp popularity. They are face swap filters that allow you to produce a new age, gender alteration, or make-up effect in a photo.
Editing tools: In addition to filters, the regular picture editing function has been included. For instance, changing haircuts, facial hair, cosmetics effects, and so on.
In-app purchases: FaceApp is free to download, and you may use many of its features for free. Access to more tools is only available after purchasing a premium membership. So have some ideas for monetizing your solution in mind.
Integration with social media: Allow users to share altered photographs on social media to increase the number of product downloads.
3- Choosing the tech stack for FaceApp development
While there are plenty of mobile app development tools that can be used to build a face editing app, here is the list of most utilized technologies in this concern.
When it comes to front-end development, it is predicted that this face editing mobile app would rely on Swift for its iOS presence and Java or Kotlin for its Android appearance.
Python, one of the top programming languages, is projected to be utilized for server-side development because the application is built on artificial intelligence.
Because real-time processing is conducted on images, any of these two libraries has been regarded as part of FaceApp tech stack.
Above all, this face editing app takes advantage of an API released in iOS 11 that allows AR app developers to provide their customers with the option of selecting a picture from their gallery for further editing.
Also Read: How much does building an e-learning portal like Udemy or Coursera cost?
4- Deciding the budget (Cost to build an app like FaceApp)
The cost of developing a picture editing software with characteristics like FaceApp is determined by the project's complexity (number of filters, application functionality, and so on). The final cost is determined by the pricing of the developers you select to implement the project.
A hilarious face editing app typically takes approximately 850 man-hours to build. The typical cost of the job is $45-$75 thousand US dollars (this may vary depending on the location where the development team is situated).
Top face-changing apps like FaceApp
1- Live Face Swap
This smartphone application, as the name suggests, allows users to swap their looks in real time. It also has a plethora of filters for enhancing your selfies and having fun by using the faces of others (even celebrities) during video conversations.
2- Art by AI Portraits.
The program is based on neural network technology and adds an aesthetic aspect to the images. One technology is in charge of facial recognition, while the other is trained on 45 thousand paintings and redraws faces. It just takes a few seconds to develop a photo.
3- Face Swap in Photos
Photo Face Swap is another popular FaceApp alternative for changing the face in an image. This program allows you to view photographs in your collection and replace their faces. This app also has a Face bomb effect, which allows users to place a single face on all the faces in the photo.
4- MSQRD
MSQRD (short for Masquerade) is another face swapping smartphone app acquired by Facebook that allows you to swap your face with those of your friends and renowned celebrities. It also offers a plethora of masks and video selfie chances, making your experience enjoyable and engaging.
5- Lip Swap
Unlike other programs, this Android mobile application allows users to switch certain facial traits. It has a small number of filters and functions. However, people choose to take a vacation from the usual face-changing smartphone applications.
How VLink can build your next AI-enabled face editing app?
As the internet shifts toward audiovisual material, it's no wonder that demand for editing tools is increasing. FaceApp looks to be quite secure and accomplishes its function reasonably well. The app features are growing popularity by the day, indicating that the firm will achieve its goal of becoming the next billion-dollar corporation.
If you are considering developing a new picture editing app, VLink is an excellent alternative for developing an AI face editor app similar to FaceApp. Share your idea with the VLink's development team and we'll give a thorough consultation on the subject and estimate the cost of building a face editing app.

FAQs
Frequently Asked Questions
What does happen to my information used by FaceApp?
FaceApp, like many similar programs, gathers data for advertising and to enhance the service itself. It also reserves the right to share personal information about users with affiliates, service providers, social networks, and advertising partners.
Why is FaceApp becoming popular on the internet?
FaceApp generates the most realistic image of you by adding various filters, which consumers find engaging. As a result, the FaceApp challenge has become popular on the Internet.
Is FaceApp still free?
FaceApp is a subscription-based service. A monthly subscription costs $3.99 in the United States, an annual subscription costs $19.99, and a lifetime license costs $39.99.