With millions of active users, e-learning platforms like Udemy and Coursera have emerged as the users' ideal choice within a short period. They have set exemplary standards in the industry through their remarkable growth trajectory since their inception due to following reasons:
Market size of e-learning platforms globally

Flexibility (in terms of time and place)

Lower cost

Various language options

Better learning experience with cutting-edge technology

Rating system with feedback and reviews

Included assignments, activities, quizzes, etc

Course completion certificate
Considering building an online learning portal like Udemy or Coursera comes with the most frequent query i.e,, "How much does it cost to build such types of portals?"
Keeping the app up-to-date, seamless and appealing to its users are a few instances that add to the overall expense of an LMS or e-learning portal.
An e-learning portal development like Udemy or Coursera typically costs between $76,500 and $103,000, depending on various factors. Features, complexity level, platforms, top app development technologies, and team size are some of these considerations.
In this blog, we will walk you through the cost breakdown, features and factors affecting Udemy or Coursera-like e-learning portal development.
Let's first start with Udemy vs Coursera:
Udemy vs Coursera: A Quick Comparison
Udemy and Coursera are prominent examples of MOOC (Massive Open Online Course) providers.
These platforms represent two different approaches to online learning. Udemy comprises individual tutors who create and submit course content to the platform. In contrast, Coursera collaborates with universities and colleges to enhance the education industry.
Udemy boasts a vast database of approximately 80,000 courses, about 40 times larger than Coursera's offerings. However, the courses on Udemy are typically shorter in duration and created by individual instructors.
Always Remember: All courses on Udemy undergo a verification process before publication. The platform also provides tools to instructors to create and promote courses for profit.
Unlike Udemy, Coursera offers learning paths and playlists through course specializations. These features enable learners to follow a structured sequence of courses to develop expertise in specific subjects or areas of study.
Both revenues are shown in the image below: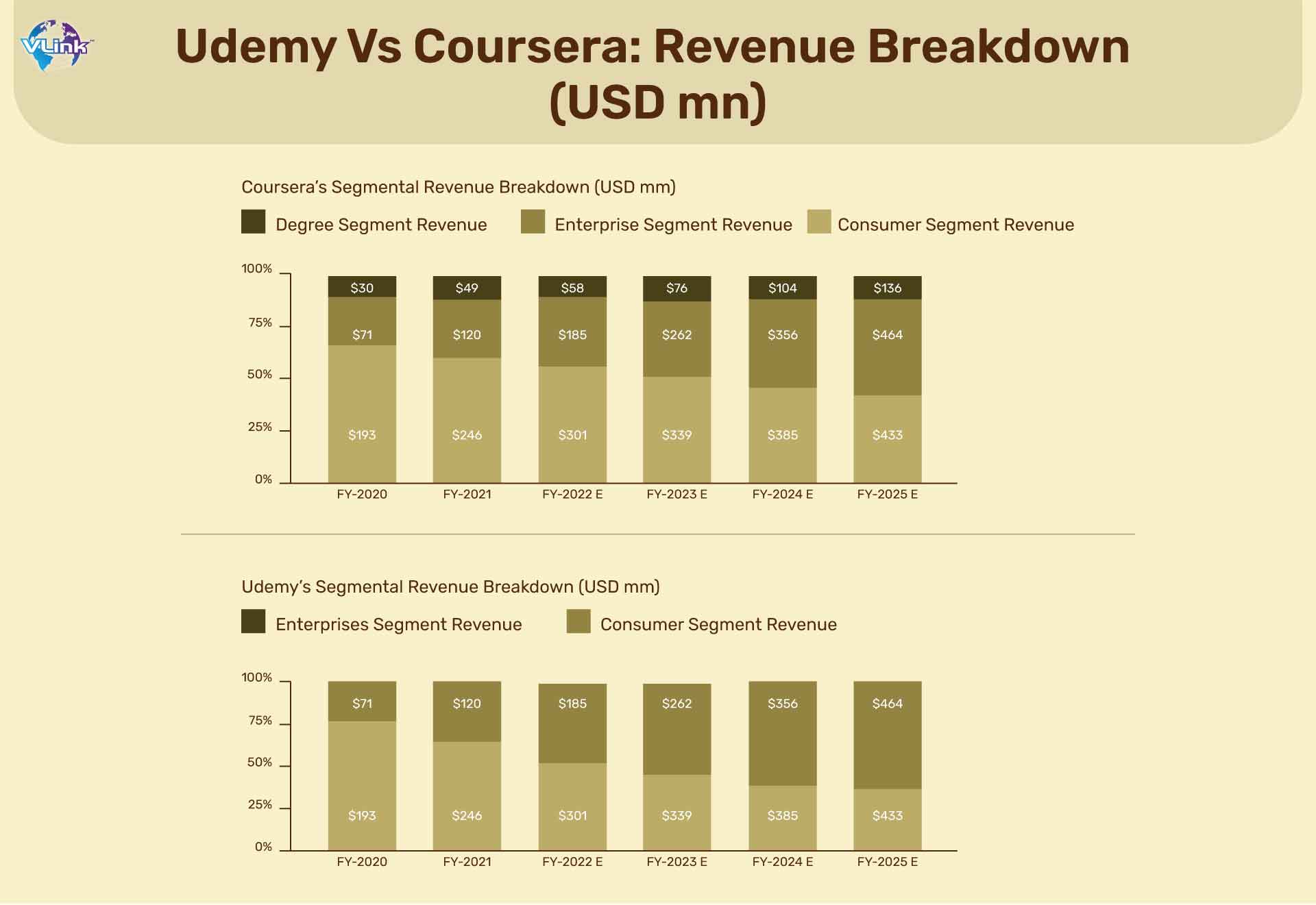 Let's come to the main topic:
How Much Does It Cost to Build an E-learning Portal like Udemy or Coursera?
An eLearning platform development like Coursera or Udemy might cost between $70,000 and $105,000. It can cost up to $100,000 if it's a fully customized e-learning website solution. This price includes development from scratch, custom web design, QA testing and project management.
An e-learning software MVP development can cost anywhere from $25,500 and $50,000. The Minimum Viable Product offers basic portal functions besides dashboards, attendance management, database and test formats.
The development costs also vary depending on the complexity of your Udemy or Coursera-like portal.
Basic platform development: $40,000 to $60,000.

Medium platform development: $60,000 to $150,000.

Complex platform development: around $300,000.
You can use a white-label solution to reduce the costs of your MOOC platform development.
Also Learn: How much does it cost to build a mobile app?

Factors that Affect the Cost of Building an e-learning portal like Udemy or Coursera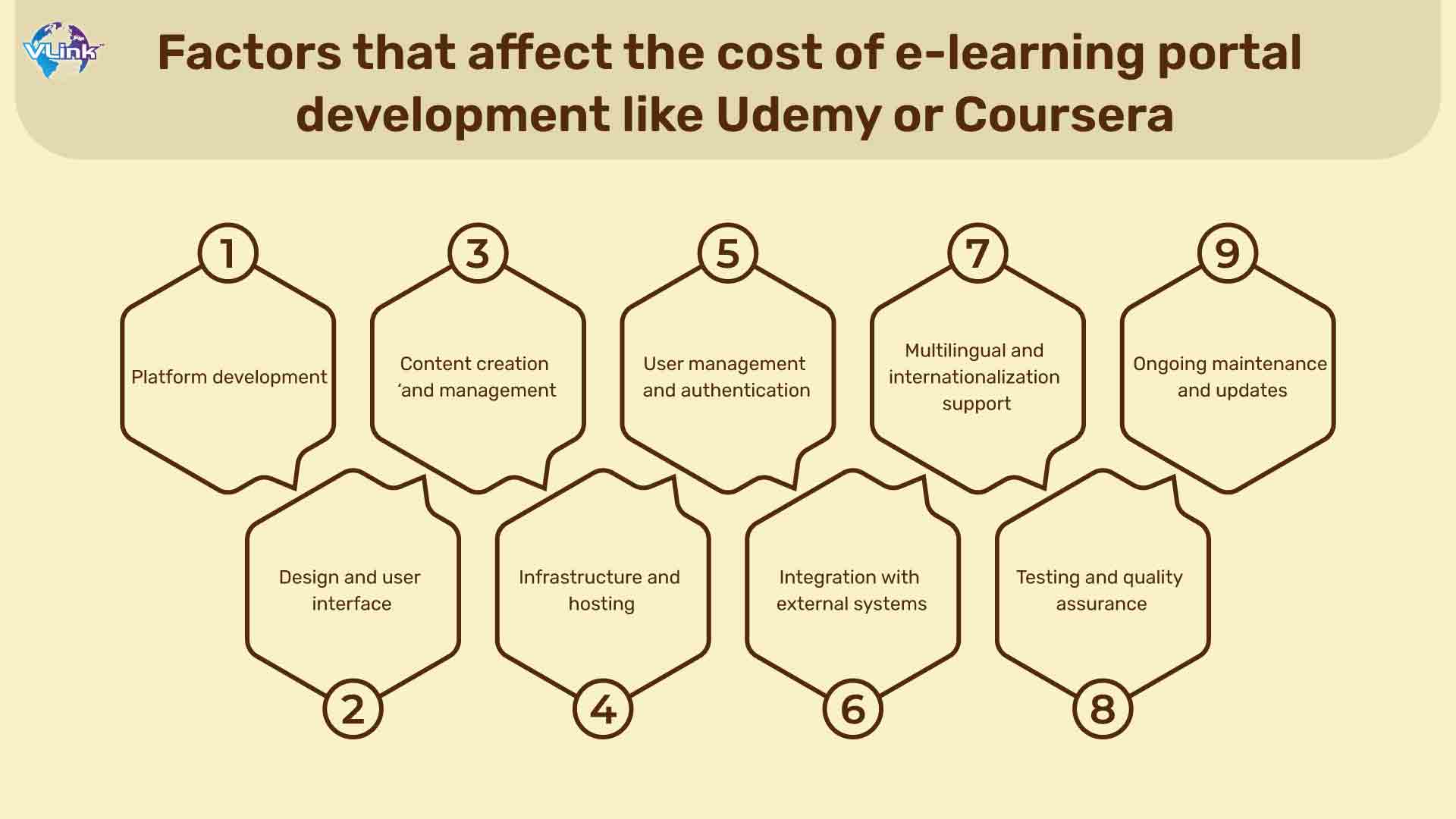 The cost of building an e-learning portal like Udemy or Coursera depends on the following factors.

The complexity and scale of the e-learning platform's development will significantly impact the cost. It includes front-end & back-end development, database design, user authentication, content management system, payment integration, etc.
The design and user interface of the e-learning portal is crucial for a positive user experience. The cost will depend on the level of customization, graphic design, responsiveness for different devices, and user interaction elements.
Do you want to build an e-learning app like Duolingo? But dont know how? Read this blog!
The cost of creating and managing the content on the e-learning portal can vary greatly. It includes developing courses, creating multimedia assets (videos, audio, graphics), ensuring quality control, and providing tools for content creators to upload and manage their materials.
The e-learning platform will require reliable and scalable infrastructure to handle the traffic and user demands. It may involve cloud hosting, content delivery networks (CDNs), data storage, and security measures. The cost will depend on the chosen infrastructure provider and the projected usage.
Building user management features such as user registration, login, profile management, progress tracking, and personalized recommendations can add to the cost. Integration with third-party authentication providers or developing in-house authentication systems will also impact the expenses.
Integrating external systems and services such as payment gateways, analytics tools, email marketing platforms, and social media can increase costs. The complexity and number of integrations required will influence the overall budget.
Suppose you plan to offer your e-learning platform in multiple languages or cater to an international audience. In that case, additional costs for translation services, localization, and adapting the platform to comply with different regulatory requirements may be incurred.
Thorough testing and quality assurance ensure a stable and user-friendly platform. Costs for testing can include functional testing, performance testing, security audits, and user acceptance testing.
Building an e-learning portal is not a one-time cost. The long-term budget should consider ongoing maintenance & support services, bug fixes, security updates, and feature enhancements.
The complexity level of the e-learning platform, the development process, the location of experts, and other aspects unique to your project's requirements can all have a substantial impact on cost projection.
It's advisable to consult with experienced developers or software development companies to get a more accurate cost estimate tailored to your specific needs.

Here is the breakdown of estimated duration and costs of launching a teaching platform with a basic set of features:
Creating specifications. 40+ hours, starting from $1,200

UI/UX design. 100+ hours, starting from $3,000

Back-end development. 240+ hours, starting from $7,500

QA. 24+ hours, starting from $720

Management. 30+ hours, starting from $950



Challenges that Increase the Cost of E-learning Portal Development, like Udemy or Coursera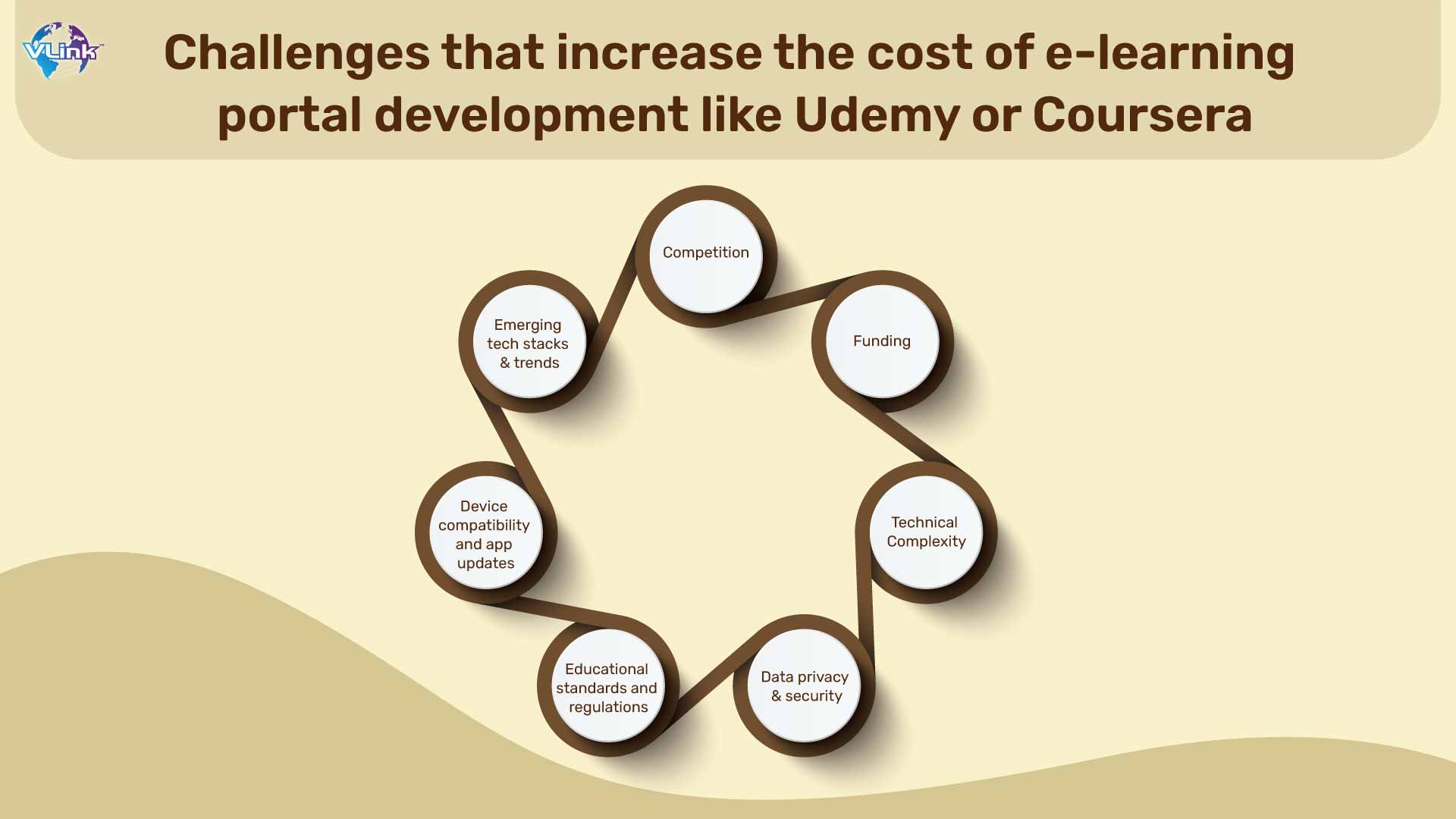 Must-Have Features for Udemy or Coursera like E-learning Portal Development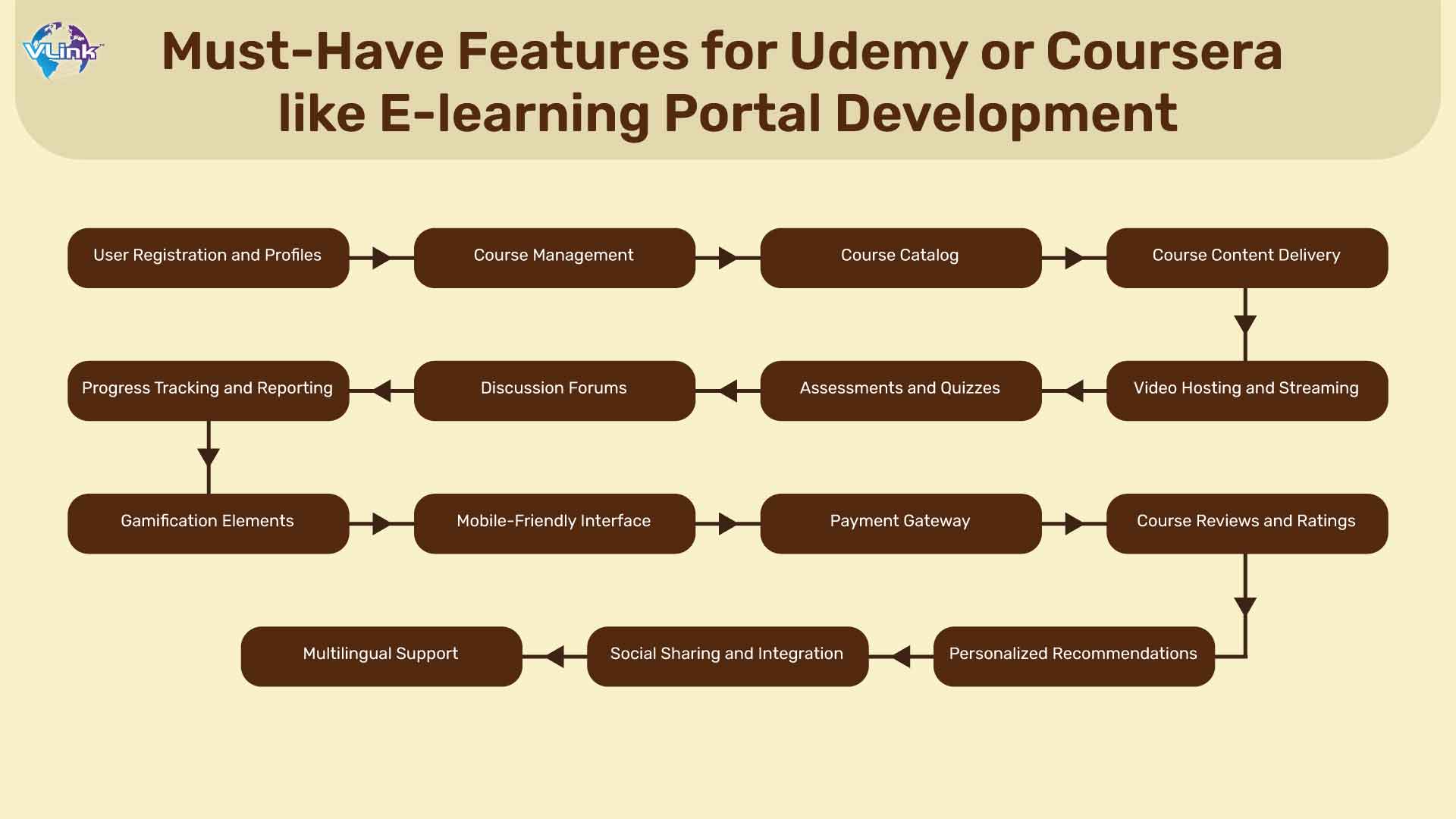 If you want to create an intuitive e-learning platform or Learning Management System, consider following features are represented below:
Looking for an e-learning portal like functionalities of Udemy or Coursera at an affordable cost?
VLink is a leading outsourcing and
education software development company
. We have a dedicated team of developers, designers and testers with great tech industry experience.
We provide smart e-learning platforms and LMS solutions at affordable costs. If you want your own site to feature the same functionality and features as Udemy or Coursera, our experts will consult with you to determine the best & satisfied options.

The Conclusion!

Creating an eLearning website or portal like Udemy or Coursera includes costs that depend on various factors, such as the developer's hourly rate, required features, and the dedicated development team.
It may take up to a year to complete development, which is comparable to Udemy's timeline. Additionally, prices might vary from $35 to $150 per hour depending on the country.
As the popularity of eLearning platforms like Udemy or Coursera grows yearly, it inspires a surge in entrepreneurial aspirations, leading to more similar websites. This blog can be a valuable resource for you considering entering the eLearning market.

FAQs
Frequently Asked Questions
How to build an e-learning portal like Udemy or Coursera?
Building an e-learning portal like Udemy or Coursera requires the following steps:
1) Plan and define the scope of your platform
2) Develop a user-friendly interface and design
3) Implement course management and content delivery systems
4) Create a secure payment and enrollment process
5) Allow instructors to create and manage their courses
6) Incorporate features like assessments, progress tracking, and community forums
7) Test and optimize the platform for scalability and performance.
How to earn money through e-learning platforms like Udemy or Coursera?
To earn money through e-learning platforms like Udemy or Coursera, follow these steps:
1. Identify your area of expertise.
2. Create a high-quality course with engaging content.
3. Optimize your course title and description for search visibility.
4. Promote your course through social media, blogs, and email marketing.
5. Encourage positive reviews to attract more students.
6. Select premium pricing or offer discounts to increase enrollment.
7. Continuously update and improve your course to maintain relevance.
What are the benefits of e-learning portals like Udemy or Coursera?
The benefits of building e-learning portals like Udemy or Coursera are:
Accessibility to a variety of courses from anywhere.

Flexibility in scheduling and pace of learning.

Affordability compared to traditional education.

The opportunity to learn from industry experts and gain new personal and professional development skills.
What technologies and tools are used to build an e-learning platform or LMS?
PHP, JavaScript, and Ruby on Rails are some typical technologies and tools used to develop e-learning platforms or Learning Management Systems (LMS).