The market for mobile music streaming services has become quite competitive. Since 2008, Spotify has maintained its position at the top after taking an early lead. Spotify began as a stand-alone Swedish music streaming service.
One of the earliest music streaming apps to provide users with access to a sizable song library. In only a few clicks, everything. However, at the time, in order to utilize the service, premium customers had to be invited.
With 180 million active users, including over 83 million paying customers, Spotify continues to be the most popular music streaming service in the entertainment and media industry across the globe.
Pandora and iTunes were already well-known when Martin Lorentzon and Daniel Ek made the decision to launch Spotify in 2008. There didn't seem to be much opportunity for competitiveness in this field. Apple was in charge of iTunes, while another US business, Pandora, was fast gaining consumers.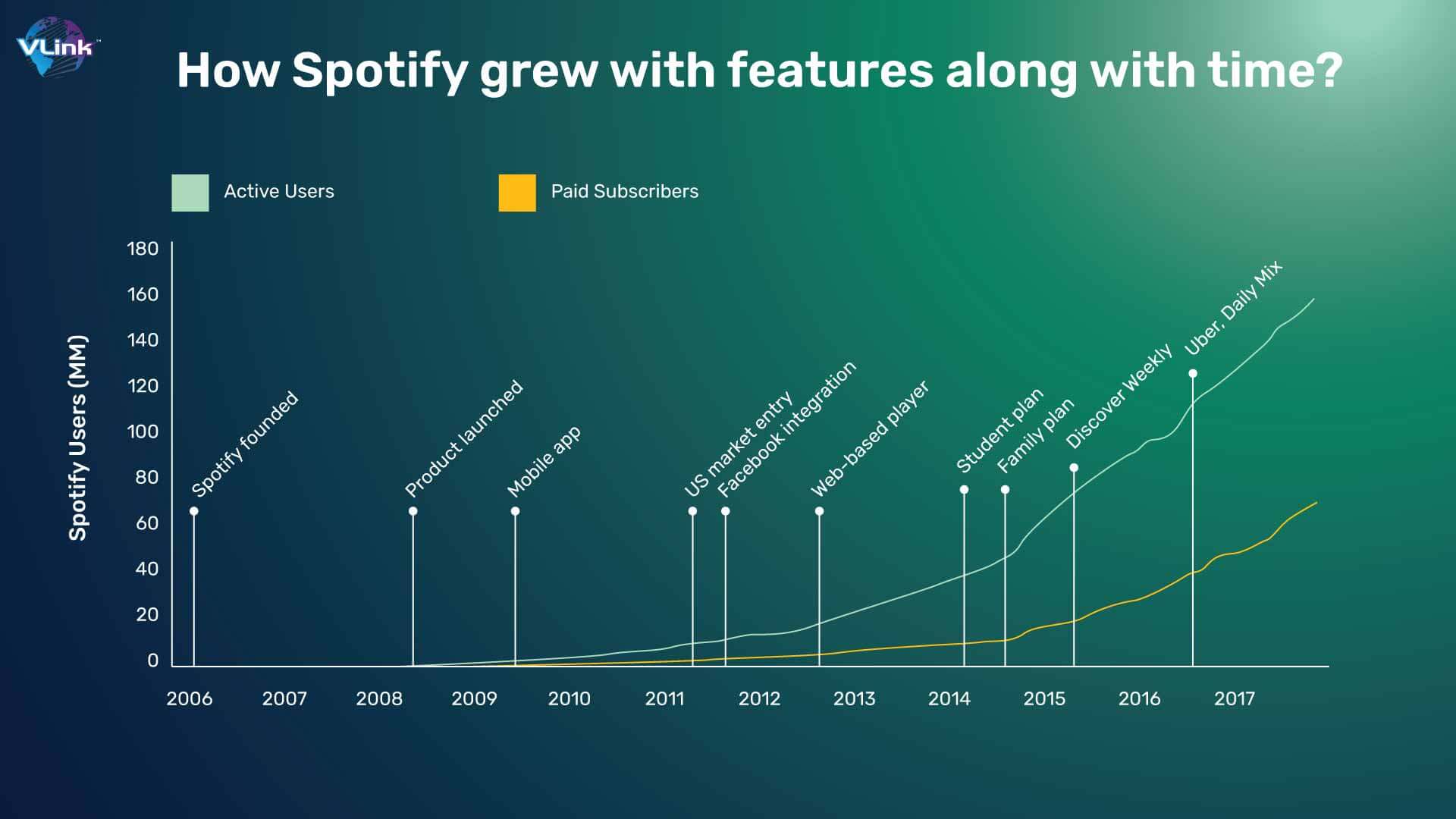 In this blog, we'll talk about – what made Spotify so successful while having a tough competition with Apple Music, YouTube Music, and Google Play Music.
The digital music market
People had just a few numbers of options for online streaming before Spotify became popular. The main players on the market were Pandora and iTunes. There were more streaming services, like MOG and Rhapsody. They had a number of drawbacks, though, which kept buyers away.
Napster was the first platform for internet music sharing back in 1999. Sean Parker was casually allowing contented pirates to send and receive MP3 files using peer-to-peer (p2p) communication channels. This was obviously extremely illegal, but the service was too amazing to pass up, much like The Pirate Bay in its heyday.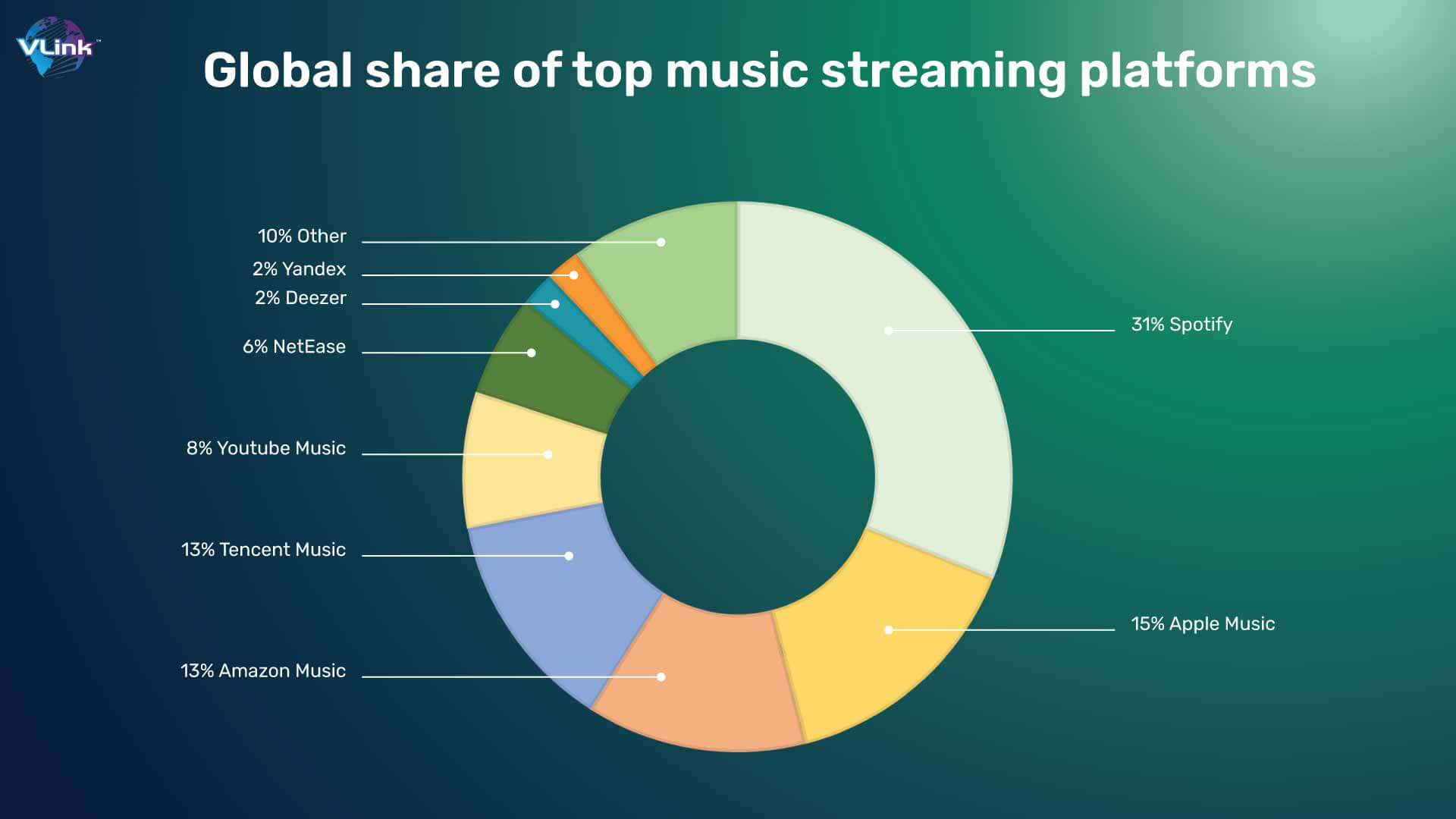 Since that time, the internet music streaming market has been expanding with digital transformation trends. The business basically made all of the tunes already in circulation available to users everywhere. Just after Napster's entry, the major players saw what was happening and jumped in.
Apple created iTunes. In 2000, Pandora was introduced. Later, Amazon also entered. Everyone wanted to get in on the market's clear potential by taking advantage of the early mover's edge.
Connecting communities with music choices
Since many people love it, music naturally fosters a sense of community. It may jog your memory or bring back particular moments from your past. Many other things can't bring people together the way that music does. It is a ridiculously potent item.
They are able to produce cutting-edge music curation by combining humans and technology to cover any genre, mood, season, occasion, place, you name it. Spotify employs a large group of music curators from a variety of genres and backgrounds who spend their days taking in music and meticulously creating playlists for consumers.
The thing that truly sets Spotify apart from competing services is their dedication to discovery and careful, human-driven curating. There is a lot more that technologies can do for us than we can expect to offer fresh, interesting music selections. For instance, Pandora developed an algorithm to suggest related songs to users, and Spotify offers something similar with its radio feature.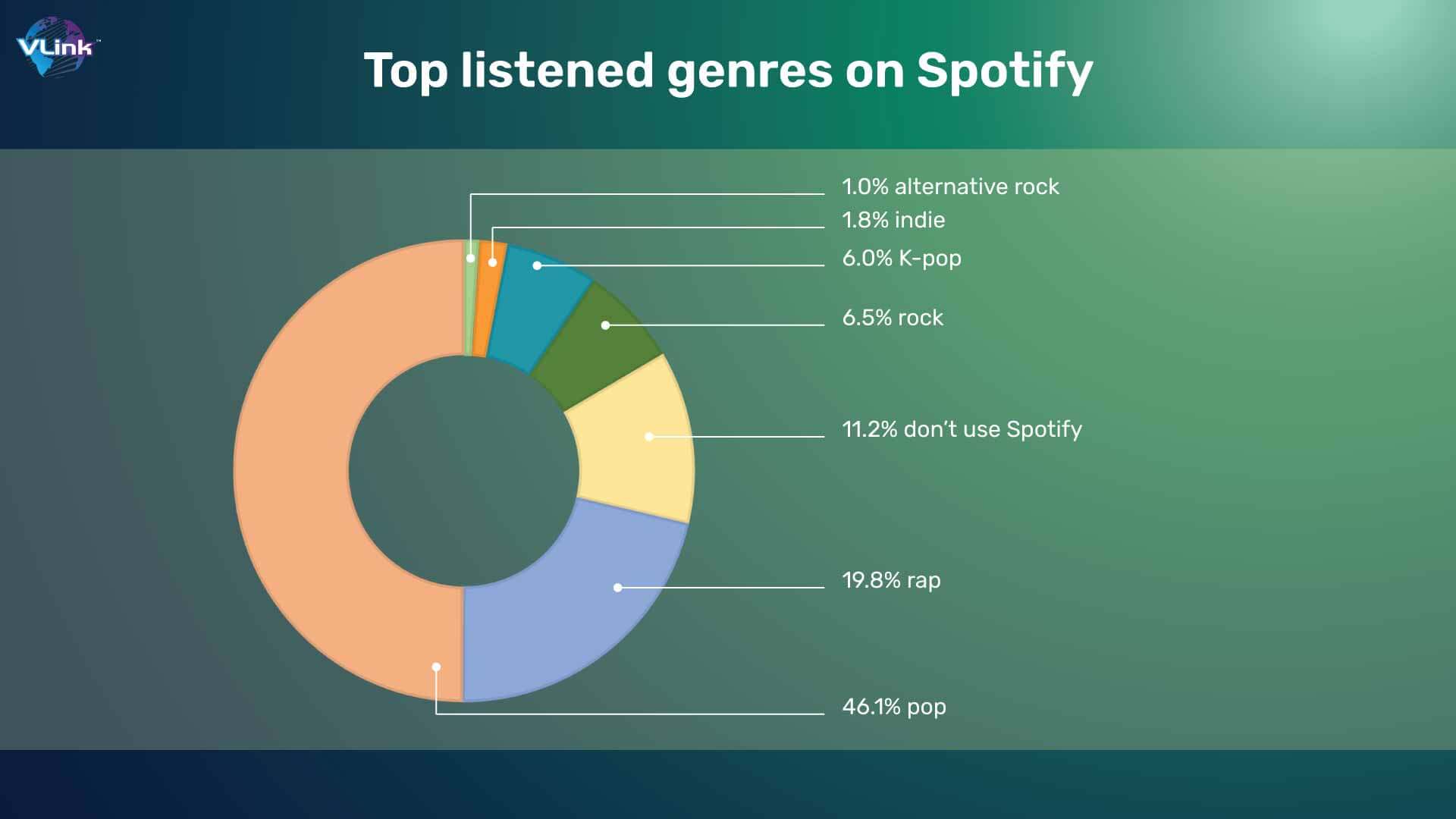 However, a number of musicians also develop and maintain playlists in addition to Spotify's curators. They offer Spotify a distinct voice that customers instantly recognize and relate to, from the location-based advertisements to the ones calling individuals out for their listening habits.
To further foster a feeling of community, Spotify was able to leverage its user data in a creative, quirky way.
Role of technologies in Spotify's success
Undoubtedly, Spotify is among the most listened online music streaming platform across the world. The company has a history of breaking technological barriers by utilizing AI and machine learning to improve the user experience through insightful analysis of complex consumer data.
In order to continue pushing the boundaries and guarantee their leadership in the music streaming industry, they have been integrating trending technologies for years.
1- AI-based playlist recommendations
There are numerous other locations where you may effortlessly listen to your favorite music; Spotify does not have a monopoly on this. It does, however, offer a better method for surfacing the appropriate music for you at the appropriate moment.
Without artificial intelligence (AI), it would be difficult to hyper-personalize at scale; hence, Spotify as a company would not be feasible without AI. Spotify exemplifies what it means for a company to be "AI Native"—one that uses AI to completely reimagine a product or service and create new value in a market.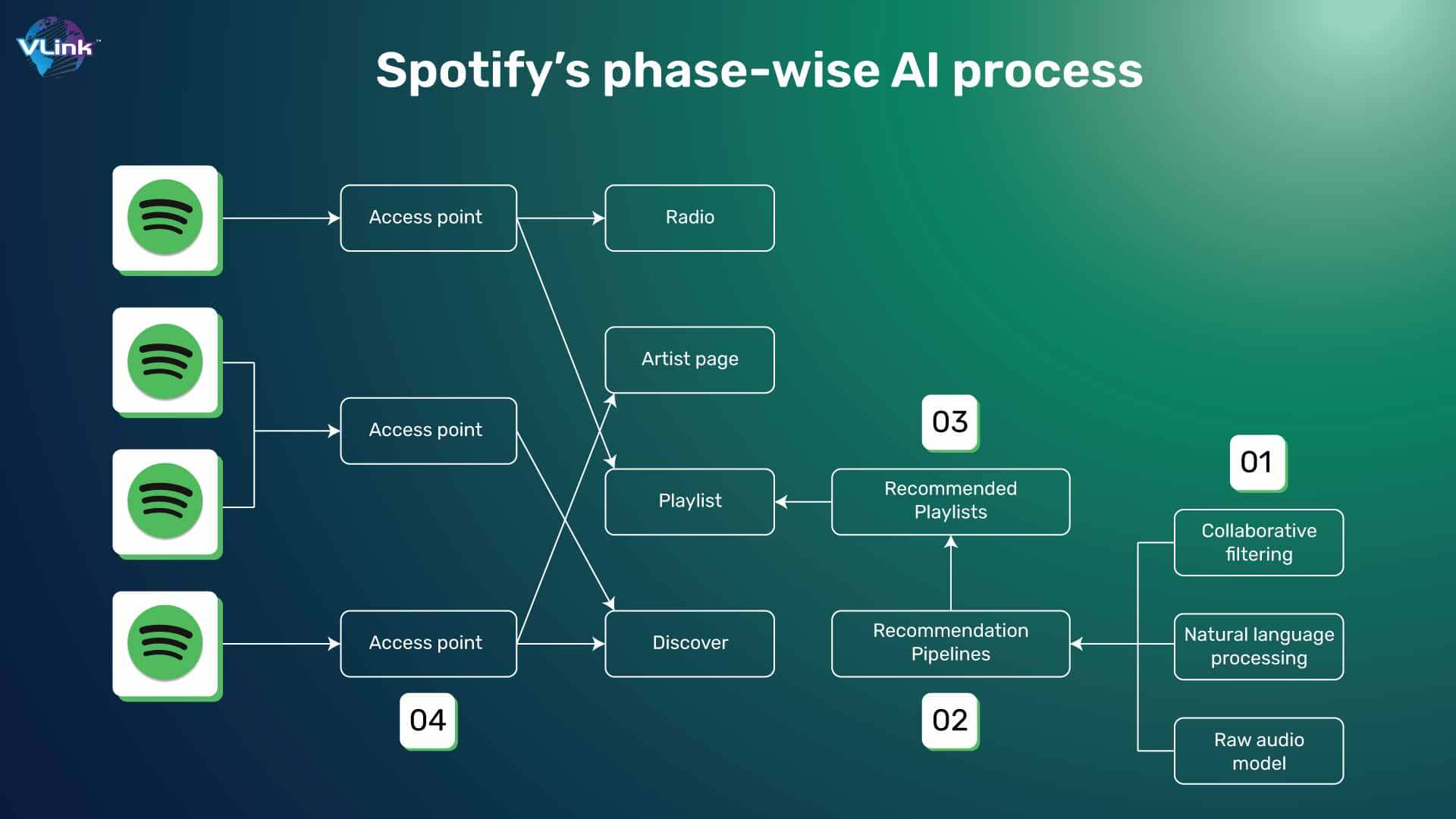 Every user sees a highly tailored, hyper-personalized version of the product in this way. The business claims that machine learning models are informed by the daily processing of 500 billion events. Additionally, these models get better at providing recommendations of greater quality as more data is collected.
2- Natural Language Processing (NLP) based voice search
NLP (Natural language processing) analyzes text to recognize human speech. The artificial intelligence (AI) of Spotify searches the internet for news stories about songs or artists, as well as blog entries and forums about certain bands.
It examines what is being said about particular musicians or songs, the language used, and which other musicians or songs are being discussed alongside, if at all. It then detects the descriptive words, noun phrases, and other texts connected to that musician or artist.
Then, these keywords are divided into "cultural vectors" and "top terms". Every musician and song have hundreds of top phrases attached to it, and these terms are always shifting. And that's where the role of data analytics comes to play.
3- Data analytics for making better music choices
There are millions of music listeners across the world tuning into their favorite beats every minute of, companies like Spotify gathers plethora of implicit customer data, including preferences for songs, keywords, playlists, listeners' locations, most-used devices, and more.
At Spotify workstation, every process is marked with data-driven decisions. This data is utilized to train algorithms that derive pertinent insights from customer data, platform content, and online discussions about music and artists. These insights are then used to improve the user experience.
Spotify's business models
Advertisements
Users of Spotify may stream audio content at no cost. These users have restricted access to some services but limited access to a catalog of millions of songs. Additionally, Spotify displays adverts to free users as a revenue stream and form of payment for the free services they provide.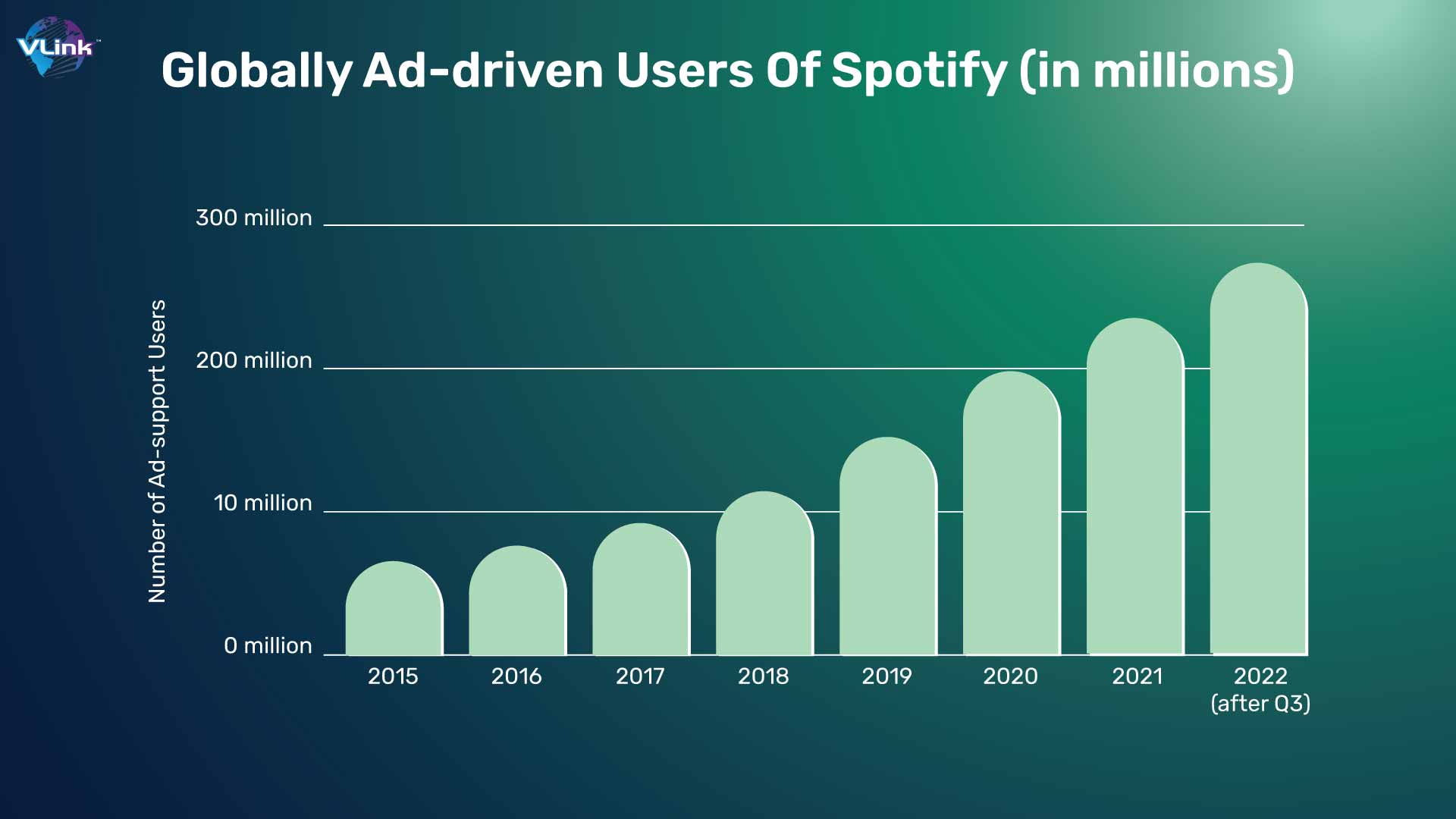 Brands, companies, and organizations pay Spotify to promote their goods and services to the sizable user base of the music-streaming app. These entities are known as advertisers on Spotify. In return for the services provided, Spotify makes money by displaying sponsored advertisements to its free subscribers.
Premium Subscription
The majority of Spotify's income comes from this. While some of Spotify's services are free to use, users must continue to pay a monthly membership price to access all of the music-streaming service's features. Premium subscribers are Spotify customers who pay a fee to have full access to all of Spotify's features.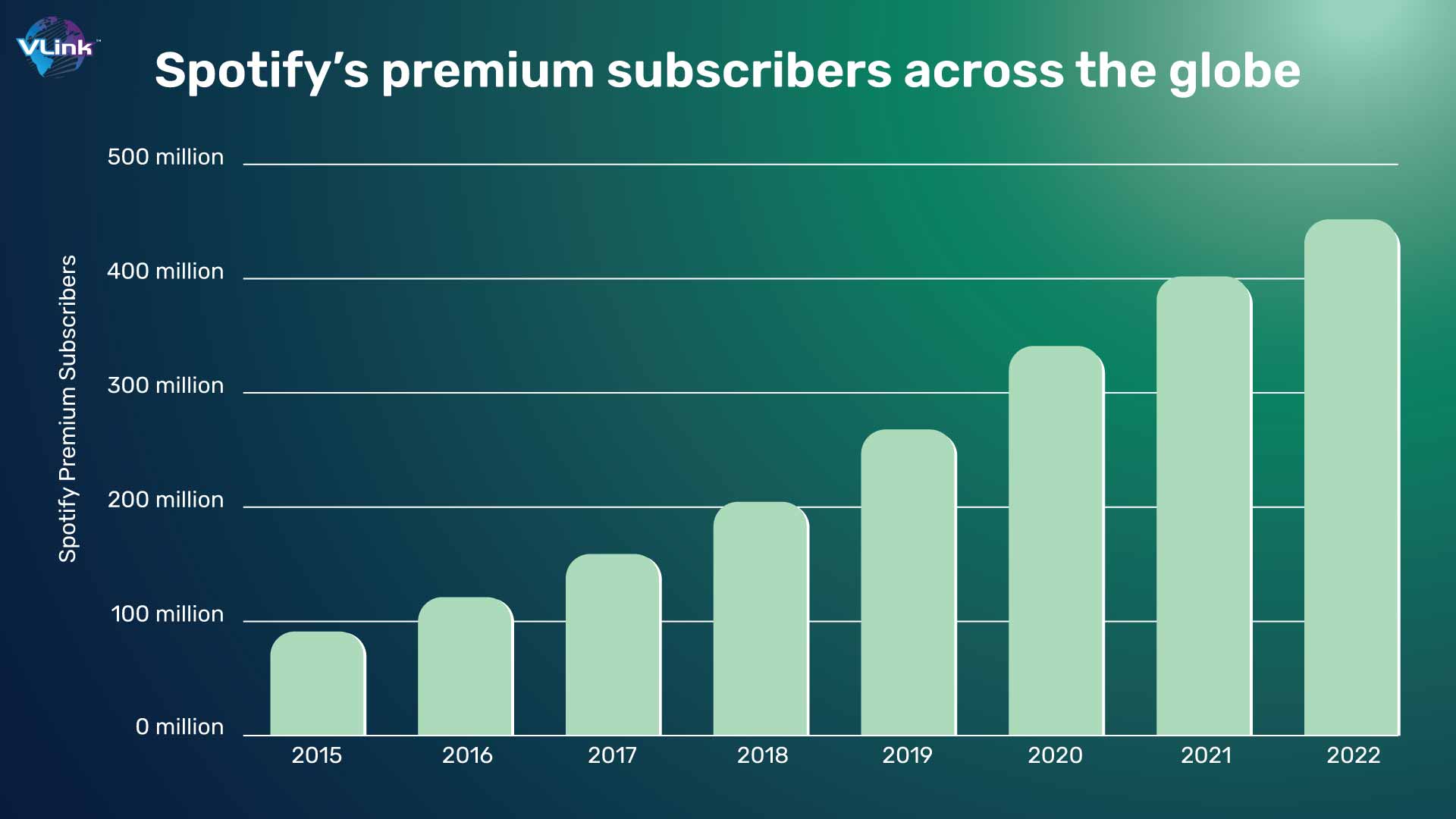 For the Spotify premium membership, many plans are offered, each with a different fee for a certain category. Individual, pair, family, and student plans are among them. Any premium user who chooses one of these packages will have unrestricted access to Spotify's entire library of tunes and podcasts, both online and offline (after downloading).
Spotify's tech partnerships
1- Likes from Facebook
Spotify users can now share music with one other thanks to Facebook, and the new capabilities were a huge success. The most well-known social media network was Facebook. Thus, Spotify saw a chance to collaborate with other well-known platforms and extend its services to them, which would ultimately provide it a very wide audience.
2- Multimedia companies came together
Spotify collaborated with companies that make TV and linked device platforms, including Philips, Roku, Samsung, and PlayStation. Increased premium client numbers and greater conversions were the outcomes of the relationship.
3- Motor companies driving the quality listening
No matter if they are in a group or traveling alone, people have a propensity of listening to music while doing so. Spotify recognized this customer insight and responded appropriately. Soon after, Spotify chose to collaborate with Uber, a ride-sharing company. Additionally, it worked with the CarPlay-supporting businesses such as BMW, Ford, and Tesla.
Future of Spotify
Spotify has repeatedly shown that it is only now starting to explore the limits of this combination of music and data. First off, in July 2017, the business hired Francois Pache from Sony, one of the top authorities on the use of AI in the pop music sector.
He currently serves as the Director of the Spotify Creator Technology Research Lab, and it appears that his hiring was motivated by the desire to provide resources that will aid artists in their creative endeavors. However, there is a lot to discover that people really don't know!
Whether Spotify is experimenting on AI-based music distribution or learning about the consumers' data to provide quality experiences, they aren't going to stop at one point. In fact, they are eyeing to hold a strong position and sustain to be the prince in digital music streaming industry.

How VLink can help in getting success like Spotify
Spotify was a game-changer when it got launched in the online music industry. And since then, it is getting huge attention from various communities in the music industries. Even the podcasters find the platform interesting and exploring with variety of genres.
VLink is a reliable and experienced tech company, offering expertise with mobile app development in every major industry. If you're also looking to have your own branded music streaming platform like Spotify, feel free to collaborate with us.
FAQs
Frequently Asked Questions
What issue did Spotify address?
Martin Lorentzon and Daniel Ek created Spotify in an effort to combat the issue of music piracy. Before the rise of the music streaming services, many people downloaded music that was illegally obtained.
What is the biggest strength of Spotify?
Strengths. Large User population: Spotify has a vast and varied user population, with over 480 million active users as of December 2022. The platform is more desirable to marketers and content producers as a result of its broad reach.
What is the primary goal of Spotify?
The goal of Spotify is to unleash the creative potential of people by enabling a million artists to make a living from their work and a billion followers to enjoy and be inspired by it. When we debuted in 2008, Spotify's technology completely altered how people listen to music.