Finding and attracting top-tier talent has always presented challenges for businesses. In the present landscape, this task has grown even more formidable.
With the surge in remote work, whether of a temporary or enduring nature, the prospect of encountering a prospective candidate in person has become increasingly remote. This is where the utility of recruitment automation tools comes to the fore!
The evolution of these automation tools has effectively streamlined the hiring processes for recruiters. These innovative tools empower organizations to assess numerous applicants and identify candidates of exceptional quality efficiently.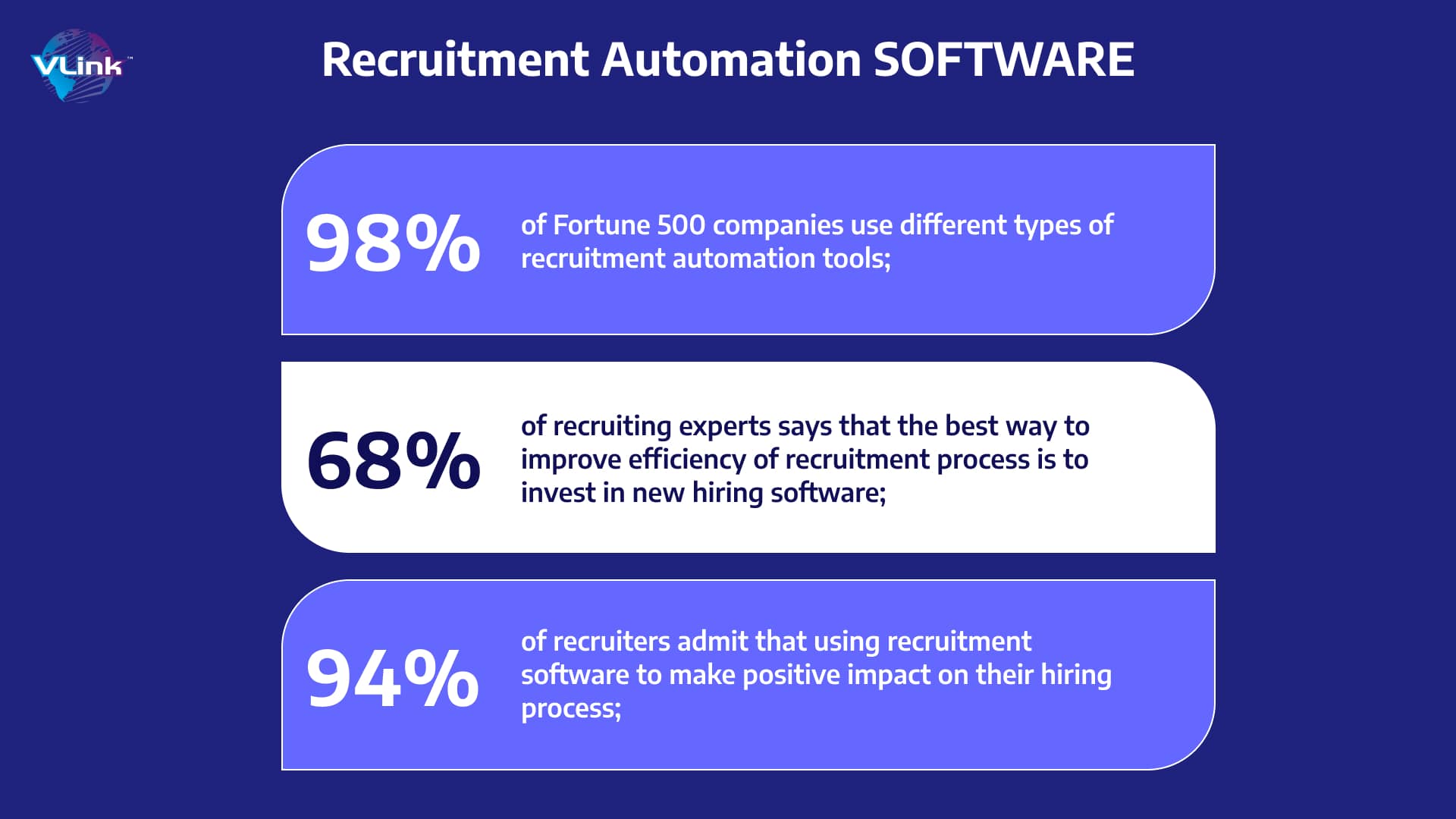 This blog will explore the top ten recruitment automation tools with essential features, prices, and pros & cons to make your hiring process easy and seamless.
Let's start with a brief introduction!
What is a Recruitment Automation Tool?
Recruitment automation tool or software automates several recruiting workflows and tasks. It can increase recruiter productivity, minimize cost/hire and boost the hiring process.
Hiring managers and talent, recruiters face many challenges while looking for the right candidate, as shown in the figure below.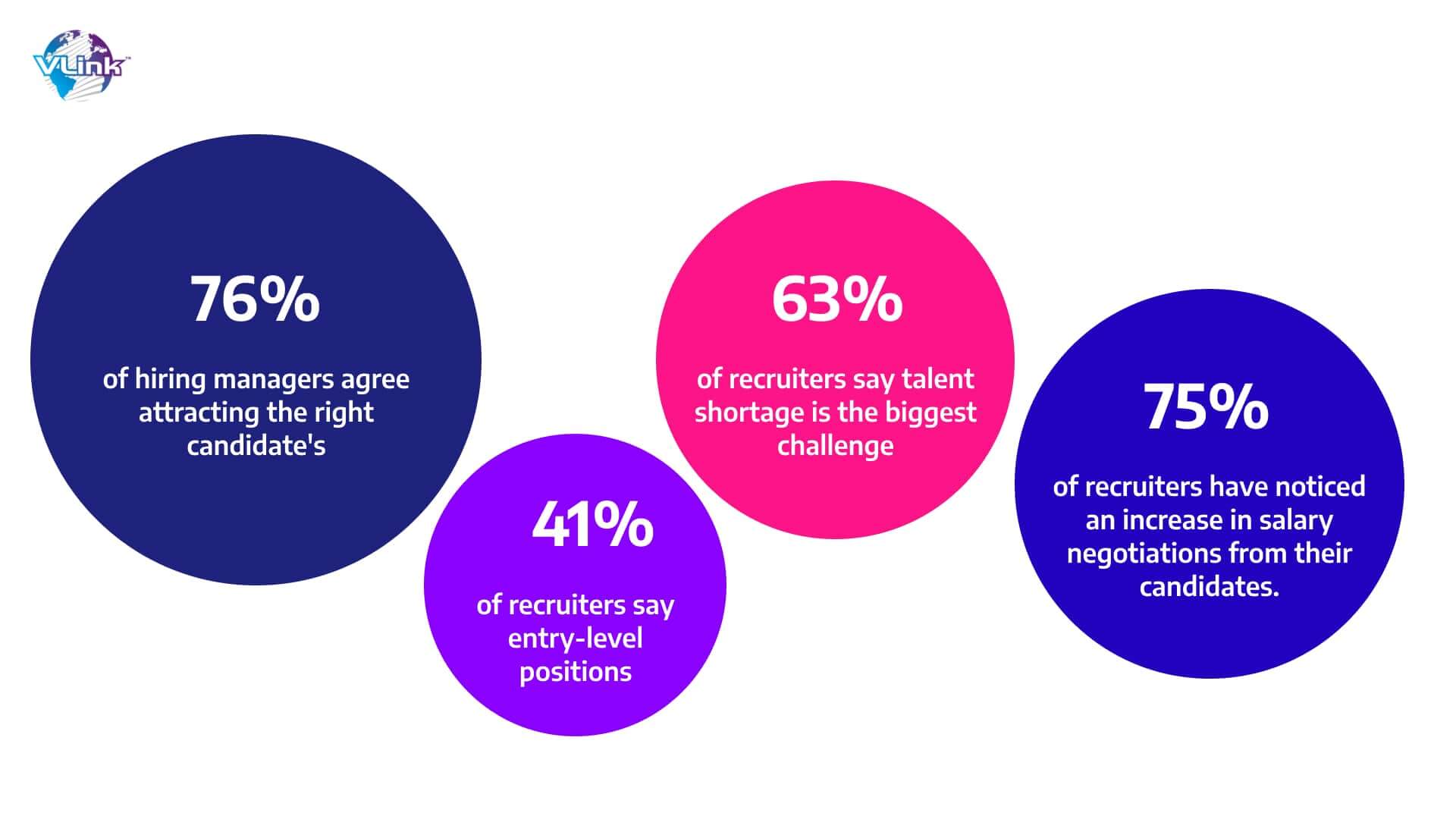 Recruiting automation software is a part of the HRM category that improves HR processes. These processes are posting jobs, screening candidates, and captivating candidates. In addition, recruiting tools can help human resource teams streamline the hiring process.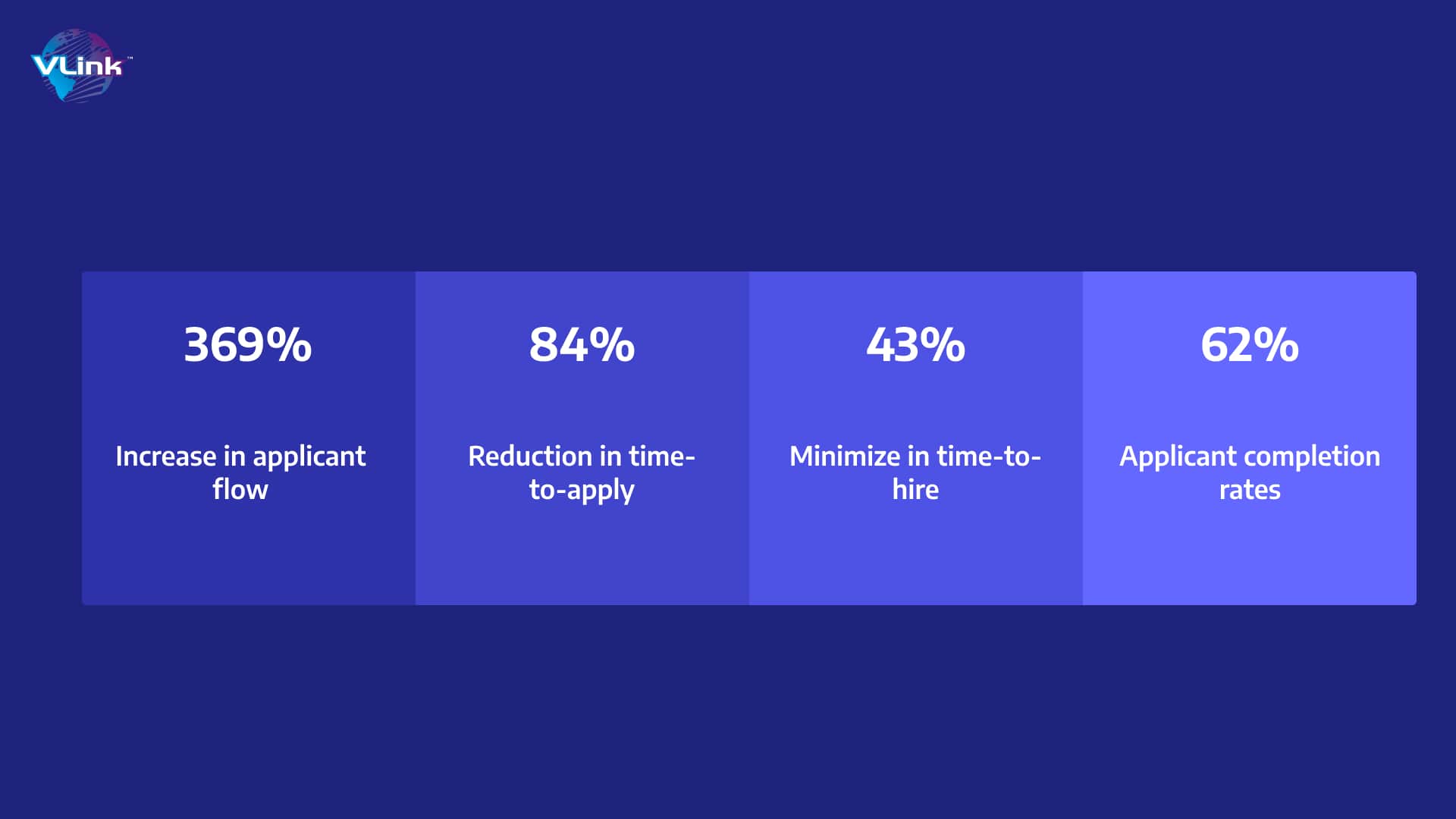 There are several types of hiring models such as IT staff augmentation and outsourcing available in the market. To choose the right one, you need to know the difference between IT staff augmentation vs. outsourcing.
Top 10 Recruitment Automation Tools for Seamless Hiring
TalentReef has a number of recruitment automation features that effectively streamline team hiring processes. This cloud-based solution offers various features to assist organizations in sourcing, screening, hiring, and managing hourly workers.
As a result, this software helps reference talent for the service industry, such as restaurants and retail stores.

Key Features of TalentReef:
Multi-Channel Marketing

Resume Posting

Automatic Grading

CRM
Pros & cons of TalentReef:
| | |
| --- | --- |
| Pros | Cons |
| Mobile friendly | Low transparency |
| Candidate analytics | No free trial available |
| Tracks active & passive candidates | |
Pricing: $400 a month
As its name implies, Manatal is one of the best applicants tracking systems that simplifies your hiring process. In addition, it helps you select the perfect candidates, manage your talent pool, strengthen team collaboration and hire the right talent.
Key Features of Manatal:
Job Posting

AI-driven recommendation system

Candidate sourcing

CRM (Customer Relationship Management)

Candidate's profile enrichment

Progressive mobile apps

Onboarding & Placement Management

Customize or link your branded career page
Pros & cons of Manatal:

| | |
| --- | --- |
| Pros | Cons |
| Easy to generate detailed reports | Archived candidate profiles |
| Allows you to create a number of multi-stages hiring pipelines | Unable to translate career pages into multiple languages |
| Kanban board allows you to see the status of each open position with ease | |
Pricing:
14-day free trial.

Paid plans: Start at $15/month for 10,000 candidates and up to 15 jobs/account.
Recruit CRM stands as a cloud-based recruitment automation software that aids companies in efficiently managing candidate databases, optimizing recruitment procedures, and strengthening talent acquisition strategies.
Its intuitive interface empowers recruiters to effortlessly sort, filter, and assess applications based on custom criteria defined by the company. It's among the top-rated recruitment software development agency, offering many features to simplify recruiting.
With comprehensive dashboard and reporting functionalities, users gain valuable insights into all aspects of performance, facilitating informed, data-driven decision-making. The software allows for generating reports to monitor team performance and assess the effort-to-revenue ratio for each client.
Key Features of Recruit CRM:
Applicant Tracking System

CRM

Email Integration

Candidate Sourcing

Customizable Reports & Dashboard

Live Chat Supports
Pros & cons of Recruit CRM:
| | |
| --- | --- |
| Pros | Cons |
| Useful chrome extension | No chatbot |
| Customized database | Slow |
| CRM/ATS integration | |
Pricing:
$69/user for pro

$125/user for enterprise
Snov.io, an all-in-one platform, offers an advanced solution for diverse outreach needs and a user-friendly CRM system. With thousands of satisfied customers recognizing it as one of the finest sales and marketing automation tools, Snov.io also proves to be an excellent choice as a recruitment automation software.
Key Features of Snov.io:
Candidate sourcing

Candidate outreach

Free CRM

Integration with LinkedIn

Interview Scheduling
Pros & cons of Snov.io:
| | |
| --- | --- |
| Pros | Cons |
| Ease sales process | Time consuming |
| Great customer services | Expensive |
| Fast performance | Integration issues |
| Seamless collaborative | Not user friendly |
Pricing:
Free plan to test its features. Paid plans start at $39/month for 1,000 email searches.
In Both cases, you'llhave free access to CRM.
Also Learn: how can IT staff augmentation can drive your business to success.
SeekOut, the AI-powered recruiting platform, provides a comprehensive 360-degree perspective on millions of candidates from untapped talent pools. With advanced talent acquisition techniques, it is further complemented by the convenience of automated candidate engagement.
Key Features of SeekOut:
Candidate sourcing

Talent rediscovery

Candidate outreach

Talent analytics

Career Hub
Pros & cons of SeekOut:
| | |
| --- | --- |
| Pros | Cons |
| Faster talent acquistion process | Has a learning curve |
| Proactive support team | Little clunky UI |
| Custom filters | |
Pricing:
$99/month for contacts of 200 candidates.
As one of the best recruitment automation software, LinkedIn Recruiter helps managers easily find suitable candidates on the platform. Thanks to additional features, it simplifies the hiring process, enabling you to find, connect with and manage your applicants as instantly as possible.
In addition, it allows recruiters or HR teams to share projects and pipelines.
Key Features of LinkedIn Recruiter:
Candidate sourcing

Candidate outreach

Talent pipeline management
Pros & cons of LinkedIn Recruiter:
| | |
| --- | --- |
| Pros | Cons |
| Easy usage | Limited diversity |
| Detailed profiles | Information overload |
| Networking opportunities | Privacy concerns |
| | Limited access to passive candidates |
Pricing:
The basic Recruiter Lite plan:
$140/month for 20+ search filters, 10 candidate search alerts and 30 InMail messages.
The automation tool enables personalized workflows and automates various tasks, including email communication and job updates. Whether you are an in-house recruiter or part of a staffing agency, this tool offers ideal solutions for sourcing, tracking, and hiring potential candidates without the need to manage multiple platforms.
Key Features of Zoho Recruit:
Recruiting KPIs

Custom reports and dashboards

Workflow automation

Recruitment forecasts

Onboarding & HR

Candidate feedbacks

Third-party business tools
Pros & cons of Zoho Recruit:
| | |
| --- | --- |
| Pros | Cons |
| Cost-effectives | Does not support translation to some languages. |
| It navigates well | |
Pricing:
The standard package prices: $25/month/user.
Trusted by 500+ top recruiting teams globally, Fetcher comes into the top 10 recruitment automation tools list. It automates your repetitive tasks and aids you in reaching out to suitable candidates and tracking your campaign performance. Ultimately, you can focus on candidate engagement and dedicated teams collaboration.
The screening tool automatically evaluates candidates according to predefined parameters. It saves time that would have otherwise been spent on manual sorting and reviewing.
Key Features of Fetcher:
Candidate profiles

Candidate sourcing

Candidate outreach

Interview scheduling

Analytics
Pros & cons of Fetcher:
| | |
| --- | --- |
| Pros | Cons |
| Great customer support | Pulls out accurate emails |
| Keyword targeting | |
Pricing:
Pro version available!

Formerly known as Hiretual, HireEZ provides cutting-edge functionality to streamline outbound recruiting processes, automating candidate sourcing and engagement tasks. With this powerful tool, no talent goes unnoticed, ensuring your attention is focused on all potential candidates.
With this software, you don't need to worry about your data safety.
Key Features of HireEZ:
Candidate sourcing

Candidate outreach

Integration with your existing ATS/CRM

Hiring team collaboration

AI Sourcing

Deep Web Aggregation

Machine Learning

Social Recruiting

Candidate Engagement
Pros & cons of HireEZ:

| | |
| --- | --- |
| Pros | Cons |
| Narrow Searches | Seems glitchy at times |
| Multiple Sources of Data | |
Pricing:
7-day free trial.

Paid plan: $149/month for 200 contacts.
This state-of-the-art recruiting software facilitates seamless collaboration within your recruiting team while nurturing relationships with candidates.
It encompasses comprehensive touchpoint tracking, detailed analytics, and automated candidate sourcing and outreach processes – all within a unified acquisition platform.
Key Features of Gem:
Talent sourcing

Talent compass

Candidate outreach

CRM

Analytics
Pros & cons of Gem:
| | |
| --- | --- |
| Pros | Cons |
| Sends several emails in a sequence | Expensive |
| Organizes responses to said emails | |
| Source talent | |
Pricing:
Two-year free plan for startups. It costs depend on team size or required custom work.
What are the Benefits of Recruitment Automation Tools?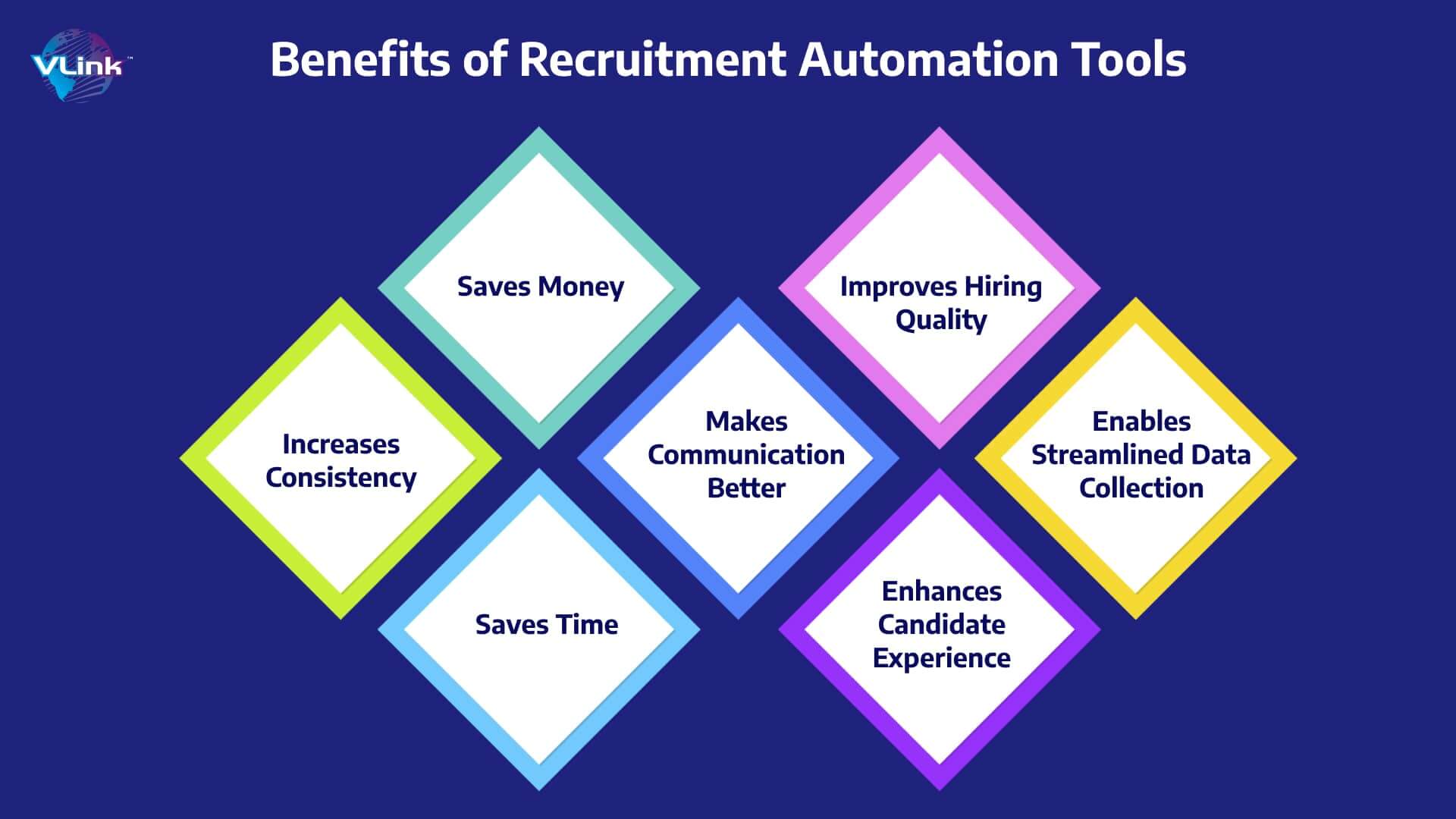 Here are several benefits of recruitment automation tools:
Saves Money
One of the most popular benefits of using recruitment automation software is cost-effectiveness. With such tools, you can reduce costs by automating your hiring process and avoiding investing in critical features.
With pay-as-you-use models, these tools eliminate the need for excessive investment and maintenance fees, enabling companies to accelerate recruitment without straining their budgets.
Increases Consistency
Achieving consistency in recruitment is crucial.
Creating a recruitment process from scratch can vary significantly based on each HR professional's perspective. It leads to inconsistency even when using checklists. Human involvement can unintentionally introduce differences.
To address this challenge, recruitment automation software plays a vital role in promoting uniformity. By eliminating variable outputs and identifying similar processes, these software solutions ensure tasks are executed consistently, even in the face of complexities.
As a result, you can minimize result discrepancies and maintain a smooth, regular recruitment process.
Makes Communication Better
Delays in communication can drive away top talent. By incorporating a recruiting automation tool into your workflow, you can ensure you get all essential milestones and follow-ups.
This seamless integration helps maintain a steady flow of communication, making your organization more appealing to in-demand talent.
Improves Hiring Quality
Apart from boosting recruiting efficiency, automation tools also elevate the caliber of your hiring endeavors. It allows you to identify and hire strong candidates based on traits that are key to ensuring job success.
Saves Time
Recruitment automation software saves time by reducing manual tasks with unmatched accuracy. As a result, recruiters and HR managers can enhance productivity and allocate their time more effectively while using these tools.
In addition, this software streamlines the hiring process by automating monotonous tasks and closing the gaps in recruitment procedures, leading to significant time savings for the team.
Enables Streamlined Data Collection
With recruitment automation software, you can effortlessly gather applications from diverse sources, such as job boards, LinkedIn, and your website. These tools can also consolidate crucial application data and perform analyses that empower you to make informed business decisions.
Moreover, the valuable data collected through these tools includes insights into the performance of your job ads, the number of respondents, and the number of applicants for specific roles. You can optimize and streamline your data management processes by selecting the appropriate recruitment automation tool.
Enhances Candidate Experience
By harnessing automation tools, you can liberate yourself from repetitive and time-consuming tasks, allowing you to invest more time cultivating relationships with candidates.
In addition, automating the hiring process creates a lasting positive impression on candidates, offering them a seamless experience and minimizing response times.
Develop Custom Recruitment Automation Software with VLink!
At VLink, our team specializes in crafting tailor-made ATS (Applicant Tracking System) software solutions that optimize candidate sourcing and streamline recruitment workflows.
Our expertise extends to developing custom HRIS (Human Resource Information Systems) for seamless integration. We excel in building branded career portals and websites, utilizing custom application builder tools to capture data effectively.

FAQs
Frequently Asked Questions
How much does building recruitment tools to automate the hiring process cost?
The cost of building a recruitment tool to automate the hiring process can vary significantly based on factors such as complexity, features, and development resources. It can range from a few thousand dollars for essential solutions to hundreds of thousands for more advanced and comprehensive platforms.
How to build recruitment automation software?
To build recruitment automation software, follow these key steps:
Define requirements and features

Choose the technology stack

Develop the user interface and database

Implement automation algorithms for tasks like candidate sourcing and communication

Test thoroughly for functionality and performance

Deploy the software and continuously update and improve it.
How to choose the right recruitment automation tool?
Consider your specific needs and workflow requirements when choosing a recruitment automation tool. Look for features like candidate sourcing, application tracking, automated communication, and integration capabilities.
Evaluate the tool's user-friendliness, scalability, and customer support. Read reviews of previous clients and look for recommendations. Test demos and trial versions to ensure it aligns with your recruitment objectives.