According to a report by the Anxiety and Depression Association of America, approximately 40 million adults in the United States are afflicted with anxiety disorders. Moreover, in developing countries, nearly 75% of individuals with mental illnesses do not receive treatment.
Taking these factors into account, it comes as no surprise that the demand for mental health applications continues to rise annually. The global market for mental health apps, estimated at USD 5.19 billion in 2022, is projected to reach approximately USD 26.36 billion by 2030.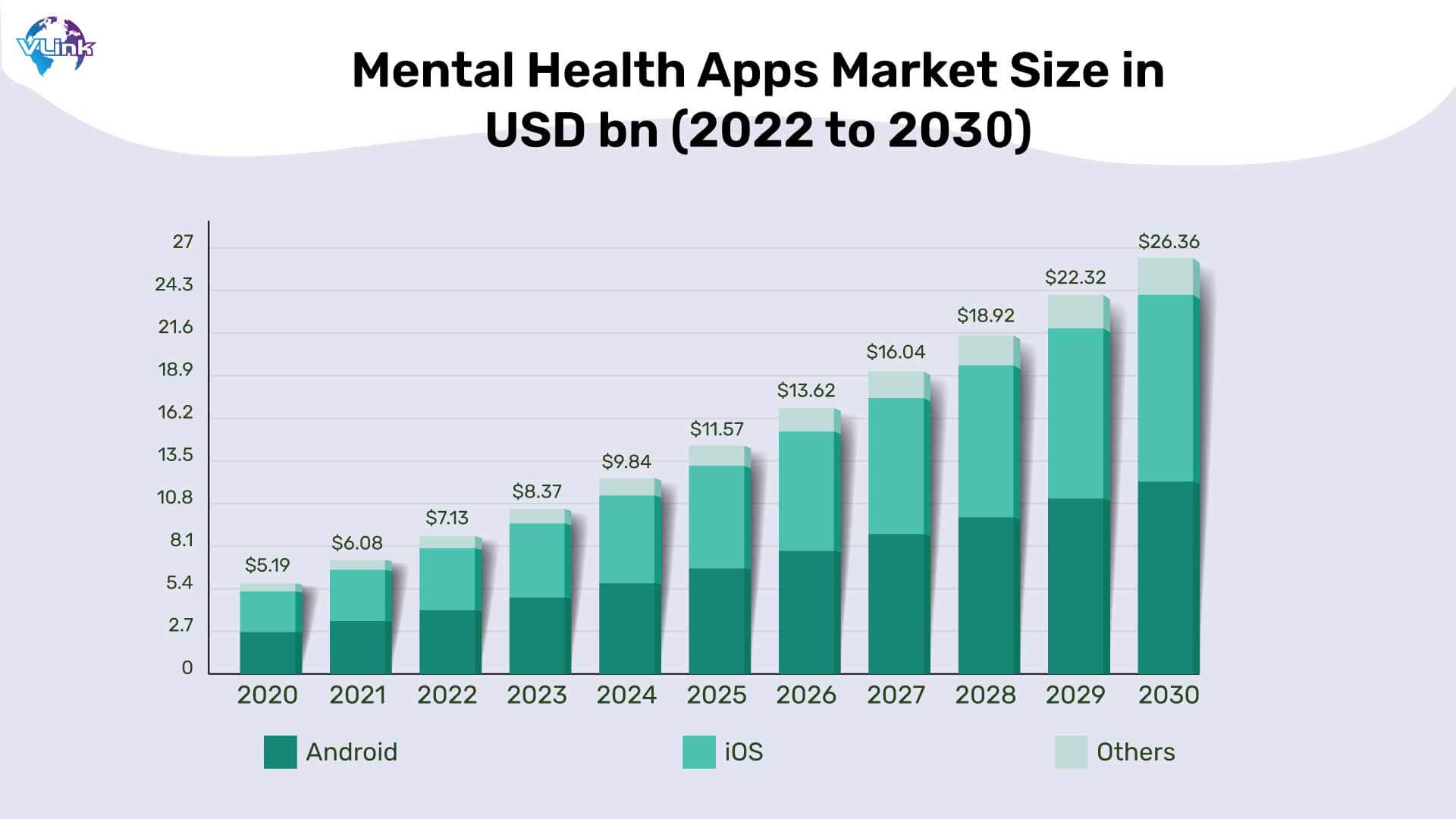 Mental health applications have emerged as invaluable tools, benefiting individuals seeking assistance and healthcare practitioners. Noteworthy apps like Calm and Headspace empower users to foster positive thinking, unwind, and alleviate stress.
Some other mental health apps incorporate gamification elements to captivate users and redirect their focus away from self-destructive thoughts. According to recent statistics, the market boasts up to 20,000 mental health apps, with many of the most popular ones amassing millions of users.
In this blog, we will explore 7 trending mental health app ideas that can serve as sources of inspiration for your startup. We will also learn about real examples of mental health applications and factors to choose the right one.
What is a Mental Health App?
Mental health apps are software applications that can be downloaded and installed on smartphones, smart devices, or computers to enhance emotional and mental well-being.
These healthcare apps encompass a spectrum of features, including;
Offering relaxation techniques

Mindfulness practices

Meditation exercises

Monitor Mood and behavioral patterns
Reasons to Build a Mental Health App
Here are several reasons why you need a mental health app for healthcare industry:
Easy Accessibility
Consistent support and reminders for medication, therapy exercise, or self-care routines
Health progress tracker

Increased reach of a more significant number of patients

Patients' progress tracking remotely, saving time and resources

Have valuable insights into their patients' well-being

Improved patient engagement

Streamlined administrative tasks like appointment scheduling and reminders
If you are still confused, here are some reasons in numbers why you should build a mental health app.
Incredible Market Stats of Mental Health App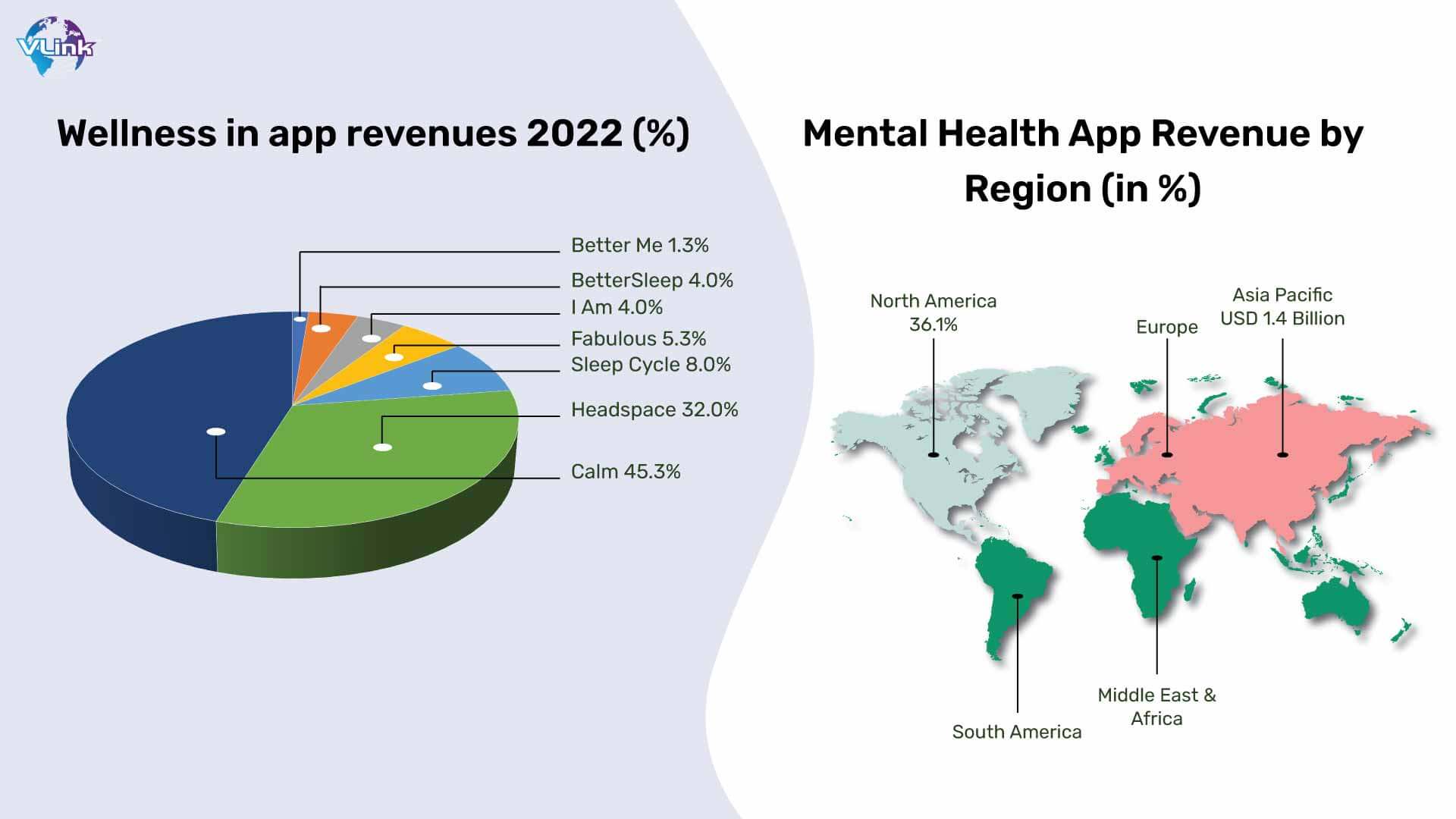 Best Mental Health Apps Ideas for Startup, 2024 & Beyond
Apps for Talk Therapy
The global Online Therapy Services market size was valued at USD 945.51 million in 2021 and is expected to expand at a CAGR of 28.42%, growing to USD 4240.41 million by 2027.
An online therapy application offers convenient access to treatment for individuals experiencing anxiety, stress, or various mental health conditions. It allows people to comfortably address their concerns with a therapist from the convenience of their own homes.
Patients can engage with mental health professionals via messaging or video calls, and these applications enable health experts to connect and expand their reach to a broader customer base.
For example, Talkspace is a well-known virtual therapy application that links users to an extensive network of mental health professionals.
Rather than having to visit a physical office and endure waiting times for appointments, Talkspace empowers individuals to engage with therapists on their terms, enabling them to send messages voice recordings, or initiate video calls at a time that suits their schedule.
Apps for Depression, Anxiety
Anxiety, depression, and mood swings rank among the most prevalent health concerns affecting individuals. 62% of people in the United States grapple with fear, while data from the World Health Organization (WHO) reveals that approximately 280 million people worldwide contend with depression.
Building an app for depression and anxiety is a trending mental health app idea for startups. These apps offer various resources, including self-assessment tools such as questionnaires and journaling features. They help users comprehend their mental well-being and take prompt action.
Additionally, these applications provide video and audio call capabilities to facilitate communication between patients and therapists. Some mental health apps even incorporate emergency hotlines for immediate consultation and access to medical assistance.
For instance, Headspace is a prevalent mental health app that helps relax, meditate, and sleep deeply.
Apps for Mindfulness & Meditation
Meditation and mindfulness apps have gained immense popularity, especially after COVID-19. Millions of individuals found themselves confined to their homes and sought new ways to combat stress and anxiety.
The global meditation market is predicted to reach $9 billion by 2027.
Meditation apps are the perfect mental health app ideas for startups.
These applications facilitate meditation, enabling users to alleviate stress, achieve a sense of grounding, dispel negativity, and gain a deeper understanding of their emotions. Considering the ongoing pandemic's impact, these apps represent an exceptionally fitting idea for mental health app startups.
Apps for Better Sleep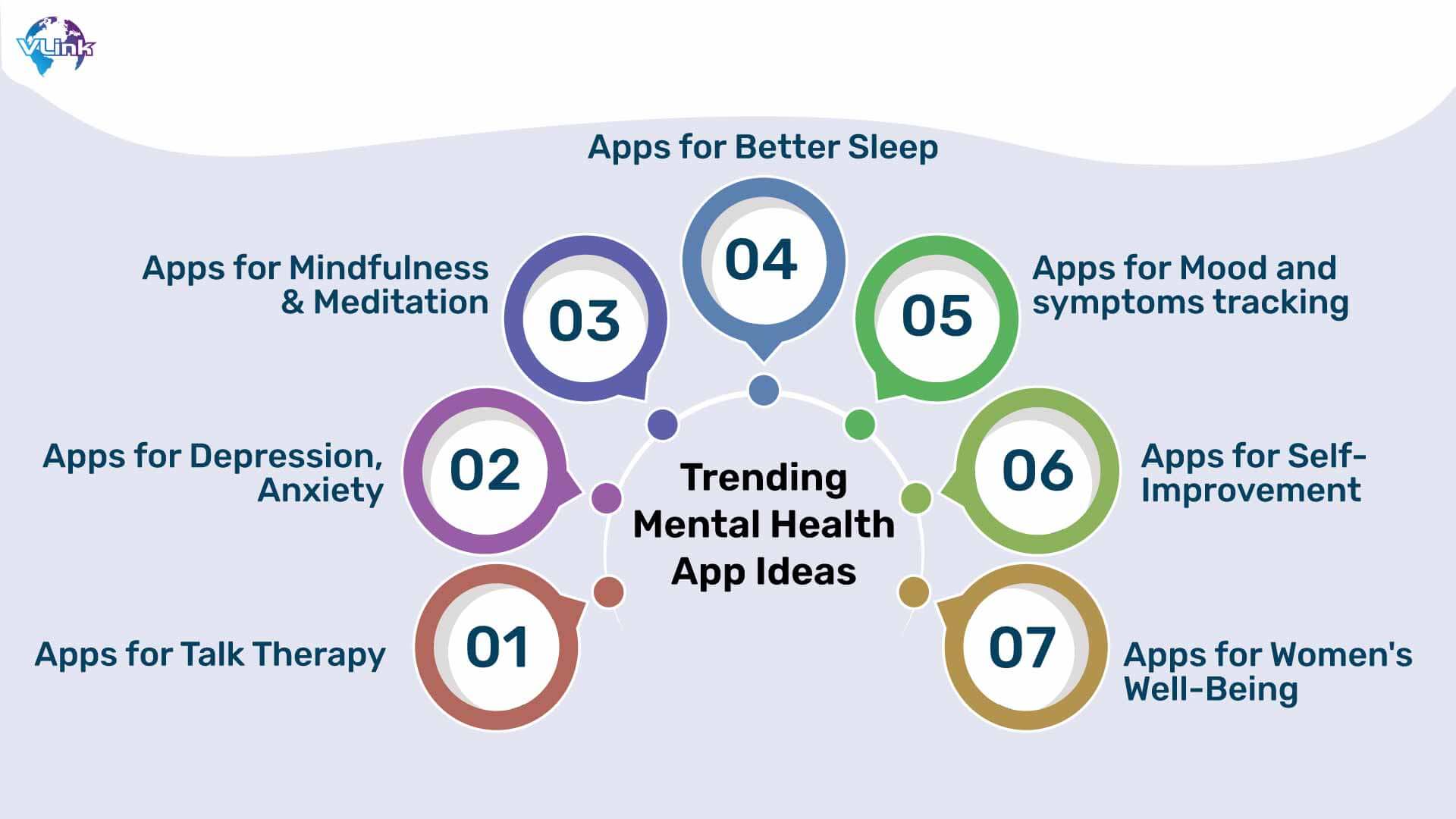 More than 25 million individuals in the United States grapple with obstructive sleep apnea, and approximately 30% of the global population reports experiencing sleep disturbances, as indicated by data from the National Institute of Health.
These sleep-related issues are frequently attributed to busy schedules, demanding jobs, and unstable relationships. Sleep applications offer a solution to alleviate stress and anxiety, ultimately enabling users to achieve a restful night's sleep and wake up feeling rejuvenated.
In 2022, the global Sleep Monitoring Apps market was valued at USD 2864.87 million and is projected to grow at a compound annual growth rate (CAGR) of 17.78% over the forecast period, potentially reaching a market size of USD 7646.6 million by 2028.
So, it's also a trending mental health app idea for startups. In addition, users can listen to some relaxing music to get a peaceful sleep.
Apps for Mood and symptom tracking
Mood tracking app is predicted to be worth USD 1,299.84 Bn between 2020-2024. So, it's another of the best mental health app ideas for startups. Mood and symptoms tracking apps allow users to take assessment tests regularly to understand their Mood and current mental status.
Users can record their thoughts or maintain a personal journal securely and confidentially. Additionally, they can log their daily activities and subsequently monitor how these activities impact their emotional well-being over an extended period.
The platform can offer features for users to visualize their mood fluctuations conveniently on a calendar or graph, making monitoring their emotional patterns easier.

Apps for Self-Improvement
The self-improvement apps market is diverse. The estimated market size for global personal development was around $43.77 billion in 2022 and is expected to experience a growth rate of 5.5% from 2023 to 2030.
Numerous apps cater to various aspects of mental well-being, including enhancing patience, boosting self-confidence, conquering fears, and alleviating mental stress.
This mental health app idea includes features such as;
Live coaching sessions with mentors and therapists

Pre-recorded courses with instructional video guides

Tools for setting and tracking personal goals
Take, for instance, Happify, which provides a range of science-backed activities, guided meditation sessions, and engaging games designed to reduce stress, combat negative thinking, and foster increased resilience.
Apps for Women's Well-Being
If you're concerned about women's health and well-being, this mental health startup idea is perfect for you—women's Health App Market Size Worth USD 17.87 Billion by 2032 at 17.88% CAGR.
Apps for women's well-being track mood swings and menstrual cycles. Users can provide text and video chat services, allowing women to seek consultations for various mental health concerns. In addition, they can offer guided meditation sessions aimed at promoting relaxation and alleviating mental stress.
Real-World Examples of Top Mental Health Apps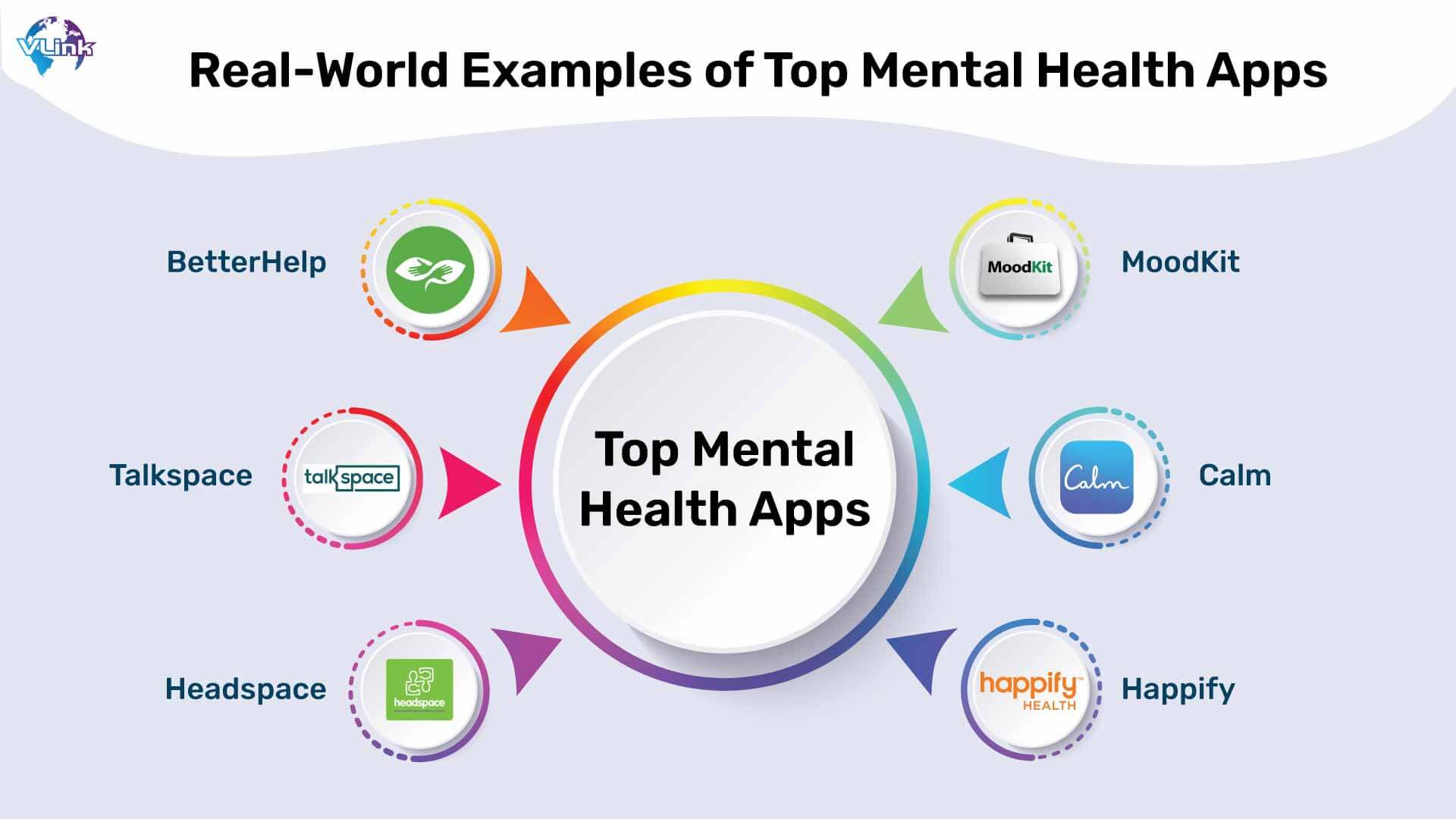 BetterHelp
BetterHelp offers a hassle-free avenue for individuals to access expert assistance from licensed therapists. With a vast network of over 20,000 trained, skilled, and accredited therapists specializing in diverse areas, it has never been more accessible when you require it.
As of March 2022, BetterHelp had close to 200,000 active users. Subsequently, data from an investment research firm, Hedgeye, indicates that this figure has surged to nearly 350,000 users.
Pros of BetterHelp Therapy App:
Unlimited messaging with your therapist

Multiple therapy options, including live chat

All therapists are licensed.

Financial aid available
Key Specifications:
Price: $60-$90/week, billed every 4 weeks

Platforms: iOS, Android

Free trial: No
Talkspace
Talkspace provides a platform for individuals to connect with licensed mental health professionals. These therapists are well-prepared to diagnose and address a broad spectrum of mental health issues, and the platform offers a diverse range of affordable pricing options. Users benefit from various channels to engage with therapists, ensuring adaptable communication options.
Every conversation conducted within the platform adheres to strict standards of security and confidentiality, safeguarding privacy. The therapists affiliated with Talkspace bring a wealth of experience, with a collective total of more than 3,000 hours of clinical expertise alongside rigorous training.
Pros of Talkspace:
The most straightforward and cheapest approach to enhancing your mental health
Live video sessions with all membership tiers

24/7 message your therapists

Ongoing support through secure messaging and real-time video sessions
Key Specification:
Platforms: iOS, Android

Free trial: No

Headspace
Headspace employs mindfulness and meditation techniques to assist individuals in cultivating relationships, alleviating stress, and improving their sleep quality. The platform provides a range of meditation sessions tailored to various aspects of life, including creativity, workplace productivity, body positivity, and concentration, among other options.
Pros of Headspace:
Reduce stress

Improve Mood

Enhance sleep and cognitive functioning

Improve focus and increase energy
Key Specifications:
Platforms: iOS, Android

Free trial: Yes
MoodKit
MoodKit presents a comprehensive selection of more than 200 activities rooted in evidence-based practices. These activities serve the purpose of helping users recognize negative thought patterns, enhance their emotional well-being, and develop essential life skills.
The app experience is further enriched with features such as a personalized journal and mood-tracking charts that can be exported, offering a holistic toolkit for improving one's mental health.
Pros of MoodKit:
Includes over 200 CBT-based, mood-boosting activities

Can export mood charts and notes

Customizable journal with several templates

Integrates into your iOS calendar

Can be purchased for a low one-time fee
Key Specifications:
Price: $4.99

Platforms: iOS

Free trial: No
Calm
The app aims to diminish anxiety, enhance sleep quality, and encourage mindfulness. Calm offers meditation sessions that center around relaxation and improving sleep. The application caters to users at all experience levels, welcoming beginners and those already familiar with meditation practices.
The meditation sessions span a wide range, from brief 3-minute sessions to sessions extending beyond an hour.
Pros of Calm:
Soothing bedtime stories read by celebrities.

Discounted family and student plans

A 7-day free trial of Calm Premium is available.
Specifications:
Price: Free to Download

Platforms: iOS, Android

Free trial: Yes
Happify
Happify is a no-cost mental health application that places a strong emphasis on improving your Mood and alleviating anxiety. Designed by mental health experts, Happify's methods draw inspiration from cognitive behavioral therapy, assisting users in acquiring the skills to identify and redirect negative thought patterns.
Pros of Happify:
Wide variety of science-backed activities and games

Prevents burnout and reache individual goals

Fun to use
Key Specs:
Price: Free version available; Happify Plus subscription available for $14.99/month, $139.99/year, or $449.99 for a lifetime membership

Platforms: iOS, Android

Free trial: No
So, these were a few unique mental health startup ideas and the best real examples that you can choose for your next project. Now, moving forward, let's jump into how to choose the right mental health app.
How to Choose the Right Mental Health Apps?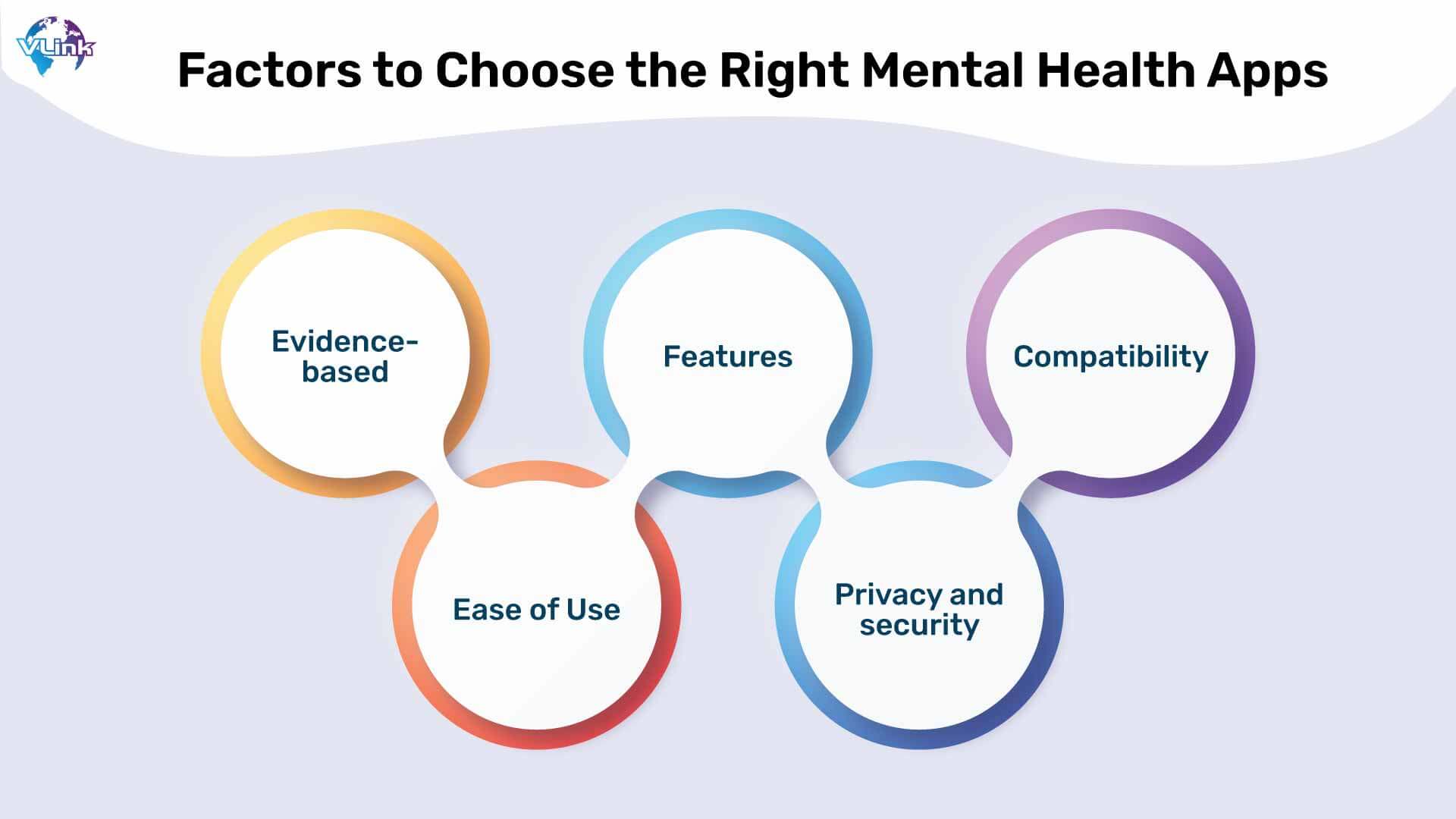 Here are several factors to consider when picking a mental health app, suggests research from the American Psychiatric Association (APA):
Evidence-based: Seek out an app that has undergone rigorous testing and demonstrated its effectiveness through research studies.
Ease of use: Ensure that the app offers a user-friendly interface but be aware that complete access may necessitate a paid membership on specific platforms.
Features: Select an app that aligns with your specific requirements. For instance, if you're seeking assistance with stress management, opt for an app that provides guided meditation features.
Privacy and security: Verify that the app includes security measures to safeguard your privacy. Confirm the presence of a transparent privacy policy and the capability to delete your data should you wish.
Compatibility: Select an app compatible with your smart devices, as certain apps may only be accessible on platforms and operating systems.
It's common for individuals to experiment with multiple apps before discovering one that suits their preferences. Establishing a routine for monitoring and maintaining your mental well-being is an ongoing journey that requires dedication. Identifying an app that aligns with your specific requirements might need some time.
So, here are the top mental health app ideas for startups. No matter what you decide for your business, getting in touch with a reliable mental health app development company is essential.

Contact VLink for the Mental Health App Development Project!
As a trusted healthcare app development company, we have a track record of creating numerous applications to cater to our user base. Our dedicated team of mental health app developers are exceptionally proficient and well-versed in the technologies required to craft cutting-edge mental healthcare apps.
If you're considering launching a mental health business with a compelling mobile app startup idea, please don't hesitate to contact us. Our experts are ready to provide top-notch healthcare mobile app development services, transforming your vision into a reality.
FAQs
Frequently Asked Questions
How to build a successful mental health app?
Create a successful mental health app by following several tips:
Evaluate specific target audience and their demands.

Collaborate with mental health professionals for accurate content.

Ensure user privacy and data security.

Develop user-friendly, engaging, and evidence-based content.

Regularly update and improve the app based on user feedback and advances in mental health research.

Promote the app effectively to reach your target audience and provide ongoing support and resources.
What is the cost of creating an effective mental awareness app?
The cost to build an effective mental awareness app can vary significantly depending on features, complexity, design, and platforms.
An essential app may cost a few thousand dollars, while a more complex one with advanced features could range from tens of thousands to hundreds of thousands of dollars. Ongoing expenses for maintenance, updates, and marketing should also be considered.
What features do you need to include in mental health app development?
Critical mental health app development features include mood tracking, journaling, mindfulness exercises, access to mental health resources, community support, and symptom assessment. Privacy and security measures, user-friendly design, and the ability to customize content are crucial. Integration with wearable devices and teletherapy options can enhance the app's effectiveness.
What are the top 5 Mental Health Apps for Kids?
Here are the top 5 mental health apps you can use for your kids:
"Calm for Kids": Offers mindfulness and relaxation exercises.

"MoodMeter": Helps children identify and manage their emotions.

"Smiling Mind": Provides age-appropriate meditation and mindfulness activities.

"SuperBetter": Promotes resilience and well-being through gamification.

"MoodMission": Offers coping strategies for emotional challenges.