Why Do Companies Need Offshore App Development Services
Have you been crunching the numbers to determine how much your app development project might cost you in 2023 & beyond?
Companies of all sizes, from Fortune 500 companies to start-ups, are rethinking the idea of setting up an in-house IT infrastructure. The reason is simple – overwhelmingly high cost.
201 Views

5 minute
However, it is possible to significantly lower your app development cost without compromising quality by considering offshore app development companies.
But before you search for 'the best mobile app development near me,' we have compiled some critical information to ensure you are well-prepared for the journey.
Table of content:
What is an offshore app development service?
Incredible Statistics of Offshore app development services
Reasons Why companies should hire offshore development services
When should companies consider offshore development services?
How to find the perfect offshore development company?
The cost of hiring an offshore development company
Consider VLink Your Trusted Offshore Development Partner
Conclusion!
FAQs–
What Is Offshore Mobile App Development?
Outsourcing mobile app development services to offshore companies is a modern and widely adopted approach across industries. It's like working with a team of talented developers working remotely, possibly from another country, and they are available on-demand to develop mobile applications for your needs.

Offshore mobile app development companies can offer diverse IT services, including custom app design, mobile app development, UX/UI services, and app maintenance.

Incredible Statistics of Offshore app development services
70% of companies

choose to outsource their software development projects.

The offshore software development market size was valued at

$122,257.5 Million

in 2021 and is projected to reach

$283,457.5 Million

by 2030.

As projected by the US Bureau of Labor, the demand for software developers, testers, and QA experts will grow by 22% between 2020 and 2030.

Deloitte 76% of Deloitte's surveyed executives indicated that IT functions were outsourced in 2022.

Global software outsourcing revenue in 2022 was $116 billion in 2022 and is projected to reach $145.7 billion by 2027.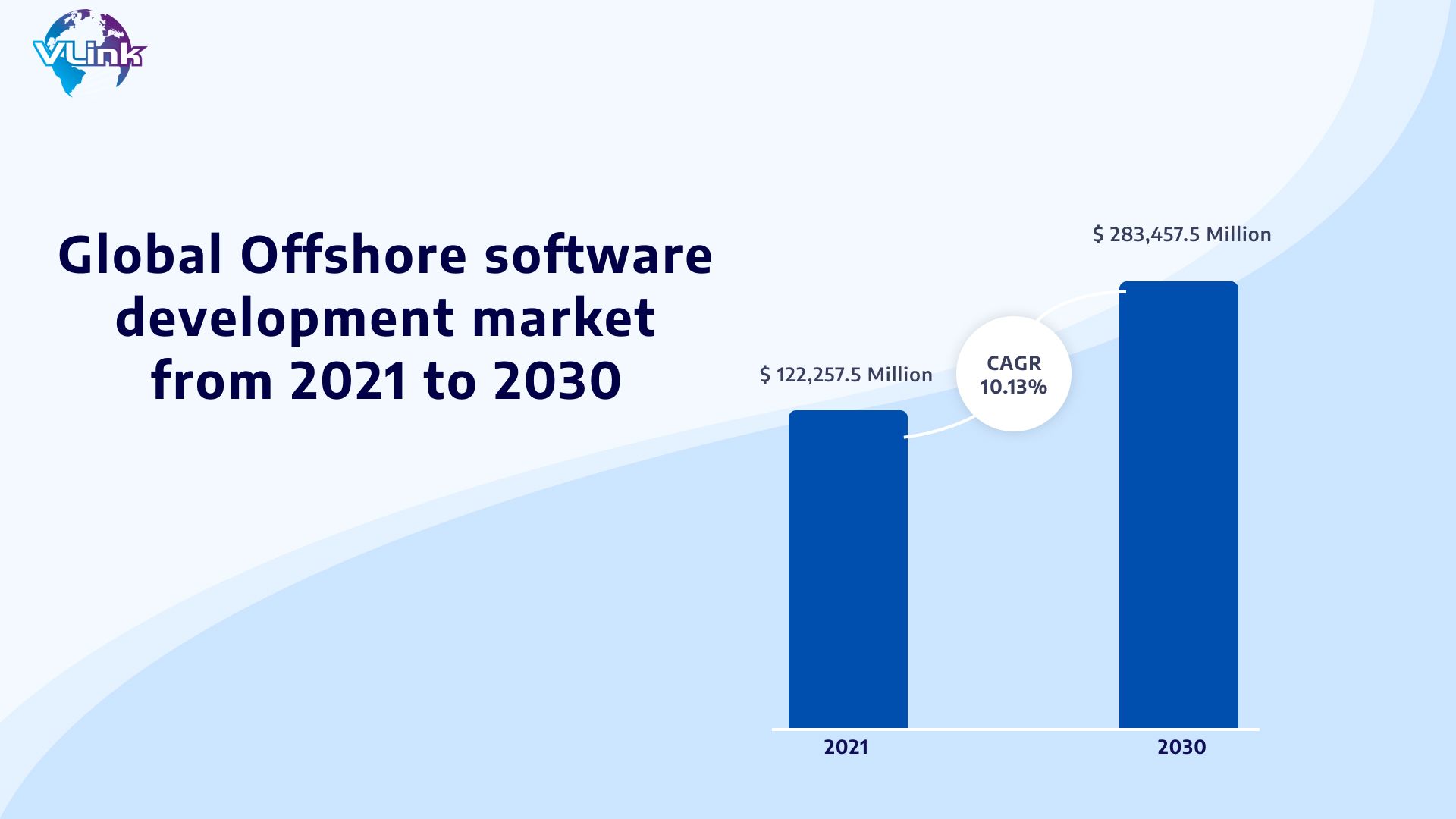 Reasons Why Companies Should Hire Offshore Development Services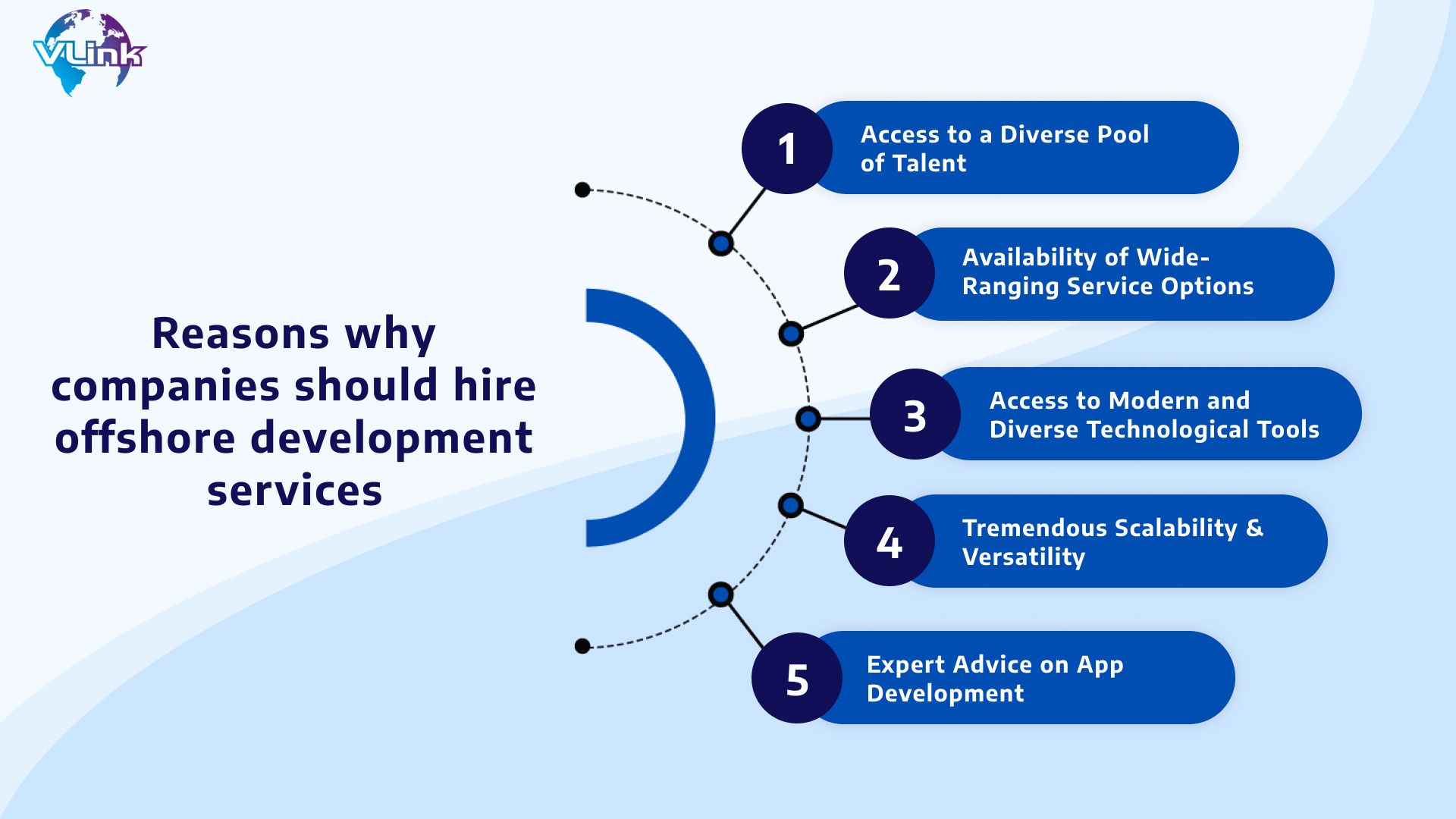 Here are the five most common reasons companies prefer hiring offshore development services.
#1 - Easy Access to a Diverse Pool of Talent
It's a long road to cultivating a highly skilled & dedicated team for software development, considering the time, effort, and resources you need to invest. However, offshore app development companies already have the right skills and industry exposure, which is desirable for your app development needs.
These developers are expert at leveraging advanced tools and obsolete technologies and bring expert insight to ensure a seamless experience. It makes outsourcing mobile app development services a suitable choice for most organizations.
#2 - Availability of Wide-Ranging Service Options
When you decide to outsource, you get various service options, as offshore companies work with multiple service models and offer flexible payment choices. As a result, they can offer tailored solutions, meaning you can hire a team of developers for full-time or a fixed number of hours.
Not to mention that your offshore app development partner will be able to work for all mobile platforms like Android, iOS, and Windows. Business owners can leverage various capabilities to create a highly competent mobile application for their business goals.
#3 - Access to Modern and Diverse Technological Tools
Outsourcing app development companies backed by significant years of experience working with an updated stack of tools and technologies efficiently deliver projects.
Offshore firms employ sought-after software at every step of their app development process. Thus, they can embed the latest technologies like Virtual Reality, IoT, Artificial Intelligence solutions for industries, and modern security capabilities at an economical cost.
#4 - Tremendous Scalability & Versatility
Business requirements are an ever-changing and ever-evolving phenomenon, and the development technologies required to meet them can change even faster.
Keeping up with these changes can jeopardize your end business goals as you consistently put up with a rising IT infrastructure costs, which can sometimes mean putting the operations on the back burner.
Engaging with a professional offshore app development firm lets you expand or shrink your IT needs without inflating your expenditure.
#5 - Expert Advice on App Development
Established outsourcing firms have years of hands-on expertise working with evolving technologies and diverse operation processes for businesses at different stages of their growth journey.
In addition, they are likely to have experience executing app development projects having budget constraints or a tight schedule.
This diverse experience allows them to bring in key insights and resolve complex situations efficiently, accelerating your project toward completion and preventing the loss of money and resources.
If you are confused between outsource company & freelancer, read this blog why outsourcing to software companies is superior to hiring freelancers.

When Should Companies Consider Offshore Development Services?
Here are a few conditions when it's time to consider offshore software development.
If you don't need permanent or full-time employees for the company,

If the project is just a one-time thing;

If you're short on time

If you don't have niche specialists within your team

If you're on a tight budget
Where & How to Find the Perfect Offshore Development Company?
If you think offshoring is the best way to develop your mobile app, now it's time to know where & how to find the perfect company for offshore development services.
Tips & ways are shown in the image below.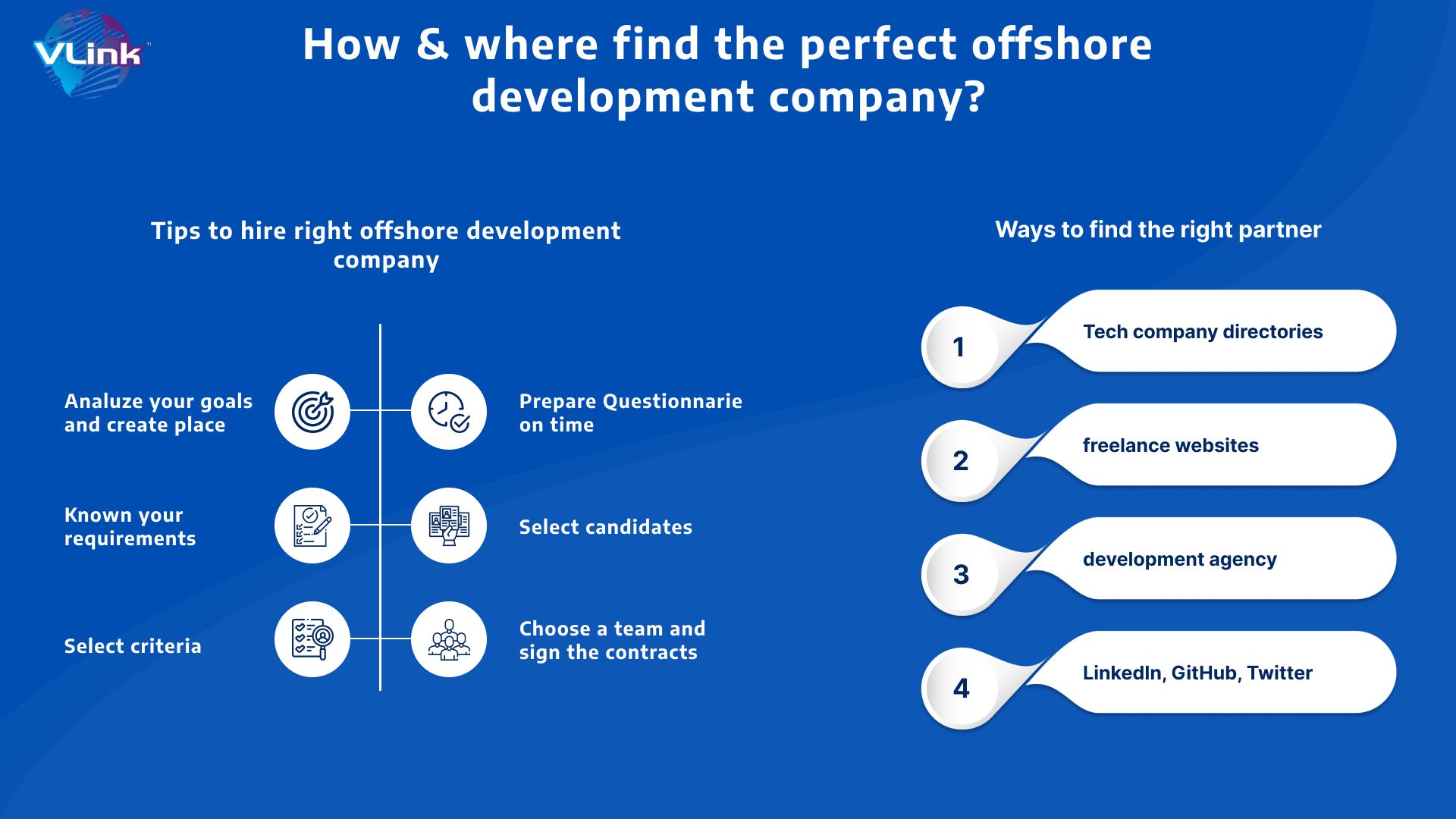 You can also read enterprise software development process.
The Cost of Hiring an Offshore Development Company
Building, expanding, and sustaining an in-house IT team can be a mammoth undertaking.
Considering factors like hiring expenses and salaries, software licensing, cloud managed infrastructure services, hardware and maintenance cost, and other miscellaneous expenditures – the total cost can render your in-house app development endeavors unreasonably high.
Even if you want to set up a small-scale app development team in your organization, the expense may total up to thousands of dollars annually.
According to a study conducted by the McKinsey Global Institute, entrusting your IT needs to an outsourcing partner can cut costs by 60%.
Often, outsourcing allows you to control total expenditure. And clearly, low cost is the most prominent factor that motivates businesses to deviate from the traditional ways of doing things, not to mention the many equally tempting advantages.
Would outsourcing your mobile development to an offshore company be a smart choice cost-wise?
Many factors, like the type of app, desired features, functionalities, and project complexity, determine the total cost of outsourcing an app development project.
The location of the outsourcing firm can also impact the cost. For example, an app developer or firm from Europe can charge anywhere from 20-170/hour, whereas these numbers increase to 50-200/hour in US.
If you are planning to a hire React JS developer, read React JS developer hourly guide before making any decision!
Considering that even a small project can take a considerable amount of time, a small difference among different firms' hourly rates can significantly change your total app development cost.
Consider VLink Your Trusted Offshore Development Partner
Are you seeking offshore development services for your upcoming mobile application development project?
VLink builds clean applications using complex infrastructures and helps you embrace digital transformation and automation of your manual processes via technologies like IoT app development, AI development, and Cloud services.
Our versatile team draws on its years of technical and domain expertise and boasts a track record of creating top-notch mobile applications for companies from different industries. We have successfully executed projects of varying complexities while implementing several technologies and operations.
Finally, our effective communication system and high-security compliance contribute tremendously to earning client trust. By conducting meetings across teams and with clients and sharing regular updates, we ensure you are always in the loop and see your project progress.
Everything from data sheets, progress reports, and other sensitive documents is secure on our cloud platform and accessible only by permitted professionals through guarded portals.

Conclusion!
The biggest advantage of digitalization is that it has faded geographical constraints and allowed companies to seek talent and better services outside of their local market. Going offshore and outsourcing your app development requirements to a team of diverse professionals is profitable and exciting, enabling you to discover new and better possibilities.
FAQs
Frequently Asked
Questions
What are the types of offshore development models?
Three types of offshore software development models are the fixed-price model, the dedicated team pricing model, and Time and materials model. The pros & cons of these models are different such:
1. Fixed-price model
Pros
Predetermined budget
Accurate time delivery
Simple management
Cons:
Inflexible terms
Exhaustive planning
Communication risk
2. Dedicated team pricing model
More management time
High costs
3. Time and materials model
Pros:
Flexibility
Project control and transparency
Quick start
Minimal risk
High quality
Cons:
Undefined deadlines
Unstable market
Undetermined budget
What mistakes should you avoid when working with an offshore partner?
You need to avoid a few mistakes when working with the offshore IT team. These include time zone consideration, lack of team skills, lack of required technology, stop micromanaging, security risks, etc. 
How to ensure the offshore IT company is credible?
There are several things to consider when assessing the credibility of the offshoring IT company. These include the official registration number, access to profitable activities, authentic location, online & offline presence, etc.