The housing sector is rapidly expanding and growing at an increasing rate. Competition in the housing market is increasing, while traditional advertising and promotion of the real estate business are no longer effective.
There are several ways a realtor may benefit from them; just a few include excellent client service, effective internal procedures, and precise data management for quick reaction times. Realtors may do this and benefit from technologies that their peers might not be aware of by using a real estate app development solution.
Around 90% of the queries for properties come through online platforms like websites and mobiles apps statistically. Agencies must monitor escalating issues without sacrificing their competitiveness as more and more real estate professionals take the digital transformation of their businesses seriously.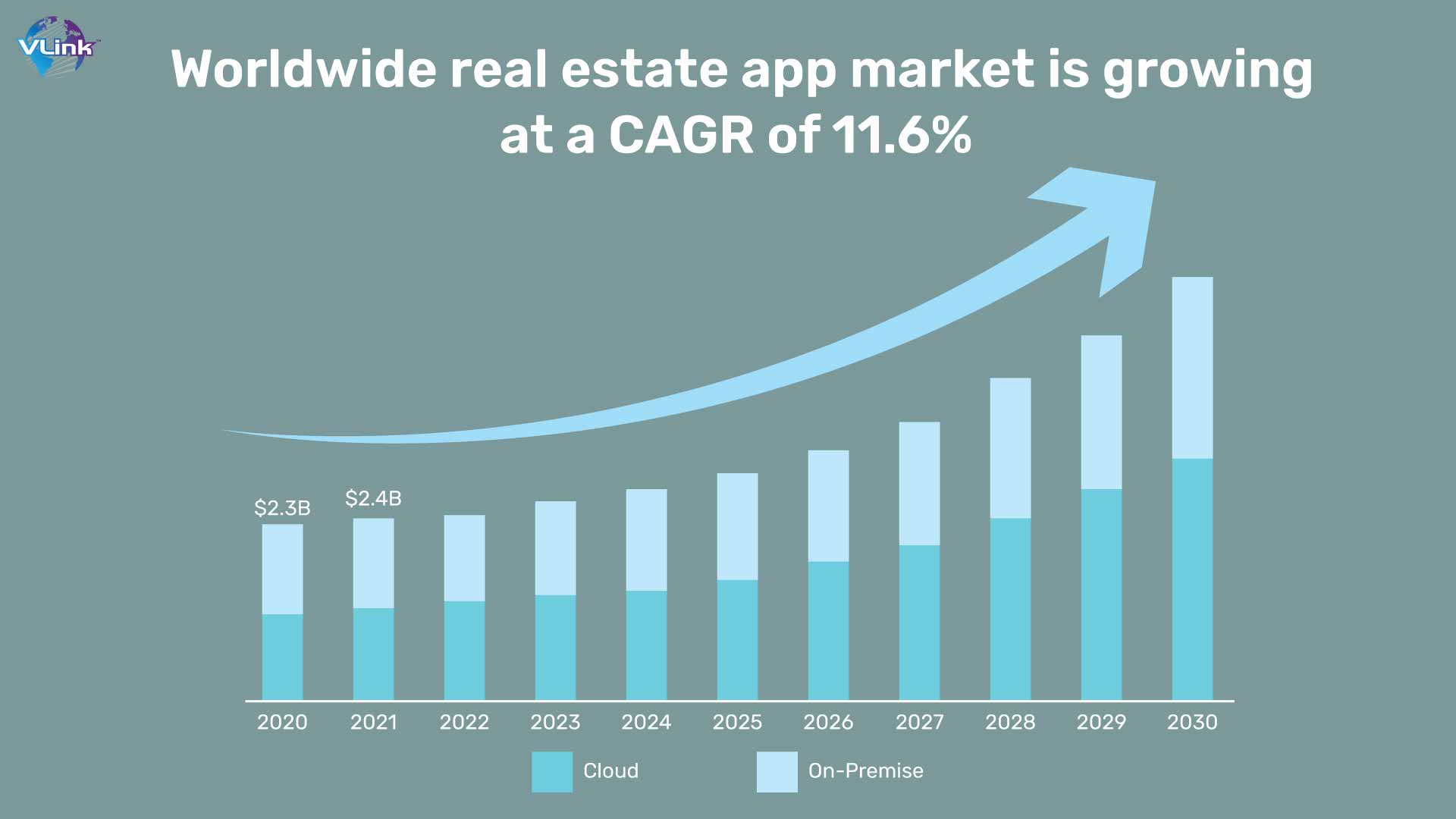 In this guide, we'll discuss the mobile app development process, its costs, and main reasons to adopt a real estate app. Let's begin:
Why are businesses investing in real estate app development?
An estimated 6.259 billion people use smartphones worldwide. Going digital is a crucial step to stay relevant regardless of your business, since so many people rely on their mobile devices to provide easy and rapid access to information.
The following are the main factors for selecting real estate mobile app development:
Quicker sales process: A tailored real estate app or website with virtual tours, digital document signature and transfer, and enhanced property search can help agents speed up their transactions.
Qualitative customer experience: The ability to remember searches and favorite houses, obtain thorough neighborhood information, easily access a mortgage calculator, access 3D tours, and more would be appreciated by clients.
Automated procedures: The faster property information entry, quick document exchange, and chatbot-assisted automated answers will help agents and homebuyers alike.
Boosts leads & conversions: First off, a good website makes it easier for potential purchasers to proceed through the property collection process without having to contact you for clarification.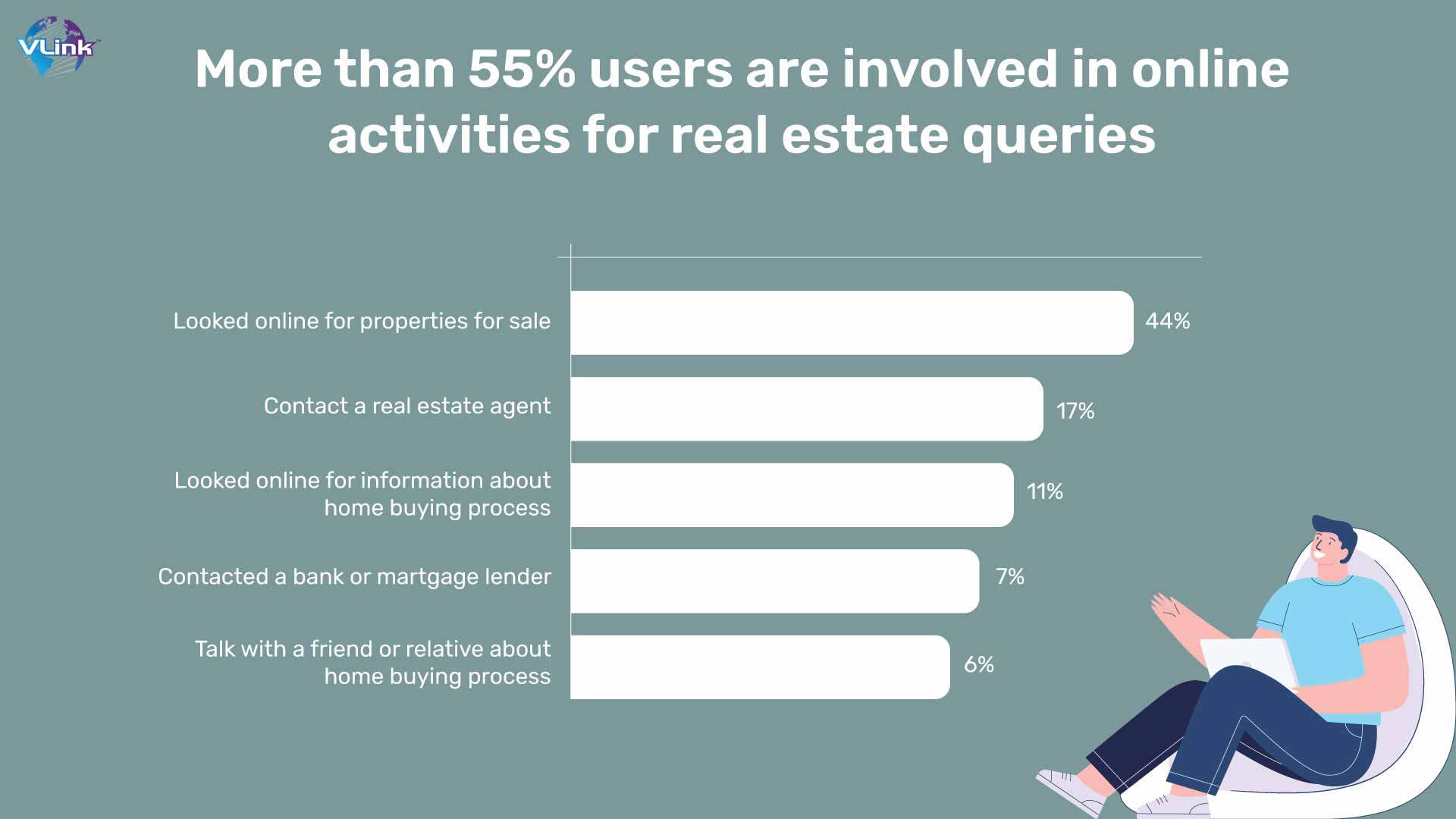 There are plenty of functions that can be performed by a custom application. During real estate app development process, you should take care of your customer's pain points, desires and whims to provide top rated services.
Must-have features in real estate app development
First, it is crucial to consider the target audience of the app when looking at what functionalities will be added in the development of a real estate application. In the same way, assessment of functionality is also very important. Let me go into more detail about some of the features.
With the use of this function, you may view any other registered user's rating, comments, and offers. It aids in judging a person's or organization's dependability.
It's an effective technique to keep in touch with customers and remind them of the benefits of using a service. The retention rates are improved through push notifications. Even when the user is not in the app, push notifications are received by them.
Accommodation in particular areas is preferred by many buyers and sellers. They may use this function to determine their present position and, for example, determine how far away a particular building is.
Using a real estate app, you may choose a house or the ideal site for a workplace based on its size, location, and amenities. Not only that, but sophisticated property search filtering software enables consumers to discover the viewpoints of locals.
This panel is responsible for managing all the processes in the real estate app. It will attain two roles – admin & moderator. Statistic, financial, user, and moderator activity reports are all fully accessible to the first party. The second one may view user activity and handle their problems.
Real estate cost estimator
Most consumers care about prices. Given their limited resources, the cost of developing a property may be a major consideration for some. In order to properly manage their budget, it is vital to allow users to generate estimations based on a variety of characteristics.
The design of the property catalog should be as simple and eye-catching as feasible. The catalog typically consists of item cards. Each profile has many components, including pictures and a brief language description.
In-app analytics dashboard
The importance of in-app analytics resides inside the app that can demonstrate the level of popularity of a location or an area. Additionally, it could display price movements as well as other intriguing data.
The decision-making process may be significantly impacted by clients' objective feedback. Sometimes a rating alone is sufficient.
It's not always possible to completely introduce a property using just pictures and video. Since they want to experience the environment, many users are drawn to taking a virtual tour. Their ultimate choice may be greatly influenced by this feature.
To discuss information that was left out of the initial description, users might need to get in touch with one another. Additionally, it involves getting prompt customer service assistance. Direct messaging, live chat, phone calls, and social media are all advantageous.
It offers the chance to narrow down the many alternatives to a few. If this is the case, a user won't have to look for the desired selections to, say, compare them.
Steps to create a real estate app
Now that we know about crucial features that should be integrated during the real estate app development phase, let's begin with the process.
1- Research & analysis
Examine the economic climate, consider supply and demand trends in the cluster you've chosen, and gather in-depth information on the industry you plan to work in. This crucial phase helps us to create a mobile app for your real estate business that is affordable.
It's time to carefully map out how your mobile application will be utilized from beginning to end once you've decided what it will do. Before you start developing, you may imagine your user experience using mind maps and flowcharts.
2- Choosing a tech stack
Go to the technical part of the app when the fundamental idea has been accepted and its key features have been identified. This step involves selecting the right tech stack for your real estate app. Gaining the most knowledge about current options is necessary to succeed. There are significant data sets involved.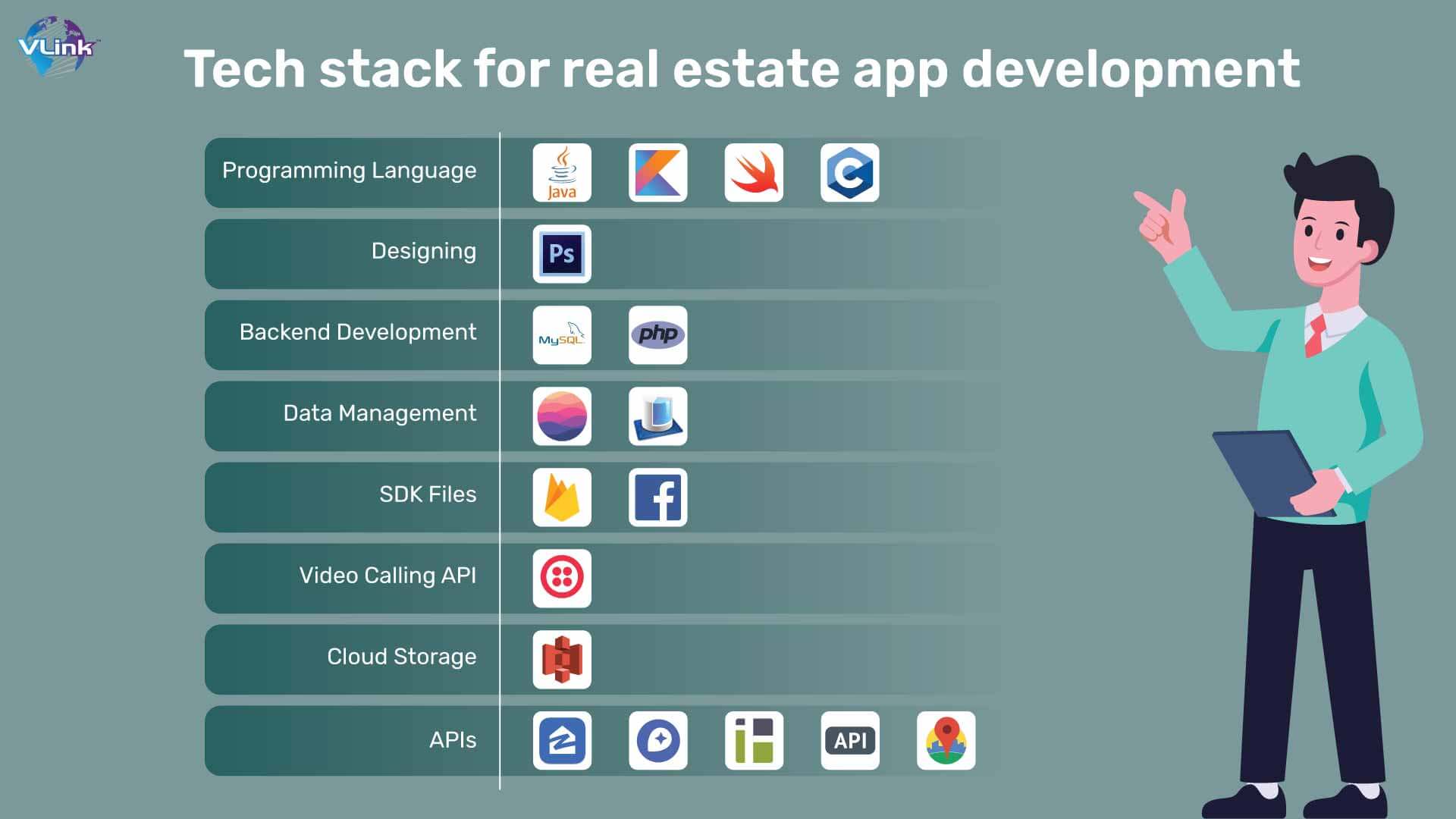 To avoid operating on a dedicated server that hosts all the information you require, use external databases using third-party APIs. The term "API" (application programming interface) refers to a set of guidelines for database communication. In a mobile or web application, APIs may supply data about offers for display.
3- Designing UI/UX of real estate app
A thorough grasp of the end-user will be really helpful before you begin developing your real estate application since it will assist you comprehend how they search. It is significant to implement engaging UI/UX in you real estate app development process.
The real estate app should be a combination of top-level panels and detail screens, and you can simply choose from a variety of viewing choices and individual components to customize the appearance of your app's interface.
4- Integrating the features for your app
You should consider the requirements and preferences of your target market when selecting features for a real estate app. Generally, real estate app features benefit both clients and agents. Choose one category to focus on or both.
In the second scenario, you can enhance income but bear in mind that it will also raise the expense of developing a real estate mobile app. As mentioned in the above section – "Must-have features in a real estate app", you can select all the crucial features to make your app unique and impressive.
5- Development
After receiving the design, producers of real estate apps revise the design budget. Their responsibility is to design each screen and build the code that logically connects them to make the functionality that has been authorized operate.
Additionally, they employ the required logic and concepts to establish connections between the back end, which stores the data, and the application's front-end, which is visible to users.
6- Testing & deployment
All application issues and technological discrepancies are fixed during testing and quality assurance. Because some modules might not function on a specific device, skipping this stage will result in losing the initial consumers right away after launch.
The web and mobile applications are initially examined for style and design conformity, just like with testing webpages. After that, the project's functional component is tested.
Cost to build a real estate app
Its intricacy will determine the overall cost. Costs for basic apps range from $25,000 to $45,000. Advanced platforms, though, can cost more than $70,000. The more the amount you pay, the more feature-rich your solution is.
Consider hiring your tech partner overseas if you're seeking the real estate app development cost that will provide you with the most value. The hourly pay for software developers varies widely by location.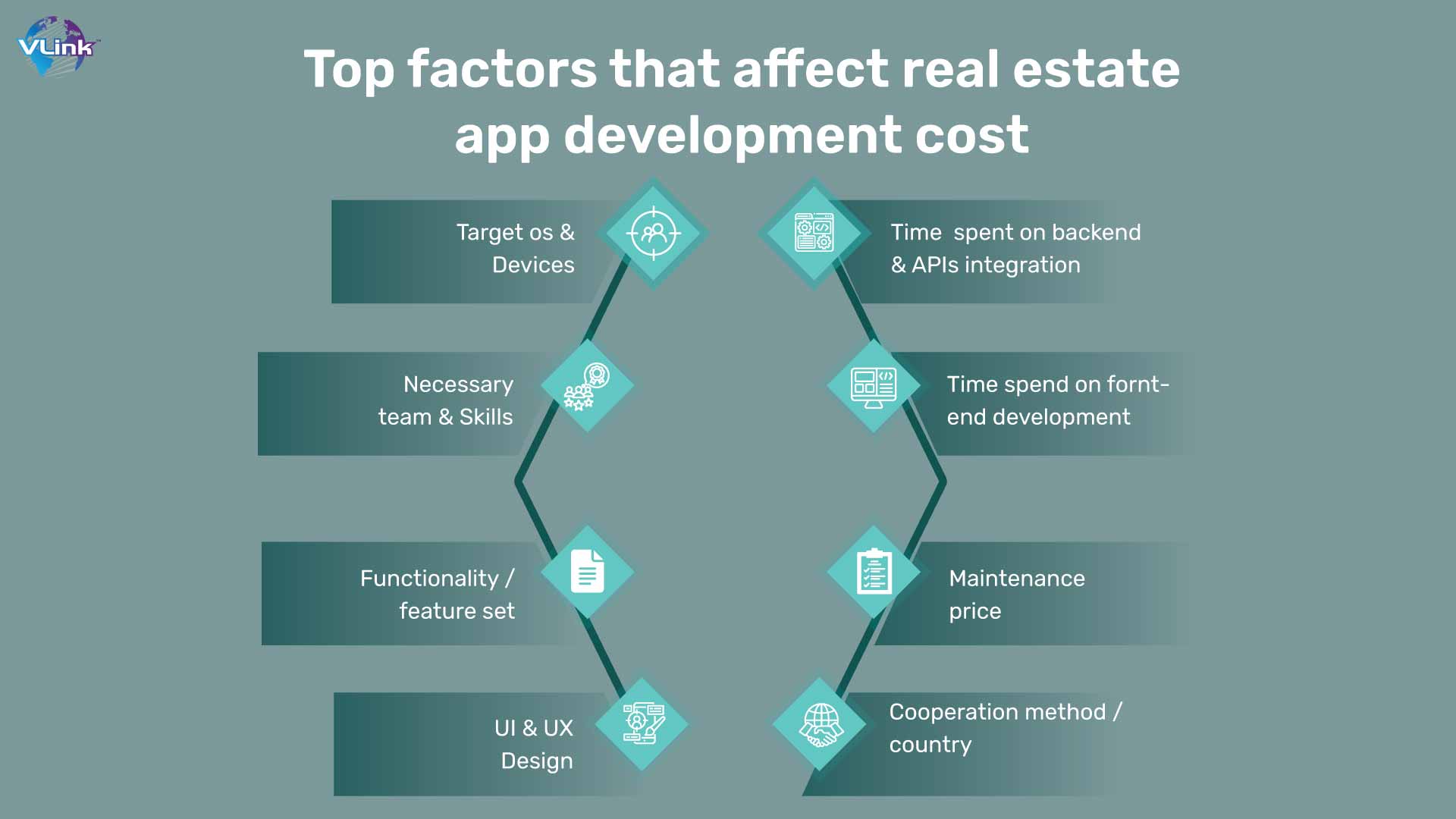 The typical hourly wage for seasoned developers in the US is from $100 to $200, depending on the area and level of experience. In Europe, prices vary as well, although they often fall between $50 to $150 per hour, with higher charges in nations like Germany and the United Kingdom.
While Asian countries continue to offer unbeatable rates ($15 to $50 per hour), Eastern Europe, which includes nations like Poland, Ukraine, and Romania, attracts companies looking for affordable software development solutions without sacrificing quality with highly competitive rates ranging from $25 to $80 per hour.

How VLink can build your first real estate app?
At VLink, we firmly believe that the success of a real estate mobile app involves many crucial decisions that are the result of extensive research of market trends, consumer expectations, and competition strengths that was undertaken in advance.
For us, it's critical to align our clients' business objectives with the niche's capacity to achieve those objectives. First and foremost, we advise delivering unit economics analyses and creating rough ROI predictions for the customer.
The UX/UI design of a mobile app is treated with the same rigor. We always look for the most user-friendly solutions by performing beta testing to assess the practicality of app screen interactions. Plus, the latest technology integrations such as cloud, AI, and IoT will help your real estate app function well.
FAQs
Frequently Asked Questions
Is it really worth investing in mobile apps for my real estate business?
Depending on your goals and preferences, the apps for investing in property might be worth it. Investors can enjoy a convenient and accessible way of managing their investments, monitoring market trends as well as making informed decisions through these apps.
Is going digital a real estate app profitable?
Several ways of generating income from digital real estate, such as advertising, affiliate marketing and the sale of products or services, are available to investors. Different factors, such as traffic to websites, domain authority, social media followers and virtual land needs, determine the value of digital assets.
Which type of real estate app should I choose – commercial or residential?
Higher returns can be found in commercial properties as opposed to residential property. In the long term, if you're allowed to manage a business space, it could be profitable according to your area. Part of the valuation of commercial real estate will depend on how much revenue it produces.