Undeniably, custom LMS development is gaining immense popularity among institutions and organizations. Reasons are streamlined process, cost saving, personalized solution, increased efficiency and enhanced adaptability.
The Global Learning Management System (LMS) market size is expected to grow from $18.26 billion in 2023 to $47.47 billion by 2030, at a CAGR of 14.6%, as shown in the below figure;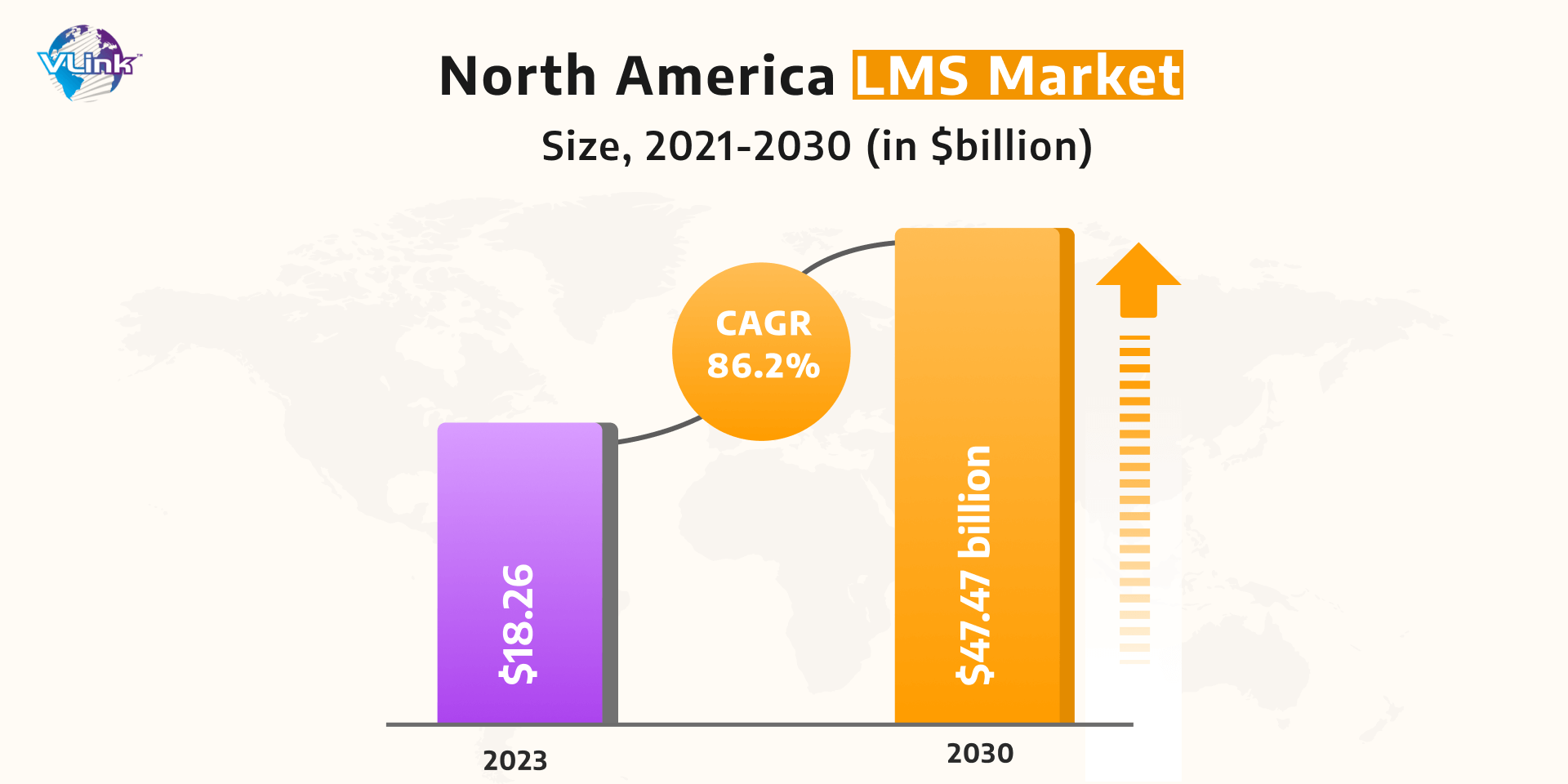 Estimating the development costs for an LMS platform is the first step in figuring out how to make your business stand out in today's competitive market.
The average cost to build a custom learning management system would be $300-400k. However, several factors like development team, types, UI/UX design and features determine your business's accurate custom LMS development cost.
In this blog, we will explore factors that influence the cost of creating a custom LMS platform from scratch and give tips to reduce app development prices. So, let's get going!
8 Factors Affecting the Cost of Developing an LMS Platform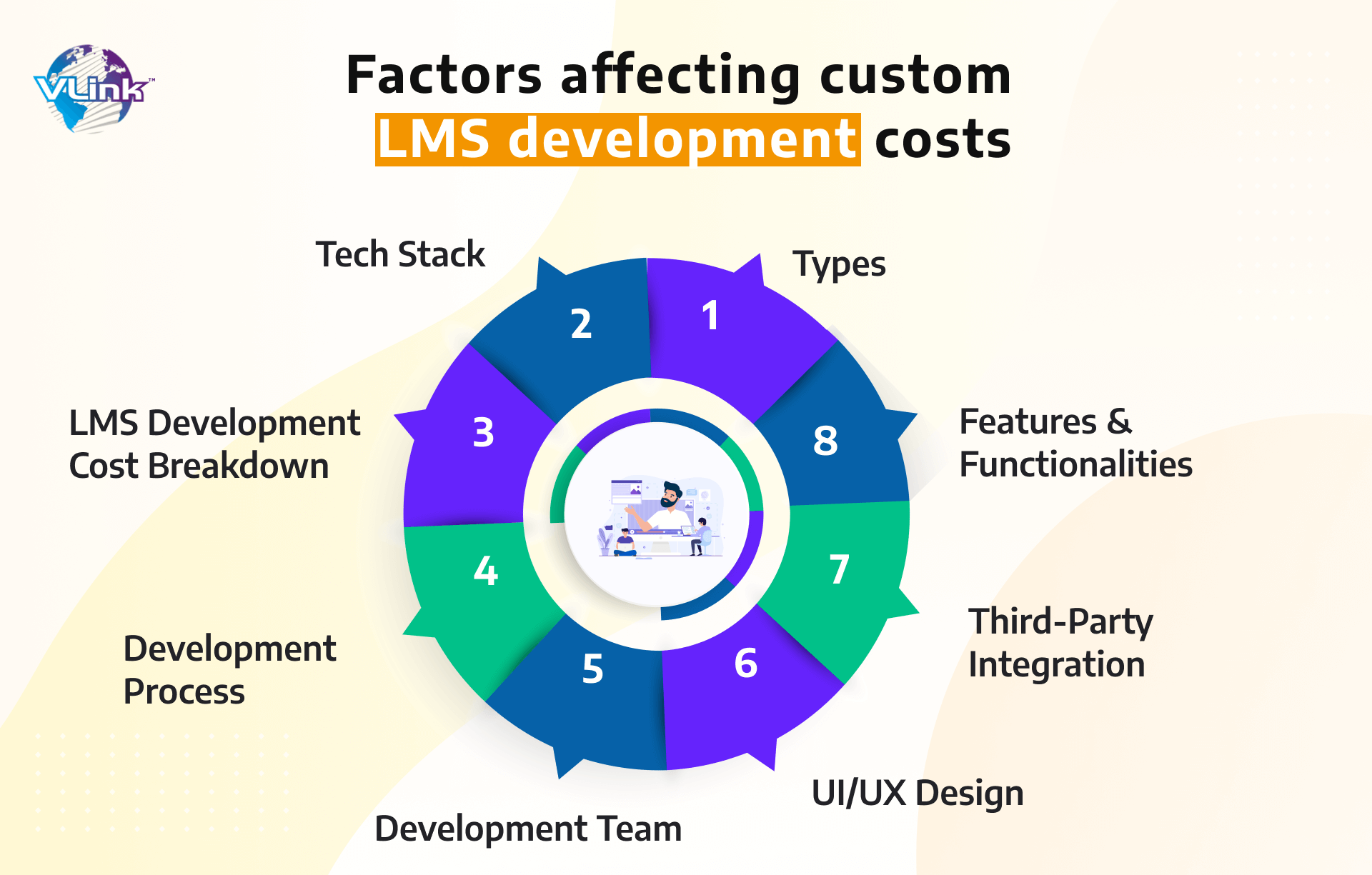 When selecting an LMS, you have three available options. Let's understand them to decide the right fit for your organization.

Custom LMS
A custom LMS app allows you to implement, plan and assess specific content online. It's a tailor-made e-learning platform designed to meet specific organizational needs.
Also Learn: How to build e-learning app like Duolingo?

Key features for custom LMS:
Course creation tools

Content authoring and management

Progress tracking



Compelling benefits of a custom LMS:
Personalization

Flexibility

Scalability

Integration

Better analytics

Security & Compliance



On-premises installed LMS
It's also known as a pre-built software solution. Companies can buy or license it to manage and provide educational content online.
Key features for on-premises installed LMS:
Course creation tools

Content and user management

Progress tracking and reporting
Compelling benefits of a custom LMS:
Low cost

Quick deployment

Industry best practices

Regular updates
Open-source LMS
An open-source Learning Management System is freely available and allows organizations to access, change, and distribute their source code. It provides a flexible and customizable solution for enterprises to manage online learning and training.

Key features for open-source LMS:

Customization

Scalability

Community support

Integration capabilities

Mobile capabilities

Collaboration tools

Reporting & analytics
Compelling benefits of a custom LMS:
Improved performance

Customization

Lower costs
Cost Comparision: Custom vs On-Premises Installed vs Open Source LMS
Cost Category

Custom LMS

On-Premises Installed LMS

Open-Source LMS

Platform License

—

$2,000 – $30,000

Free

Development Costs

$30,000 – $500,000




$2,000 – $30,000

Customization Costs

$5,000 – $100,000

$2,000 – $20,000





$2,000 – $20,000





Hosting Costs

$1,000 – $10,000 per year

$500 – $10,000




per year (included in some cases)




$500 – $10,000




per year (depending on the hosting provider)




Training Costs

$2,000 – $10,000





$500 – $5,000





$500 – $5,000





Support Costs





$5,000 – $50,000 per year

$1,000 –$10,000/ year

$1,000–$10,000/year












The scope and complexity of the desired features and functionalities are the primary factors influencing the cost of an LMS platform.
Advanced features like gamification, social learning, multimedia integration, and analytics require more development effort and expertise, leading to higher development costs.

Point to be noted: Prioritize essential features and identify potential areas for customization if you want to manage costs.


Integration capabilities are crucial for an LMS platform to seamlessly connect with other systems like human resource management, customer relationship management, or payment gateways.
The complexity and number of integrations required affect the overall cost. APIs, data mapping, and third-party software integration may add development time and expenses.


An LMS platform's UI/UX design plays a vital role in user engagement and satisfaction. Creating an intuitive and visually appealing interface requires skilled designers and additional development resources.
Customizing the UI/UX to meet your branding or incorporating specific features can also impact the overall LMS development cost.

The cost of LMS development team can vary greatly depending on their location and experience. Additionally, a large team requires more resources and coordination.

Three ways to hire a dedicated IT expert:
In-house development team

Outsource development team

IT-Staff augmentation



Both hiring models, IT staff augmentation and outsourcing, are becoming popular in the IT market. If you are confused which is the best for your business, read IT staff autgmentation vs. outsourcing.
A basic team in an LMS development company, including;
A designer

A business analyst

A couple of developers

A QA technician

A project manager
Depending on the LMS development company you're hiring and the hourly rates for its employees, the cost range is between $25 and $65.
The estimated budget for customized LMS development would be between $70,000 and $130,000.


Understanding several expense categories will help you estimate the total LMS development and implementation sum.

| | |
| --- | --- |
| Cost Category | Average Cost Range (USD) |
| Technology Costs | $2,000 – $10,000 |
| Infrastructure Costs | $1,500 – $5,000 |
| Labor Costs | $20,000 – $300,000 |
| Maintenance Costs | $5,000 – $50,000/year |
| Training Costs | $2,000 – $10,000 |
| Marketing Costs | $5,000 – $20,000 |
| Licensing Costs | $2,000 – $10,000 |
Factor #6 - Tech Stack

The choice of technology stack has a significant impact on the budget of a project. Integrating more advanced technologies will raise development costs and result in improved scalability, flexibility, and user experience.

Conversely, relying on outdated technologies may reduce expenses, but it will compromise the efficiency and security of your LMS.

When estimating future expenses, it is crucial to consider the following key components of the tech stack.

Programming languages - Python

Frameworks & libraries - ReactJS

Hosting and infrastructure - Amazon Web Services or Microsoft Azure

Development tools and platforms - Integrated development environments (IDEs), code repositories, & project management tools



How to Reduce the Cost of LMS Development?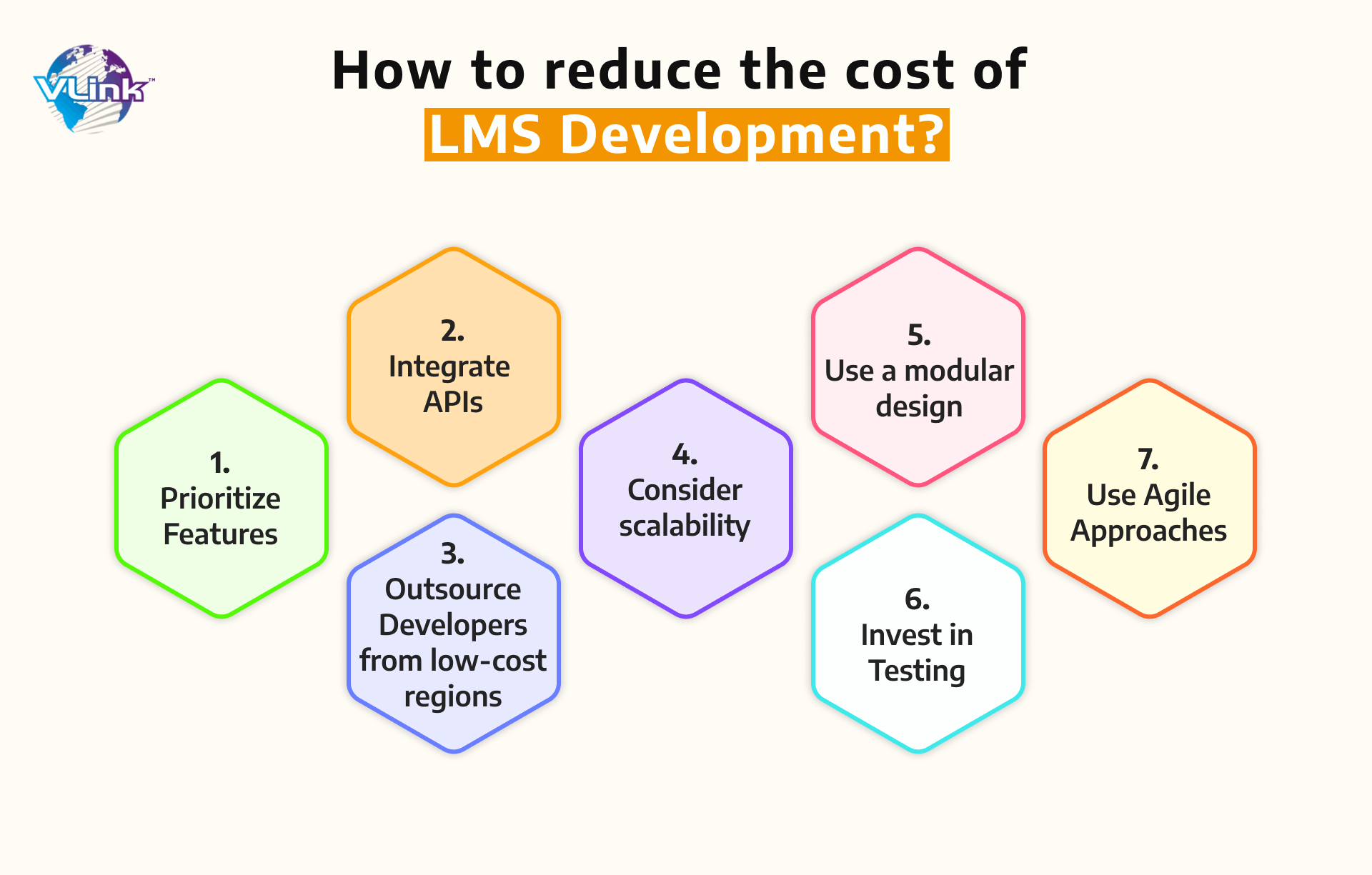 Here are several ways you can use to minimize the cost of LMS development:
Identify essential features

Conduct a thorough analysis to determine the core features necessary for your LMS. Instead of overwhelming users with unnecessary functions, focus on delivering a minimum viable product (MVP) and gather customer feedback to guide future enhancements.
Integrate APIs

Leverage existing free or low-cost APIs to meet specific needs within your LMS. This approach saves development time and resources while benefiting from the support and resources provided by established open-source communities.

Outsource team from affordable regions
Outsource development teams from regions with low labour costs, such as Eastern Europe, Asia, or Latin America. However, ensure that your outsourcing partners possess the relevant skills and experience required for your project.

Prioritize scalability
Choose a scalable & secure cloud architecture for your LMS. Cloud managed infrastructure services provide cost-effective scalability to accommodate growing user bases. They also reduce the need for on-site IT support and maintenance.

Adopt a modular design
Break down your Learning Management System into smaller, manageable components or modules. This approach enhances development efficiency, testing, and maintenance. It also facilitates cost-effective updates and future enhancements.

Invest in comprehensive testing

Allocate resources for thorough QA software & testing service throughout the development process. This proactive approach helps identify and resolve issues before they lead to costly errors and delays.
Embrace Agile approaches
Implement Agile approaches like Scrum to minimize development time and budget. Such methodologies prioritize flexibility, collaboration, and iterative development.
By separating workflows into smaller sprints, the team can quickly analyze problems, manage priorities, and improve overall performance.

How to Choose the Best LMS Pricing Model?
Several LMS pricing plans may look like a combination of features, courses, and user numbers. Before purchasing an LMS, follow these steps to identify the plan that suits your needs.
Determining the number of users in training

Estimating the time of LMS usage for each user onboarding

Evaluating the number of courses to upload for training

Identifying essential integrations and elements
Consider VLink as a Trusted Partner for LMS Development Solutions!
VLink, a leading LMS development company, specializes in developing highly efficient LMS platforms suitable for the education industry, institutions or organizations. Our comprehensive solutions seamlessly integrate with your current systems, courses, and certification programs, ensuring secure data storage and processing.
Our platforms offer universal accessibility, enabling users to connect from any device effortlessly.

Here are key features of the LMS we build:

Communicate during the educational process

Monitor & track success

Assign and evaluate tasks

Share results through popular communication channels

Generate qualitative data analysis

Integrate gamification tools
Looking for a reliable partner to create a custom Learning Management System? Contact our experts and become one step closer to your dream!

FAQs
Frequently Asked Questions
Why do EdTech business owners invest in LMS development?
Edtech business owners invest in Learning Management System (LMS) development to create a robust and scalable platform that facilitates online learning.
An LMS provides features like course management, content delivery, assessment tools, and analytics, enabling efficient administration and enhancing the learning experience for students, leading to increased user engagement and business growth.
How long does it take to develop a custom LMS from scratch?
The development time for a customized Learning Management System (LMS) can vary depending on the complexity and requirements. However, developing a functional LMS usually takes several months to a year, considering the design, development, testing, and deployment stages.
What is the cost to develop an LMS Like Canvas?
A rough estimate for a comprehensive LMS development project like Canvas could range from $100,000 to $500,000, depending on the specific requirements and development resources utilized.