Cost to develop social media apps like Clubhouse
The Clubhouse audio-streaming app has become a sensation within social media applications. Are you interested in repeating its success and developing a similar app? Before starting, you must know its application costs. To learn, read this blog thoroughly.
201 Views

4 minute
Table of Content:
1. The Popularity of Social Media Apps - Clubhouse Statistics
2. What is the cost of developing a social media app like Clubhouse?
Factors that affect the cost of social media apps like Clubhouse
3. Must-Have Features for Clubhouse like social media app development
4. Build a social media app like Clubhouse with VLink!
5. Conclusion!
6. FAQs-
No wonder social media platforms are booming in today's digital era. In 2023, around 4.9 bn social media users will be available worldwide. This number is expected to reach approx. 5.85 bn by 2027.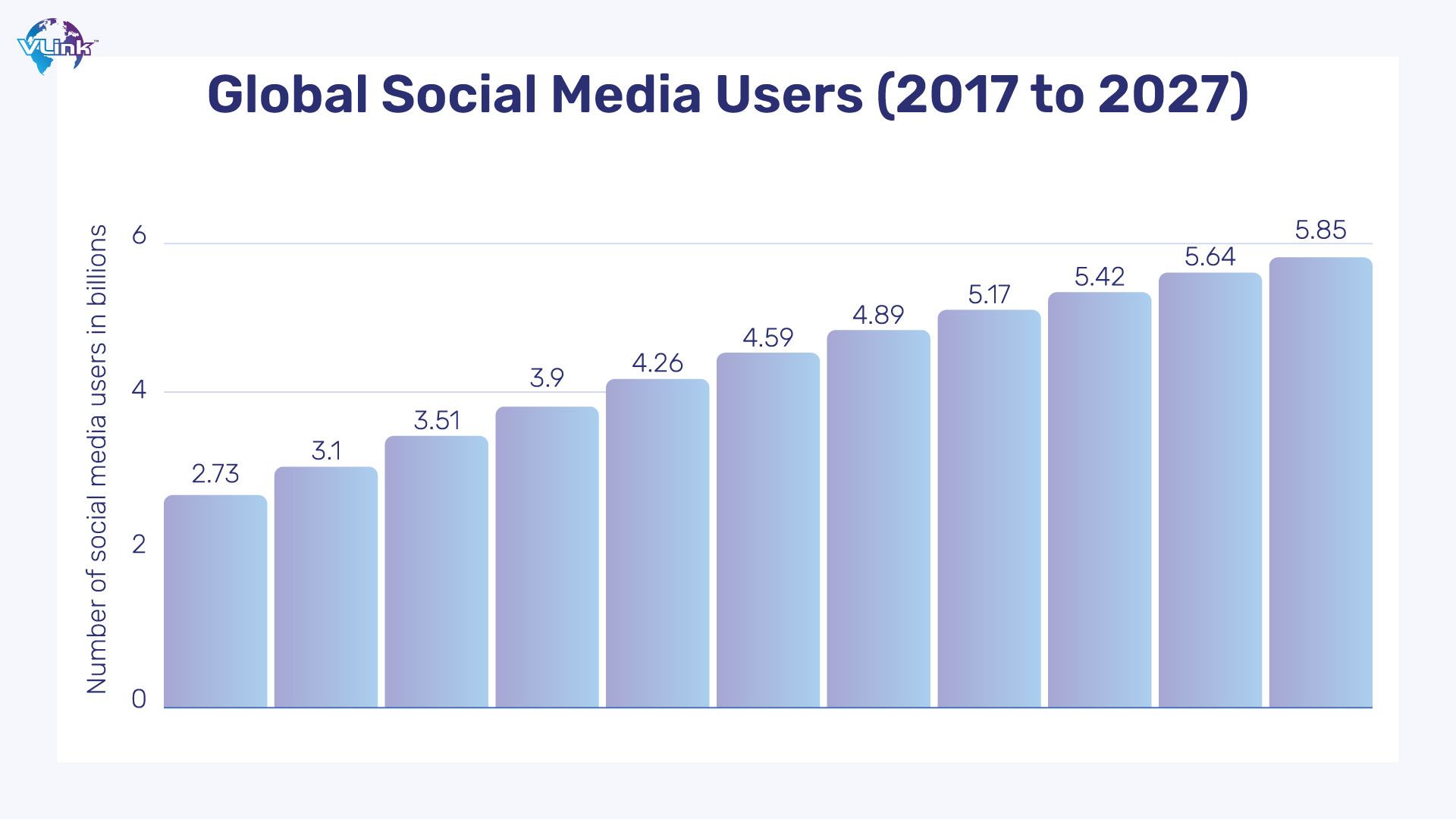 Many businesses are excited to launch unique and exciting social media apps for their users, which can generate revenue for them.
Instagram! Whatsapp! Facebook! And so on…
A long list of social media platforms is making the world crazy with their features and functionalities.
There is another new trend in social media that's audio-based - Clubhouse.
What's the clubhouse app?
The Clubhouse is a social networking app that allows users to participate in audio-based conversations, join virtual rooms to discuss various topics and engage with others in real time, usually in an invite-only setting.
Clubhouse, the social app launched in April 2020, achieved a remarkable milestone by amassing approximately 11 million global downloads in less than a year. While the app's ascent to fame was consistent from the outset, its popularity experienced an unprecedented surge at the start of 2021.
Even Elon Musk & Mark Zuckerberg agreed to use this app and engage with other social platform users.
So, if you plan to create a similar app like Clubhouse, a tricky question may emerge: how much does it cost to build a successful app like Clubhouse?
In this blog, we will explore the cost of a Clubhouse, like social media app development, factors to determine the price, clubhouse app features, etc.

Let's first start with clubhouse popularity statistics:
The Popularity of Social Media App - Clubhouse Statistics
As of December 2022, the app boasts a user base exceeding 10 million, indicating significant growth within its community.
Its valuation has experienced a remarkable surge, jumping from a modest $100 million in 2020 to an impressive $4 billion.

This achievement has earned Clubhouse the prestigious recognition of a unicorn startup, joining the esteemed $4 billion club.

The app's popularity is further demonstrated by surpassing 20 million total downloads, showcasing its widespread appeal.

Clubhouse has successfully raised over $10 million in investments from a diverse array of more than 180 organizations throughout its journey.
Let's focus on the main topic:
The cost is associated with the popular social media app, Clubhouse. Having gained significant popularity and established a unique presence within the social media ecosystem through its captivating features, it's crucial to delve into the expenses of the Clubhouse social media app.
What is the Cost of Developing a Social Media App Like Clubhouse?
The cost of Clubhouse-like feature-rich social apps may range from $15,000 to $230,000. Additionally, its price may vary depending on the company and per OS.
iOS app development costs may be higher than Android mobile app development.

Also Read: iOS app development let your business grow at full potential.
Do you want to make your social media app stand out like Clubhouse? Let's take a look at each component of the Clubhouse, like app development.
Backend Development:
Basic backend infrastructure: $15,000 - $30,000

Advanced backend features (real-time updates, scalability, etc.): $30,000 - $60,000 or more
Integration with Third-party Services:
Simple integrations (social media platforms, analytics tools): $5,000 - $15,000

Complex integrations (payment gateways, custom APIs): $15,000 - $30,000 or more
Security and Privacy:
Basic security measures: $5,000 - $10,000

Robust security and privacy implementation: $10,000 - $30,000 or more
Testing and Quality Assurance:
Basic testing and bug fixing: $5,000 - $10,000

Extensive testing and QA efforts: $10,000 - $20,000 or more
Factors that Affect the Cost of Social Media Apps Like Clubhouse
Developing a social media app like Clubhouse involves several factors that can affect the overall cost. Here are some elements with approximate cost ranges: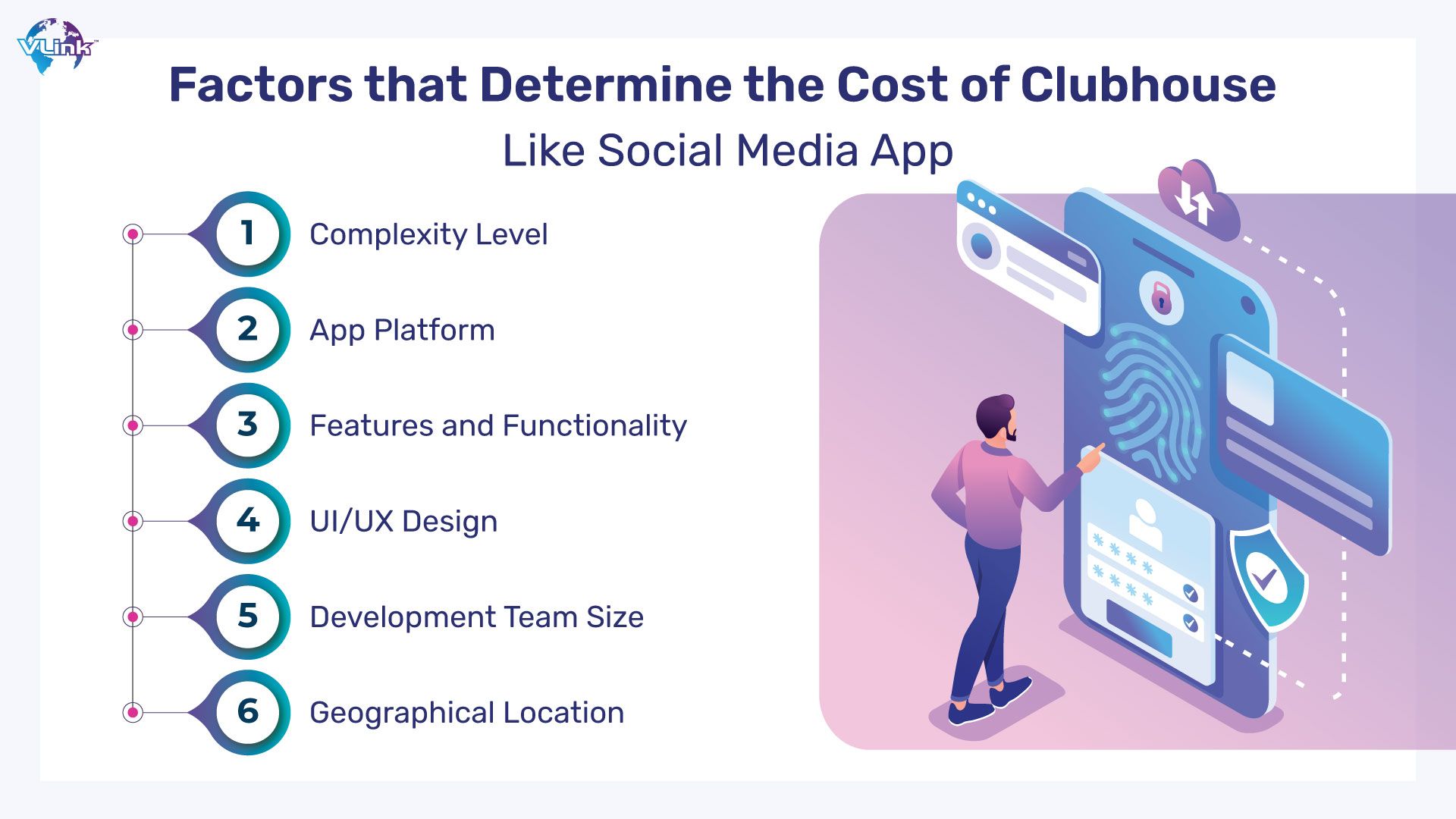 Factor #1 - Complexity Level
A critical factor determining app development price is overall app complexity.
Cost of Clubhouse like social media app development based on its complexity levels:
Simple App - $40,000 to $80,000

Moderate Complex App - $80,000 to $135,000

Highly Complex App - $135,000 to $250,000
Factor #2 - App Platform
The selection of the underlying platform plays a crucial role in determining the overall app development budget for creating apps similar to Clubhouse. One key consideration is choosing between the Android and iOS platforms or opting for cross-platform app development.
To ensure cost efficiency in the early stages, it is advisable to begin with a single platform initially and then transition to a cross-platform app as it gains popularity in the market. This approach helps optimize the budget while allowing the app to establish its presence and attract users.
Here is approx. Costs of all platforms of app development:
iOS development: $15,000 - $40,000

Android development: $15,000 - $40,000

Web development: $10,000 - $30,000
Factor #3 - Features and Functionality
The overall development cost of Clubhouse, like an app, is influenced by its feature & functionality list. A comprehensive set of features has the potential to propel your app's success and provide a smooth user experience to your intended audience.
Here are approximately the costs of social media apps like Clubhouse:
Basic feature set: $10,000 - $20,000

Advanced features (audio streaming, chat functionality, etc.): $20,000 - $50,000

Complex features (real-time collaboration, augmented reality, etc.): $50,000 - $100,000 or more
Factor #4 - UI/UX Design
Designing a seamless UI/UX is crucial for determining an app's success. The cost of Clubhouse, like social media app development, may fluctuate depending on the testing procedures involved in creating a design that aligns with the brand's essence.
Here is the approximate budget for the UI/UX design of social media apps like Clubhouse:
Simple UI/UX design: $5,000 - $15,000

High-quality UI/UX design: $15,000 - $30,000 or more
Factor #5 - Development Team Size
Estimating the overall cost of developing social media apps like Clubhouse can be facilitated by considering the size of the hired team. Many experts recommend outsourcing your project to a dedicated app development organization, allowing you to leverage their professional expertise while optimizing costs.
On the other hand, hiring an in-house team can be a tedious task that necessitates micromanagement and can potentially increase the project's overall budget.
Required team to create a social media app like Clubhouse:
Project manager

Business analysts

Frontend developers

Backend developers

UI/UX designer

QA Analyst
Here is the cost for the social media development team:
A small team (project manager, designer, developer, tester): $30,000 - $80,000

Medium team (additional specialists, more extensive development): $80,000 - $150,000 or more
Factor #6 - Geographical Location
Rates can vary significantly based on the location of the development team, with higher rates in regions like North America and Europe and lower rates in areas like Asia and Eastern Europe.
Hourly rate of developers as per the region:
US - $95-$100

Western Europe - $80-$90

Australia - $70-$90

Eastern Europe - $50-$55

Asia - $25-$40
These cost ranges are rough estimates and can vary depending on various factors. It's essential to consider your specific requirements and consult with professional app development agencies or freelancers to get more accurate cost estimates based on your project needs.
Must-Have Features for Clubhouse Like Social Media App Development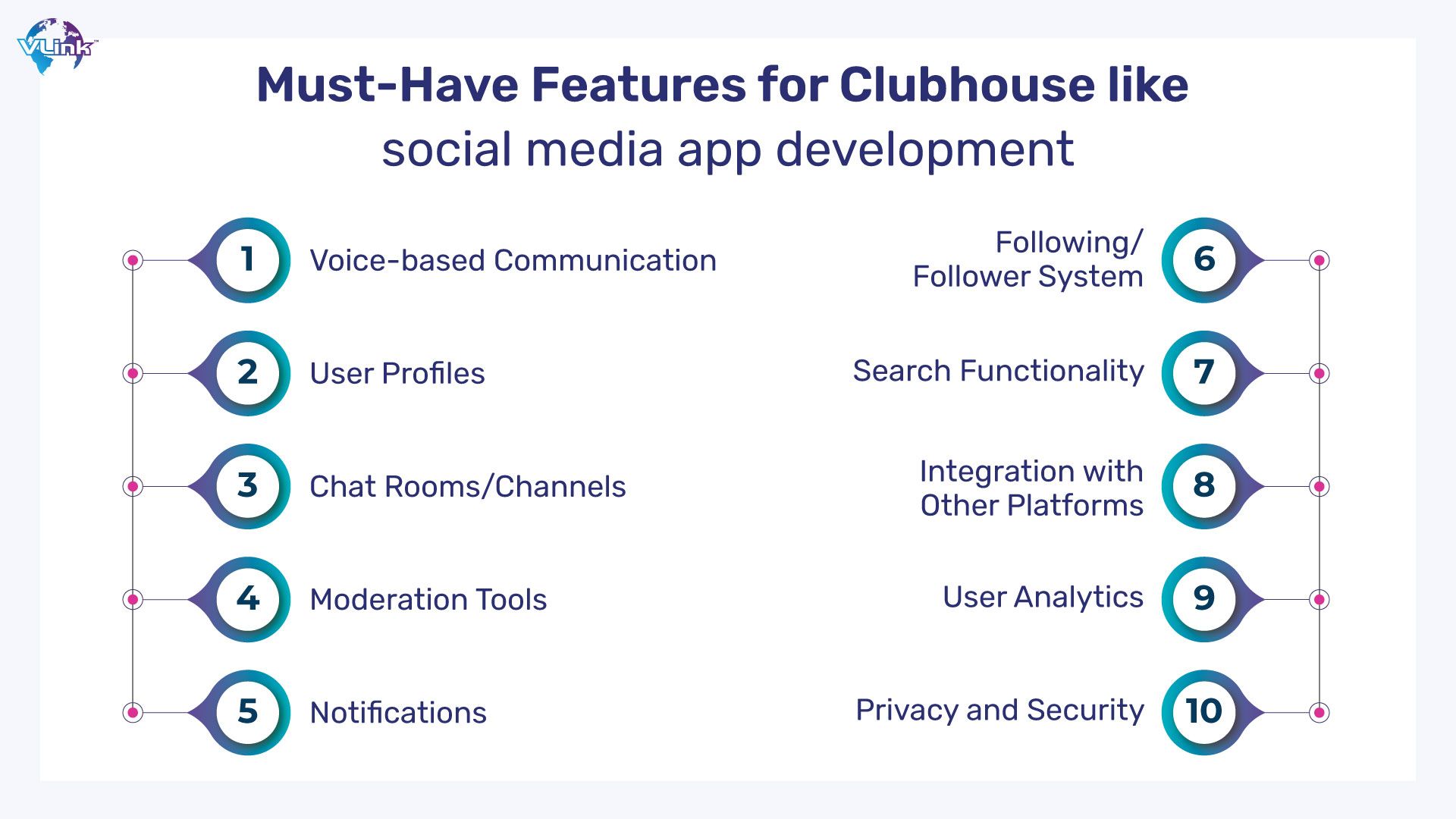 Feature #1 - Voice-based Communication
Clubhouse gained popularity for its audio-based communication model. Users can join voice chat rooms, listen to discussions, and participate in conversations. The ability to provide a seamless and high-quality voice communication experience is crucial.
Feature #2 - User Profiles
Users can create and personalize their profiles on social media apps. It includes adding a profile picture, bio, and other relevant information. Profiles allow users to establish their identity within the app and provide context for others.
Feature #3 - Chat Rooms/Channels
Users should be able to create and join chat rooms or channels dedicated to specific topics or interests. These public or private rooms allow users to discuss with like-minded individuals.
Feature #4 - Moderation Tools
Implement moderation features to maintain a healthy and respectful environment. It may include reporting users or content, muting or blocking users, and having moderators who can manage and moderate conversations.
Feature #5 - Notifications
Users should receive notifications about new messages, room invitations, or updates from those they follow. Push notifications keep users engaged and informed about ongoing discussions or relevant events.
Feature #6 - Search Functionality
Implement a robust search feature that enables users to find specific chat rooms, topics, or users. It helps users to find accurate and relevant results.
Feature #7 - Integration with Other Platforms
Consider integrating your app with other social media platforms or services. It allows users to share their experiences and invite their existing connections to join the app, increasing user engagement and growth.
Feature #8 - User Analytics
Provide users with insights into their activity and engagement within the app. It can include metrics such as the number of rooms joined, total listening time, or engagement levels with other users.
Feature #9 - Privacy and Security
Ensure user data is protected and implement end-to-end encryption, account verification, and privacy settings to give users control over their information.
Remember that you can personalize these features per your app's unique vision and target audience.
Build a Social Media App Like Clubhouse with VLink!
If you are looking for a social media app development company to build a user-friendly and secure app like Clubhouse, nothing can be a better choice than VLink.
We build interactive social media apps like Clubhouse to help your businesses reach their audience and attract them to convert into customers. Our development team mainly focuses on integrating next-level social media technology and tools to empower enterprises.
With our wide-range social media app development services, you can expand your media & entertainment business, increase brand loyalty and credibility, enhance conversion rate and revenue, and improve customer service.
Conclusion!
Audio-chat-only social media apps resembling Clubhouse are rapidly gaining popularity in the industry, attracting millions of enthusiastic users to share their perspectives and thoughts on diverse subjects or areas of interest.
Clubhouse app has become a trend among not only individuals but professionals such as marketers and eCommerce players are embracing these Clubhouse-like apps to understand audience preferences and interests. Thus, the current landscape presents an opportunity to introduce your social media application to the market.

FAQs
Frequently Asked
Questions
How to build a clubhouse like a social media app?
To build a Clubhouse-like social media app, focus on real-time audio communication, user profiles, rooms/events, moderation/privacy controls, notifications/social connections, and iterative testing.
Implement a robust audio streaming infrastructure, authentication system, room creation/joining, content moderation, and push notifications, and continuously gather user feedback for improvements.
How long does it take to create an app like Clubhouse?
The time required to develop an app like Clubhouse can vary based on complexity, team size, and resources, but it typically takes several months to a year.
How to make money through an app like Clubhouse?
To make money through an app like Clubhouse, you can explore several monetization strategies such as:
Implementing paid subscriptions

Offering in-app purchases

Partnering with brands for sponsored rooms or events

Enabling advertising options

Creating exclusive content for premium users