EV tech has become an essential part of the future of automobiles. Only 3% of new automobiles in the US in 2020 were electric vehicles, but by 2030, that percentage is expected to rise to 50%.
Global governments have embraced the potential that EVs have for a greener mode of transportation. These vehicles are backing their widespread manufacture and use, taking inspiration from Tesla's success in producing opulent electric vehicles. The EV market may be valued at $1103.17 billion by 2030. Even the project electric vehicle market is accelerating, as shown in the below graph.
The future of transportation could depend on clean energy sources like EVs, but consumer acceptance will ultimately dictate how quickly these trends take off. Governments certainly need to keep environmental factors in mind while drafting policies about automobile technology. However, customers can decide when it comes to fully transformation of transportation into a new era of transportation.
With regions racing to meet decarbonization goals and global automakers promising to invest over $1 trillion in EVs and batteries, EV players now face a new challenge: How can they scale EV charging operations and create driver-friendly experiences to create a reliable electrified transportation system?
This blog will help you know the ways EV software resolves electric vehicle adoption. Let's come to its brief introduction.
What is EV Software & How Does it Work?
EV software, or Electric Vehicle software, is a key element in monitoring and improving the performance of electric vehicles (EVs). It manages a number of functions for the car, including charging, energy regeneration, motor control, and battery management.
To maximize battery life, improve driving economy, and monitor and modify power distribution, EV software uses algorithms. Through user interfaces, it also gives drivers real-time data on battery state, range prediction, and charging station locations. It also allows for remote upgrades to provide new features and increase security.
EV software is essential for improving the efficiency and sustainability of electric cars.
Different Ways EV Software is Driving Adoption
Have a look at the reasons why consumers prefer to purchase electric vehicles: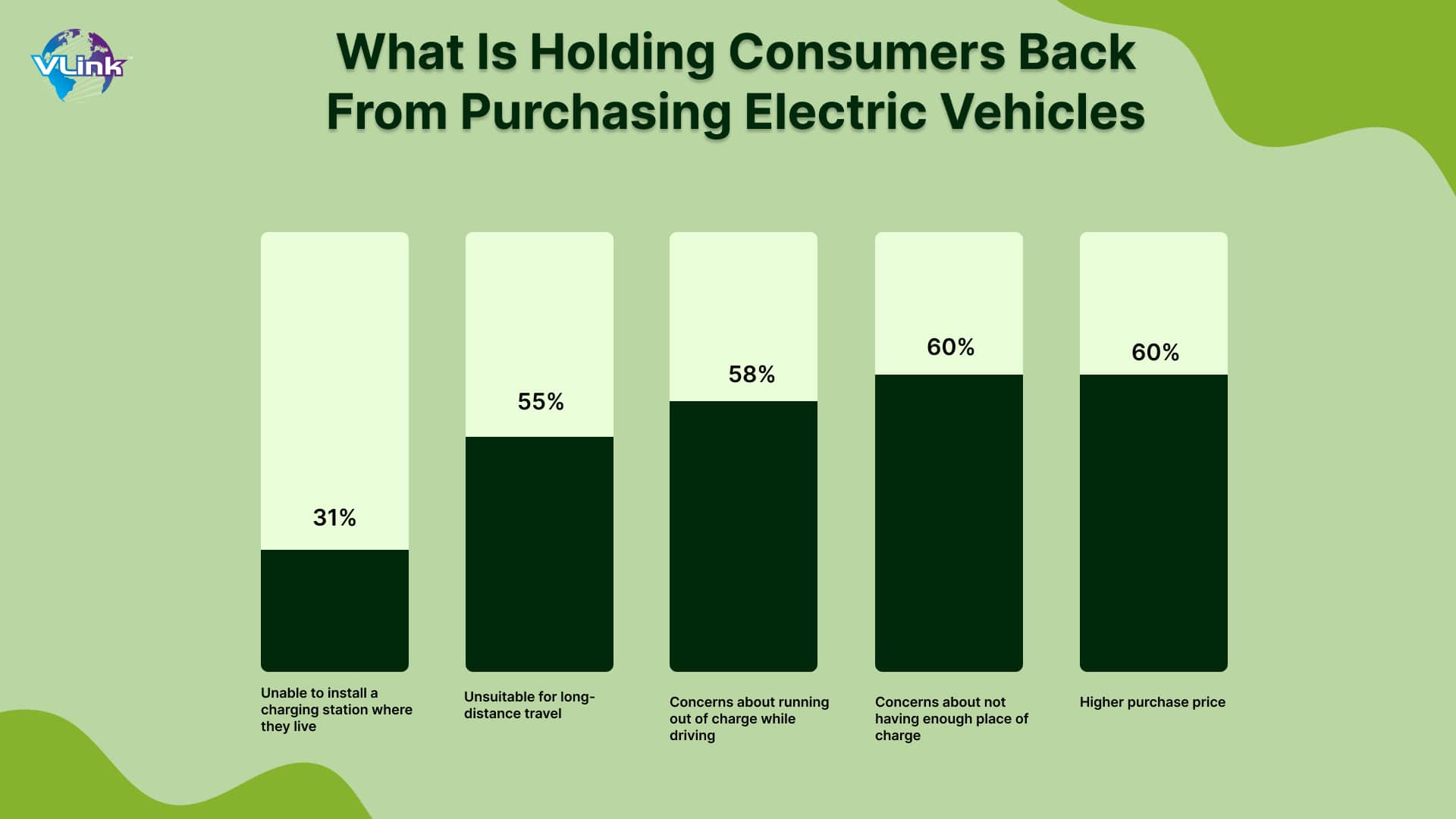 Beyond the initial investment in an electric car, a 2022 consumer study found that range anxiety and the availability of EV charging stations are the top worries for American drivers.
The daily mileage for an American motorist is around 30 miles. Even though roughly 80% of charging behavior for EVs involves overnight home charging, EV drivers desire assurance that they can reach any location without incident.
The only solution to range anxiety isn't to build more EV charging stations. A study of 181 charging stations in Northern California found that 25% of the EV charging ports were not working. The infrastructure for EV charging may be underused as a result of confusing rules for users and property owners.
The software enables us to close holes in the customer experience that weren't there with gas-powered cars by using precise real-time data. It involves finding vacant chargers nearby and pairing ride-hailing customers with EVs with sufficient range for their journeys. Additionally, EV operators and drivers can utilize third-party apps to:
Get notifications for upcoming car maintenance.

Construct battery health reports.

Use pay-per-mile finance to electrify your fleet.

Calculate the carbon footprint of an EV
Most EV charging requirements are met by destination charging. The adoption of EVs doesn't necessarily need the installation of hundreds of thousands of public charging stations. However, it generates a more complex ecosystem that must consider the rules, procedures, and driver expectations specific to each place.
With changing policies, fluctuating driving costs, and a record number of new EVs entering the market, local companies and governments must be creative about future-proofing their EV charging network.
The software enables process agility, which unites all industrial participants in the EV sector through several processes:
Tracking & centralizing project and vendor management for the development of EV chargers.

Evaluating potential locations for companies and property owners to set up an EV charging network

Using smart charging to balance the supply and demand of power

Managing EV charging stations for various use cases (such as roads, business fleets, and multi-unit housing), locations, or both
A web of participants, each specialized in a distinct segment, service, or product, makes up the electric car market.
It is normal for this ecosystem of decision-makers, enterprises, manufacturers, and utilities to collaborate in order to operationalize various aspects of their process and speed up turnaround times. However, because of the proliferation of software and vehicle connections, many firms are oblivious to the extent of this ecosystem's diversity.
Drone Deploy and SiteTracker are tools that EV charging operators may employ to hasten the building of charging stations.
The EV charging management software may be used by companies and property owners to improve EV charge point operations and end-user experience.
Programmers use the Smartcar API to create software or mobile applications that can interface directly with the majority of EVs with a single integration.
It is a relatively uncharted and unstable region to build infrastructure and mobile app development solutions for EVs. The good news is that firms may deconstruct their processes and collaborate with specialists who can speed up their learning and implementation of complex methods.
There is no all-inclusive solution to the problems associated with EV adoption, from building infrastructure to dealing with regulators to providing driving experiences and incentives. To keep ahead of the ebbs and flows of transportation electrification in the upcoming decade, the EV business must learn how to utilize various software.
5 Use Cases That Help in EV Adoption

Adequate infrastructure support for charging stations and other charging facilities is necessary to develop a successful EV adoption program among the public. To achieve regulatory compliance, businesses that buy or lease a large number of EVs must maintain a well-managed EV fleet structure.
EV fleet management software solutions may be used for this. Providing correct pricing data and reporting, cloud integration, fleet security services, maintenance and support, decreased operating expenses via optimized usage and fuel efficiency monitoring, and increased customer satisfaction are some characteristics of these software systems.

Technologies for prototyping are becoming more popular while creating electric cars (EVs). Software programs may simulate these intricate electromechanical components and the interaction of software and hardware aspects.
So, firms may create EVs and test them in virtual environments without having to pay for physical development and evaluation. Thus, virtualization software is incredibly helpful in developing the mobility solutions of the future.
As EVs develop greater computer capacity, there is an increasing need for digital driving experiences. The development of an all-digital dashboard that can take the role of conventional steering wheels and gearboxes is made possible by digital cockpit software. With the aid of this cutting-edge technology, driving is more comfortable, quick, and safe.
A new degree of intelligence for machines may be achieved by connecting digital data to them.
For example, networked computers are much more useful, and smart managed enterprise mobility enhance data security & business productivity. These cars may provide an enhanced and tailored user experience with IoT connectivity, such as real-time traffic information, emergency warnings, and maintenance reminders that come straight from the car's sensors.
In the automobile business, the development of autonomous driving technologies is making waves. With AI-powered autonomous vehicles that might be ready for public usage when legal obstacles are cleared, Google and Tesla are now dominating the field. Professionals in the industry understand the importance of this development for the growth of driving and transportation.

Boost Your EV Infrastructure with VLink!
The role of EV software is crucial to overcome significant challenges to the adoption of electric cars. By tackling numerous problems, including charging infrastructure and user experience, they may significantly enhance the EV ecosystem.
The management of security concerns is possible thanks to technology and reliable operating systems.

The Open Charging Network facilitates interoperability.

Effective supply and demand alignment and

data analytics services

increase availability and performance.
You may advance the EV sector by working with VLink, which provides best-in-class software development for electric vehicles. As a reliable electric vehicle app development company in the US, we provide dependable EV software that will encourage your consumers to join the global shift to sustainable mobility.
Our dedicated development team will assist your clients in making a seamless transition to electric cars by providing them with the most return on their EV investments with our cutting-edge software development services. To join the electric mobility revolution, get in touch with our specialists.
FAQs
Frequently Asked Questions
How much does EV software development cost?
The cost of electric vehicle (EV) software development can vary significantly depending on the complexity of the software, features, and the team involved. Small projects may cost around $50,000, while more extensive developments for advanced EVs can range from $1 million to $10 million or more. Factors like R&D, software integration, and testing contribute to the overall cost.
How to build an EV charging App?
To build an EV charging app:
Define the app's purpose and features, including locating nearby charging stations, reservations, and payment options.

Gather data on charging station locations and availability from APIs or partnerships.

Develop the app using a mobile app development framework, considering iOS and Android compatibility.

Include user-friendly interfaces for users to find, reserve, and pay for charging.

Test thoroughly and launch it on app stores.

Maintain and update the app as needed.
What are the challenges of EV software development?
Challenges of EV software development include:
Battery management: Optimizing battery life and charging algorithms.
Integration: Ensuring compatibility with various EV models and charging infrastructure.
Cybersecurity: Protecting against potential hacks and data breaches.
User experience: Creating intuitive interfaces and user-friendly features.
Regulatory compliance: Adhering to evolving EV industry standards and regulations.
Range prediction: Developing accurate algorithms to estimate EV range.
Over-the-air updates: Implementing reliable and secure OTA software updates.