In the digital age, businesses rely on mobile applications to communicate with their consumers and streamline processes. Look no farther than VLink for top-tier mobile app development services in Connecticut.
VLink is committed to assisting businesses in thriving in the mobile-first age and has a proven track record of producing creative and robust mobile apps. In this blog, we will look at VLink's unrivaled mobile app development services and how they may help your business.
VLink recognizes the significance of effectively connecting your mobile app with current systems and third-party services. We provide smooth data flow and functionality when integrating with your customer relationship management (CRM) software, payment gateways, or social media platforms.
Furthermore, our flexible mobile app design allows your app to develop and adapt as your business grows, laying the groundwork for future expansions and updates.
What makes us beneficial for your business?
1- Building a conversion-oriented app for your business
Are you attempting to create an app for your company? VLink's mobile app development team in Connecticut can assist you in creating a functioning, mobile-friendly, visually beautiful, and simple-to-use app for your company.
VLink has recently expanded its professional offerings to include app development. We can design and create bespoke apps for large and small enterprises alike. Our mobile app development services in Connecticut may be used both locally and nationally. We feel privileged in working with all types of businesses and finding a budget that works for you!
We want to work with you directly when building this app for your business to guarantee that your wishes and needs are met! We value your feedback in order to get the finest results. VLink is your reliable mobile app development company in Connecticut.
2- Customized mobile app development services
VLink recognizes that each organization has distinct needs and objectives. Our professional developers collaborate closely with customers in Connecticut to understand their requirements and provide custom mobile app solutions.
VLink has the experience to convert your idea into reality, whether you need a consumer-facing app, a corporate app, or a cutting-edge IoT application. Our all-encompassing strategy guarantees that your mobile app is perfectly linked with your company goals, increasing user engagement, and driving business success.
3- Compatibility for all platforms
Reaching a large audience is critical in a diversified mobile ecosystem. VLink specializes in creating cross-platform mobile apps that work on both iOS and Android smartphones.
Top cross-platform tools most utilized worldwide and by VLink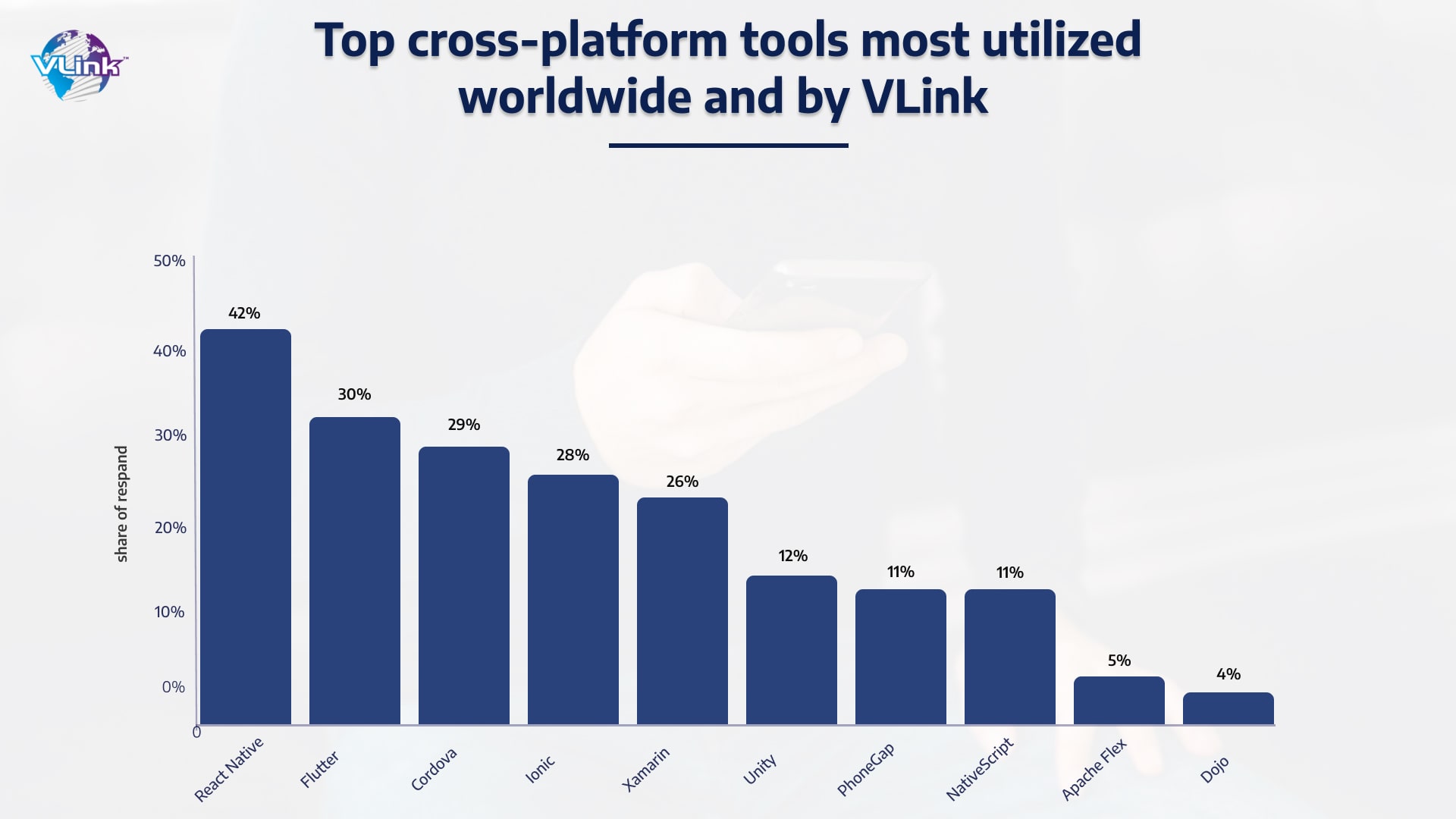 We maximize code reuse by utilizing sophisticated frameworks such as React Native and Flutter, resulting in shorter development cycles and lower costs. Our cross-platform strategy allows your business in Connecticut to access a larger user base without sacrificing app speed or user experience.
4- Blend of emerging technologies
We enjoy blending the latest mobile app development technologies and pushing the boundaries of our ability. With the latest developing technology on the market, you may pave the way to success and fully explore your ideas.
At VLink, we deliver high-quality services that generate opportunities and boost client engagement. To provide customized solutions for our clients, we choose modern technology. Our team of professionals is available to assist you in identifying the optimum concept and technical combination to reach your objectives.
How do we deploy mobile app development in Connecticut?
Mobile app development is a complex process that requires various phases to be executed properly by the experts. VLink' mobile app developers in Connecticut always attain agile approach to deploy the best solutions for businesses.
1- Analysis & requirement gathering
Our team performs research before commencing the design and development process. We start by learning about your company, which is usually done over the phone. We prefer to collect your needs, objectives/goals, and any other features that will assist us create your app during this phone conversation. In addition, we investigate your rivals and any industry-specific design standards.
2- Planning & strategizing
It might be difficult to plan out mobile app development. We're here to relieve some of that pressure. To be as effective as possible, we want to set a schedule that will assist all parties in being focused and on track with targeted deadlines. During the planning stages, we will also discuss the overall structure of the app so that our team may begin thinking for the app's design.
3- Design & prototyping
We will start working on your app after the strategies are planned! Our mobile app developers in Connecticut begin by creating a visual layout of the app (a wireframe) in which we begin to add crucial aspects such as text type, color, navigation, functionality, and pictures.
Our aim is to provide a top-notch user experience by developing the friendliest mobile app designs. We have the latest approach and tools that can help to visualize user-friendly features on full-fledged mobile apps.
4- Development
We'll send over the design to our development team, who will implement all the features we've discussed, after the wireframes and structure of the app have been approved. They will write the code, as well as provide functionality and interactive features. After the development stage is complete, we will thoroughly test and debug the app before releasing it.
5- Testing & QA
VLink will test the performance, visual presentation, speed, and operation of your new app before launching it! We will also conduct further live tests. We will also ensure that there are no security concerns and that your app is ready for visitors!
6- Launching the app
Finally, the moment that everyone has been waiting for! The launch of your new app is both an exhilarating and nerve-racking process. Our mobile app development team in Connecticut will do all necessary to ensure that everything goes as smoothly as possible.
7- Post-launch support
There are many unknown aspects when your software is officially published, and the VLink team will keep them in focus. You have the option of enrolling in our app maintenance service.
This will provide you with any essential protection for future difficulties with your app or adjustments you choose to make. If you want to extend or refresh your firm, we can talk about our additional digital marketing services.
How VLink's mobile app development in Connecticut is superior?
1- Customized to perfection
Every business has its own set of objectives and aims. Your app will be simple to use and built precisely to assist your company in meeting its objectives. All our solutions are mobile-friendly and custom-designed for your company so that they stand out from the competition.
2- Conversion-oriented solutions
Our mobile app development in Connecticut will design your application with your primary goal in mind: enhancing consumer engagement or brand exposure. Whatever your goals are, our staff will assist you in achieving them by developing the ideal app.
3- On-time delivery
We will set a time based on our initial meeting to discuss the details of your app design and development. It is critical to us at VLink that those criteria be followed. We'll follow a timetable to guarantee that your app design and development in Connecticut is completed on time and on budget.
Looking for a mobile app development in Connecticut that can meet all your requirements? VLink is the firm you've been searching for. When you collaborate with us, we see you as a business partner who wants to see you succeed.