According to Gartner, more than 70% of enterprises are investing in SaaS services and planning to continue using more public cloud offerings. Public cloud app SaaS end-user spending worldwide (from 2015-2024) is shown below figure: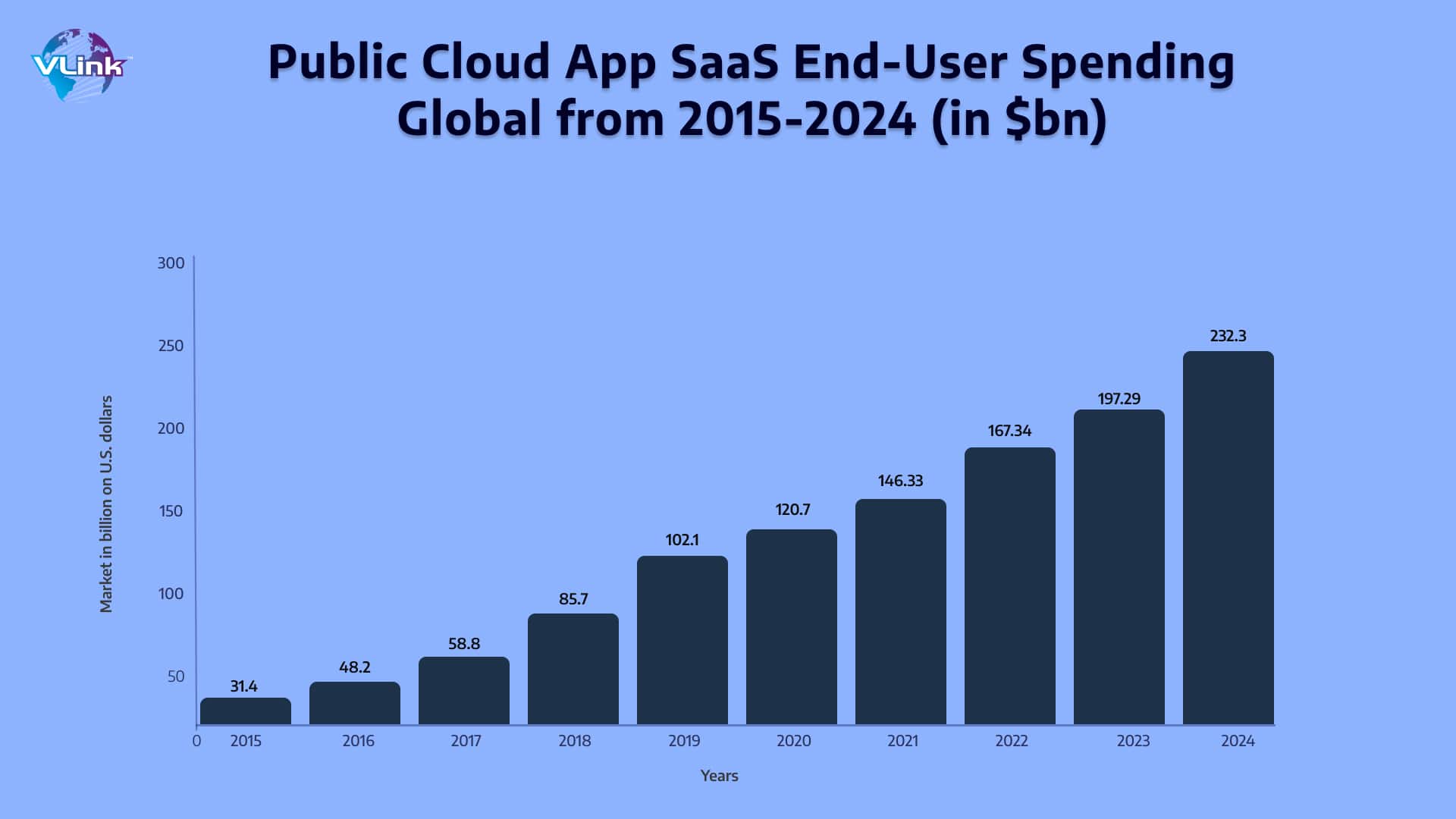 These statistics highlight the rapid expansion of the SaaS market, encouraging an increasing number of entrepreneurs and startups to view this sector as a worthwhile investment opportunity.
Have you come up with a unique project idea? It's the right time to find a SaaS development company. A trustworthy development partner can turn your vision into Software thriving in the market.
But it can't be denied that the market is filled with many fake companies that promise to deliver an effective solution within budget. Choosing an inexperienced service provider to build a SaaS app can negatively impact your market reputation.
So, always go with an experienced & trustworthy SaaS app development company like VLink.
In this blog, we will explore things and critical questions that will help us to find the right development partner to build a SaaS app.
Let's first start with reasons to hire a SaaS development company;
Why Hire a SaaS Product Development Company For Your Business
Here are several reasons why you should invest in a SaaS product development company:
Cost-Effective Results
Building a SaaS product in-house can be expensive due to the need for hiring skilled developers, setting up infrastructure, and ongoing maintenance costs. Outsourcing to a SaaS development company can provide cost savings, as they can leverage their existing infrastructure and expertise.
100% Scalability
SaaS products often need to accommodate growing numbers of users and increasing demands. SaaS development companies can build your product with scalability, ensuring it can handle increased usage and data without significant disruptions.
Faster Time-to-Market
SaaS development companies are experienced in the product development lifecycle. They can help you bring your product to market more quickly by streamlining the development process, utilizing best practices, and avoiding common pitfalls.
Focus on Core Business
Outsourcing SaaS development allows you to free up your internal resources to focus on your core business activities. Developing a SaaS product requires significant time, effort, and expertise, which might distract your team from their primary responsibilities.
Expertise
SaaS development companies specialize in building and delivering software solutions. They typically have a dedicated team of experienced developers, designers, and other professionals who are well-versed in the latest technologies and best practices. This expertise can help ensure your SaaS product is developed efficiently, effectively, and high quality.
Things You Need to Consider for Selecting the Right SaaS Product Development Partner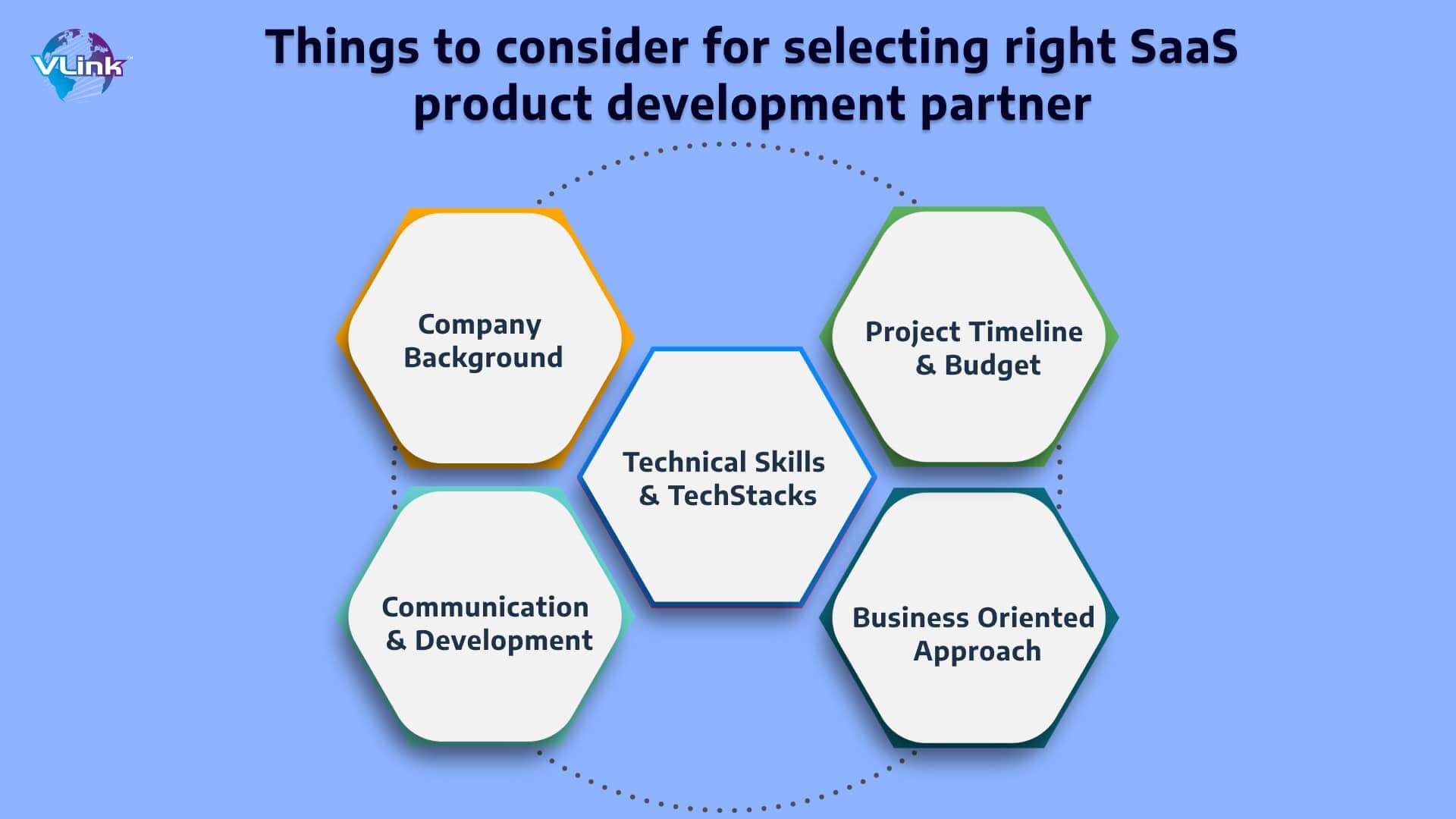 SaaS Development Company Background
When hiring the right SaaS app development partner, experience and expertise play a vital role. Make sure you review case studies and delivered projects of your chosen company.
Also, ask a few questions related to Software as a Service product development as follows:
What challenges have they met

What core solutions have they delivered

What's your previous clients's perception about your services
In addition, you can check the company's background from Clutch, UpWork, and GoodFirms profiles.
Apart from a high-level SaaS app development background, you can consider specific projects within clients' market niches.
For example,
If you want to create a SaaS product within the Real Estate industry, here is a niche-specific case study on how we build custom real estate listing Software.
Here are some tips on how to review the SaaS application development background of a software vendor:
Continuously analyze and place faith in the relevant case studies

Try to check testimonials and contact companies' clients to gather their feedback

Review the SaaS development agency's website
Technical Skills & TechStacks
SaaS product development needs proficiency in the latest mobile app development technologies. It would be better to seek developers with more comprehensive technical expertise. Ensure your team has the proper knowledge to build and design a mobile app.
Check their expertise in cloud software and its complexities linked with Software as a Service product.
For example;
With great experience and expertise in several technologies, SaaS development company will provide higher quality SaaS products.
At VLink, we focus on Java, .NET Core, Xamarin, Vue.js, and Node.JS to build SaaS apps that solve exclusive end-users' problems.
In addition, make sure the company you have chosen has broader experience in AI, Data Science & ML for your advanced SaaS app development project.
Project Timeline & Budget
One of the most important things you need to consider for hiring the right Software as a Service (SaaS) software development company is the project timeline & budget. Ensure they can deliver projects that meet your requirements within a fixed timeframe and budget.
As the market is filled with companies that promise wrong & unreal timelines or lower prices, beware of companies that promise wrong and unreal timelines or significantly lower prices. A transparent and realistic approach to the timeline and budget demonstrates professionalism and commitment to delivering a high-quality product.

Communication & Development
Communication
Communication plays a vital role in a product's success—excellent coordination and more discussion help deliver satisfactory results.
That's why we recommend selecting a SaaS product development company that offers a streamlined communication process.
Ensure you follow regular retroactive meetings, routine follow-ups, and an all-in-one messaging platform to discuss project-related activities when they attach.
No matter Trello, Asana, Jira, to Zoho, daily standups, reports, and a transparent task tracking system are the critical data you should get from a SaaS app development company.
Software Development Methodology
Another reason behind successfully building a SaaS app is selecting the correct development methodology. It's related to how a software vendor organizes both its time and labour resources and takes care of scaling and adjusting.
3 out of 4 startups fail after launch having solid financial losses because of their wrong choice. So, select a SaaS app development company that follows the Agile approach.
The key benefits of the Agile approach are shown in the figure: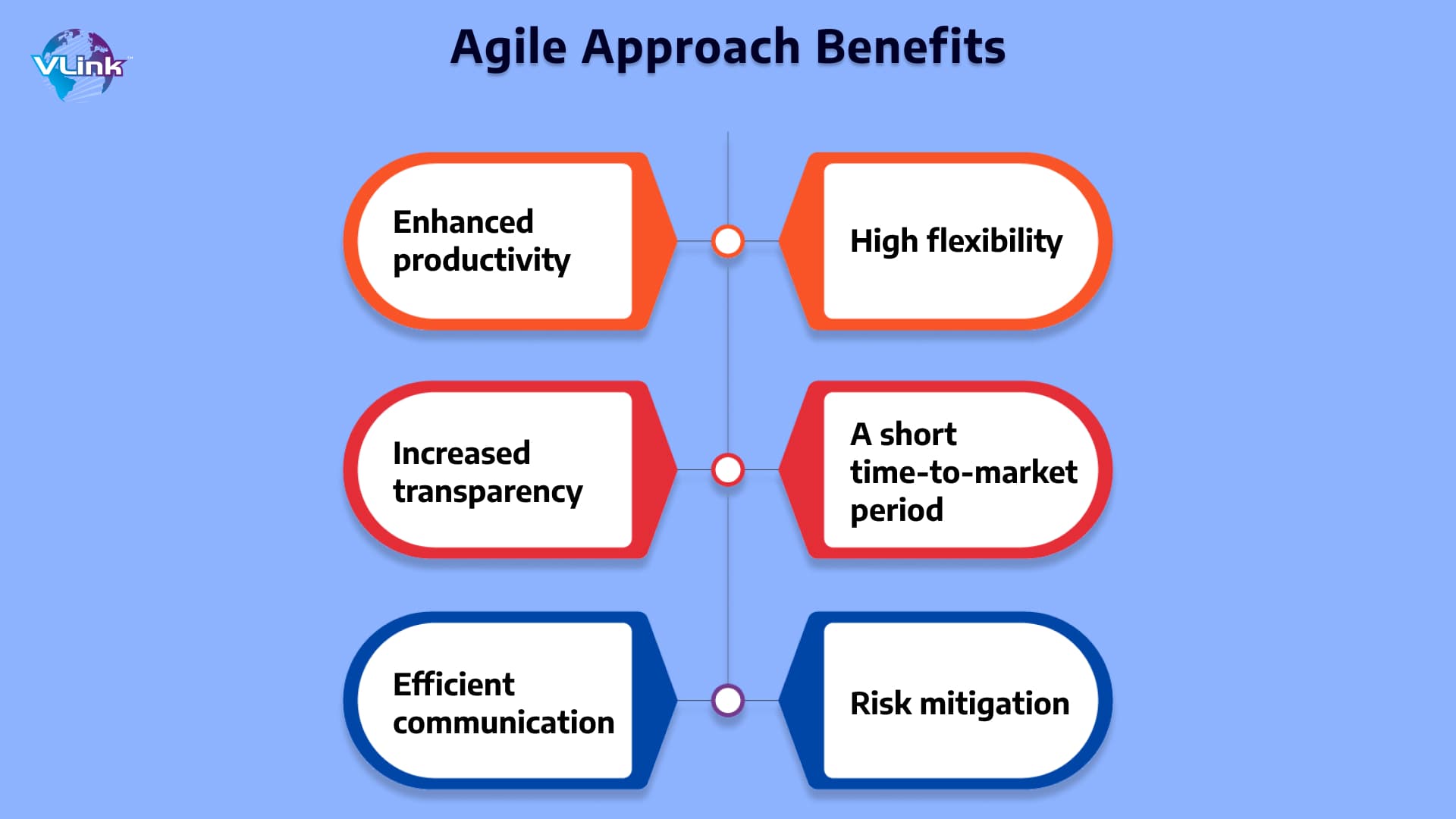 If you want to create a SaaS app fastly, & iteratively along with the chances of changes, go with the Agile approach.
On top of that, Agile provides a lightweight framework called Scrum. It divides the project development process into small sprints and deliverables. You will possess significant authority and clear insight into the development process of your SaaS product.
Business Oriented Approach
As a company owner, you want a solution that meets your business needs. So, it's essential to analyze the tech background and expertise of a SaaS app development company. Also, please pay attention to their business insights.
It would help if you asked the following questions to perform this:
Was the SaaS development agency transparent in explaining how the discussed features would contribute to achieving my business goals?

Did the IT company suggest alternative technological solutions based on my business model and requirements?

Did the software vendor prioritize addressing development challenges to expedite the launch of an MVP?

Did the SaaS development company successfully convince me to avoid building features that wouldn't provide meaningful value to end-users?

Have I felt that the development partner shares the same level of commitment to the product's success as I do?
You will select a trustworthy SaaS product development company by getting the answer 'YES' to all of these questions.
Also Learn: how to choose custom website development company.
Few Key Questions when hiring a SaaS Product Development Company
Will ownership of the source code be granted to me?

Could you kindly outline the top practices you adhere to during the code development of a project?

What methods do you employ to guarantee and maintain software quality?

Which methodologies and metrics related to SaaS model software development do you utilize to gauge project quality and team efficiency?

What is your strategy for conducting a software discovery phase, and what specific results can I expect from it?

In a previous project involving SaaS app development, if applicable, what were the primary technical hurdles faced, and how were they resolved?

Do you offer technical support or concierge services once the project is launched?

Consider VLink as your Right SaaS App Development Partner!
Any delay or misinterpretation can benefit competitors in the fast-paced world of SaaS applications. Thus, opting for an experienced custom software development firm like VLink becomes crucial.
VLink stands out as a dependable choice for constructing your SaaS platform. They manage everything from business analytics to development and remain engaged until the product's launch.
To learn about our services and offers, schedule a call today!
FAQs
Frequently Asked Questions
What is SaaS product development?
SaaS (Software as a Service) product development refers to creating and delivering software applications through the cloud as subscription-based services. It involves designing, building, and maintaining software solutions that users can access over the internet, typically eliminating the need for on-premises installations and providing scalability and continuous updates.
What are the critical features of SaaS app development?
Critical features of SaaS app development include
Multi-tenancy to serve multiple users,

Automatic updates for seamless maintenance,

Scalability to accommodate varying user demands,

Accessibility via web browsers.
It also entails data security measures, integration capabilities, and subscription-based pricing models for efficient and user-friendly software delivery.
What risks should you be aware of when hiring a SaaS app development company?
Here are some risks you should avoid while hiring a SaaS development partner.
Advanced and Customized Solutions
If SaaS developers craft tailor-made solutions, particularly for mission-critical tasks, the brand could become heavily reliant on diverse technical aspects.
Security Concern
Cloud-based SaaS applications for enterprises store sensitive information externally, potentially jeopardizing their security.
Performance
SaaS applications installed locally are susceptible to internet connectivity issues, leading to extended loading times for executing operations.