Custom LMS plays a vital role in the growth of businesses. If you want to know how a custom learning management system can benefit your business, read this blog.
The LMS market was $9.2 billion in 2018, and it was expected that this number will reach $22.4 billion by 2023 at a CAGR of 19.6%.
So, the numbers speak for themselves, right?
A tailor-made learning management system (LMS) stands as a powerful instrument for managing learning and development initiatives effectively. Learning management software is gaining popularity in education industry to simplify and improving inner training processes.
With the help of custom LMS development, businesses will get increased ROI, automated maintenance, improved team performance, and several benefits.
This blog will explore several ways custom LMS development can benefit your business.
Let's first start with what is a custom learning management system.
What is a custom LMS?
A custom learning management system (LMS) allows users to personalize their academy without building their software from scratch. It's designed to meet your company's e-Learning needs with custom features.
The main benefit of building an LMS is customized functionality, so your organization can effectively manage personalized training. It allows you to integrate with several business systems, such as HRIS and CRMs.
Learn more: how to develop a learning management system from scratch.
8 Ways Custom LMS Development Can Benefit Your Business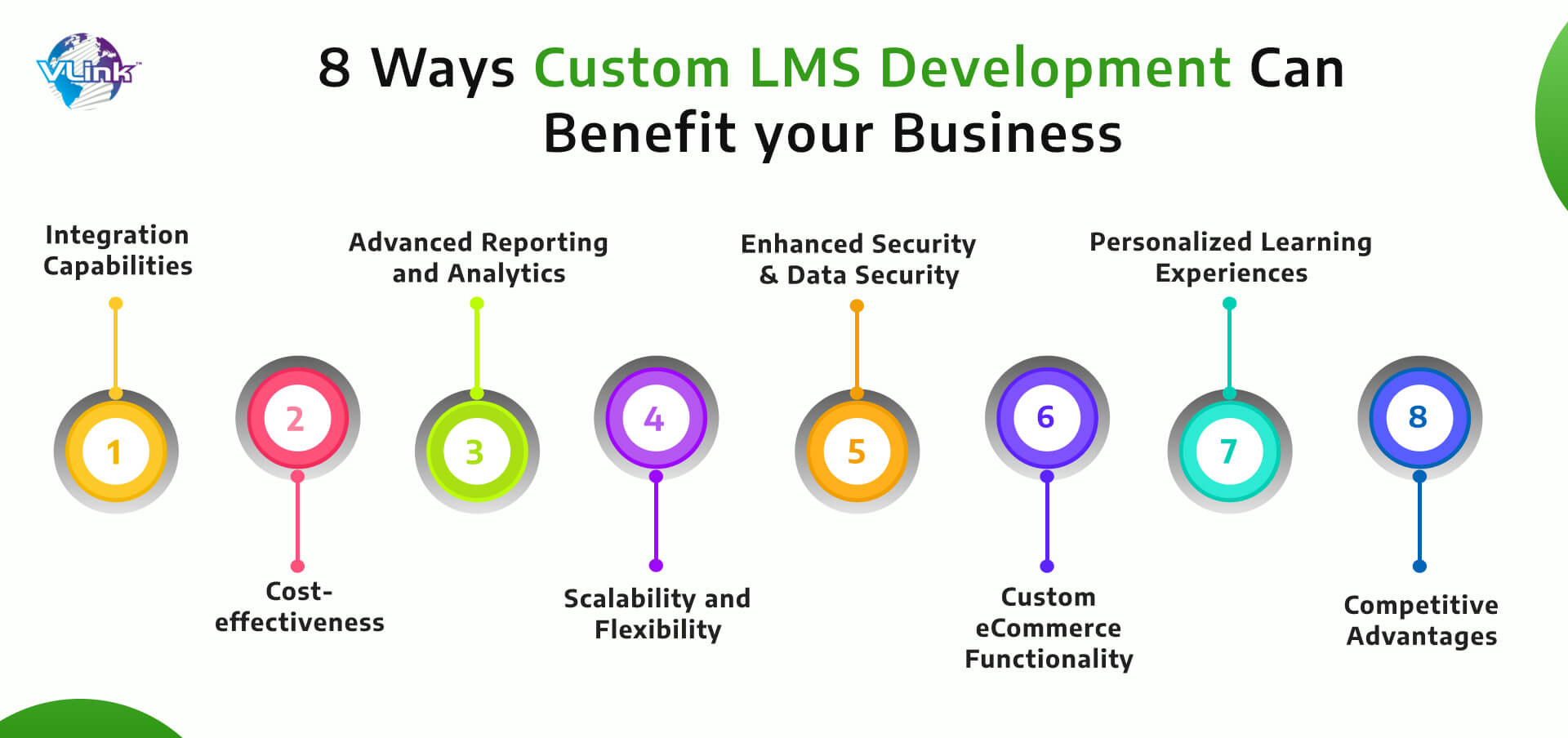 LMS development can be integrated with your existing business systems and processes.
Whether HR management software, CRM system, or performance evaluation tools, a custom learning management system can seamlessly integrate, streamlining workflows and reducing manual data entry.
This integration helps create a unified ecosystem that simplifies learning and development.
Here are a few several LMS integrations to consider:
Instructor-led training (webinar tools)

CRM - Sales & Marketing analytics tools

Certification management - Badge and credentialing software

HR software - SCORM compatibility
Cost saving over time is another way your business can benefit by building a customized learning management system. Traditional LMS platforms often come with unnecessary features, leading to higher expenses.
With a custom LMS, you don't need to pay for unnecessary licensing fees and maintenance costs associated with off-the-shelf solutions.

Making informed decisions plays a vital role in any successful business strategy. With a customized LMS, you gain access to advanced reporting and analytics tools that provide valuable insights into the effectiveness of your training programs.
You can track learner progress, engagement, and performance, enabling you to identify areas for improvement and refine your training initiatives continually.
A custom LMS is highly scalable and flexible, accommodating your evolving needs without any restrictions urged by pre-made solutions.
Whether you want to add new features, integrate 3rd party tools, or support increased users, a tailored learning management system can adapt to these modifications seamlessly, helping you stay ahead in the competitive landscape.
In today's data-driven world, data privacy & security are major concerns for all small or established businesses. Integrate your robust security measures into your tailored learning management system to protect your sensitive training data.
In addition, you can implement role-based access controls, encryption protocols, and other security features per your specific industry standards and compliance requirements.
If you sell courses to B2C or B2B businesses, the learning management system needs eCommerce.
Some LMSs have more eCommerce functionality, while some platforms don't support eCommerce until you have an inbuilt store with a platform like Shopify that you can integrate.
When contemplating custom Learning Management Systems, it is crucial to consider the precise process through which customers should enroll in your courses and your preferred method for selling eLearning. This understanding will play a significant role in shaping the development of the system.
A custom LMS allows you to create a personalized learning experience for your employees, clients, or partners. With the development of this system, you can align the platform with your company's unique training objectives, brand identity, and culture.
By customizing the interface, content, and features per your business requirements, you can ensure your learners get a more engaging and relevant learning experience.
Investing in custom LMS development can provide your business with a unique competitive advantage. You can foster a skilled and knowledgeable workforce by delivering a highly tailored and efficient training experience, leading to increased productivity and customer satisfaction.

Also Read: How much does it cost to build an e-learning portal like Udemy or Coursera?


Key LMS Customization Options to Look for Your Next Project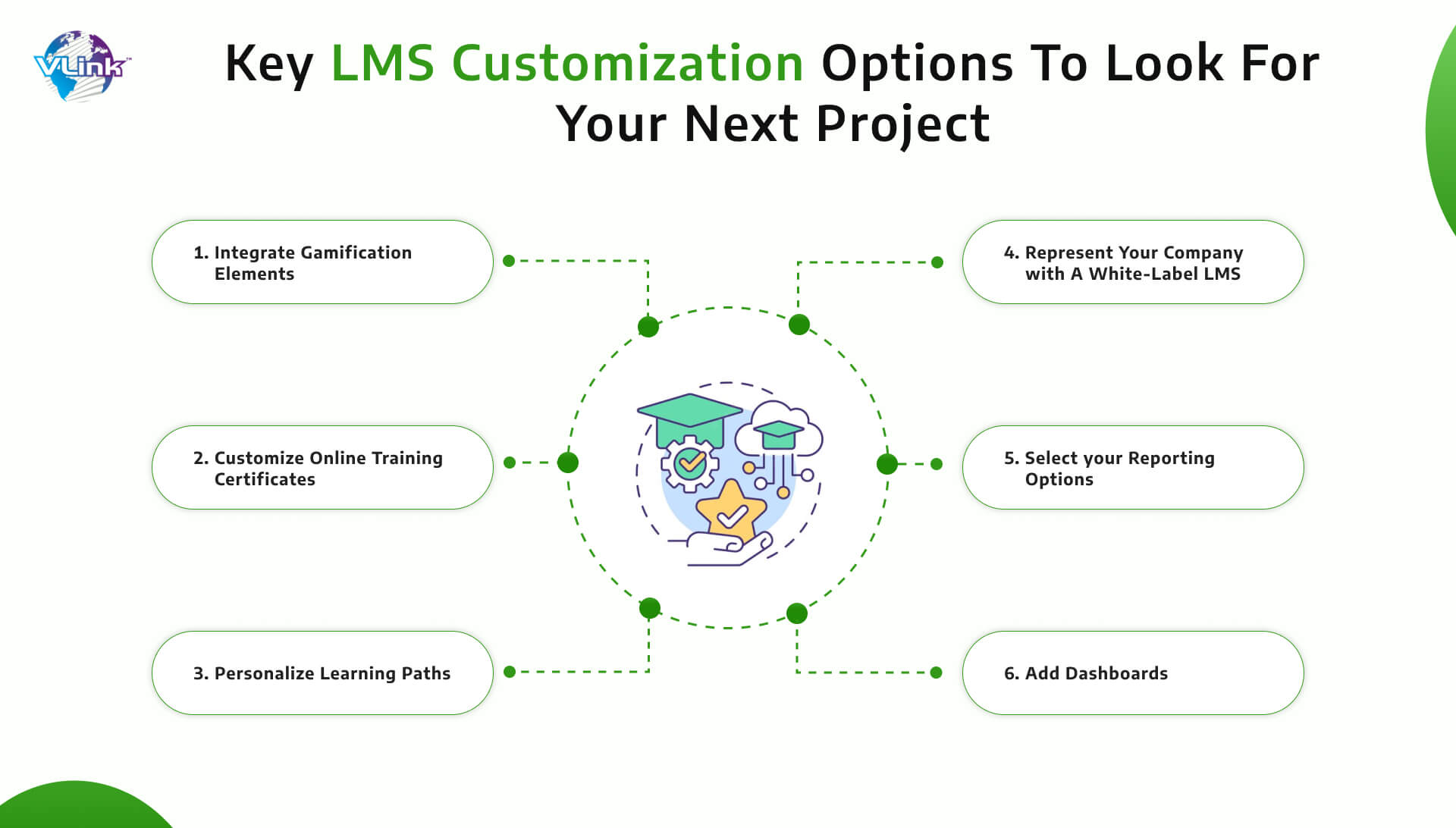 Here are six key customizations you can do with your LMS to build a platform that meets your business standards.
Gamification elements, such as badges, leaderboards, and rewards, can significantly enhance learner engagement and motivation. Social learning features, such as discussion forums and peer collaboration, foster a sense of community and facilitate knowledge sharing.
An LMS that supports gamification and social learning customization will make your platform more interactive and enjoyable.
Tailoring certification features in a learning management system offers valuable benefits such as;
Recognized learner achievements

Motivated learners

Provided tangible proof of course completion
By customizing the certificates' design & content, you can integrate them with your branding and increase people's trust in your business.
Every learner is unique, and providing personalized learning experiences can lead to better outcomes. Ensure your LMS can create personalized learning paths based on individual preferences, skills, and progress. This feature aids in optimizing learning efficiency and learner motivation.
Branding is a powerful way to create a sense of ownership and identity. Look for an LMS that offers white labeling, enabling you to customize the platform's appearance with your organization's logo, colors, and visual elements.
It ensures learners feel a sense of familiarity and belonging while accessing the LMS, enhancing your brand's visibility.
Data is invaluable for assessing the effectiveness of your training initiatives. Seek an LMS that provides customizable reporting and analytics options, allowing you to generate and analyze data relevant to your specific learning goals. Customizable reports help you identify trends, track progress, and make data-driven decisions.
Customizing an LMS allows your companies to create custom learner dashboards.
But what if your LMS provider doesn't offer customization?
You have to migrate to another SaaS provider to add dashboards. But, if you can't find a hosted learning management system that meets your needs, building your LMS is the best way.
Custom LMS Vs. SaaS LMS: Key Benefits
Custom LMS Development Benefits:
Better ROI

Easy accessibility

Scalable, depending on business needs

Integration with third-party systems

Better security

Automated maintenance

Own LMS as a product
SaaS LMS Development
Relatively affordable

Infinite scalability

High flexibility

Contract-based maintenance

Own LMS as a service
Build a custom LMS with VLink!
VLink is a reliable education app development company with extensive experience delivering custom Learning management systems to global clients. By focusing on increasing the training & development process, we provide a comprehensive platform for seamless learning experiences.
Hire our experienced developers to build a custom LMS with scalability, advanced analytics, integration capabilities, mobile accessibility, and robust security. Some common services education development company like VLink provoide:
Custom LMS software development

LMS system integration

LMS solution support and maintenance
The Bottom Line!
Here are some ways that creating a custom LMS can benefit your business. It allows you to design an eLearning platform that seamlessly aligns with your unique learning & development and business requirements.
However, this level of flexibility comes at a higher cost, making it essential to carefully consider whether investing in a custom LMS is the right choice for your organization. A thorough discussion to weigh the pros and cons is warranted in this scenario.
If you aren't sure about where to start, contact our experts!

FAQs
Frequently Asked Questions
What are the key features of custom Learning Management Systems?
Key features of custom Learning Management Systems include;
Personalized user interfaces

Tailored course content

Advanced reporting and analytics

Integrations with existing systems

Scalable architecture and custom user roles
These features allow organizations to adapt the LMS to their specific needs, enhancing the learning experience for users and providing better insights for administrators.
How much does a custom LMS development cost?
The cost to develop a custom LMS platform varies depending on the complexity of features, design, development time, and the organization's size. On average, a custom LMS can range from $25,000 to $100,000 or more. Getting detailed quotes from software development firms to get an accurate estimate is crucial.
How to build a custom LMS?
To build a custom LMS, follow these steps:
Define your requirements and target audience.

Plan the LMS architecture and features.

Choose a technology stack and development approach.

Develop the platform, including user interface and course management.

Test extensively for functionality and usability.

Deploy the LMS and continually update it based on user feedback.